NCERT Solutions for Class 10 Hindi – Sparsh and Sanchayan bhag 2 based on latest CBSE syllabus 2023-24.
Kaksha 10 Hindi – Sanchayan Bhaag 2
NCERT Solutions for class 10 Hindi
All the chapters are solving properly by the subject expert for the new academic session 2023-24 based on latest CBSE Syllabus. Sparsh ke teen paath kramashah madhur madhur mere deepak jal, teesaree kasam ke shilpakar shailendr aur giragit keval pathan maatr ke lie hain. Rest all chapters will be for the CBSE Examination 2023-24.
| | |
| --- | --- |
| Class: 10 | Hindi |
| Textbook: | Sparsh and Sanchayan |
| Contents: | NCERT Exercise Solutions |
| Mode of Content: | Text and Online PDF Format |
Class 10 Hindi Question Answers in PDF
Kaksha 10 Hindi – Sparsh aur Sanchayan Abhyas ke sabhee prashn uttar neeche diye gae hain. In sabhee NCERT Solutions ko online dekh sakate hain. Yadi download karana chaahate hain to download link bhee die gae hain. Pratyek paath ke uttar saavadhaanee poorvak likhe gae hain. Yadi koee truti ho to hamen avashy bataen taaki ham use turant theek kar saken.
First Term Syllabus for 10th Hindi CBSE Exam 2023-24
Pady Khand
1. Kabeer – Saakhee
2. Meera – pad
Gady Khand
1. Premachand – Bade bhee saahab
2. Leelaadhar Mandaloee – Tataanra – Vaameero katha
3. Nida Faazalee – Ab kahaan doosare ke dukh se dukhee hone vaale
Second Term Syllabus for 10th Hindi CBSE Exam 2023-24
Pady Khand
1. Maithileesharan Gupt – Manushyata
2. Sumitraanandan Pant – Parvat pradesh
Gady Khand
1. Ravindr Kelekar – Patajhar mein tootee pattiyaan, jhen kee den
2. Habeeb Tanaveer – Kaaratoos
Sanchayan Part 2
1. Mithileshvar – Harikar Kaaka
2. Gurudayaal Singh – Sapanon ke se din
3. Rahee Maasoom Raja – Topee Shukla
kaksha 10 Hindi – Sparsh ke paathon ke mukhy bindu
Paath 1: Saakhee (Kabeer)
Yahaan Saakhee shabd pratyaksh gyaan ko dikhaata hai. Kabeer vibhinn sthaanon par ghoom-ghoom kar gyaan praapt karate the. Isalie inakee bhaasha mein Raajasthaanee, Avadhee, Bhojapuree, Panjaabee, aadi bhaashaon ka prabhaav dikhaee padata hai. Kabeer kee bhaasha ko saadhukkadee ya pachamel khichadee bhee kaha jaata hai. Is paath me guru saty kee saakshee deta hua apane shishy ko jeevan ke tatvagyaan kee shiksha deta hai.
Paath 2: Pad (Meera)
Meeraabaee madhyakaaleen bhakti aandolan kee aadhyaatmik prerana ke vibhinn kaviyon mein se ek hain. Meeraabaee kee kavitaen Hindi aur Gujaraatee donon hee bhaashaon me hain, isalie ye kavitaen uttar bhaarat sahit bihaar, Bangaal aur Gujaraat mein bhee prachalit hain. Inake padon me braj, khadee bolee Panjaabee aur Poorvee ke prayog bhee mil jaate hain. Prastut paath me meera apane aaraadhy se kabhee manuhaar karatee hain to kabhee laad karatee hain. Avasar aane par kabhee – kabhee ulaahana bhee dene se bhee nahin chookatee hain.
Paath 3: Dohe (Bihaaree)
Bihaaree ka svabhaav vinodee aur vyangapriy tha. Lok gyaan aur shaastr gyaan ke saath – saath , inaka kaavy gyaan bhee achchha tha. Inakee ekamaatr rachana hai "Bbihaaree Satasee" jisamen lagabhag 700 dohe hain. Isamen mukhyatah prem, bhakti tatha neeti par aadhaarit dohe hain. Bihaaree kee bhaasha braj hai parantu bundelakhandee shabdon ka prayog bhee milata hai. Bihaaree kam se kam shabdon mein adhik se adhik arth bharane kee kala mein nipun the. Isalie, kaha jaata hai ki Bihaaree gaagar mein saagar bharane mein nipun the.
Paath 4: Manushyata (Maithileesharan Gupt)
Maithileesharan Ggupt jee raamabhakt kavi the. Inhen sadaiv raam ka hee keertigaan karana achchha lagata tha. Iinakee kavita ki bhaasha khadee bolee hai, parantu isamen sanskrt ka prabhaav bhee dekhane ko milata hai. Inhen sanskrt, baangla, maraathee aur angrejee ka achchha gyaan tha. Is paath (manushyata) mein gupt jee ne yah bataane ka prayaas kiya hai ki manushy me manushyata ke kaun – kaun se lakshan hone chaahie taaki sabhee jeev sukh se rah saken. Inake anusaar manushy ko apane aur apanon ke hit mein sochane se pahale doosaron ke hit ke baare mein bhee sochana chaahie jisase ki usaka jeevan saphal ho sake aur mrtyu ke baad bhee yugon tak auron ki yaadon mein bana rah sake.
Paath 5: Parvat Ppradesh Mein Paavas (Sumitraanandan Pant)
Sumitraanandan Pant chhaayaavaad ke pramukh stambh ke roop mein jaane jaate hain. Inhonne 15 varsh kee aayu mein hee sthaayee roop se saahity srjan shuroo kar diya tha. Inakee kavitaon mein mukhy roop se prakrti prem aur rahasyavaad kee jhalak dikhaee padatee hai. Inhen bhaarat sarakaar ne padmabhooshan sammaan se bhee alankrt kiya hai. Pant jee gyaanapeeth puraskaar praapt karane vaale pahale vijeta the. Prastut kavita mein padhane vaale ko is baat kee anubhooti hone lagatee hai jaise abhee – abhee vah parvateey anchal mein ghoomakar lauta ho.
Paath 6: Madhur Madhur Mere Deepak Jal! (Mahaadevee Varma)
Yah paath ab keval pathan ke lie hai. Isamen se pareeksha mein prashn nahin poonchhe jaenge.
Paath 7: Top (Veeren Dangavaal)
Viren Dangavaal peshe se praadhyaapak the parantu patrakaarita se bhee jude the. Inhen kaee puraskaaron se sammaanit kiya ja chuka hai. Inakee kavita sangrah "isee duniya mein" ke lie inako pratishthit shreekaant varma puraskaar se sammaanit kiya gaya tha. Is paath mein viren ne prateek aur dharohar ke baare mein bataaya hai. Prastut paath mein do prateekon ka chitran kiya gaya hai.
Paath 8: Kar chale ham fida (Kaifee Aazamee)
Kaifee Aazamee prasiddh pragatisheel urdoo kaviyon mein se ek hain. Inaka asalee naam atahar husain rijavee hai. Inakee mukhy paanch kavita sangrah – jhankaar, aakhir-e-shab, aavaara sajade, saramaaya aur meree aavaaj suno prakishit hue hain. Inake teenon bade bhaee bhee shaayar the. Inakee patnee shaukat aazamee aur betee shabaana aazamee mashahoor abhinetriyaan hain. "Kar chale ham fida" kavita sainikon ke jeevan par aadhaarit hai, jo muqaabale ke lie apana seena taan kar khade ho jaate hain. Apanee jaan dekar, deshavaasiyon kee zindagee aur aajaadee bachae rakhate hain.
How many chapters are there in CBSE exams of class 10th Hindi?
There are only selected chapters taken from class 10 Hindi – Sparsh for the CBSE exams 2023-24. In first term exams of 10th Hindi the following topics will be included:
Pady Khand
1. Kabeer – Saakhee and 2. Meera – pad
Gady Khand
1. Premachand – Bade bhee saahab, 2. Leelaadhar Mandaloee – Tataanra – Vaameero katha and 3. Nida Faazalee – Ab kahaan doosare ke dukh se dukhee hone vaale
How to prepare the chapters of Sparsh and Sanchayan of 10th Hindi examinations?
According to latest pattern of CBSE examination, the first term exam is totally based on MCQ – Multiple Choice Questions with one correct answers. So, students should read each chapter carefully and try to find question answers from the passages of chapter.
What is the syllabus for class 10 Hindi?
In the second terminal exams of 10th Hindi subject, the following chapters from Sparsh and Sanchayan will be asked:
Pady Khand
Maithileesharan Gupt – Manushyata and Sumitraanandan Pant – Parvat pradesh
Gady Khand
Ravindr Kelekar – Patajhar mein tootee pattiyaan, jhen kee den and Habeeb Tanaveer – Kaaratoos
Sanchayan Part 2
1. Mithileshvar – Harikar Kaaka
2. Gurudayaal Singh – Sapanon ke se din
3. Rahee Maasoom Raja – Topee Shukla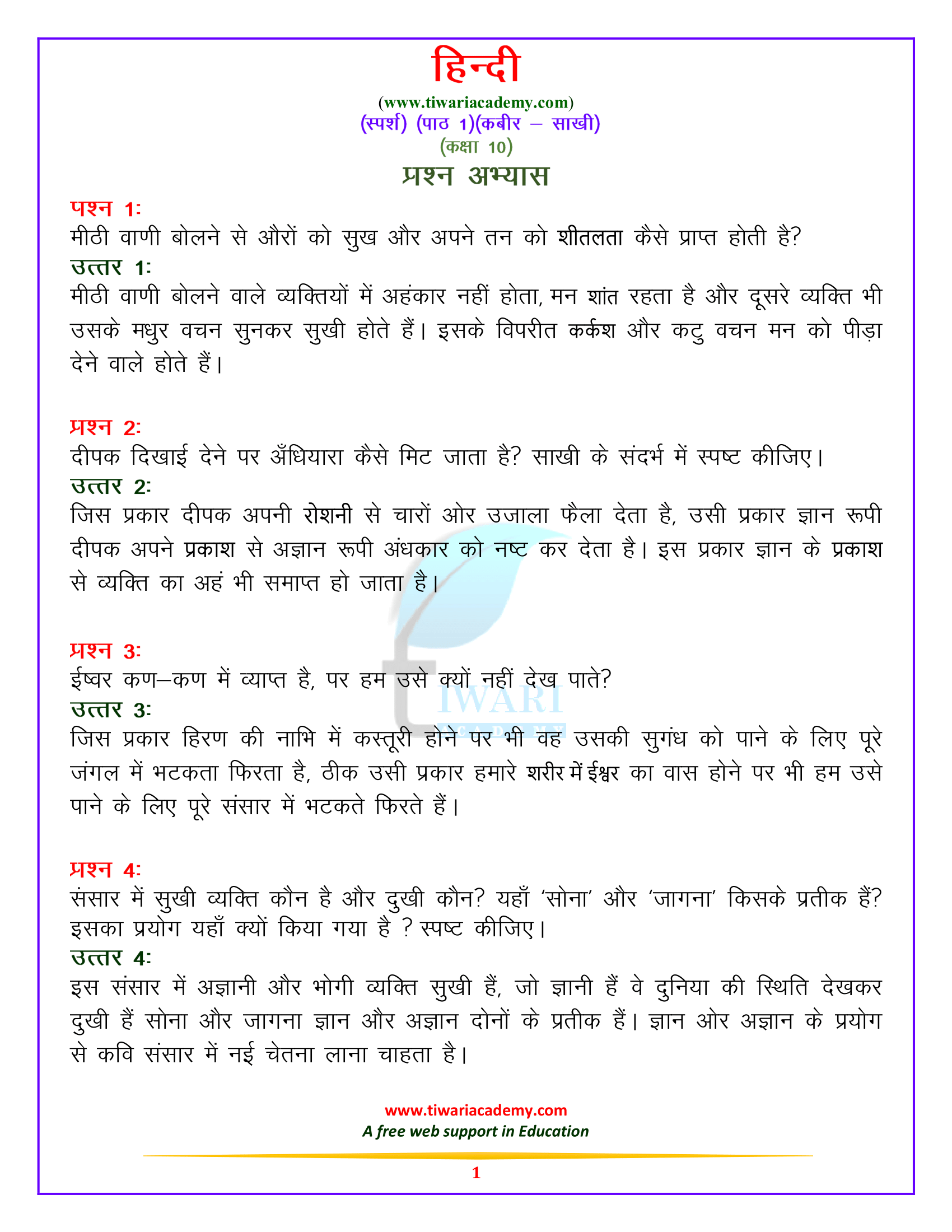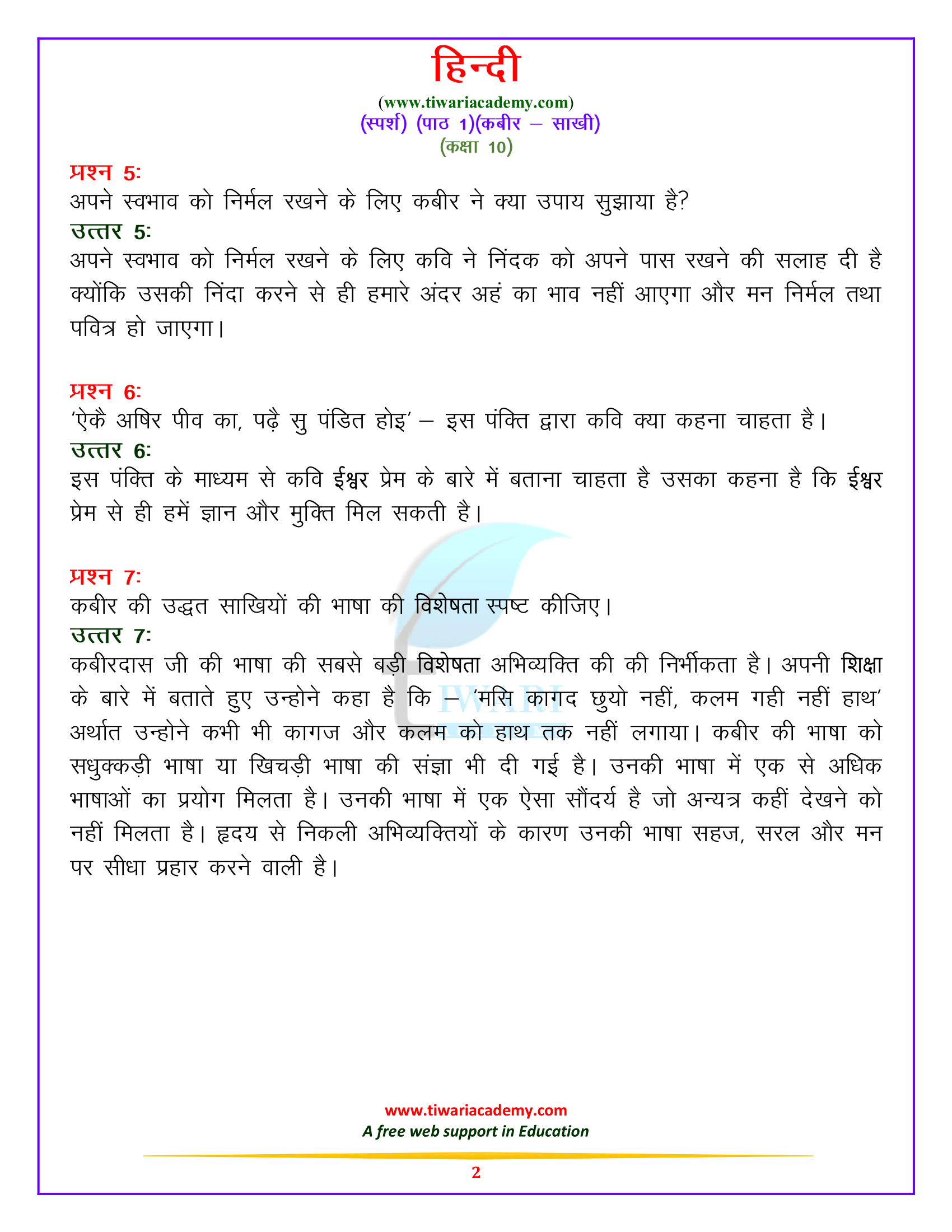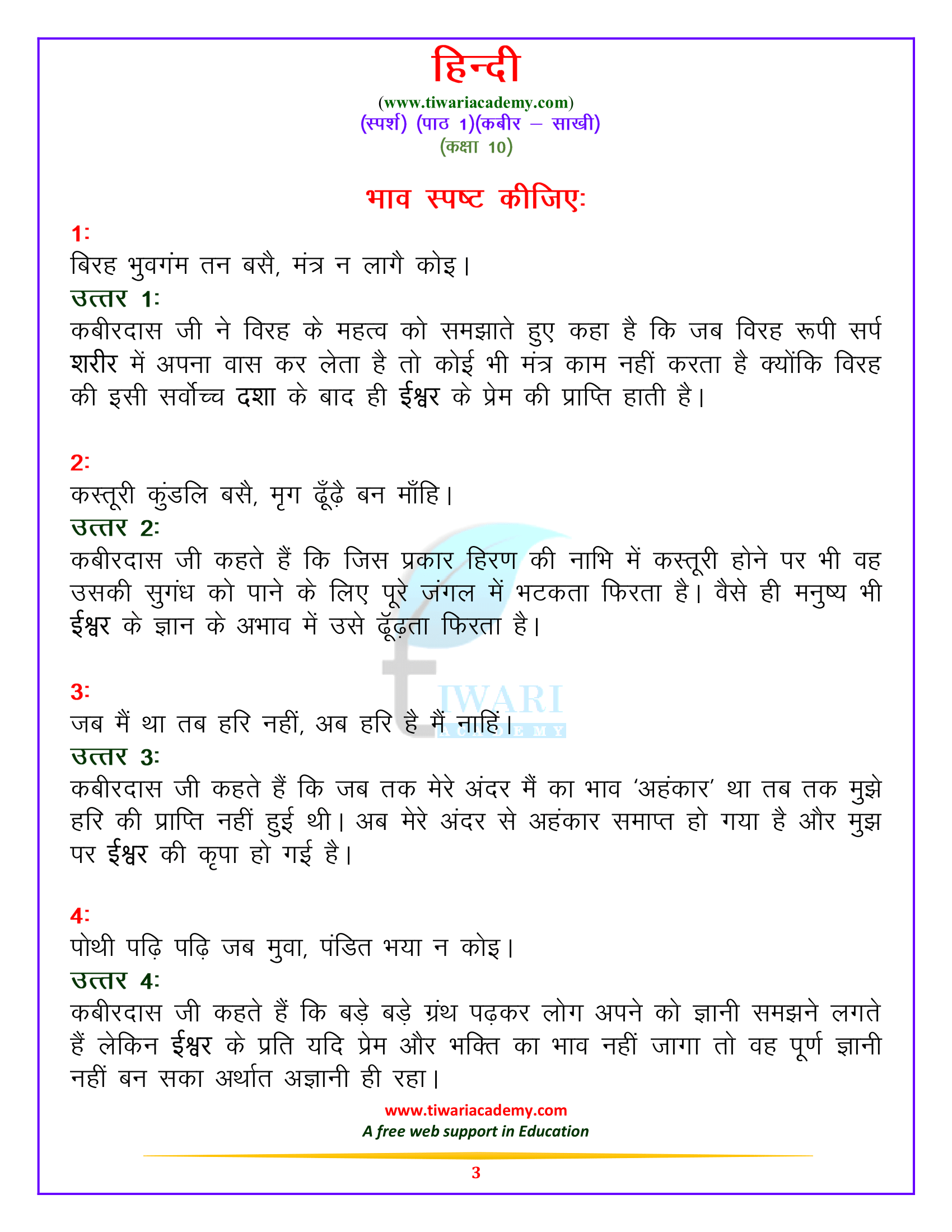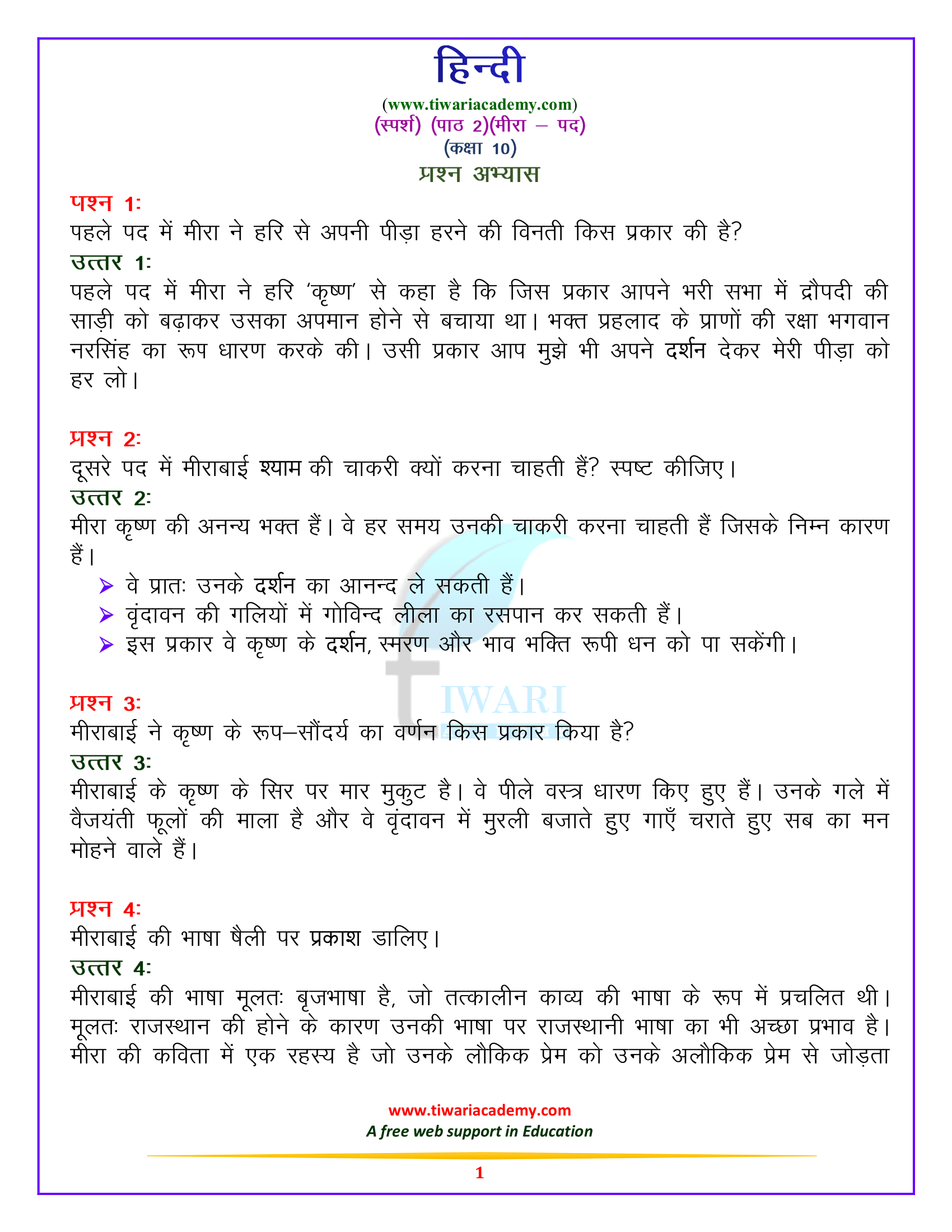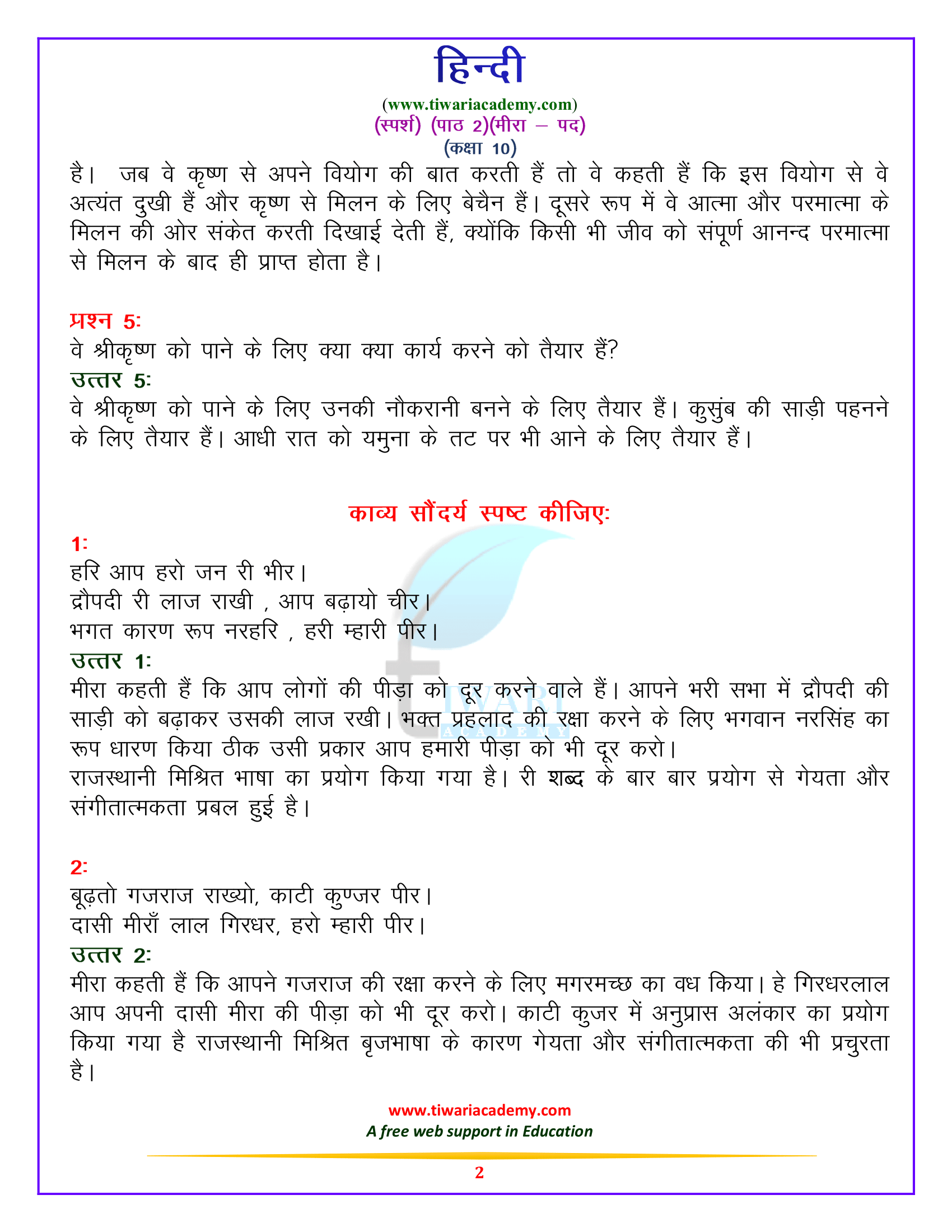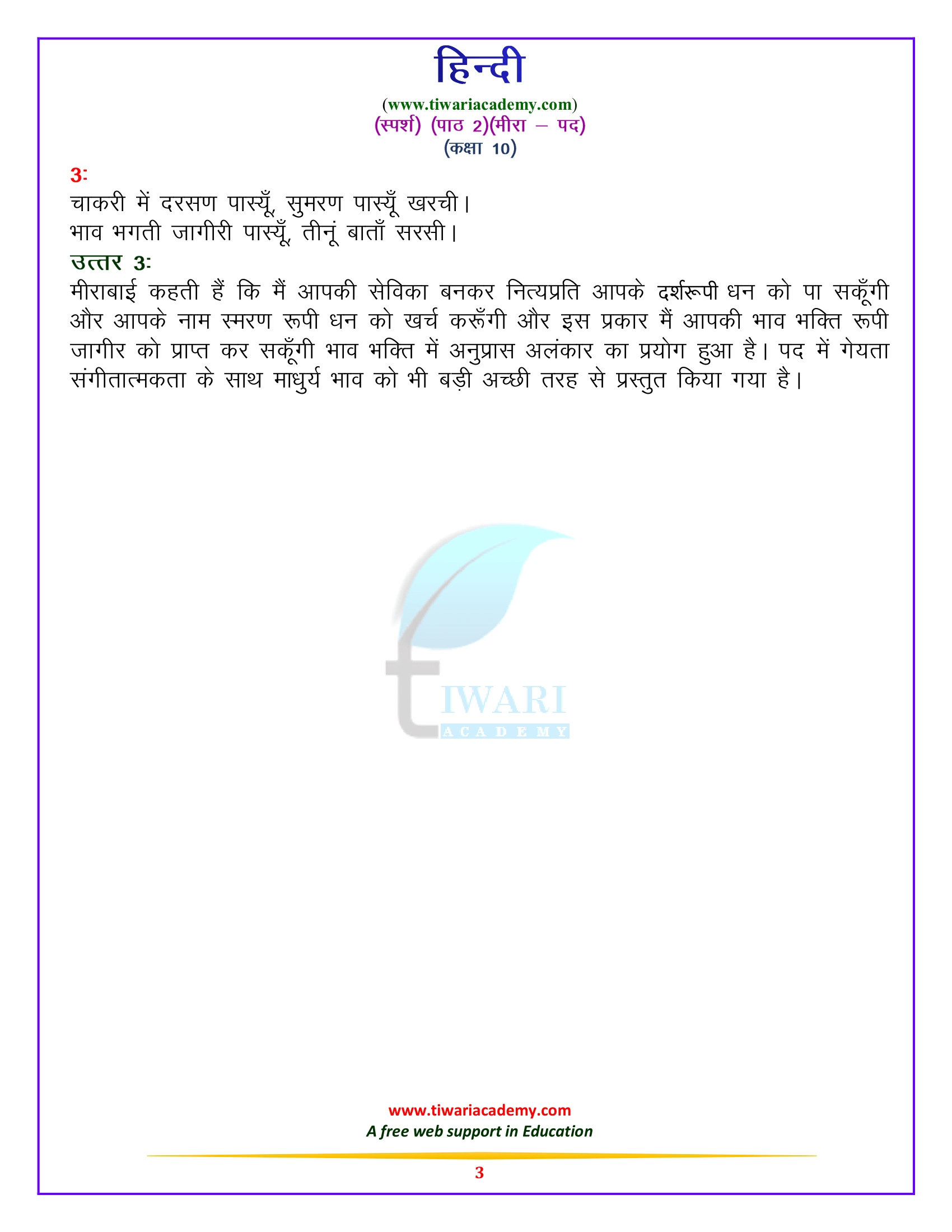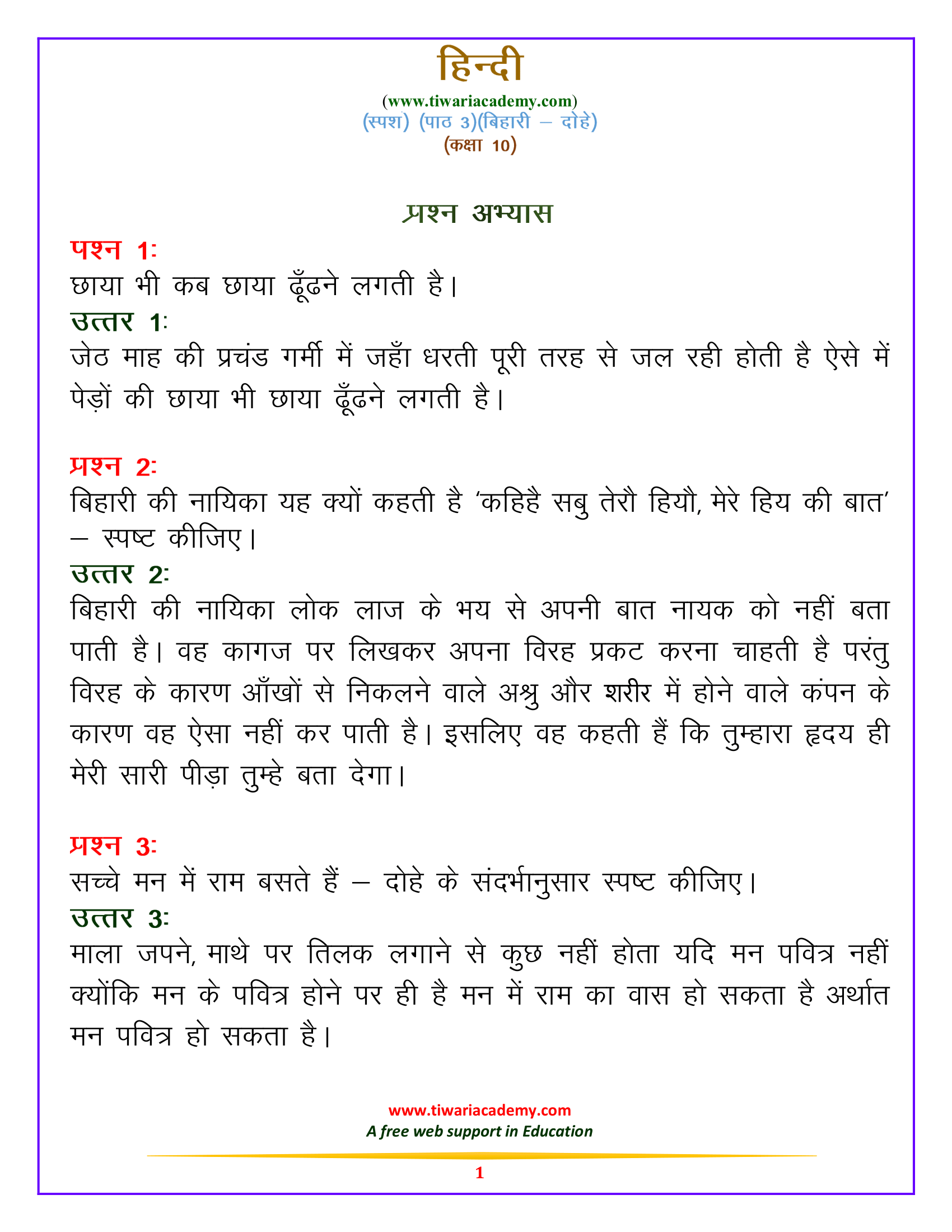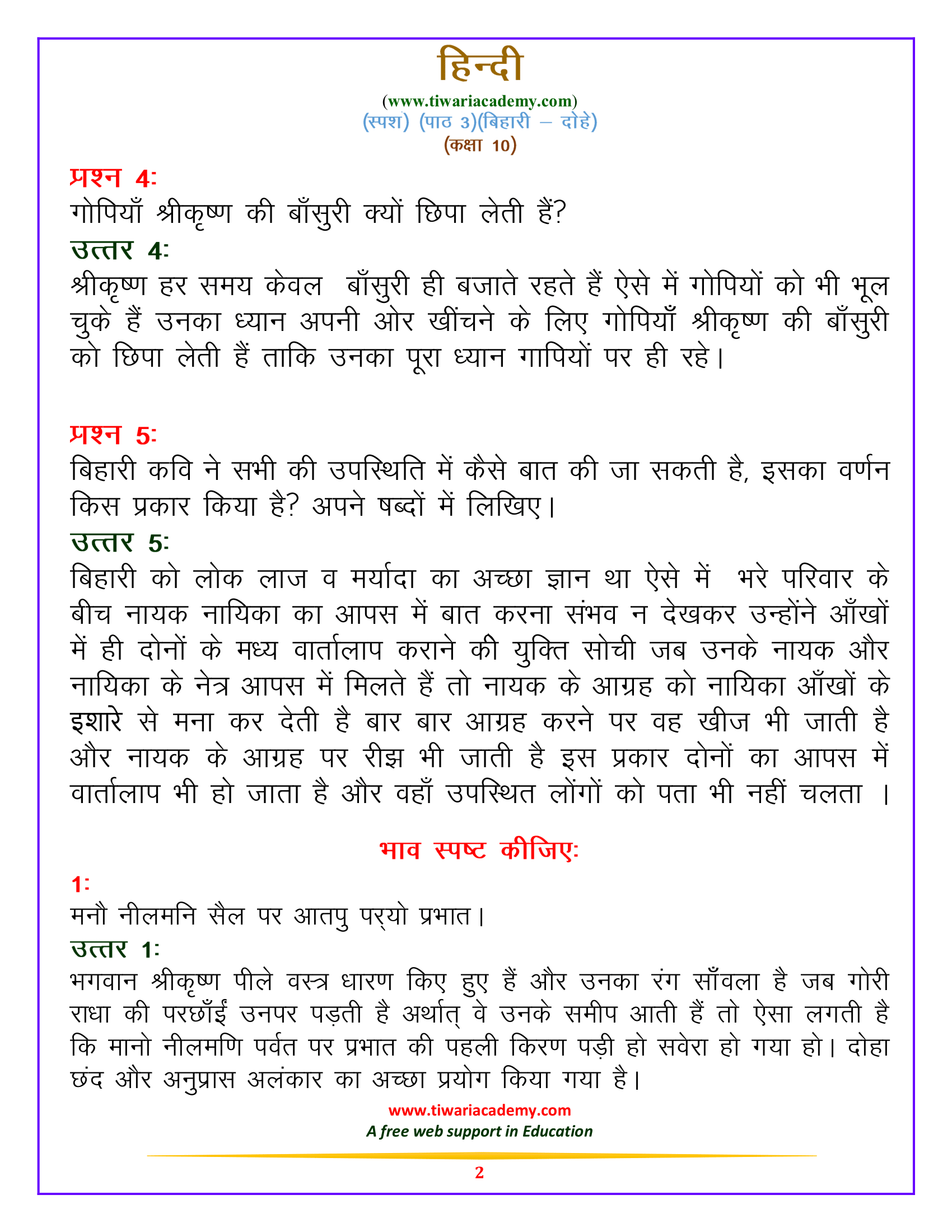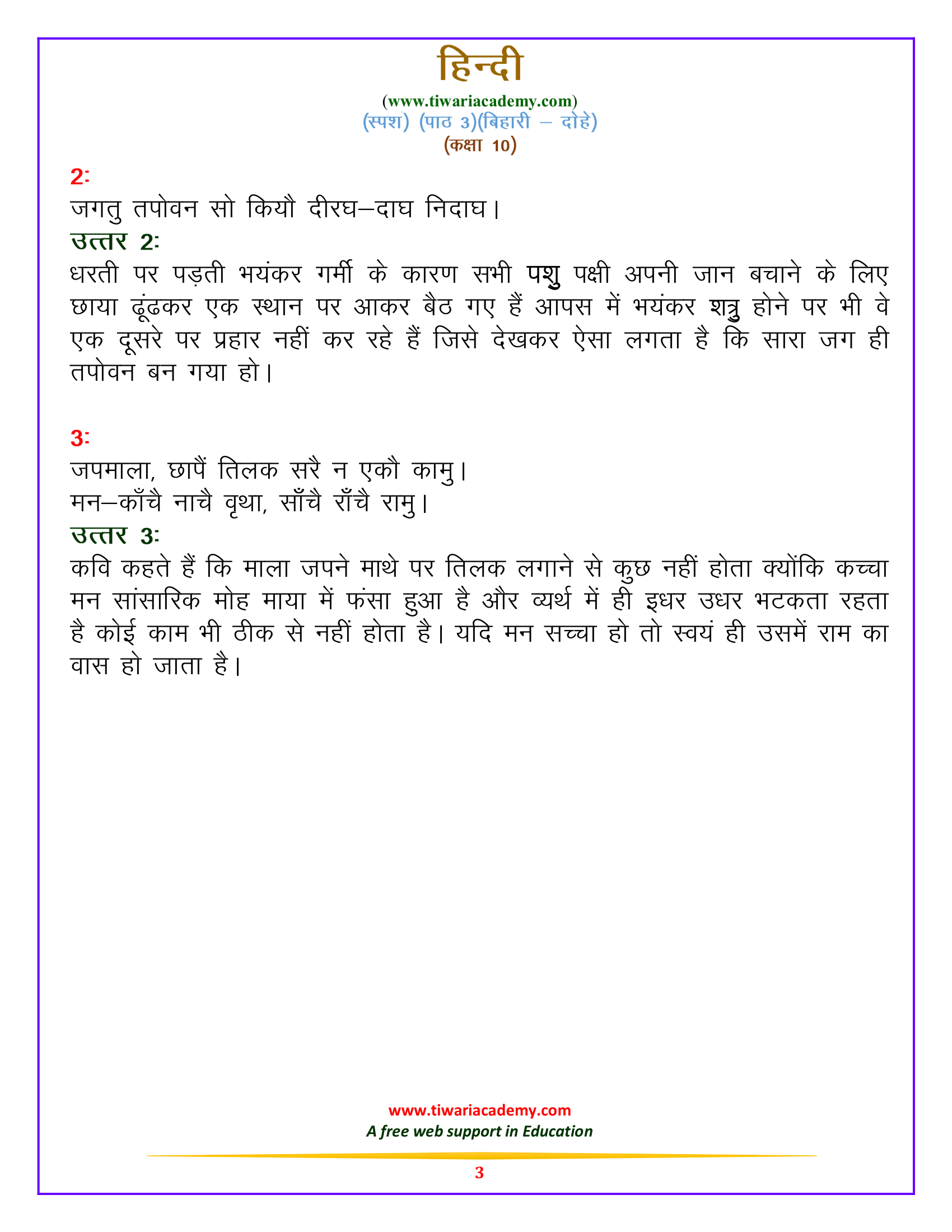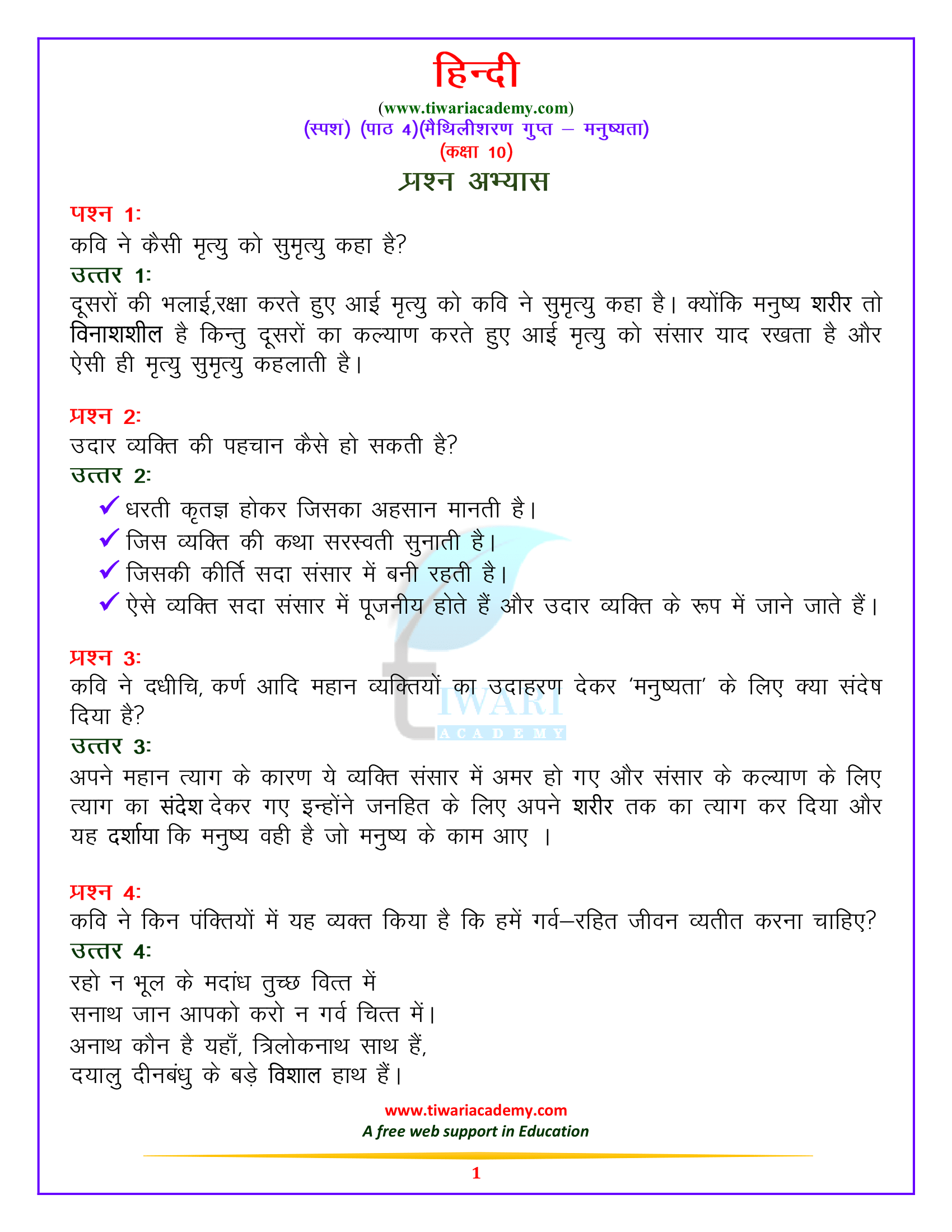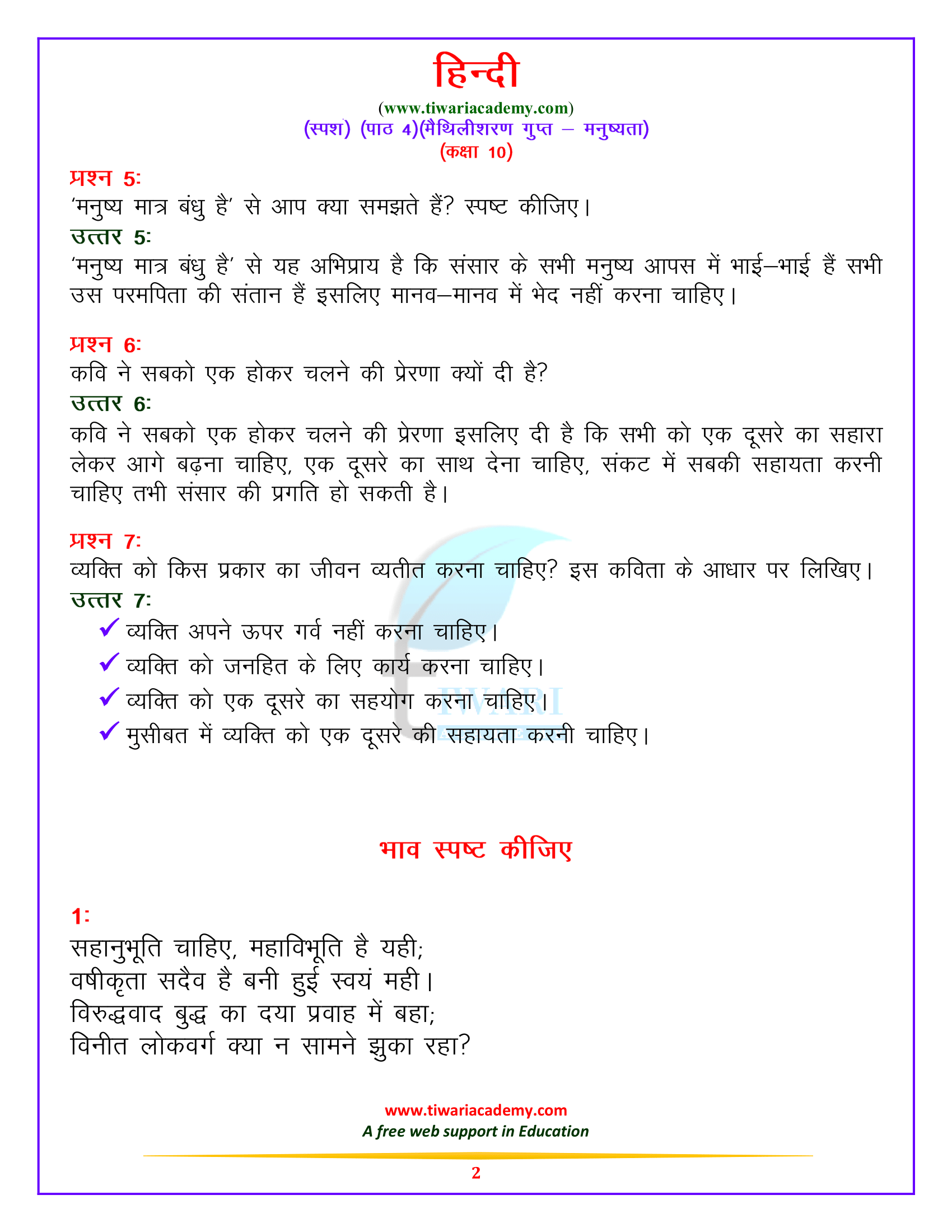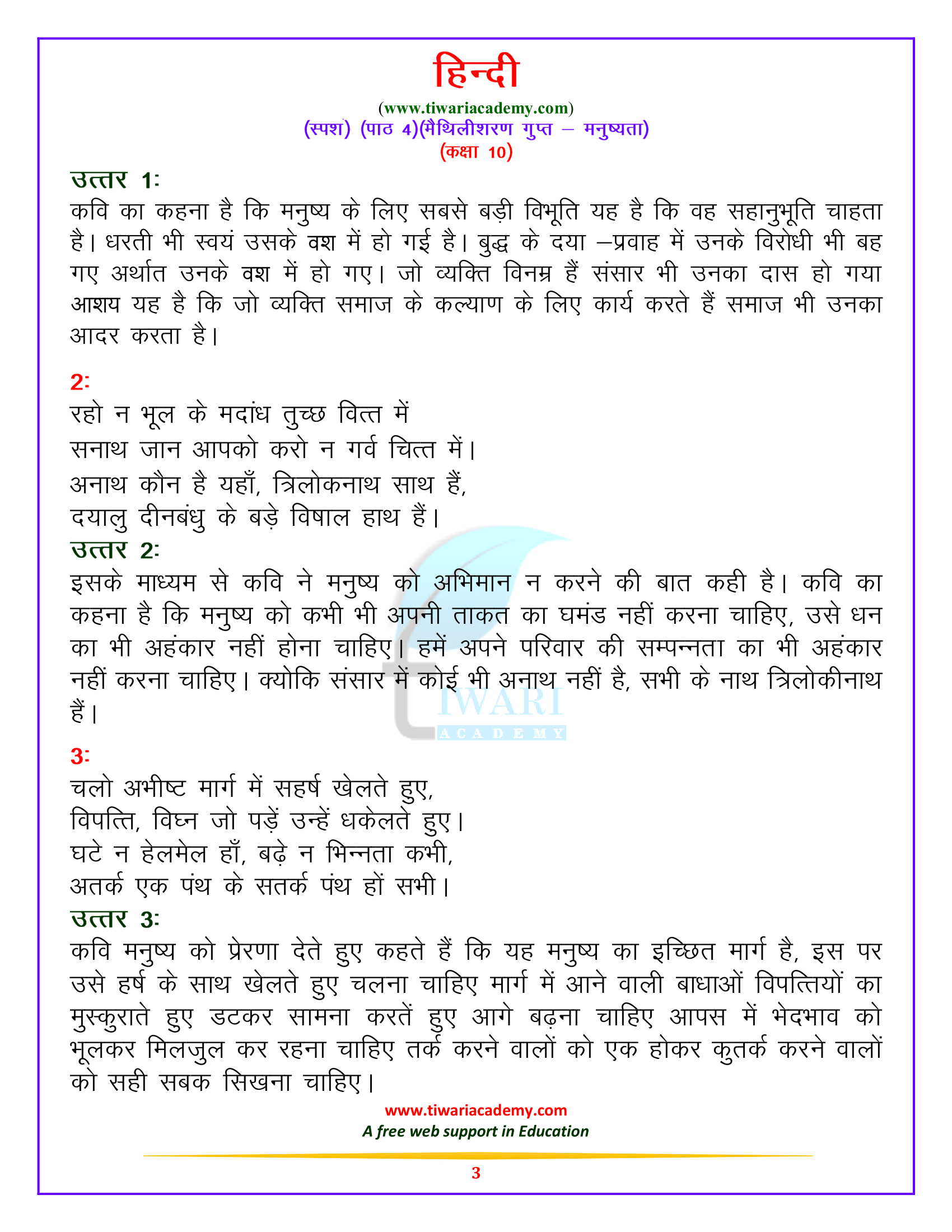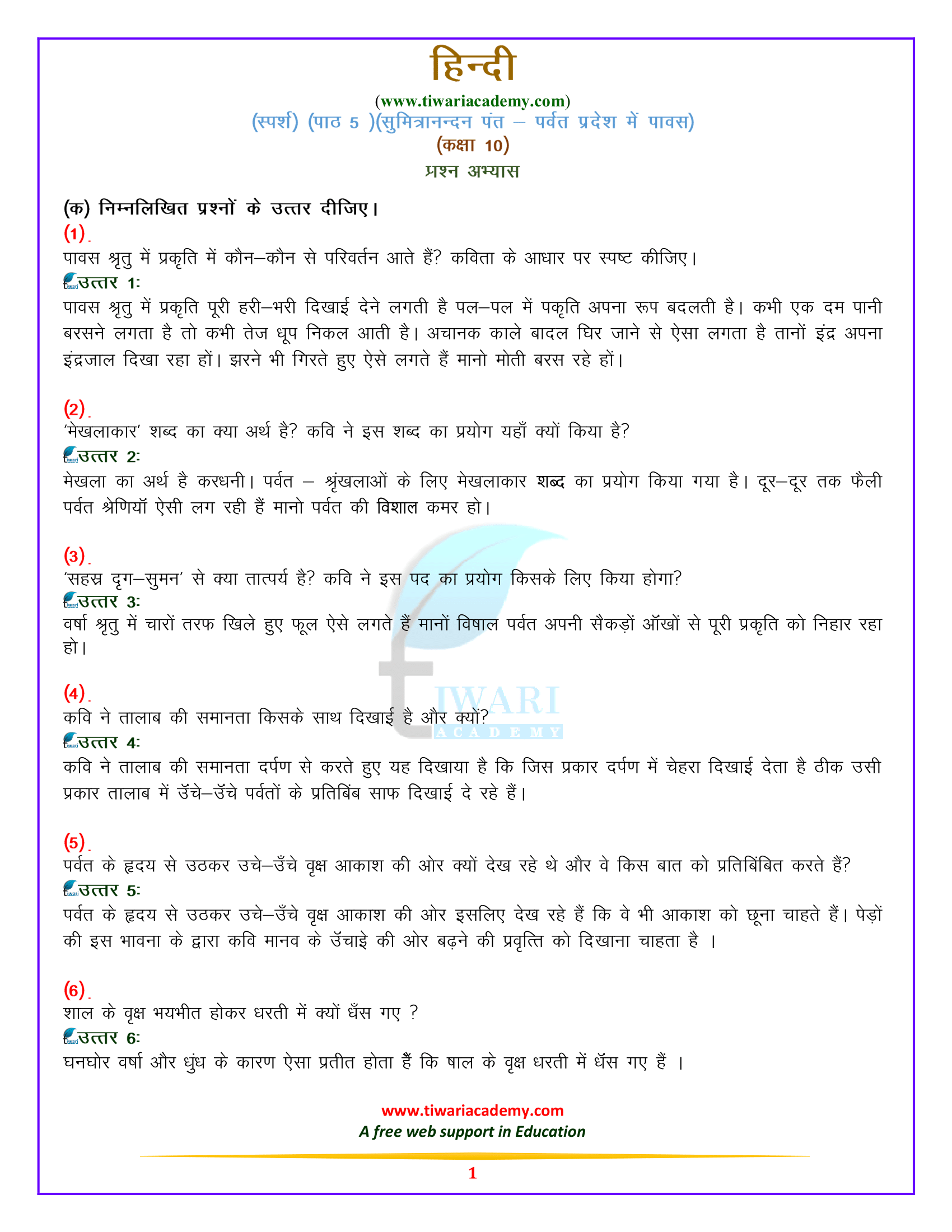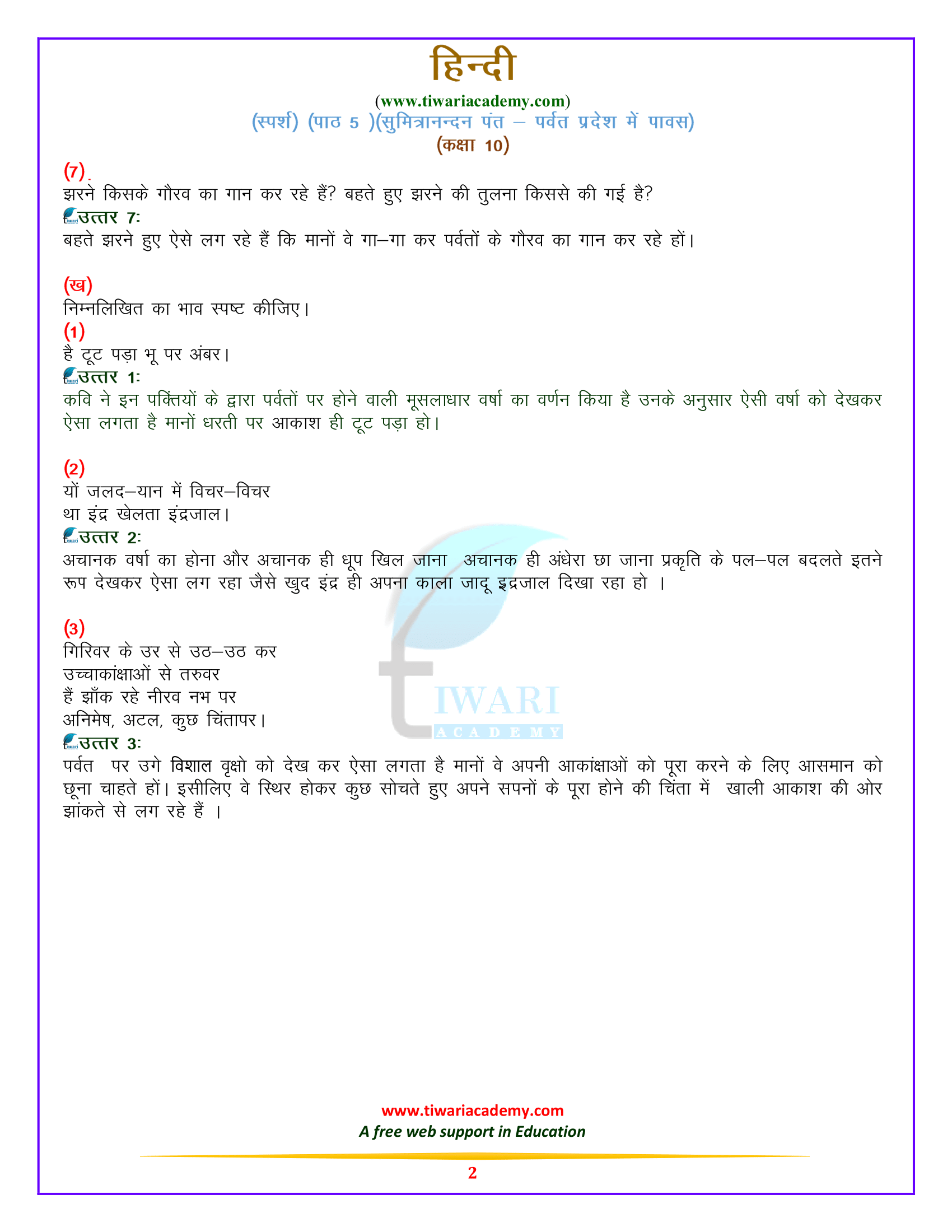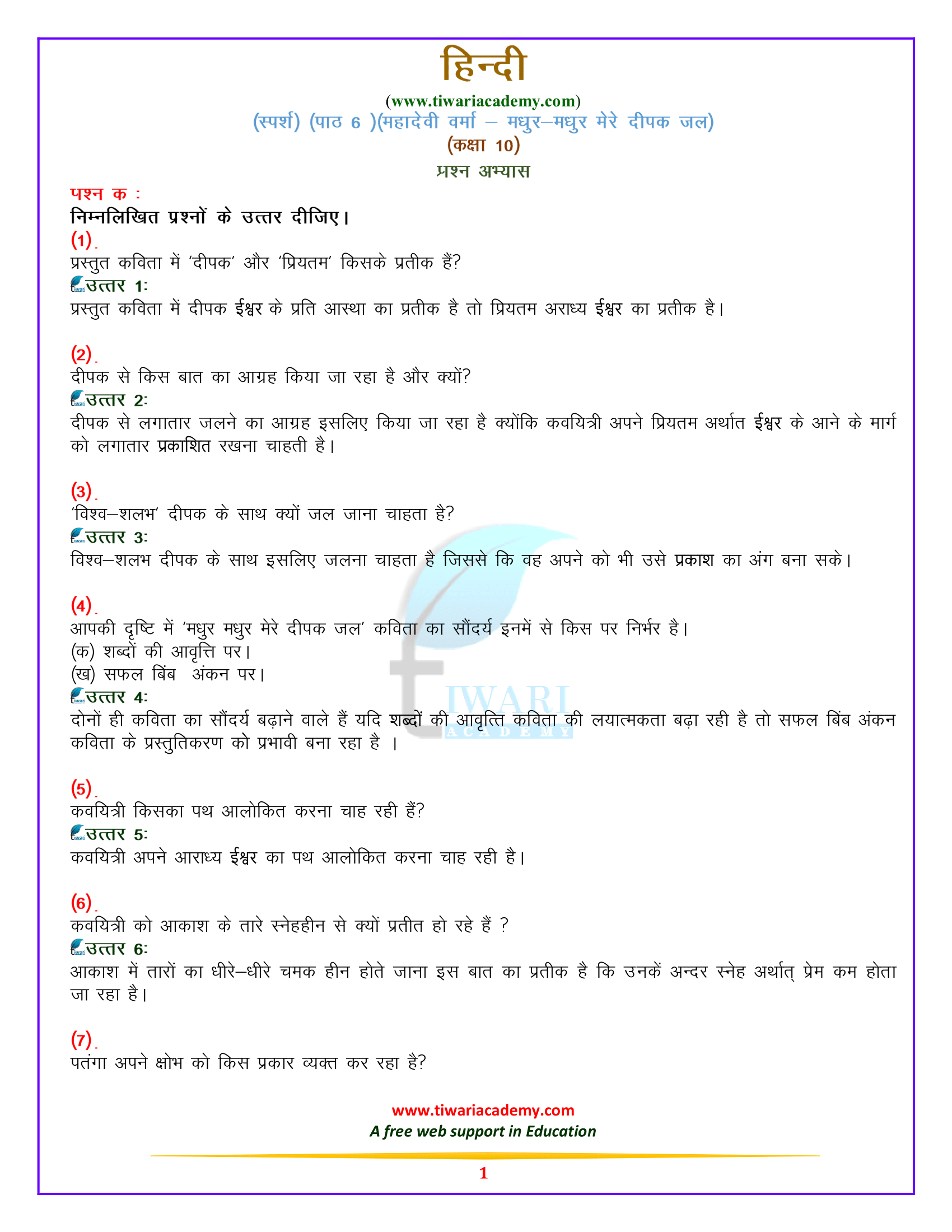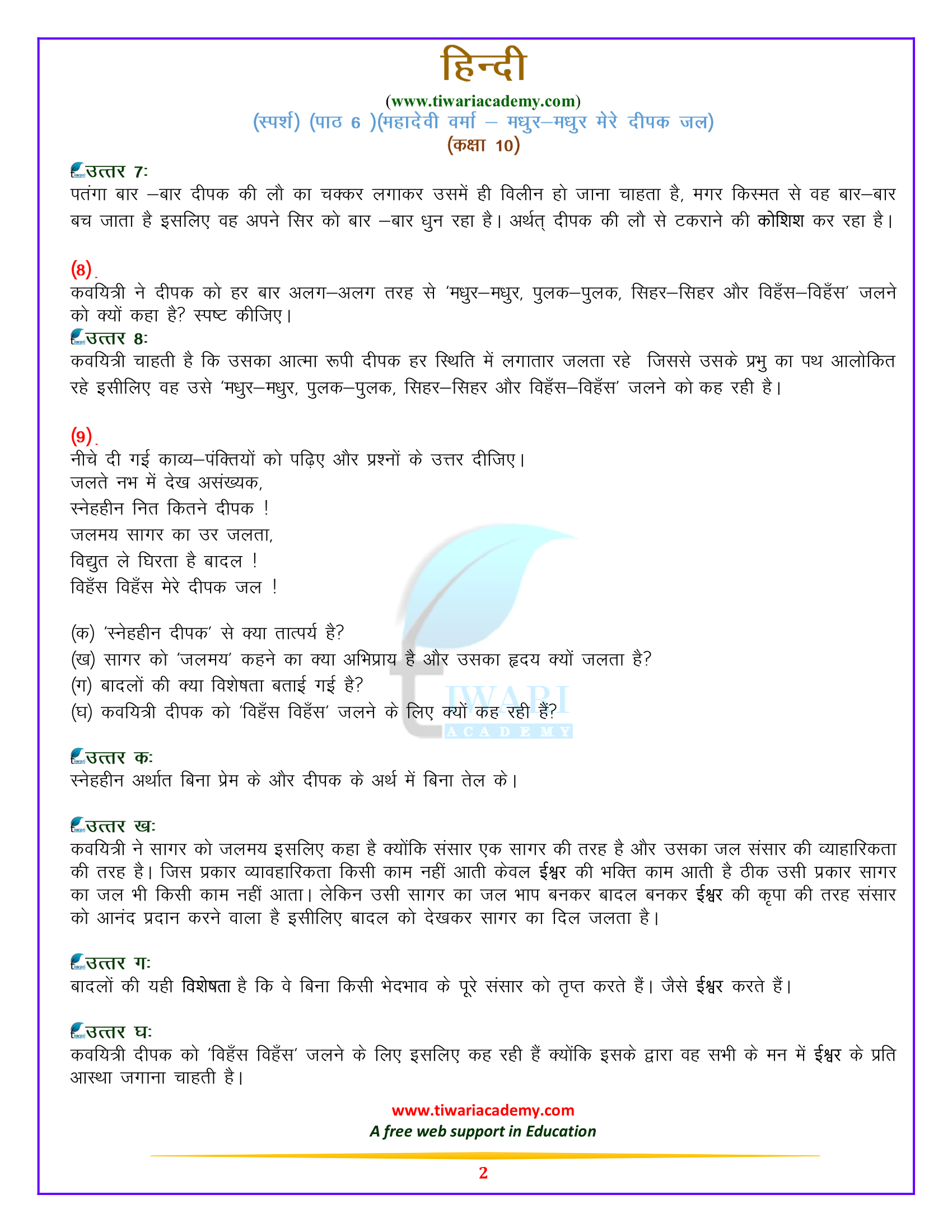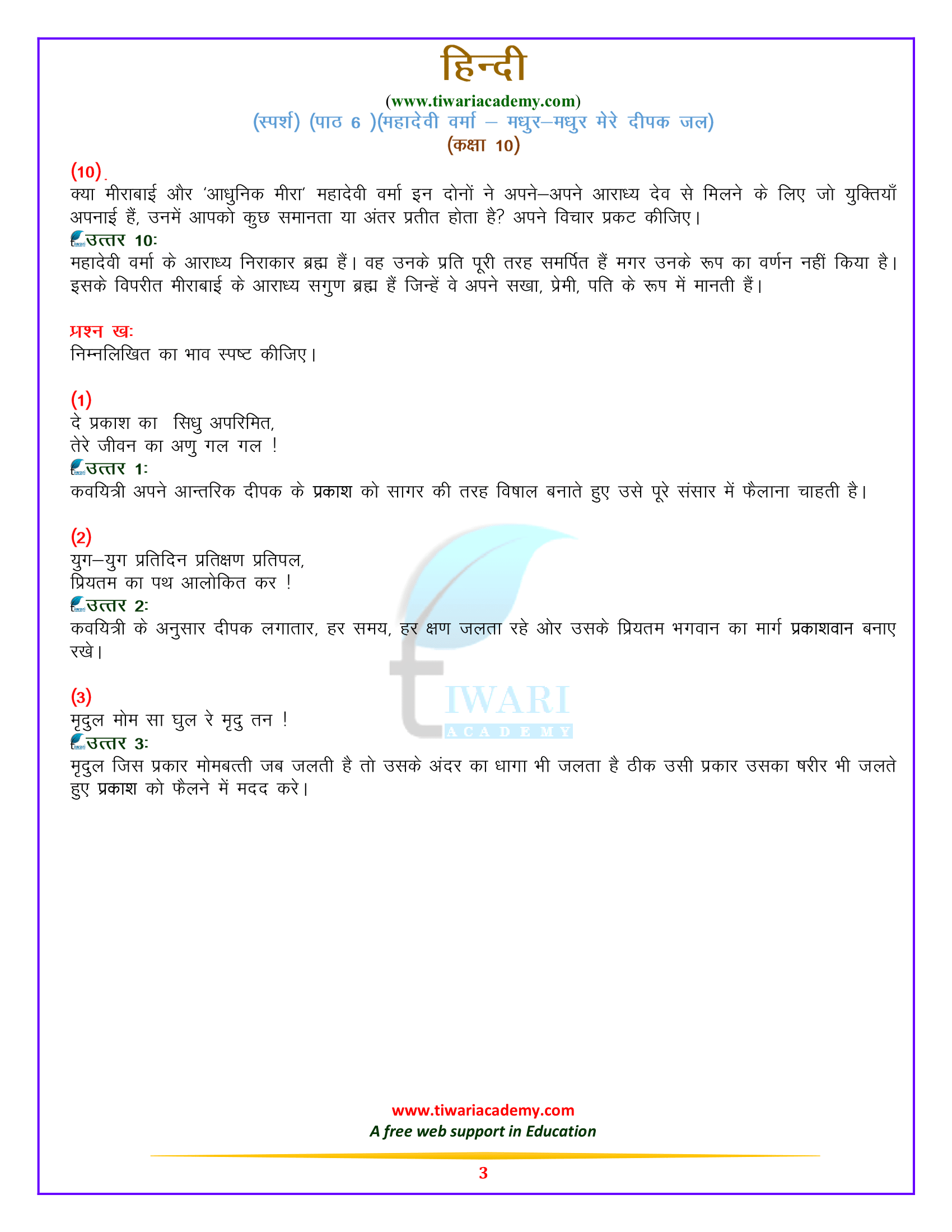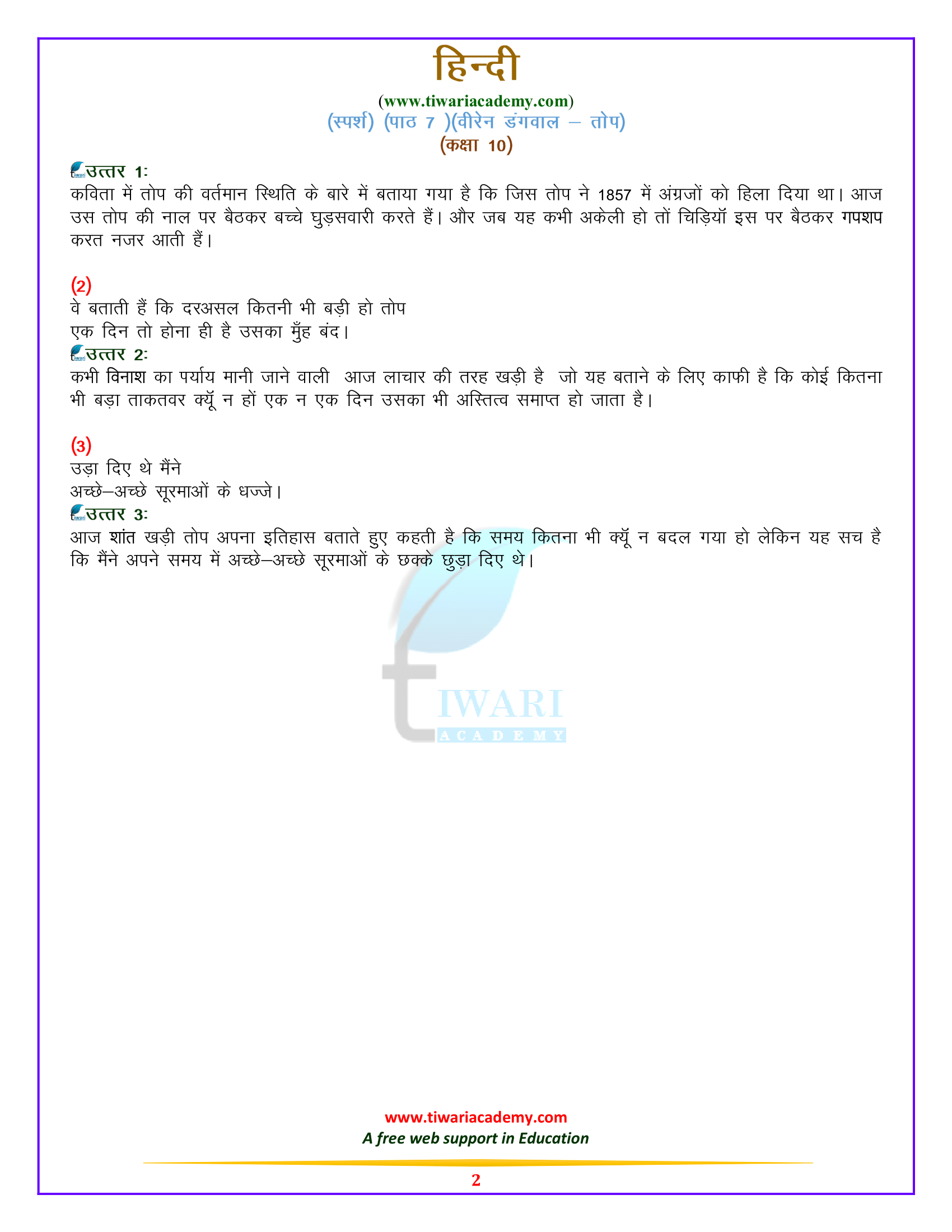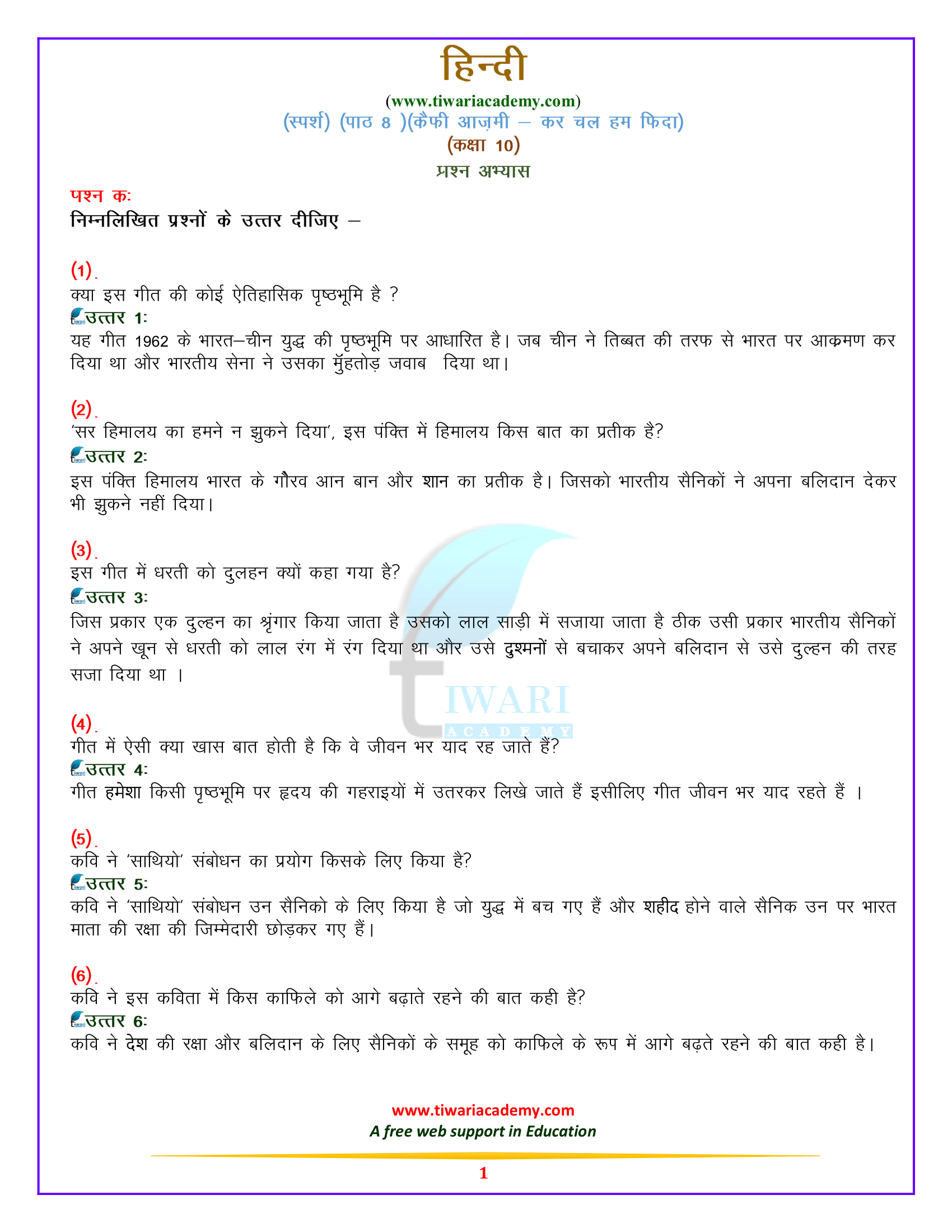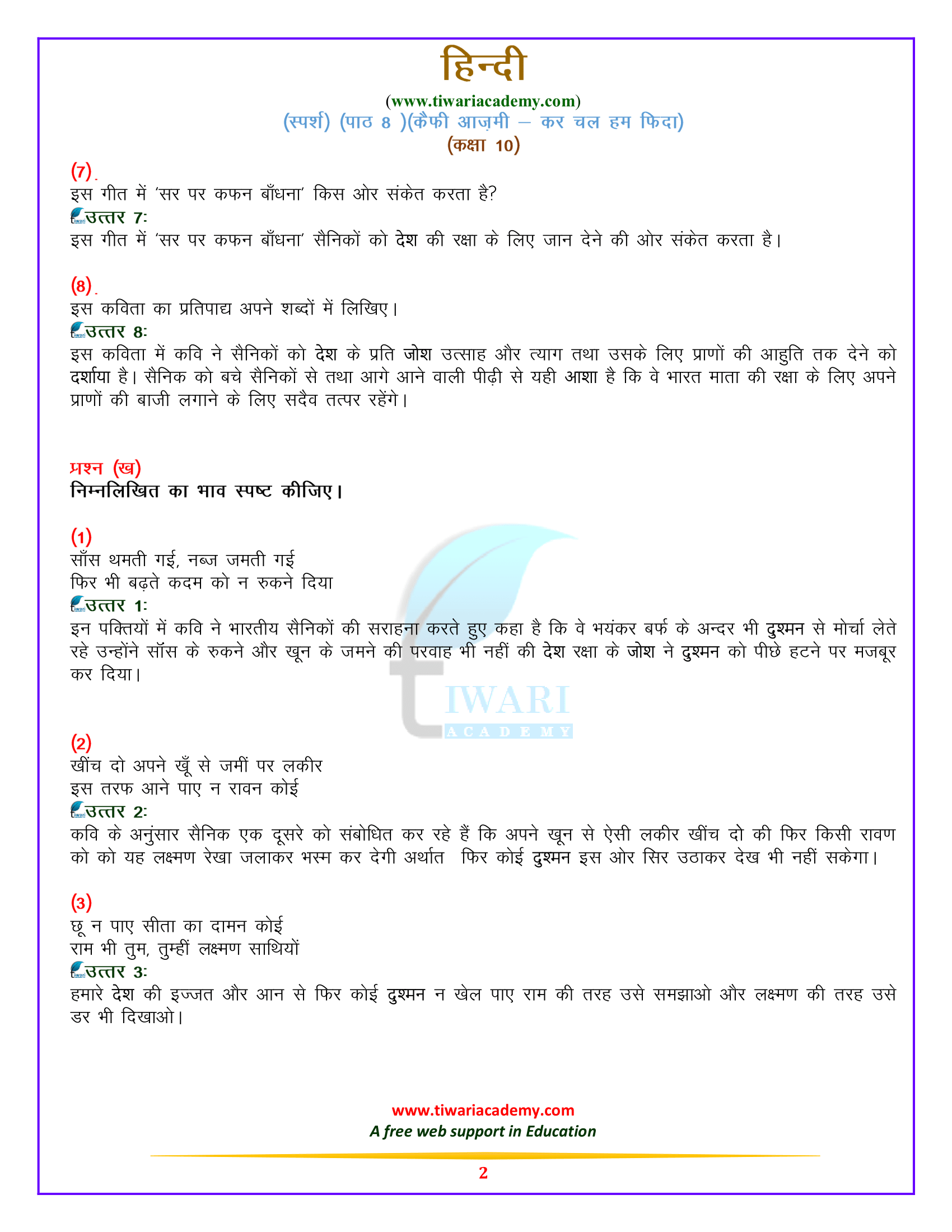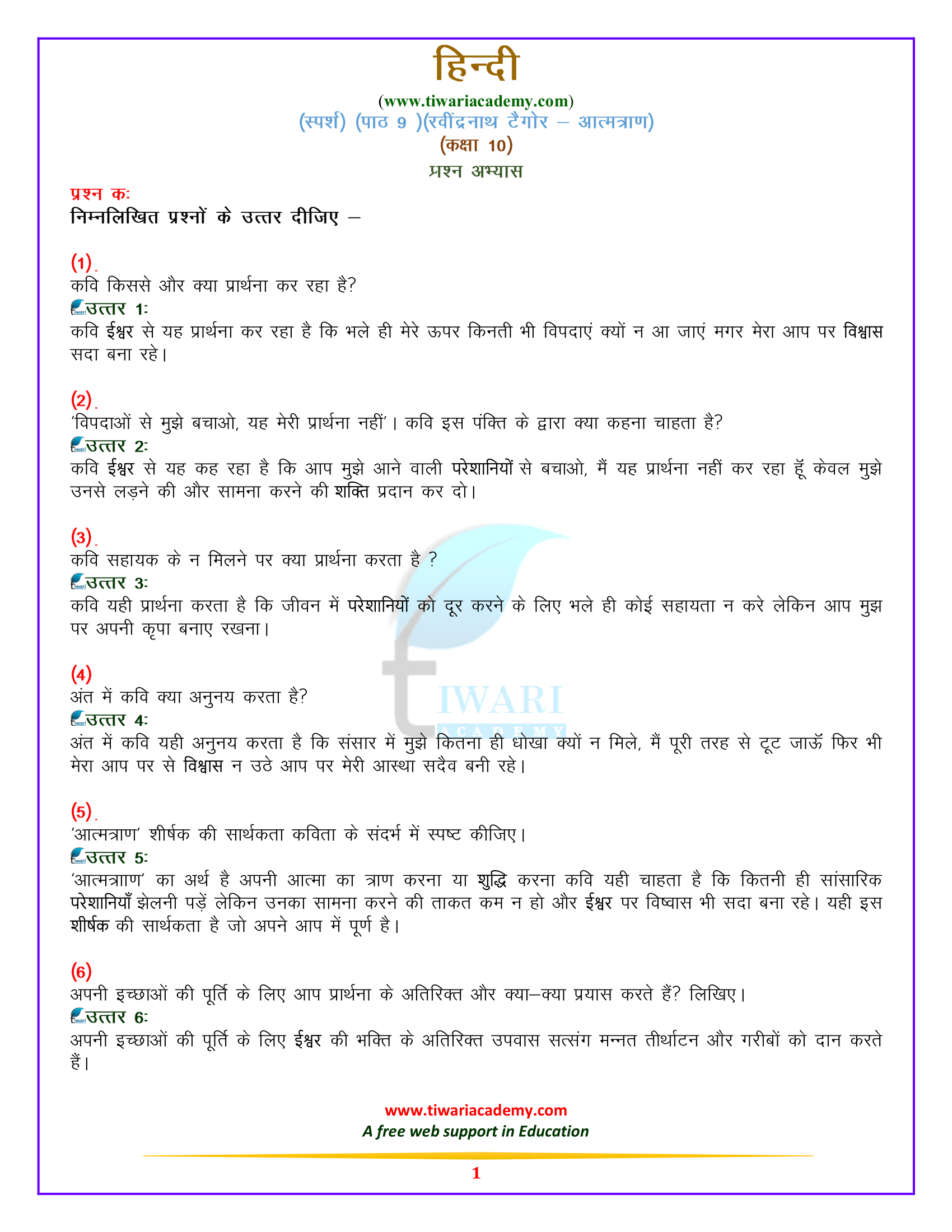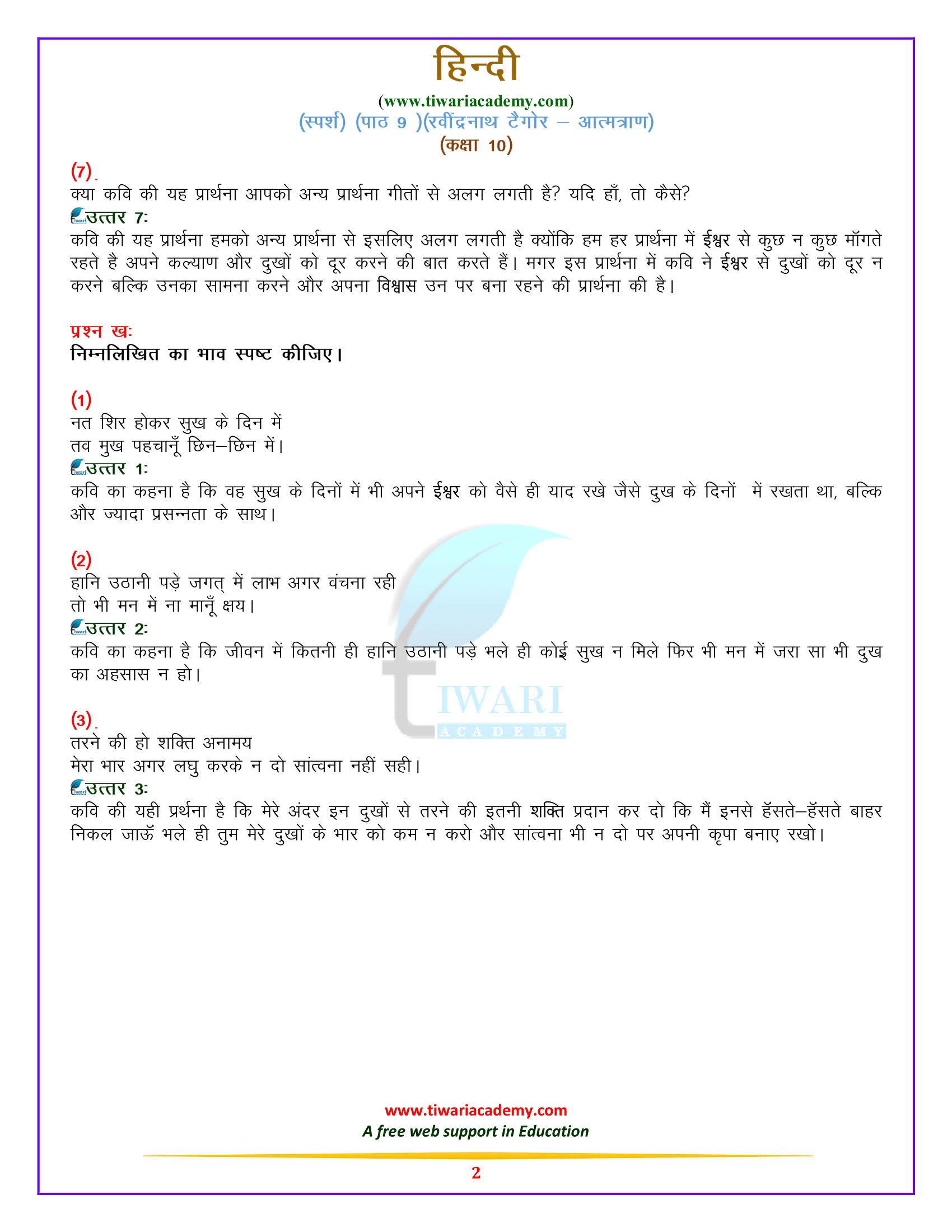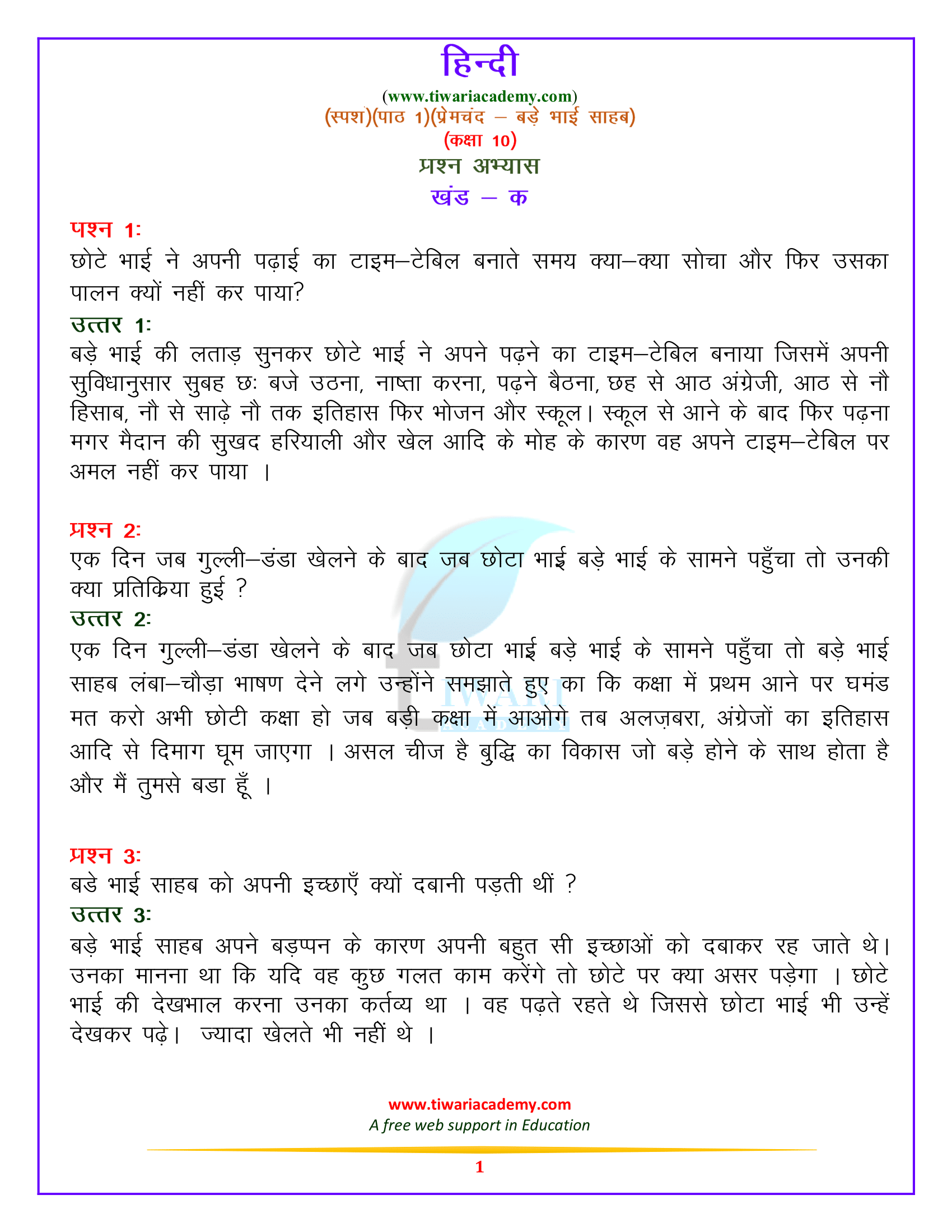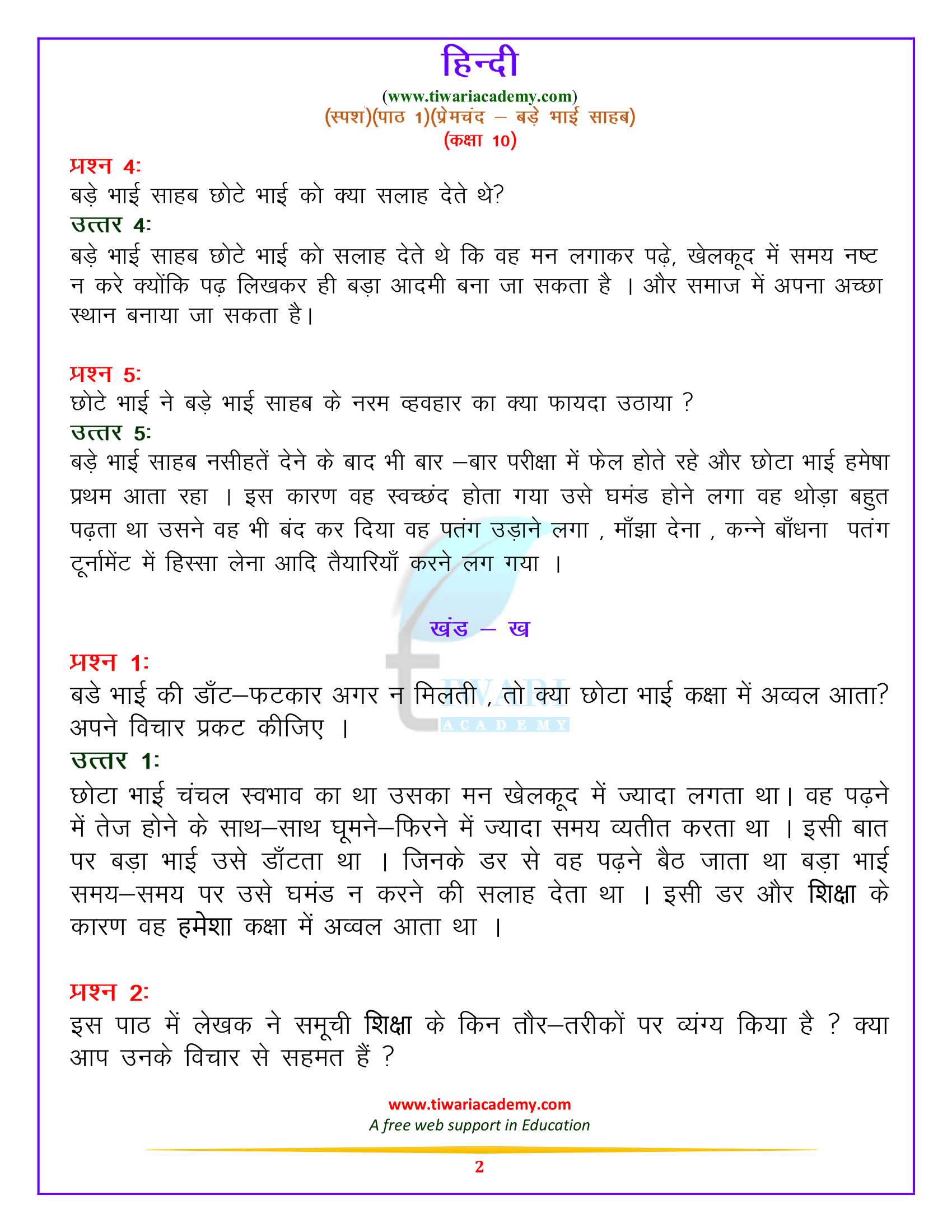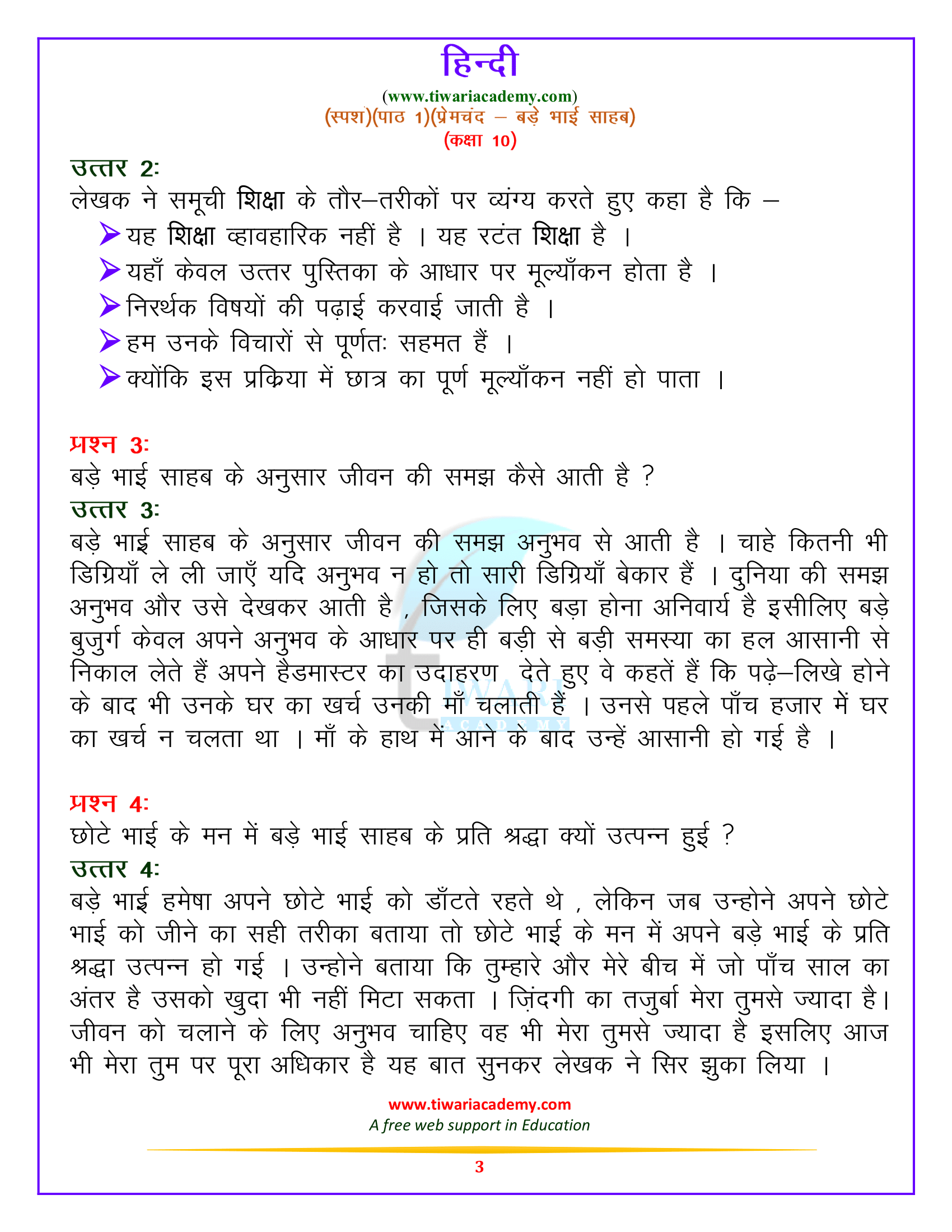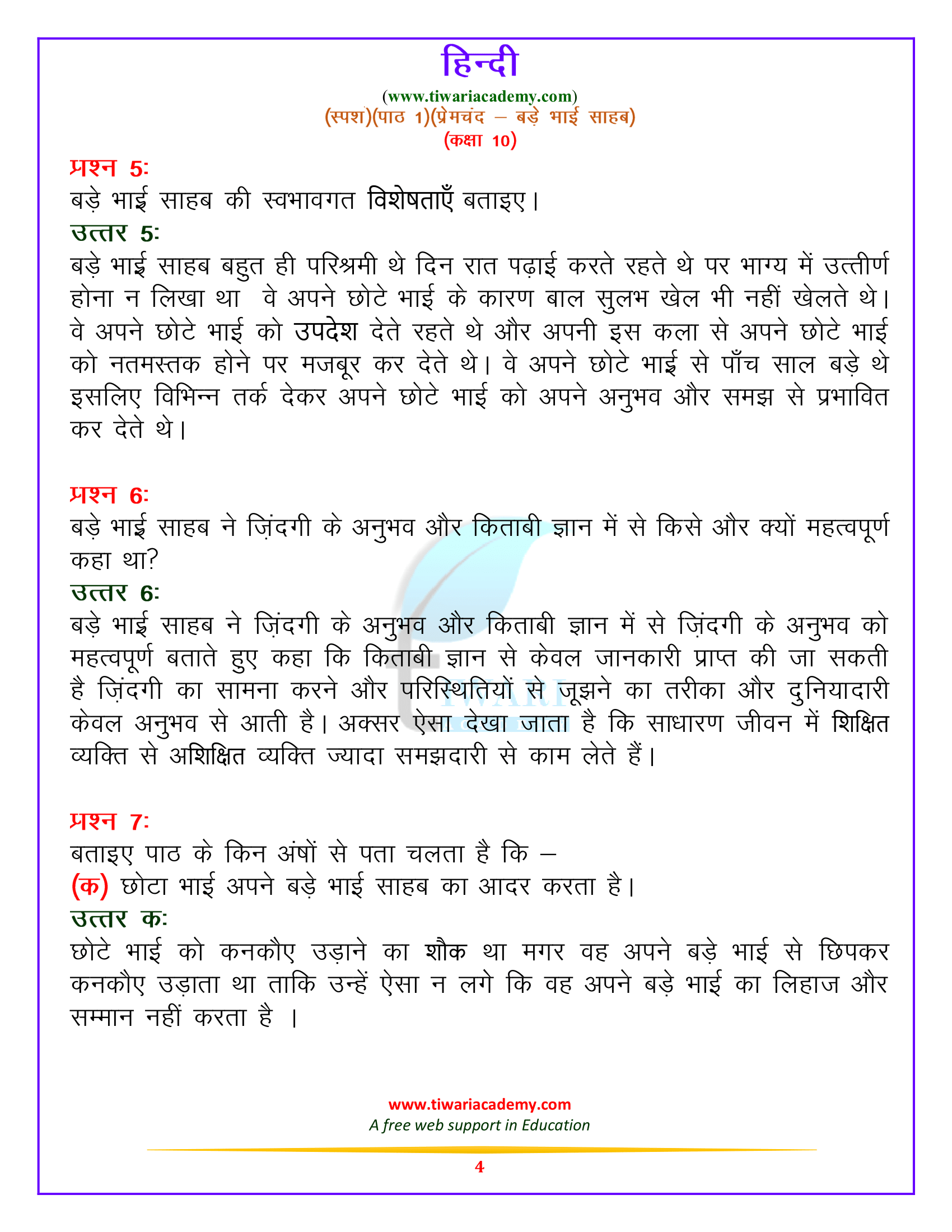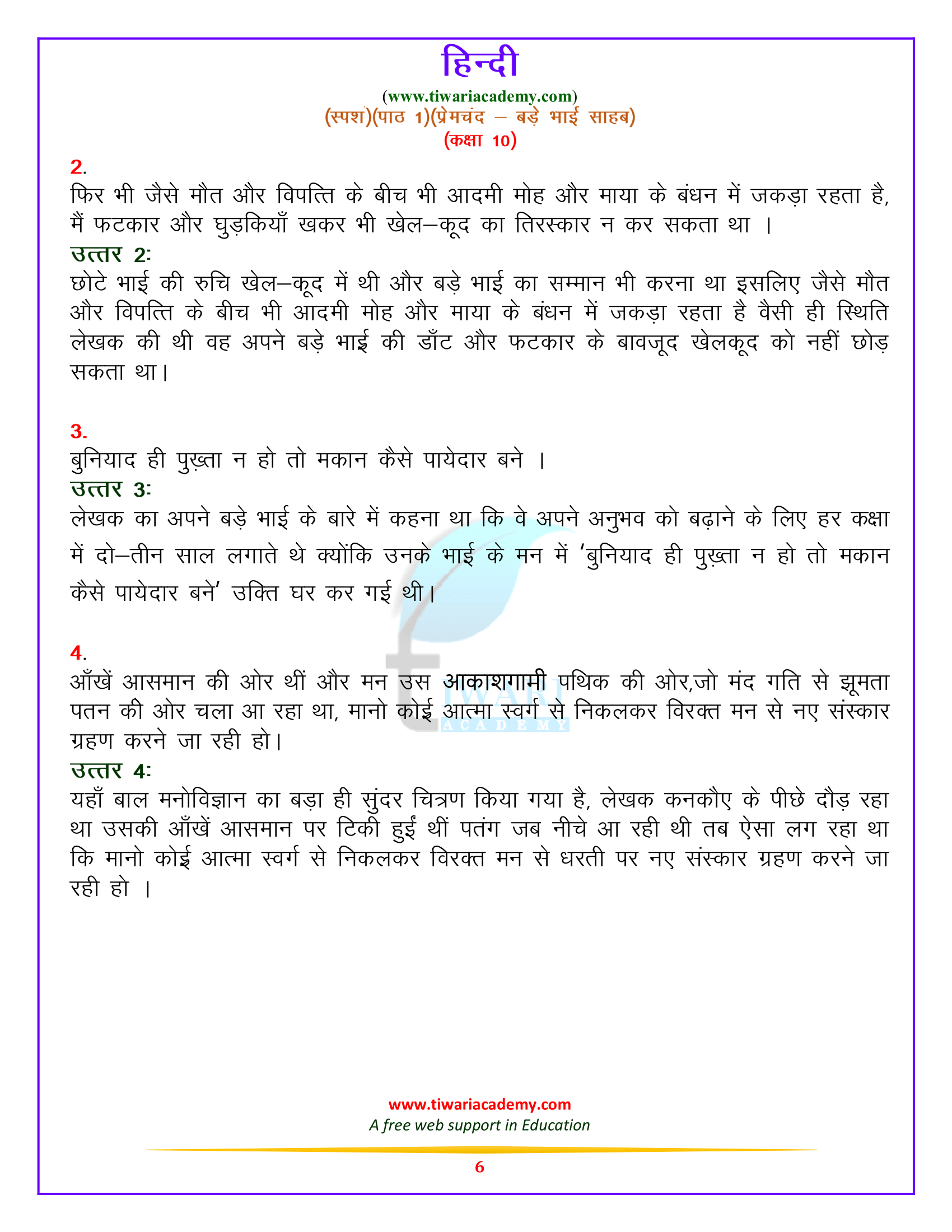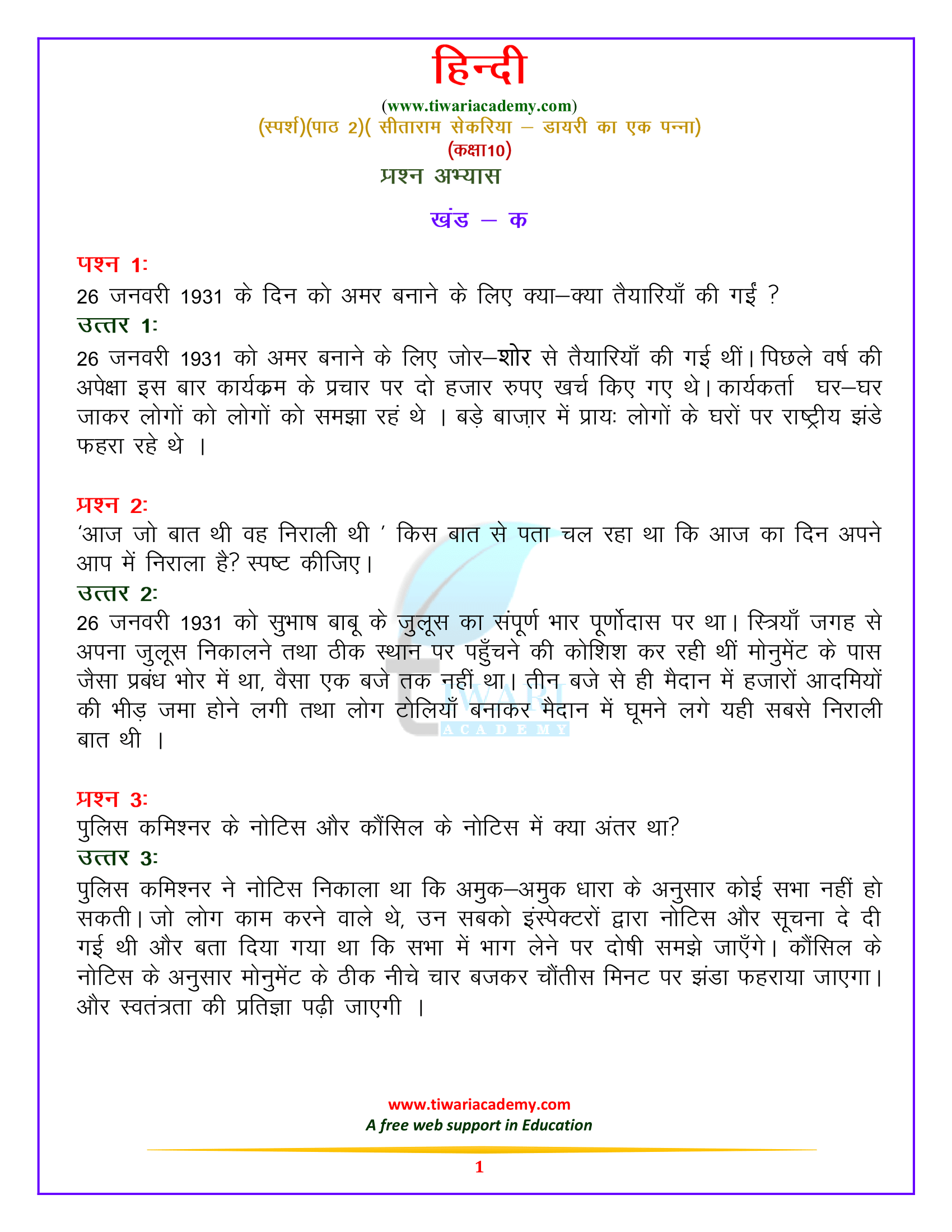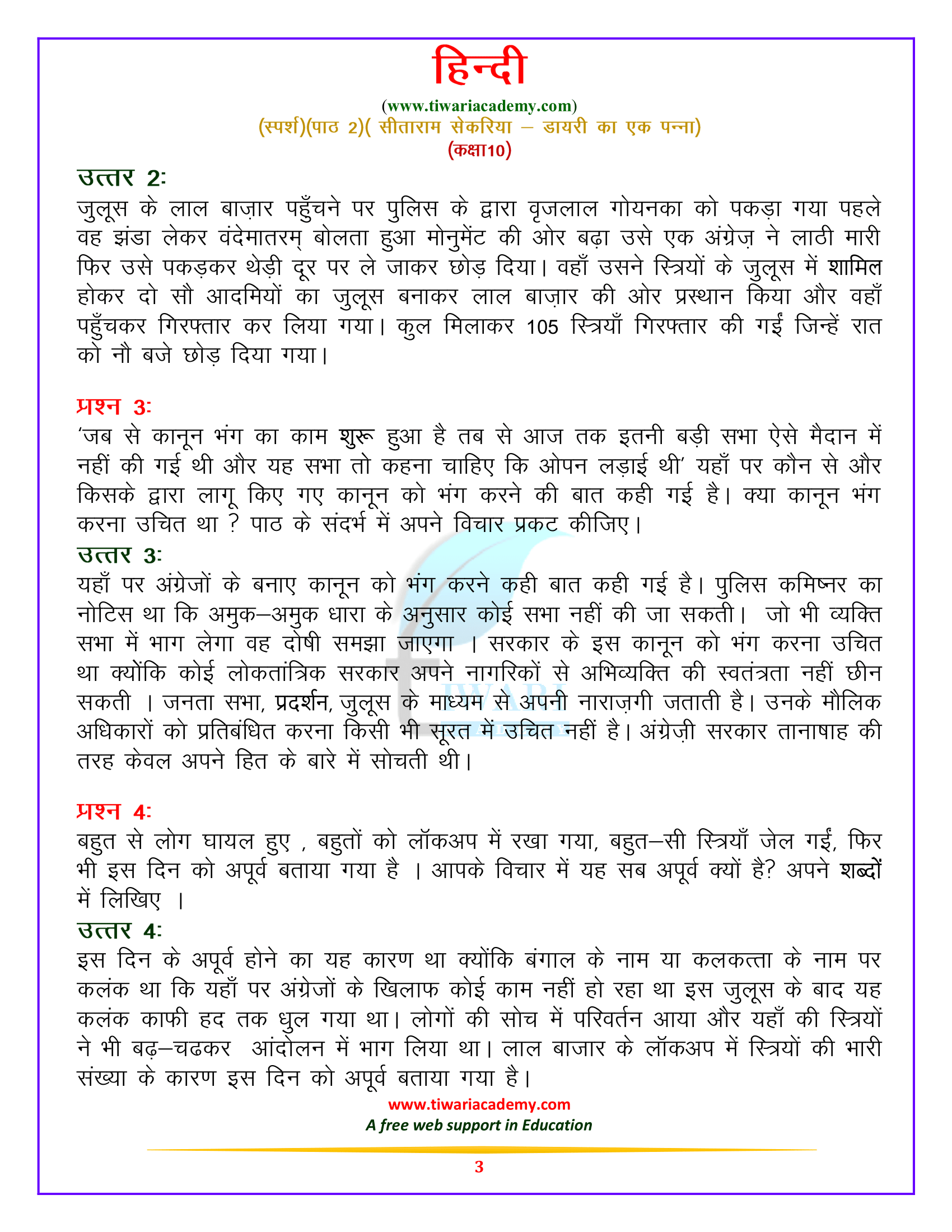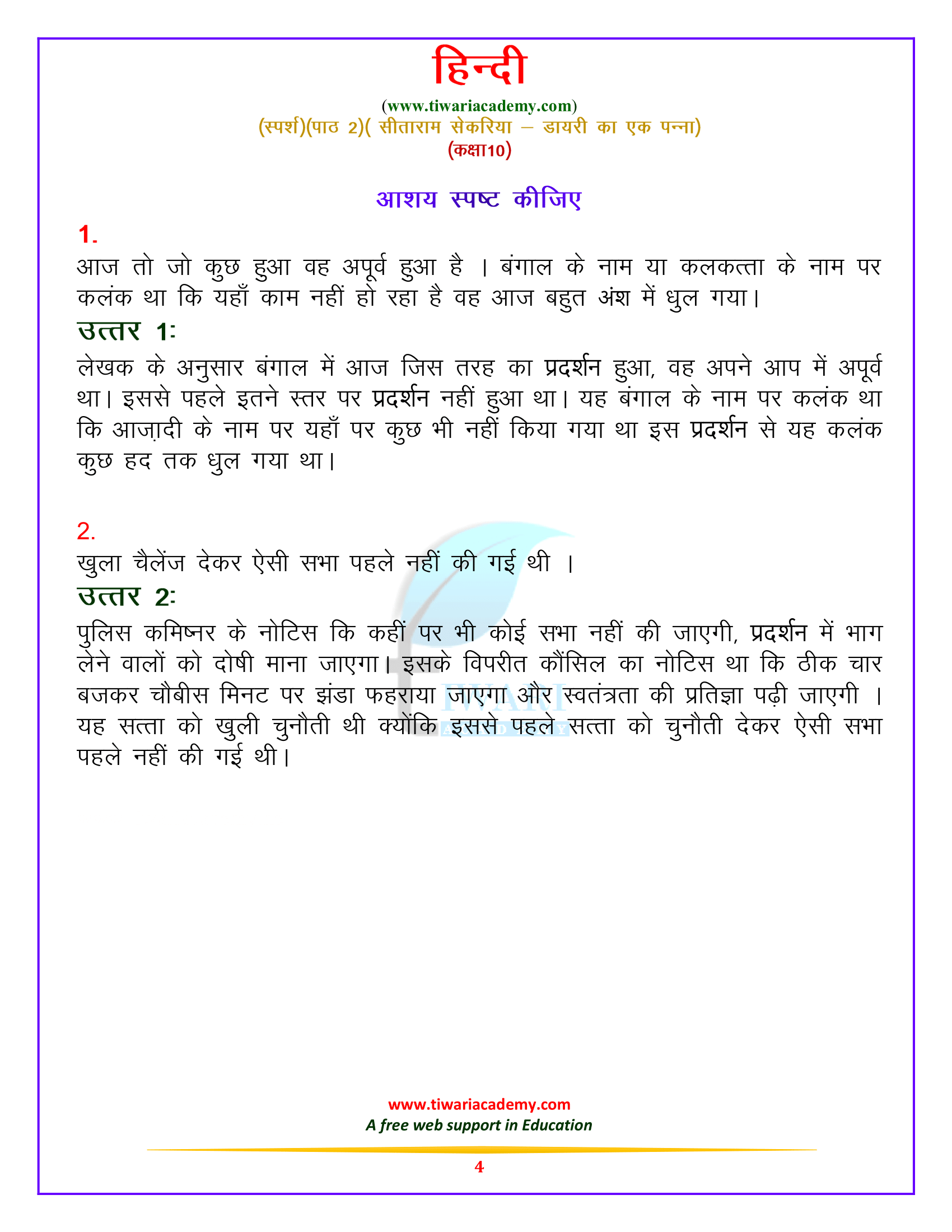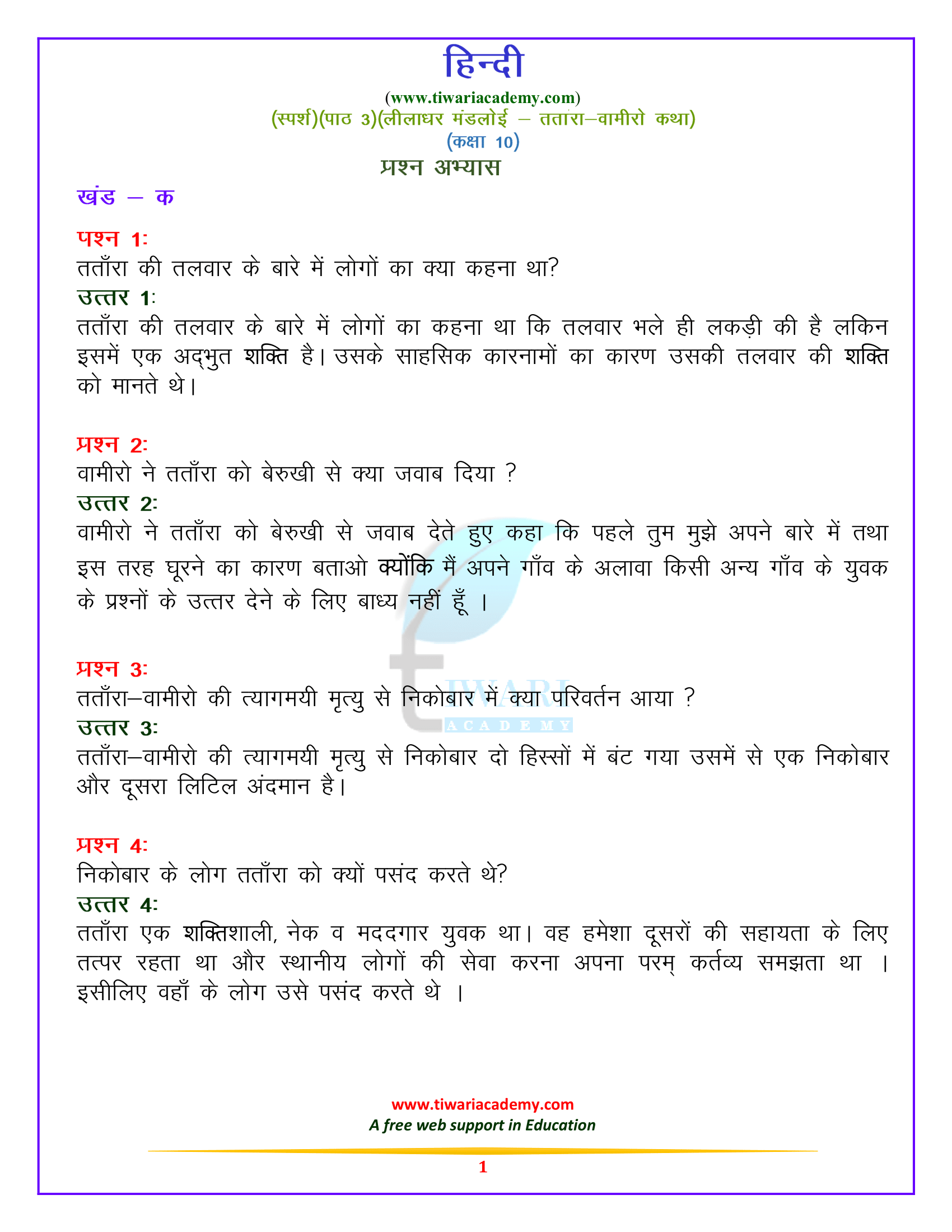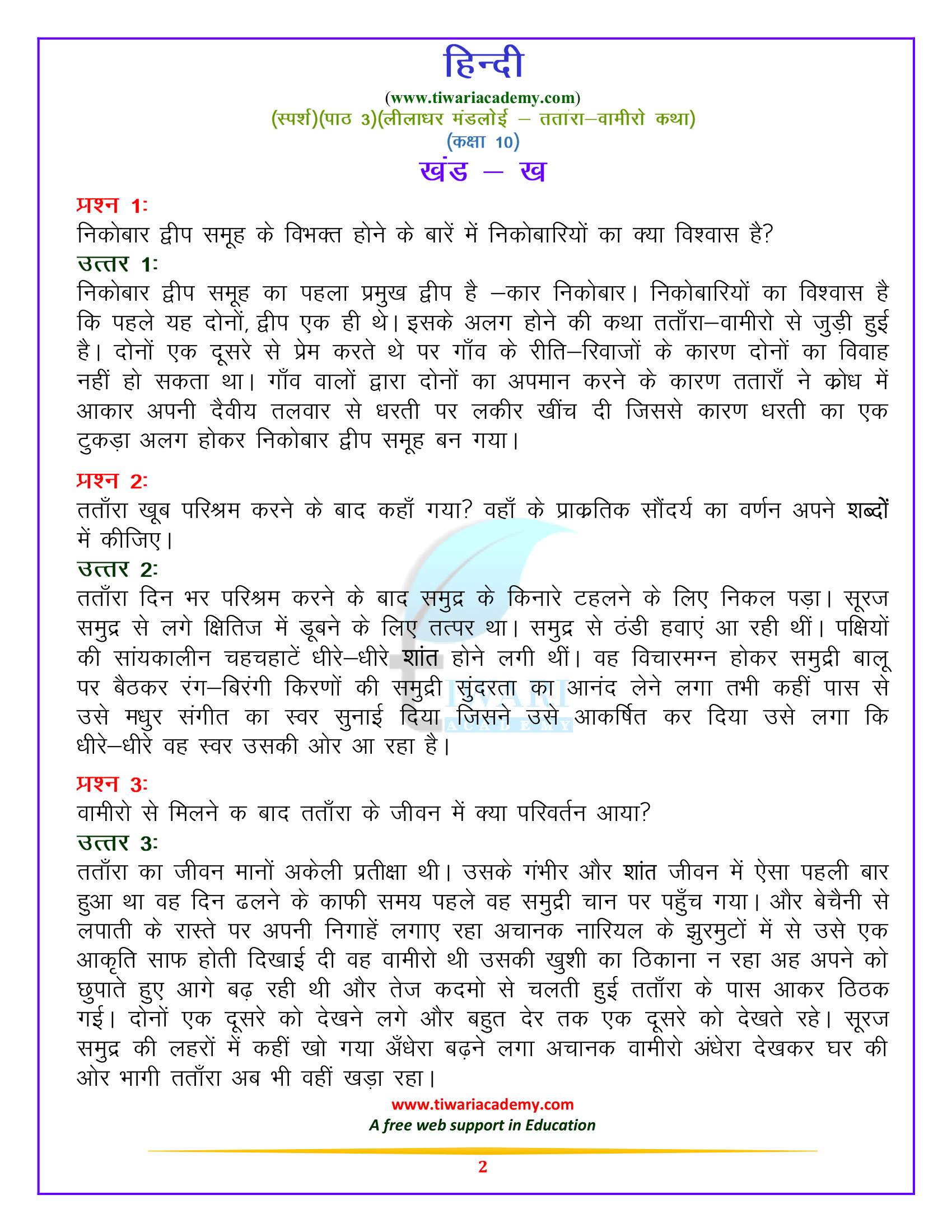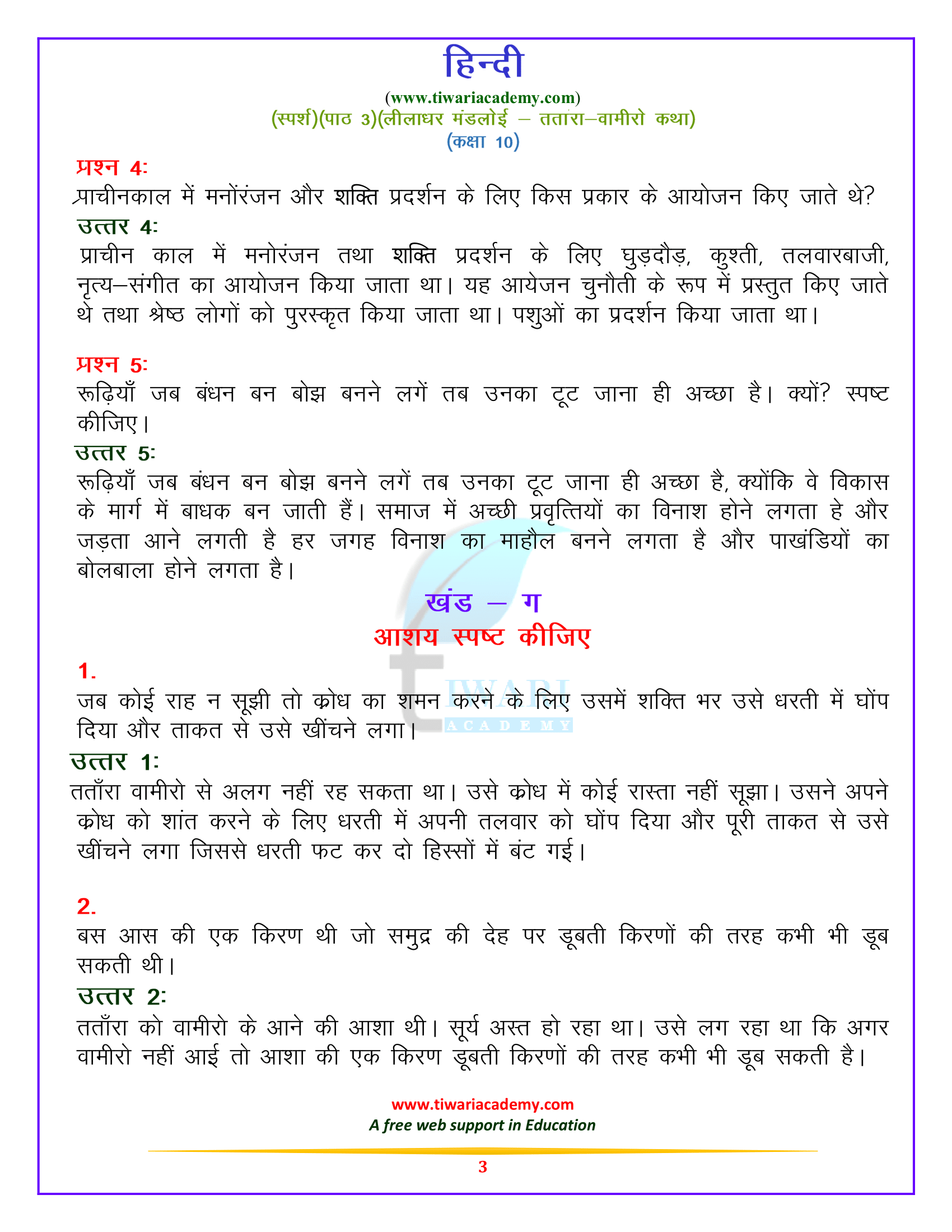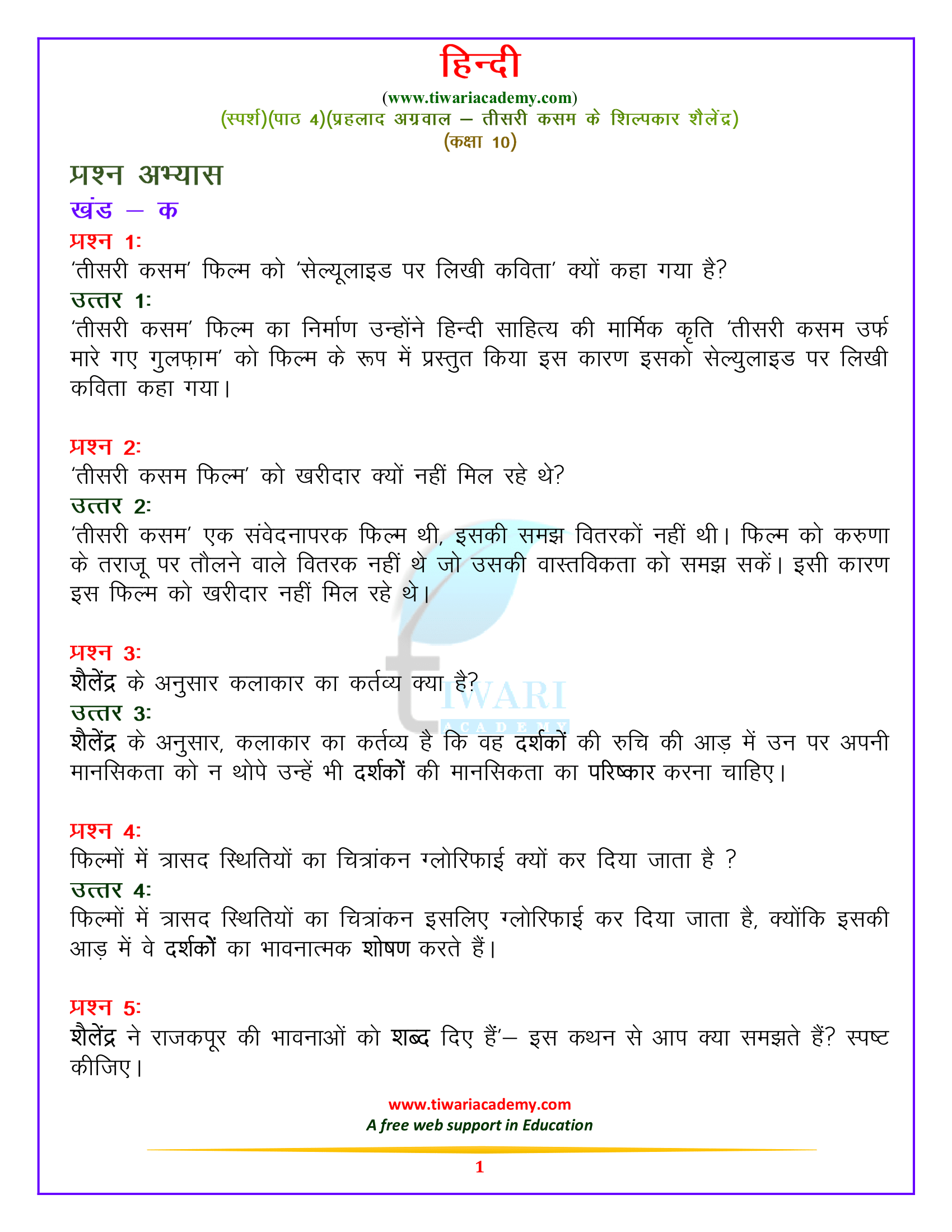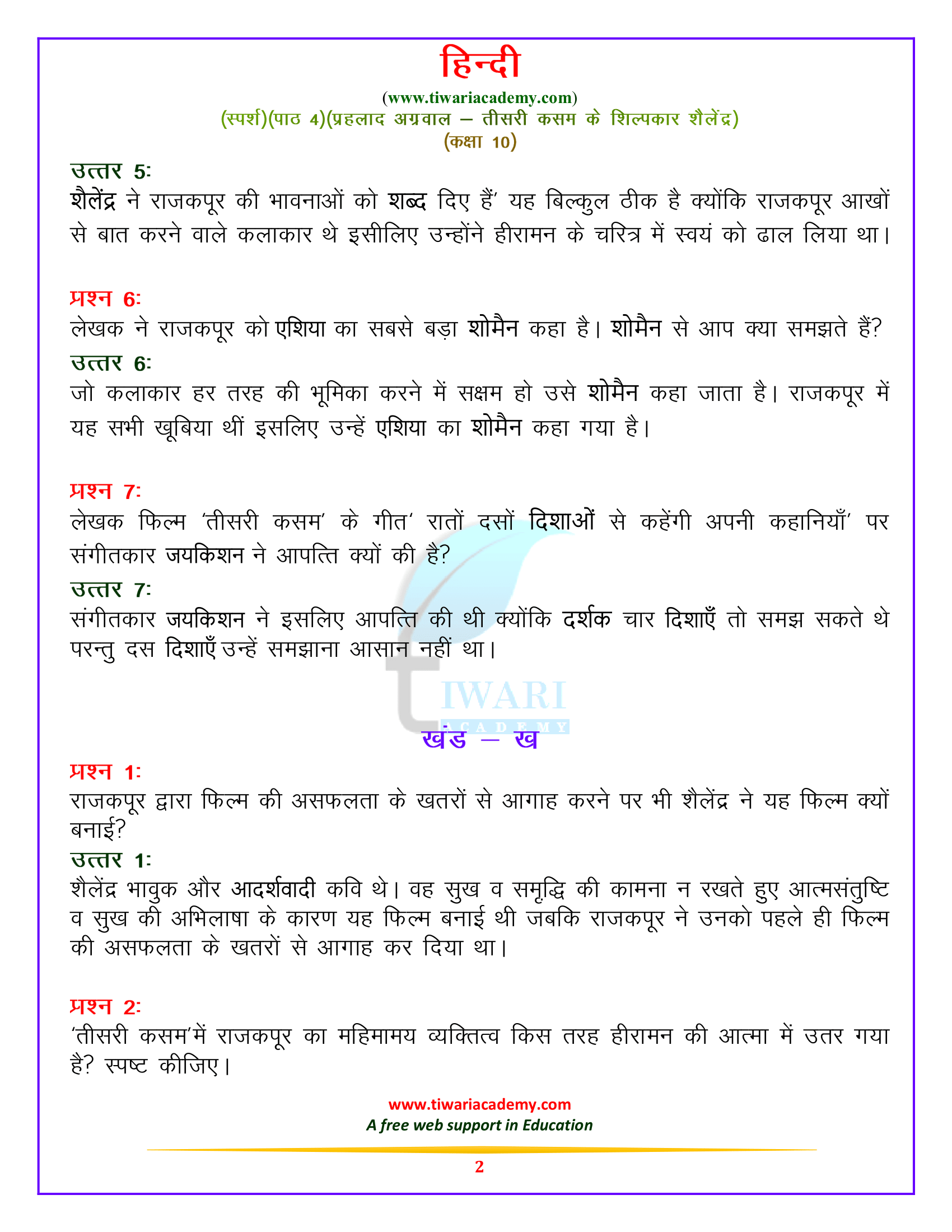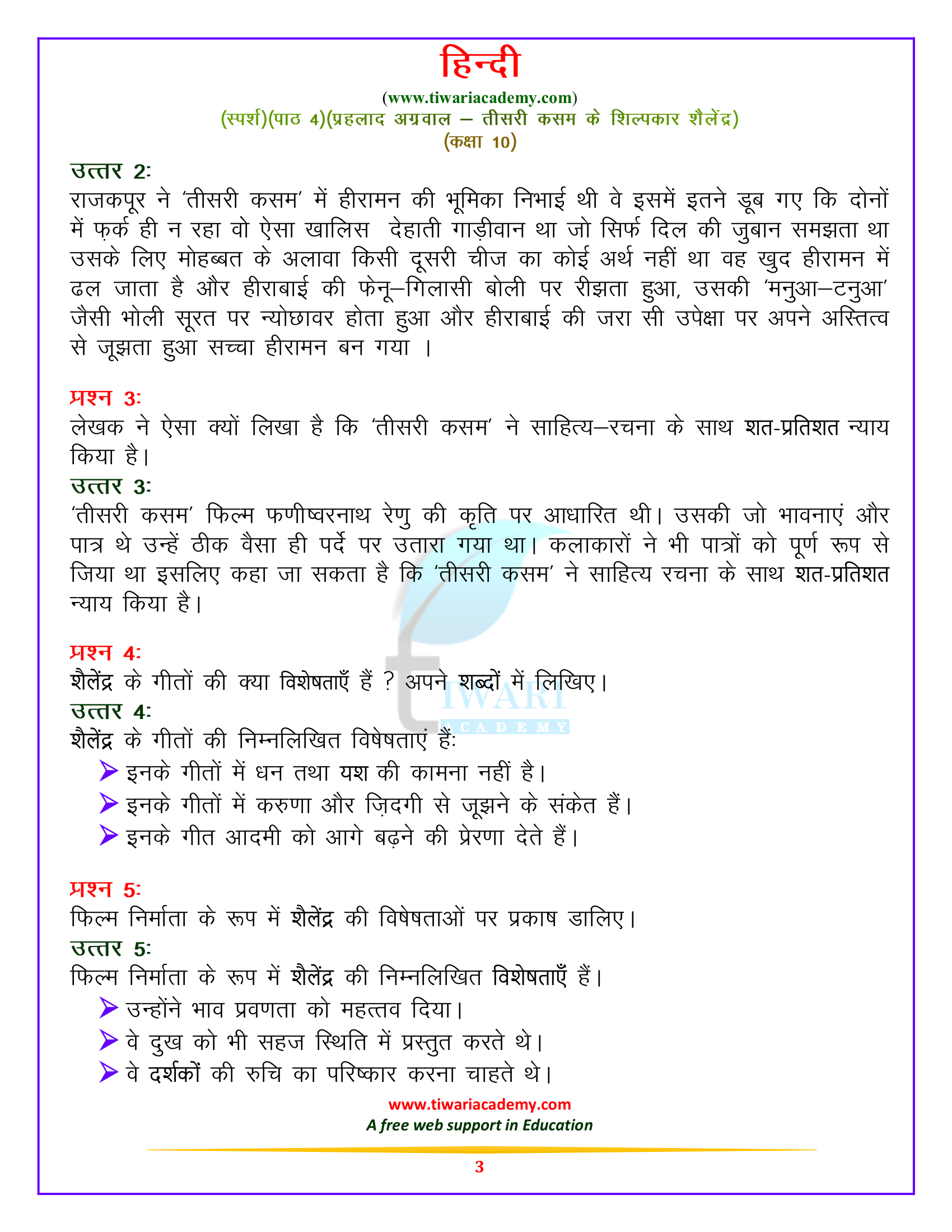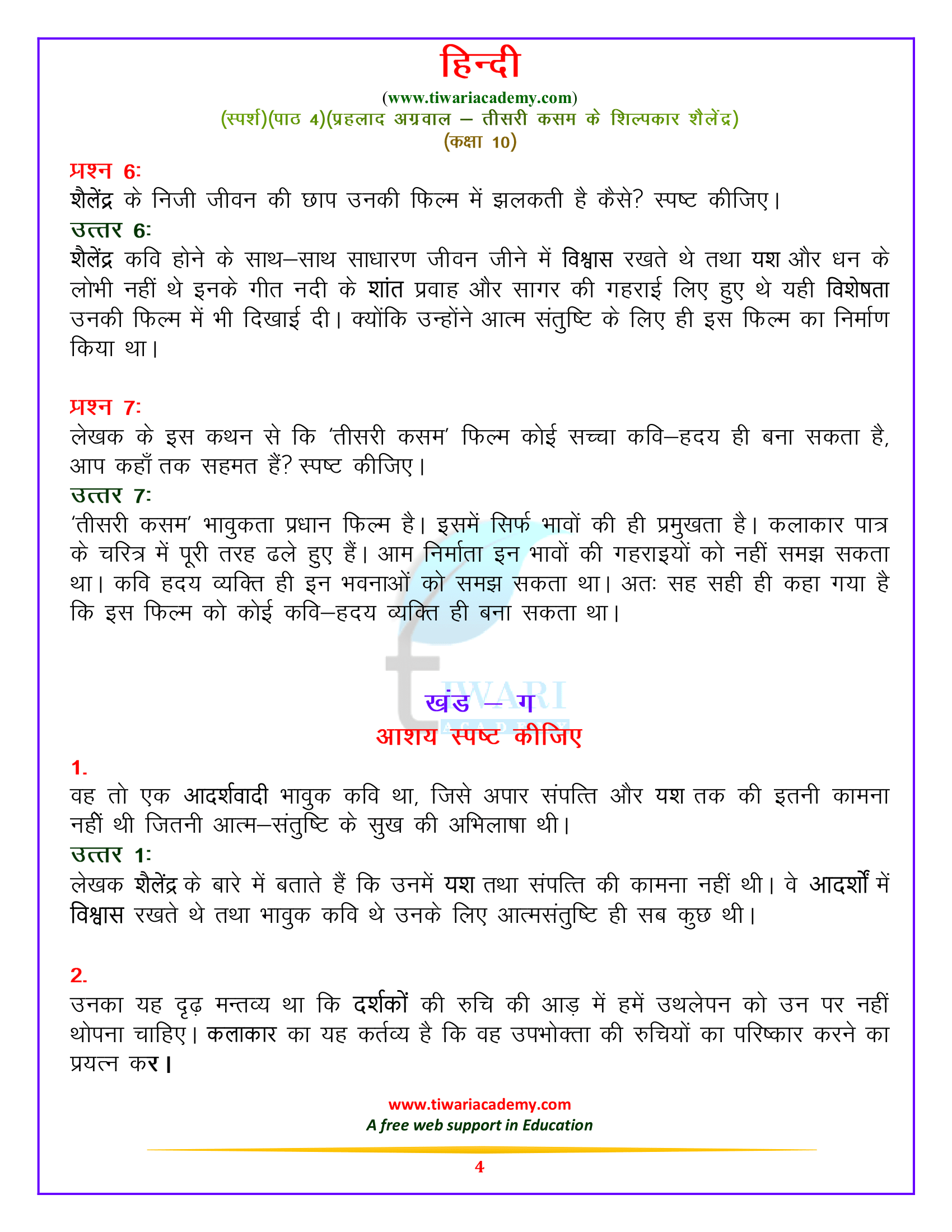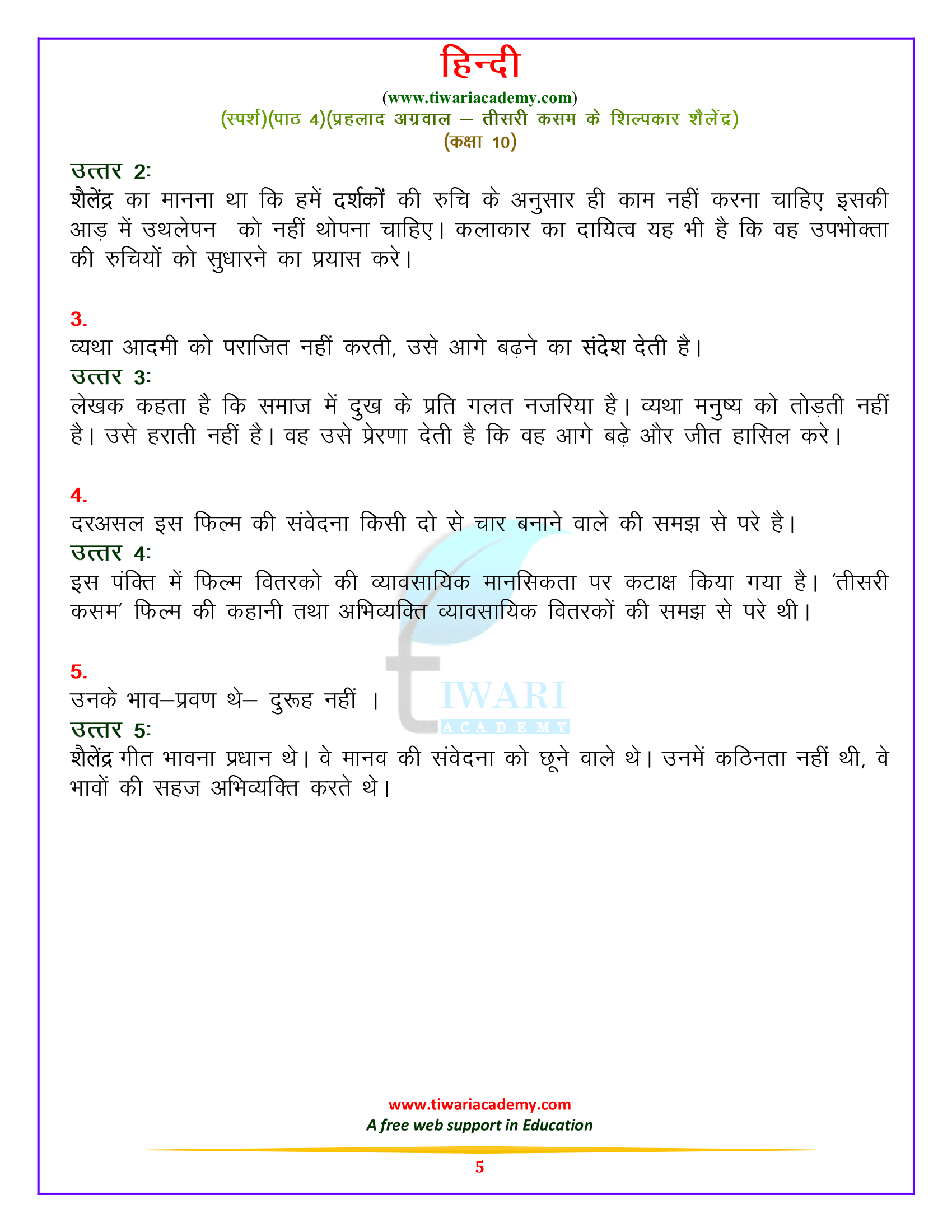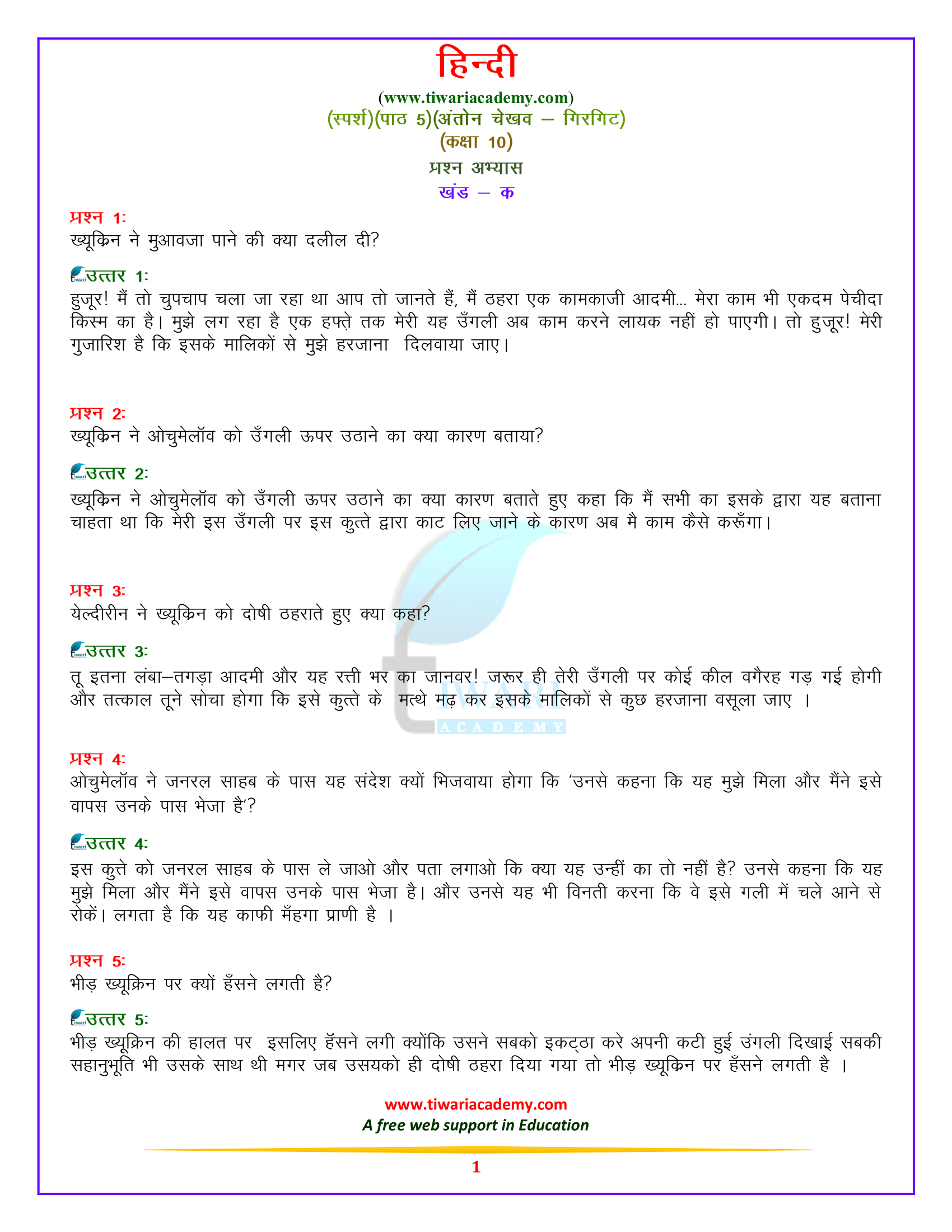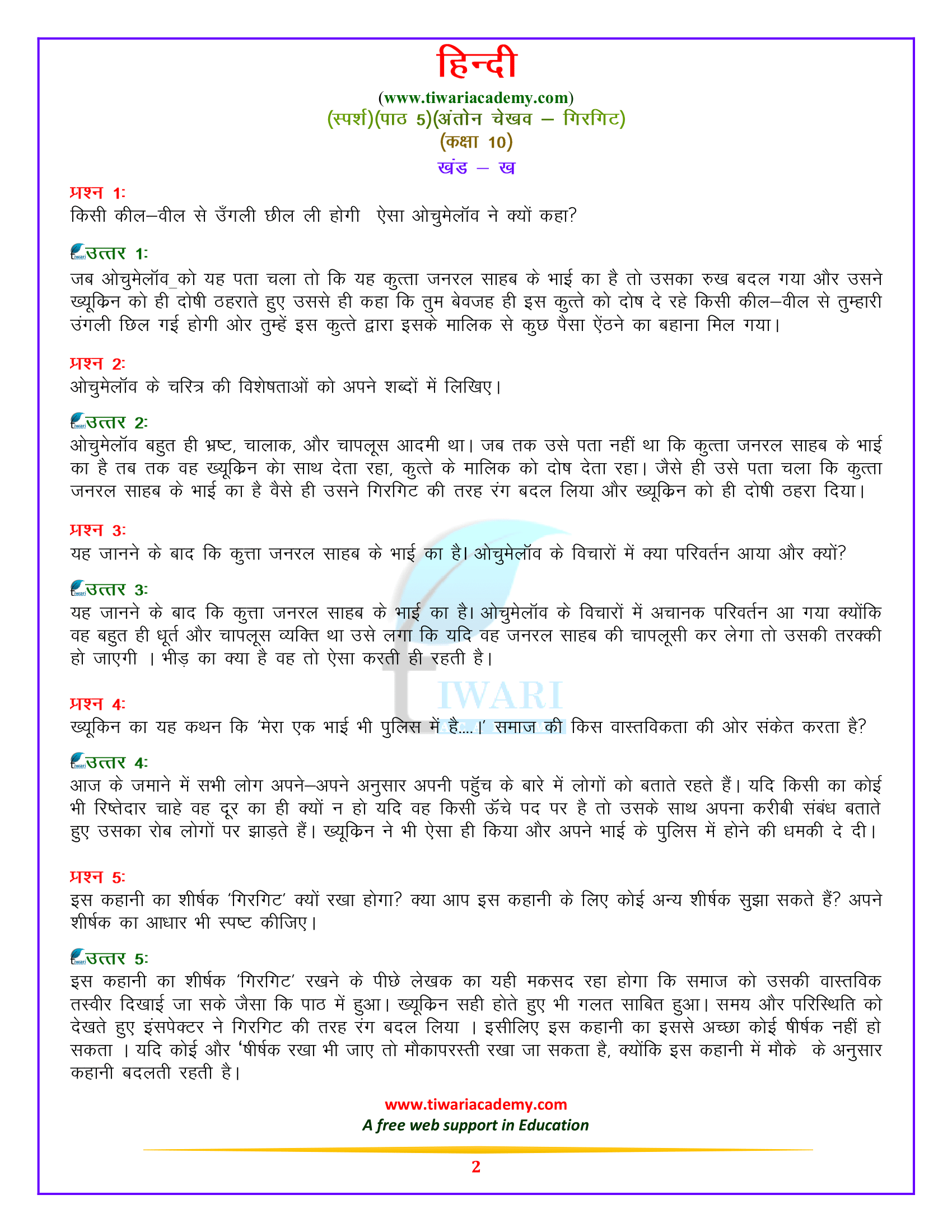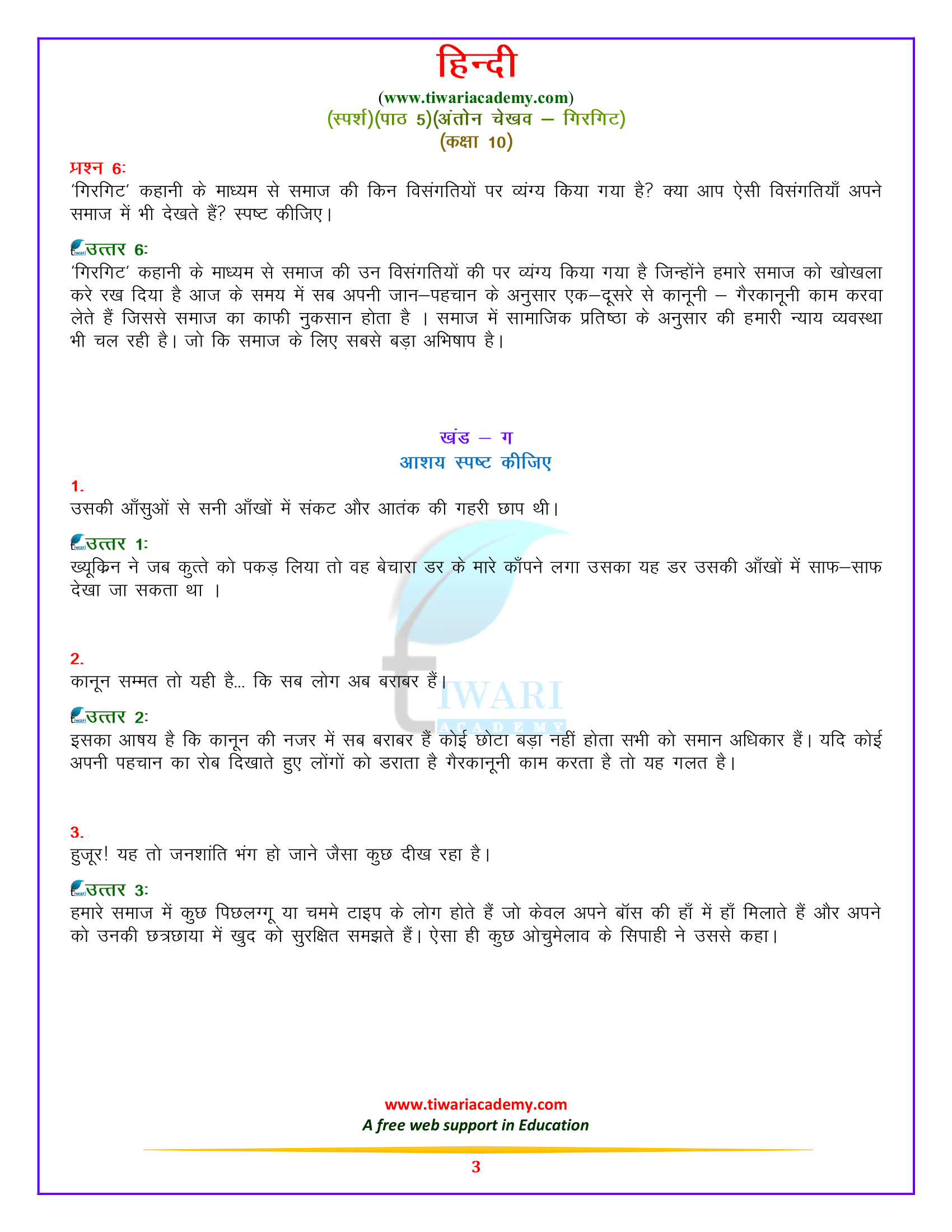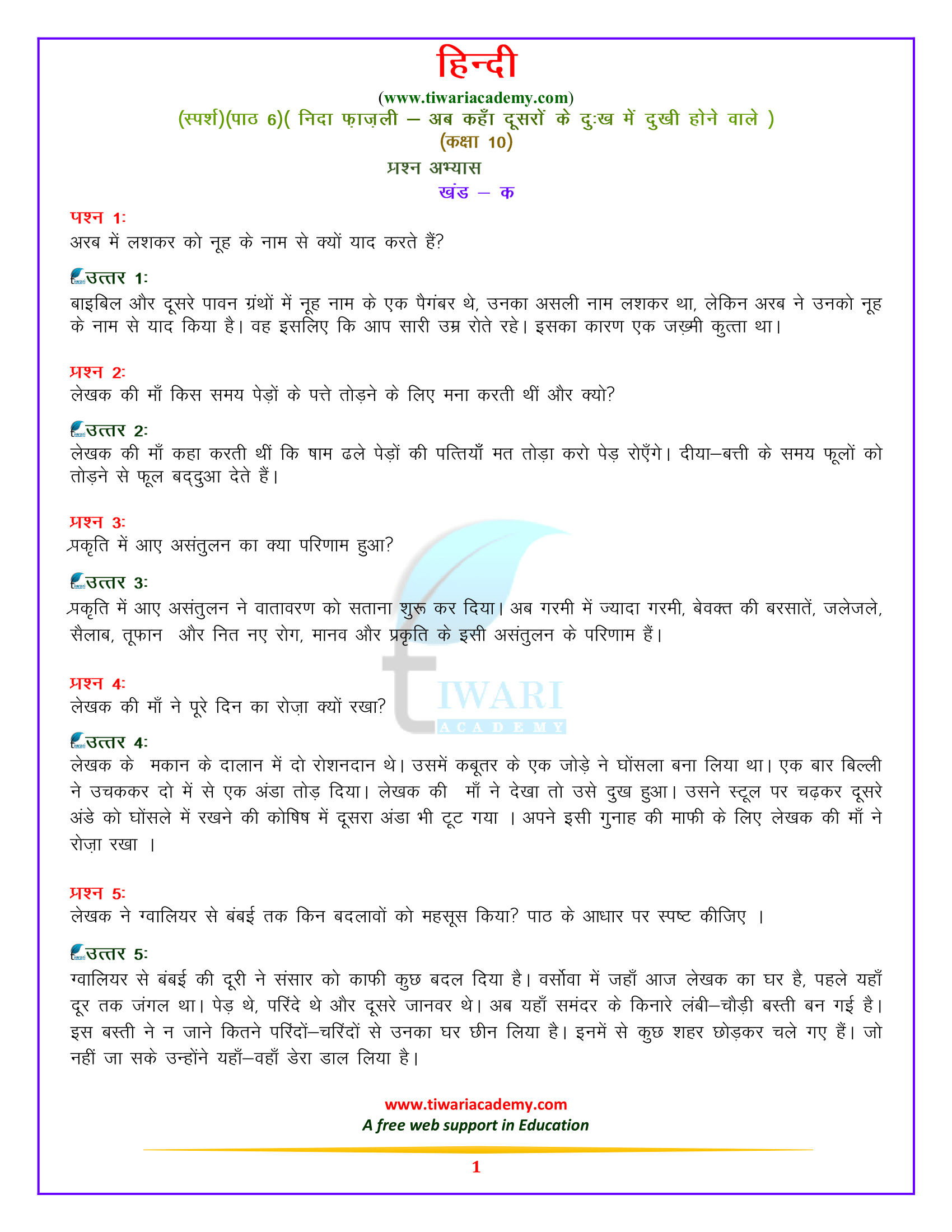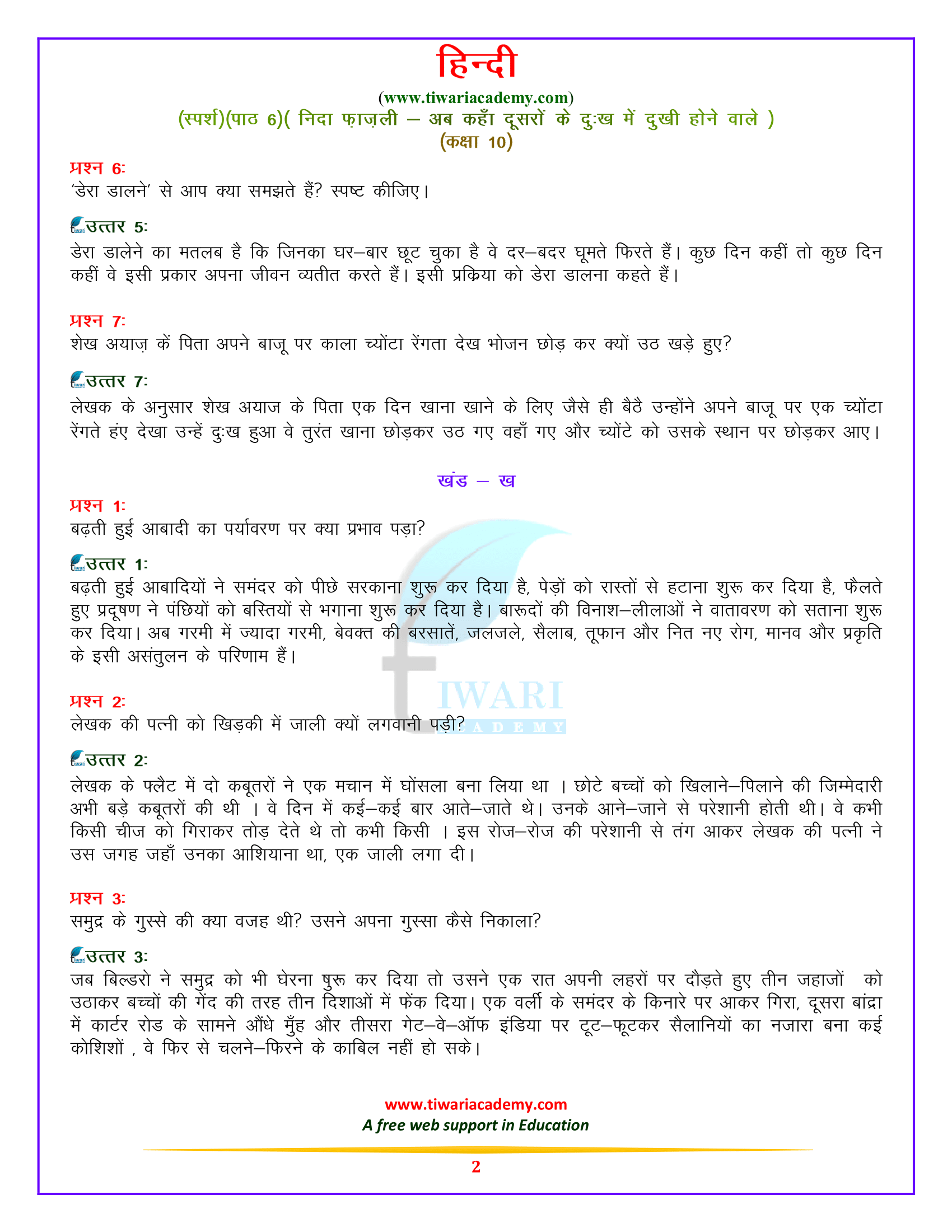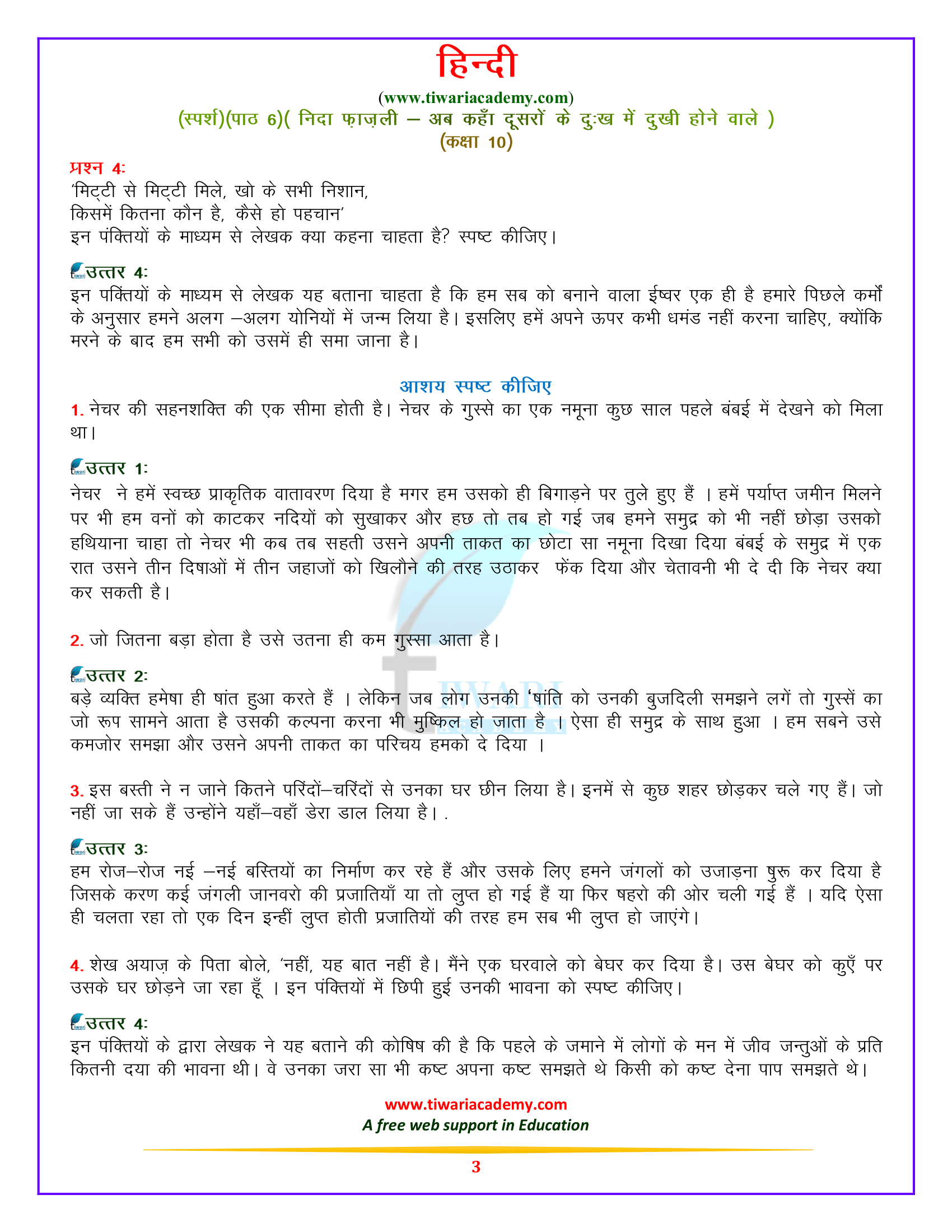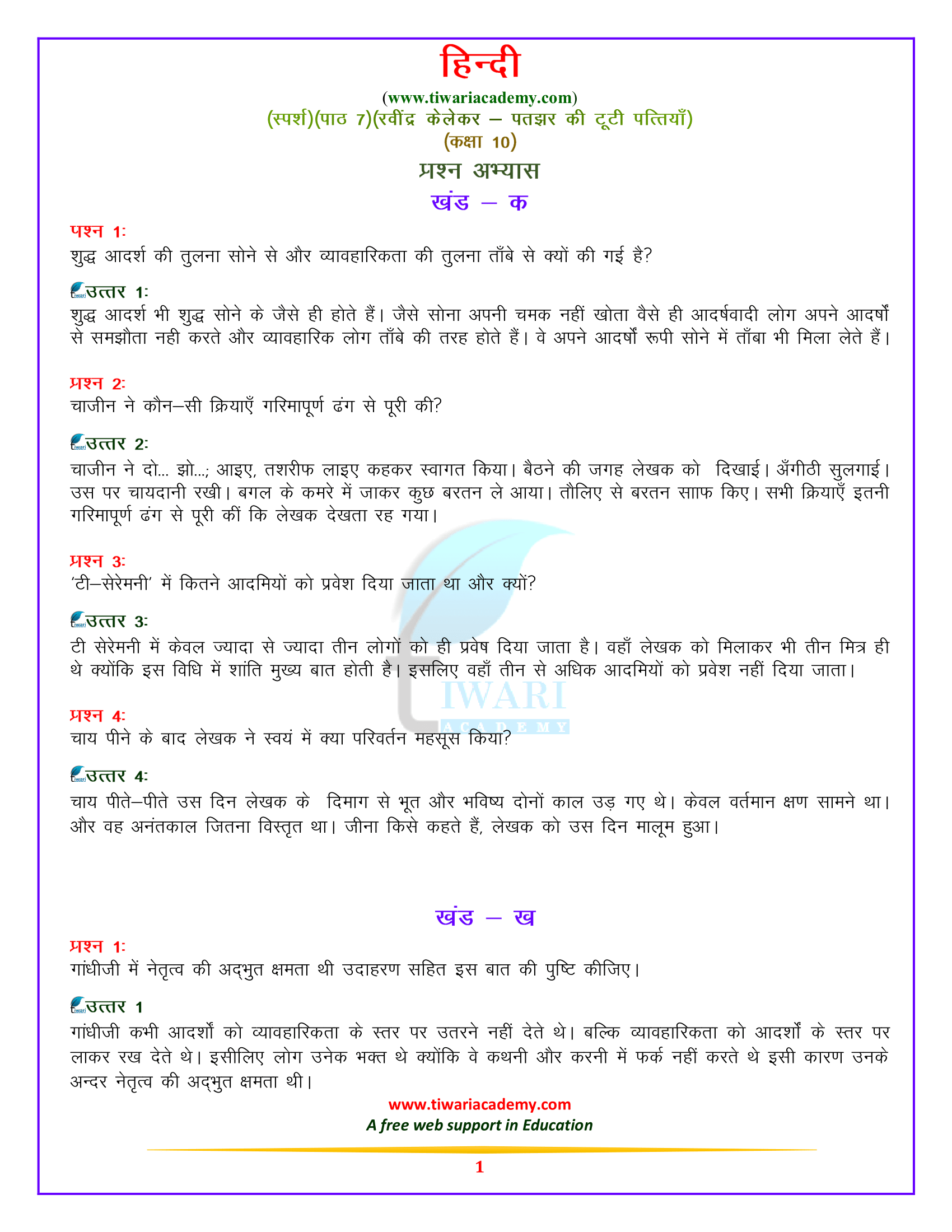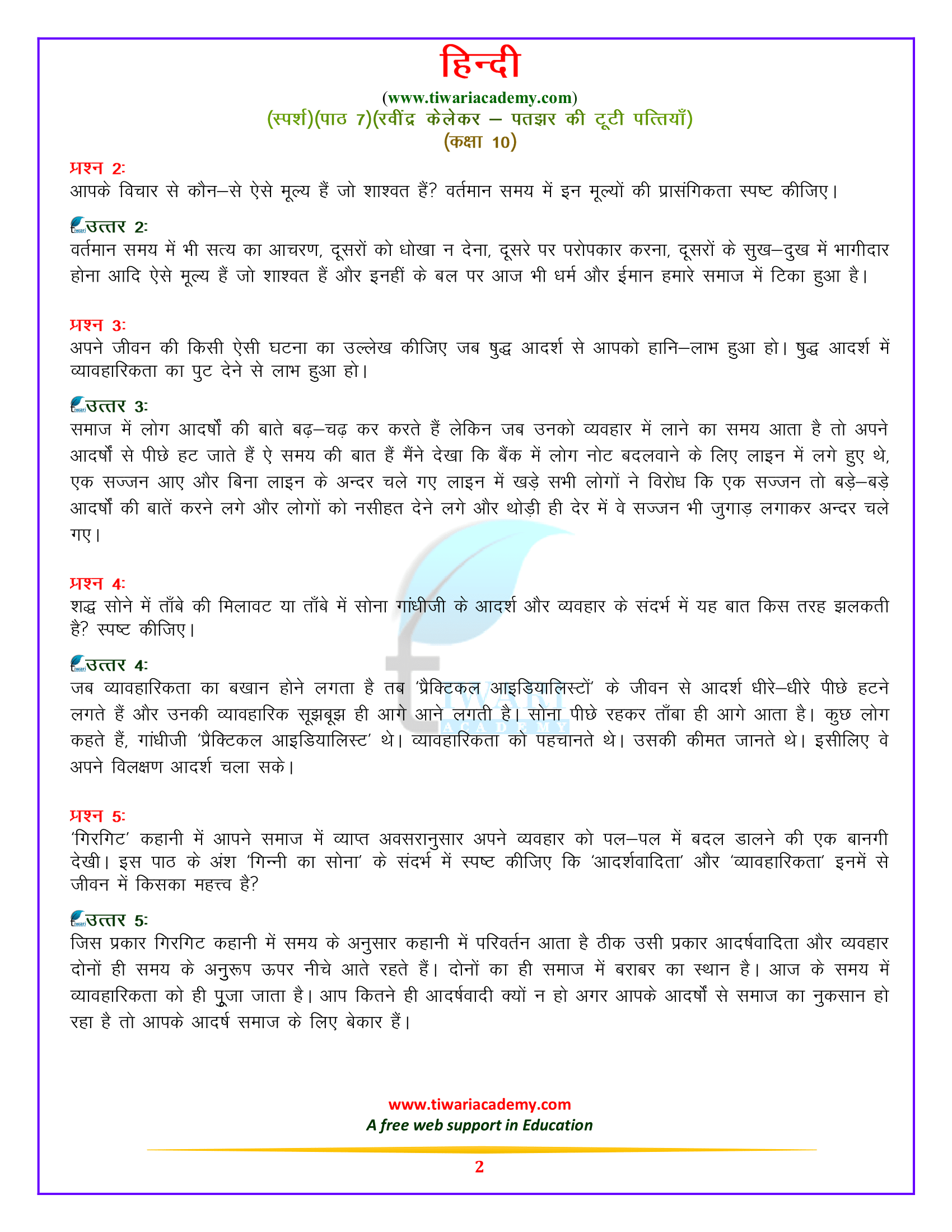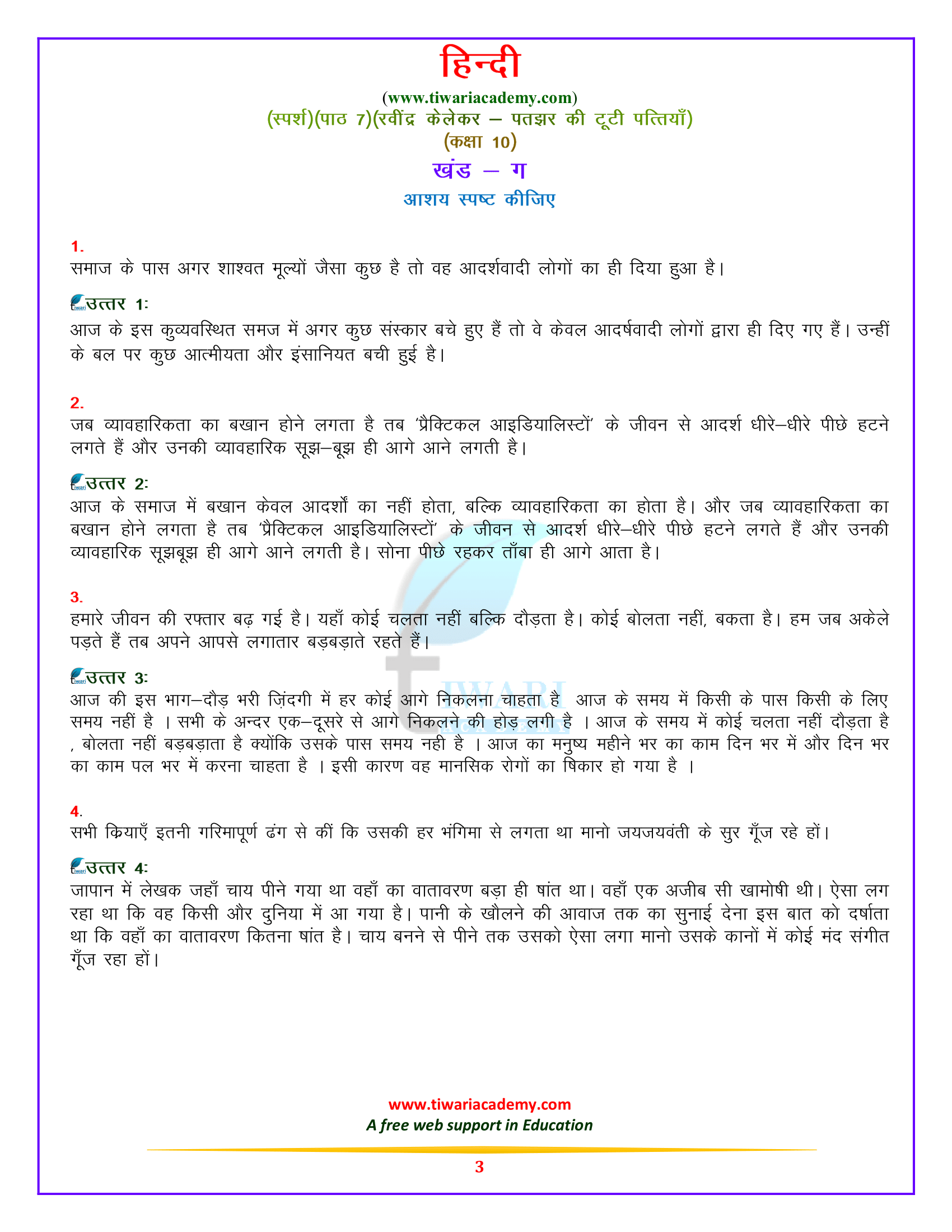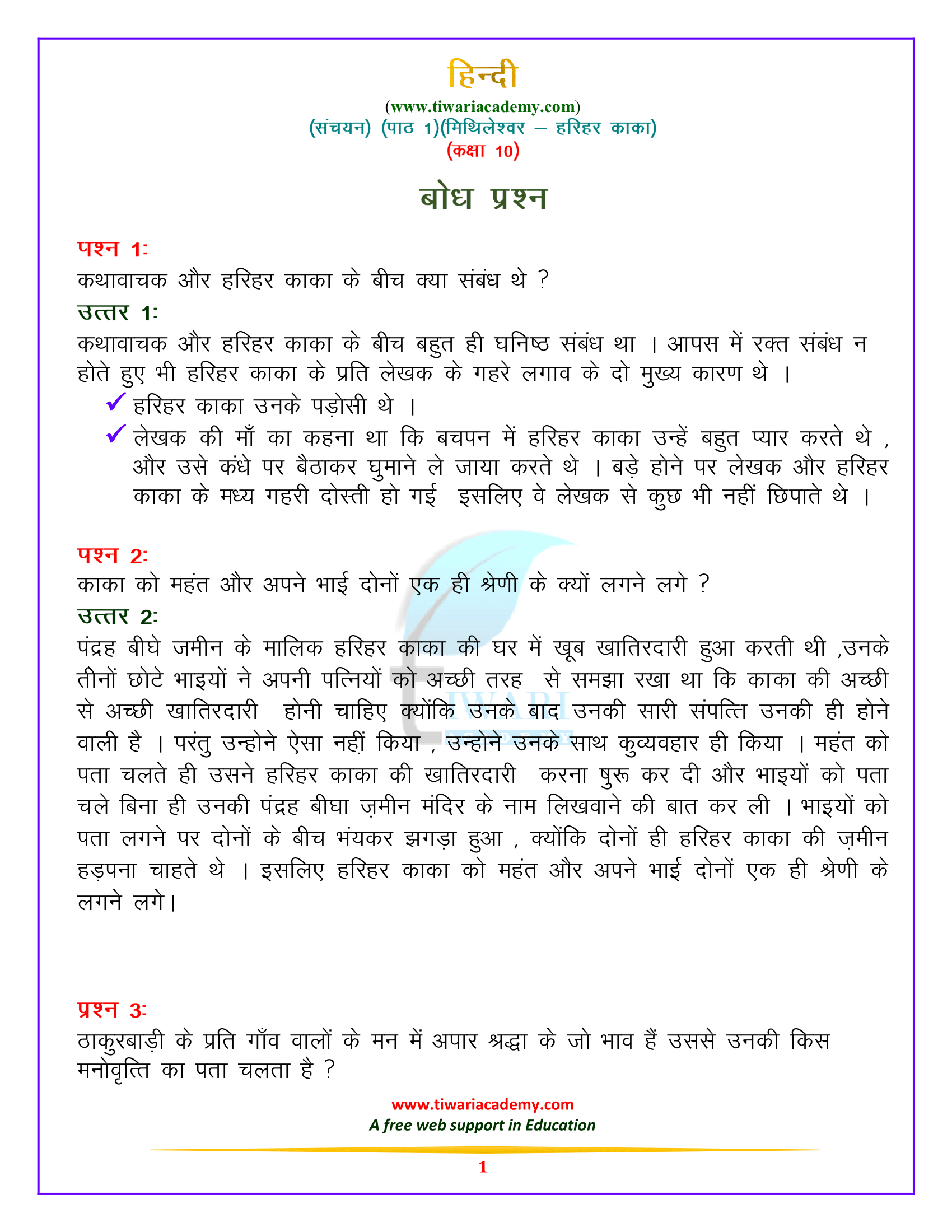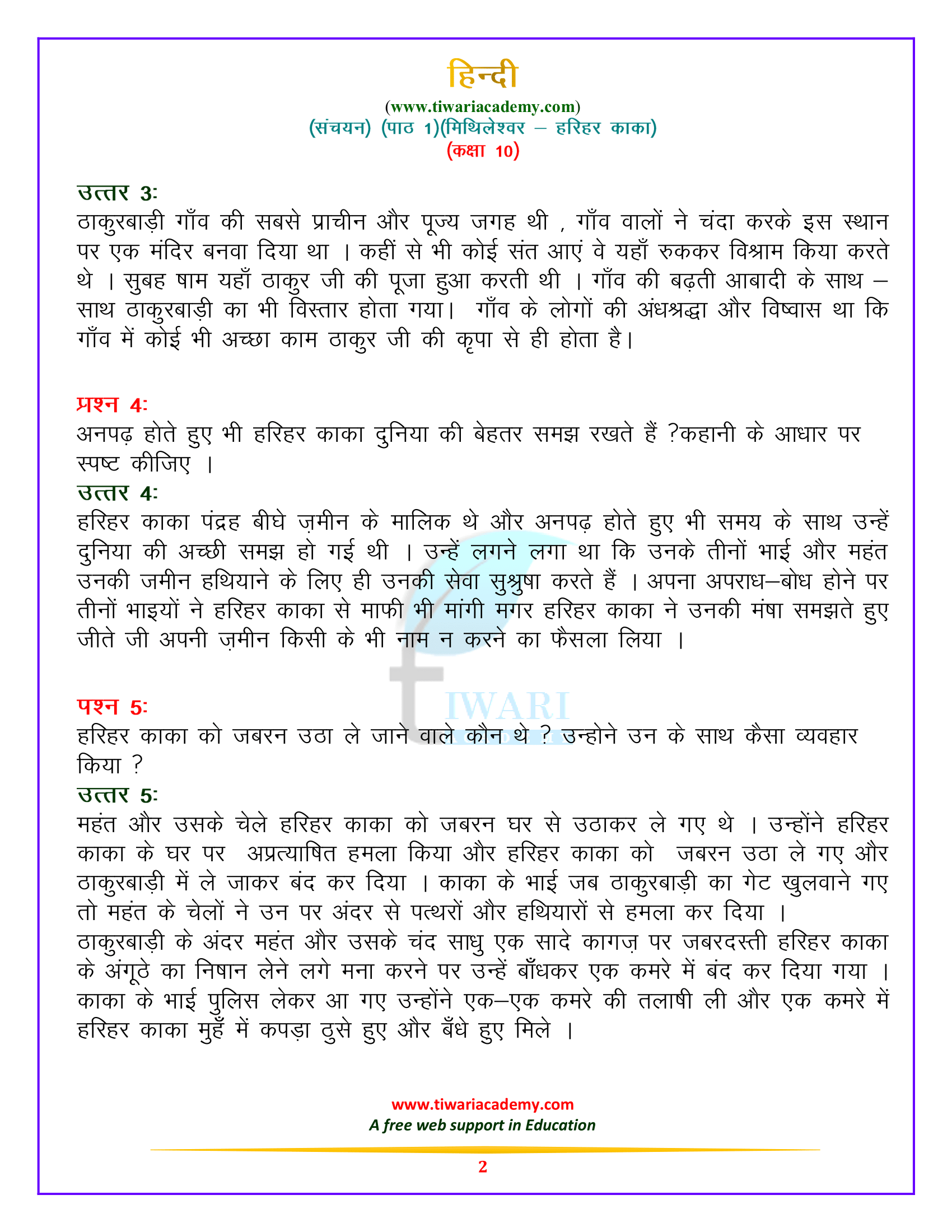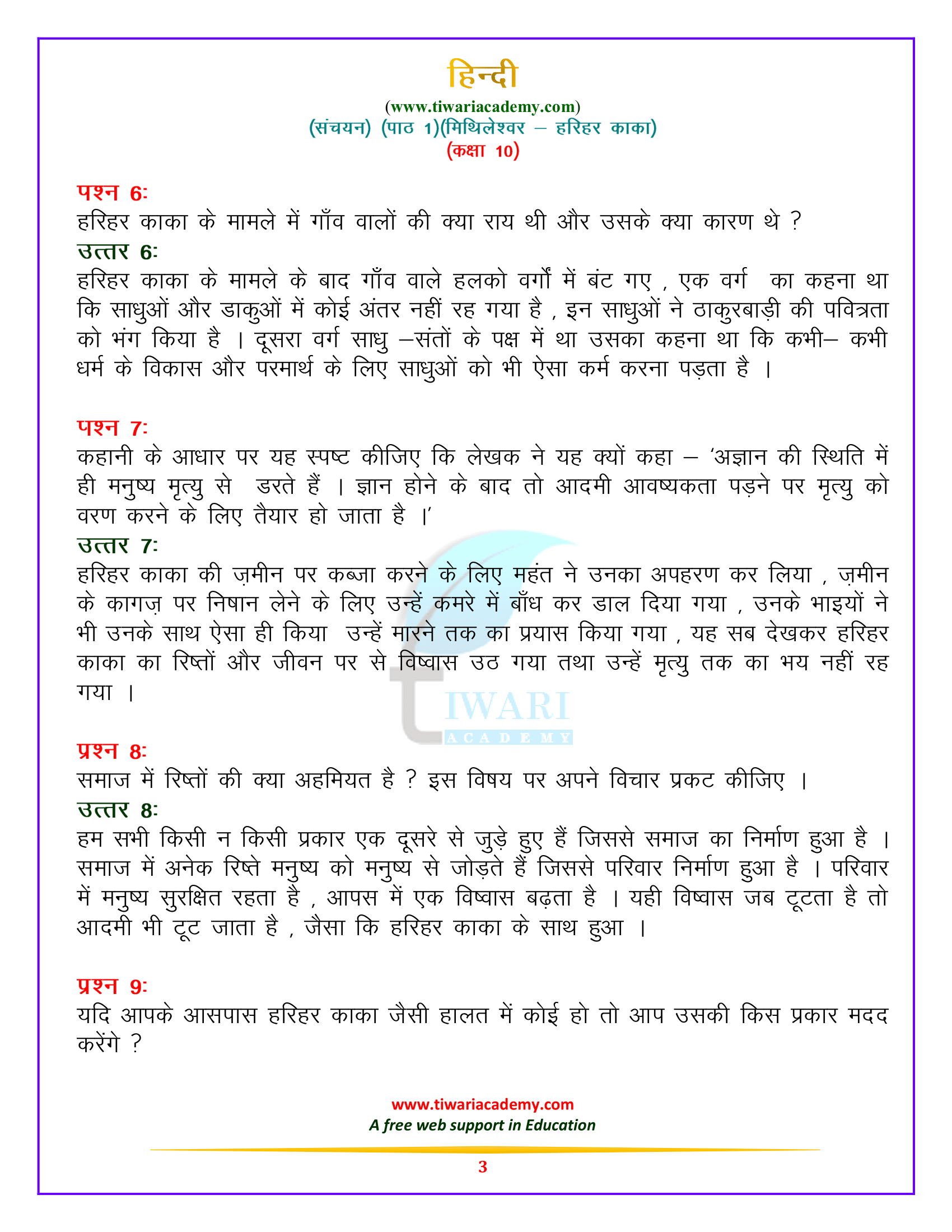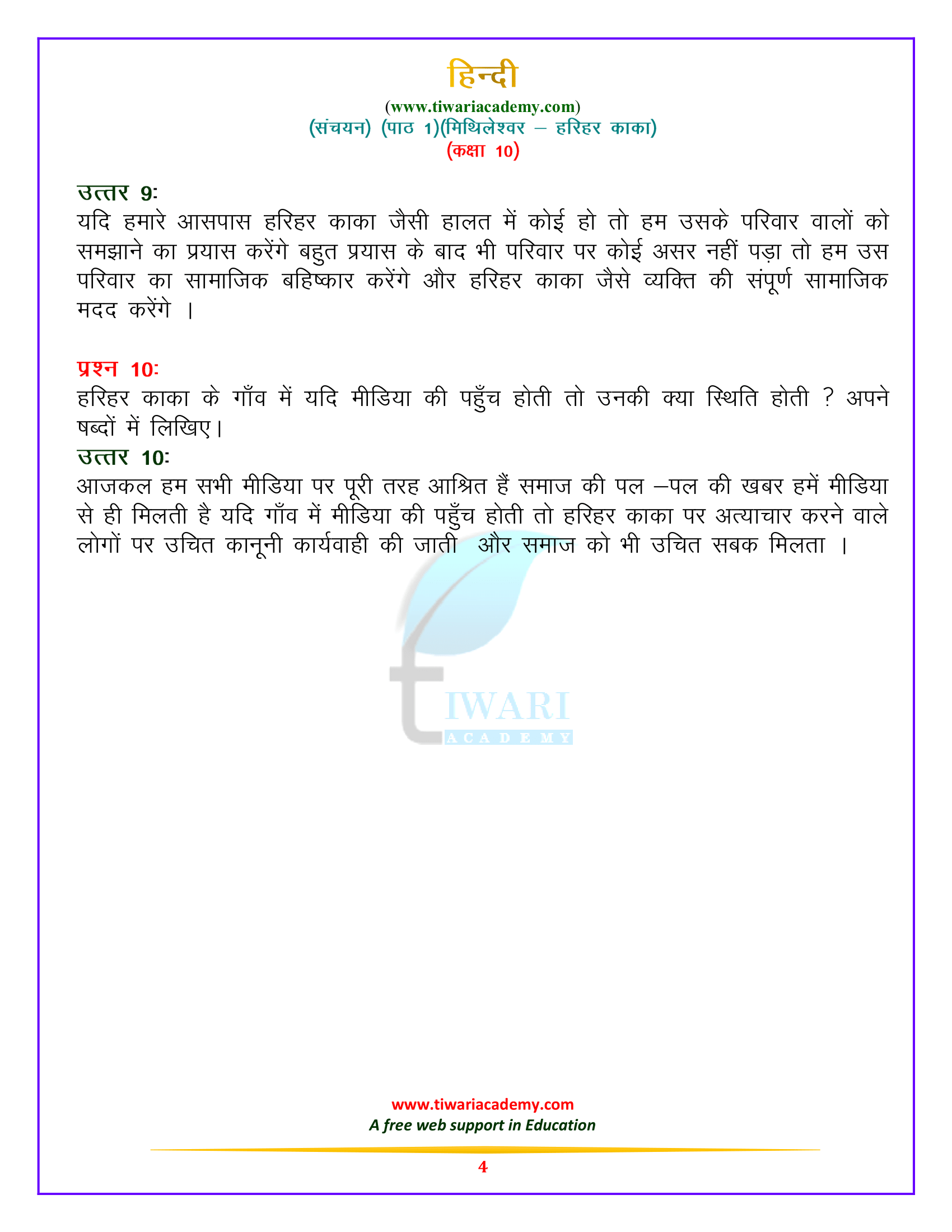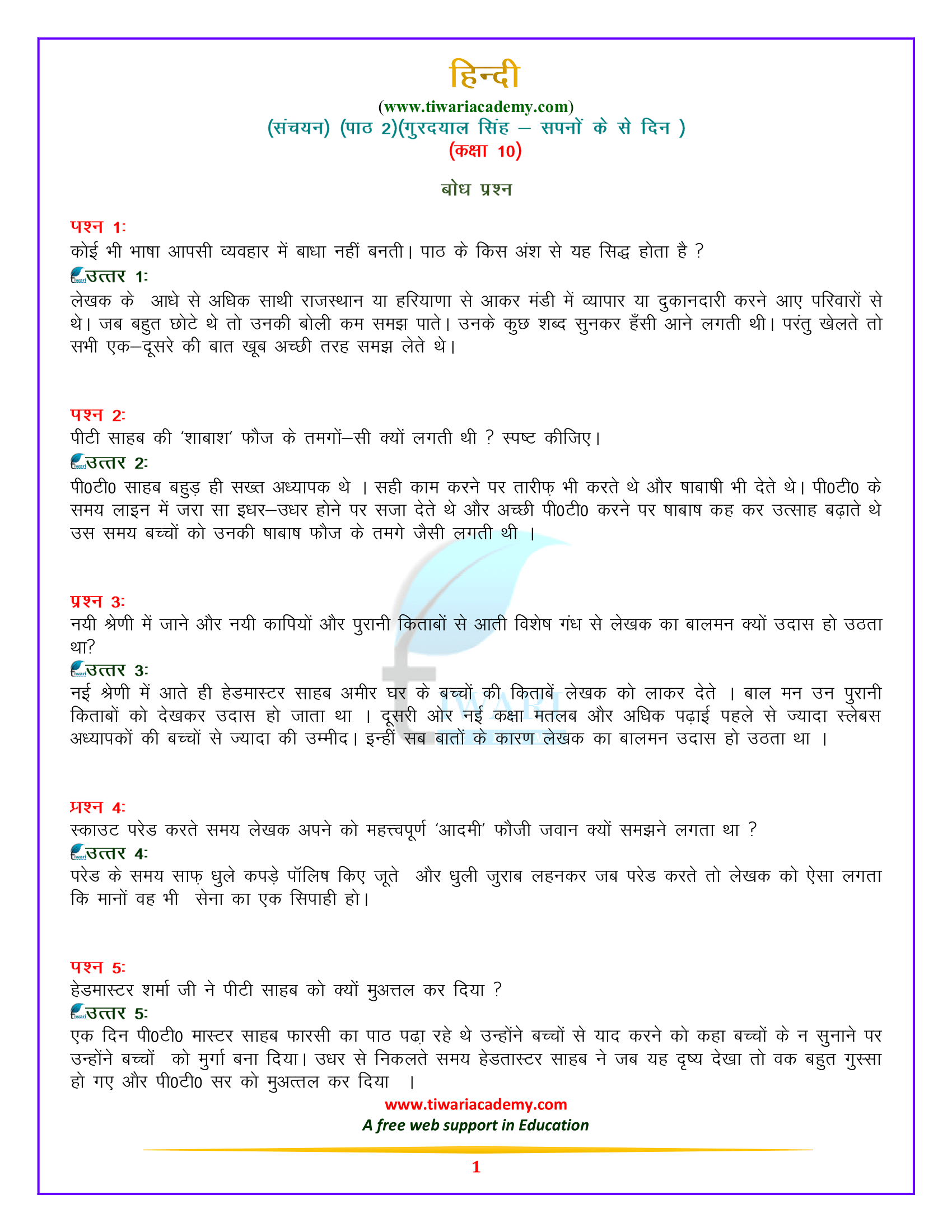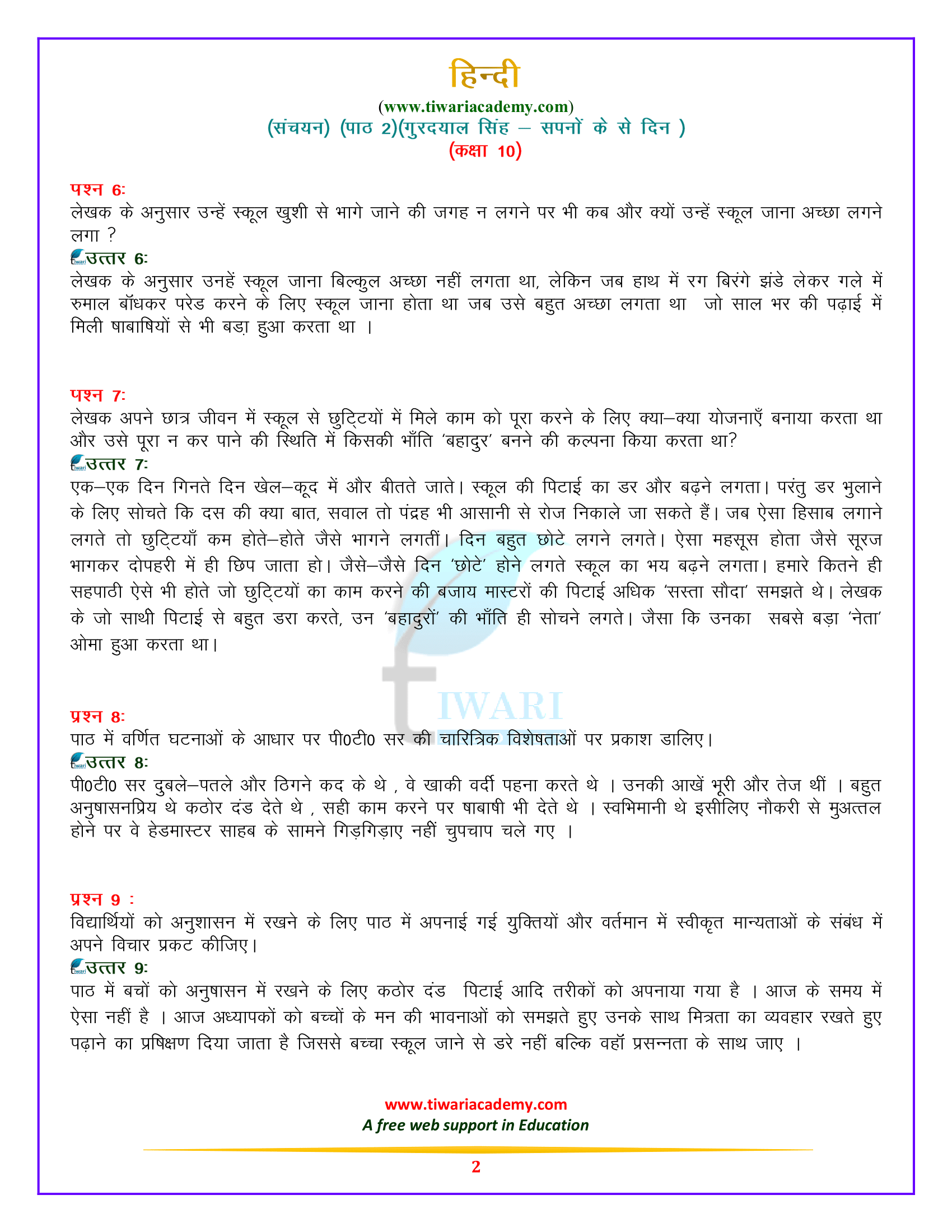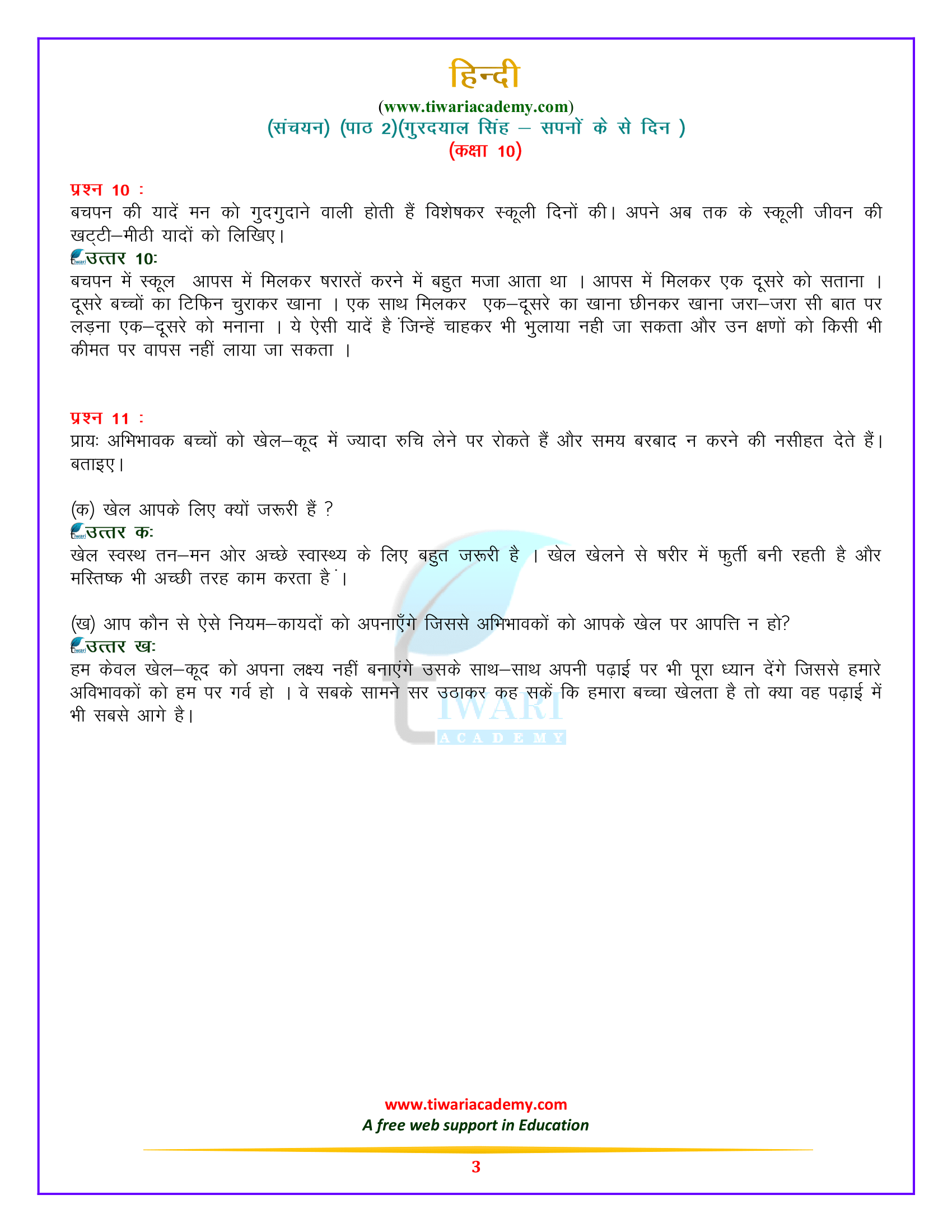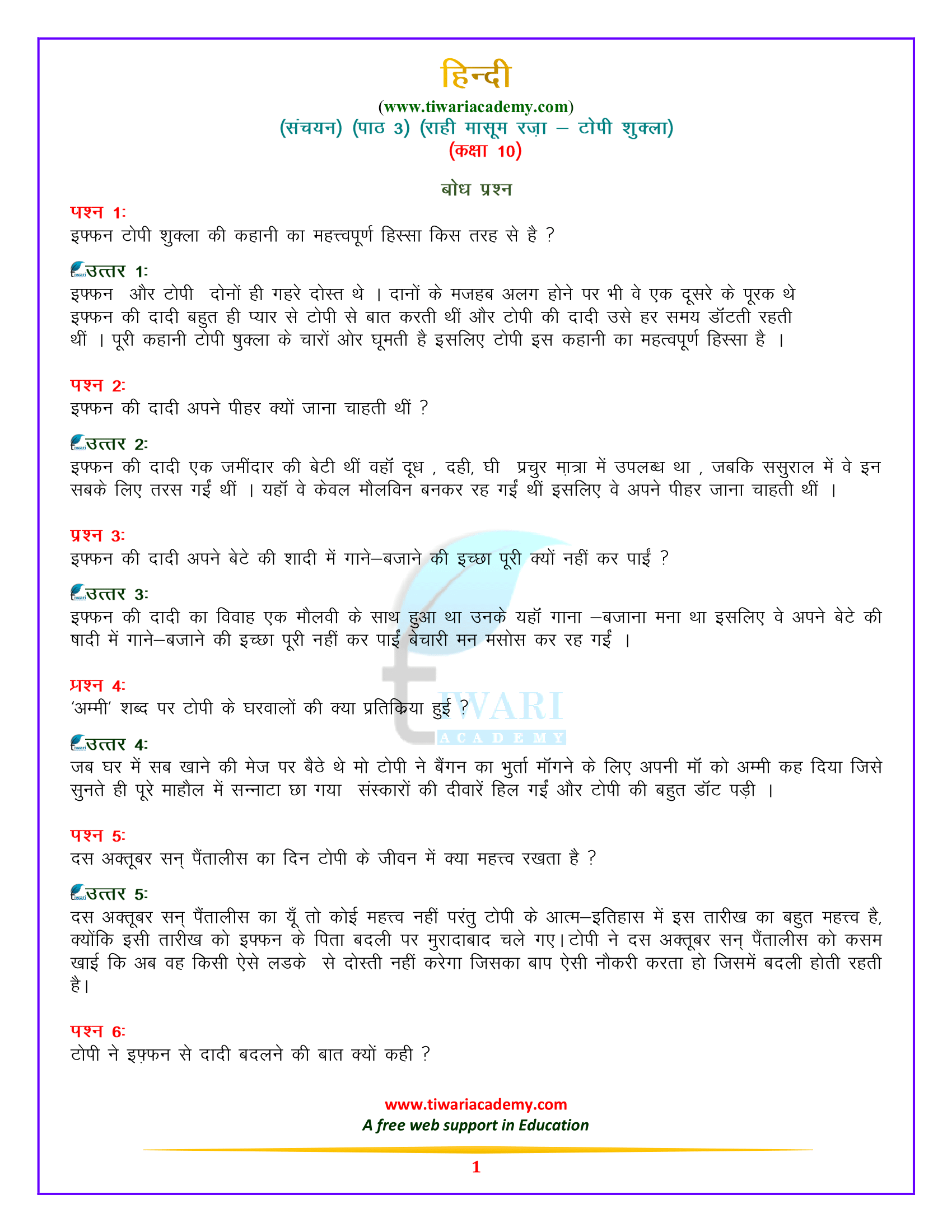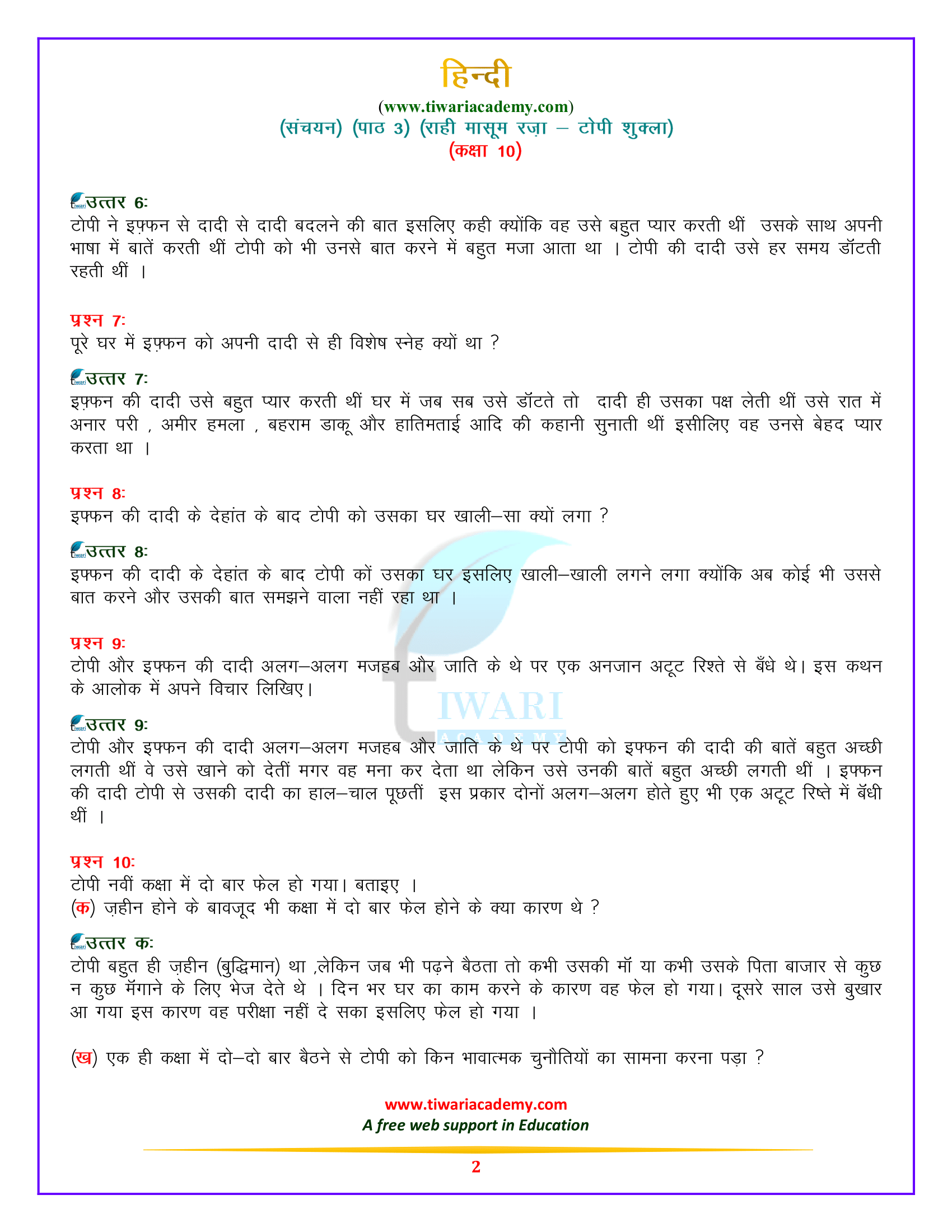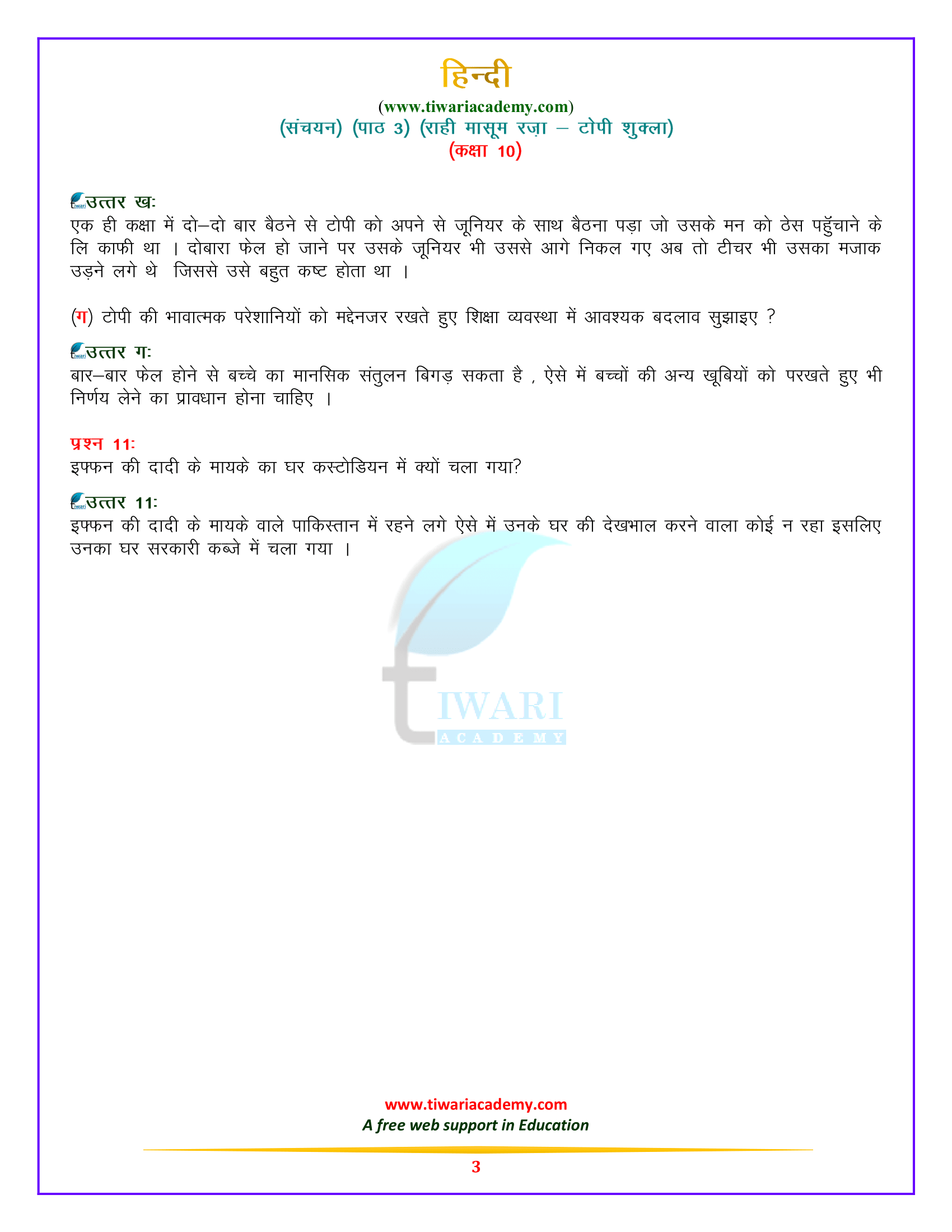 Last Edited: January 29, 2023