Study Material NCERT like Books Solutions for Class Nursery English, Hindi, Maths, General Knowledge, Rhymes, EVS, English, and Hindi writing updated for academic session 2023-24. Get the class nursery English worksheet, Hindi worksheet, math worksheet, drawing, syllabus, rhymes in Hindi and English in PDF. At this stage students learn by doing, so we are providing the books based on activities. Download all the books for Nursery or Pre-school students free in PDF file format. After downloading you can use these books offline also. Here you can get the books learning for children between the ages of 1 and 3 years, depending on the variety of teaching methods.
Study Material and Books Solutions for Class Nursery PDF
How to help Nursery Kids in their Studies?
In Class Nursery or Play School, there are only three main subjects. These are Hindi, English and Maths or Counting. There was a lot of disturbance during the unusual times of COVID-19 and its variants. Many people are worried about the child's education. We all are waiting for proper schooling. Parents are seeking expert advice to take the next step for the evolution of the education industry. We took in some authors' opinions about online education. Know the ways that teachers and parents can excel in virtual classrooms for their pre-school nursery kids. Read here to prepare kids in the nursery subjects for upcoming classes.
Step 1: Stay active during kids Online Classes.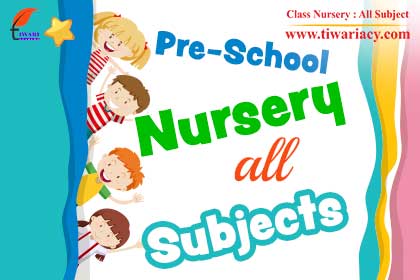 Years ago, people used to say the danger of online classes. Nowadays, it is becoming friendly with electronics. With each coming wave students are being disturb. The virtual world of education, creating a new setup in this environment. The teachers who are excellent in offline teaching, trying to teach online. In this article, we suggest some effective ways to make online learning for Nursery kids effectively. Engaging nursery students in virtual classes is one of the most vital factors to overcome. How? Read this article to find out.
Step 2: Generate interest in subjects during Learning.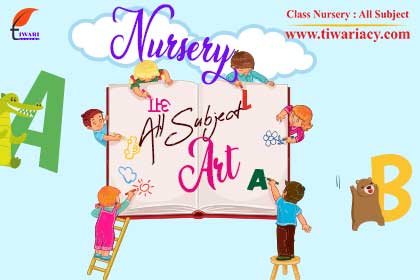 Most of the teachers make the mistake by teaching by lectures on an online class. Filling the gap on online classroom with lecture makes the class session inactive. To teach a child in pre-school one has to make the classroom more active. Be kind to yourself and kids. The pre-school teachers are experts to teach kids and understand their behaviours. Creating a strong appropriate learning environment might take time. It is difficult to make preschoolers stick to an online classroom. Making an active classroom is one of the ways you can engage the child to learn.
Step 3: Include activities to make kids more interactive.
There is no doubt that you need to work more on teaching a preschooler online. To make the classroom activities you can use the material available in homes. Get some such material to study and practice books from Tiwari Academy. This is accessible to all the students free of cost. So, in these fickle times, nobody's studies should be interrupted. Making shapes with dough, dice, cards, colour papers, are some activities. It can be used to teach Maths skills. You can work with the families. This can give you the advantage to handle Nursery class kids. You can do this with parental care.
Step 4: Must introduce the facts in daily life activities.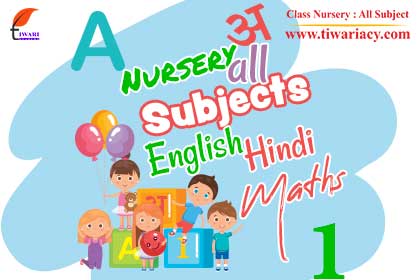 Some activities guide number skills, language literature, and science terms. It includes logic reasoning even social and emotional skills. These activities help learning from different sources. You can inject a discussion among the students. If you are teaching the kids during fall, give them activity. Ask them to collect various kinds of leaves. Asking questions about the texture of the leaf. Help them in counting the leaves they have, telling colours. This way you can make the students engage to communicate with fellow students. It improves the knowledge of colours, counting, and season.
Step 5: Get all the study material for class Nursery kids free.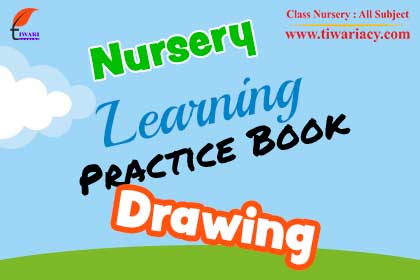 The major problem during taking online classes is the flake internet service. We consider all the factors here. Tiwari Academy provides all the material with each of access. Use the contents in new session to showcase on the screen. You even can download it. You do not have to pay expensive charges. This will close the gap of providing free online education. This is how the parents can make their children focus. Try to learn from the virtual classroom session. You apply all the suggestions, you can make the learning fun. Don't make study a burden for Nursery kids.
NCERT Books Solutions Study Material for Class Nursery
Nursery Schools classroom is an experiential social experience for children entering school. The institution is named as Kindergarten, which reflects his belief that children should be raised like trees in the garden. The Nursery classroom introduces an educational environment in the school through play and learn.
So the credit for building the Nursery in kindergarten belongs to Nursery School. Tiwari Academy has now bought the Best Nursery Hindi PDF study material, CBSE Nursery English and CBSE Nursery Maths Hindi including study material based on GK, EVS, Writing, and Reading for your kids.
Nursery Class Books Free PDF Download
Tiwari Academy has prepared the study material in a fun and entertaining manner for the Nursery children to read and understand easily. Children no longer have to limit themselves to learning. Instead, they can cover the entire syllabus by downloading CBSE based Nursery Books for Free. Download here the Nursery Hindi and English Medium books, where there is a detailed coverage of the syllabus in an illustrated, engaging, and explanatory manner.
Now you will not have to wait for the school to open and now you can start teaching your children sitting at home by downloading Tiwari Academy Nursery English and Hindi Book PDF for free.
Free access of Class Nursery Books PDF Download
Through Tiwari Academy website and App, we aim to reach out to all remote areas and provide access to those who do not have the necessary material to study. So now you don't have to spend money on books. You can easily access NCERT based Nursery Hindi Book, Maths Practice and English Books for writing free in PDF.
Tiwari Academy Nursery education section provides access to English and Hindi Medium course books in PDF and later for other grades also. This makes it possible for everyone to read and learn, regardless of their situation.
Easy to understand Books for Nursery
Our Books, practice revision books and other sections are followed by MCQs and quizzes that will help the children to track their progress and motivate themselves to learn more. We provide simple and straightforward design to make study easy for kids. We also provide worksheets on quizzes, sports games and other extra-curricular activities to deepen the ideas, but in a fun way.
Nursery kids will no longer have to study in a monotonous and boring way because they can access our study material and make it enjoyable for them. We want everyone to have access to these free resources. We value your time, and therefore our goal is to provide you with the best Nursery resources in least efforts.
The Perfect way to Learn in Nursery
Download free books along with Nursery Happy Learning CBSE NCERT based contents Pulled out Hindi and English worksheet on the latest NCERT Syllabus 2023-24. The Purpose of the Pull-out Worksheet for Nursery Class English Engage students to read the entire chapter as they work through the worksheet.
Students develop the habit of self-assessment as they build their lessons. Prepare students to adopt a channeled way of discovering knowledge, such as easy to difficult, easy to complex, and so on. The main highlight of Pull-out Worksheet is to cover the three domains of cognitive (cognition), psycho-motor (skills), and emotional (attitude) learning.
What is Nursery School?
A preschool, also known as a play school is called Nursery Schools. This is an educational institution or place of early childhood learning for young children that provides early childhood education to children before they begin compulsory education in primary school.
What are the main subjects of grade Nursery Student?
There are mainly two subjects – Hindi and English to study in Nursery. Students also study about Maths, EVS, GK, and drawing subjects with practice cursive writing. All the books are available on Tiwari Academy website to free download.
What are the main topics to study in Class Nursery?
There are mainly four or five main topics to study in Nursery. Each topic is divided into four worksheets, i.e. assignments which provide simple questions for students to engage in the learning process. It explore and encourages students to discover the options and solutions in front of them. These topics expands the scope of the knowledge according to the environment. It describe to come up with a fresh idea about the topic through innovative and practical questions.
Last Edited: February 24, 2022