Class 10 NCERT solutions refer to the solutions provided for the various subjects' textbooks for class 10 published by the National Council of Educational Research and Training (NCERT) in Bharat. NCERT is an autonomous organization that develops and publishes textbooks for the Indian school curriculum. NCERT solutions for class 10 typically cover subjects like:
---
Mathematics
Science
Social Science
English
Hindi
Sanskrit
---
Class 10 is a crucial year in a student's education in Bharat, and NCERT solutions are designed to assist students in understanding and solving the exercises and problems presented in their class 10 textbooks. These solutions offer step-by-step explanations and answers for each exercise, chapter, and topic, helping students grasp concepts and improve their problem-solving skills.
---
---
For example, Class 10 Mathematics NCERT solutions cover topics such as Real Numbers, Polynomials, Pair of Linear Equations in Two Variables, Quadratic Equations, Arithmetic Progressions, Trigonometry and its application, Triangles, Circles, Areas Related sections of Circles, Surface Areas and Volumes, Statistics, and Probability.
---
NCERT Solutions for Class 10 all Subjects
NCERT Solutions for Class 10 plays an important role to create a great shape of your future. Scoring good marks in Class 10 board exam can help you get admission in the best school with good subjects. In this class 10, students face their public exam first-time. So CBSE as well as UP Board students need to do practice all the questions and also be ready for mental preparation to face the board exam. NCERT Solutions for Class 10 patterns are so comfortable and well described by the respective subject teachers. So that students can understand the board exam pattern questions. So it would help if you did practice well give your time for 3 to 4 times revision at least to get maximum marks in your coming board exam.
NCERT Solutions for Class 10 All Subjects
 Get here Subject wise NCERT Solutions for Class 10 in both medium Hindi and English. You can also download Subject wise NCERT Solutions for Class 10 in PDF format and learn it when you will offline even. It is FREE of cost, and there is no need for login and registration. If you prepared well with this solution, it would help you to score maximum marks in CBSE Class 10 Board Exam. Download Class 10 Solutions App for all subjects.
These solutions are widely used by students and teachers in Bharat to prepare for class 10 board exams, as they are aligned with the curriculum prescribed by various education boards, including the Central Board of Secondary Education (CBSE). NCERT solutions help students understand key concepts, practice problem-solving, and ensure a strong foundation in their subjects. They are available in various formats, including printed books, online PDFs, and digital resources, making them accessible to a wide range of learners.
NCERT Solutions for Class 10 Science
Find Chapter wise NCERT Solutions for Class 10 Science here for both mode learning. These solutions provide you understanding the complex topics of Class 10 Science NCERT Book Syllabus that help you score good marks in Board examination of Class 10. All the chapter question answers very important from the exam point of view. There are also all chapters numerical questions are solved with step by step method so that students can easily understand all the logic. Experienced Science teacher provides solutions for Class 10 Science with good review. This NCERT Solutions for Class 10 Science covers the understanding of concepts related to Physics, Chemistry and Biology.
Chapter 1: Chemical Reactions and Equations
Chapter 2: Acids, Bases and Salts
Chapter 3: Metals and Non-Metals
Chapter 4: Carbon and its Compounds
Chapter 5: Life Processes
Chapter 6: Control and Coordination
Chapter 7: How do Organisms Reproduce?
Chapter 8: Heredity
Chapter 9: Light – Reflection and Refraction
Chapter 10: Human Eye and Colourful World
Chapter 11: Electricity
Chapter 12: Magnetic Effects of Electric Current
Chapter 13: Our Environment
Just click the below-mentioned links and download Chapter Wise NCERT Solutions for Class 10 Science PDFs and learn offline. You can download unlimited PDFs with FREE of cost. This NCERT solution covers all the chapters of 10 Science NCERT Book Syllabus such as Chemical Reactions and Equations, A Metals and Non-Metals, Carbon and its Compounds, Acids, Bases and Salts, Heredity, Magnetic Effects of Electric Current, Our Environment, etc.
NCERT Solutions for Class 10 Hindi
Download NCERT solutions consist of NCERT solutions for Class 10 Hindi in PDF format with FREE of cost. This is the complete set of all chapters NCERT Solutions for Class 10 Hindi. Students can easily understand the correct usage of Hindi language while writing answers as well. This solution also understands the difficult poems in your Hindi syllabus.
To Improve English in Class 10, use a dictionary and thesaurus. A dictionary will help you to understand the meaning of words, and a thesaurus will help you to find synonyms and antonyms. Use online resources like Tiwari Academy website and apps that can help you to learn English. You can find resources for grammar, vocabulary, writing, and reading. Don't be afraid to ask for help. If you are struggling with a particular concept, ask your teacher for help. Studying English can be challenging, but it is important to remember that it is a skill that takes time and practice to develop.
NCERT Solutions for Class 10 English
Teachers often use NCERT solutions as teaching aids to explain concepts and solve problems in the classroom. These solutions provide structured explanations and solutions that can assist teachers in delivering effective lessons. NCERT solutions are accessible to a wide range of students as they are available in various formats, including printed books, online PDFs, and digital resources like Tiwari Academy platform. They are also affordable, making quality education materials accessible to a broad spectrum of learners.
Class 10 English First Flight all Chapters
Class 10 English Chapter 1 A Letter to God
Class 10 English Chapter 2 Nelson Mandela: Long Walk to Freedom
Class 10 English Chapter 3 Two Stories about Flying
Class 10 English Chapter 4 From the Diary of Anne Frank
Class 10 English Chapter 5 Glimpses of India
Class 10 English Chapter 6 Mijbil the Otter
Class 10 English Chapter 7 Madam Rides the Bus
Class 10 English Chapter 8 The Sermon at Benares
Class 10 English Chapter 9 The Proposal
Read regularly. It helps you to expand your vocabulary, improve your comprehension skills, and learn the correct usage of grammar. Try to read a variety of texts, including novels, short stories, poems, and articles.
Class 10 English Footprints without Feet all Chapters
Pay attention to grammar and vocabulary. While reading, pay attention to the grammar and vocabulary used. If you come across a word or grammar rule that you don't understand, look it up in a dictionary or grammar book. You can also try to find exercises online to practice grammar and vocabulary.
Chapter 1. The Lost Child
Chapter 2. The Thief's Story
Chapter 3. The Midnight Visitor
Chapter 4. A Question of Trust
Chapter 5. Footprints without Feet
Chapter 6. The Making of a Scientist
Chapter 7. The Necklace
Chapter 8. Bholi
Chapter 9. The Book That Saved the Earth
The experienced English teacher provides well descriptive solutions which are key to success in board exams, so it is essential for students to learn this solution properly. These FREE NCERT Solutions for Class 10 English contains all the chapters.
Practice writing. Writing is another important skill to develop for English exams. Try to write regularly, even if it's just for a few minutes each day. You can write about anything you want, such as your thoughts and feelings, current events, or stories. Get feedback on your writing. Once you have written something, ask a friend, family member, or teacher to read it and give you feedback. This will help you to identify areas where you can improve.
The main sections of class 10 social science are:
1. History
2. Geography
3. Political Science
4. Economics
Each section has its own unique focus, but they are all interconnected. For example, history can help us to understand the present political landscape, and geography can help us to understand the distribution of resources and economic development.
Social science is an important subject to understand the world we are living now. It teaches us about the past, the present, and the future. It also teaches us about the different ways that people live and work. Social science is essential for anyone who wants to be an informed citizen and to make a difference in the world.
NCERT Solutions for Class 10 Social Science
Chapter Wise NCERT Solutions For Class 10 Social Science is easily available here with FREE of cost for both medium. The syllabus of Class 10 Social Science is entirely theoretical based, which may confuse the student to understand the chapters, so they need to right solutions which are well explained easily. NCERT Solutions for Class 10 Social Science by the professional SST teacher are so easy and effective to learn. It covers History, Geography, Political Science and Economics subjects of Class 10.
Chapters of Class 10 History
History is the study of the past. In class 10, students learn about the history of India from the ancient period to the present day. They also learn about the history of other civilizations, such as the Greeks, Romans, and Chinese.
Chapter 1. The Rise of Nationalism in Europe
Chapter 2. Nationalism in India
Chapter 3. The Making of a Global World
Chapter 4. The Age of Industrialisation
Chapter 5. Print Culture and The Modern World
Chapters of Class 10 Geography
Geography is the study of the Earth and its features. In class 10, students learn about the physical geography of the Earth, such as mountains, rivers, and oceans. They also learn about the human geography of the Earth, such as population distribution and economic activity.
Chapter 1. Resources and Development
Chapter 2. Forest and Wildlife Resources
Chapter 3. Water Resources
Chapter 4. Agriculture
Chapter 5. Minerals and Energy Resources
Chapter 6. Manufacturing Industries
Chapter 7. Lifelines of National Economy
Chapters of Class 10 Economics
Economics is the study of how people manage to produce, sell and consume goods as well as services. In class 10, students learn about the basic principles of economics, such as supply and demand, and inflation. They also learn about the different types of economic systems, such as capitalism and socialism.
Chapter 1. Development
Chapter 2. Sectors of the Indian Economy
Chapter 3. Money and Credit
Chapter 4. Globalisation and the Indian Economy
Chapter 5. Consumer Rights
Chapters of Class 10 Political Science
Political Science is related to the study of politics. In class 10, students learn about the different types of government, such as democracy, monarchy, and dictatorship. They also learn about the different branches of government, such as the legislative, executive, and judiciary.
Chapter 1. Power Sharing
Chapter 2. Federalism
Chapter 3. Gender, Religion and Caste
Chapter 4. Political Parties
Chapter 5. Outcomes of Democracy
These FREE NCERT Class 10 SST Solutions will provide an accurate idea of exam paper question patterns to the students. It will assist you in improving their answer writing and presenting answers skills in board exam. The chapters covered in these solutions are History – India and Contemporary World II, Political Science – Democratic Politics II, Geography – Contemporary India II, Economics – Understanding Economic Development and many more.
Books for 10 Social Science
There are four sections in Class 10 Social Science as History, Geography, Political Science (Civics) and Economics.
Books are as follows:
Textbook in History for Class X – 'India and the Contemporary World – II'
Textbook in Geography for Class X – 'Contemporary India – II'
Textbook in Economics for Class X – 'Understanding Economic Development'
Textbook in Political Science for Class X – 'Democratic Politics – II'
Class 10 NCERT solutions hold significant importance for students in Bharat for several reasons. Class 10 is a critical year as students appear for their board exams, such as the Central Board of Secondary Education (CBSE) exams and various state board exams. NCERT solutions provide comprehensive and well-structured solutions to the problems and exercises in the NCERT textbooks for class 10. This helps students prepare effectively for their board exams, as these exams often follow the NCERT curriculum closely.
NCERT solutions in class 10 offer clear and detailed explanations for various subjects and topics. They help students understand the underlying principles and logic behind concepts, enhancing their overall understanding of the subject matter. This is crucial for building a strong foundation in subjects like mathematics, science, and social science.
How to study Class 10 all Subjects to Score Good Result?
Class 10 all subject's Syllabus are reduced for academic session 2023-24. Learning Class 10 subjects using NCERT Solutions requires a systematic and disciplined approach. Acquire the Necessary Materials from Tiwari Academy like the NCERT textbooks for all your Class 10 subjects, Access NCERT Solutions for Class 10, which are available online on this educational websites or can be found in bookstores. Here are steps to help you effectively use NCERT Solutions for all subjects.
Step 1: Understand the Syllabus for session 2023-24 and create a Study Schedule.
Familiarize yourself with the Class 10 syllabus issued for academic session 2023-24 for each subject. This will help you understand what topics and concepts you need to cover. Develop a study schedule that allocates specific time slots for each subject. Balance your study time according to the difficulty level and your personal preferences. Start by thoroughly reading your NCERT textbooks for each subject. Pay close attention to the explanations, examples, and illustrations provided.
Step 2: Use NCERT Solutions and Check your Answers.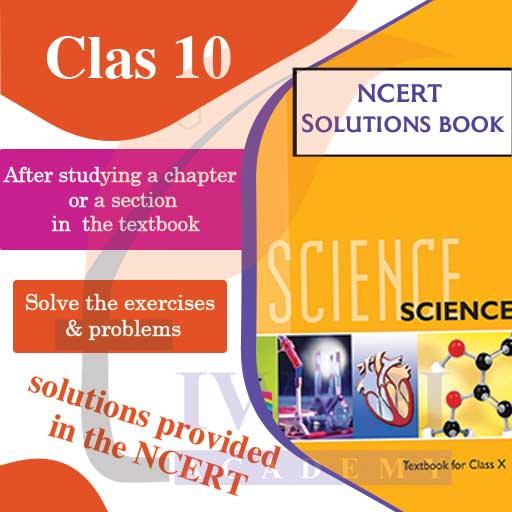 After studying a chapter or a section in the textbook, use the corresponding NCERT Solutions to reinforce your understanding. Solve the exercises and problems in the NCERT textbook first without referring to the solutions. This will help you gauge your initial understanding. After attempting the exercises, compare your answers with the solutions provided in the NCERT Solutions book. Pay attention to any mistakes or areas where you struggled. If you made errors, review the solutions and try to understand where you went wrong. Analyze the correct methods used in the solutions.
Step 3: Develop a habit of Maths Practice Regularly and Take Notes.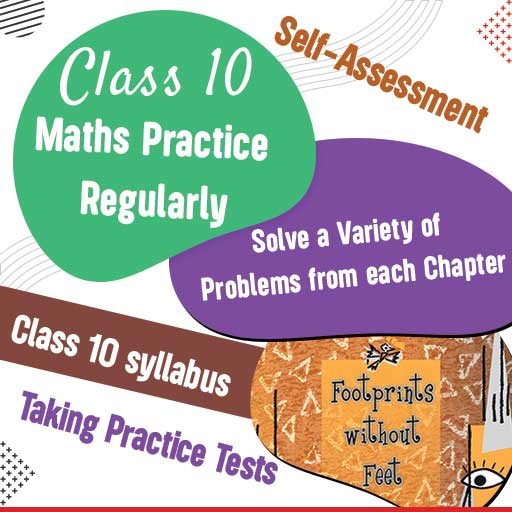 Consistent practice is key for success in Maths like subjects. Solve a variety of problems from each chapter, not just the ones in the textbook, to strengthen your problem-solving skills. While studying, take concise notes of important formulas, concepts, and key points. These notes will serve as quick references during revision. If you have doubts or find certain topics challenging, don't hesitate to seek help from your teachers, classmates, or online resources. Joining study groups can also be beneficial. Periodically test your knowledge by taking practice tests, sample question papers, or using online resources that offer quizzes and tests based on Class 10 syllabus.
Step 4: Stay Organised, Healthy and Manage Exam Stress Prioritising Weak Areas.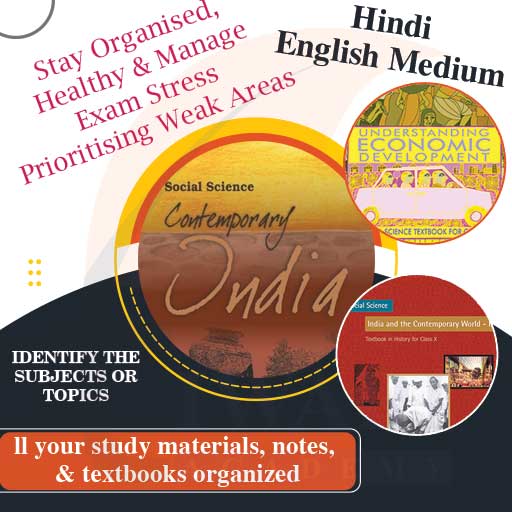 Regularly revise what you've learned. Set aside dedicated time for revision to ensure that you retain the information. Keep all your study materials, notes, and textbooks organized to avoid wasting time searching for resources. Don't forget to take breaks, eat well, get enough sleep, and maintain a healthy lifestyle. A healthy body and mind are essential for effective learning. As the exams approach, practice stress management techniques such as deep breathing, meditation, and time management to stay calm and focused. Identify the subjects or topics where you are weaker and allocate more study time to them.
Step 5: Prepare for Board Exams following the Textbooks and Previous Years Papers.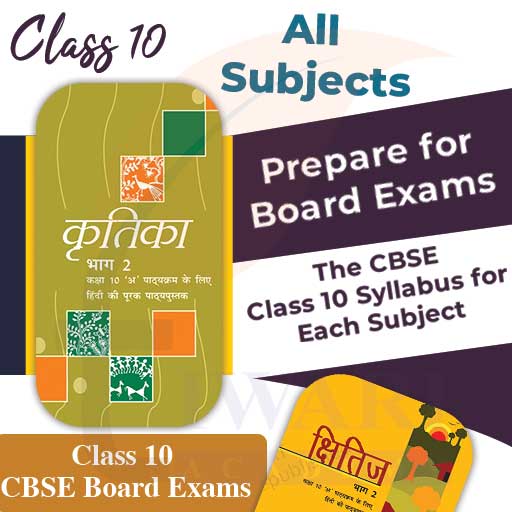 Remember, consistency, discipline, and a structured approach are key to effectively using NCERT Solutions to learn Class 10 subjects. Additionally, take care of your overall well-being to perform your best during exams. Preparing for Class 10 CBSE board exams with NCERT textbooks is an effective approach as CBSE board exams are primarily based on the NCERT syllabus. Carefully read and understand the CBSE Class 10 syllabus for each subject. This will help you identify what topics and concepts you need to cover.
Class 10 NCERT solution includes a wide range of solved exercises and problems. Students can use these solutions for practice and revision, allowing them to become proficient in solving problems of varying complexity. Regular practice is essential for improving problem-solving skills and gaining confidence in the subjects.
In summary, class 10 NCERT solutions play a crucial role in the academic journey of Indian students. They aid in exam preparation, concept clarity, skill development, and contribute to a standardized education system. These solutions are invaluable tools for students aiming to excel in their board exams and various competitive exams.
How to study Class X Maths so that it come very easy?
NCERT Book of class 10 Mathematics is good but some of the chapters need more practice with other books also. For example, practicing Introduction to Trigonometry, chapter 8 needs more and more questions to be confident. Similarly, geometry portion also requires extra questions to practice. Students should also go through NCERT Exemplar Problems books after completing the NCERT Books.
How many chapters are there in Class 10 Social Science?
There are total 22 chapters in Social Science Class X. History (5 chapters), Geography (7 chapters), Economics (5 chapters) and Political Science (2 Chapters).
Last Edited: September 29, 2023