Class 1 English Grammar based on CBSE Syllabus for the academic session 2023-24 updated for CBSE and State board students. Here the students will learn about Alphabets, Consonants and Vowels, Singular and Plural, use of articles, preposition, opposite words, use of interrogative words, picture composition, letter, paragraph, and essay writing.
Class 1 English Grammar Book
Chapter 1. The Alphabet
Chapter 2. Consonants and Vowels
Chapter 3. Noun
Chapter 4. Singular and Plural
Chapter 5. Articles (a, an, the)
Chapter 6. Gender
Chapter 7. Verb
Chapter 8. Am, Is, and Are
Chapter 9. Has and Have
Chapter 10. Prepositions
Chapter 11. Opposite Words
Chapter 12. This and That
Chapter 13. These and Those
Chapter 14. Spell Well
Chapter 15. Words (Who, What, How)
Chapter 16. Words (Where, Which, When)
Chapter 17. Composition Myself
Chapter 18. Paragraph Writing
Chapter 19. Story Writing
Chapter 20. Application Writing
Chapter 21. Picture Composition
Class 1 English Grammar for Session 2023-24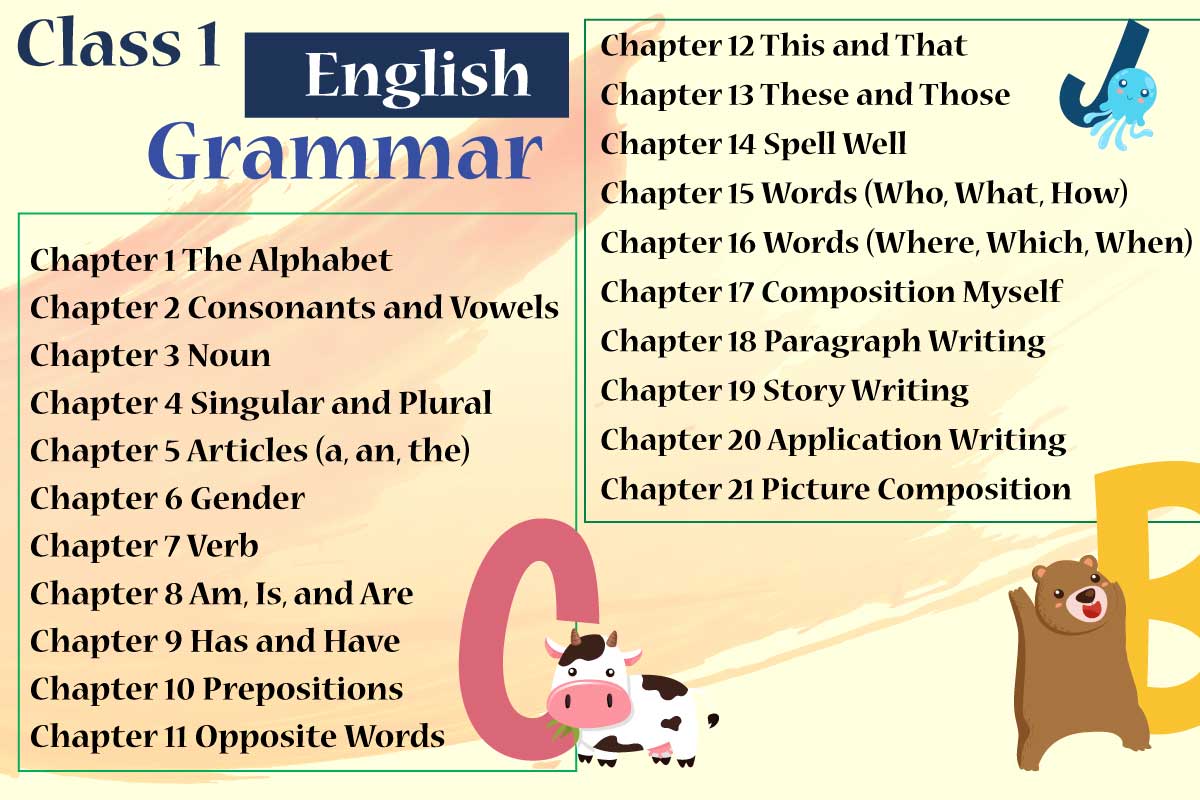 The main chapters related to Class 1 English Grammar are Learning Alphabet, know about Consonants and Vowels, Naming Words, find the words related to Singular and Plural and articles like a, an and the.
In standard 1 Grammar section we also learn about Words related to Gender, terms of Verb, use of has and have, Prepositions, Opposite words, use of This and That, These and Those. Spell Well and Conversation using Who, What, How, Where, Which, When and composition with Paragraph Writing, Story Writing, Application Writing and Picture Composition.
About the English Grammar Book for Class 1
In the 1st Standard English Grammar book, students will learn the basics of Grammar with suitable examples. All the examples are based on daily life activities. Sentences are simple and easy to understand. In each chapter, there are exercises to practice at the end of the chapter. Students find it interesting to study the grammar book and its topics.
How to study Class 1 English Grammar
The chapters given in the book of Class 1 English Grammar are in the format of pictures and simple words. Everyone can understand it easily with a slight help of parents, elder or teacher. After completing the chapters, contents are given for practice in the form of exercises. Just by learning in this process, students feel confident in that particular chapter.
What is the name of the book for Class 1 English Grammar?
There is no book issued by NCERT for Class 1 English Grammar. CBSE issues the Syllabus for every class and subjects. Only private publisher books are available in the market for grade 1 English Grammar. Tiwari Academy also provides a free copy of Class 1 English Grammar.
How many topics are there in English Grammar Grade 1?
In different books the number of topics may differ, but in all the books only basics of English Grammar for Class 1 is given. The main topics related to Class 1 Students in English Grammar book are given above with chapter-wise contents also.
How to practice English Grammar in Standard 1?
A student studying in grade 1, should check the topics of English Grammar in Reader books. After each chapter or poem, there is an exercises to solve for practice. These exercises help the students in not only learning the chapter but to learn the Grammar also.
To improve the grammar section, always try to find the grammar contents in literature books also.
Last Edited: June 16, 2023