NCERT Solutions for Class 8 Sanskrit Ruchira Part 3 with Hindi Medium translation updated for CBSE session 2023-24 free to download. If you want to complete your Sanskrit work effectively and learn how to solve problems in the exam, use our Grade 8 Sanskrit NCERT Solutions. The CBSE Standard 8 Sanskrit Notes given here will make it easier for you to perform well in the examination. Detailed solutions from experts will develop the necessary skills and you will be able to handle difficult problems with ease.
NCERT Solutions for Class 8 Sanskrit
How to write Sanskrit in Class 8 Standard Confidently?
There are total 14 chapters in Class 8 Sanskrit NCERT Textbook. Follow the steps to learn better ways to prepare Sanskrit in grade 8. Earlier there were 15 chapters in course but for new session 2023-24, last chapter is deleted from syllabus. That is why there are only 14 chapters in 8th Sanskrit NCERT textbook. We explore the newer opportunities to the re-imagined education system that could cost nothing and be available to all the students. For those, who are exploring the ways to achieve a 100% score in 8th class Sanskrit language, we have some of the tips through which you can master it.
Step 1: Get the Sanskrit Study Material and Hindi Translation online.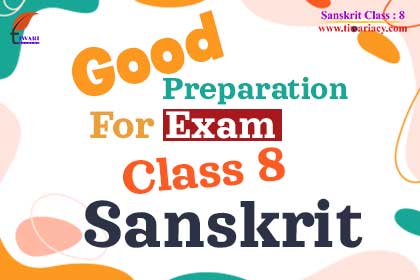 Class 8 Sanskrit solutions and translation is available to use online. Online study method is faster, flexible, and responsive to the holistic needs of all students. To learn in better way students should first know the meaning of difficult words in the chapter. It can be done using Sanskrit to Hindi translation. Here we provide 100% accessibility to all NCERT Sanskrit class 8 solutions and translations in Hindi that you can save time and study offline.
Step 2: Read the chapter to prepare own NCERT Solutions in Sanskrit.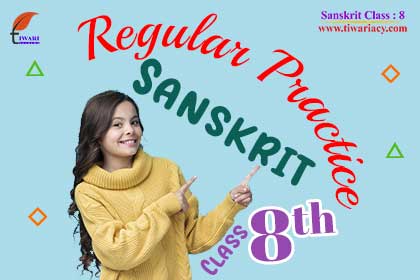 Like all the languages you need to learn Sanskrit from its core to score 100% marks in it. Any student with their average mind and little dedicated effort can achieve more than 90% marks. To achieve a perfect 100 in 8th class Sanskrit, you have to put yourself in a position, where you're exposed to speak and understand the Sanskrit language. To grow better in Sanskrit language practice speaking and writing. Your brain will automatically brainstorm as it will have no other choice but to use the language. This will expose you to important opportunities in the Sanskrit language.
Step 3: Get a place which ideal for Study Sanskrit with writing.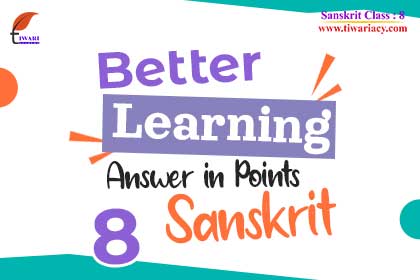 Setting up a designated area for studying is important. An ideal place should and reliable network availability, ample lighting to reduce the eyes strains, and comfortable sitting. Distraction in online learning is a major roadblock but switching the notifications in your device can make things work. This suggestion is important for learning pretty much everything. Since reading and brainstorming required lot of patience and in such time any small thing can distract you. Moreover, keeping yourself highly positive and motivated will help you during stressful times in the examination hall.
Step 4: Study Online as well as Offline mode to learn better.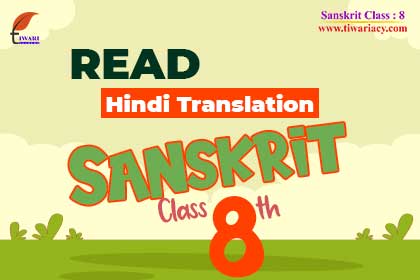 The reputation of e-learning is increasing among scholars, who are willing to complete their research and work at all costs. The best advantage of learning online is that knowledge is accessible at all times, and it is flexible. Which gives you chance carefully Taylor the timings of your study. For example – I am a nighttime reader. The atmosphere is calm and one can pay more attention to reading interesting conversational stories given in NCERT also. Then watching the video explanation on Tiwari Academy with class 8th Sanskrit Hindi translation to understand better.
Step 5: Prepare a perfect Time Table suitable for your studies.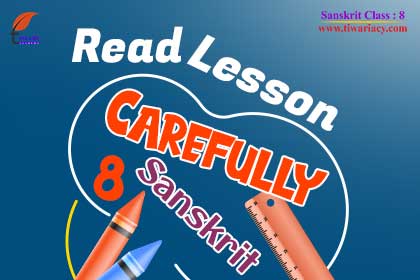 Lack of planning and leaving everything for the last moment can get you anxious. On the day, when you are cramming make sure you show up. Studies say that if you start any work even if you're not feeling like working, there is 80% chances that you will complete what you target. E-learning doesn't restrict you to following the patterned education, which means even if you are not feeling like reading or if your reading pace is not that fast, you can watch the conceptual videos. At the end of day knowledge gaining matters, not the source.
Easy format of Class 8 Sanskrit NCERT Solutions
Class 8 Sanskrit New Book Ruchira Part 3 Questions and Answers have been designed as per the latest CBSE guidelines and syllabus 2023-24. Start your preparation by downloading the student-friendly NCERT Book Solutions for Class 8 Sanskrit in PDF for free. Here you can access the NCERT Solutions section of Class 8 Sanskrit through a quick link available. You can easily learn the relevant topics by clicking on the appropriate chapter you want to prepare for.
Our Grade 8 Sanskrit Textbook Solutions gives students the advantage of practical problems. These textbook solutions help students in their daily homework along with exams tips. The solutions involved are easy to understand, and each step of the solution corresponds to the student's understanding.
Class 8 Sanskrit Solutions in Hindi Medium Translation
NCERT solutions are considered to be a very useful resource for exam preparation. Tiwari Academy gives its user's access to a large number of NCERT Class 8 Sanskrit to Hindi Medium translation, Questions, and their solutions. CBSE Class 8 Sanskrit NCERT Solutions is developed by subject experts, so make sure to prepare the students. The questions given in the NCERT book are prepared as per CBSE parameters and hence there are high chances of appearing in the terminal Exams paper. These NCERT Class 8 Sanskrit Solutions not only strengthen the subject base of the student but also enable them to solve different types of Sanskrit problems easily.
PDF NCERT Solutions for Class 8 Sanskrit
Download NCERT Solutions for Class 8 Sanskrit in PDF here and get free Sanskrit Hindi Translation for Grade 8 to learn all the chapters. Sanskrit for Grade 8 solved by expert teachers as per latest NCERT CBSE Book Syllabus and Guidelines.
Case Based Practice Questions with Solutions will help you to complete class assignments, correct important MCQ, and score high marks in 8th Standard Sanskrit exam. Get here free PDF Download Class 8 Sanskrit NCERT Solutions without any login. All questions in NCERT Lessons are solved step by step to help you understand the basic concepts of Sanskrit better. The solutions given here cover all the exercises given at the end of the Sanskrit chapter. Kindly follow the link given here and download free PDF for Class 8 NCERT Solutions Chapter in Sanskrit.
Simplified Class Sanskrit NCERT Textbook Solutions
We have provided latest NCERT Sanskrit Class 8 Solutions which you can download for free of cost. These solutions cover all the important questions, Hindi Translation, and answers of Sanskrit class 8 which are based on the latest CBSE NCERT Curriculum 2023-24. Here are given some importance of Class 8 Sanskrit Solution that why a students should use it. Through these, they can find answers to the stuck questions. Students can take help for the upcoming exam to complete the questions answers given at the end of chapters.
What are the benefits of Class 8 Sanskrit NCERT Solutions?
NCERT Solutions improve 8th class Sanskrit analytical knowledge and problem solving skills. It also improve speed and accuracy so that students can solve the problems given at the end of this chapter. Sanskrit Solutions Help Class VIII students to understand the important questions and answer them correctly, help to identify weaknesses so that students can spend more time developing and strengthening ideas in different chapters. Using Class 8 Sanskrit Solutions we can improve basic and in-depth understanding of various topics in Category 8 Sanskrit and familiarize ourselves with the answers to the questions given in the chapter.
How to use NCERT Solutions for Class 8 Sanskrit for Exams?
Tiwari Academy provides the best NCERT Sanskrit Solutions for class 8 students so that they can understand easily. If a student is not getting the answer of any question, it is important for them to follow the solutions given here. Here we provide Hindi Translation and Sanskrit 8 Solutions for all chapters of NCERT Sanskrit Grade 8 Textbook. Students and Parents can refer to these solutions while solving problems in their textbooks.
Why should we use Class 8 Sanskrit NCERT Solutions?
Students should check out the NCERT Class 8 Sanskrit Solutions presented by our expert teachers. The answers to these questions are based on the latest published NCERT textbook for class 8 Sanskrit. It is important for class 8 students to understand all the concepts correctly with the solutions given here. Class 8 Sanskrit is an important subject of standard 8 and contains various class exam. A student of Class 8 must aware of the solutions of the questions given at the end exercises of NCERT. We provide detailed solutions so that you can understand quickly the actual concept.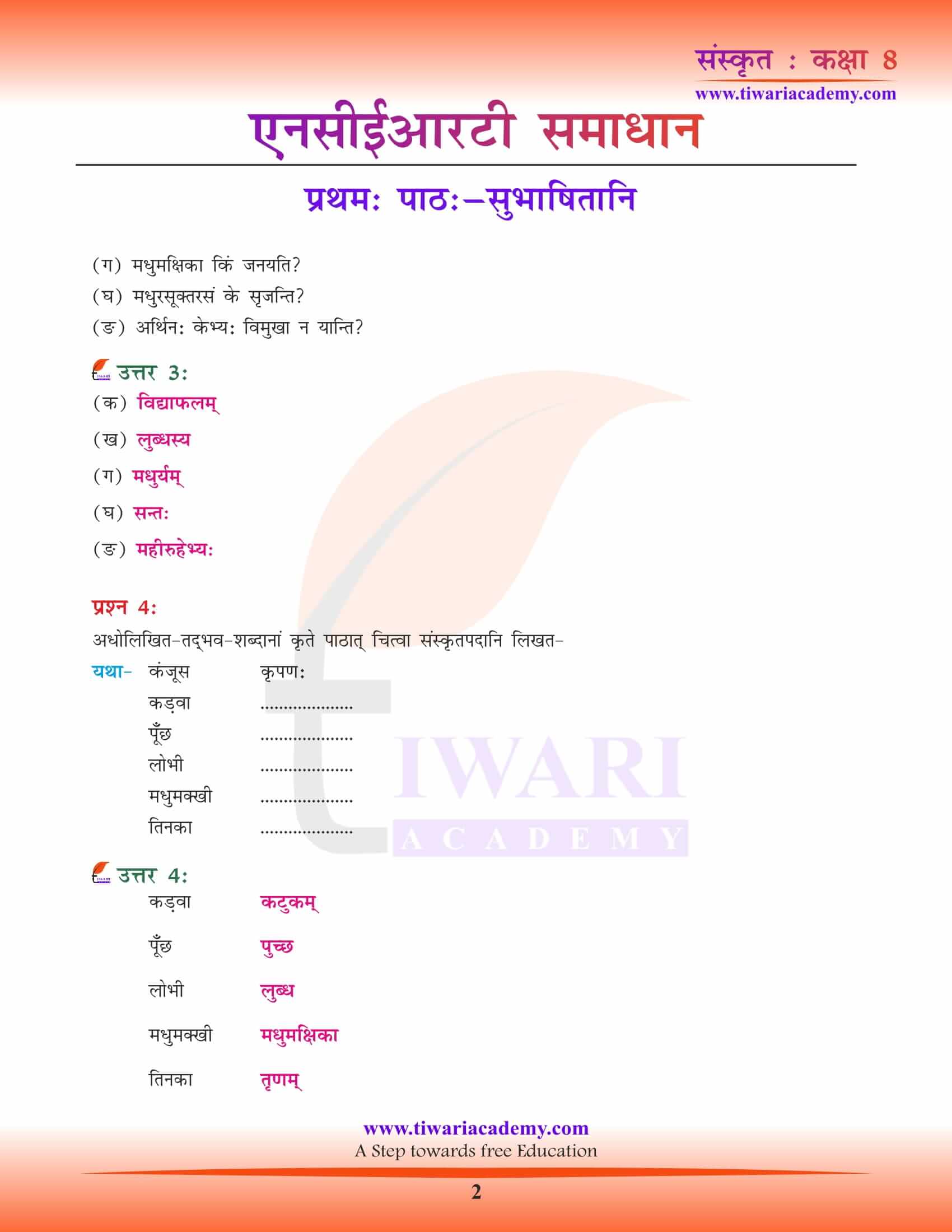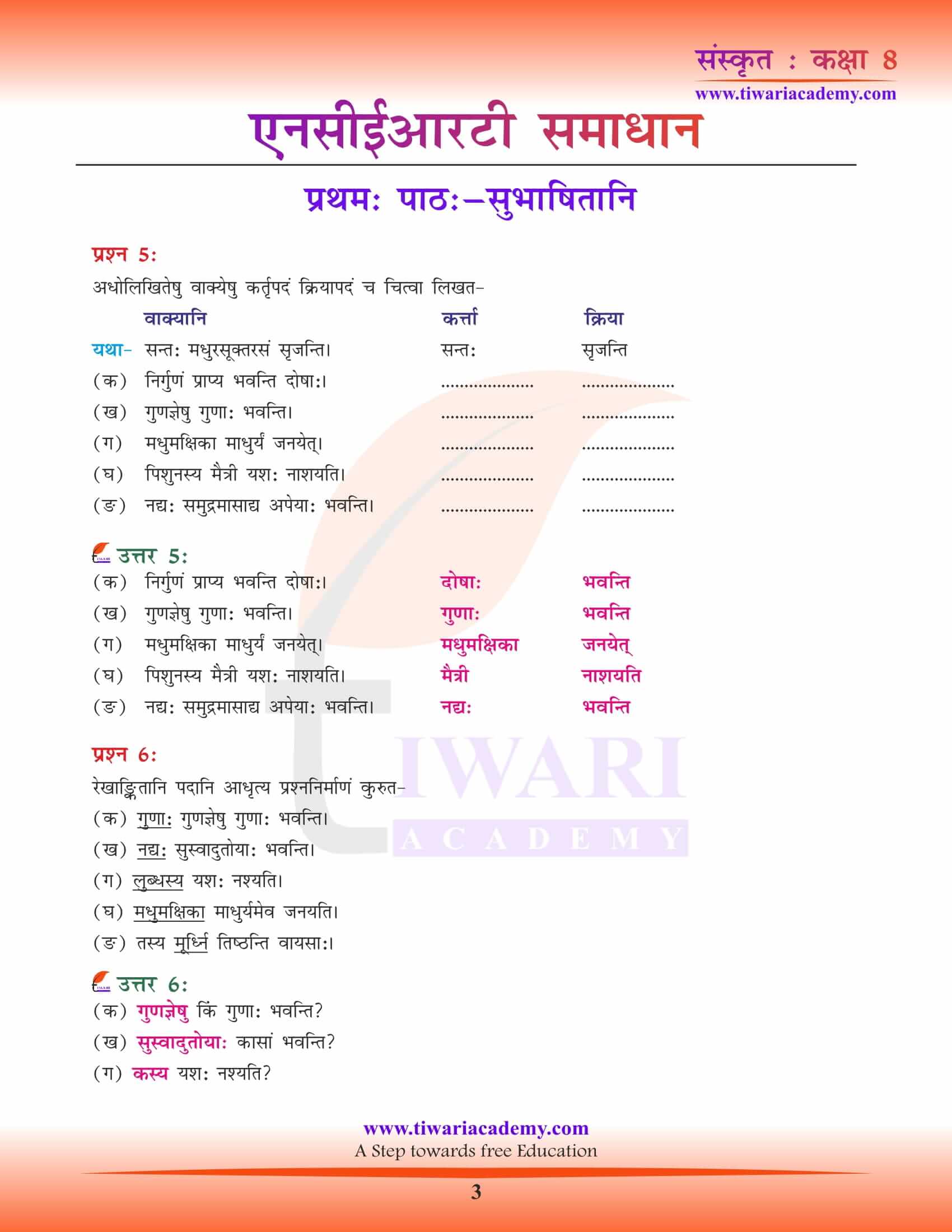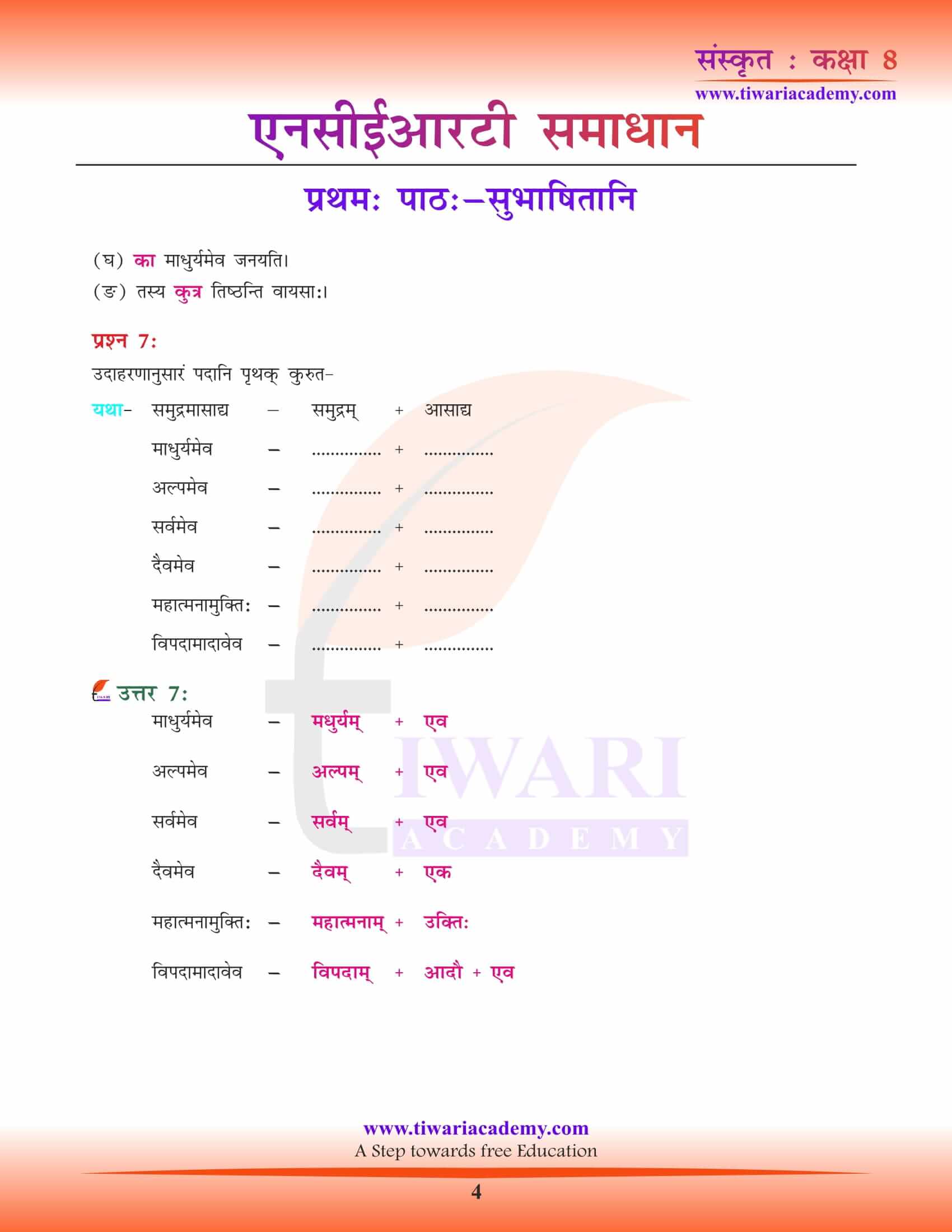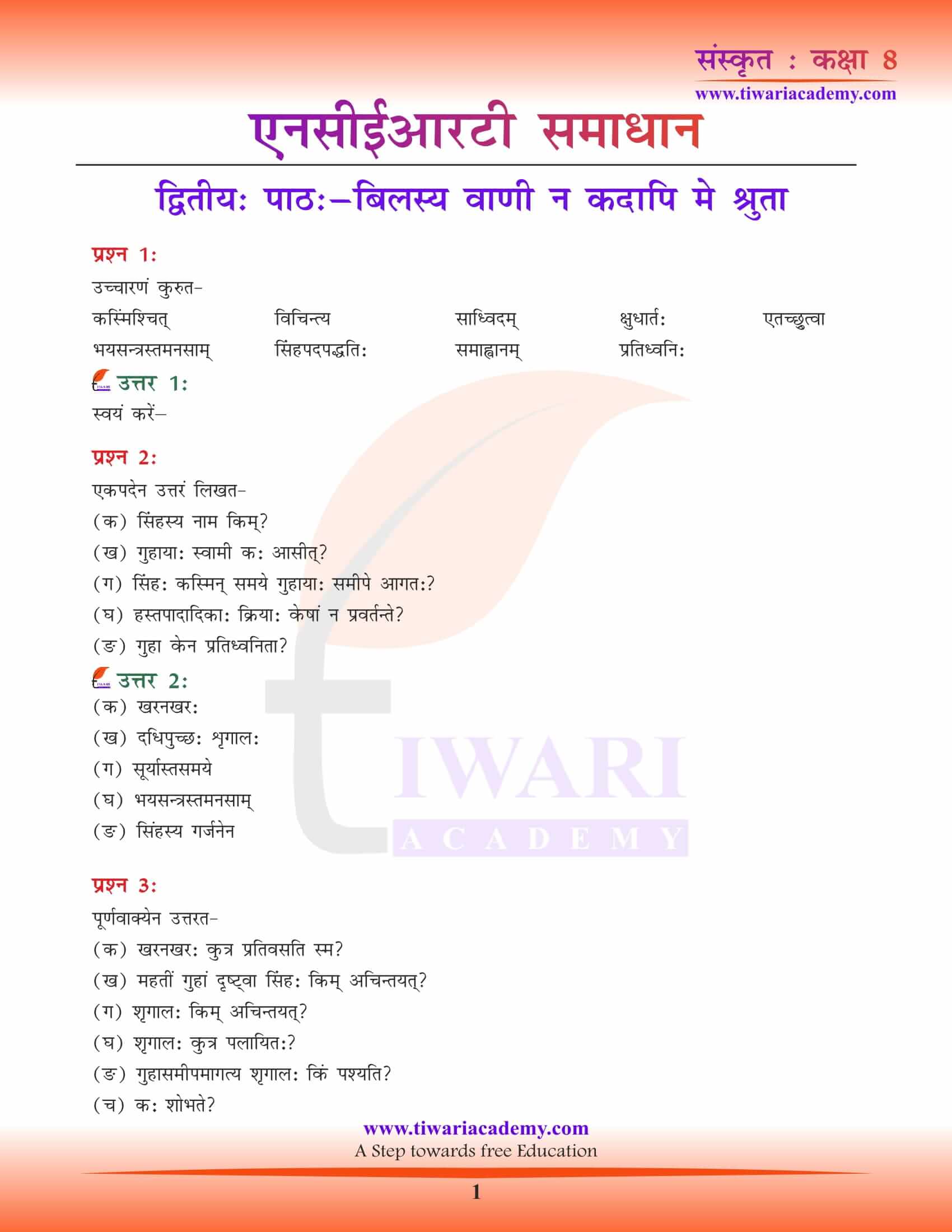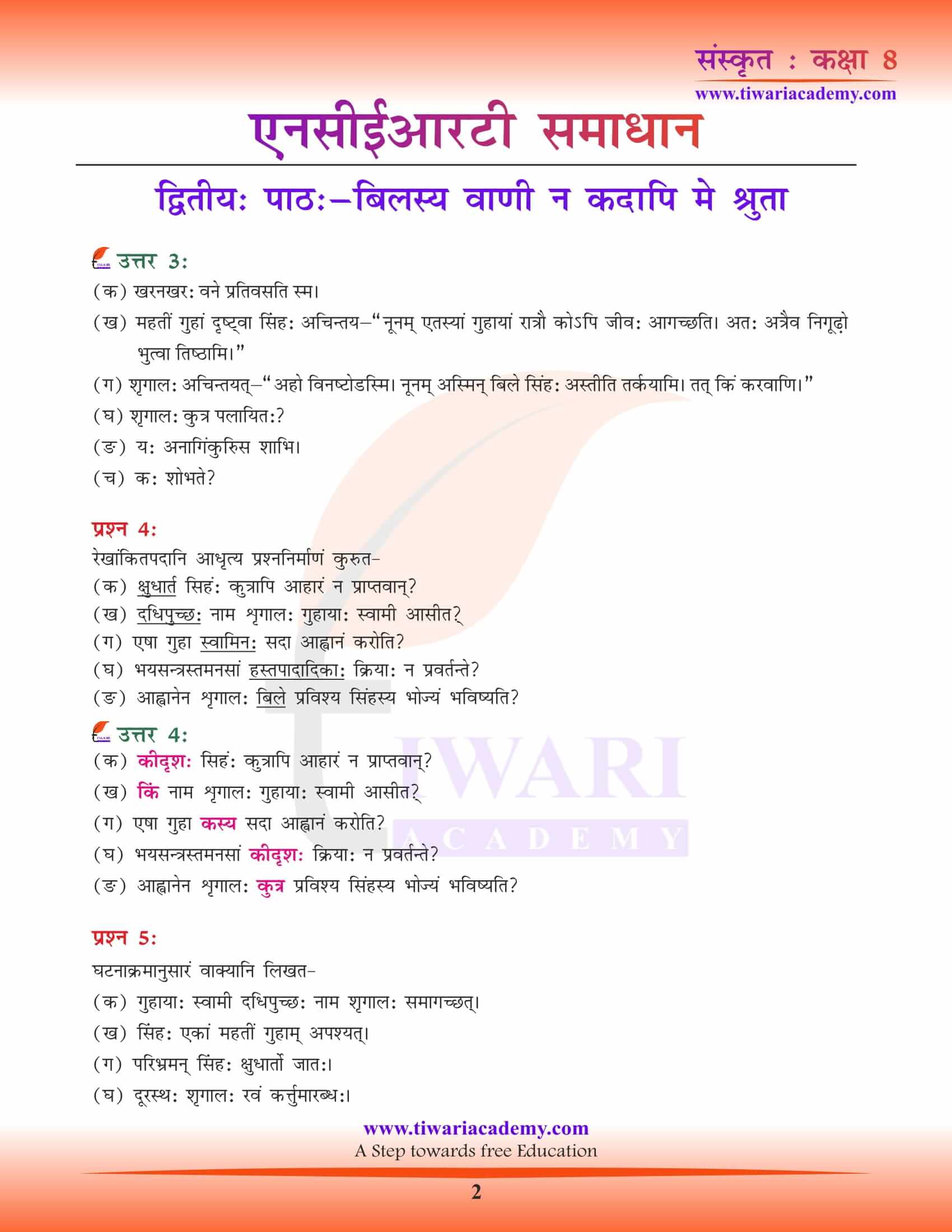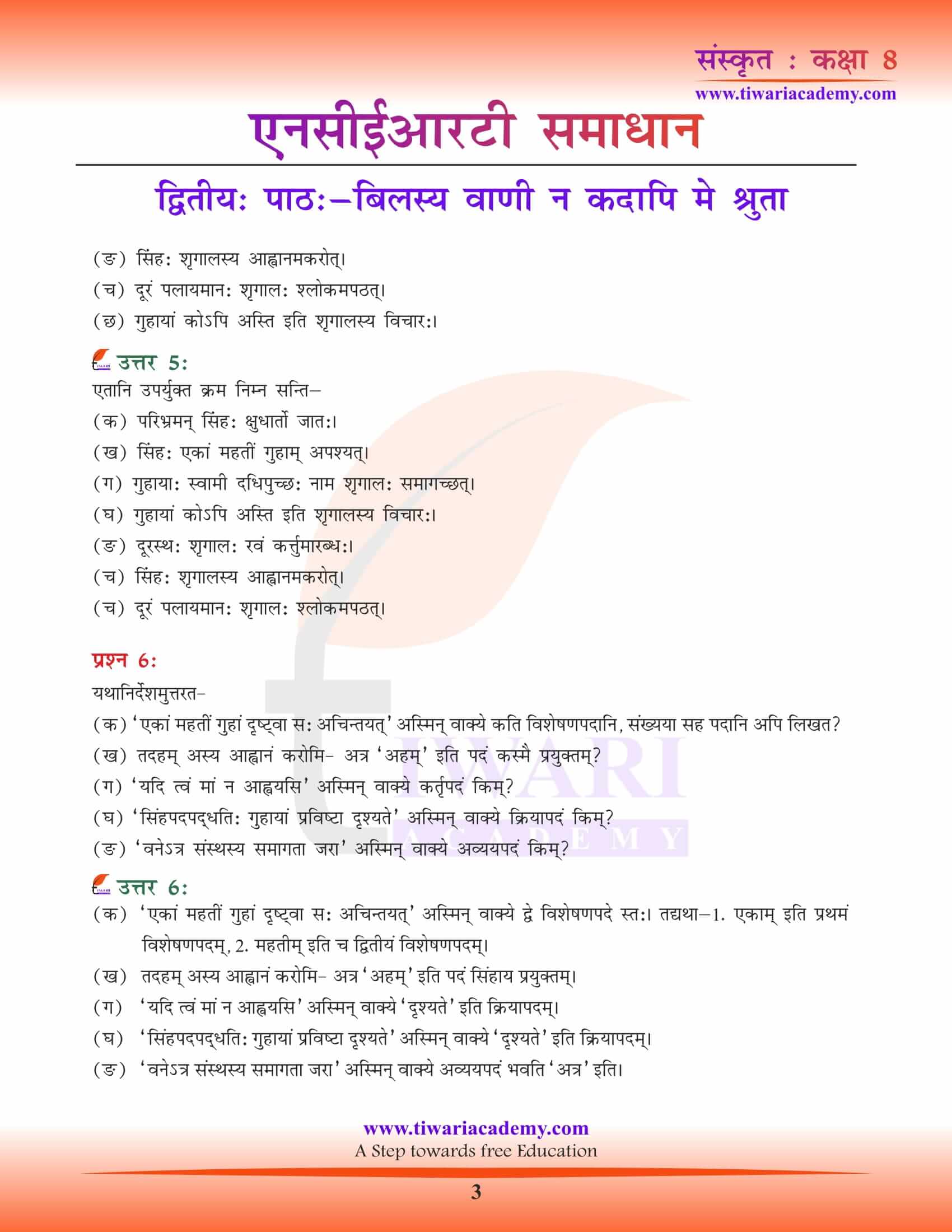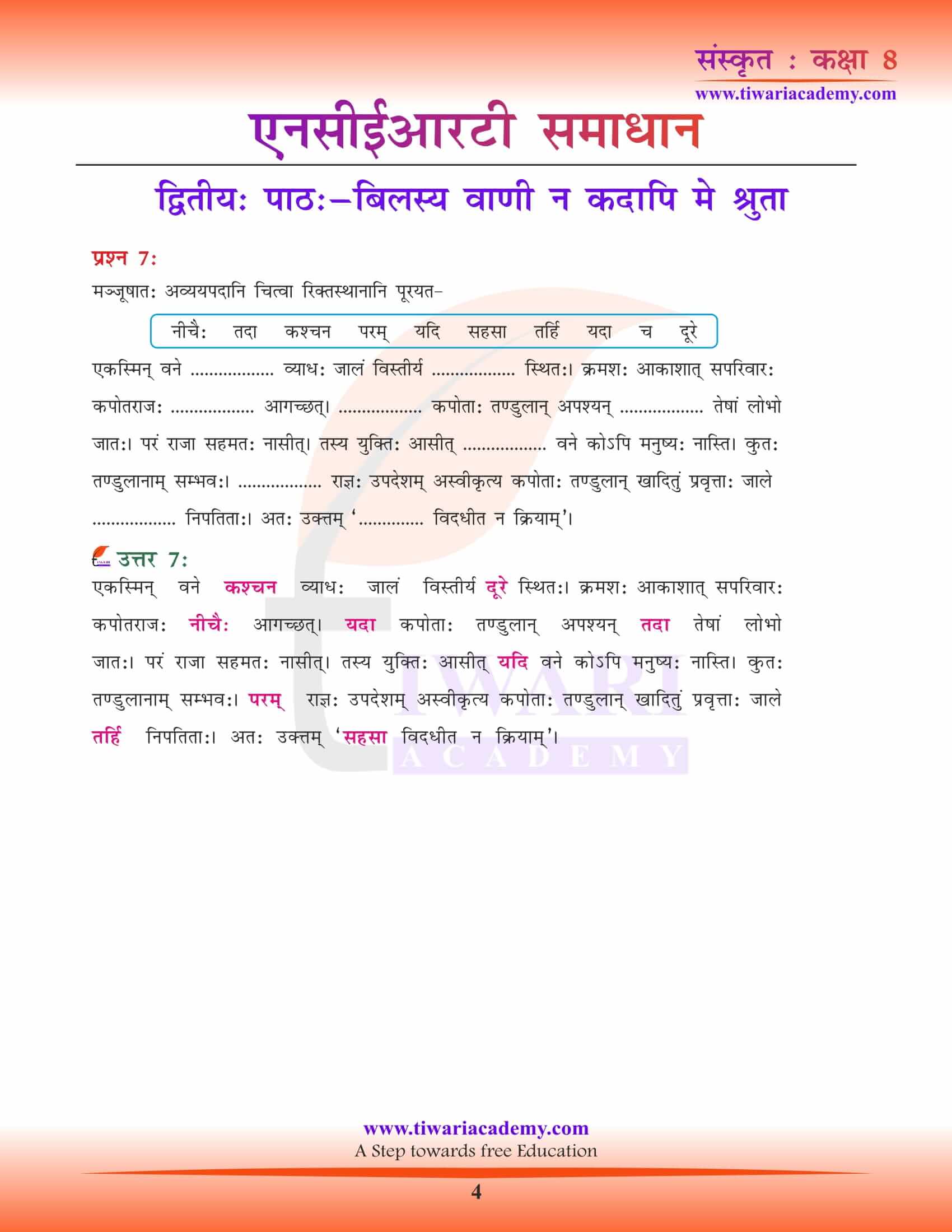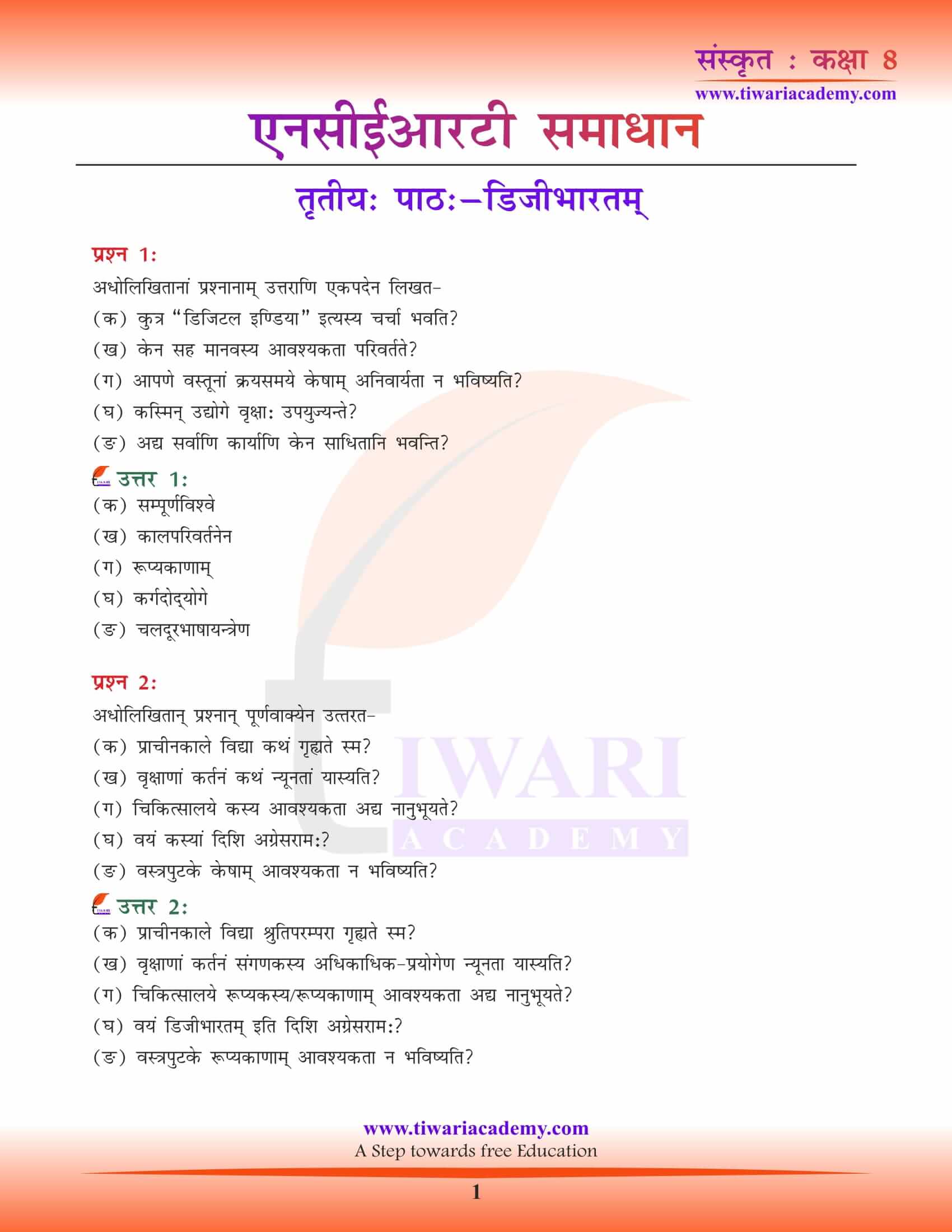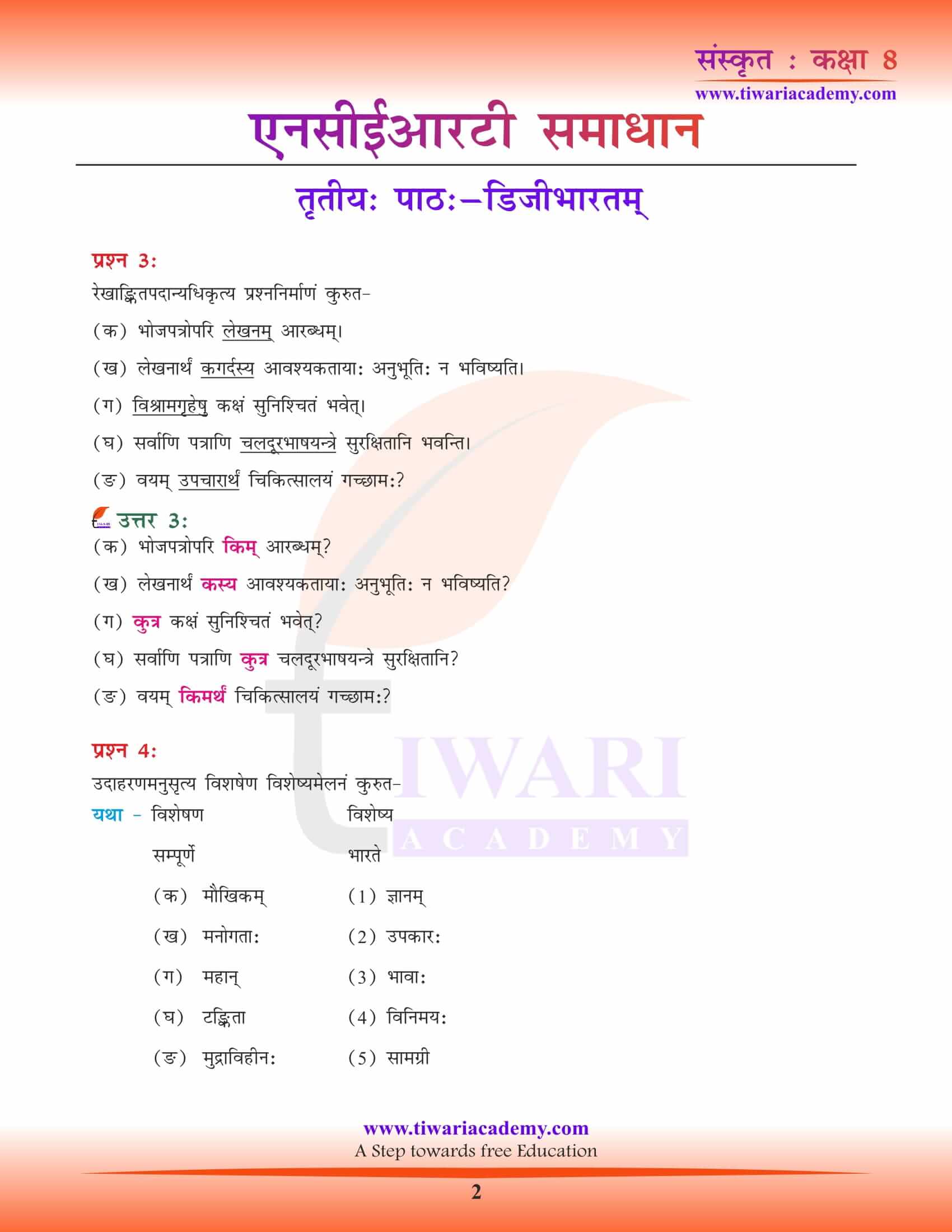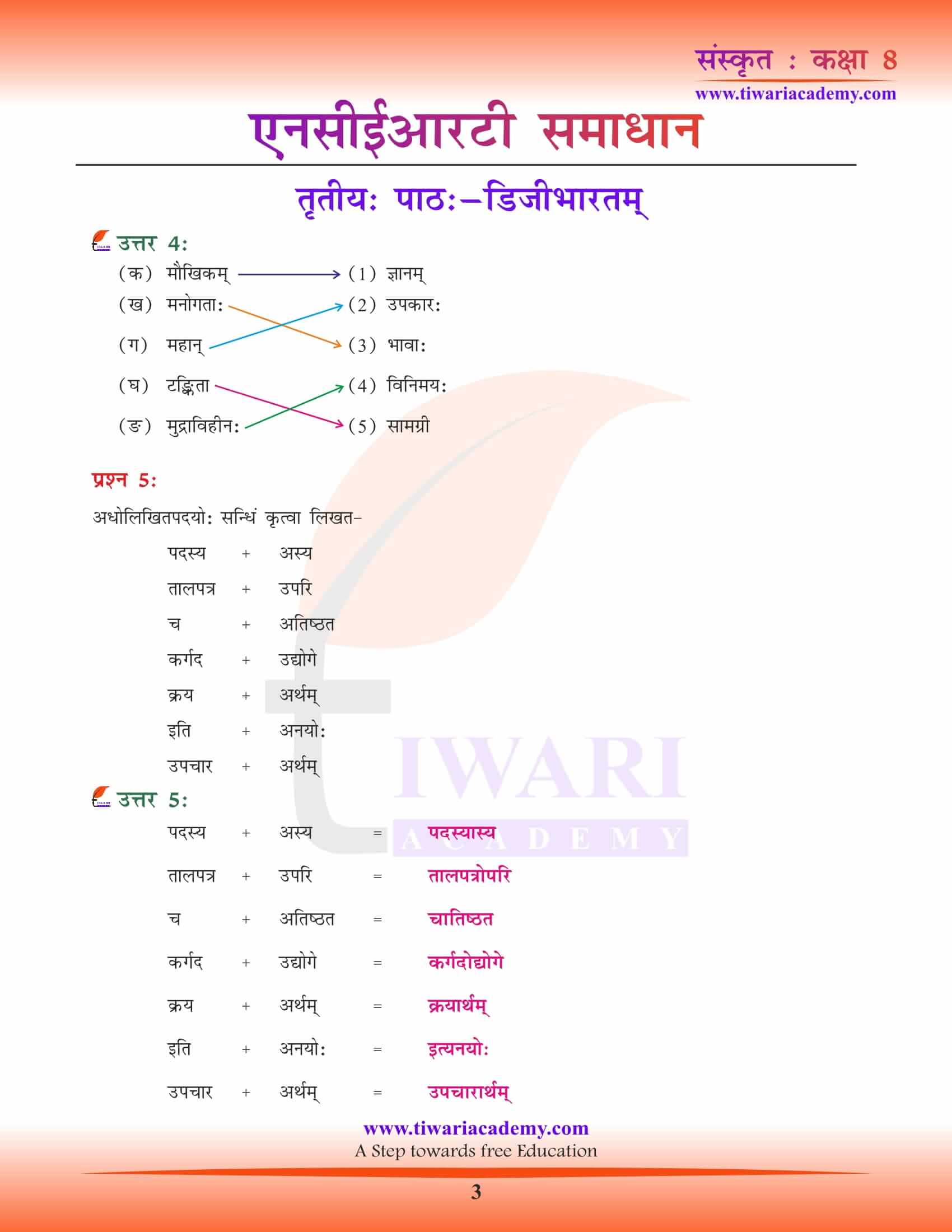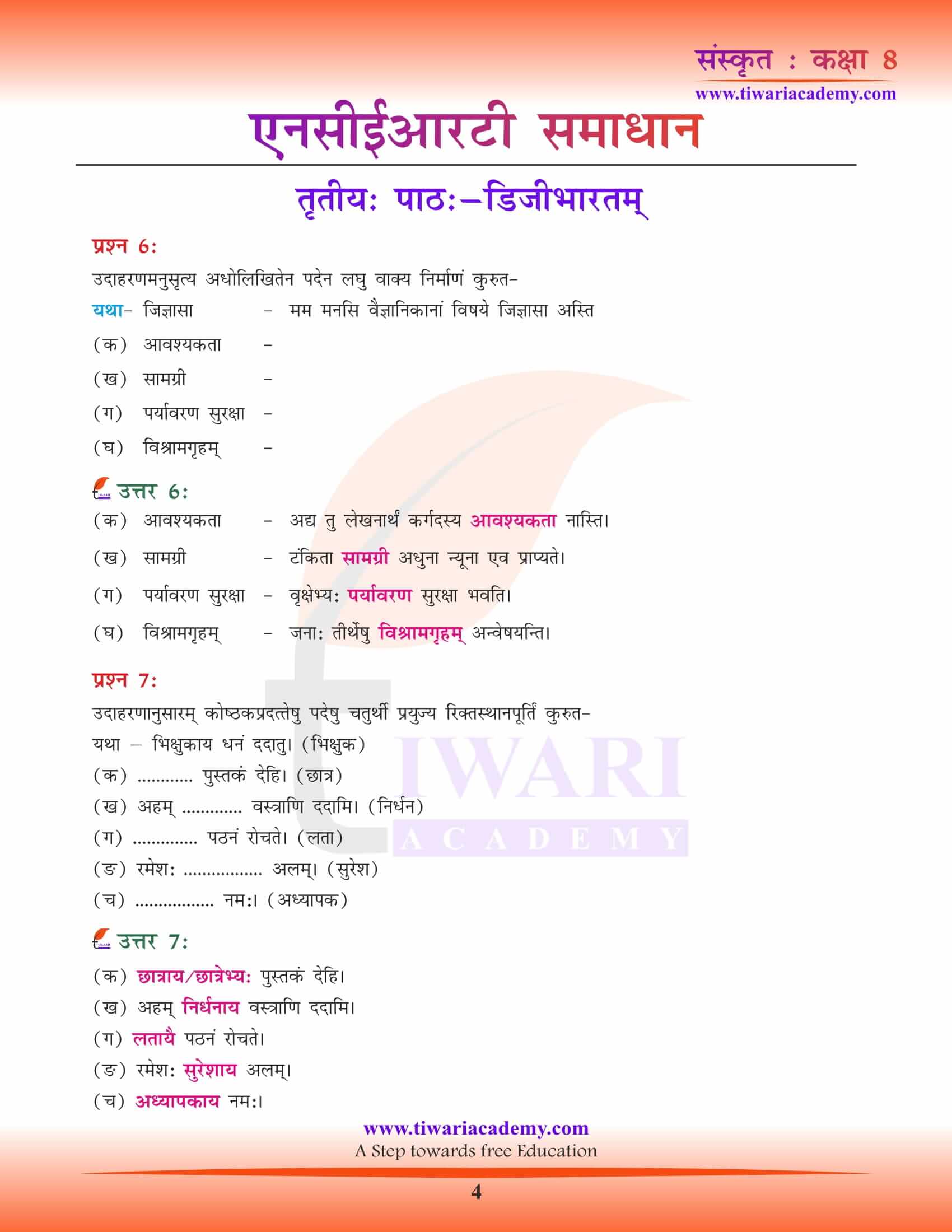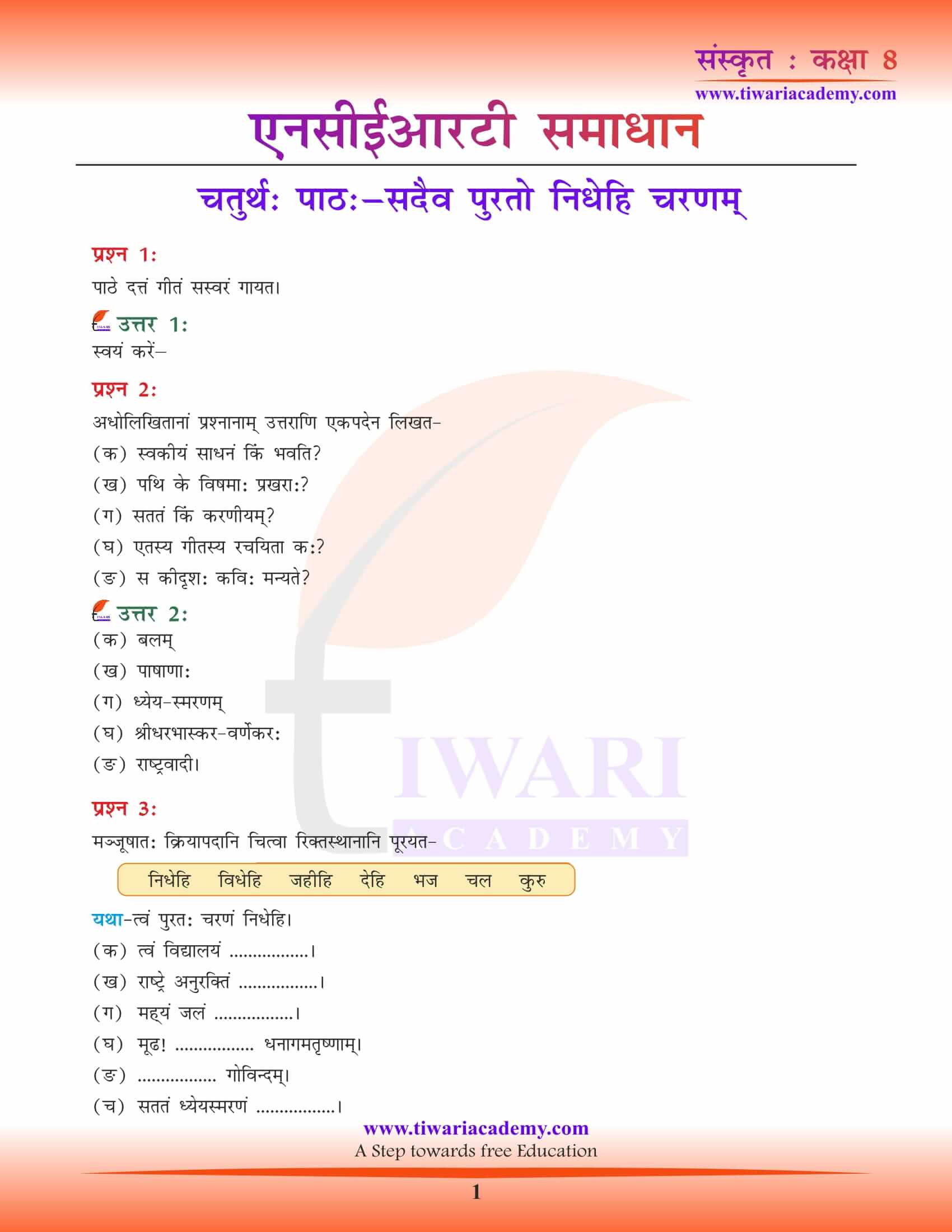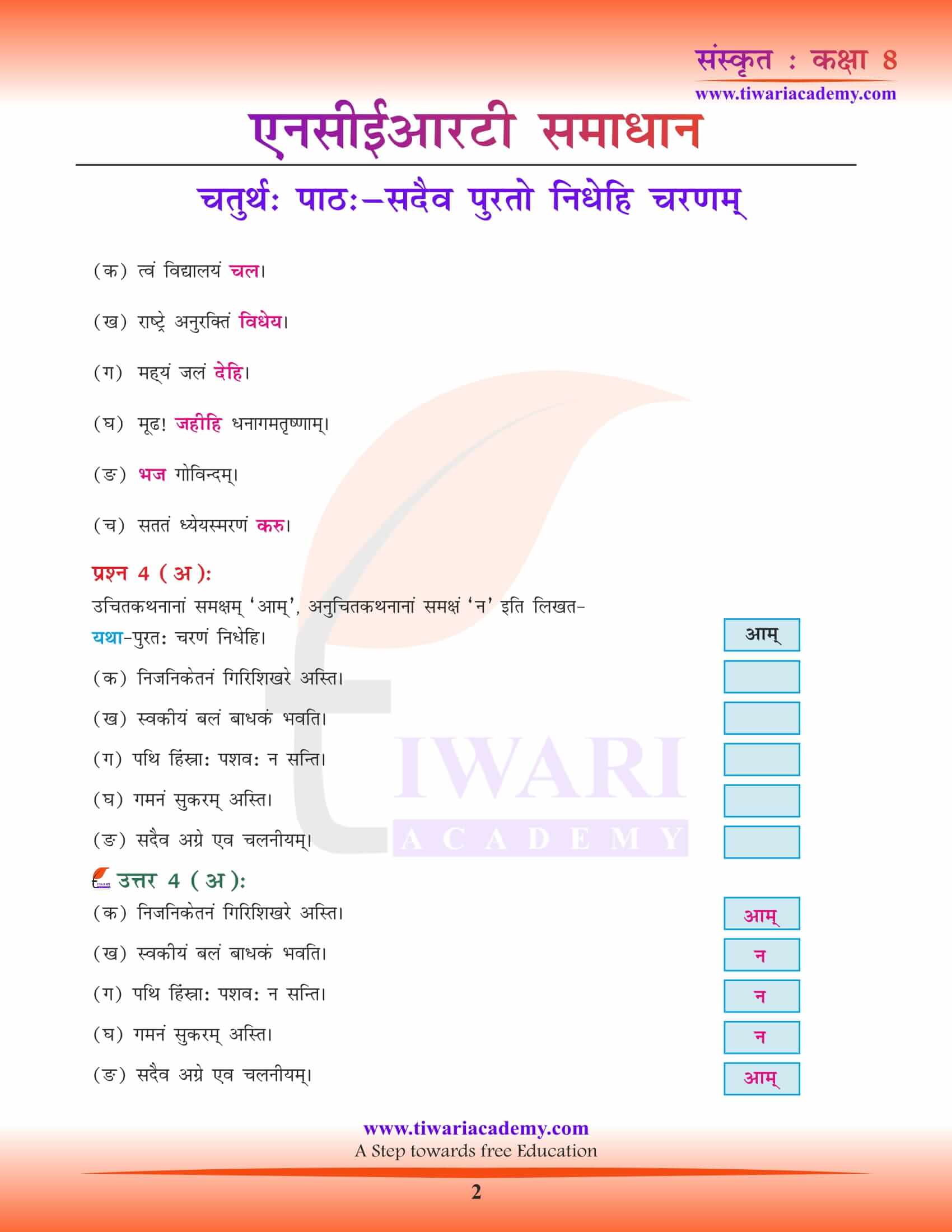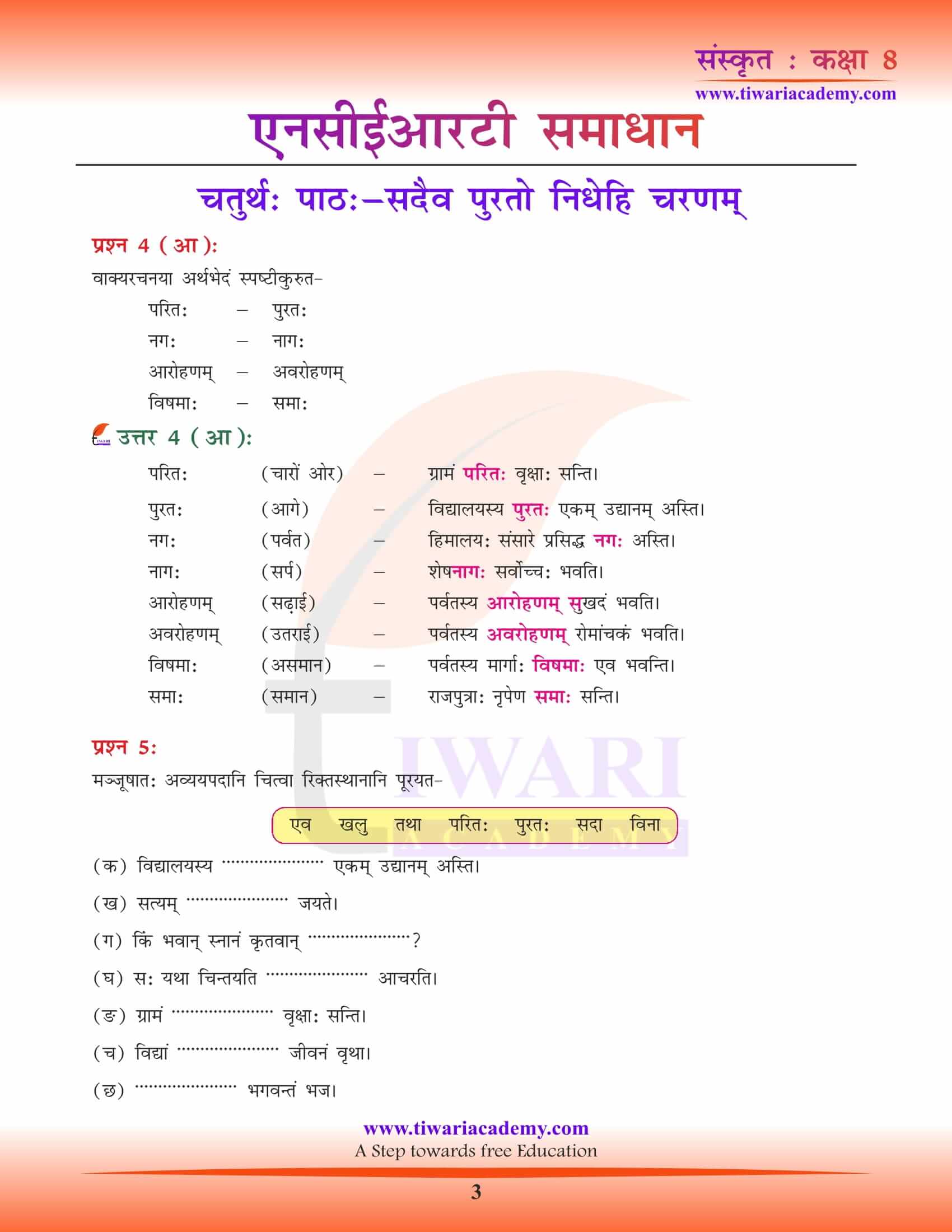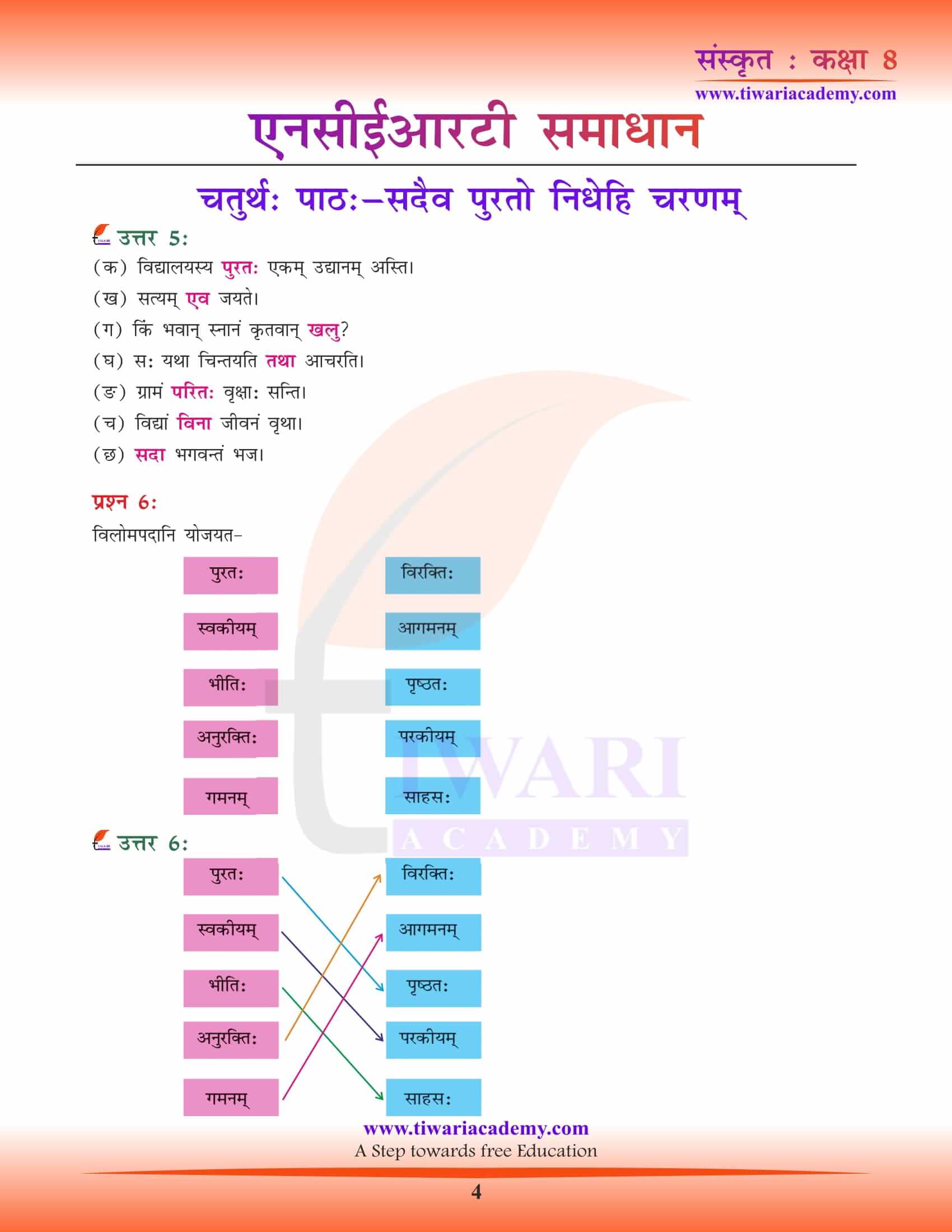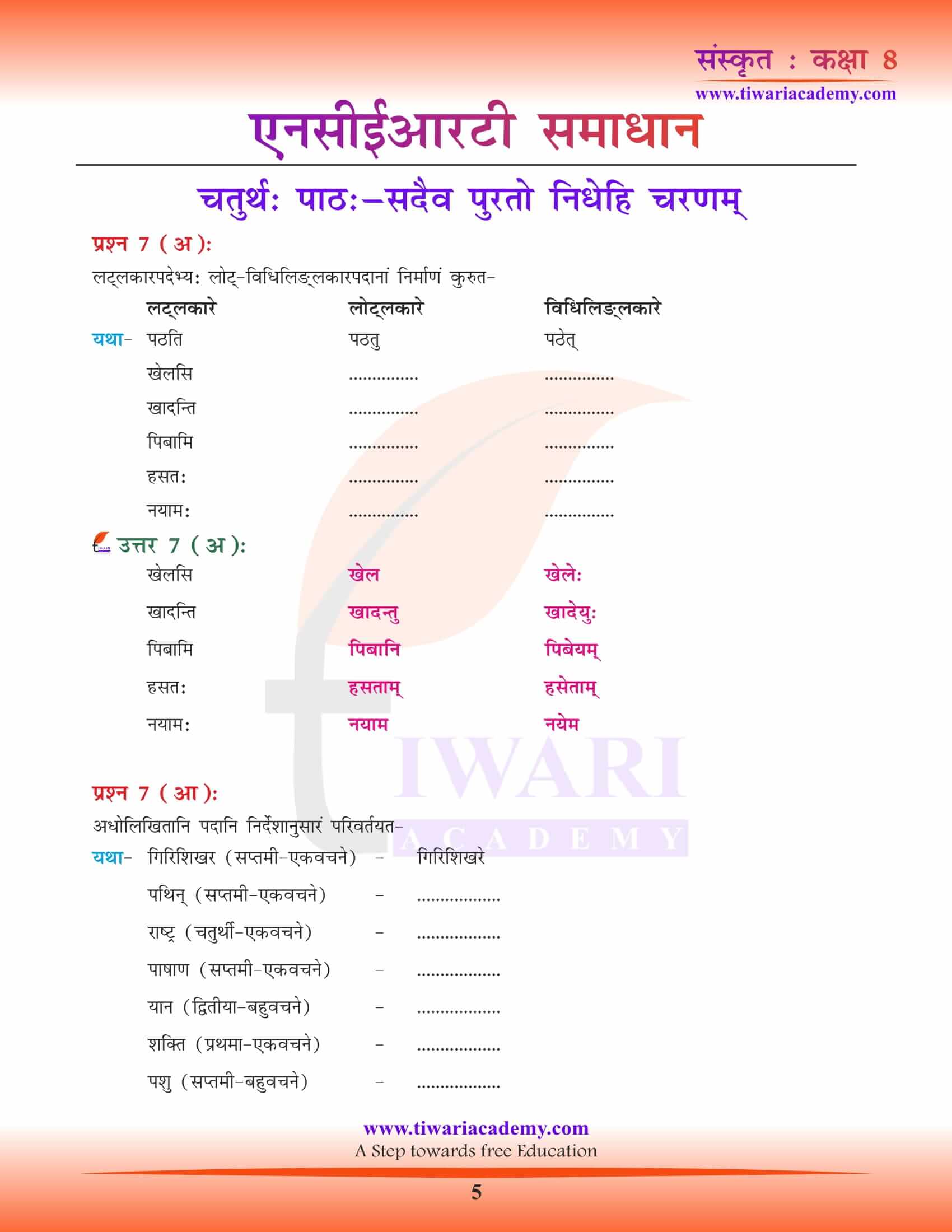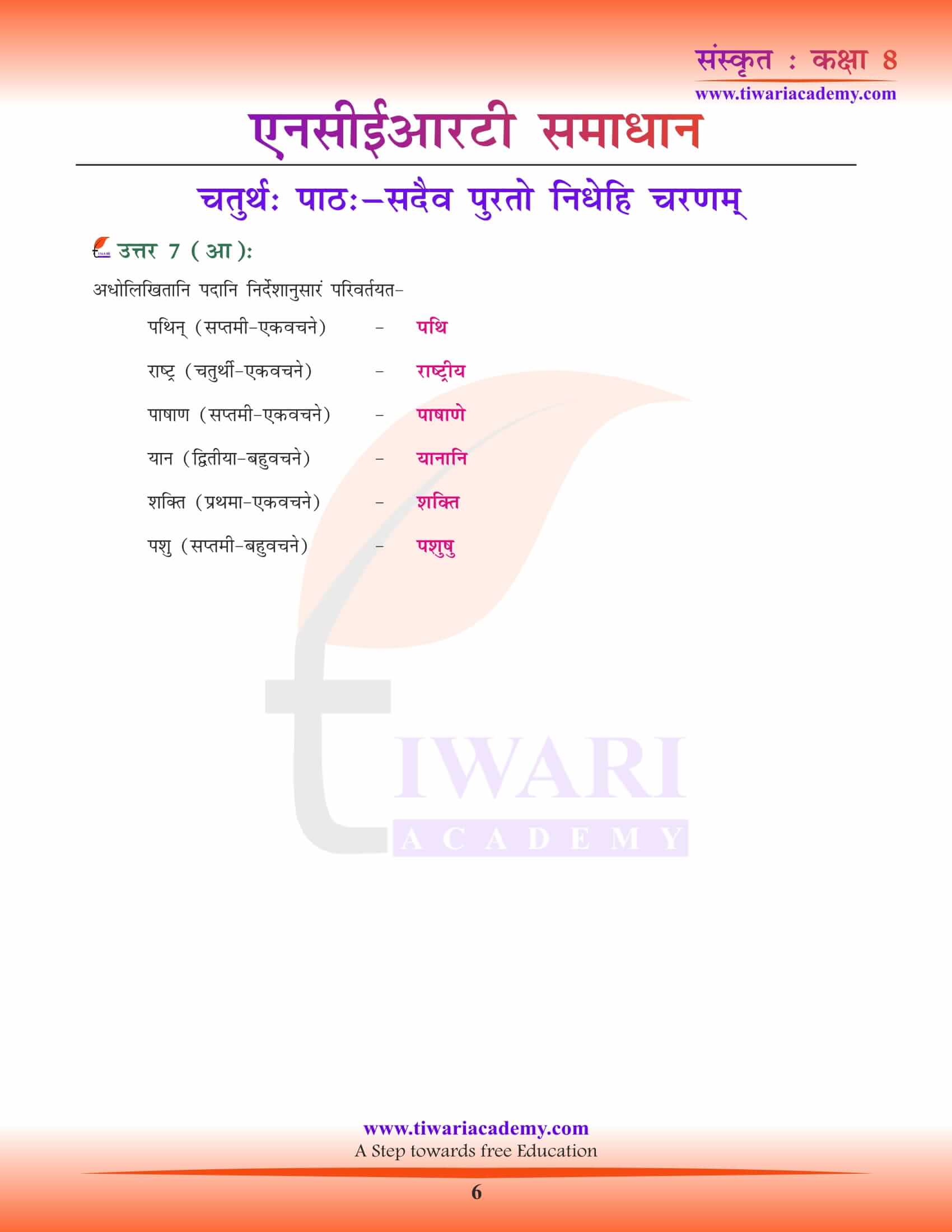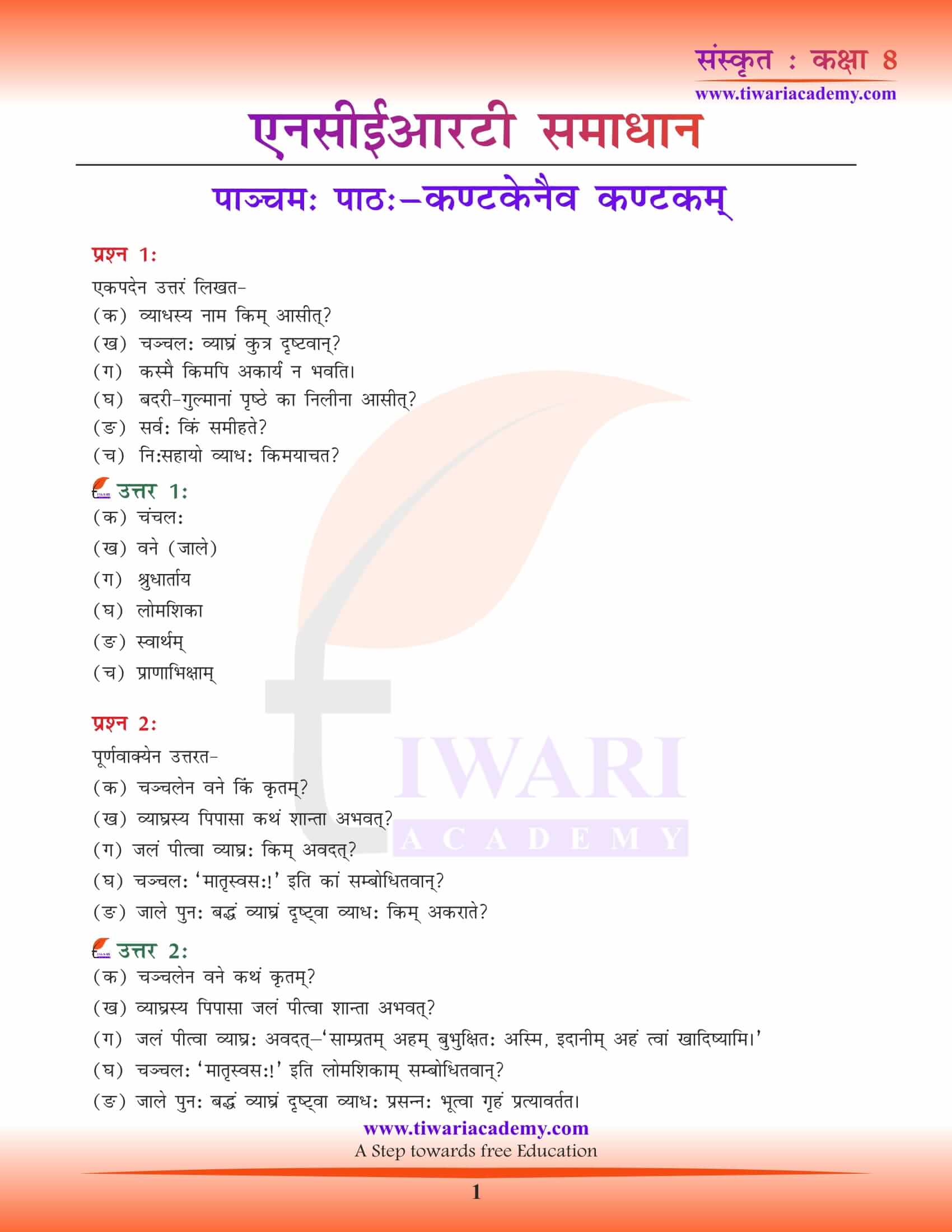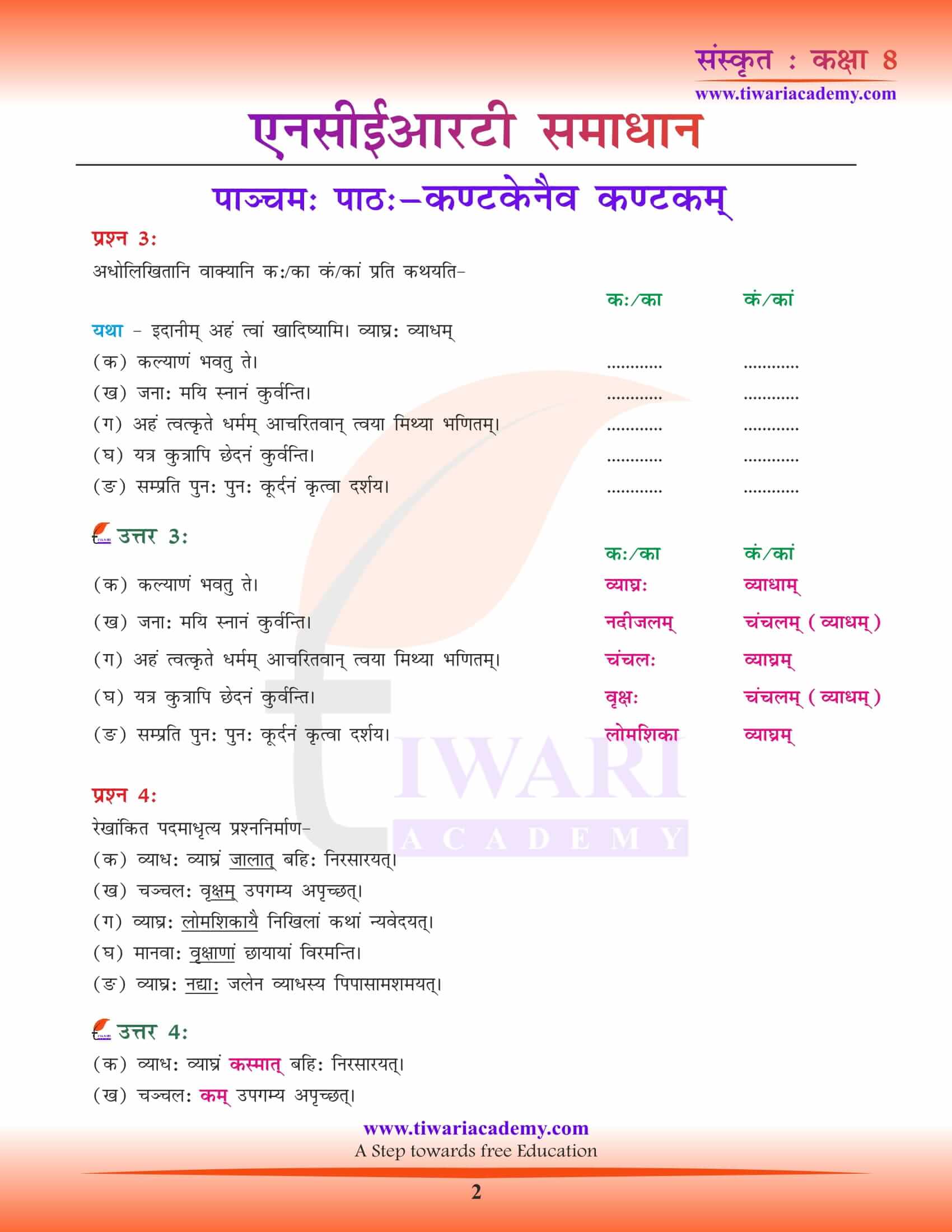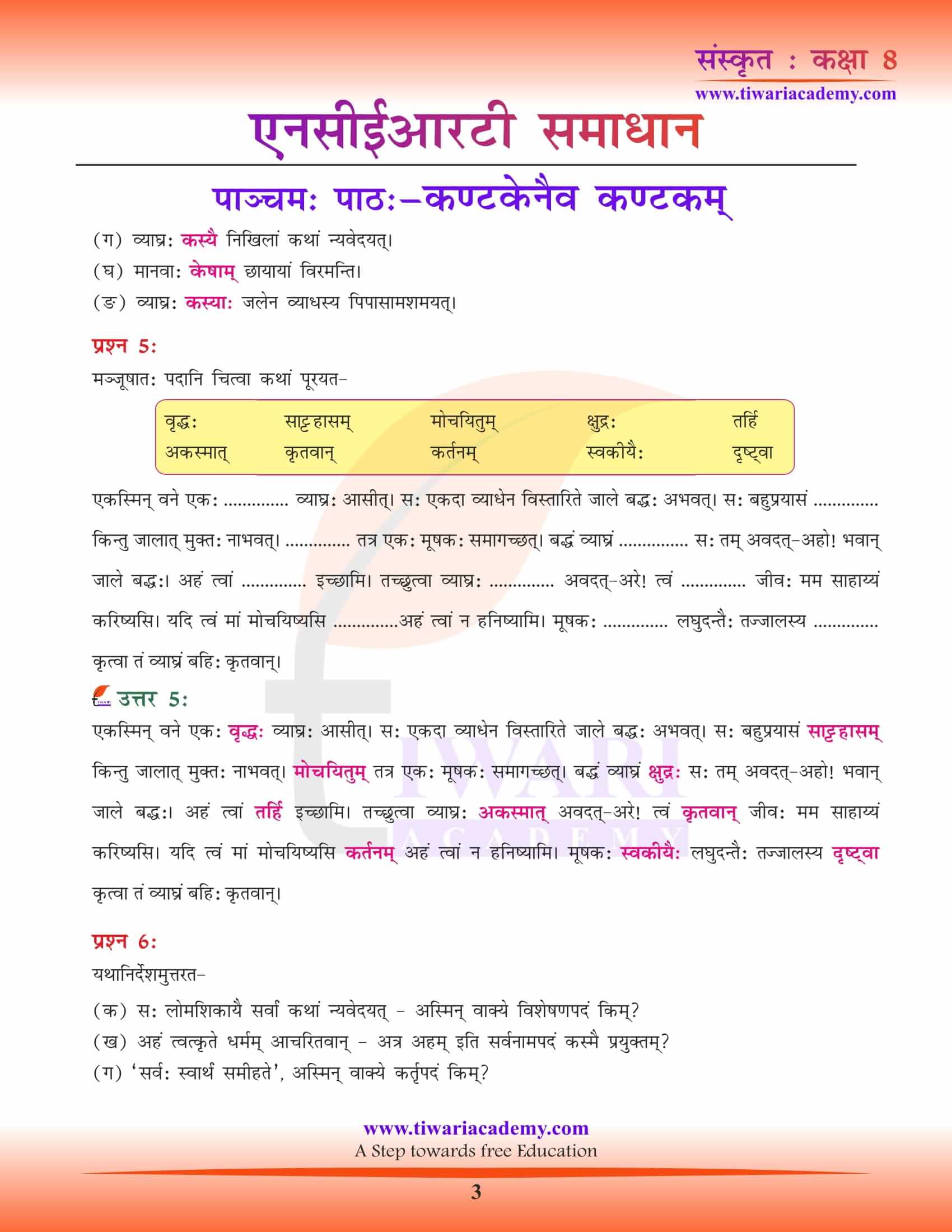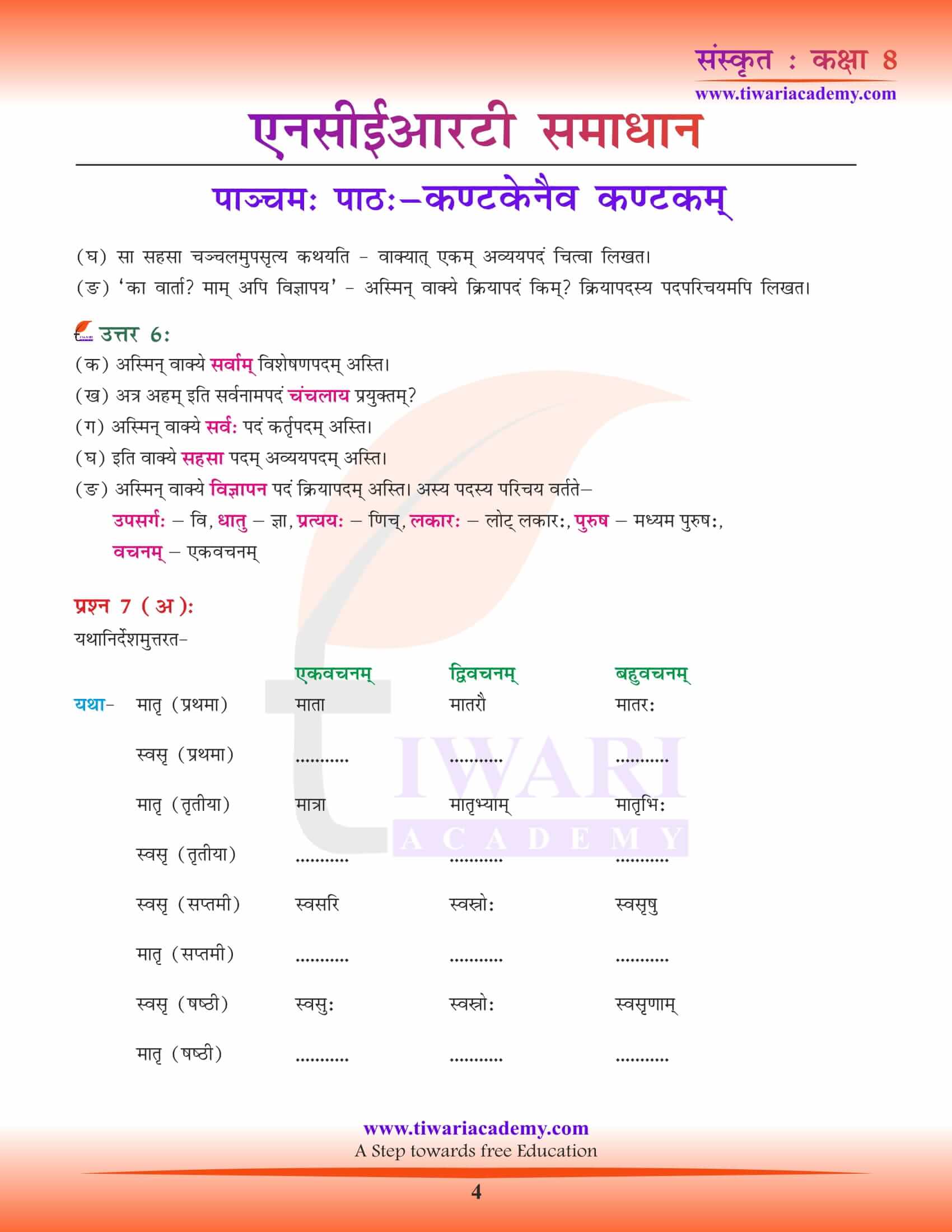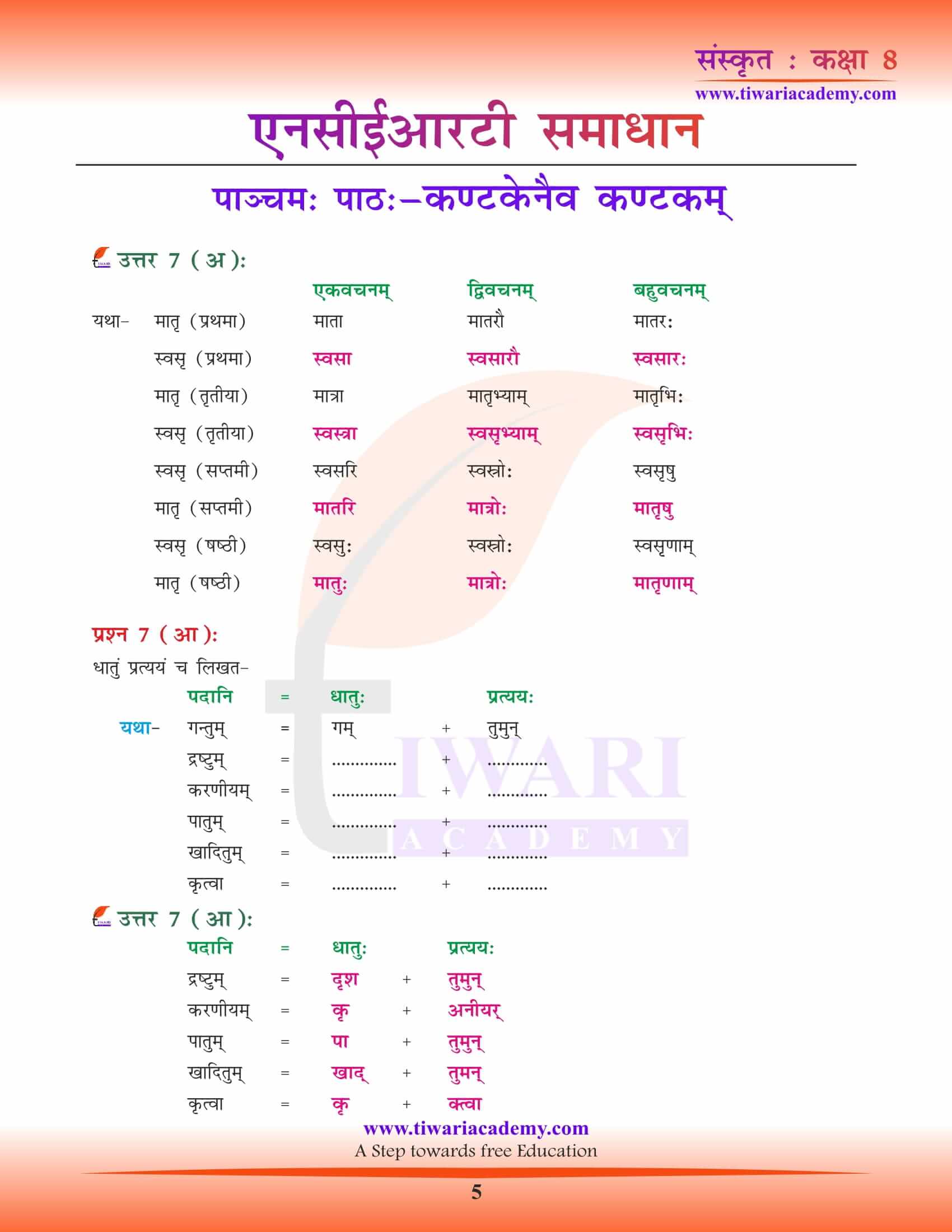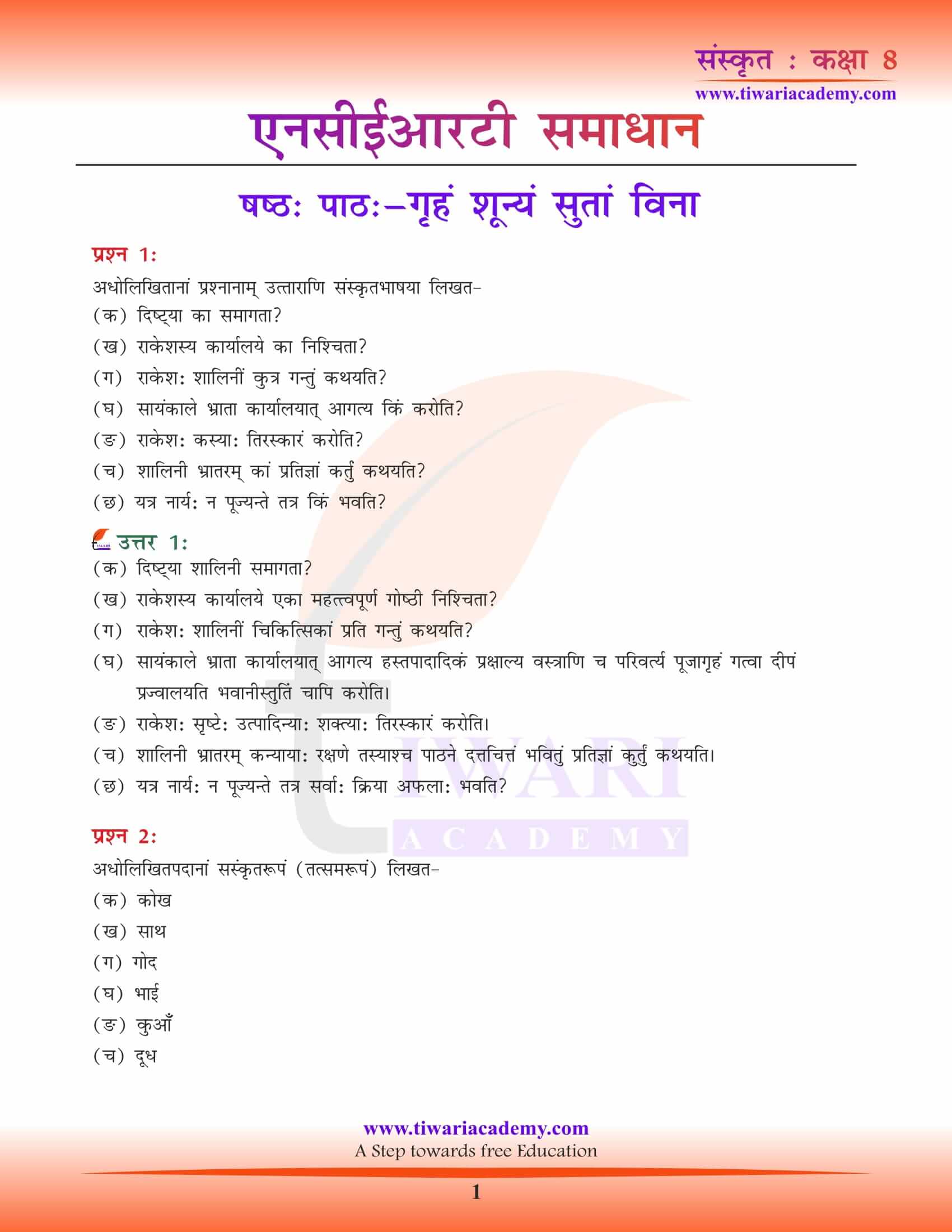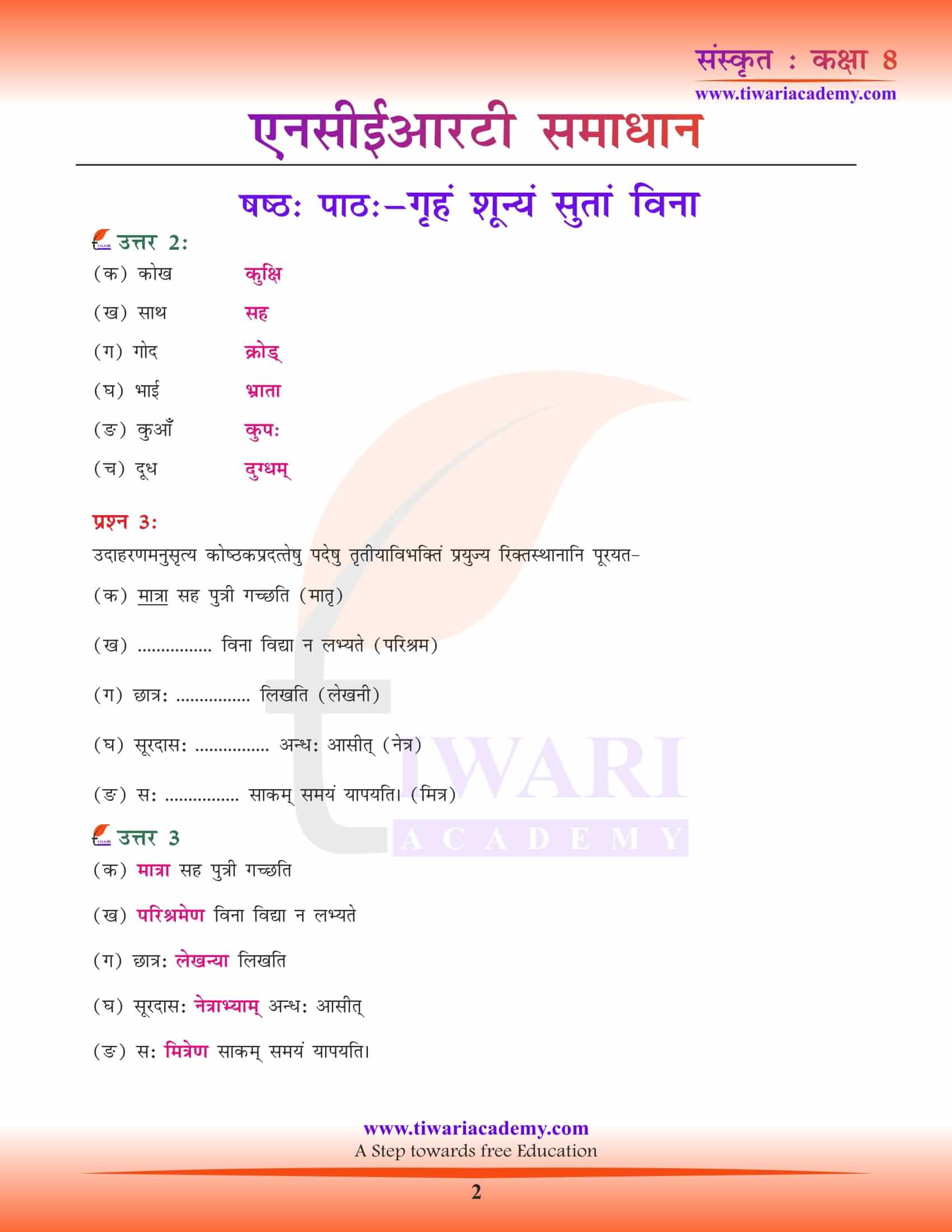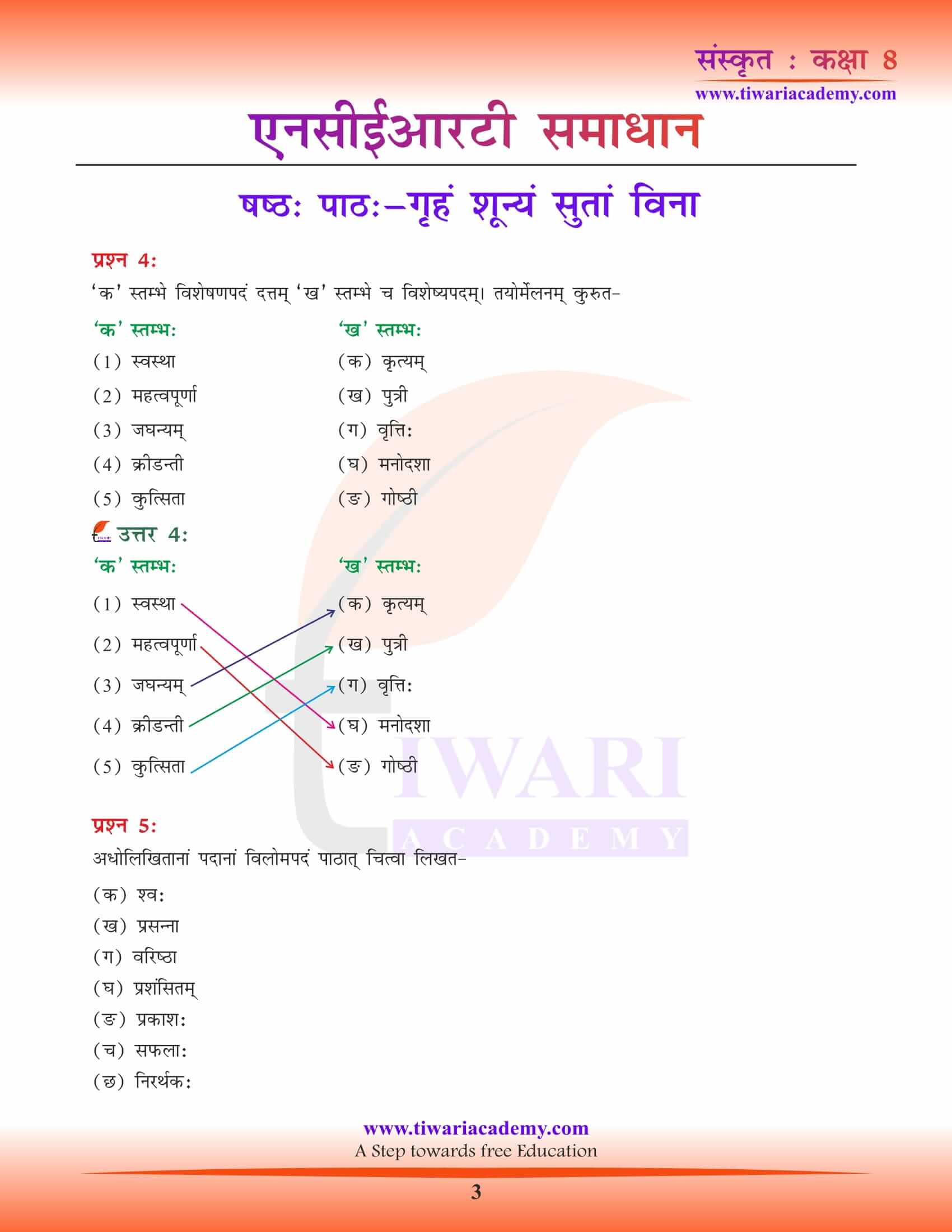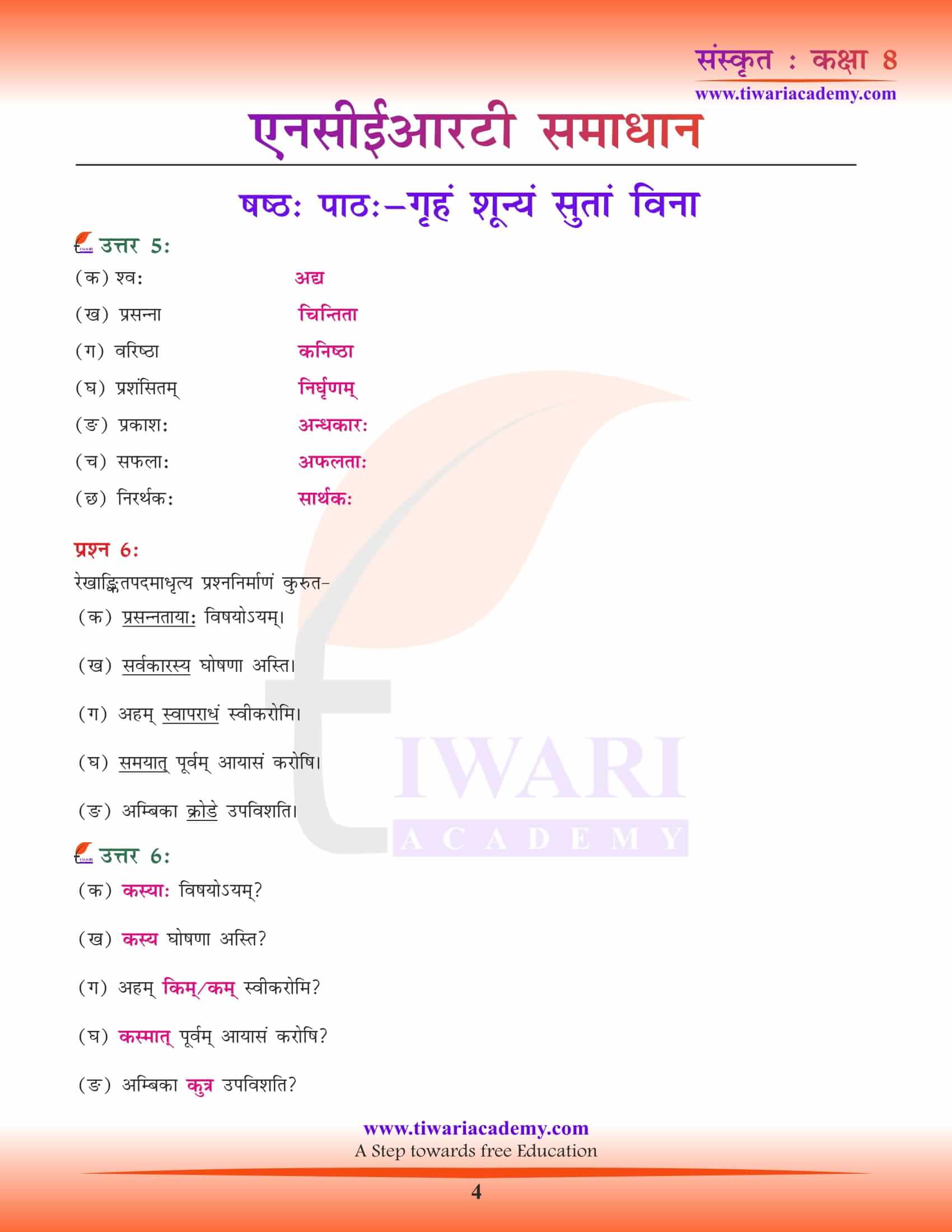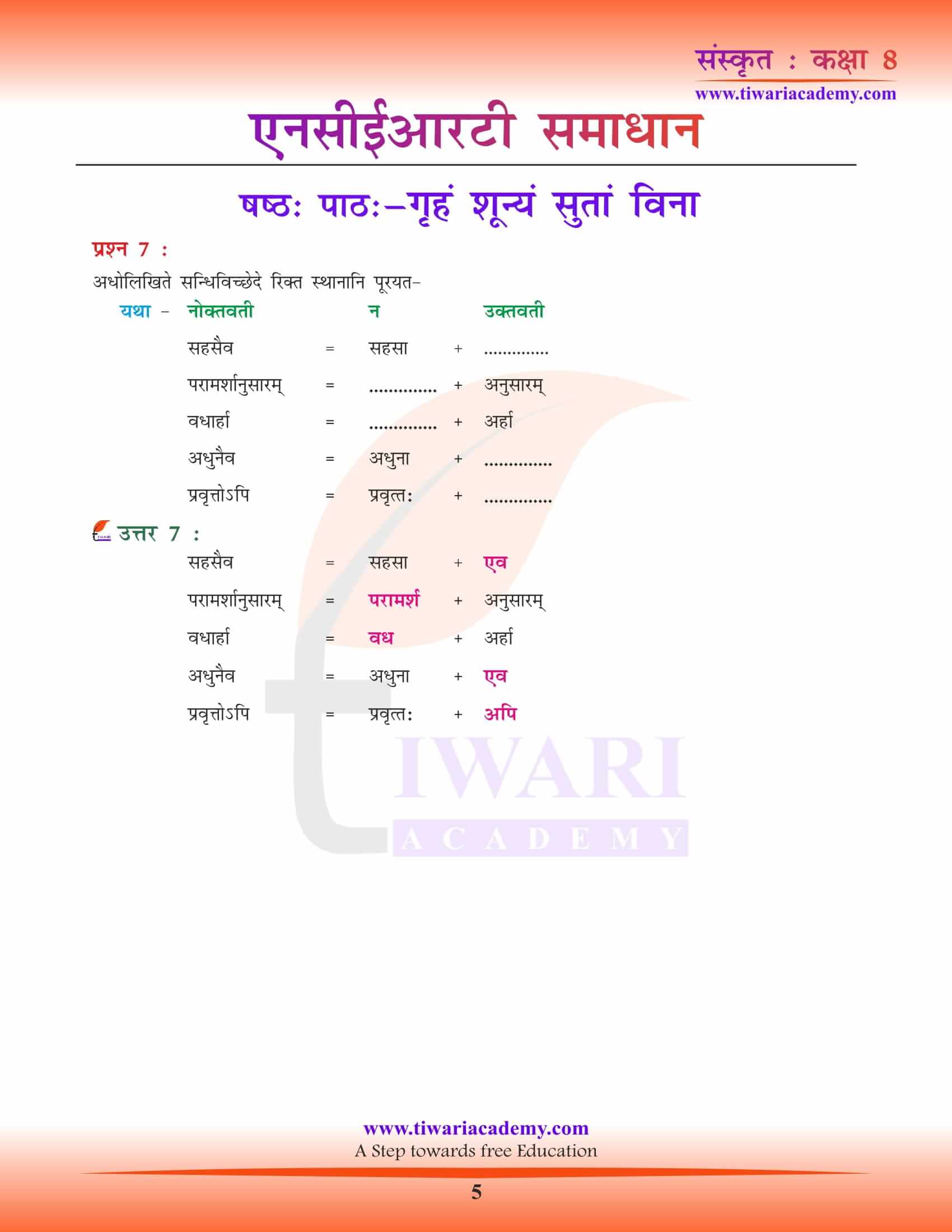 Last Edited: May 14, 2023