NCERT Solutions for Class 9 English for academic session 2023-24 are study materials and answers to questions provided by the National Council of Educational Research and Training (NCERT) for CBSE (Central Board of Secondary Education) students in Bharat. As per the new curriculum, there are only 9 chapters in Beehive and 9 in Moments for 2023-24 exams.
NCERT Solutions of Class 9 English
---
Chapter Wise Solutions of Class 9 English Beehive
Chapter 1. The Fun They Had
Chapter 2. The Sound of Music
Chapter 3. The Little Girl
Chapter 4. A Truly Beautiful Mind
Chapter 5. The Snake and the Mirror
Chapter 6. My Childhood
Chapter 7. Reach for the Top
Chapter 8. Kathmandu
Chapter 9. If I were you
---
Chapter Wise Solutions of Class 9 English Moments
If you need NCERT Solutions for Class 9 English based on rationalised NCERT textbooks published for session 2023-24, be here for Beehive (Prose) and Moments (Supplementary Reader) solutions to use it online. These solutions are designed to help students understand and master the English curriculum prescribed by the CBSE board for Class 9. Here's what you can expect from NCERT Solutions for Class 9 English.
Chapter 1. The Lost Child
Chapter 2. The Adventures of Toto
Chapter 3. Iswaran the Storyteller
Chapter 4. In the Kingdom of Fools
Chapter 5. The Happy Prince
Chapter 6. Weathering the Storm in Ersama
Chapter 7. The Last Leaf
Chapter 8. A House is not a Home
Chapter 9. The Beggar
---
NCERT Solutions Class 9 English are typically organized chapter by chapter, corresponding to the chapters in the Class 9 English textbook prescribed by CBSE. Each chapter is covered comprehensively. The solutions provide detailed explanations and step-by-step answers to questions and exercises found in the textbook. This helps students understand the concepts and how to solve problems effectively.
---
Class 9 Learning Apps for iOS and Android
---
Class 9 English solutions often include grammar explanations, writing tips, and examples to enhance the writing and language skills of students. If the English curriculum includes literary texts such as poems, stories, or plays, the solutions also offer analysis, summaries, and discussions of these texts. This helps students interpret and appreciate literature better.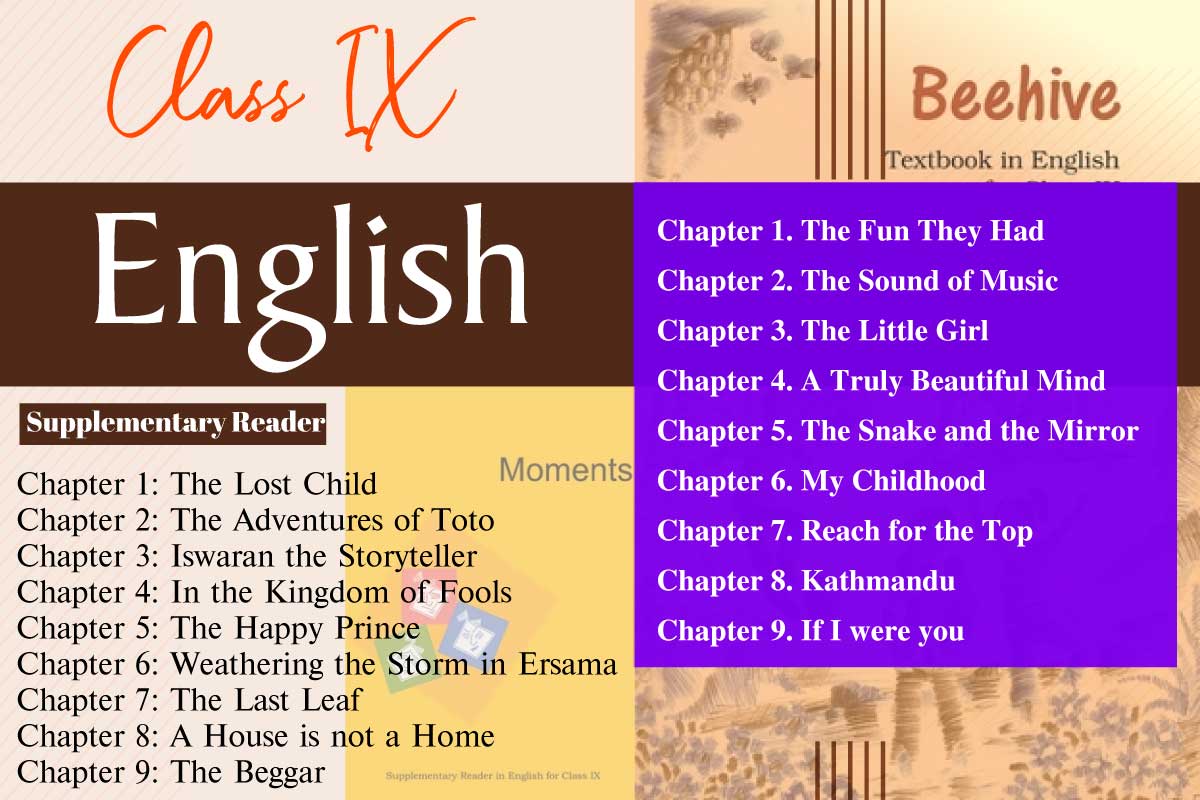 Don't overburden yourself. Take short breaks during study sessions, get enough rest, and manage stress effectively. Remember that everyone learns differently, so you may need to adapt these tips to your own learning style. The key is to stay consistent, stay engaged, and keep a positive attitude toward your English studies.
---
Look for resources that offer grammar lessons and writing tips. These can help you improve your writing skills and better understand the rules of English grammar. If your English curriculum includes literature, Tiwari Academy provide study guides, summaries, and analyses of the prescribed literary texts. When writing your responses, be clear and concise. Use proper grammar and sentence structure to convey your thoughts effectively.
---
Making Class 9 English exams more comfortable requires effective exam preparation and strategies to manage stress and anxiety. Here are some tips to help you feel more comfortable and confident during your English exams. Familiarize yourself with the exam format, including the types of questions (e.g., multiple-choice, short answer, essay), marking scheme, and time allocation for each section.
You may download up board solutions for 9th English books in PDF format as Class 9 English Books are being used in Uttar Pradesh as a course book. Many States in Bharat like Punjub, Rajasthan, Uttarakhand, Madhya Pradesh, etc., have implemented the textbooks of NCERT Publication updated for new CBSE session 2023-24.
---
Class 9 Solutions App for all Subjects
All the Questions answers and solutions of back exercises are available on Tiwari Academy free to use without any login or registration. The solved exercises of Class 9 English Beehive textbook with grammar part are given in the format of PDF file.
---
---
It doesn't matter whether you are studying in UP Board or Rajasthan Board or any other board who are using CBSE NCERT Textbooks, you can use the solutions available on this page. So, download UP Board Solutions for Class 9 English here free of cost for session 2023-24.
---
---
Some solutions include additional practice questions and exercises to reinforce learning and test comprehension. NCERT Solutions Class 9 English are valuable for exam preparation, as they help students prepare for the CBSE Class 9 English exams by providing insights into the types of questions and concepts likely to be covered.
| | |
| --- | --- |
| Class: 9 | English |
| Books: | Beehive and Moments |
| Number of Chapters: | 18 (Beehive – 9 and Moments – 9) |
| Contents: | NCERT Solutions & Hindi Translation |
| Academic session: | Year 2023-24 |
NCERT Solutions for Class 9 English – Beehive & Moments
Get here the NCERT Solutions for Class 9 English main textbook and supplementary books solutions which covers all the exercises given at the end of the chapter of Beehive, like working with the text, working with the poem, reading and writing section, working with the language, etc.
---
Since NCERT is the official body responsible for curriculum development in Bharat, these solutions align closely with the CBSE syllabus, ensuring that students cover the required topics. NCERT Solutions for Class 9 English are available for free and accessible online, making them widely available to students.
---
In UP Board Class 9 English Subject, now NCERT Books are implemented. Students of High School in Uttar Pradesh can now use UP Board Solutions for Class 9 English free of cost for 2023-24. Download NCERT Textbook Solutions Offline Apps 2023-24 for new academic session free from Play Store or App Store.
To access NCERT Solutions for Class 9 English, you can visit the official NCERT website, look for resources related to Class 9 English, or you can find them on various educational websites and platforms like Tiwari Academy that provide free study materials for CBSE students. These solutions are a valuable resource for CBSE students to excel in their English studies and perform well in Class 9 English exams.
---
Making class 9 English studies easier involves adopting effective study strategies and techniques. Here are some tips to help you excel in your class 9 English studies. Familiarize yourself with the Class 9 English syllabus to know what topics and texts you need to cover throughout the academic year.
---
Keep your textbooks, notes, and other study materials well-organized so that you can easily access what you need. Develop a study schedule that allocates sufficient time for English study. Consistency in your study routine is key.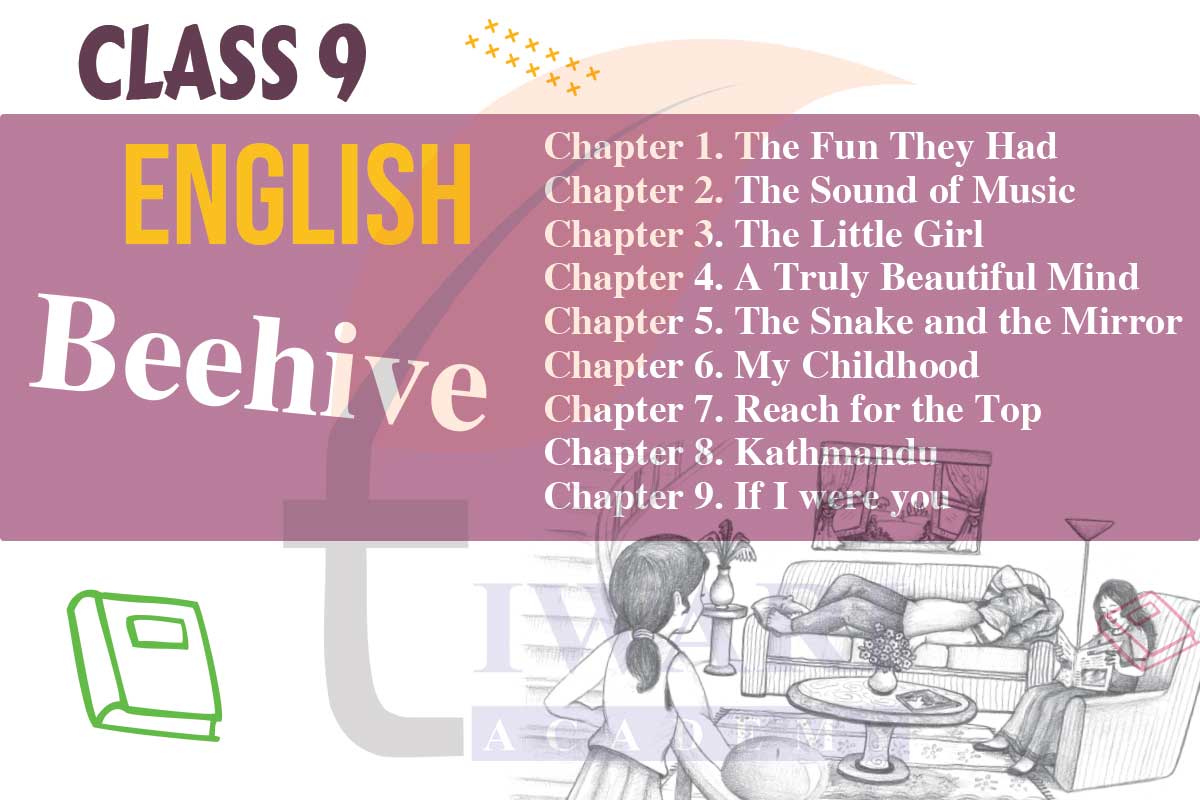 NCERT Solutions for Class 9 English – Moments
How to Make Class 9 English Solutions Simpler for Exams
If we want to score good marks in both the books of Class 9 English, we should write one or two paragraph daily on any chapter related to class 9 English. If you have an important exam coming up that you really want to ace and probably want to surpass topper of your class to be the new topper. Avoid comparing yourself to others during the exam. This also gives you anxiety. Several structural practices will trick you to achieve 99% marks for your upcoming English exams. Self-confidence can significantly impact your performance. This article will help you to prepare the structure and plan ahead to improve your marks significantly. English subject is as easy to raise your grades and this articles will tell you to plan smartly.
Step 1: Follow rationalised NCERT Books for 2023-24 for summary and exercises.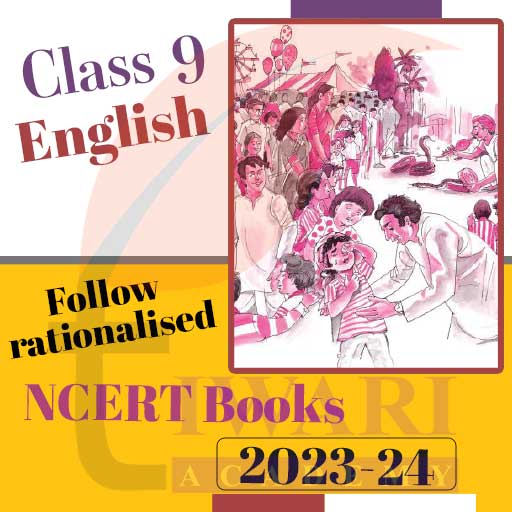 As per the new NCERT books, the syllabus for 2023-24 is reduced. Know your syllabus first to go for learning. Take the help of summary of chapter to understand story. Keep up with current events, as this will help you understand the context of contemporary English literature and news articles. The best thing you can do is to start as early as possible. Both of the books (English Reader and English Supplementary) are important. You need to make give time to each chapter. You must read the whole chapter at least three times to understand the stories and poems including roles played by characters, speeches, and stanzas.
Step 2: Prepare notes based on each chapter based on curriculum 2023-24.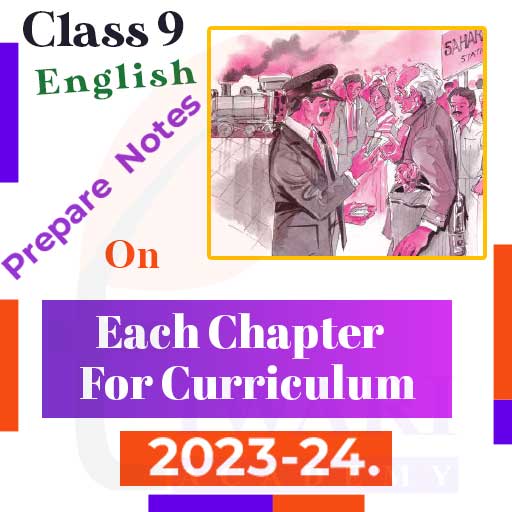 Taking good notes for all the chapters during the class is an easy as well as good habit. It is also an important way to gather all necessary notes in your own language rather than buying expensive books. Keeping the persistence is the key factor for coming examination in months, do not hesitate to ask questions. Some educational websites, including Tiwari Academy, may provide video lectures on various topics. These can be useful for visual learners who prefer a multimedia approach to learning. After reading the chapters, poems you should read the summary that is available on the website Tiwari Academy in Hindi and English Medium.
Step 3: Manage your time to study English in class 9 perfectly.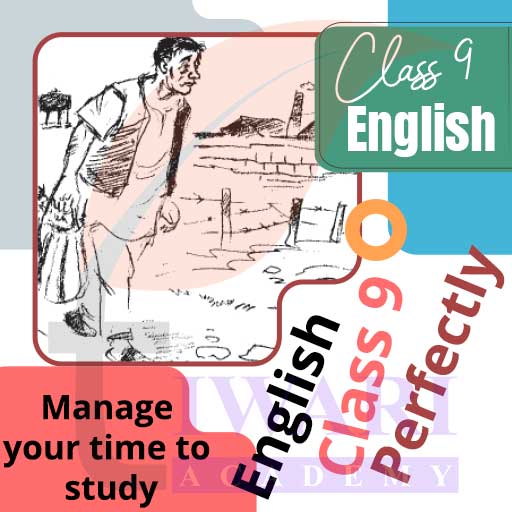 As per new textbook published for 2023-24 exams, the syllabus is reduced in a significant way. Focus plays an important role to make you study for a long time. However, this is also the true fact a person can only focus on a subject for 45 minutes before losing the attention or brain go overloaded. So, prepare a time table and take study breaks, read in small breaks 30 minutes study. Relaxation of small intervals while memorizing long question answers because the material that you have created in your own language will help you attain the knowledge faster. Begin the exam by answering questions you are most confident about. This boosts your confidence and helps you make the most of your time. Reading long questions will also cover most of the story given in the story or poems.
Step 4: Always check your progress attempting tests in English.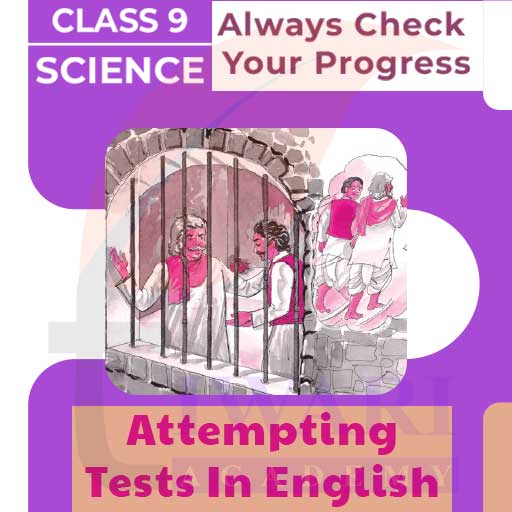 Since most of the study is going to be online the personal interaction is no longer an effective option. Remember to keep tabs on the syllabus to know your progress. Which is important for improvement and planning up ahead. The questions in exams aren't going to be straight and most of the language questions will be twisted with new uncommon vocabulary. Ensure that you have covered all the topics and chapters included in your Class 9 English syllabus. Focus on areas where you feel less confident. Practicing, the different questions from the website Tiwari Academy will help you in that matter without burning a hole in your pocket. Practice with past exam papers and sample questions. This practice will help you to keep the exam hall anxiety at bay.
Step 5: Practice in writing the questions frequently asked in CBSE Exams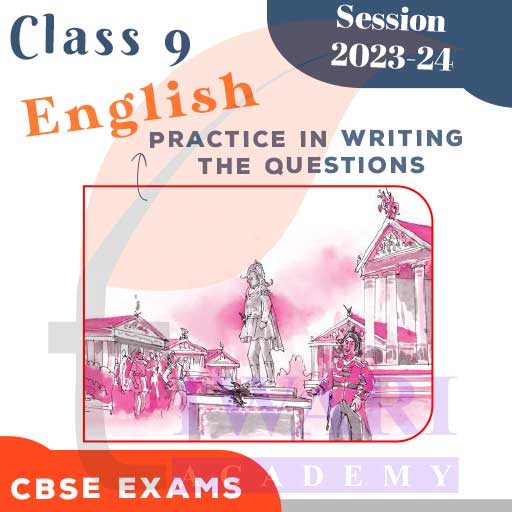 We cannot overemphasize asking all the students to practice writing. Most of the major qualities that set topper apart is the way of absorbing information. Access to sample question papers and previous year's question papers can be valuable for exam preparation. It allows you to get a sense of the exam pattern and practice solving questions. You cannot be a topper in one night so do not try to be if you're facing hard times absorbing information by just reading try to practice by writing is as many times as possible. This will help you in two ways to learn as well as score well in the exams and tests. Writing is a skill that will help you to speed up your ability on the time-restricted assignments.
Tiwari Academy provides detailed solutions to 9th English textbooks prescribed by the National Council of Educational Research and Training (NCERT). These solutions can be very helpful in understanding the concepts and preparing for exams.
---
Reading comprehension is a significant aspect of English studies. Read a variety of texts, including novels, short stories, newspapers, and magazines to improve your vocabulary and comprehension skills. While reading or in class, take notes on key points, important concepts, and new vocabulary words. This helps reinforce your understanding.
---
Tiwari Academy offer comprehensive notes and study materials for Class 9 English, covering important topics and chapters in the syllabus. You find sets of practice questions, exercises, and worksheets to help you improve your understanding of grammar, vocabulary, and comprehension.
To get the most accurate and up-to-date information about the resources available on Tiwari Academy for Class 9 English, I recommend visiting their website directly. Additionally, you can consult your school or teachers for specific recommendations regarding online resources and study materials that align with your curriculum.
---
Practice writing essays, paragraphs, and creative pieces regularly. Pay attention to grammar, punctuation, and sentence structure. Seek feedback from your teacher or peers. Try to understand the context in which they are used. Work on your grammar and sentence structure. Understanding the rules of English grammar is essential for clear and effective communication.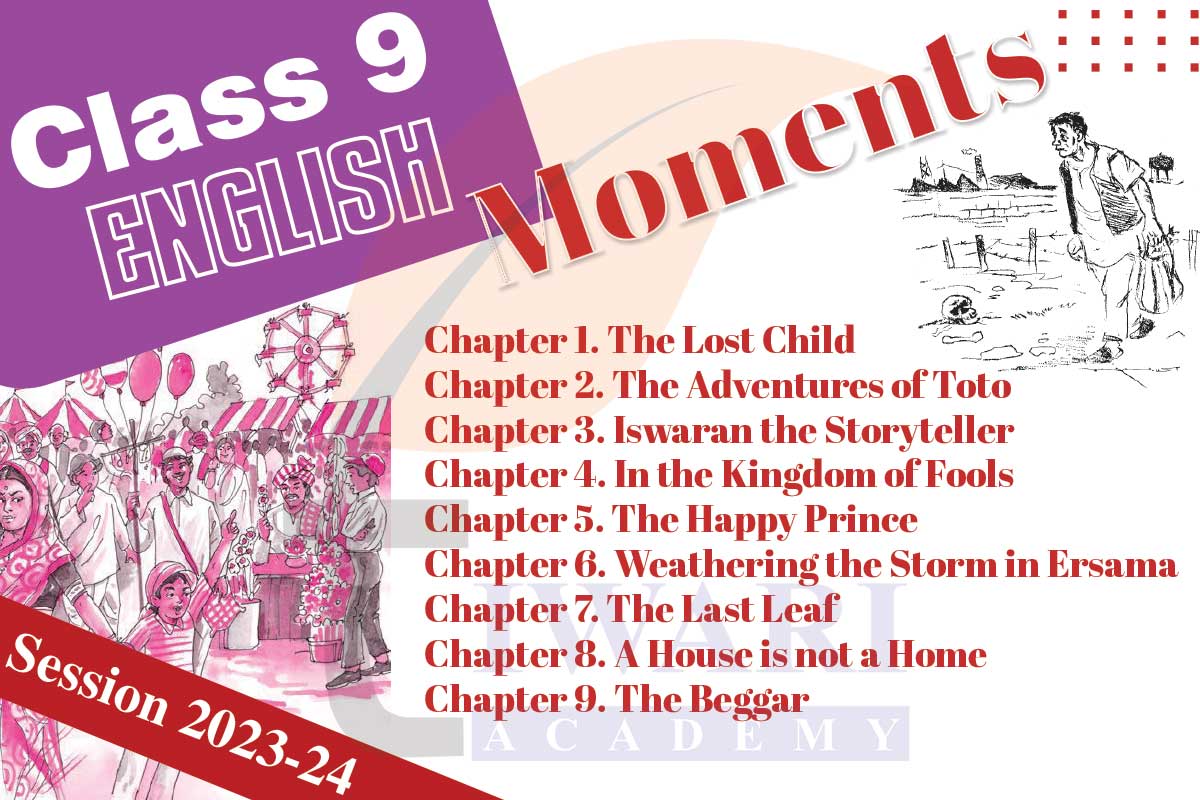 After the class tests, analyze your performance, identify areas where you made mistakes, and use this as a learning opportunity for future exams. Remember that exam comfort and success come with consistent preparation and practice. By following these strategies and maintaining a calm and focused mindset, you can enhance your performance in Class 9 English exams and reduce exam-related stress.
---
NCERT Solutions for Class 9 English Supplementary Reader all chapter's question answers are given below for new session. Before starting the exam, carefully read all instructions provided on the question paper. Ensure you understand the requirements for each section. Use NCERT Solutions as well as NCERT Books are according to latest CBSE Syllabus 2023-24.
---
If your curriculum includes literature, analyze the texts thoroughly. Pay attention to themes, characters, literary devices, and the author's purpose. You can also seek help from peers or online resources. Practice with previous years' question papers and sample papers to get a feel for the exam pattern and types of questions that may be asked.
Important Questions on 9th English – Moments
Why does the lost child lose interest in the things that he had wanted earlier?
The lost child loses interest in all the things that he had wanted earlier because he was frightened on being separated from his parents in the crowd. His aim was to find and be with them. All the things that fascinated him in the fair no longer attract to him and now the only thing that matters is finding his parents.
What do you think happens in the end? Does the child find his parents?
The ending of the story is open for us to decide. At the end the parents, who continuously make sure that he was with them right from the beginning of their journey may have suddenly realized that he was missing and come looking for the lost child. The helpful man who tried to console the little boy by offering him various things at the fair may have also asked him for the description of his parents and helped him to be reunited with them at the fair reception.
How does Toto come to grandfather's private zoo?
The author's grandfather was fond of collecting animals and made a zoo at home. Toto was in the control of a tonga owner. The grandfather felt sympathetic with the monkey and thinks that his private zoo would be a better place for Toto. So he purchased Toto from the tonga wallah for five rupees.
Why does grandfather take Toto to Saharanpur and how? Why does the ticket collector insist on calling Toto a dog?
Toto was a really mischievous monkey and nuisance for every living soul in the household. Other animals in grandfather's zoo were at Toto's mercy even during night. So, grandfather decided to provide some relief to other animals in the zoo and thought of taking Toto to Shaharanpur. The ticket collector was performing his duty. As there seems to be no rule for fixing a monkey's fare so he equated Toto with dog and charged a similar.
In what way is Iswaran an asset to Mahendra?
Iswaran was a good domestic help for Mahendra. Apart from cooking and doing household work he was also a great entertainer for his master. He was expert at managing resources as he could find vegetables out of nowhere and never complained while accompanying his master.
How does he narrate the story of the tusker? Does it appear to be plausible?
He began the story of the elephant by giving a preface in which he called elephants 'big and huge well-fed beasts.' He said that after absconding from the timber yard, the elephant started roaming around, engraved on bushes and tore apart the wild creepers. It came to the main road of the town and broke all the stalls which were there selling fruits, mud pots, and clothes etc. Then it went into a school ground where children were playing. It pulled out the football goal-post, broke down the volleyball net and crushed the drum kept for water and uprooted the shrubs. All the teachers and students were so afraid that they started climbing up to the terrace of the school building.
According to Iswaran, he was in the junior class at that time. He took a cane from one of the teacher and ran into the open. The elephant was grunting and stamping its feet. The entire scene was frightening. Still, he moved slowly towards it and when the elephant rushed towards him, he moved and dead beat its third toe nail. It looked surprised and then fell down. This story does not appear to be believable so it is not plausible.
Why does the disciple decide to stay in the Kingdom of Fools? Is it a good idea?
The disciple decided to stay in the Kingdom of Fools because all he wanted cheap and good food. He was amazed that everything cost a single duddu and was very cheap. According to the Guru, staying there was not a good idea as they were all fools which could land them into trouble in future and the king's men also took him for execution.
Who is the real culprit according to the king? Why does he escape punishment?
According to the king, the real culprit was the merchant's dead father. But his father was dead and someone had to be punished in his place. He escapes the punishment because he is too thin to be properly executed on the stake.
Why do the courtiers call the prince 'the Happy Prince'? Is he really happy? What does he see all around him?
The courtiers called the prince 'the Happy Prince' because he was always happy. When he was alive, he was unaware of what tears were. He lived in a palace where grief was not allowed to enter. However, when he died and was made into a statue, he was not happy and tears flowed down his eyes on seeing poor state of his city and the people around.
Why does the Happy Prince send a ruby for the seamstress? What does the swallow do in the seamstress' house?
The Happy Prince sent a ruby for the seamstress as she was extremely poor and had nothing to feed her child who was suffering from fever.
The swallow went to the seamstress's house after being convinced by the prince and kept the ruby on the table. He then flew round the bed and flapped the boy's forehead with his wings. This made the boy feel comfortable and he went to sleep.
What havoc has the super cyclone wreaked in the life of the people of Orissa?
The cyclone brought heavy rains and strong winds with it. Due to this, majority of the houses were blown away and only the ones with strong cement grip were spared. The land was covered by dirty water and could be seen from a distance. A large number of people lost their lives. The place was filled with floating human bodies and bloated animal carcasses all around. Even the strongest of the trees were not spared from the havoc. Many people lost their close relatives and many children become orphans. There was acute shortage of food and supplies were nil. Everyone was sad and helpless.
How has Prashant, a teenager, been able to help the people of his village?
Prashant was initially bewildered on witnessing the destruction caused by after effects of the cyclone. Later he got a grip over himself and helped the people of his village. He decided to take over as the leader of his village. He united a group of young and old people to come together and pressurize the merchant to given rice for the people living in the shelter. He was successful in this task. His next course of action was to organize a team to clean up the shelter and cure the wounds of the people injured because of the cyclone.
Prashant also helped the orphaned children together by constructing a polythene shelter for them. While women had the duty to look after them, the men made arrangement of food and other essentials for the shelter.
What is Johnsy's illness? What can cure her, the medicine or the willingness to live?
Johnsy was ill because she had pneumonia. Only her willingness to live could cure her. Prior to getting cured she started believing that she was not going to get well. The doctor said that if she doesn't want to live, then medicines would not help her.
Behrman has a dream. What is it? Does it come true?
Behrman was a sixty year old painter. His lifelong dream was to paint a masterpiece. It does come true when he paints a leaf that looks extremely natural. He painted the last leaf left on a creeper.
Why does he break down in tears after the fire?
The feeling of suffering a major loss broke him down into tears. He soon realized that his cat was not to be seen anywhere. Then he had flashback of everything at once − the new school, the fire, and his cat. That was when he broke down and cried.
Here the author wants to point out that his ideology of life has gone a complete change. His schoolmates have helped him with their open hearts. They have extended invitations for their houses. Their genuine concern makes the author touch his heart so much that he breathes a sigh of relief. He feels that the things will be okay very soon.
After a month woman came with a cat. The narrator grabbed and hugged her. His friends were hugging the narrator. This overwhelming feelings of loss and tragedy seemed to diminish. He was deeply obliged to the stranger who had brought his cat. He could not help say that he was back to his original self. In reality he had gone nowhere but had become exhausted with life due to colossal lose. He felt that he had returned to his original self like the cat who came to his house.
What happens when the zip on his carry-on bag gives way?
The side of the bag was open and everything within the bag fell on the ground from the zip when his carry-on bag gave way. These things included newspaper cuttings and other loose papers, a 14-ounce tin of pipe tobacco, magazines, passport, English money and film.
How does Bill Bryson end up in a "crash position" in the aircraft?
Once while travelling in an aeroplane, he bent over to tie his shoelace and at the same time someone in the front seat pushed back into full recline. That was when he ended up in the 'crash position'. He had to claw at the leg of the man sitting next to him in order free himself from the tangle.
Has Lushkoff become a beggar by circumstance or by choice?
Lushkoff became a beggar by circumstance and not by his choice. Formerly, he was a part of a Russian choir, but was sent away for drunkenness. This led him to beg.
Lushkoff is earning thirty five roubles a month. How is he obliged to Sergei for this?
Lushkoff was obliged to Sergei because if he had not come to Sergei, then he might still have been begging and drinking alchohol. By listening to Sergei, he had changed his path. He became a notary and earned thirty five roubles a month.
Studying with peers can be beneficial as you can discuss and clarify doubts together. Just make sure to stay focused during group study sessions. Regular revision is crucial. It helps reinforce what you've learned and ensures that you retain the knowledge for exams.
---
During Class 9 English exams, if you don't understand a question or need clarification, don't hesitate to ask the invigilator for assistance. Physical well-being contributes to mental clarity. Keep your stationery, ID, and exam admit card ready the night before the exam to avoid any last-minute rush or panic.
---
Develop a study plan that allocates sufficient time for revision, practice, and relaxation. Stick to your plan and avoid last-minute cramming. During the exam, manage your time wisely. Allocate specific amounts of time to each section or question, and stick to your plan to ensure you complete the paper within the allocated time.
Last Edited: October 2, 2023