Class 10 Sanskrit NCERT Solutions
The translation of the text from Sanskrit to Hindi was made in a simple and accessible language. If 10th grade students want to make Sanskrit their profession, then carefully read all three 10th grade books on Sanskrit. All NCERT solutions are available for free at Tiwari Academy and no login or password is required to access them.
Solutions in Sanskrit for Class 10 and translation of the lesson into Hindi
The NCERT Class 10 exam is generally held annually in April. To prepare for the Sanskrit exam, students can get the CBSE Class 10 textbook Shemushi question answers for Session 2023-24 for free. Tiwari Academy's website and app contains grade 10 Sanskrit solutions, detailed information about it, and makes it easy to complete practice tasks and prepare for exams. NCERT Sanskrit Chapter wise Solutions Class 10 Sanskrit helps students to prepare exam questions and get used to the Sanskrit language. Here you can get the latest version of NCERT Sanskrit textbook Solutions for class 10 free of cost.
Sanskrit Grade 10 Solutions and answers to additional questions
Students can get answers to the Sanskrit lessons for class 10 here. To make it easier and more convenient for you, NCERT Class 10 Sanskrit Solutions are available in both online and offline formats. With Sanskrit Solutions, students can easily complete their homework and prepare for their annual exams. The online Sanskrit framework for grade 10 is presented here in chapter form so that every student can easily access it. Translations of all lessons have also been provided in Hindi so that with these translations the student can understand each sentence well.
NCERT Sanskrit Class 10 Solutions for CBSE and other State Councils.
Sanskrit Solutions Class 10 is suitable for reading CBSE, UP Board and other state boards. If you have any questions regarding UP Board Book Class 10th Sanskrit Solution PDF, please let us know and we will get back to you as soon as possible. A simple solution for the 10th Sanskrit Shemushi was designed and modified by our expert in the field. Students can also get help here for Hindi translation and word meanings of all the lessons mentioned in it. Here we provide in detail all 10 chapters of answers to NCERT Class 10 Sanskrit questions and other questions. You can also get NCERT Sanskrit Class 10 books here.
NCERT Solutions for CBSE Class 10 Sanskrit Exam
This is an excellent resource for students studying for the NCERT Sanskrit Grade 10 exam. In this NCERT Sanskrit Grade 10 Book Part 2, all Sanskrit chapters are provided with a Hindi translation. We recommend checking out the Tiwari Academy NCERT Sanskrit Class 10 Solutions for great learning material. Practicing these study materials will help you a lot not only in your school exams but also in your board exams. All NCERT Sanskrit Grade 10 chapters presented here are based on the latest syllabus and guidelines of the Central Board of Secondary Education – CBSE.
How to Score good 100% marks in Class 10 Sanskrit
In Class 10 Sanskrit NCERT textbook, there are total 10 chapters. Earlier there were 12 chapters but now two of its chapters deleted from syllabus. So, only 10 chapters are there in course for 2023-24 exams. First of all, read the chapter, knowing the meaning in Hindi of each word or sentence. Class 10th has its significant importance in student's life in the India Education system. If you are among one of the top tear students aiming to score 100% in Sanskrit. Follow the steps here, we are going to tell some of the best suggestions to prepare class Sanskrit language efficiently.
Step 1: Read the chapter with word meaning and Hindi translation.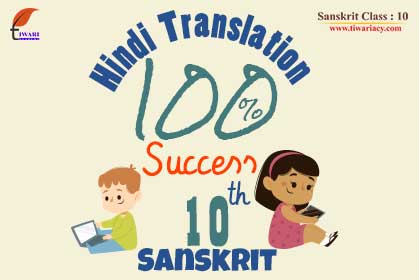 Learning Sanskrit is a different case, but learning to obtain 100% marks in Sanskrit means you have enough control and confidence in the language that no question is there that you cannot solve, and this quality is rare. In the case of other languages like ENGLISH, Hindi, it is easy because you have exposure and outer world usage. But in Sanskrit, you have to make the exposure for yourself. Reading articles in Sanskrit language about anything will make you comfortable with reading and enhance the vocabulary like other languages.
Step 2: Focus on Class 10 Sanskrit Grammar and Workbook.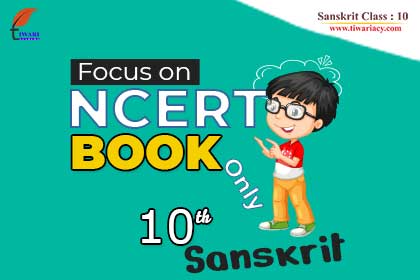 You got to firm the knowledge upon the core fundamental of the language, and then you can score 100%. Sanskrit grammar has rigid rules with a good marking system in exams, while other languages don't. Here in Tiwari Academy, you will find the one-step solution of all the problems, summaries in Sanskrit to Hindi to read. The videos explanation in premium quality is also available. If you are not feeling like reading, you can watch the videos at no cost. Watching videos uses the region of your brain more that can present you with the knowledge.
Step 3: Use Sanskrit in daily life Conversation.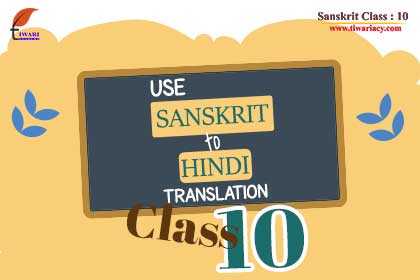 Sanskrit is not just the origin of other languages, it is also considered as the sacred language. One can easily bring this to use in their daily lifestyle. Observe the change in the atmosphere by using the language among your elders by greeting them in Sanskrit. For example, KSHAMYATAAM means excuse me! And we don't have to tell you, how many times you use this word in your daily life. This way you are being polite while showing off your diverse language control.
Step 4: Learn with Self-Testing and Writing.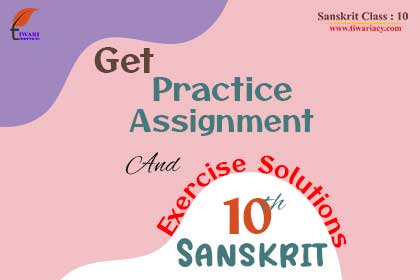 The student who already targeted to achieve something as extraordinary as scoring 100% Sanskrit in class 10th. Planning and dedication play key roles. Students must consciously put effort to solve as many questions as possible. Create occasions for yourself where you can use this language as the aforementioned example. Like all languages learning is easy through reading and practice writing. If you are only sticking to NCERT reading to learn and not practicing then growth will be stagnant. For example, solving the previous 5-year board questionnaire is a form of learning through self-testing and writing.
Step 5: Do regular practice and work hard to achieve goal.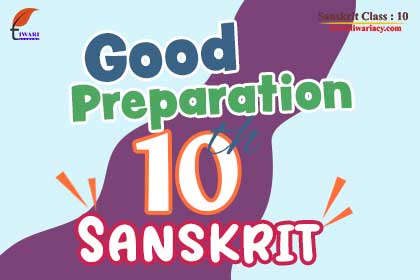 Plan the course syllabus for the short term and long term accordingly, setting realistic expectations is one of the ways you can prepare the path of your growth. Learning Sanskrit will take you off your comfort zone but it is worth it. We understand not everyone has the same reading pace in another language. Here in Tiwari Academy, we give you access to Hindi summary, videos explanation of chapter from NCERT Sanskrit Book Shemushi Second Part of class 10. This will firm your knowledge of the technical learning. Understanding persistence is the key.
How useful are NCERT Class 10 Sanskrit Solutions in the exam?
With Sanskrit NCERT Solutions Class 10 precision, it is suitable for all learners to learn. In real life, even though Sanskrit, information can be transmitted faster without compromising quality. The terminology is also the source of Sanskrit for various modern languages. With this in mind, the education system has made Sanskrit a subject in the curriculum that students should take seriously. With NCERT Class 10 Sanskrit Solutions, students can easily understand all the lessons.
How to get high marks in the 10th standard Sanskrit Board exam?
To get good grades in Sanskrit, it is very important to understand the deep meaning of the questions and practice regularly. NCERT Solutions for Class 10 Sanskrit is a guide to help you prepare for your exam and get high marks. Chapters are explained in such a way that students can quickly understand the answers to all questions. Most of the Sanskrit questions in the exam are often taken directly from the NCERT Sanskrit textbook, so when preparing for the exam, you need to enlist the help of these solutions and easily get the highest marks.
How easy is it to learn NCERT Sanskrit in 10th grade?
Each student should make sure that studying Sanskrit as a major subject in the 10th grade should not be a burden, but should give him comfort and pleasure. You can also find the Hindi translation of each lesson, along with solutions for all chapters, in the NCERT Book Class 10 Solutions. Our subject matter experts have done extensive research to provide these NCERT Book Class 10 Sanskrit Shemushi Part 2 Solutions. You can download NCERT Sanskrit Class 10 PDF Solutions chapter by chapter from the available links. For maximum marks and a deeper understanding of the subject, carefully practice Shemushi Sanskrit Part 2 of the NCERT Book Solution Questions.
Last Edited: May 15, 2023