NCERT Solutions for Class 9 Sanskrit
How to get a Perfect 100 in Class 9 Sanskrit?
There are now only 10 chapters in class 9 Sanskrit syllabus instead of 12 chapters. Two of its chapters are deleted for curriculum for academic session 2023-24. Learn here the ways to study offline and online. The significant inclination towards the online-based curriculum, a self-paced study came to know as the greatest change in the education system. Though we cannot ignore the fact it is still at the infancy stage. Where you can take the benefit of learning with caution to score 100% in the Sanskrit language.
Step 1: Spend enough time to understand the terms properly.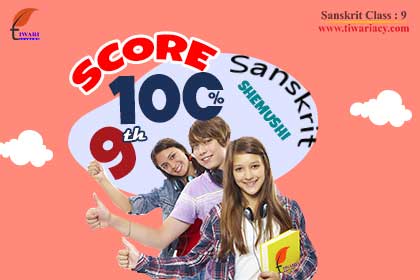 Education in Sanskrit is not more revolutionized today than it was a century ago. There was a time it was considered a luxury. Among them, Sanskrit is known as the sacred language and origin of most of the languages in India. Learning Sanskrit-like language is preferred by scholars, because the grammar and marking system for the language is firm. One has to give time to it. By learning syllables and consonants, pronunciations are among some of the difficulties that can help you in the upcoming chapters. This suggests all the aspiring students give it enough time to firm their understanding about it.
Step 2: Start from a little, but do it as early as possible.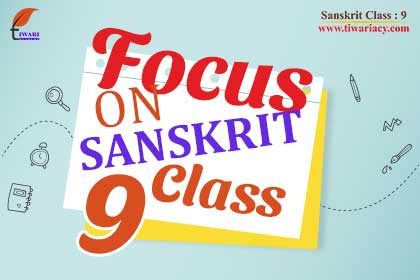 Class 9 Sanskrit is interesting to learn and study only the right way is required. Since you are reading this article means you are finding your way up to score 100% marks in upcoming Class 9 Sanskrit exams despite all the out world happening. To help fill the curiosity, we suggest you start small but start early. This means you cannot cover the entire syllabus and gain a 100% score. You have to make your answers, look precise and attractive too to attain something special. Start by reading stories and understanding the core knowledge taking help from Hindi translation given here. To help Tiwari Academy gets you the summary and Hindi translations of all the chapters, paragraphs, and visual representations.
Step 3: Leveraging Technology and focus on CBSE 9th Sanskrit Syllabus.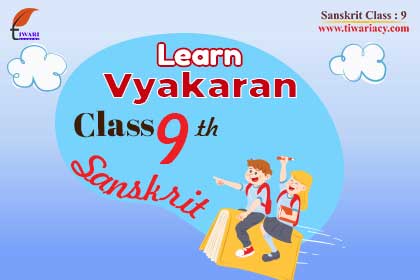 The study material for 9th standard Sanskrit is available online platforms free. Scholars are already adapted to the transition in the education sector and leveraging the tech advancement in the education sector, then why not you? It is not mandatory that you read endlessly to gain knowledge. In the era of gadgets, you can sit back and watch the storyboard, conceptual videos, and story explanation. Which also makes Sanskrit interesting. This help most of the student who has a slow pace of reading. Here at Tiwari Academy, you will be able to find the videos explaining stories, concepts. For all these facilities, you do not have to pay hefty fees.
Step 4: Learn Class 9 Sanskrit like a part of communication medium.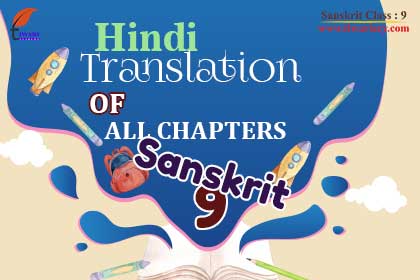 The time is long gone when the teachers used to come and give you lectures in Sanskrit. Since technology intervenes in the education system, teachers are more interactive, creatively enhance the classroom experience by communicating. During virtual classrooms, teachers have complaints that students are mute, non-responsive. Virtual classroom discussions about the subject are another important part where teachers and students can put their thoughts, important findings, and even clear their doubts. In Addition, the introduction to happiness curriculum also takes care of the mental health of the students in class 9th students.
Step 5: Practice the Sanskrit Activities from NCERT Workbook daily.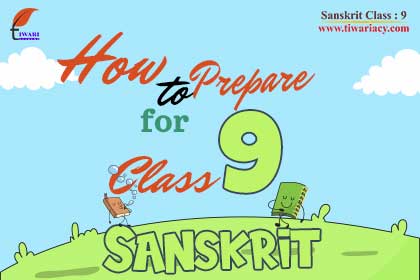 Activities in Sanskrit learning are an important part of the school curriculum that shows the real-life application for the topic that students learned. Giving out of book activities like unseen passages, writing an essay and researching about some matter and then writing a summary in Sanskrit, challenges the student's brain. It also improves their persistence skill, world knowledge, reading and writing skills. Keeping positivity, confidence high will lead your work best in your exams. We've more suggestions relation to other subject in Class 9 that can improve the overall skill to score 100% marks that you can read in Tiwari Academy.
Class 9 Sanskrit NCERT Solutions under the new CBSE program.
NCERT Class 9 Sanskrit Solutions is an essential resource for students preparing for the exam. With it, students can easily prepare practical questions. All chapters on Sanskrit topics are available in NCERT Book Class 9 Solutions with Sanskrit to Hindi Medium translation. We hope you use the NCERT Sanskrit 9 class textbooks only for an excellent study material. The practice of these learning materials will go a long way for school exams and even in board also. All chapters of the NCERT 9th Grade Sanskrit Book presented here are based on the latest syllabus and recommendations from the Central Board of Secondary Education (CBSE) in India.
NCERT Solutions for Class 9 Sanskrit in PDF
NCERT Solutions Book for 9th Sanskrit mainly consists of questions and answers from chapters based on the topic. The best and most accurate Class 9 NCERT solutions are available here, according to our subject matter experts, to help students dispel any doubts. So, to help students tackle Sanskrit topics and achieve excellence, we present here a free NCERT Solution for Sanskrit 9 grades.
Our solution is also based on NCERT latest 2023-24 prescribed schedule for the CBSE Syllabus. These solutions have been beautifully designed for your convenience in simple terms, so students using them will be able to prepare effectively for their exams. NCERT Solutions are available from Tiwari Academy in a variety of media that can be viewed or downloaded from our website. Students can check the solution by clicking on the appropriate link provided here.
Solutions and Hindi Translation of lesson for Class 9 Sanskrit
The NCERT book for Class 9 Sanskrit Shemushi Solutions for all chapters is available here for free. Students can easily get the NCERT Solutions for Shemushi Sanskrit Grade 9 Part 1 with extra Question and answers PDF from the Tiwari Academy website. The answers to the questions in the NCERT Grade 9 Sanskrit Book have been prepared by our subject matter experts in accordance with the latest curriculum set by NCERT and CBSE.
All these answers to questions, Hindi text translation are made in simple and easy language so that it is easy to understand the Sanskrit concept of Shemushi and get good marks in the exam. Students first try to prepare question answers and then follow step-by-step instructions from subject matter experts. Get free full study material, CBSE NCERT Solutions for Sanskrit Shemushi Class 9.
NCERT Solutions for CBSE Class 9 Sanskrit Exam
NCERT Solutions for Sanskrit Grade 9 are available for free here. All MCQs with answers, Hindi medium translation, and additional questions with answers prepared for all chapters. As we all know, CBSE recently split the board exam model into two semesters. If you want to get high scores in both semester exams, you need to practice 9th Sanskrit Practice Questions and 9th NCERT Sanskrit Solutions more and more. Use the 9th Class Sanskrit Grammar, Multiple Choice Questions and Answers PDF to solve both common and difficult exam questions with ease. Answer all the questions in each chapter to practice and test your Sanskrit grammar skills and knowledge before the annual CBSE Sanskrit exam. Also, after practicing Sanskrit MCQs Shemushi Grammar Class 9, you can easily get higher grades.
How many chapters are there in Class 9 NCERT Sanskrit book?
NCERT Book for Grade 9, the Sanskrit textbook consists of 12 chapters according to the CBSE curriculum. We hope that the information provided on our NCERT Book for Sanskrit Class 9 Solutions page will help students prepare as best they can for the exam. You can also download the NCERT Class 9 Sanskrit Shemushi Part 1 textbook in PDF format, use it offline and prepare for the annual exam from the link provided here. If you need more information, please contact us through our Tiwari Academy website so that our team of experts can get back to you as soon as possible.
How to download NCERT Class 9 Sanskrit PDF Book and Solution?
The easiest and best way to download the NCERT Class 9 Shemushi and its Solutions means the Sanskrit book in PDF format is to visit the website and download the PDF from the provided link. Start preparing for the exam to get good grades and improve your Sanskrit knowledge. We hope that students will find these Shemushi NCERT Sanskrit Book Solutions for Grade 9 useful in their studies. If you are having trouble getting Class 9 CBSE Solutions in Shemushi Sanskrit, please contact us. We will help you as soon as possible.
How to get good grades in the CBSE 9th Class Sanskrit Shemushi exam?
NCERT Solutions for Class 9 Sanskrit Shemushi Part 1 PDF contains textbook questions and answers for each chapter and full Hindi translation. This will help you to get the best scores in every exam. NCERT Textbook Solutions for Class 9 Sanskrit Shemushi is written by our subject matter expert in accordance with the latest CBSE syllabus and rationalised textbooks published by NCERT for session 2023-24.
Last Edited: July 19, 2023