NCERT Solutions for Class 1 English Marigold – 1 and Raindrops updated for the academic session 2023-24. All the chapters are well explained with word meaning, question answers, fill in the blanks and other practice materials are available for download in PDF file format.
NCERT Solutions for Class 1 English Marigold
Class 1 English Marigold Units
Assignments for practice to prepare the chapters are given below in PDF file format free to download. Download these Class 1 English Assignments to prepare for exams.
How to Learn English in Class 1 Efficiently?
The main book for Class 1 English is Marigold Part 1. It is full of rhymes and stories. The changes in the education technologically take place in post-covid-19 are likely to have a significant influence on how students perform academically on average. Covid-19 exposed the long-standing issue of the gap in educational methods. It is also raising immediate questions how the difference in student's access to study spaces and technology will affect the learning abilities from their homes. Well, this article can give some of the suggestions that can help parents of class 1st students to do some of the effective English Subject studies which can enhance the learning from home.
Step 1: Promote Online Study and follow the kid's activities.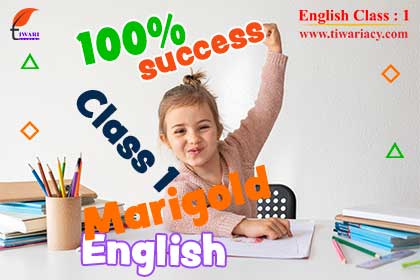 Availability of good quality study material plays a vital role in the education of a student of all classes from elementary school to senior secondary. This is why Tiwari Academy bought you high-quality books, assignments, practice exercise, and their solutions. This will help in online education for primary school students. The challenges of the vast attractive internet world are there. Parents have to keep their eyes to reduce the on-screen time. So, that they can spend some time improving their hobbies and learning of language in the open world.
Step 2: Make study more interesting with the balance of Online and Offline mode.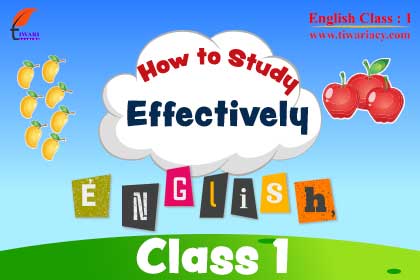 Setting up a good study setup and routine will help young students to establish a good habit of reading. Always be present with the kids during all online classes and self-studies. Distraction is the major problem in home education. On top of the small-time of concentration makes the problem worse. The amazing benefit of online learning is that, it is flexible and self-paced. This provides the opportunity to working parents, who cannot provide daytime teaching to their children. So, making them read the story during the nights in peace will help them focus on their study.
Step 3: Learn English with ease like Mother tongue.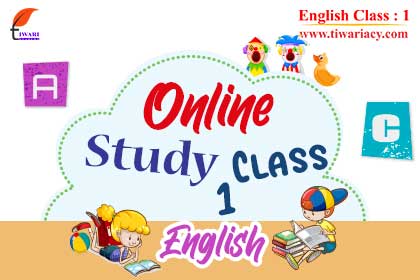 Reading aloud is one of the old practices that is still going on. Many actors, journalists are still using these old methods of reading loud this engages all the senses. Also, enhances vocabulary, confidence, and most important speech clarity. Language is most important to understand other subjects, but only reading good English and understanding, is not enough to learn it. Try to teach the language the way you teach your child the mother tongue. Talking to them in English will make them use the knowledge that they attain from books.
Step 4: Keep learning English more innovative and interesting.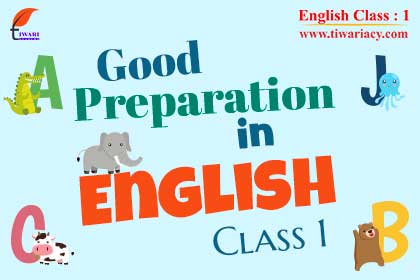 The entire English syllabus of class 1st school contains shapes, names of the colors, and fruits along with stories and rhymes. Acting on the poem is another great way to engage the entire posture of a child, making it an effective way to learn English in a better way. You have to keep innovating the learning posture because as soon as the learning of English Marigold textbook gets boring they will try to distract themselves. However, lots of parents try to force their children to learn by holding off against their will. Instead of that why not understand the interest of the student, provide the interesting book in which they love to spend some time.
Step 5: Use picture books and Colourful worksheets for Practice.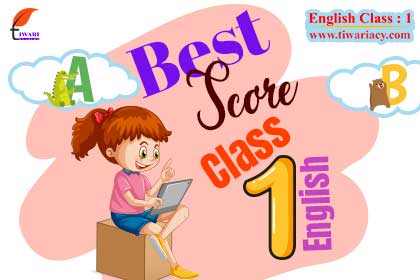 Children love the colorful bright pictures. Use them and ask if they can recognize all the things in the picture, teach them alphabets, animal names, color names by questioning them. These kinds of well-illustrated picture worksheets and NCERT based books are available on the website Tiwari Academy that you can download and re-use multiple times. Playing scrabbles like games are one of the major fun time to keep your child learning while playing with you. There are so many out-world activities that you can use to make your child learn during these uncertain times.
Class 1 English Marigold Units 1 to 10 with Chapters 1 and 2 are given below. There are a total of 10 units in the 1st Standard English Marigold book and each unit contains two chapters. Students can download the solutions of the Marigold NCERT Book using the following links.
Textbooks Solutions for Class 1 English Marigold – 1
The chapters of Marigold's book are based on daily habits, moral stories, enjoyable poems and stories, good manners, noble habits, and so many other moral stories. Students find it interesting when they read and understand. They enjoy learning through stories and poems very much.
Class 1 English Book Raindrops – 1
There are 19 chapters in the 1st English Raindrops NCERT Textbook, full of poems, stories, moral things, good habits, and other good things that a student should do. The list of class 1 English Raindrops based on the new syllabus is given below:
Chapter 1. Clap, Clap, Clap
Chapter 2: One, Two
Chapter 3. The Little Bird
Chapter 4. Bubbles
Chapter 5. Chhotu
Chapter 6. Animals and Birds
Chapter 7. Fruits and Vegetables
Chapter 8. Who Am I?
Chapter 9. Hide and Seek
Chapter 10. Fun with Numbers
Chapter 11. Shapes
Chapter 12. Cats
Chapter 13. Colours
Chapter 14. Actions We Do
Chapter 15. Left and Right
Chapter 16. The Lion and the Mouse
Chapter 17. Morning and Evening
Chapter 18. May I Come In?
Chapter 19. Action Song
Why should a student use NCERT Solutions Class 1 English?
There are a lot of benefits that students can have by referring to NCERT Solutions for Class 1 English. The main benefits are a clear and concise understanding of the chapters, Chapter-wise guidance, easily understandable answers, and free downloadable NCERT Solutions. Avail of the NCERT English Solutions Class 1 to get an insight into the subject and secure competitive marks.
How many English NCERT Books are there in Class 1?
There are only two English NCERT Textbooks for grade 1 students. The first is Marigold, which is the main English reader book and the other one is Raindrops.
How many chapters are there in Class 1 English Marigold?
There are 10 units in the NCERT Book of 1st English Marigold. Each unit is consists of two chapters. In this way, there is a total of 20 chapters in the Marigold book provided by NCERT.
Last Edited: February 21, 2022