How to Score well in Class 7 Sanskrit CBSE Exams?
Just like previous class, there are 13 chapters in Class 7 Sanskrit NCERT Book. Earlier there were 15 chapters in 7th Sanskrit syllabus. But in academic session 2023-24, the curriculum for class 8 Sanskrit is modified and reduced. Two chapters deleted from course. That is why there are now only thirteen chapters in all. Students of class 8 need both online as well as offline mode. To uplifted online learning methods, in Tiwari Academy, we carefully implemented the availability of Sanskrit NCERT Solutions, translations, questionnaires, and more, for all the students and teachers. Here, you will read some of the effective practices that can assure a 100% score in Sanskrit of 7th grade.
Step 1: Take help from NCERT Chapters Explanation Video.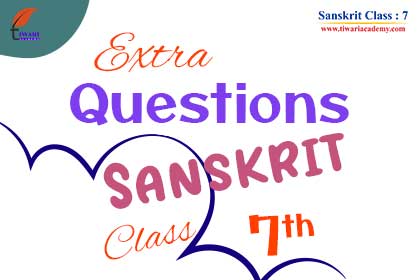 In 8th Sanskrit, take help online to understand the meanings of difficult words in the chapters. One of the major advantages of online learning is that you can access your desired chapter, subject remotely. We understand the individuality that all the students have different paces of learning. Now, students can read the chapters, summary, and translation several times. This will firm the knowledge of Sanskrit stories from the 7th class NCERT Sanskrit book. Reading and listening to the audio, video translation can make you learn how to pronounce such extravagant words.
Step 2: Relate the words in Sanskrit in daily life objects.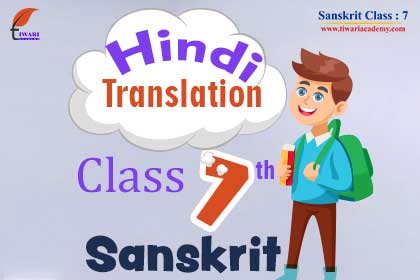 You might have heard the old suggestion that in order to learn a different language, stay with people who use a different language. This shows the importance of exposure. The key component here is to practice the language by speaking it properly, ignoring the urge of feeling conscious about the way you sound like. Dragging yourself out of your comfort zone to learn the new language is the first step to learn it. Understanding of grammar comes next. Class 7th Sanskrit NCERT is full of short stories read the next point to learn, how it can help you read fast.
Step 3: Practice the chapter with writing practice.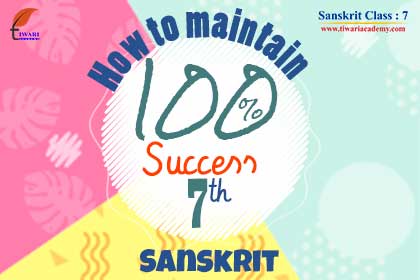 To write a good practice to achieve 100% marks in your class 7th exams. You have to become an avid reader. That doesn't mean that you will read all the time. But reading the best in time by understanding the fundamental of the story. Pro tip – We understand that Sanskrit is different and a little difficult to read, write, and understand. However, after reading if you write summary in your language, it will get you the core knowledge of the study. This practice will enhance the Sanskrit writing skills too. Achieving new language skills comes when you try the following techniques. This will make you learn faster than the other rote learning ways.
Step 4: Take help from Extra Study Material and Videos.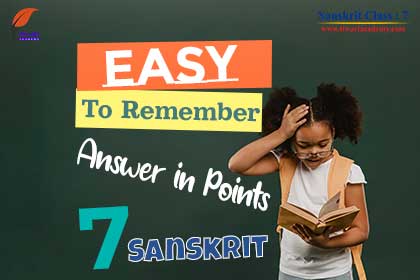 During online learning, you often feel alienated, but you change the experience of solitude by simply answering the questions or engaging with fellow students. Taking short intervals can help you, but if you take long intervals that will lead your procrastination. Please avoid that! Reading NCERT Sanskrit 7th grade book is good practice, but children often lose interest by reading it again and again. So we suggest you read some interesting book in Sanskrit study materials. For example – reading poetry, Sacred Texts that are available on the Internet, or watching chapter explanation videos on the Tiwari Academy website. These techniques will put you in a situation, where your brain will force to work on language. This way you are bound to learn faster.
Step 5: Focus on NCERT Textbook and Previous Years Papers.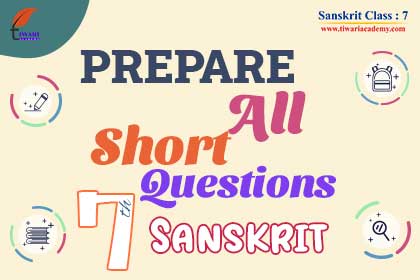 Learning Sanskrit can make you stand apart because most people are afraid to even start. The benefit of learn Sanskrit class 7th NCERT Book is that it will be helpful for you in upcoming class. From an exam perspective, you can score 100% in this language as the Grammar rules are pretty strict where deductions are less. It is been considered that in 7th class Sanskrit is much more basic. In the process of learning, you will make mistakes, DO NOT AFRAID OF MISTAKES, MORE MISTAKES, MORE LEARNING! Try to speak these words slowly. Pro Tip – Speaking difficult words loud and multiple times, will make you comfortable. DO NOT RUSH THE PROCESS! This way scoring 100% in 7th class Sanskrit will be easier than other subjects.
NCERT Solutions for Class 7 Sanskrit
It is worth noting that Sanskrit Class 7 NCERT Solutions helps you in reading the text as well as in preparing for your exams. Understanding Sanskrit becomes easy and interesting when students get the NCERT Books with Solutions. Also, students can easily study the subject without making it a burden. Solutions for class 7 Sanskrit is designed with step by step explanation.
Class 7 Sanskrit NCERT Solutions in PDF
Students can get free PDF of Ruchira Part 2 Textbook Question-Answers and Hindi translation through the link given on Tiwari Academy. These solutions are prepared from the latest Sanskrit book of class 7th CBSE Syllabus 2023-24 and can get easily without any registration. NCERT Book Solutions for Sanskrit Ruchira Bhag 2 for Class 7 will help you not only in your annual examinations but also in the homework you get from your school every day.
If you need help solving any question in NCERT Sanskrit Books, you can get help from Chapter wise NCERT 7 Sanskrit Solutions. Consider these solutions as a one-off guide that will solve all your text related troubles in no time.
Simple Study of NCERT Class 7 Sanskrit Textbook
Mastering the answers to all the questions in NCERT Sanskrit Textbook Ruchira Part 2 gives students an added advantage in preparation. 7th Class Sanskrit NCERT Book Solutions for All Chapters in Hindi Translation makes it easy to understand concepts and get detailed explanations. To test their knowledge, students can try Sanskrit to Hindi translation and Q & A.
They can also find out the weaknesses in which part of the lesson they know less. Through these solutions one can solve all the NCERT Class 7 Sanskrit chapters one by one and clear all your doubts. Emphasize on understanding 7th standard Sanskrit syllabus for better marks and a solid foundation in Sanskrit for higher courses.
Effective Study of NCERT Class 7 Sanskrit Solutions
If you are looking for an effective way to learn Sanskrit, then definitely check out these free NCERT solutions for Sanskrit Class 7. In Class 7 Sanskrit NCERT Solutions, each lesson is well explained and the concept and definition of every question is explained effectively. NCERT 7 Sanskrit Solutions an attempt has been made to build a solid foundation on the subject by explaining it in detail while making it interesting and easy to teach you. Scoring good marks in Sanskrit is now easier thanks to well-organized NCERT solutions. You can get free Class 7 NCERT Solutions based on CBSE Syllabus 2023-24 from here for free.
Sanskrit NCERT Solutions Class 7 Ruchira Part 2
NCERT Solutions for Sanskrit Class 7 are available here free of cost which will help you to avoid the hassle of understanding any question and speed up your preparation for the exam. All these NCERT 7 Sanskrit Solutions are very easy to understand and help you to understand all the basics better. These solutions for Sanskrit for class 7 and all NCERT subjects provide chapter by practice-based solutions in simple format.
Sanskrit Solutions for NCERT Class 7 All Chapters
The NCERT solutions given on Tiwari Academy are made by our subject experts as per the latest CBSE syllabus for New 7th Class Sanskrit Book Ruchira Part 2. So here students can download it for their study material in the form of solution and explanation of the answer of the questions and for better understanding of the topics. Apart from this, students from Tiwari Academy can also get the solution in PDF format and use it to find the answer.
How is it beneficial to use NCERT Solutions for Class 7 Sanskrit?
NCERT Sanskrit Solutions for Class 7 provides a simple way to understand each and every lesson, helping students to solve any question in the textbooks prescribed by NCERT. NCERT Class 7 Sanskrit Solutions are available in the form of a book on Tiwari Academy in which along with Sanskrit solutions Hindi translation of each lesson i.e. Hindi medium version is also given which is helpful in understanding the text. Class 7 Sanskrit Solutions do not motivate the students to memorize the answer but teach them to write and understand it well.
What is the best way to learn Sanskrit for class 7?
Sanskrit is a language unless we get the correct meanings of all the words we cannot learn any language well. You can learn the lesson well with the help of Hindi translation of all NCERT sentences for Class 7 Sanskrit from our website. One can learn Class 7 Sanskrit effectively with the help of CBSE Class 7 Sanskrit Question Answers and Hindi Medium Translation. We hope that the information on our NCERT Book for Class 7 Sanskrit Solutions page is as useful as possible for you.
How to Download Sanskrit Class 7 NCERT Solutions in PDF?
Students can get Class 7 Sanskrit NCERT Solutions by clicking on the download link available on the website. It provides Sanskrit solutions for class 7 to NCERT students so that they can easily understand the answers to the questions they are not getting. This solution is important for all the students in class 7 currently. Here we also provide row by line Hindi translation along with solutions for all chapters of NCERT Sanskrit Class 7 Textbook to the students. You can save your time by using these solutions while solving practice questions from your textbooks.
How many chapters are there in NCERT Book for Class 7 Sanskrit?
There are total fifteen chapters in the NCERT Book for Class VII Sanskrit. Some of these poems, which are based on aphorisms, and some are stories. All 15 lessons are simple and engaging and moral educative stories. Students should make sure that they know the meaning of all the words in the chapter they are reading. All the lessons of class 7 Sanskrit are important for the students from exam point of view.
Last Edited: May 14, 2023