NCERT Solutions for Class 1 Maths all chapters of Math-Magic 1 in English and Hindi Medium free to download updated for Session 2022-2023.
NCERT Solutions for Class 1 Maths – PDF Free Download
NCERT Solutions Maths Magic provides the best and easiest study material for all chapters of Class 1 Syllabus. NCERT textbook grade 1 Mathematics provides all the important concepts along with key points which are helpful to the students in last minute preparation. Students can rely on NCERT Solutions for Maths Magic in Hindi and English is helpful with valuable solutions. Class 1 Maths in Hindi are all readily available and the answers remain clear. All the answers are provided by experts in the field.
Unit wise Class 1 Maths Assignmetns for Practice in Exams 2022-2023
It is very easy to download assignments and worksheets of Math Magic Class 1 PDF NCERT Solutions from our website and app. 1st Grade NCERT solutions are explained in precise and step by step. The material will help you to prepare better for your exam and score well in the exam. You can give the exam with confidence. NCERT Solutions Class 1 Maths is exactly what you are looking for to learn better.
Tiwari Academy Math Magic Workbook PDF provides NCERT solutions for world class Maths including questions and answers, notes and worksheets. This will help your child to score well in the examination. You can find the links to download all the problems solutions on this page. We have ensured that all problems are resolved in detail. All problems are solved in easy-to-understand language and step by step manner. If your child makes use of this top Maths from NCERT Solutions, they will be able to score better grades.
Must Focus on Mathematics in Grade 1
It is important that students focus on mathematics from an early stage. This is because it can help your child develop problem-solving and analytical thinking skills. Analytical thinking refers to your ability to critically analyze the things happening around you. With these NCERT textbook solutions, they will be able to develop their logical thinking and reasoning skills and learn to use them to solve a problem.
Maths improves Analytical and Reasoning Skills
Analytical and reasoning skills are important because they allow your children to find the right answers and solve difficult problems. You may think that the problems given in Class 1 textbooks will not help your child deal with a challenging problem in his life. However, the skills needed to understand the problem, known and unknown factors, and solve problems using the right steps, are essential to address other problems in your life as well.
Once they have a deep understanding of the concepts given in NCERT Maths Class 1 Question Answers, they will have confidence in their abilities and will earn better grades. It lays the foundation for the upper CBSE classes, which will help them to do better and achieve great things in life.
Importance of Mathematics in Standard 1
Mathematics is one of the most important subjects which has applications in almost all fields. For jobs as mathematicians and scientists, they will need a clear understanding of mathematical concepts to perform basic tasks such as testing hypotheses.
Knowledge of mathematics is essential in an academic career as a scientist and even when performing simple tasks such as using a cash register. When you ensure from an early age that they have a thorough understanding of mathematics, they will be better focused on understanding advanced concepts.
The Way to Perform better in Maths
Math is a subject that requires a lot of practice, even when your child is in first grade. You should make them practice Tiwari Academy NCERT Solutions for First Division Maths Questions as it will help them to master the subject and score better marks in their exams. You must know that there is no alternative to these solutions for the students in the CBSE board.
How to improve performance in Maths class 1?
Mathematics needs a lot of practice, irrespective of class or standard, even when your child is in first grade. You should practice the questions given to them in Tiwari Academy's NCERT Solutions for First Class Mathematics as it will help them to master the subject and score better marks in their examination. Every student must know that there is no alternative to get class 1 solutions without good practice in the CBSE board.
How to make class 1 Maths more interesting?
If you want your child to take up Maths, you need to encourage him to learn. It will help turn a complex subject into something fun and rewarding. Here are some fun ideas that you can use to make this theme fun for your child.
What is the weightage of CBSE Class 1 Maths?
Chapter 1 Maths will be NCERT first and will build basic skills and hence the weightage of each chapter is very important. Each chapter is about different math skills, and hence studying the series chapters would be the best way for every student to start studying this book. Questions from this chapter are repeated every year in board exams. The material will help you to prepare for this chapter and score good marks.
How to Make Study more effective in Class 1 Maths
Learn here the ways to study well in Class 1 Maths. In December 2020, when and Coronavirus impacted the people of the world, Government of the nation had to take an unprecedented step to contain the spread of the infection and imposed the nationwide lockdowns. School and intuitions closed their gates too. However, Developers at Tiwari Academy concentrated on providing impactful solutions among the challenges. Not just that, our goal is to provide guidance through the suggestions that can help to improve the understanding of Mathematics to score 100% in upcoming exams along with developing skills to solve problems.
Step 1: Study Maths along with Literature as Hindi or English NCERT.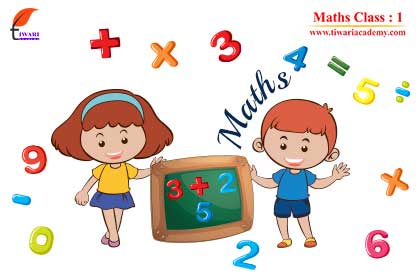 Lots of parents and guardians worry about the myth that developing the mathematical skills might take away creativity. This is not true and development of mathematical skills and knowledge of literature are intertwined, the efforts and skills work and hand-in-hand. Studying only Maths will make it monotonous, it is been said that studying Maths along with the English or Hindi makes Maths understanding effective. Several NCERT books for Class 1 Maths are available in the website Tiwari Academy that contains chapters with colours full shapes along with puzzles, activities along with counting and writing numbers. You will also get the practice assignment pages. So, once the child understood the concept he can get the challenges to practice to see them improving.
Step 2: Include different types of activities during the Learning.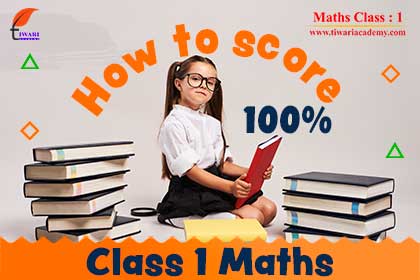 Just like you watch videos, hear podcasts instead of reading books, but you know how to receive the knowledge that you are looking for. Try to introduce different types of activities that can help them learn the concept that teachers and you are trying to make them understand. For example, give them challenge to solve the questions, but showing them different method. It is okay and if they do not get the answers and activity done in time or correct. As long as they are persisted to complete they're doing it right. Like people, some children have slow reading spend and processing of information but his skill of persistent to solve the problem will change every such problems for them.
Step 3: Download Class 1 Activity Practice book and solve it.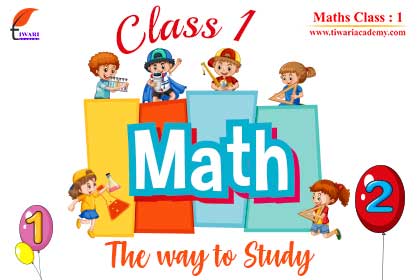 Lots of parents judge their children when they couldn't complete the simple subtraction and multiplication in their head. Even though they are giving pretty much everything to study but this is because the skills that required is not clear to the student. He must be too dependent into the technology. Since most of the classes are now online so removing such practices of helpful application is tough. Here we are Tiwari Academy providing the practice books for Class 1 Maths Activities. These NCERT books for Class 1 Maths can help you to evaluate the progress of your kid. Solving practice assignments paper will help them use the skills that they learn to find solution for the problem.
Step 4: Include Mathematical Games during NCERT Maths Practice.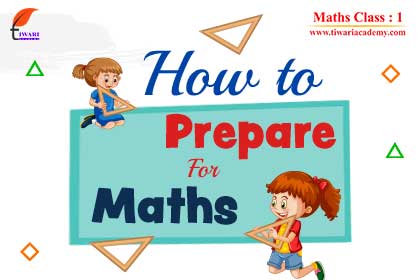 Our governments, technological and great minds are further drawing the maps to bring the traditional schooling system. Until then you can work on this opportunity to give the children best of the attentions on the mathematics online. The NCERT book Class 1 Maths contains some of the analytical work that will help them to prepare them for the real world competitions. These are some of the best preparation that you can give to your kids before they enter the world of completion. Introducing some of the high end mathematical games are one of such preparations that improve the thinking ability of your kids.
Step 5: Involve the child in innovative works during daily life activities.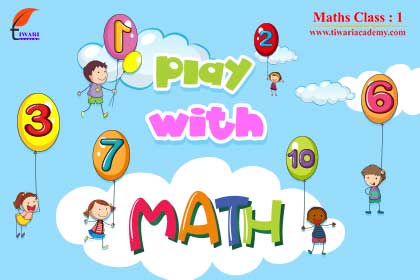 Introduction to newer activities and application of these for grade 1 Maths to work. In real world when we study any subject, we know where this subject can be worked. Subsequently, if you show the calculation can be used in daily life. That can motivate them to find more ways to use the application. For example, if you take the child for grocery, or shopping and let them do the math during the shopping. This kind of activities will help them in real life. These little innovations matters the later years when your kids won't afraid of Maths challenges.