NCERT Solutions for Class 1 Maths Chapter 12 Money in Hindi and English Medium all question answers updated for new academic session 2023-24 free to use online or download in PDF. Here we will learn about the different coins and notes of currency and the way to add them. Revise the chapter for exams or test using Revision Book given here.
Class 1 Maths Chapter 12 Money
Class 1 Maths Chapter 12 Money introduces young learners to the basic concept of currency, its significance, and its basic usage. This chapter serves as an initial step in understanding the value and exchange system that is pivotal in everyday life.
NCERT Solutions for Class 1 Maths Chapter 12
Students are first introduced to the concept of money as a medium of exchange. They are shown different coins and currency notes prevalent in their country, familiarizing them with their physical attributes, and denominations.
---
---
Emphasis is placed on recognizing and distinguishing various coins based on their size, colour, and value. Activities may involve sorting and counting coins, helping students associate physical coins with their numerical values. Once familiar with coin denominations, students learn basic operations like addition and subtraction. For example, they might be tasked with finding different coin combinations that can be used to make a particular sum.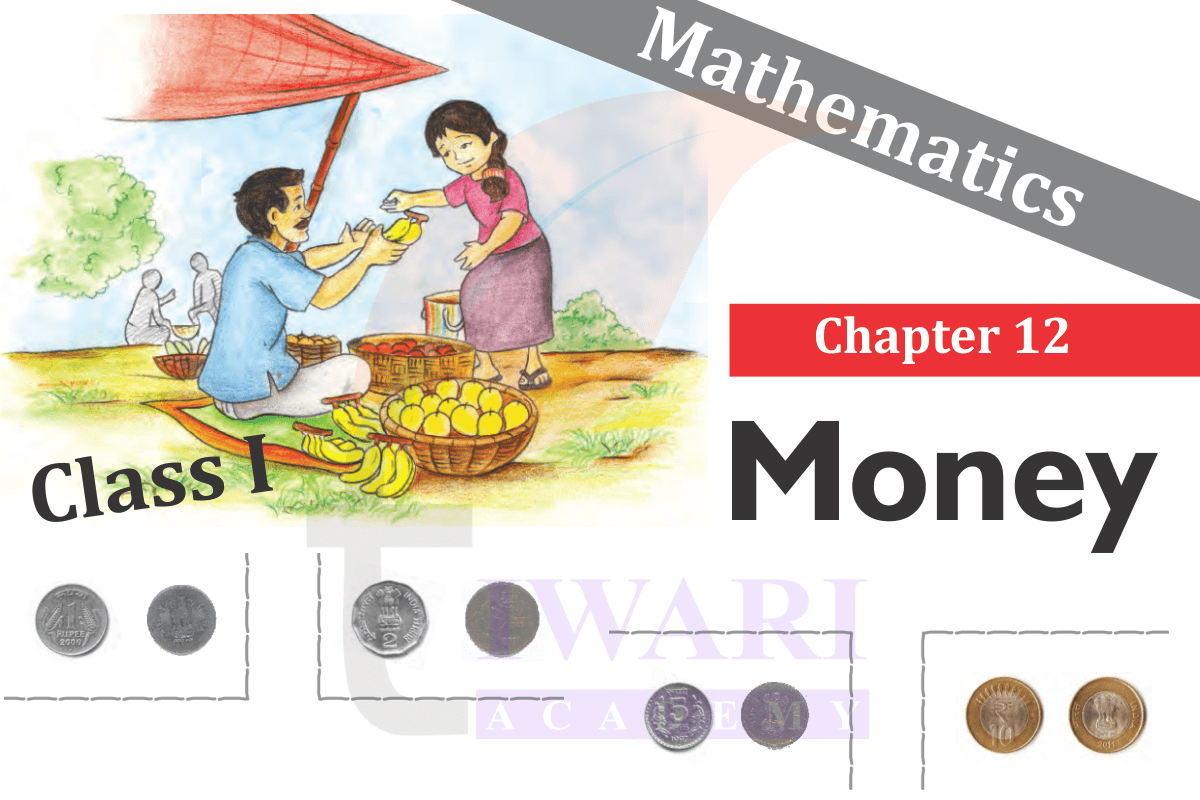 Money
The best way to learn and practice count and addition and subtraction is to count money. It is exciting too as we save more of the money we will learn how to count and how to add. Imagine all the things in the world you can buy with them. Can you list all of the things that you can purchase with it like given in chapter 12 of 1st mathematics and what are the forms of money that you have seen in the chapter can you collect all of them and count them. Check it in the chapter and find out.
---
Just like with coins, students are introduced to various currency notes, again focusing on recognition and value. They learn to differentiate notes based on design, colour, and the numbers printed on them. Real-world scenarios, like buying toys or snacks, are simulated to teach students how money is used in transactions. They learn the basics of giving and receiving money, making correct payments, and receiving the right amount of change.
Coins Currently Use in India.
In Bharat we use coins of different values like 1 rupee, 2, 5, 10, 20 rupees etc. These coins issued by Reserve Bank of India.
---
Though this might be a brief section, the idea of saving money can be introduced. Activities might include using a piggy bank or discussing the concept of saving for bigger purchases in the future. Overall, Class 1 Maths Chapter 12 lays the groundwork for financial literacy at a very basic level. It ensures that students start recognizing and understanding the value of money, paving the way for more advanced concepts in subsequent grades.
Reserve Bank of India issued different values notes like 5, 10, 20, 50, 100, 500 and 2000 rupees.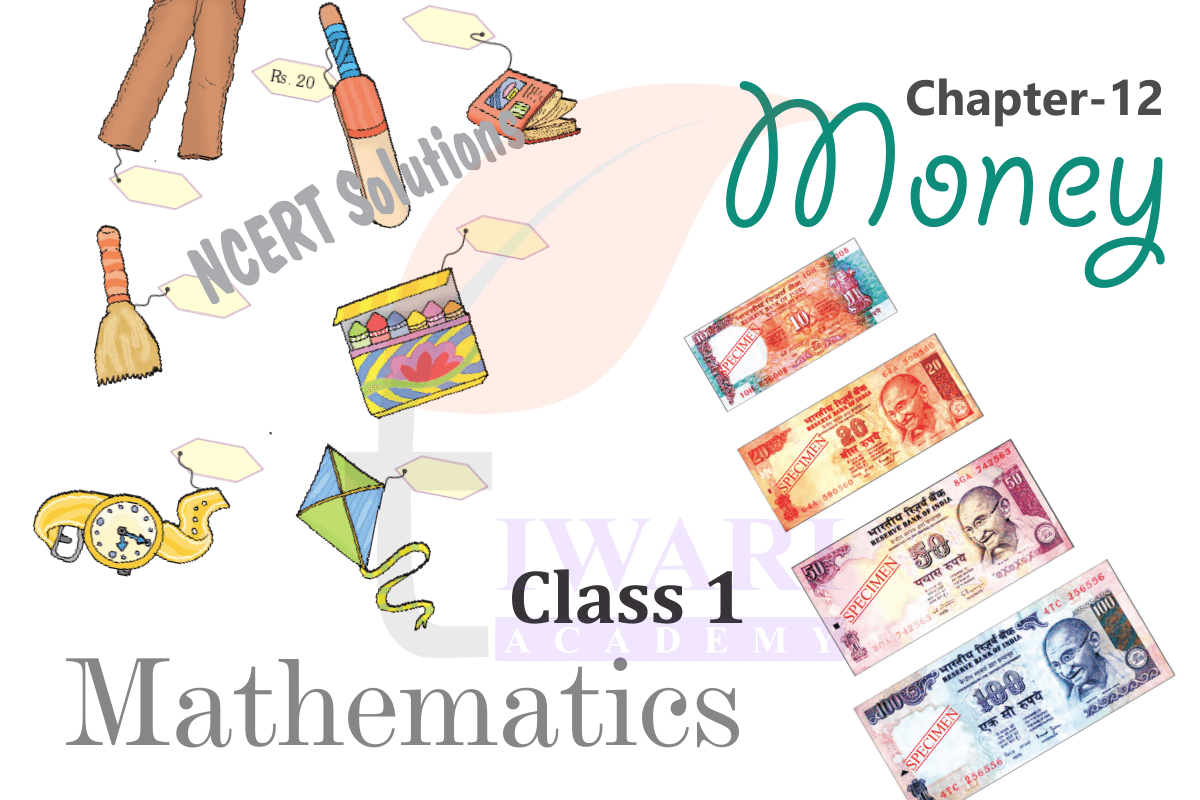 Make the given amount using different combination of coins.
1. 1 rupee + 2 rupees + 2 rupees = 5 rupees
2. 2 rupees + 5 rupees + 10 rupees = 17 rupees
Make the given amount using different combination of coins.
1. 4 rupees = 2 rupees + 2 rupees
2. 4 rupees = 2 rupees + 1 rupee + 1 rupee
3. 4 rupees = 1 rupee + 1 rupee + 1 rupee + 1 rupee
Discuss with your friend and guess the price.
1. Price of a pant = 500 rupees.
2. Price of a cricket bat = 300 rupees.
3. Price of a wall clock = 200 rupees.
4. Price of a kite = 50 rupees.
What does the Money chapter 12 of class 1st math try to teach the children?
The chapter is trying to teach the children about the available money that we use in India along with showing the number mentioned on it. This way they will be able to learn faster as the money and coins are especially available to everyone to see.
Is there anything else that can be taught with money like given in chapter 12 of maths class 1?
Through the chapter, Money book is teaching how to recognize currency, and using this method we can teach the children addition and subtraction too.
Did you find chapter 12 of class 1st math interesting for the children?
I think the chapter made it interesting and read and understand multiple things at one time. Things like Money and its shapes and size along with addition, subtraction, and counting not serial wise.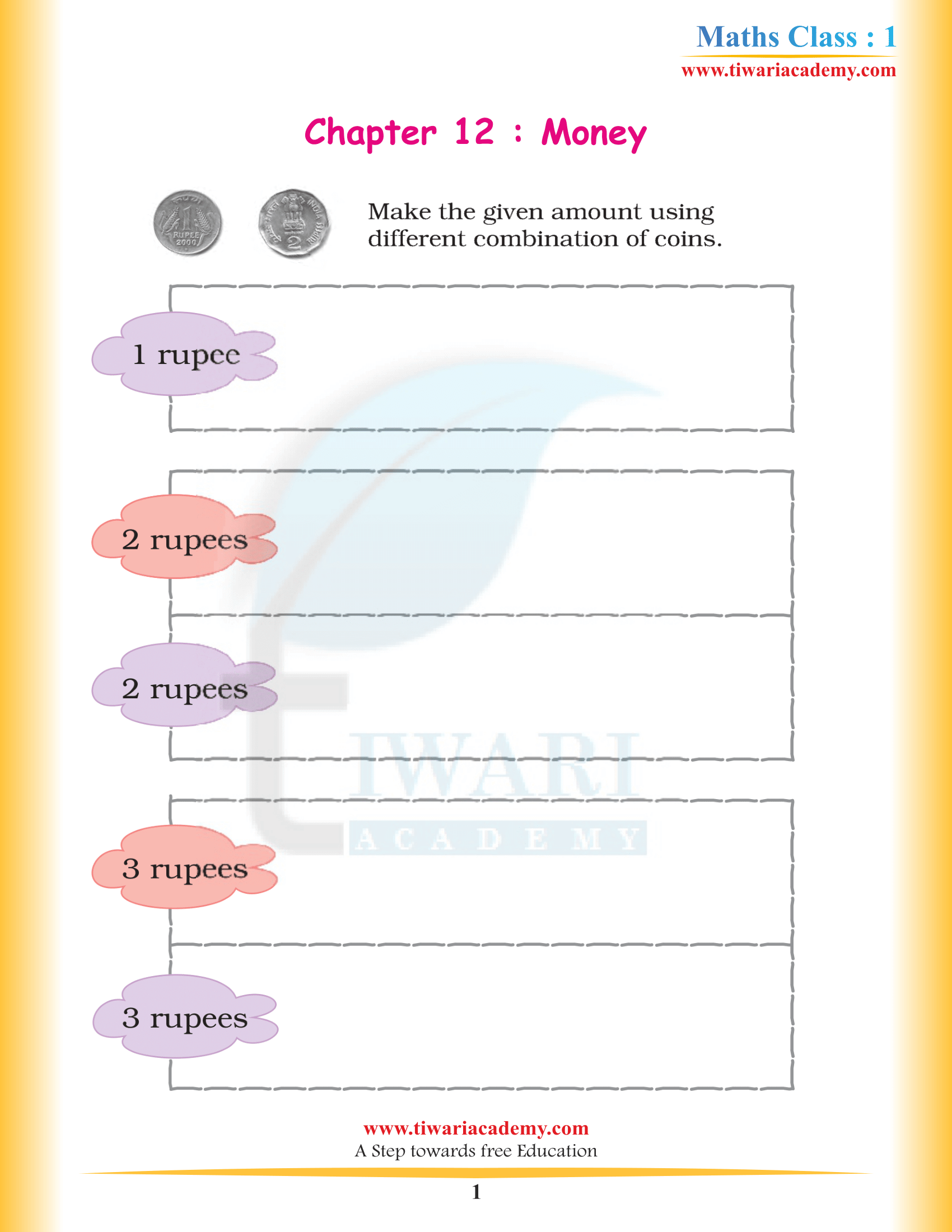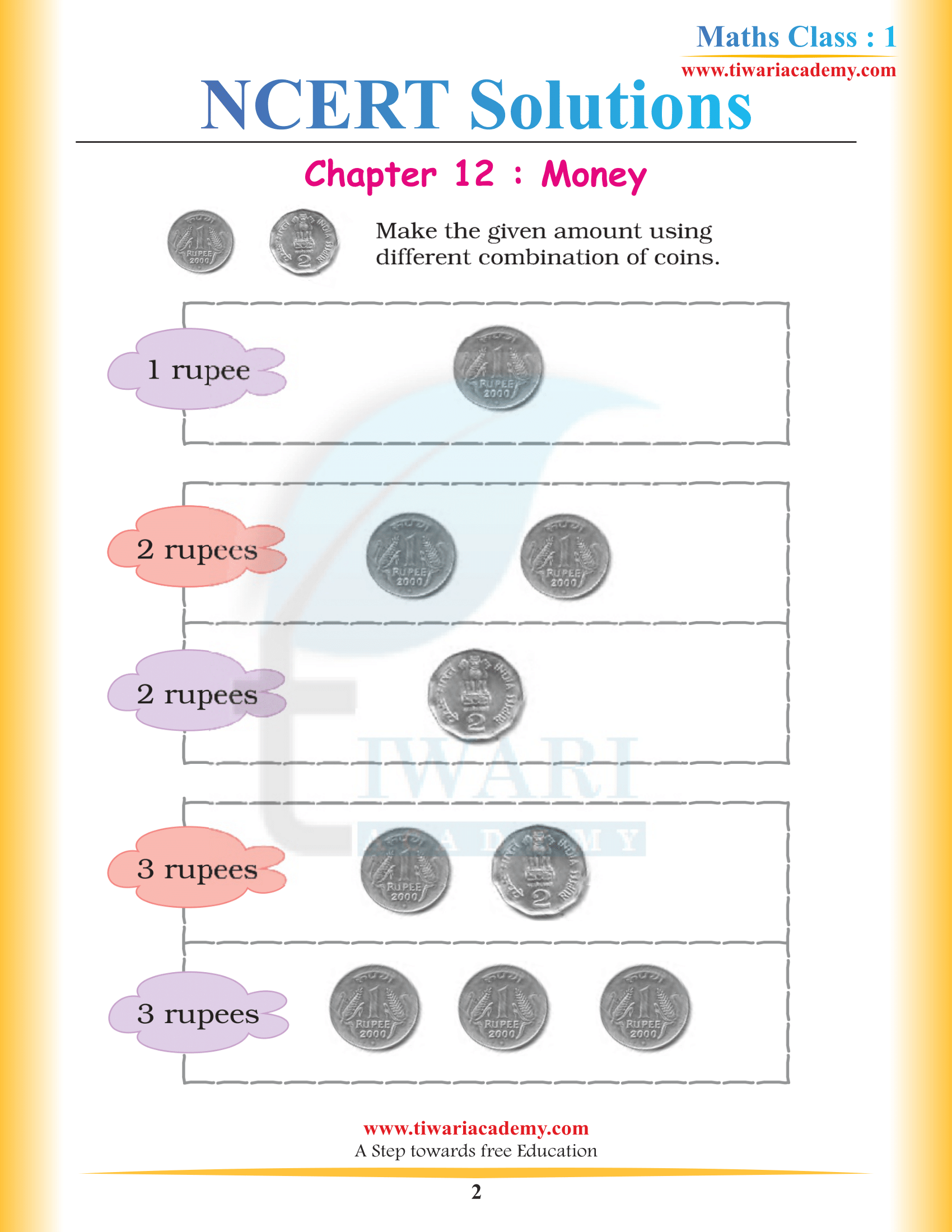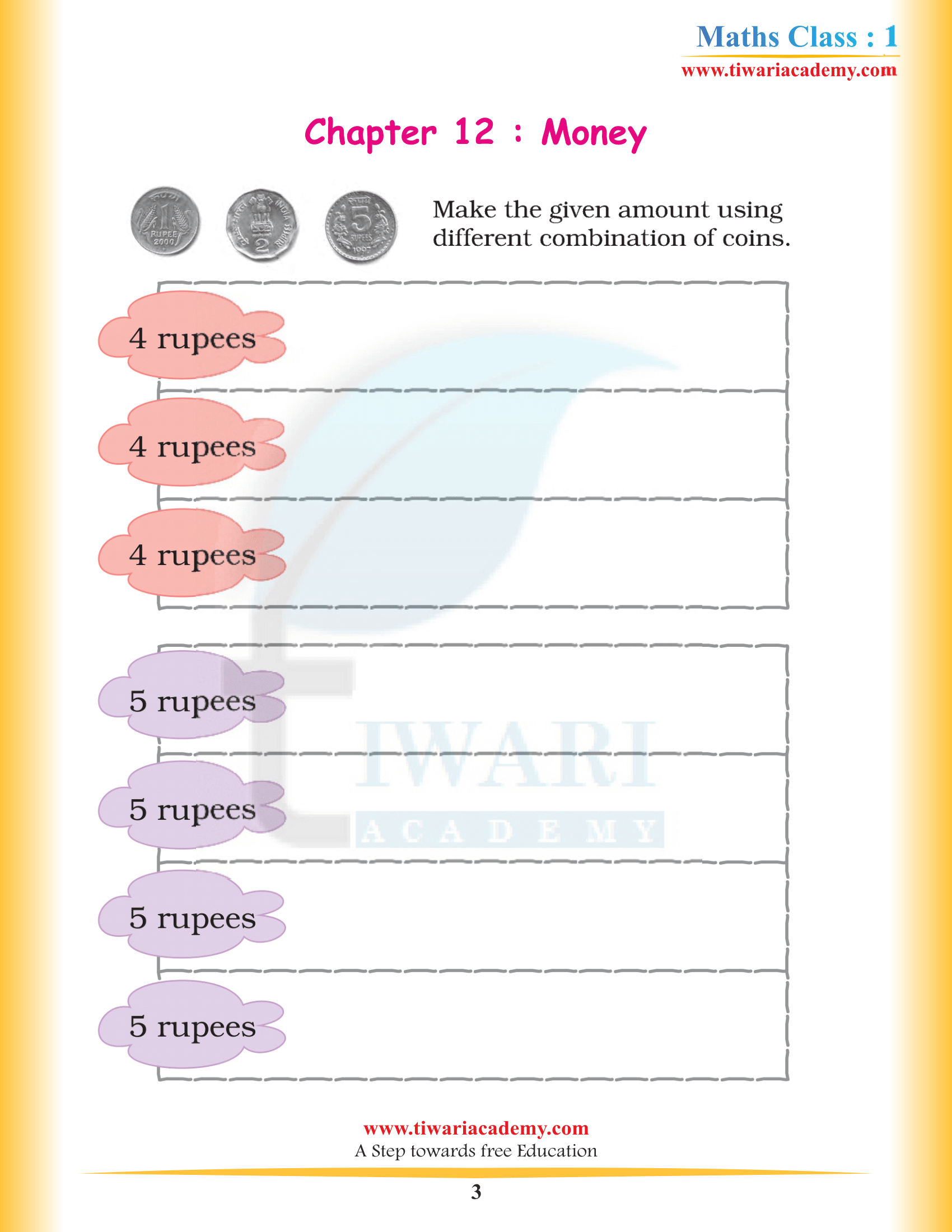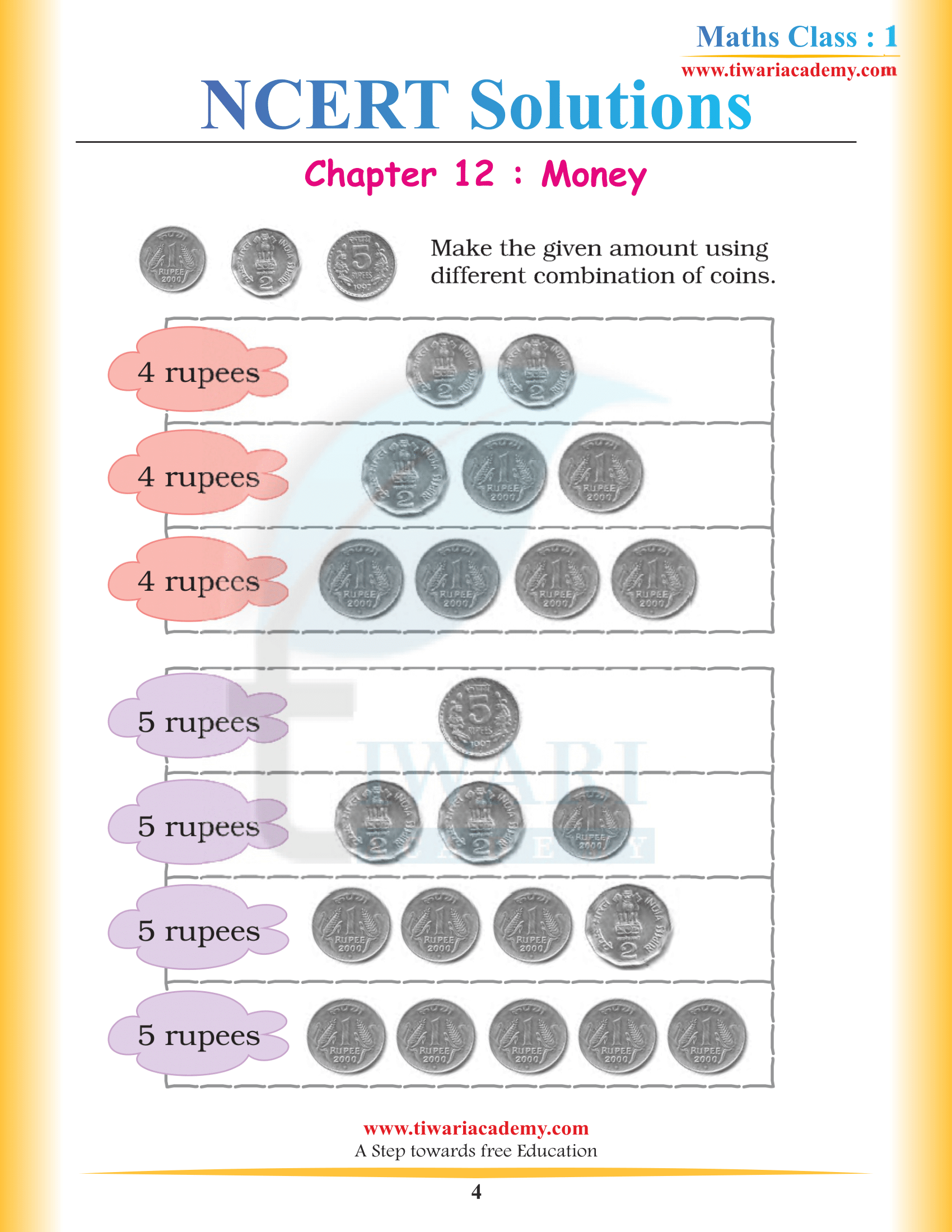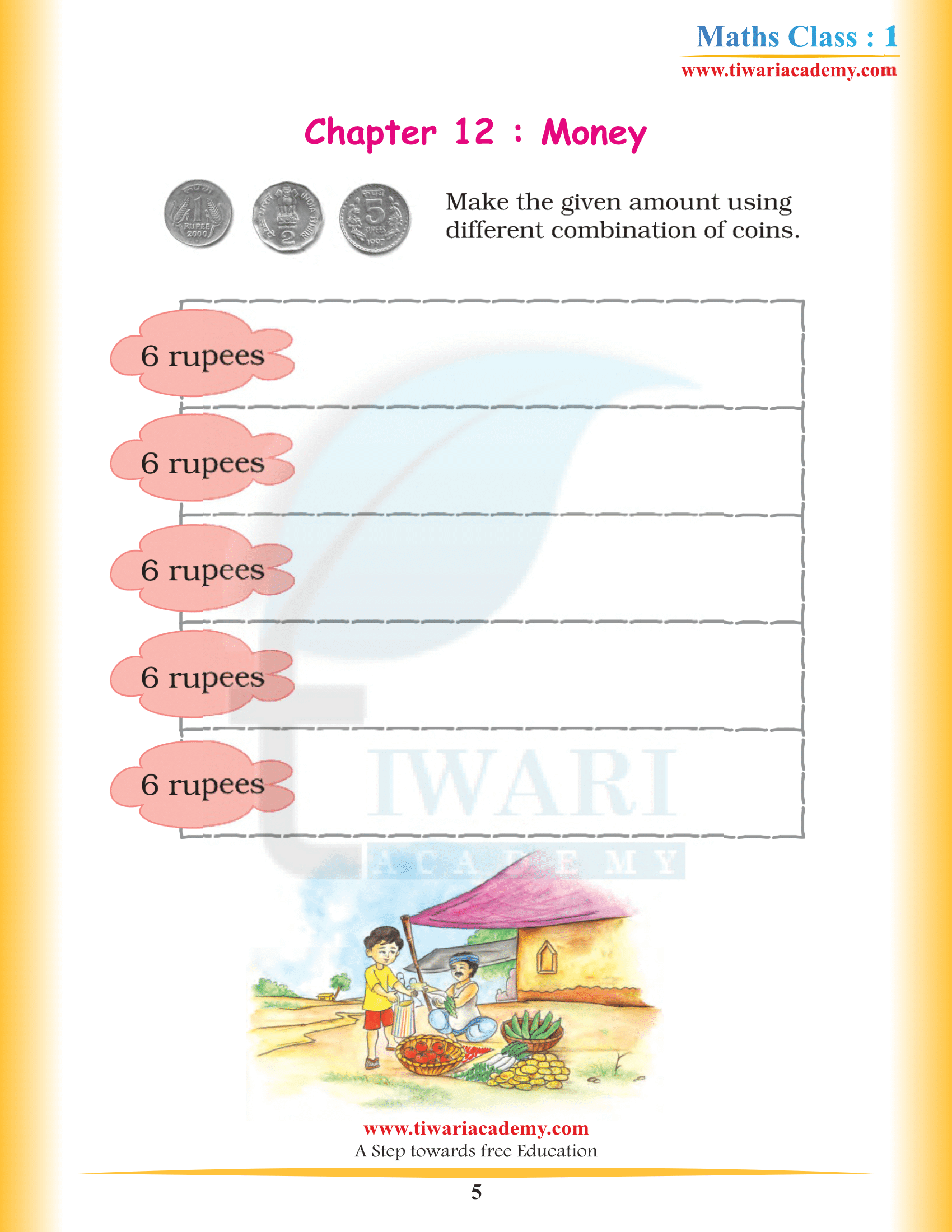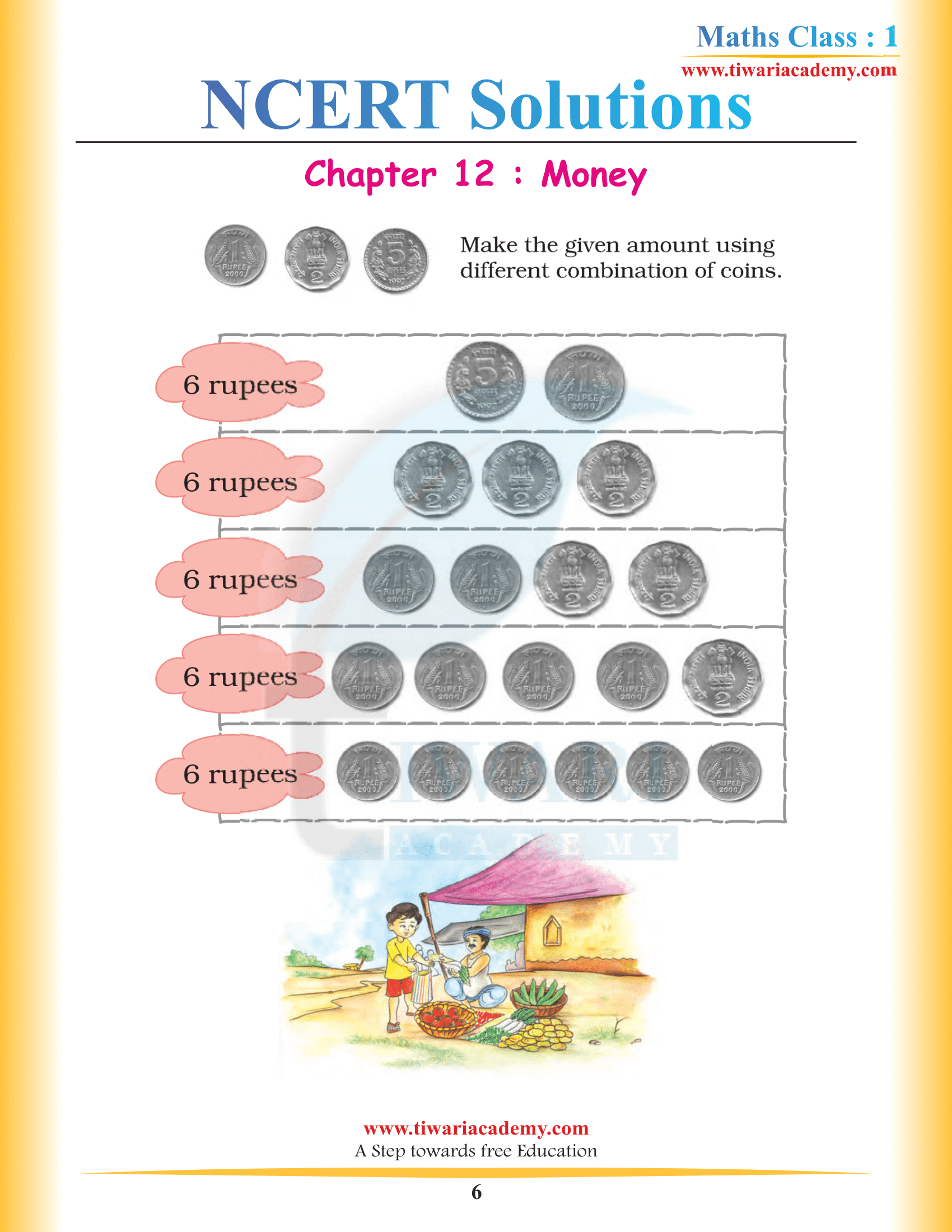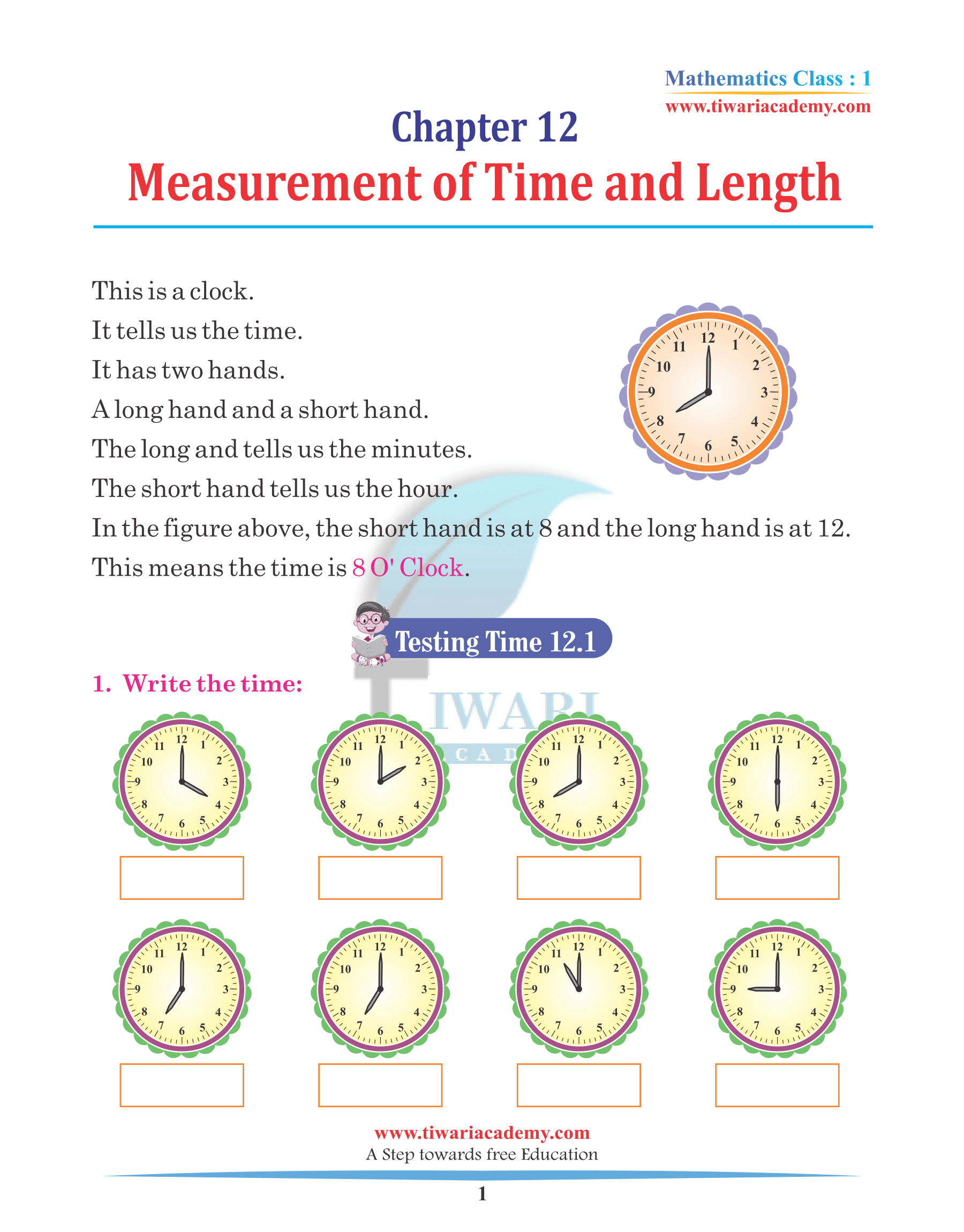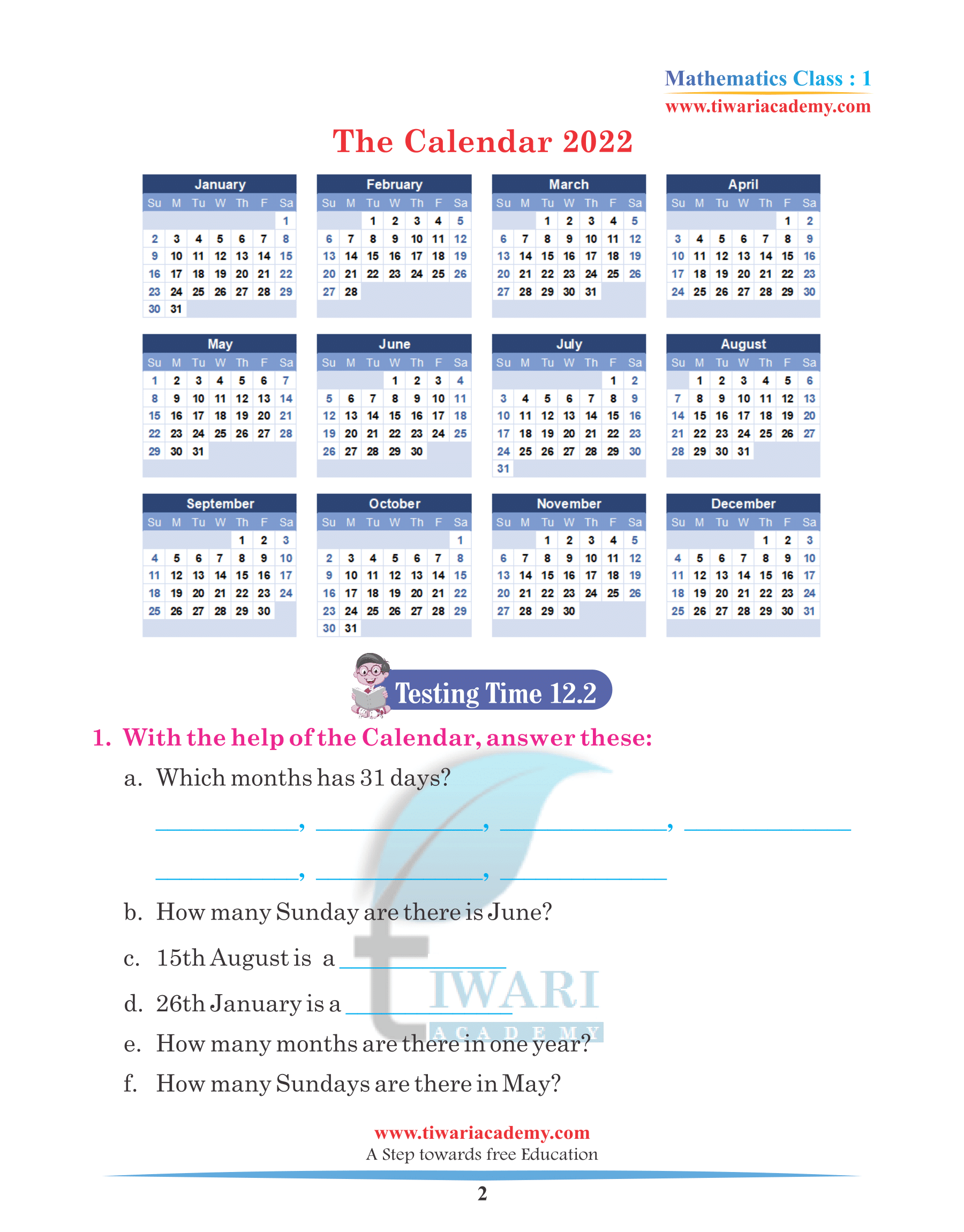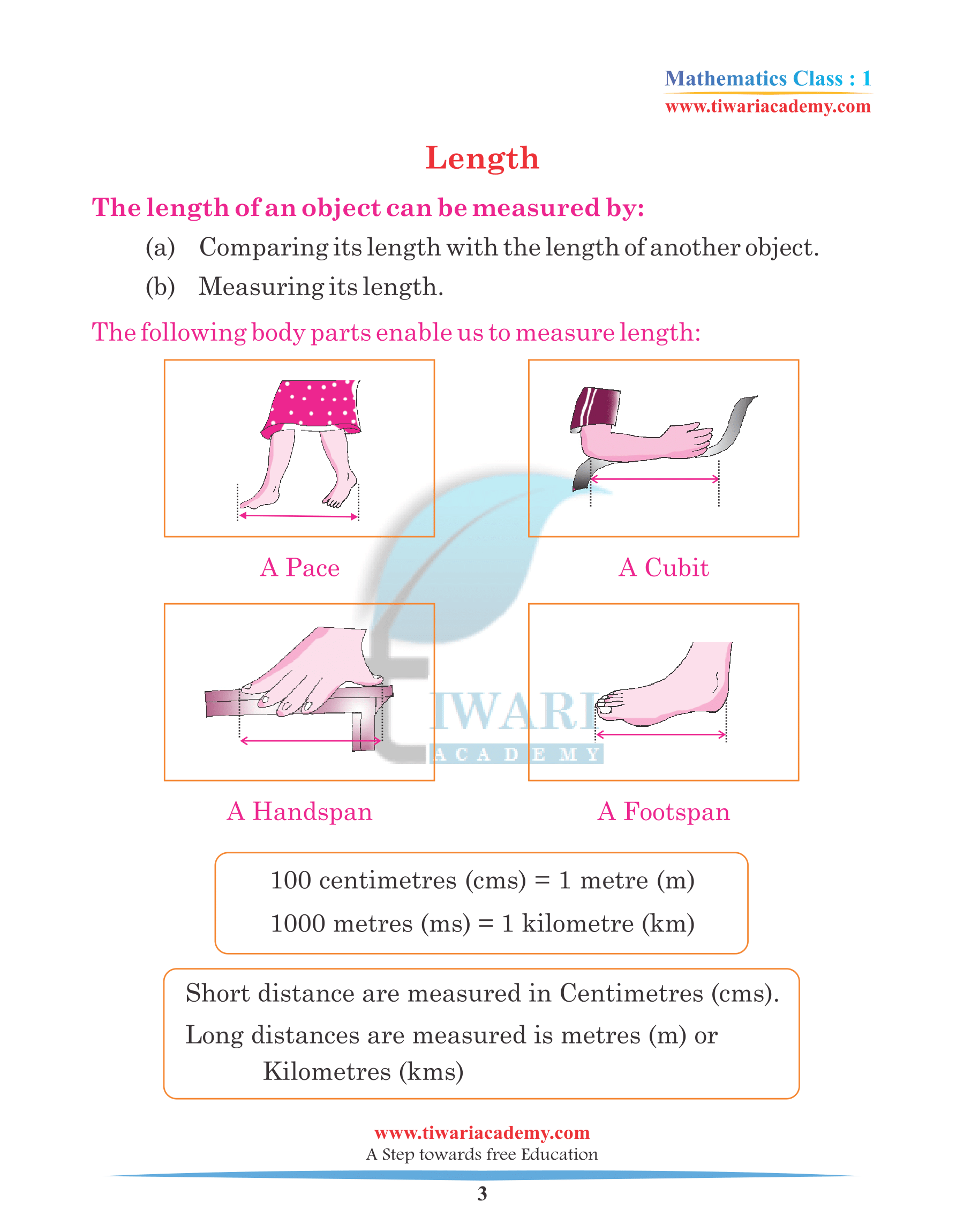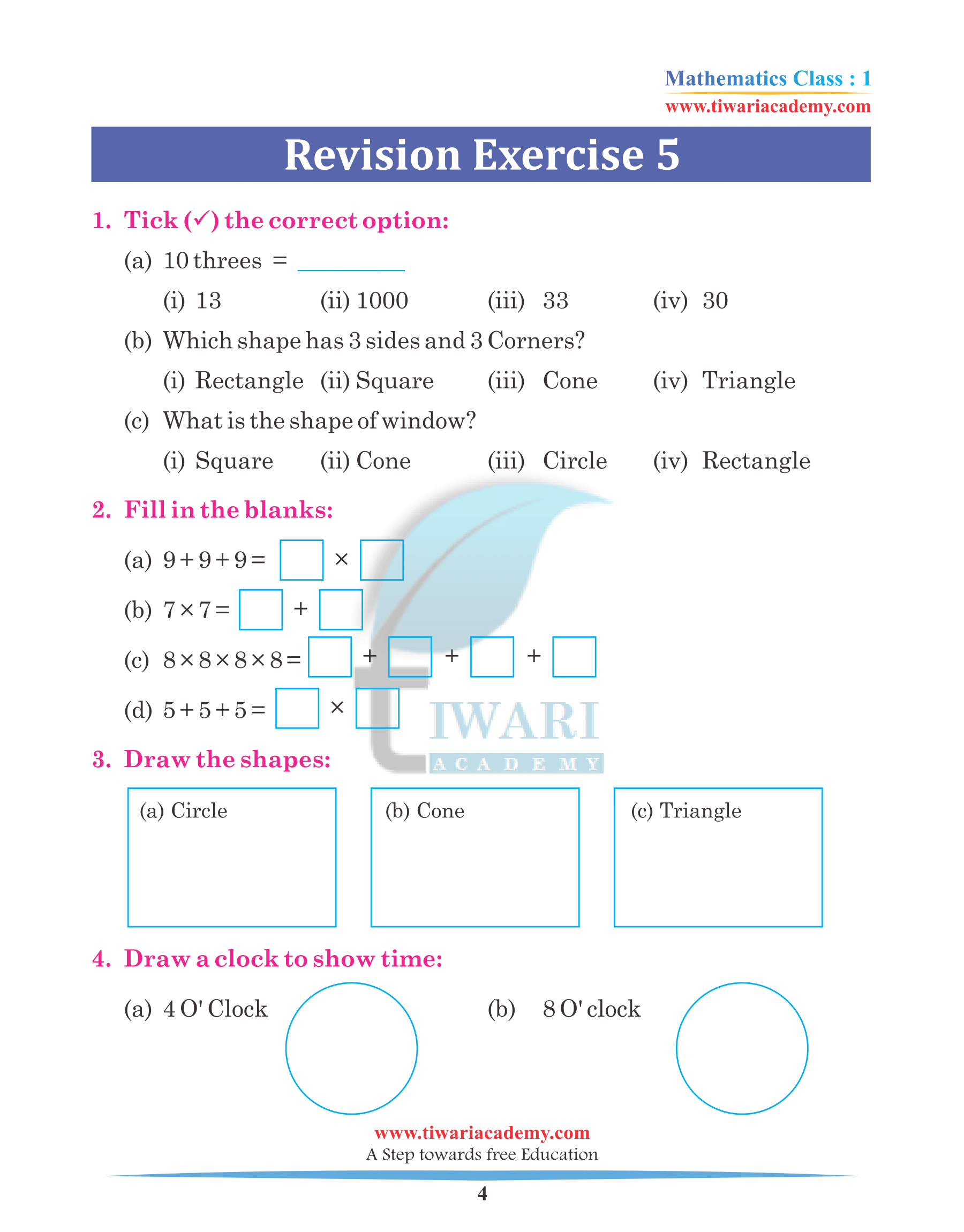 Last Edited: October 10, 2023