How to get maximum marks in NCERT Class 7 Maths Solutions
In Class 7 Maths, there are total 15 chapters in all, which includes the sections of Algebra, Geometry, Constructions, and some knowledge of Statistics also. Now the entire syllabus is divided into first term and second term basis. So, each terminal exams comprise of only 7 or 8 chapters. The students of 7th standard study some higher grade Maths here as compared to the previous classes. Maths in 7th grade serves as the foundation for math studies in high school and is a core subject of these classes.
Step 1: Study NCERT Books Properly Solving each questions.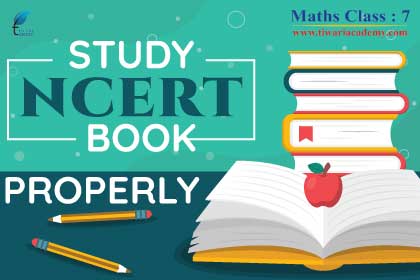 A comprehensive and easy way to prepare NCERT Book Questions for Class 7 Maths which saves a lot of time during the exam. We should prepare well in advance in a standard format by including important questions, formulas, and ideas. One should try to solve all the questions on your own with the help of
NCERT Solutions for Class 7 Maths
available on the website. Though these solutions may contain small questions, but they help in completing the entire 7th class Maths syllabus very efficiently from an exam point of view. In class 7, students are expected to fully understand and explain various mathematical concepts based on numbers, expressions, equations, geometry, and function calculations. They need to learn and practice different skills based on these subjects to get good marks in the Maths exam.
Step 2: Planning the practice questions systematically in regular interval of time.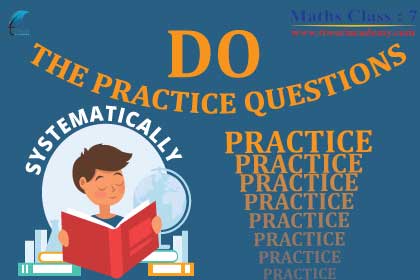 Mastering a diverse subject like Maths requires constant practice and reinforcement of ideas along with reliable study materials such as Maths exercise books. Maths Workbook is a very effective way for kids to study Maths in an interesting way and develop a gradual understanding of various concepts. You can easily find it at Tiwari Academy, our learning resource. Schematic review is the simplest and equally important during exam preparation. Making a list of important formulas and questions helps to ascertain how much of them you have covered and how much is left. It helps you to decide which Maths chapters need more practice and time. Once you have estimated the time required to review each chapter, you can easily start preparing in your planned way. It will also help you avoid errors and hassles till the last minute of preparation.
Step 3: Practice sample papers and memorize formulas well.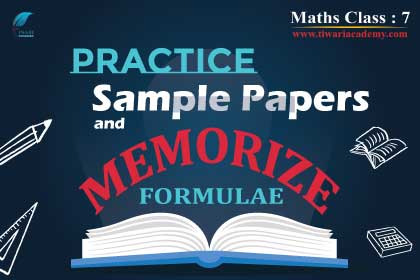 Practicing sample papers is one of the best ways to prepare for Maths exam. It helps to evaluate the preparation and spot the mistakes so that you do not repeat them again. It is also good for practicing, improving speed and learning to manage time efficiently for exams. Helps in time management by estimating the time spent on questions from each section of the paper. Writing down all the difficult formulas and questions can help you remember them better. Reviewing them is always a good exercise in mathematics. This writing also strengthens the ideas and improves the learning ability.
Step 4: Ways to save time with the help of an expert.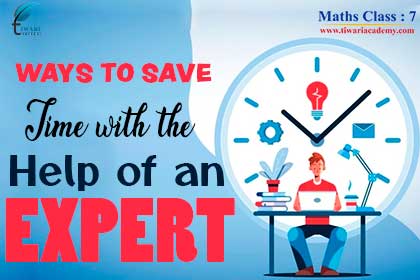 If you want to score good marks in the exam, you must make sure that you are proficient in all the concepts. Children should take help of school teachers or good registered teachers to understand Maths questions. So that the correct solution of the questions can be found and there is no difficult problem in learning Maths. You can also take help of expert-led online math solution websites like Tiwari Academy to solve these questions. To save time during Maths exam we should also take help of shorter methods so that we can attempt objective type optional questions in less time. This is a great way to memorize some solutions or formulas. Make some sheets to memorize these techniques or refer them before the exam and use them as notes. You can use these notes to memorize formulas and their solutions.
Step 5: Good result in class 7 with less effort.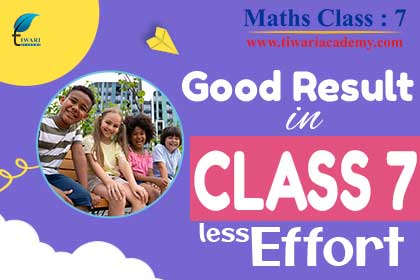 The stress of exams can be exhausting and can lower a child's confidence to do well in the exam. Adequate intervals during the study ensure that the child does not become under extra stress. You can take the help of some fun learning and strategy techniques for amazing results. Study related tasks like Maths games, practice books, puzzle cards, MCQ based question answers and many more. Try to prepare a suitable preparation outline. Follow the routine and be disciplined. Take note of what you learned from this process. During preparation stay away from social networks and minimum use of electronic items will go a long way in helping you accomplish the objective?