NCERT Solutions for Class 5 EVS Chapter 18 No Place for Us in Hindi and English Medium updated for new CBSE session 2023-24 free to use without any login or password. All the contents are free to use without any registration. We have added some extra questions based on chapter 18 of grade 5 EVS confined to NCERT, which are quite important for an examination point of view.
NCERT Solutions for Class 5 EVS Chapter 18
Class 5 EVS Chapter 18 Question Answers of No Place for Us
Class 5 EVS Chapter 18 Question Answers Set 1
Why do the people living in villages move to cities with their families?
People living in villages move to cities with their families for:
• A better life with all the basic facilities.
• Good job opportunities and livelihood.
• Good education for their children.
• Better facilities like health, hospitals etc.
• Comfortable life.
• For better prospects which are not available in the villages.
Why problems do the people living in the areas where dams are being built face?
The area where a dam is built on a river has to be evacuated as a huge wall has to be constructed to block the flow of the river water. People in that area are under a constant threat of drowning in the water. So, they have to leave their homes, fields and property etc. and shift to resettle themselves to a new area where they may or may not be able to adjust.
Dam is a barrier that is constructed to stop or restrict the flow of water. They are usually built or constructed across a river to create a reservoir in the valley behind by storing the water that flows into it naturally. It creates storage area for water that is transported from somewhere else.
What are the benefits of constructing a dam?
The benefits of constructing a dam are:
• It provides water for irrigation
• Controls floods and stores the flood water
• Produces electricity
• Supplies water for agricultural, domestic and industrial purposes
• Maintain wildlife habitats
• Organize recreational activities like boating.
Question:
Describe the life of people in the villages
Answer:
The life of the people in the villages is as follows:
It is quiet and calm in villages
the air is very pure and there is no pollution
facilities like transportation, education, medicine etc. are very less.
People are friendly, warm hearted, good in nature and have close bonds amongst themselves
People are mostly farmers and there are few job opportunities available here
They celebrate festivals and different occasions together
They attend village fair and enjoy outdoor games too.
Question:
What type of life do the people living in cities have?
Answer
People living in the cities as:
• The life is full of hustle –bustle, lot of disturbances are there.
• The air is not pure and there is lot of pollution in cities.
• Many modern facilities like transportation, education, medicine etc.
• People are busy amongst themselves and do not have time for each other.
• Bonds are very less, people connect through networks, e-mails, whatsapp etc.
• More job opportunities are available as people are educated.
• People work in offices, schools and business.
• People in cities go to malls, water parks, theatres and hotels.
• They enjoy gadgets like mobile phone, X- box, PSP, I –Pad etc.
Class 5 EVS Chapter 18 Question Answers Set 2
What are the problems faced by people when they shift to a new place?
The problems faced by the people are-
• Difficulties of adjusting to the new environment
• language barrier,
• cultural differences
• differences in beliefs, traditions
• hardships adjusting to the city weather.
• Finding new jobs, hoses
• School for children
• Adjustment of children to a new area.
Why do Jatryabhai collect rubber pieces of old tyres?
Jatryabhai collected rubber pieces of old tyres to light the stoves. It catches fire fast and saves firewood.
What problems did Jatryabhai face in Sinduri?
The problems faced by Jatryabhai in Sinduri were-
• He had to pay for everything like medicine, food, vegetables, firewood, kerosene and fodder for animals
• Roof were made of tin which used to get hot like an oven
• Electricity was not available for whole day
• Land was not good for farming
• No water was available
• Good doctors were not available
• people of that place called then unwanted guests and made fun of them.
Question:
How was the life of Jatryabhai in Khedi Village?
Answer:
Life of Jatryabhai in Khedi was what he liked the most:
• His house was good and sufficient to fulfil his needs.
• People used to live together as a big family.
• He used to work in the fields and catch fish to make his livelihood.
• The children used to learn dance, play dhol and flute, make pots with clay.
Class 5 EVS Chapter 18 Question Answers Set 3
Why did Jatryabhai and his family leave Sinduri and migrate to Mumbai?
Jatryabhai and his family leave Sinduri and migrated to Mumbai because they could not adjust to the new village and he came to Mumbai for a better life and better future.
Why did the people of Khedi have to leave their village?
They people of Khedi had everything available with them which they wanted to lead a good life. But they had to leave even though they didn't want to because a dam was going to be built on the river and for that villages which were on the banks of the river had to be removed and Khedi was one of them.
Why did government officials and police come to Khedi village?
The government officials along with the police started visiting the Khedi village. The officials measured the width and length of the river, the fields, forests and houses. They also called meetings with the elders of the village and told them that the villages that were on the bank of the river would have to be removed. They also told them that people having land at Khedi will have to leave be given land faraway, on the other side of the river. They will have everything there for them- a school, electricity, hospitals, buses, trains, etc. They will have all the facilities that they could not even dream of here in Khedi."
How did the children react on seeing the police?
As the children had seen the police for the first time so some children started running after them and some got scared and started crying.
Why was Jatrya's parents not interested in shifting from Khedi village?
Jatrya's parents were not interested in shifting from Khedi village because they did not want to leave a place where they had been living from such a long period of time. They did not want to leave their village because they were scared that they might not be able to adjust and it would be difficult for them to cope up with anew changed environment.
What was Jatrya's reaction on hearing that he had to leave Khedi?
Jatrya was a little scared, but excited too. He started thinking that after getting married, he would take his bride to the new house in the new village. He was dreaming of a house where he could just press a button for the light and turn on the tap for water. He could go by bus to see the city. And when he would have children, he would send them to school to get good education.
Question:
Describe Jatrya's life in Sinduri.
Answer:
Jatrya's house in Sinduri had a roof made of a tin sheet which made his house hot like an oven. Jatrya's wife had high fever. His daughter Jhimli was looking after her little brother Sidya to make him sleep. There was no older person with them. In Sinduri, there were only eight to ten families he could call his own, those from his old village. The whole village had got scattered and people had gone wherever they had been given land. There wasn't a single tree to offer some shade. There were only a few houses and shops. Jatrya got just one room in a tin shed. It had no place to keep the animals. He also got a small piece of land. But that was not good for farming. It was full of rocks and stones. Still Jatrya and his family worked very hard. But they could not grow much on the field, and could not make enough money even to buy seeds and fertilizers.
Class 5 EVS Chapter 18 Question Answers Set 4
What happened to Jatrya's parents?
Jatrya's parents had been so sad about leaving Khedi that they died before he moved here.
How were the school and medical facilities in Sinduri?
There was a school there in Sinduri but the teacher did not care much about the children who had come from Khedi village. These children found it difficult to study in a new language. Similarly, there were hospitals in Sinduri but it was difficult to find doctors, and there were no medicines.
What do you understand by Demolition?
Demolition is the act of demolishing or destroying or ruining a building or other structure.
Migration- Migration is the movement of either people or animals from one area to another. It is the movement from one region or place of habitat to another in which an individual or a group of animals moves from their habitat to the new habitat.
Question:
Name any five dams with the river on which they have been built and the state where they are located?
Answer:
List of dams and river on which they are built given below:
| Dam | River | State |
| --- | --- | --- |
| Tehri Dam | Bhagirathi | Uttarakhand |
| Bhakra Nangal | Satluj | Himachal Pradesh |
| Sardar Sarovar Dam | Narmada | Gujarat |
| Hirakund Dam | Mahanadi | Odisha |
| Nagarjuna Sagar | Krishna | Andhra Pradesh and Telangana border |
Class 5 EVS Chapter 18 Question Answers Set 5
Name the movement of our country which developed to resist the construction of big dams.
One of the largest and most successful environmental campaigns is the Narmada Bachao Andolan which began with a wide developmental agenda that is the construction of of large dam projects in India.
What are the disadvantages of constructing dams?
The disadvantages of constructing a dam are:
• Displacement of people during construction.
• Reservoirs often release a high percentage of greenhouse gases.
• It disturbs the groundwater table.
• Often dislocate the local ecosystems.
Why does Jatrya feels alone in Mumbai, even when he is surrounded by people?
Jatrya felt alone in Mumbai even when he was surrounded by people because the place was totally new for him. He did not know any one there. Moreover, there was a difference in the lifestyle of the people in Mumbai. They were busy amongst themselves and had no time for anyone else.
Why did Jatrya remember the days he had spent in Khedi?
Jatrya remembered the days he had spent in Khedi a lot because he was born and brought up in Khedi village, which was situated in the middle of thick green jungles and hills. His people had been living here for many years, even before his grandfather was born. There was peace in Jatrya's village, but not silence. There were so many soothing sounds, the gurgle of the flowing river, the murmur of trees and the chirping of birds. People did farming. They would go to the nearby forest, chat and sing together, collect wild fruits, roots and dried wood. While working with elders, children also learnt to dance together, play flute and dhol, make pots of clay and bamboo, recognize the birds and imitate their sounds, etc. This all was missing in Sinduri and Mumbai.
What work was Sidya doing in Mumbai?
Sidya was working in the fish factory to earn some money. From four o'clock till seven o'clock in the morning, he used to clean and sort the big and small fish. Then he would come home, take a nap, and go to school in the afternoon. In the evening he would wander around the vegetable market. He would help some memsahib(lady) to carry her bags, or go to the railway station to pick up empty bottles and newspapers to sell to the kabadiwalla (junkseller).
Question:
What kind of life did Jatrya had in Mumbai?
Answer:
Life of Jatryabhai in Mumbai was a difficult one.
• He lived in one shack room.
• He lived a lonely and isolated life.
• He used to repair fishing nets to earn livelihood.
• His children went to school for getting formal education.
• He had to pay for everything the medicines, food, school fees and rent for the house and even water.
Class 5 EVS Chapter 18 Question Answers Set 6
Why is burning tyre harmful?
Burning tyres is harmful as it releases smoke and the smell that comes out by burning it is terrible. Such fires produce much smoke carrying toxic chemicals produced from the breakdown of synthetic rubber while burning. And thus it pollutes the air and the environment and leads to respiratory problems too.
Question:
What is Immigration? How is it different from Emigration?
Answer:
Immigration is the movement of people from their home country to a host country to settle and live there, of which they are not native. People immigrate due to various reasons like economic or political reasons, family reunification, natural disasters, or the desire to change one's surroundings.
Whereas Emigration is the relocation or process of people leaving one country to reside in another. People emigrate for reasons which include increasing one's chance of employment or improving quality of life.
Why do you think the title "No place for us?" is suitable for chapter 18 of 5 class EVS?
The chapter is based upon the story of a fisherman who is trying to live and earn his livelihood. Unfortunately, he had to leave the place where he was born and raised because of the development taking place and then live somewhere else. The story shows the struggle of the poor villager and how the development is beneficial for the mass but actually not curse for the small poor villagers like Jatryabhai.
Did you find the story of Jatyabhai in chapter 18 of class 5 EVS was entertaining?
I think the chapter is showing the emotional side and the struggle of the real man who is trying to build his world through hard work but came in the middle of progressing development but still, he didn't give up and kept hustling. So I cannot say the story is entertaining. However, the story is sympathetic towards the people like him who have to leave the place village because of the development.
Do you think chapter 18 of class 5 EVS can be covered in one day?
The chapter is long and as comparing other chapters and story this story might take time to understand the effects the character jatryabhai had in his life because of the external changes.
Though every student has their own pace to complete the story and understand it this chapter might take one complete day to cover and understand.
From the exam perspective, this chapter might require additional revision and practice as this chapter is long.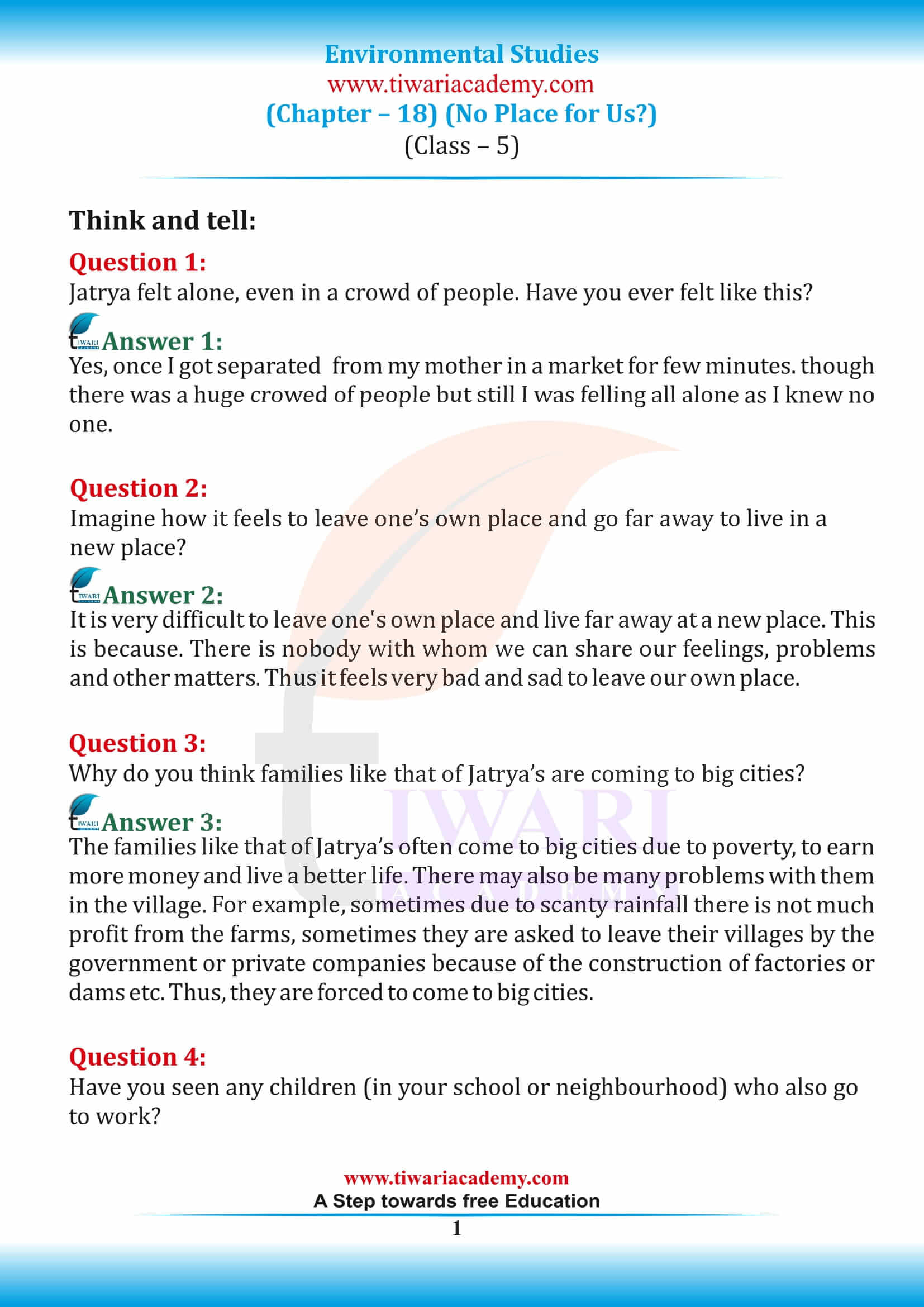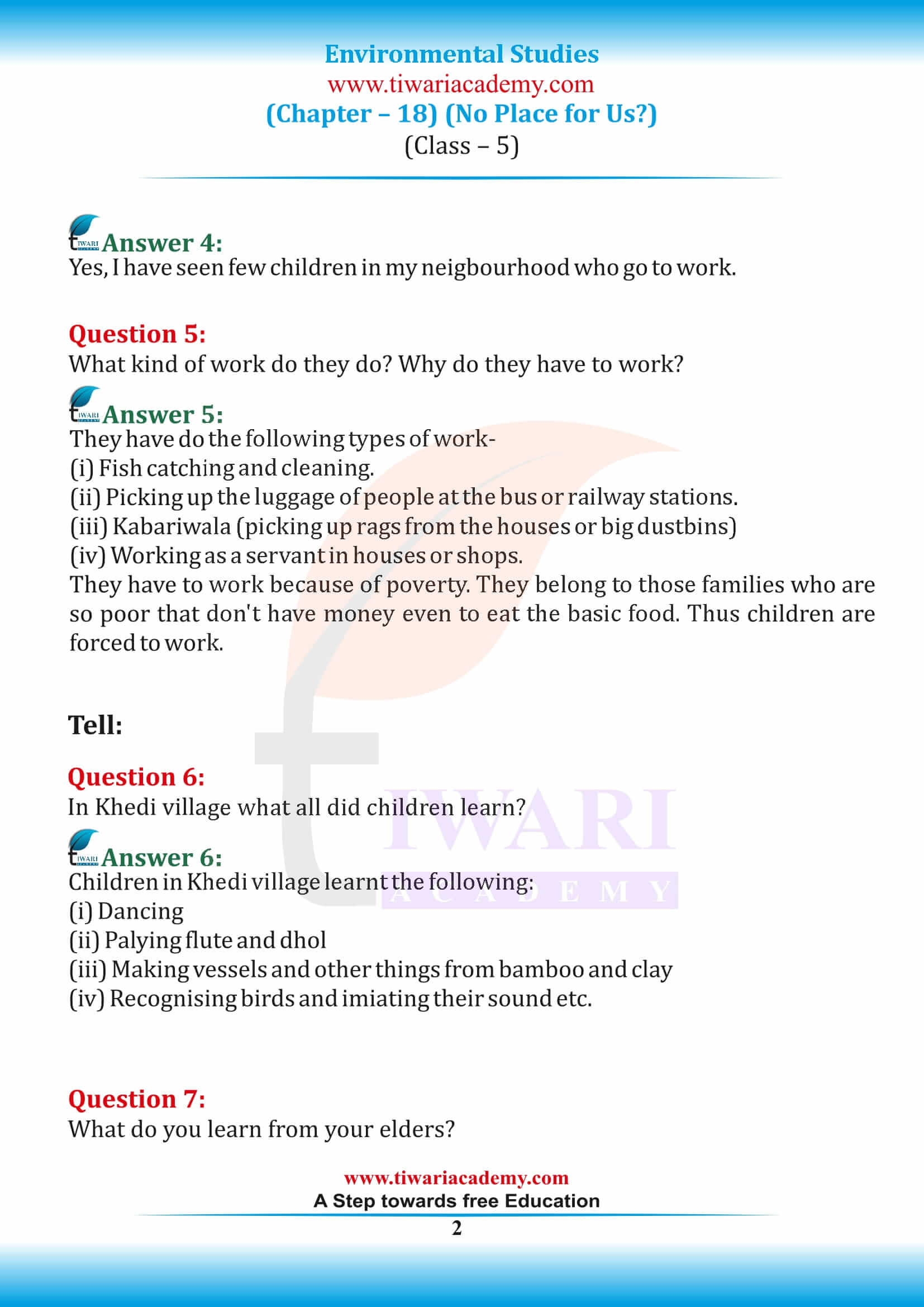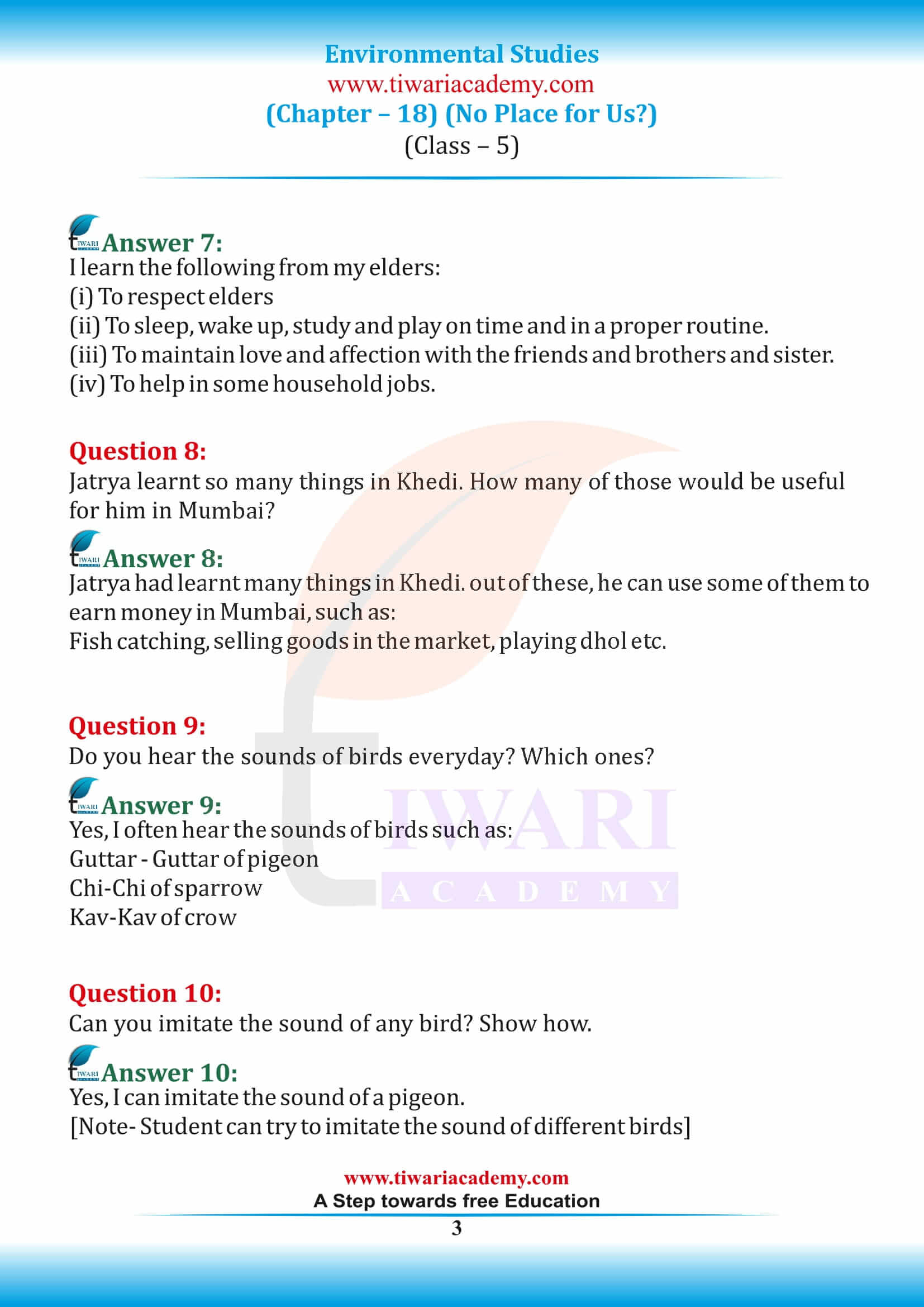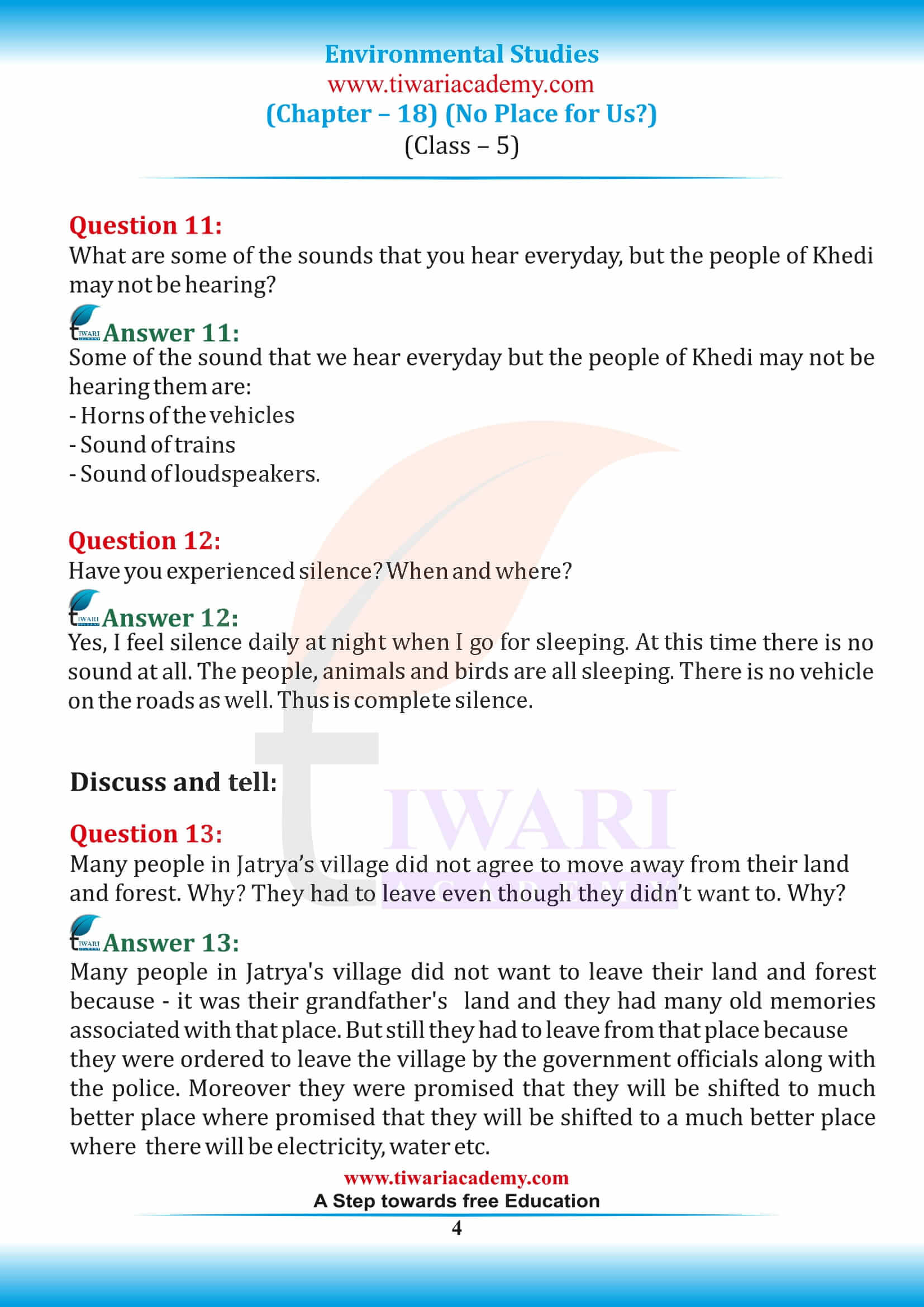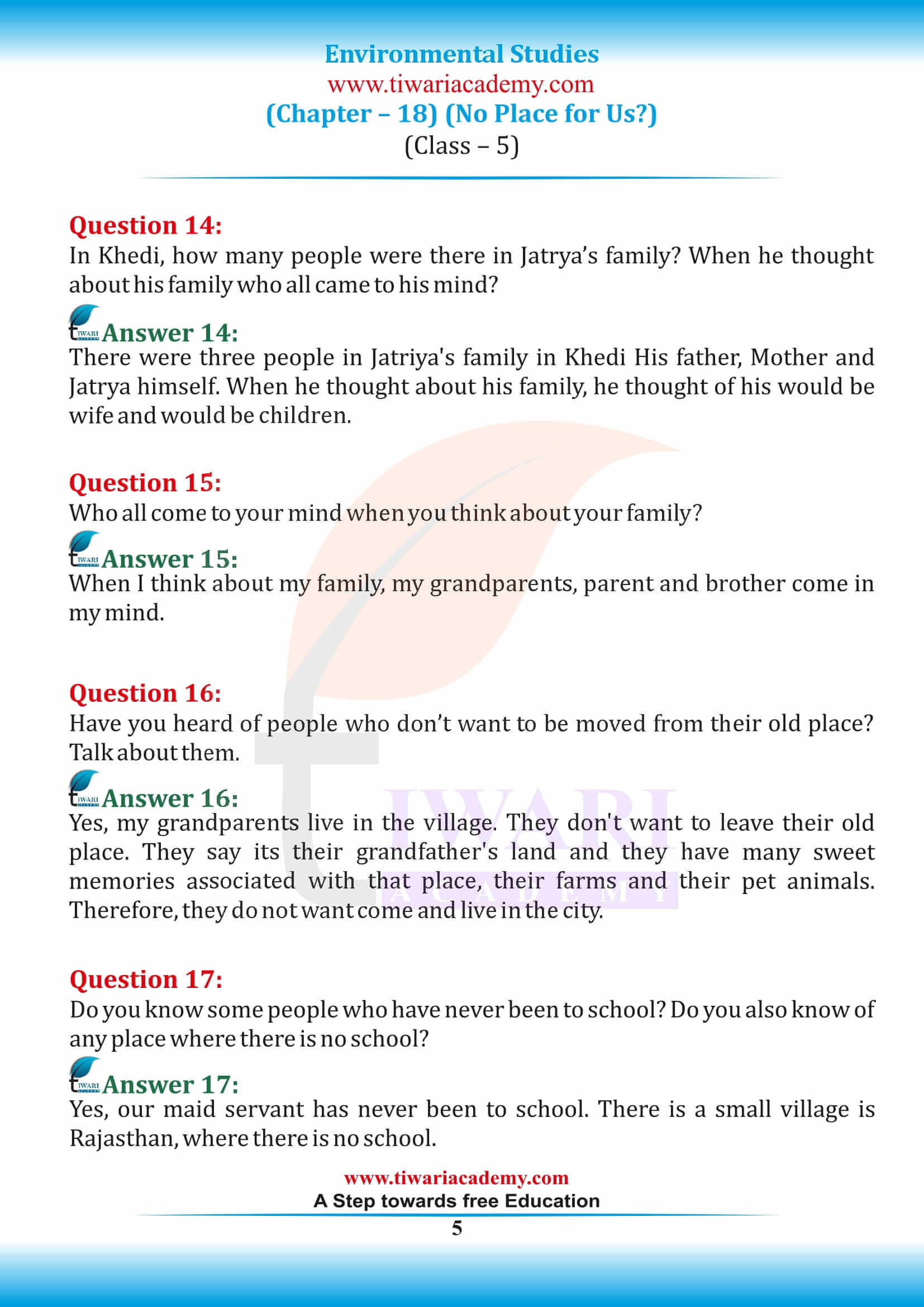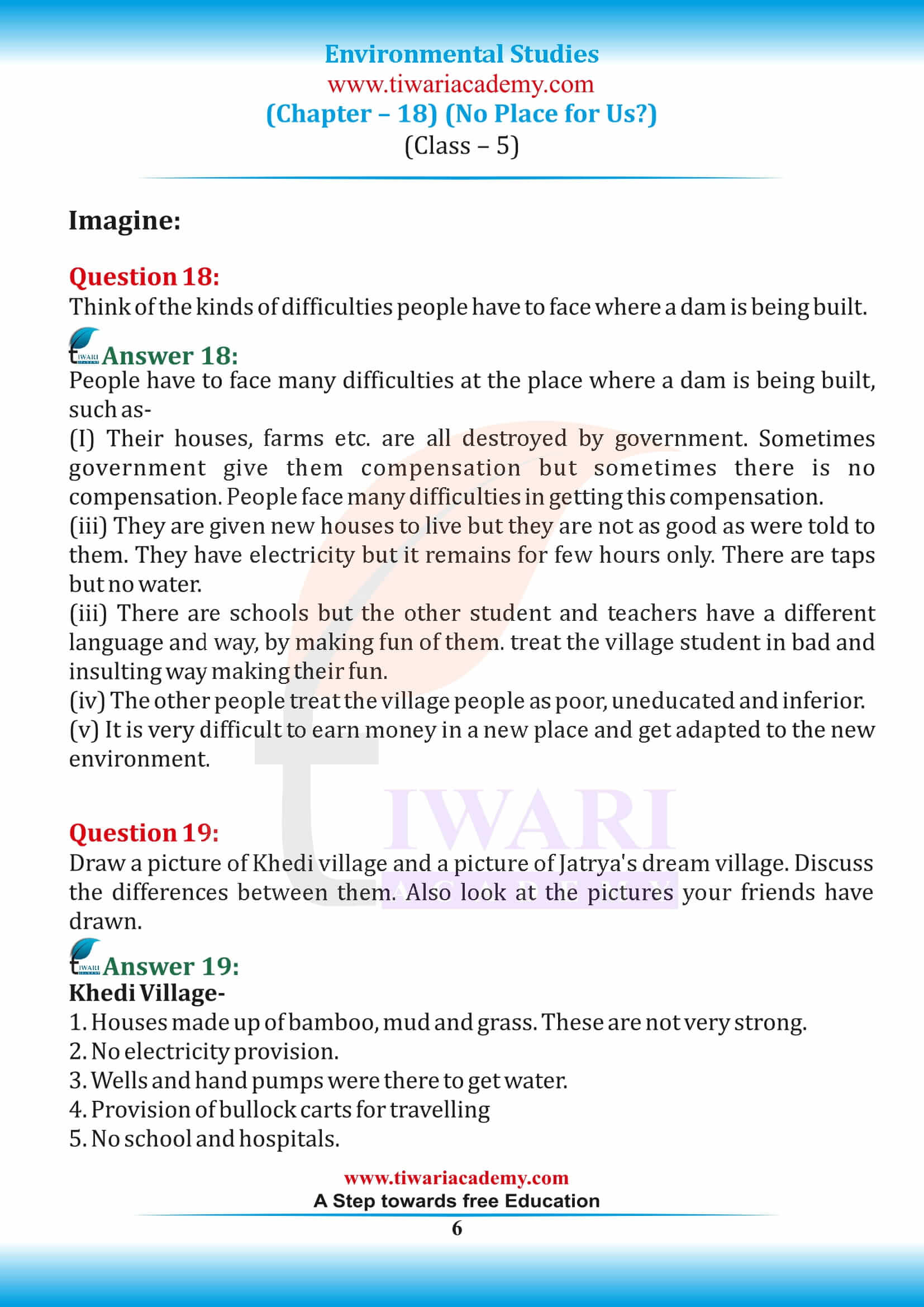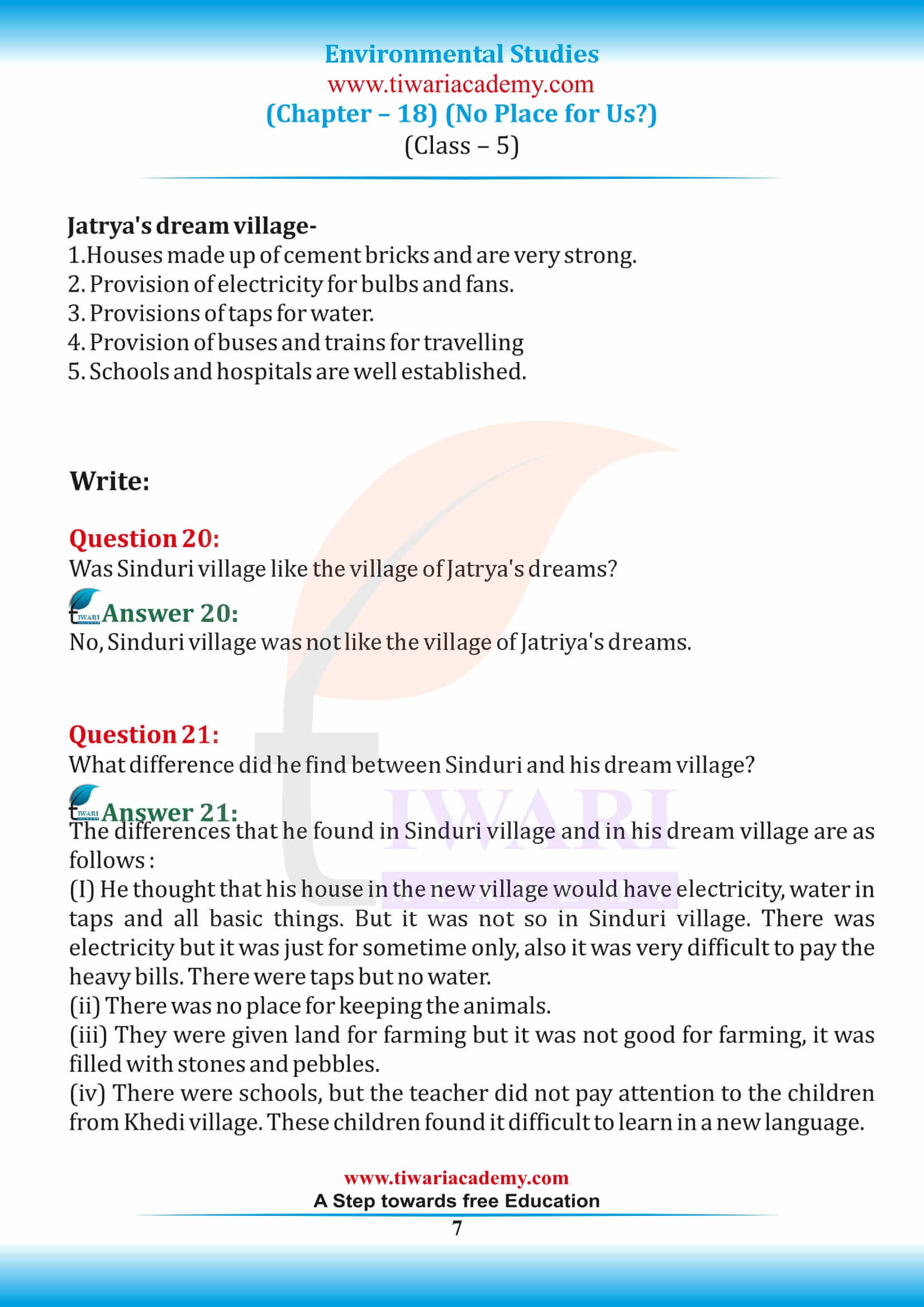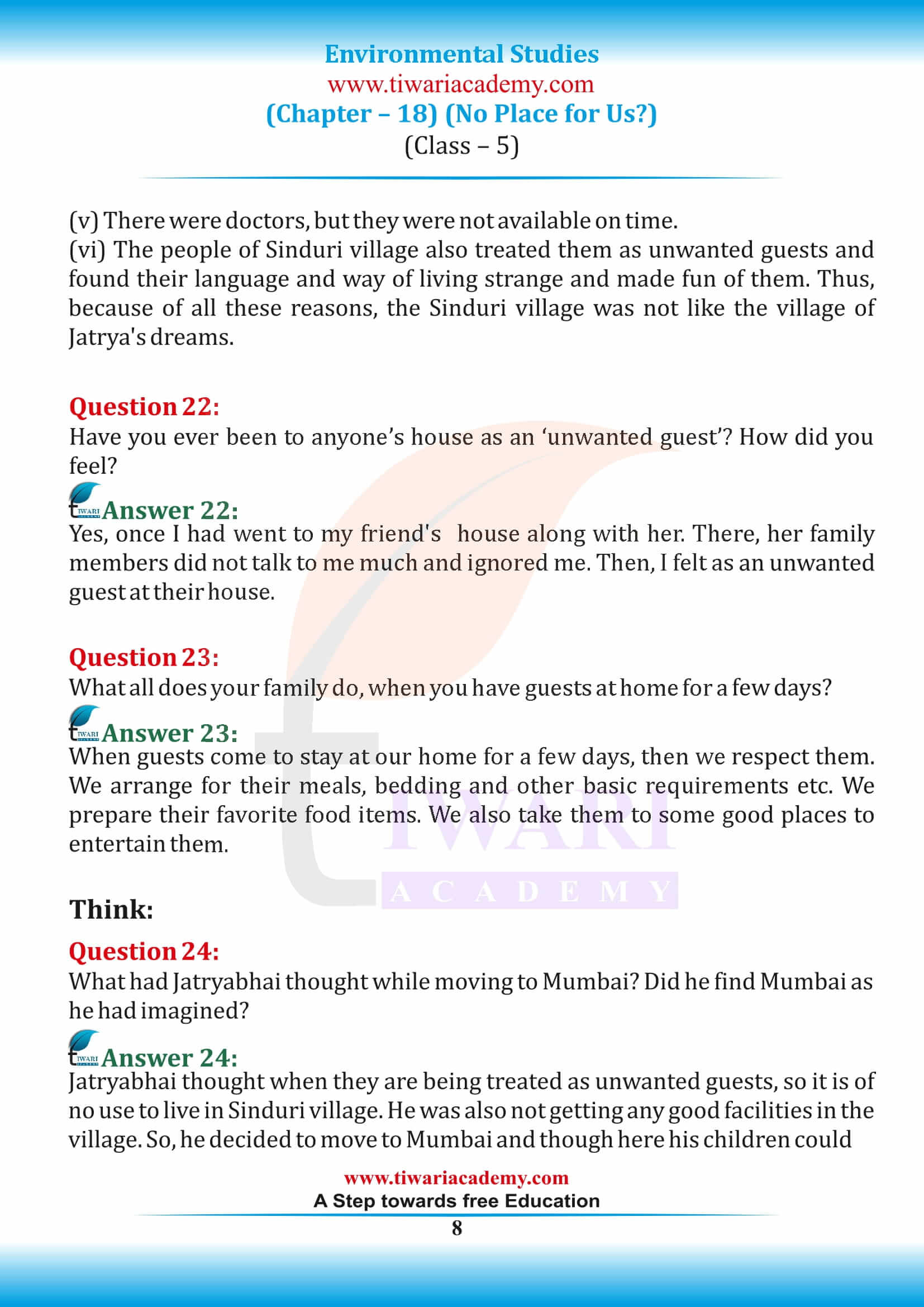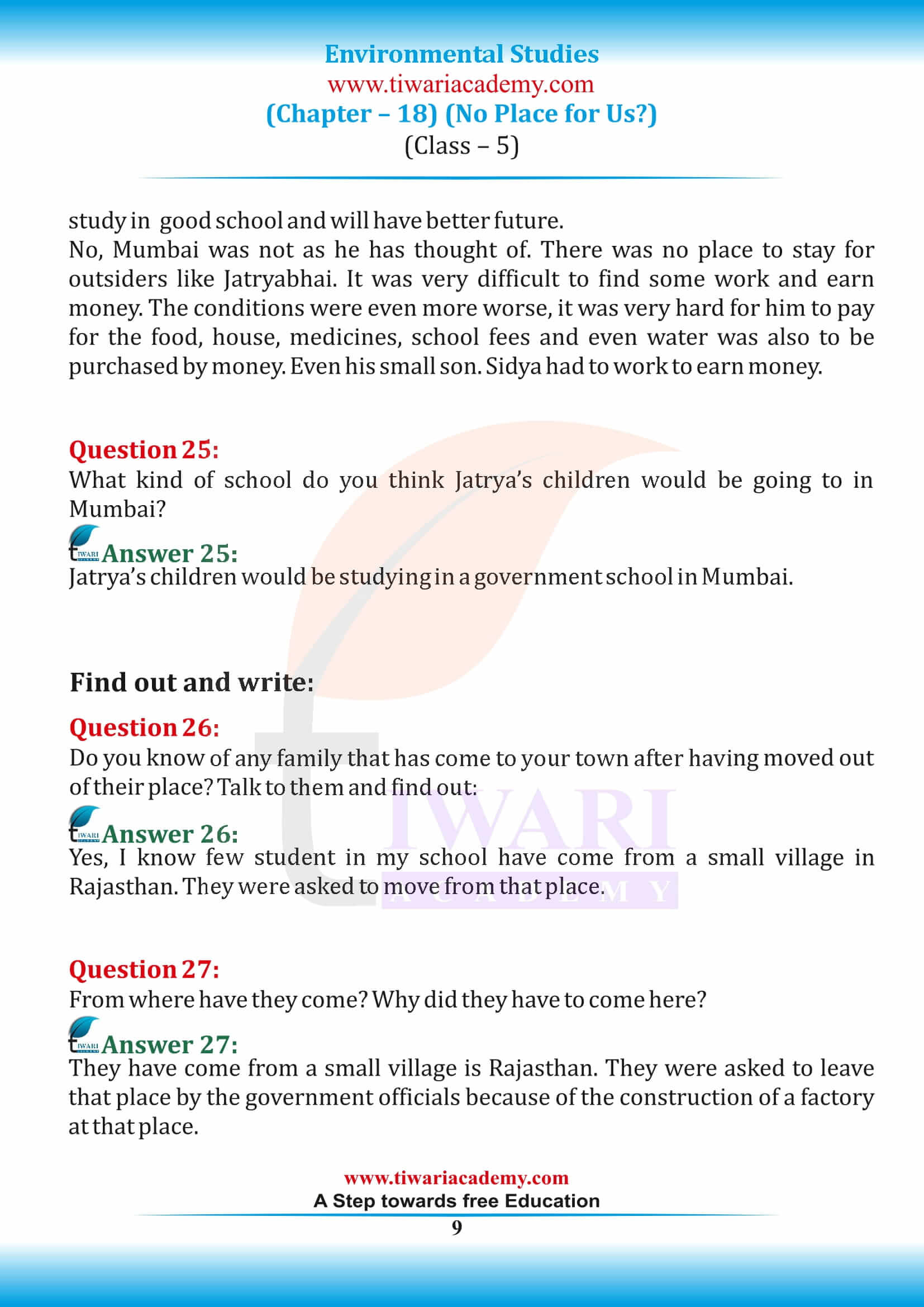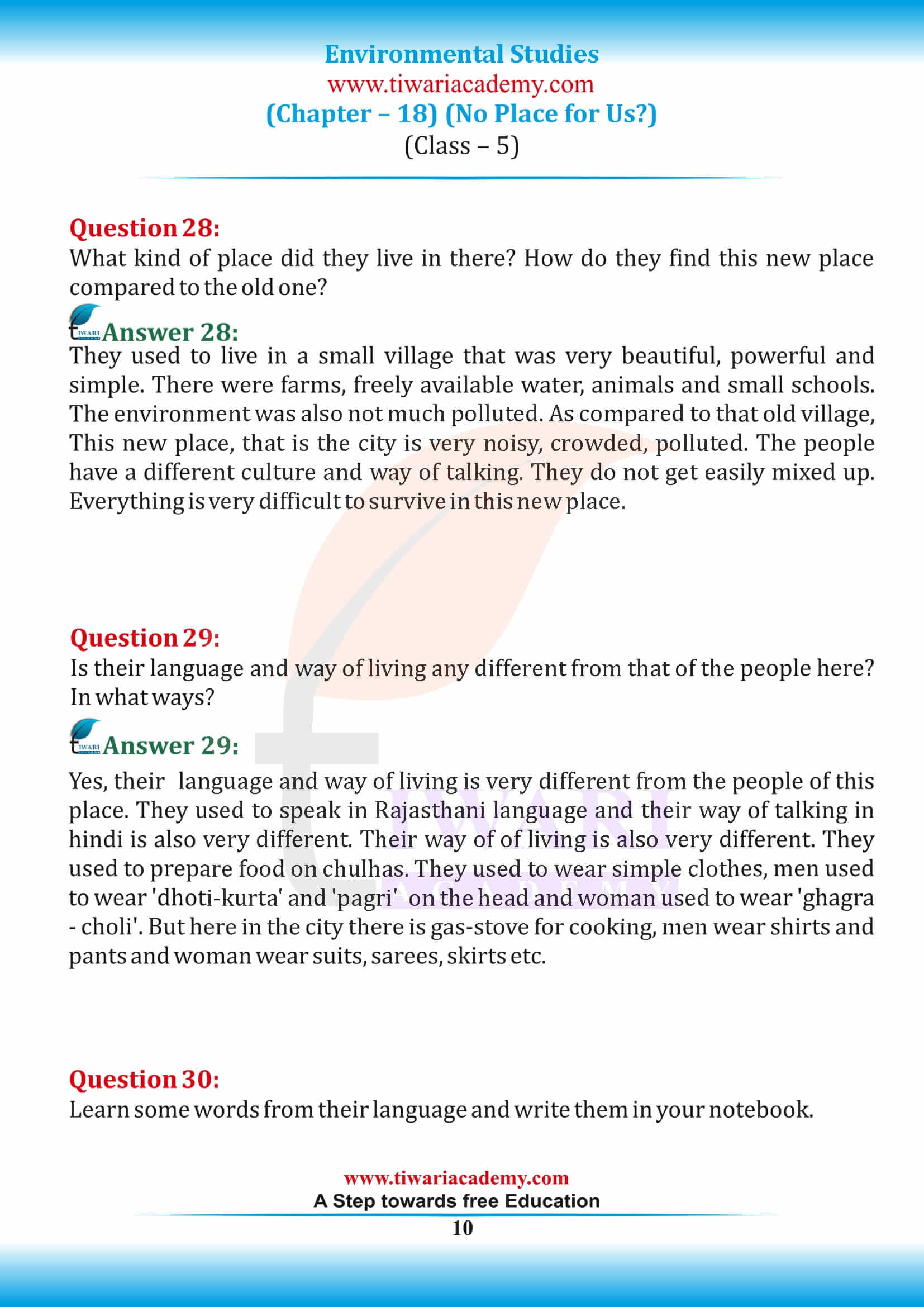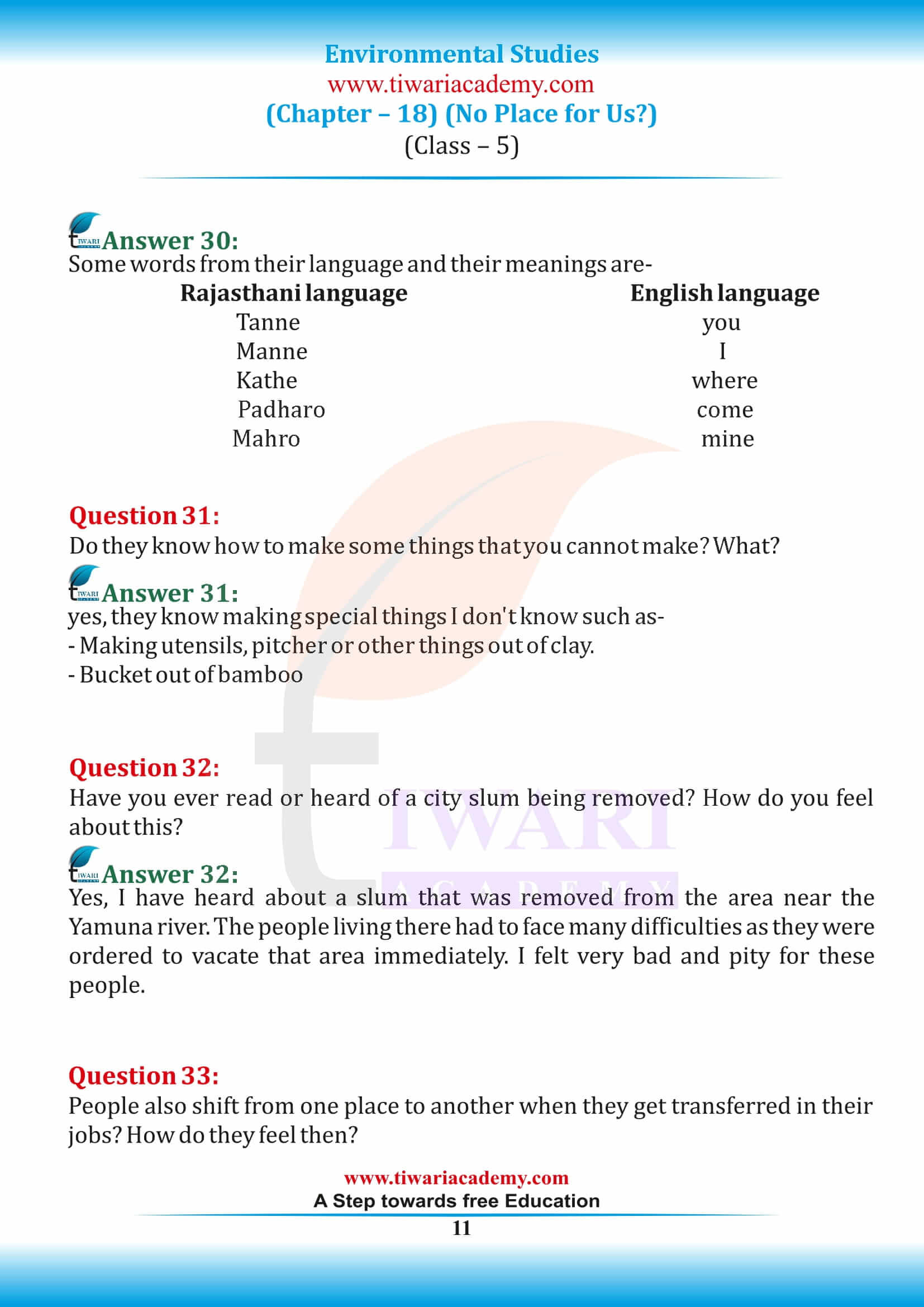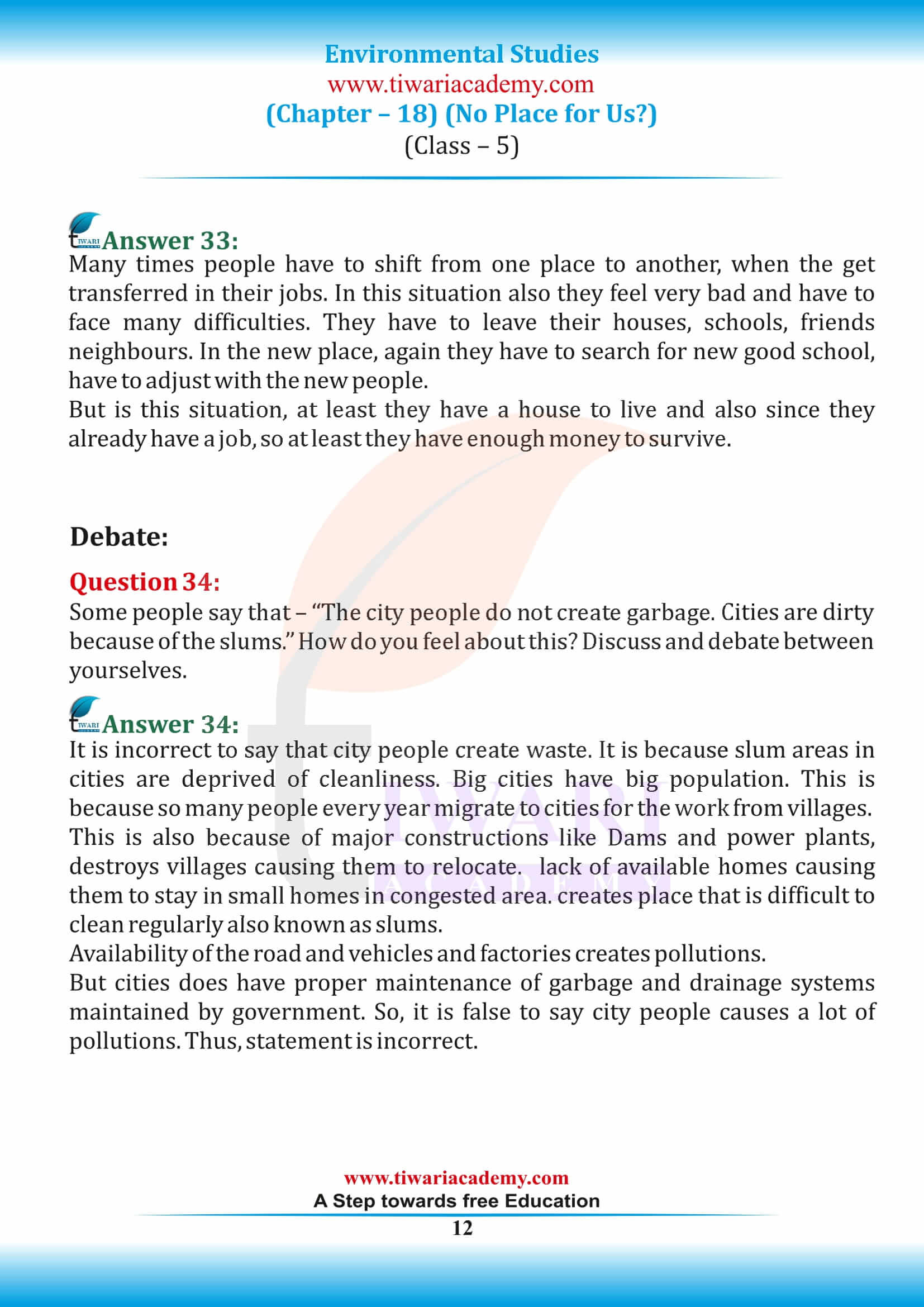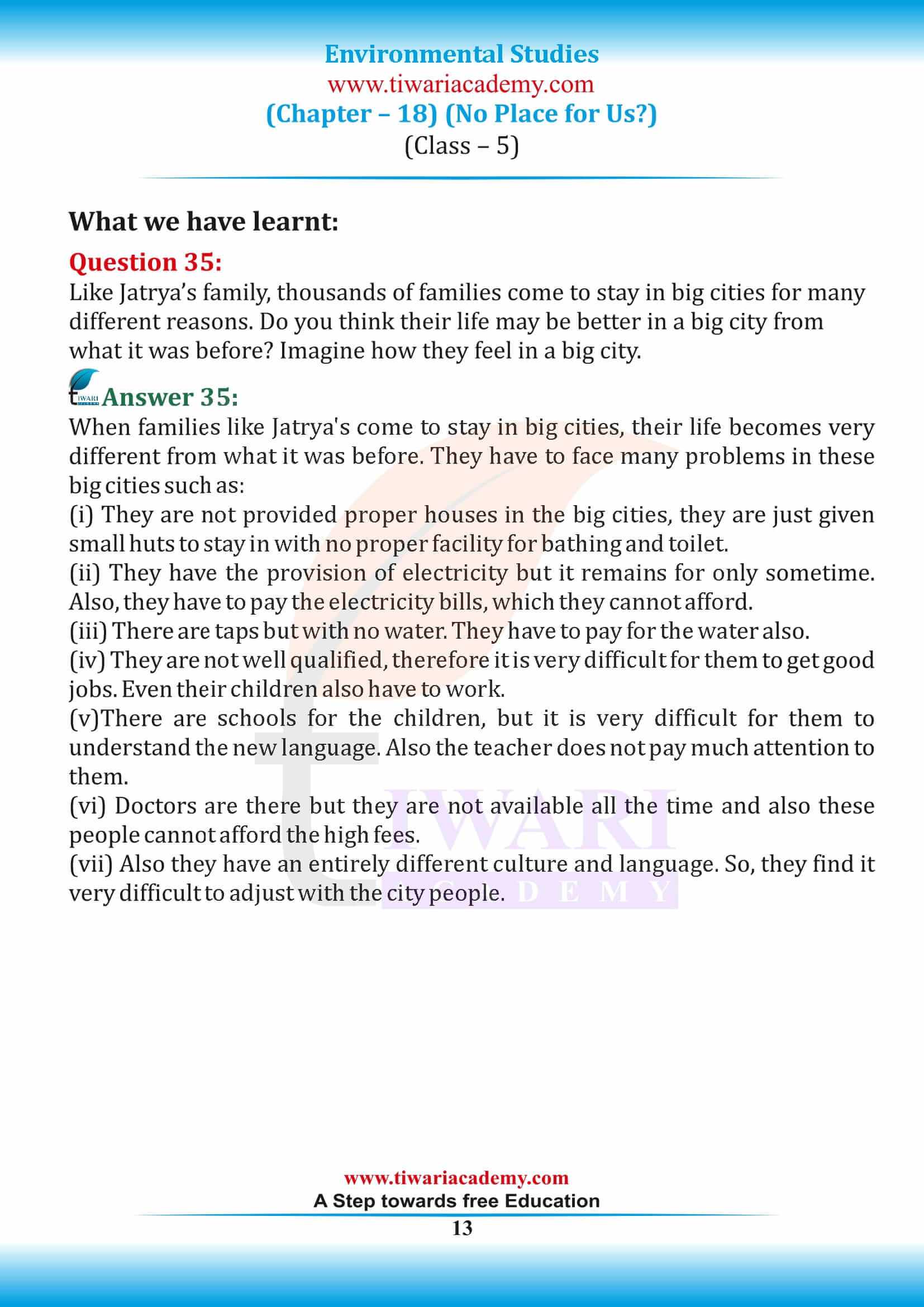 Last Edited: August 14, 2022