Class 7 English Grammar Chapter 20 Notice Writing. A notice is a hand-written, typed or printed piece of news or information, usually displayed publicly, say, on noticeboard. Notice writing involves the creative writing for any fact. Notice should be brief and to the point of the subject. The message in the notice must be clear and highlighted.
Chapter 20 of Class 7 English Grammar invites students into the realm of Notice Writing. Notices, be they handwritten, typed, or printed, serve as public announcements that disseminate crucial information. Typically showcased on noticeboards or other public spaces, they aim to draw attention to specific information, events, or announcements. An effective notice hinges on its ability to convey its core message succinctly, ensuring that readers grasp the key details promptly.
| | |
| --- | --- |
| Class: 7 | English Grammar |
| Chapter: 20 | Notice Writing |
| Books: | Study Material Book and Revision Book |
| Academic Session: | 2023-24 |
Notice Writing Sample – 1
You are Priti – Your expensive watch is lost in the school play ground. Write a notice on the school notice board providing all necessary details.
Notice:
March 8, 20xx
All the students are hereby informed that I have lost my HMT watch in the school ground. It happened in the first period. Finder is requested to return it to me. I shall be thankful.
Priti
Class – VII
Diving deeper into the art of notice writing, this chapter underscores the importance of brevity and clarity. Every notice should distill its subject matter to its essence, avoiding unnecessary embellishments. The primary message should not only be transparent but also prominently highlighted. By adhering to these guidelines, one ensures that the notice effectively communicates its intent to its target audience.
Notice Writing Sample – 2
You have found a wrist watch. Draft a notice for all the students about it. You are Sonam of VII A.
Notice:
Aug. 12, 20xx
Found a wrist watch while playing in the playground in 2nd period. It is an H.M.T. watch. Whosoever has lost his/her watch may contact and take it after giving right details from the undersigned.
Sonam
VII-A
Notice Writing Sample – 3
Reena of Class VII-A has found a purse lying in the school lawn. She puts up a notice on the school notice board asking the owner to collect it from her. Write a notice using not more than 40 words.
Notice:
15th March, 20xx
A purse containing cash and some important documents has been found in the school lawn. The rightful owner can collect it from the undersigned after establishng the ownership.
Reena
Class-VIIA
Notice Writing Sample – 4
Indian Red Cross Society ir organising a Blood Donation Camp in your school. As a class incharge inform the students and motivate them to participate in this event. You are Ajit of class VIII-C.
Notice:
3rd Feb, 20xx
A Blood Donation Camp is being organised in the school on Sunday, 12th Feb 2021 at 10 a.m. All the students are advised to participate in it whole heartedly. A poster making contest will also be held on the same day.
Ajit
VIII-C
Head Boy
Notice Writing Sample – 5
Mr. R.K. Bhatnagar IAS has agreed to visit your school and address the staff and students on the topic 'Value of Discipline' in your school, Adarsh Public School, Delhi on 20th November 20 xx – at 5 p.m. As a Head Boy, write a notice inviting the staff and the students to the talk. Do not use more than 40 words.
Notice:
15th November, 20 xx
Talk on Value of Discipline
Mr. R. K. Bhatnagar, IAS, Rohini will speak on 'Value of Discipline' in the school hall on 20th November at 5 p.m. The staff and students are cordially invited.
Amit
Head Boy
Notice Writing Sample – 6
You are Sandeep Singh of Class-VII. You want to invite the students on Van Mahotsav for a tree plantation activity in the school and nearby areas. Draft a notice in not more than 40 words.
Notice:
5th August, 20xx
On the occasion of 'Van Mahotsav' a tree plantation ceremony is to be held in the school on 15th August, Saturday during recess and afterwards. Interested students should contact the undersigned.
Sandeep Singh
Class
VII-A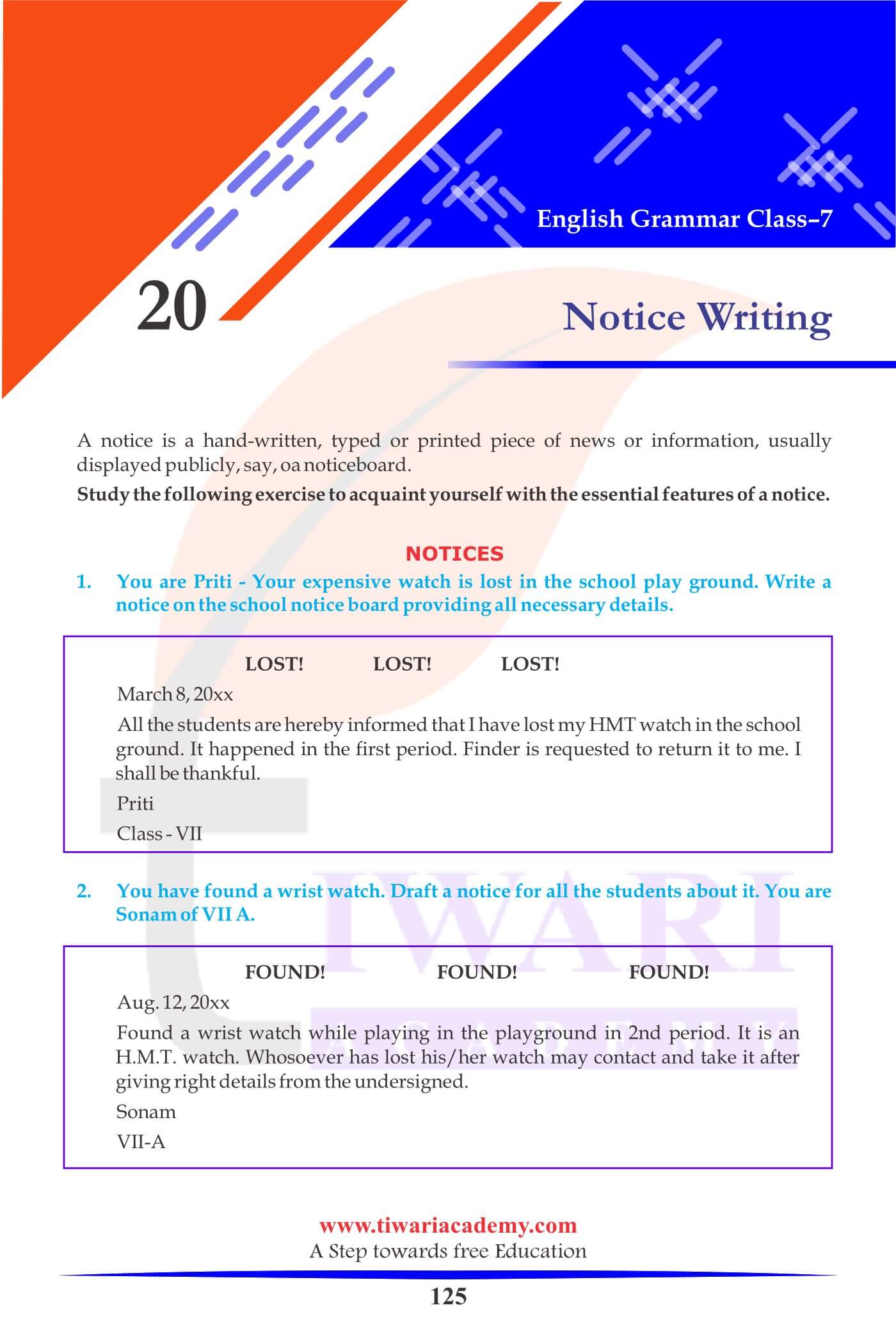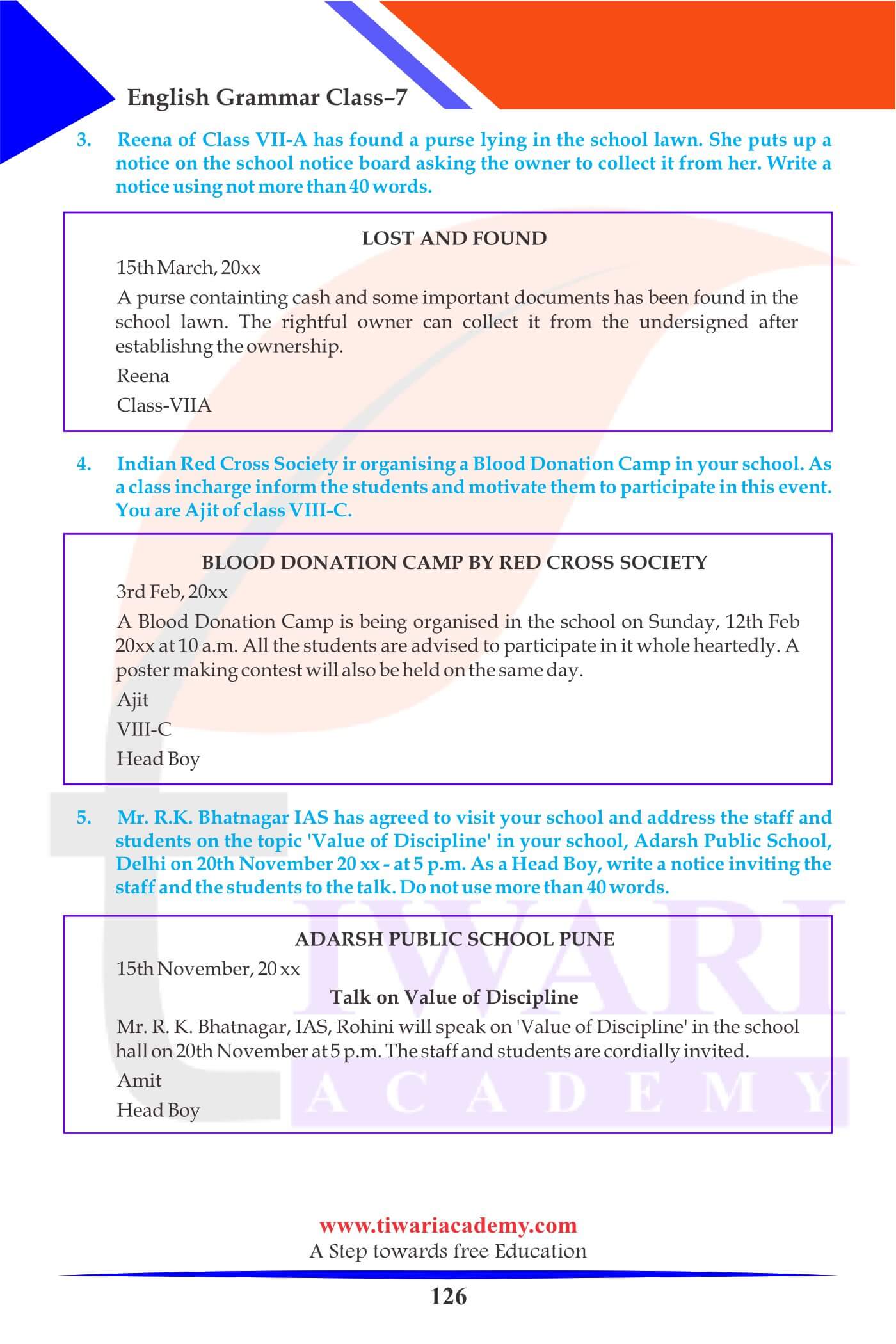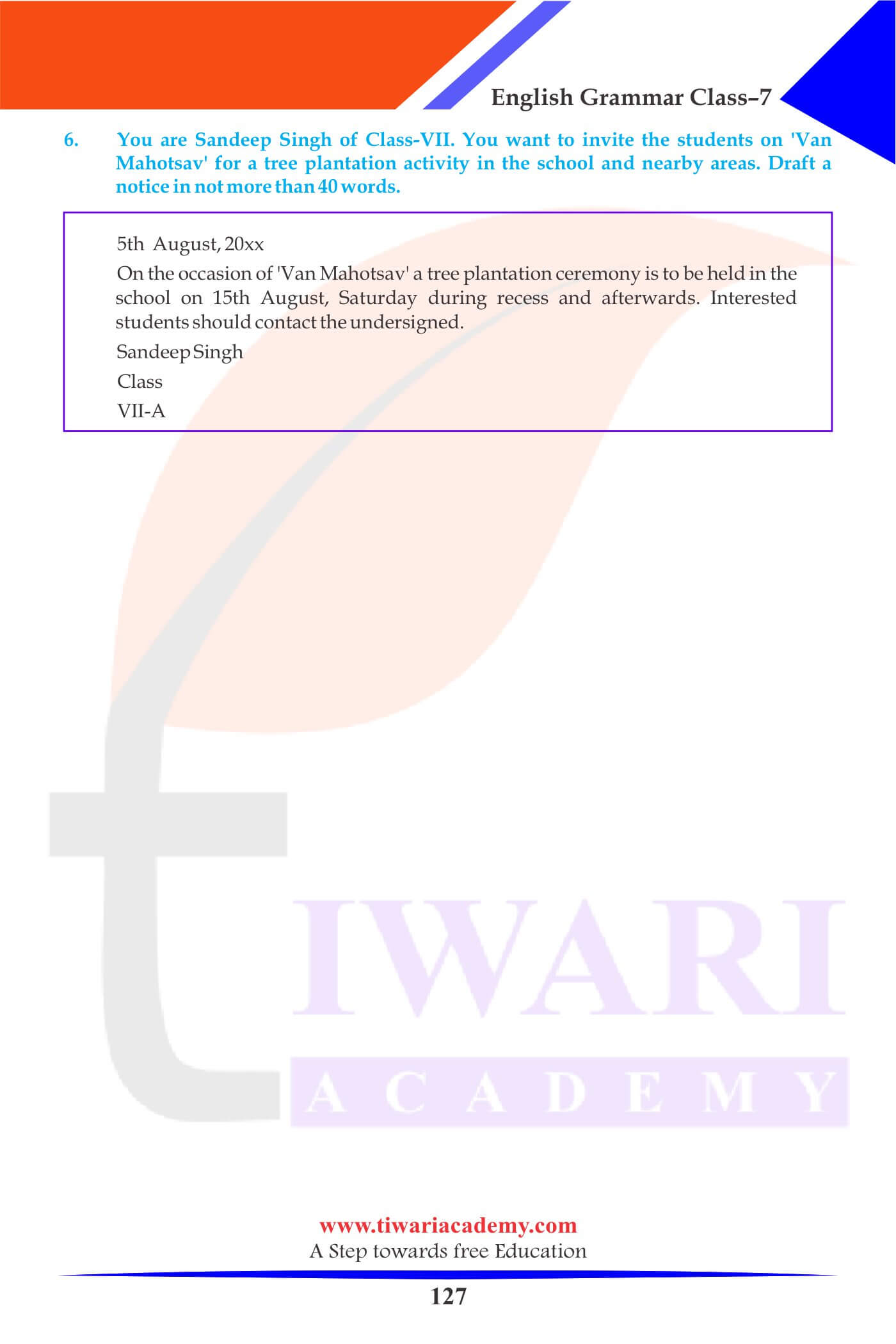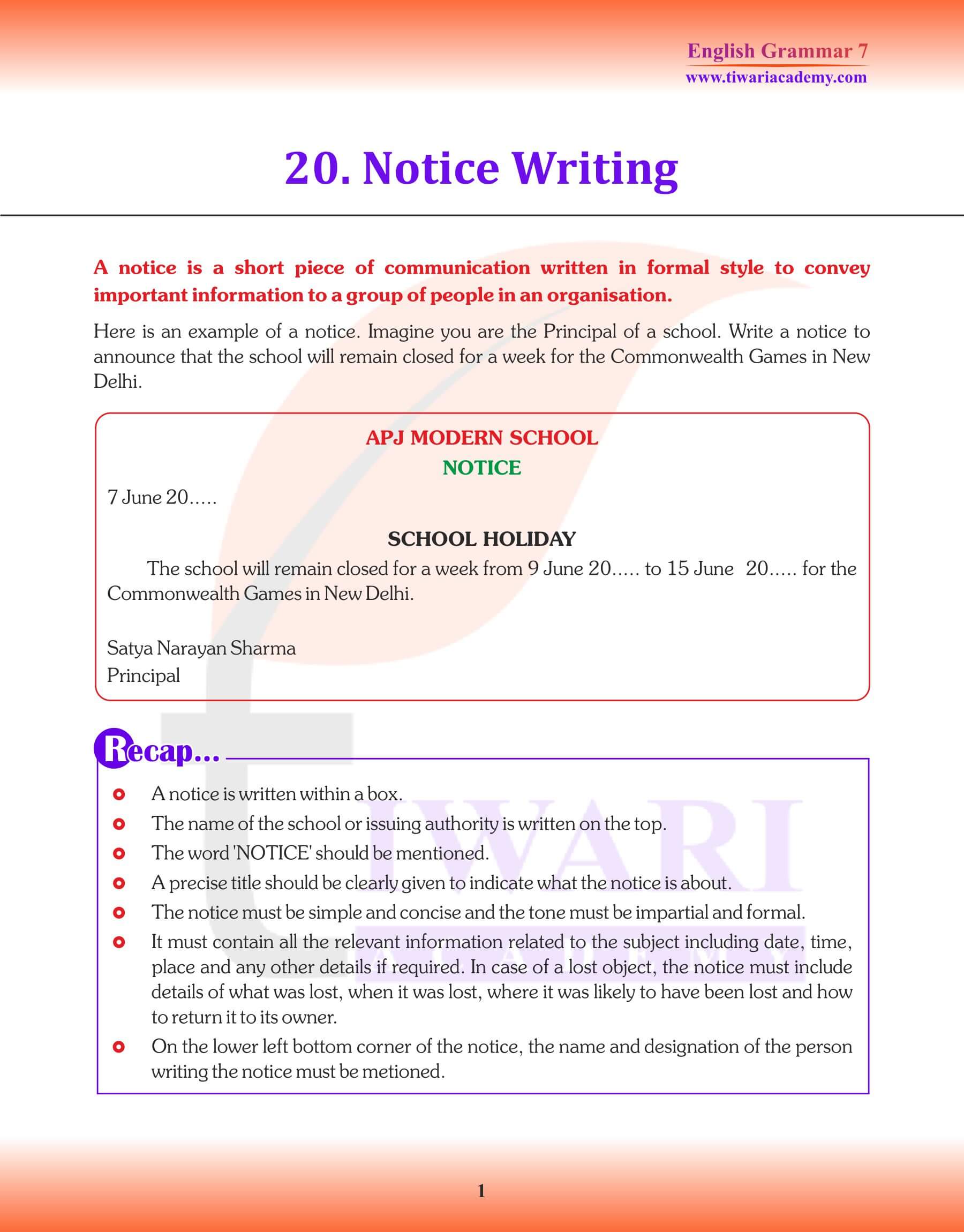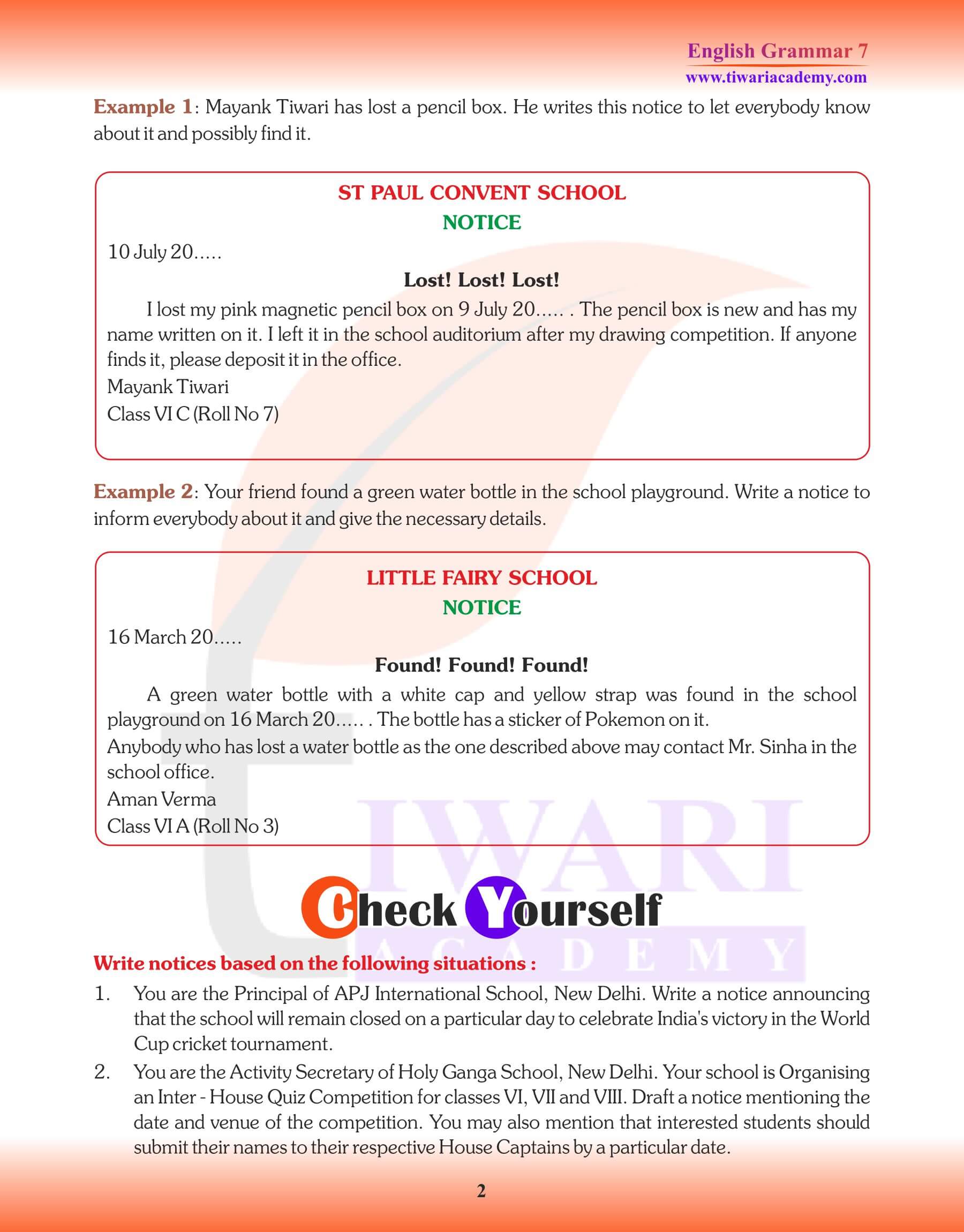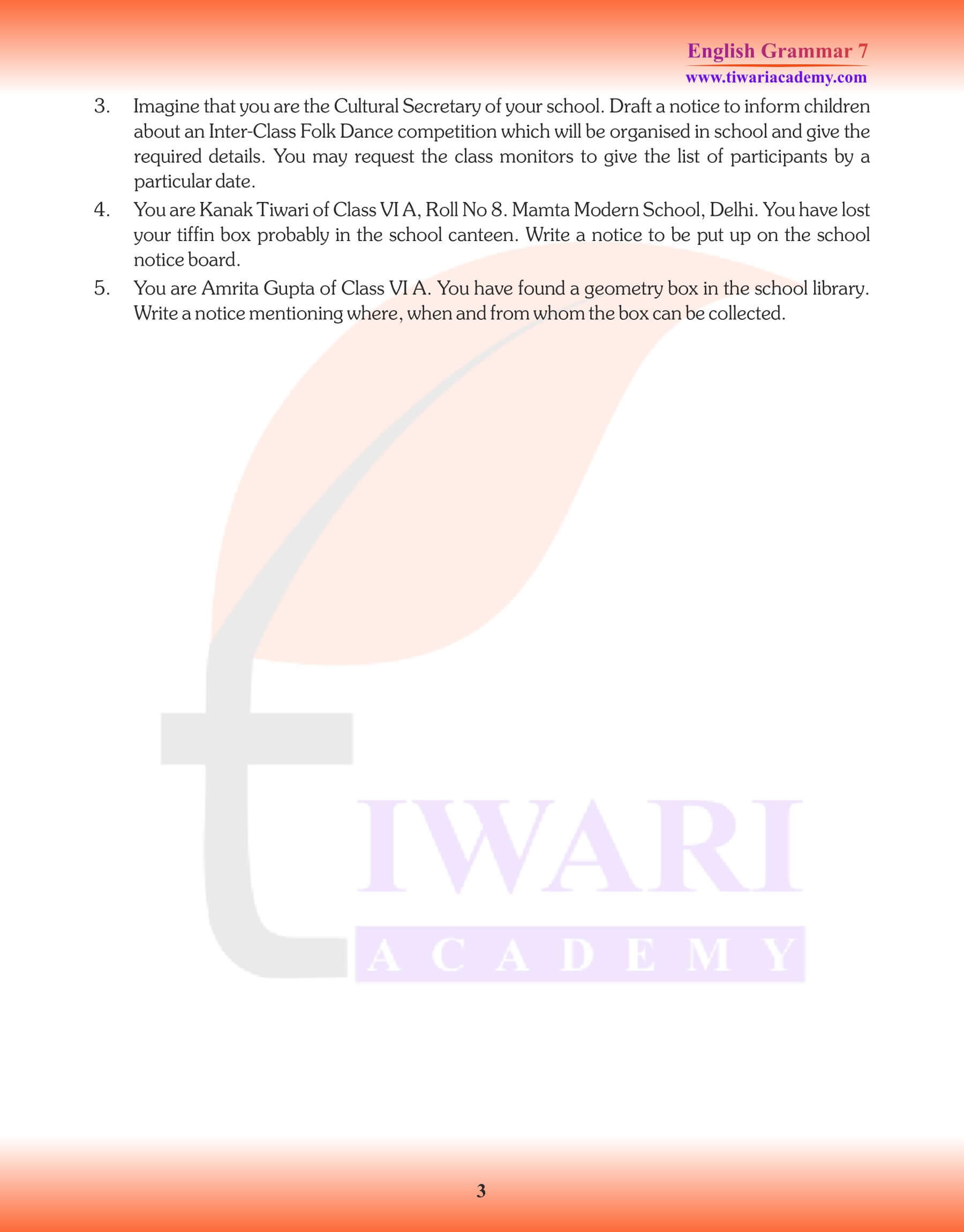 Last Edited: October 25, 2023