Class 7 English Grammar Chapter 21 Message Writing. The telephone is an instant means of communication. It is a two way traffic. But sometimes the caller is not able to convey the message to the person concerned, as the latter is not available at that moment. So the person receiving the call writes it down to be passed on to the person for whom the message is meant. This is for the sake of accuracy.
| | |
| --- | --- |
| Class: 7 | English Grammar |
| Chapter: 21 | Message Writing |
| Study Material: | Textbook and Revision Notes |
| Academic Year: | 2023-24 |
Points should be noted while writing the message
Write the name/names of the person/persons for whom the message is meant.
Write the message legibly, clearly and accurately.
Mention the name of the person who has telephoned.
Don't miss any important point of the message.
Stick to the word limit.
Put your signature under the message.
Message Writing Example 1
Following is a conversation between Amit and Mayank, Mayank is calling from Gurunanak Computers. She wishes to inform Sandeep, Amit's brother about some discount offer. Sandeep is not at home. So, his brother/Sandeep writes the message for him.
Amit: Hello?
Mayank: Hello! This is Mayank, from Teachwell Computers.
Amit: Yes, what can I do for you. I'm Amit speaking.
Mayank: I want to speak to Mr. Sandeep. Is he at home?
Amit: No, he isn't at home. You can leave the message with me.
Mayank: Actually, Mr. Sandeep has enquired about our Multi-media Course. At that time there wasn't any discount. Now the company is offering 60% off on certain courses. The offer ends today. this is a golden chance which he
mustn't miss.
Amit: I will definitely inform him.
Mayank: Thank you very much.
Amit: Thank you.
Message
Sandeep
Mrs. Mayank called from Gurunanak Computers. They are offering 60% discount on some courses. Today is the last day. If you are interested kindly visit them.
Amit
Message Writing Example 2
Read the following telephone conversation between Reena and Pihu. Reena is about to leave home and will not be able to meet Priti. She leaves a message for her. Write this message not more than 40 words.
Reena: Hello!
Pihu: Could I speak to Priti? I am her friend Pihu.
Reena: She isn't at home. She has gone to attend a relatives marriage.
Pihu: When will she be back?
Reena: Within an hour or so.
Pihu: Could you please tell her on her return that I am coming to see her at 4 p.m.?
Reena: You're most welcome to our place. But are you coming for some specific purpose?
Pihu: Yes, I would like to consult her about the subjects I should take up in the next class. She is my senior.
Reena: I see. Well I'm leaving for my office in about fifteen minutes. So I shan't be able to convey your message to Pihu. Anyway, I'll have it for her in writing.
Pihu: Thank you so much.
Message
5th April, 2020
4 p.m.
Priti
There was a telephone call for you from your friend Pihu. She wants to see you today at
5 p.m.. She is coming to consult you about the subjects she should take up in the next class.
Reena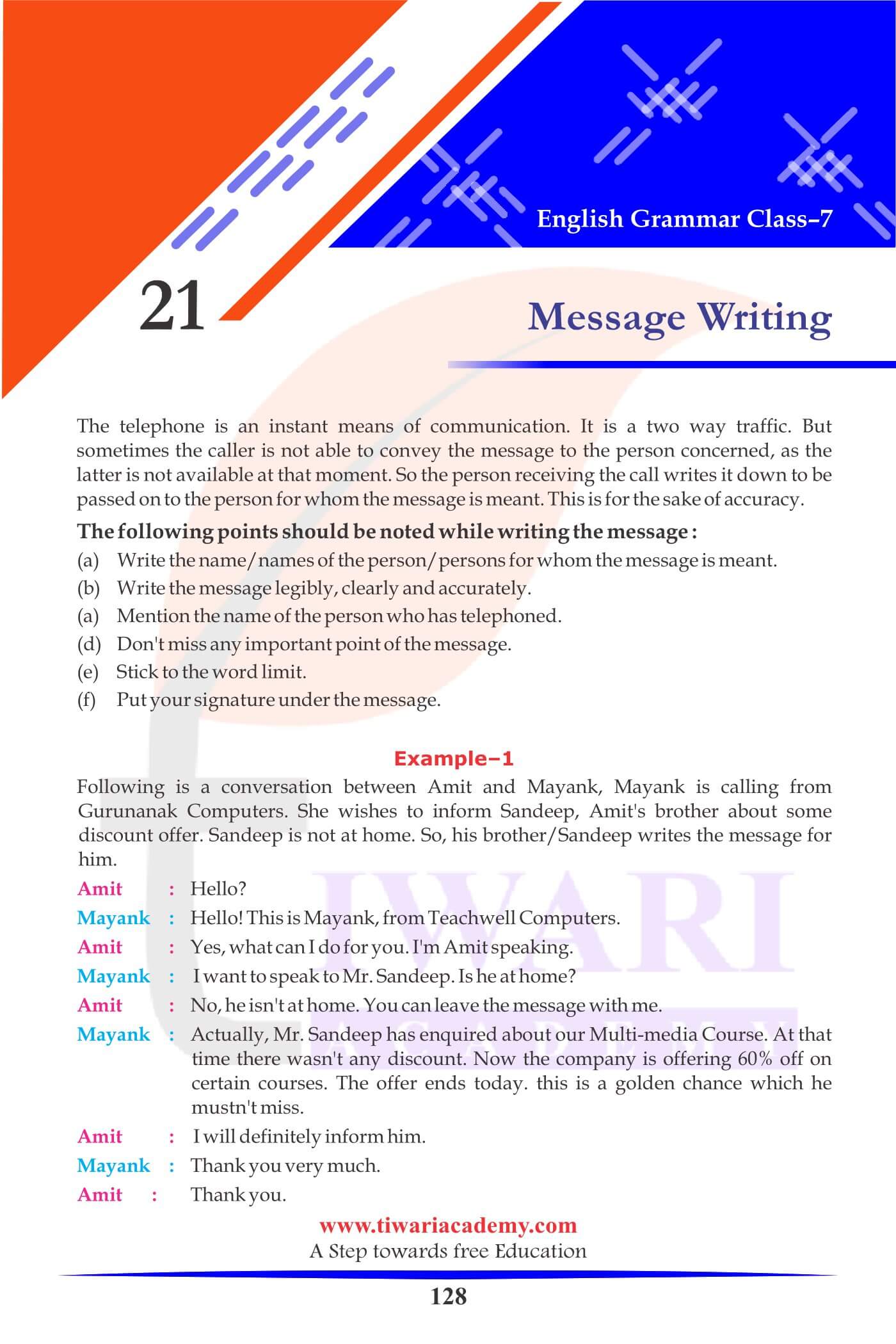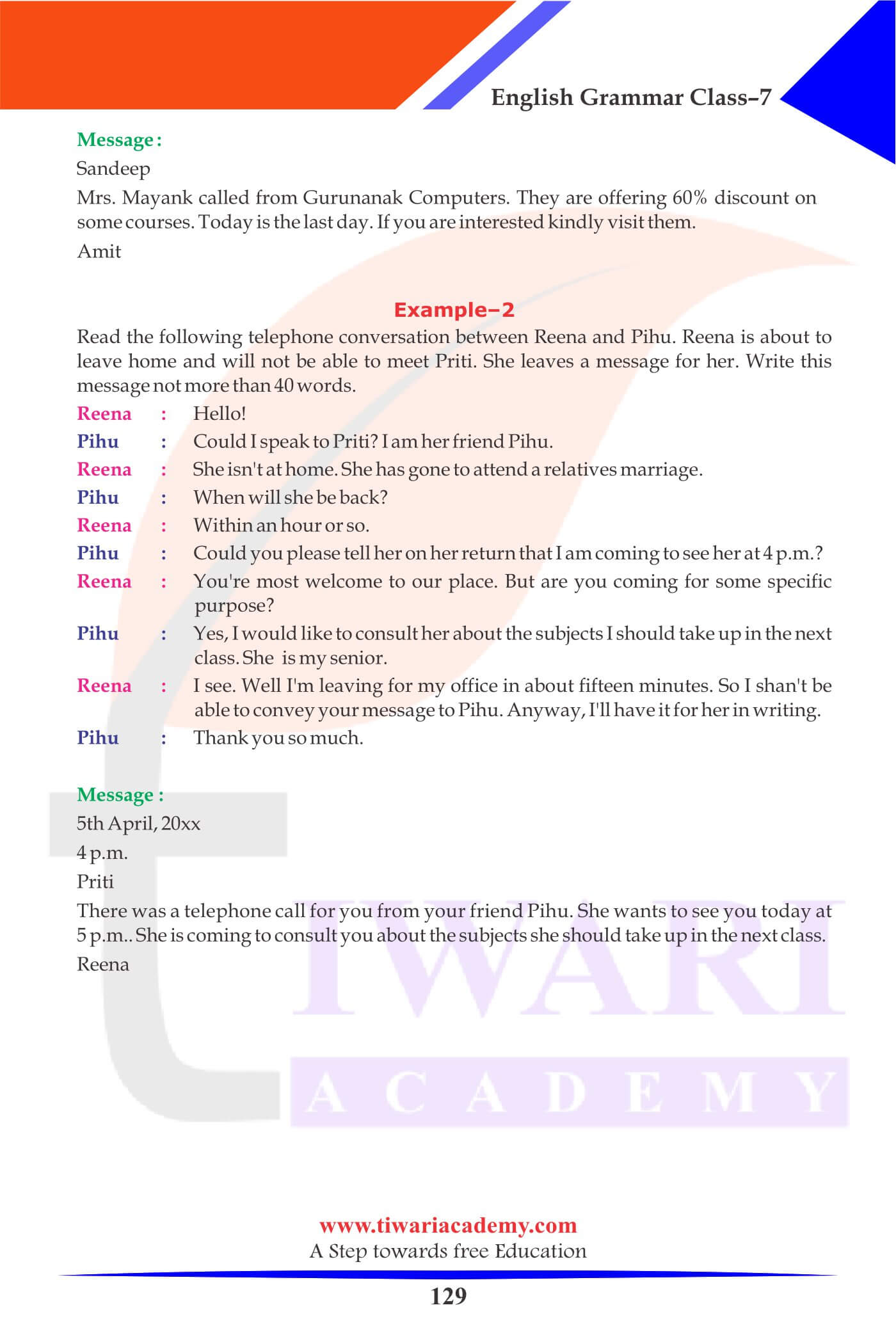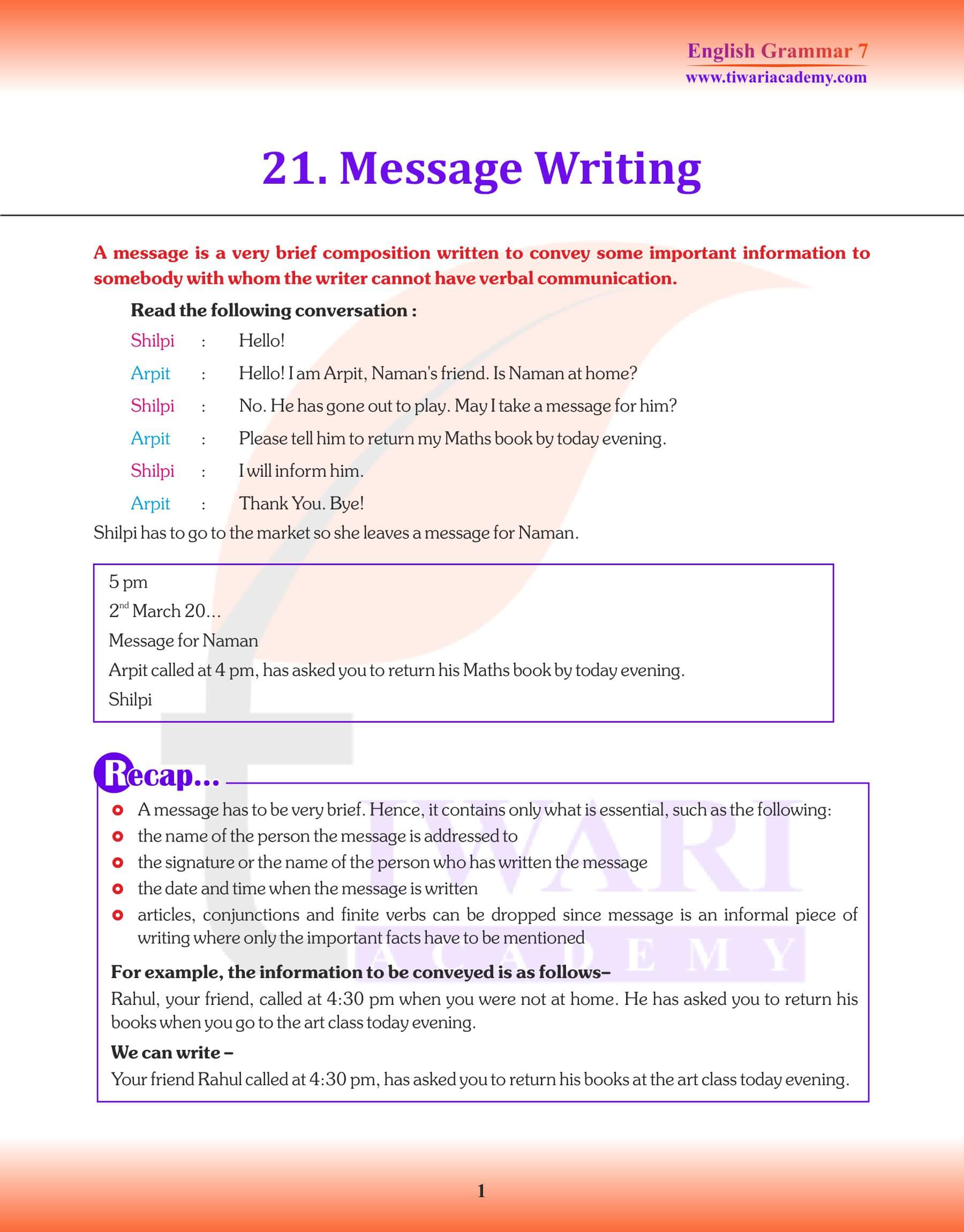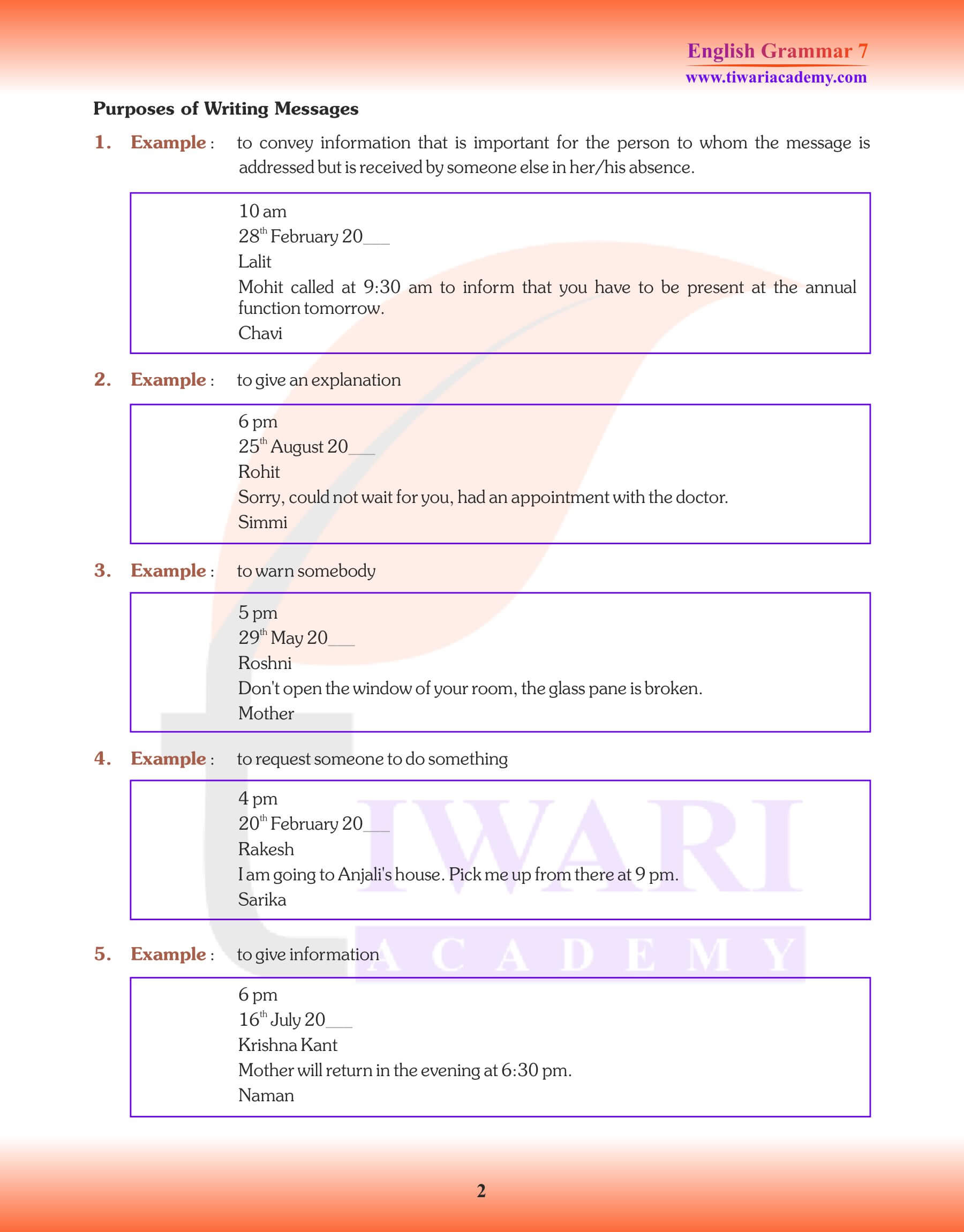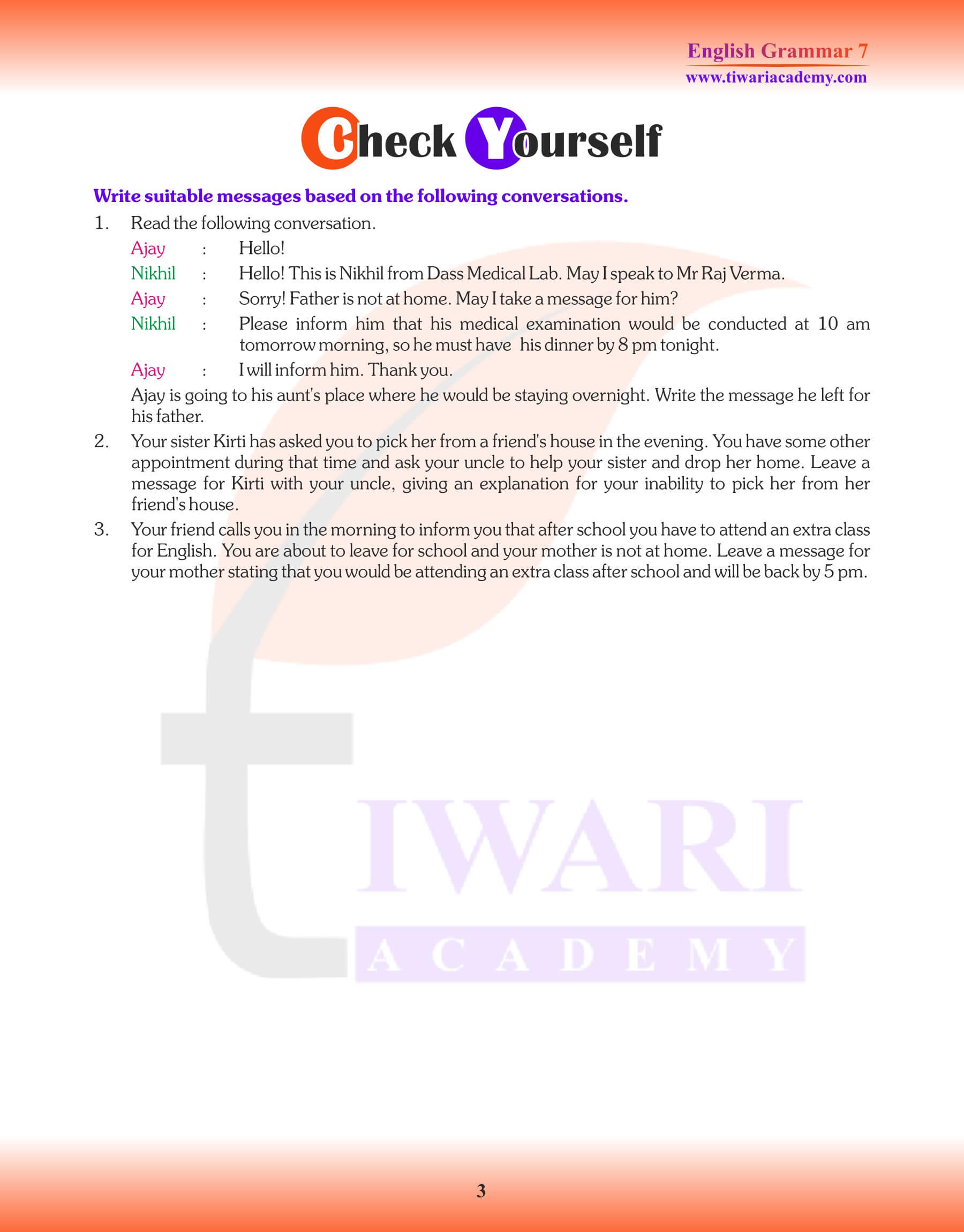 Last Edited: June 14, 2023