Class 8 English Grammar Chapter 10 The Preposition. Prepositions are parts of Speech. They show a relationship between a noun and a pronoun and another part of the sentence The noun/pronoun is referred to as the object of proposition. A gerund can also be the object of the proposition but not an infinitive. Prepositions are mostly place mostly before their object. Prepositions are used to indicate position, movement and time preposition are also used as adverbs, adjectives and conjunctions.
| | |
| --- | --- |
| Class: 8 | English Grammar |
| Chapter: 10 | The Preposition |
| Books: | Textbook and Revision Notes |
| Academic Session: | 2023-24 |
Uses of Prepositions
At, In, On
1. I live at Aurangabad
2. My uncle lives in Delhi.
3. The poor man is on the verge of starvation.
In, Within, Before: In denotes at the end of a period of time; within denotes before the expiry of the period of time before is used for a point of time as,
1. I will return in a month.
2. I will return within a month.
3. I will do it before May next.
After, Behind: "After" generally refers to time; while "Behind" refers to place as, The boy came after 10 O'clock and stood behind the school building.
By, With: "By" is used after verbs in the Passive Voice to express the agent or the doer. "With" denotes the instrument with which the action is done as, The tiger was killed by the hunter with a gun.
Since, For, From: Since is used for "point of time", while for is used for "period of time", "From" is used for a point of time as,
1. I have not seen him since last Monday.
2. She has been ill for three months.
3. Men work from morning till evening.
In, Into: "In" denotes "rest within", while "into" denotes "motion inwards" as,
1. Mother is in the room.
2. She went into the temple.
On, Upon, Over, Above: "On" shows rest and denotes contact of the surface "Upon" shows movement as,
He sat on a bench.
The dog sprang upon a cat.
Jyoti is above me in the class.
At noon the sun is over our heads.
Between, Among:- "Between" is used with two persons or things, "Among" is used with more than two as,
1. She divided her property between her two daughters.
2. The Rajputs quarreled among themselves.
Beside, Besides:- "Beside" means by the side of while "Besides" means in addition to as,
1. She came and sat beside me.
2. Besides being fined, he was punished.
About (nearness of some kind):
1. What do you know about her?
2. Tell me all about it.
Errors in the Use of Prepositions
| Incorrect | Correct |
| --- | --- |
| My friend lives at Delhi. | My friend lives in Delhi. |
| We went to home. | We went home. |
| She shirks from work. | She shirks work. |
| We pray God daily. | We pray to God daily. |
| I hit him by a stone. | I hit him with a stone. |
Over means as a higher position
Water was flowing over plants and bushes. (Contact)
At noon the sun is over our heads. (directly above)
Sh. L.L. Chauhan is over fifty years old. (More than)
My uncle lives over the street. (on the other side of)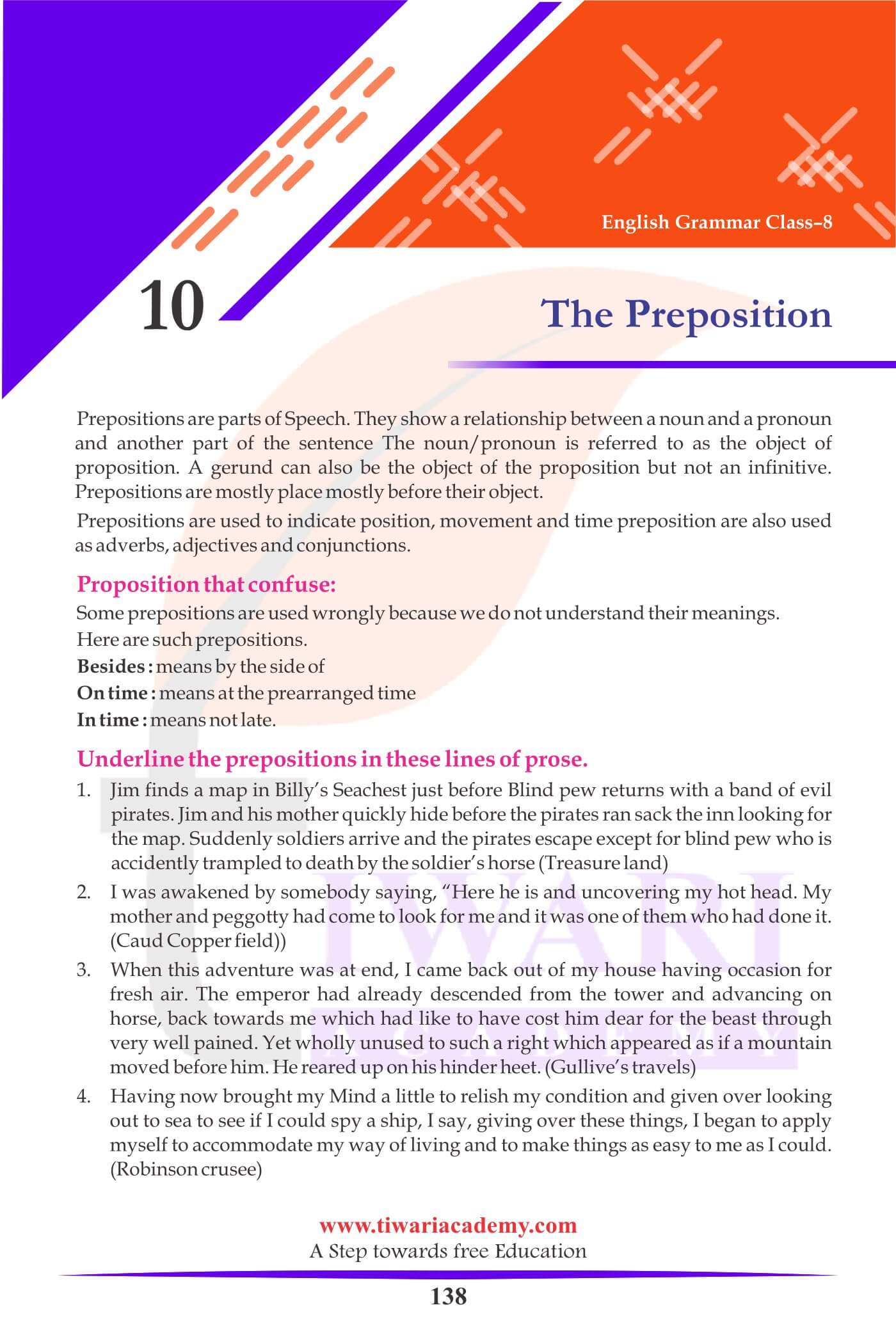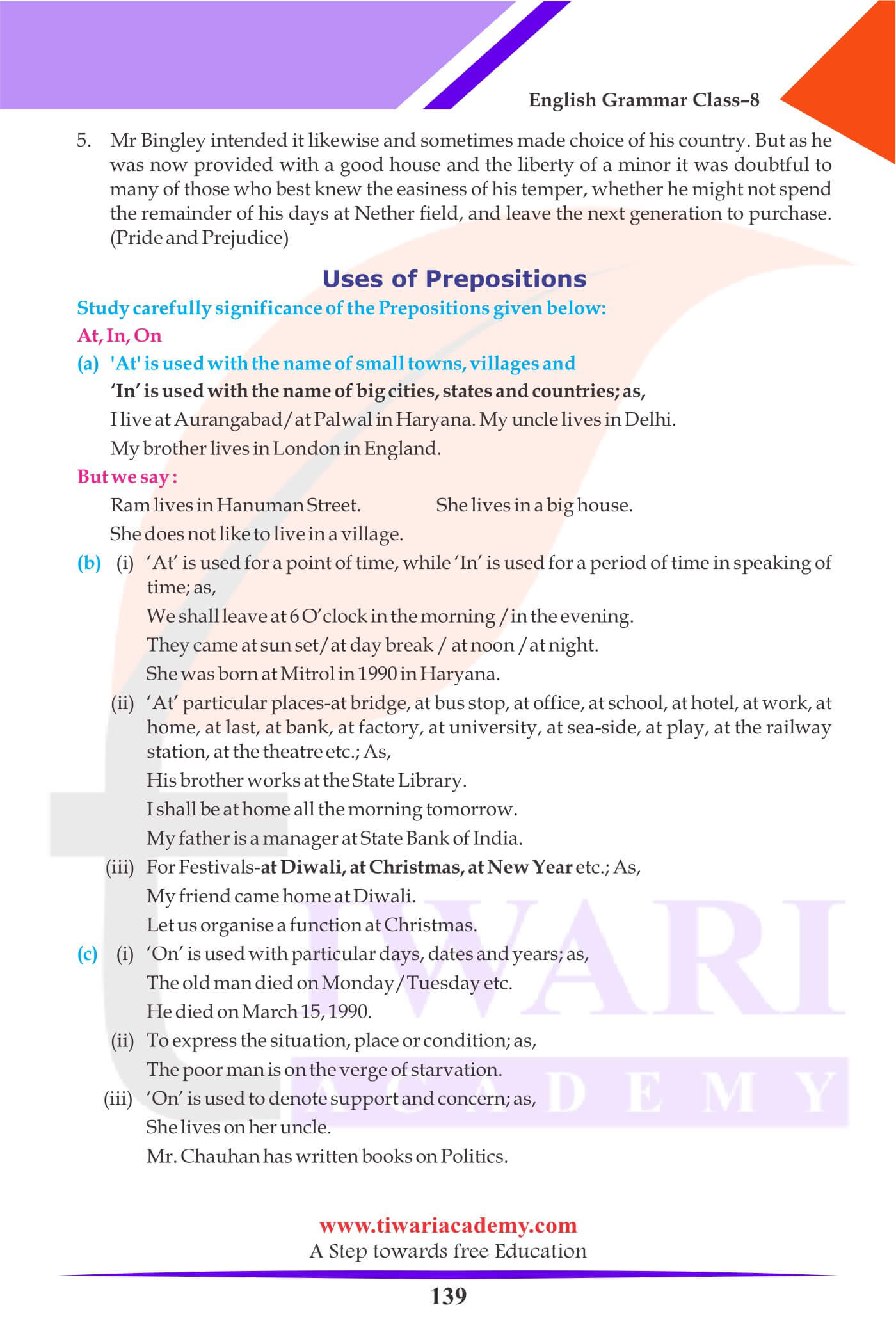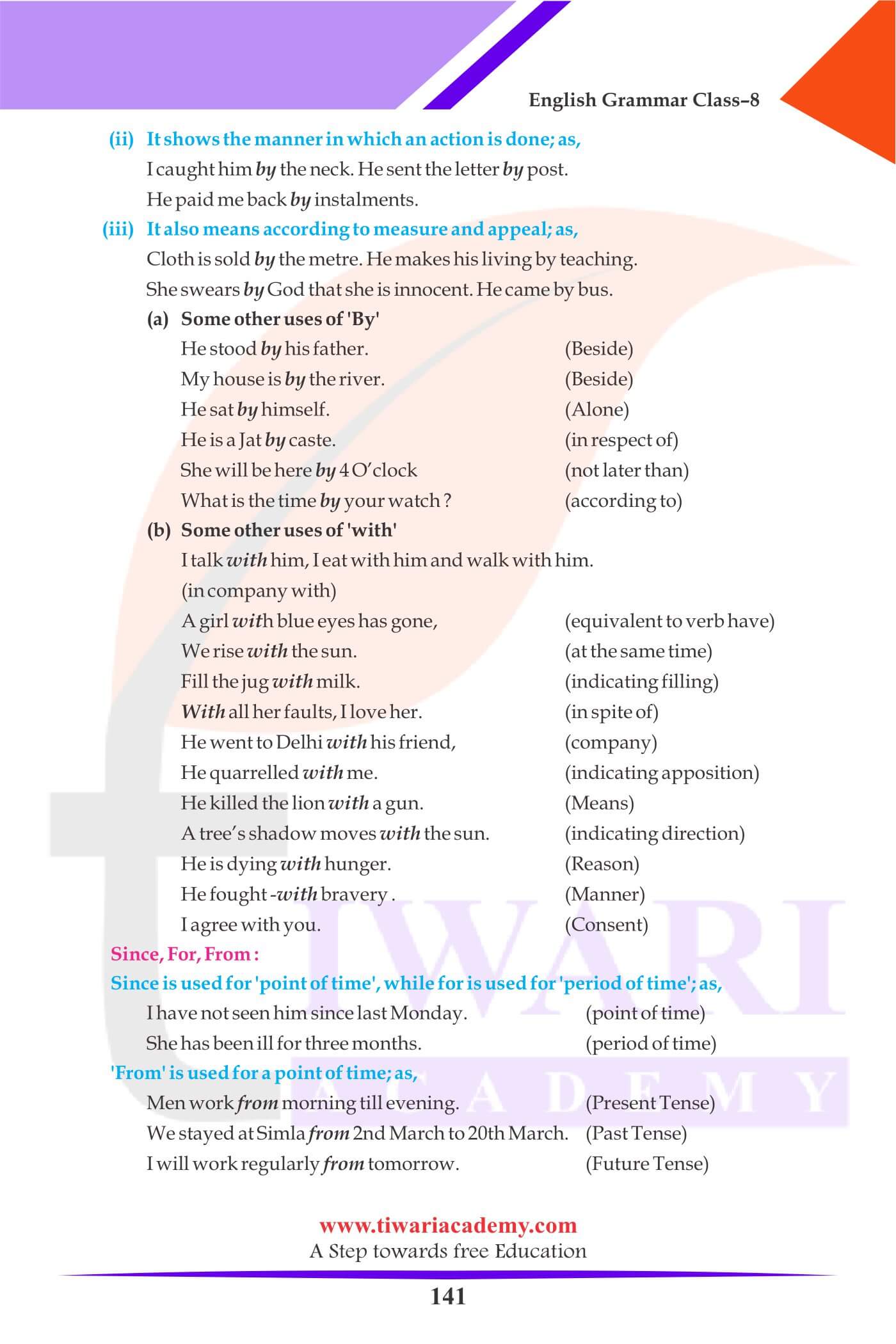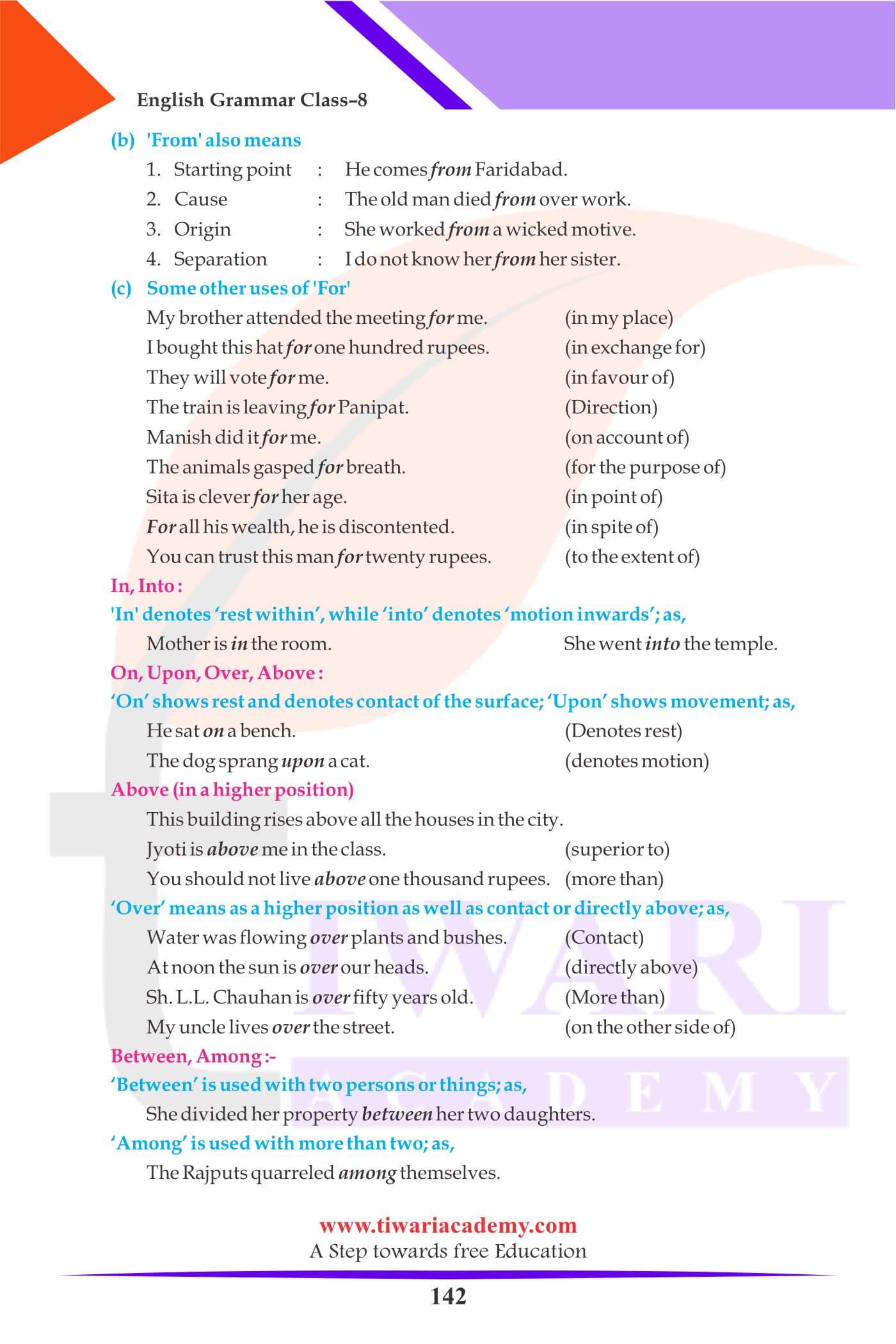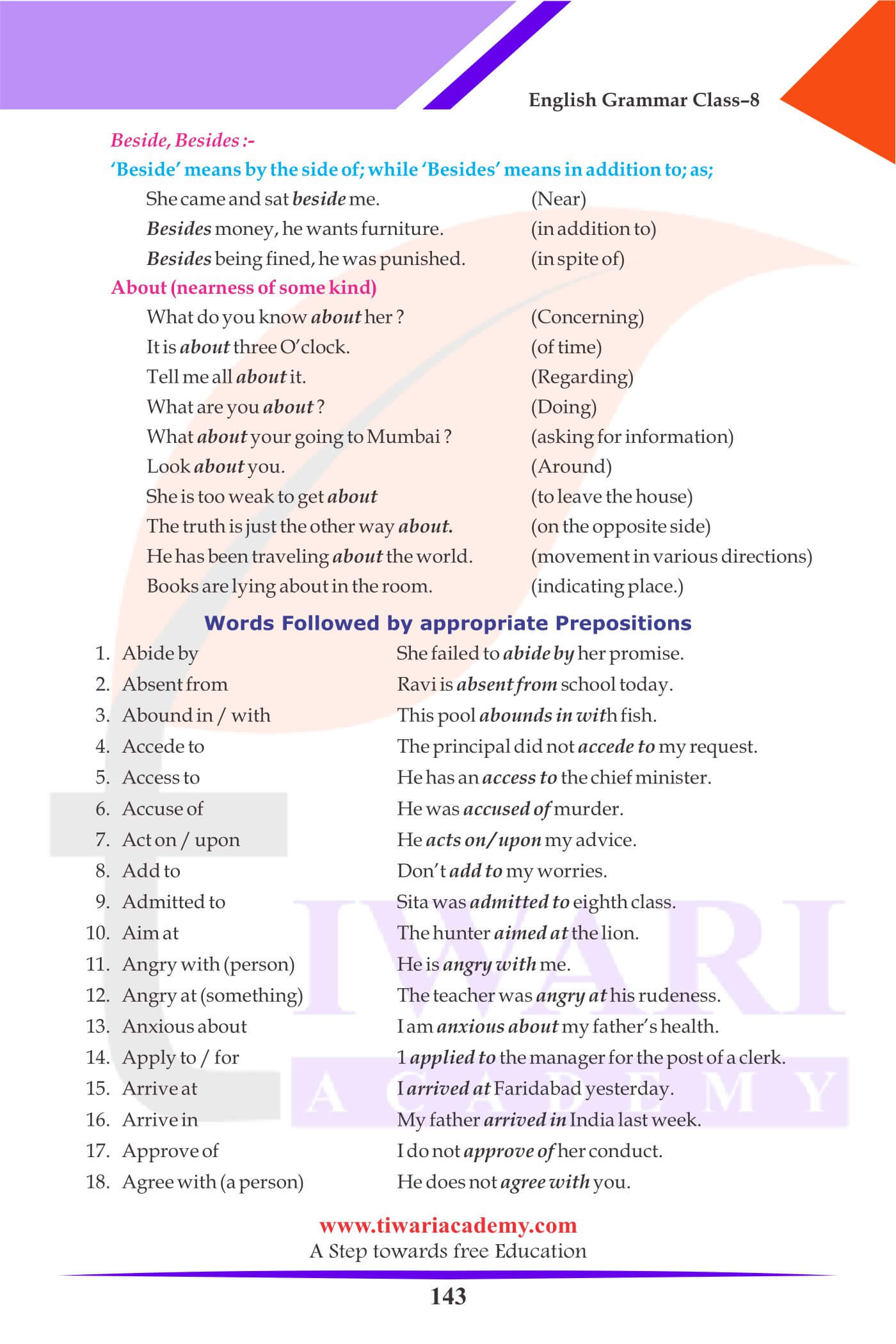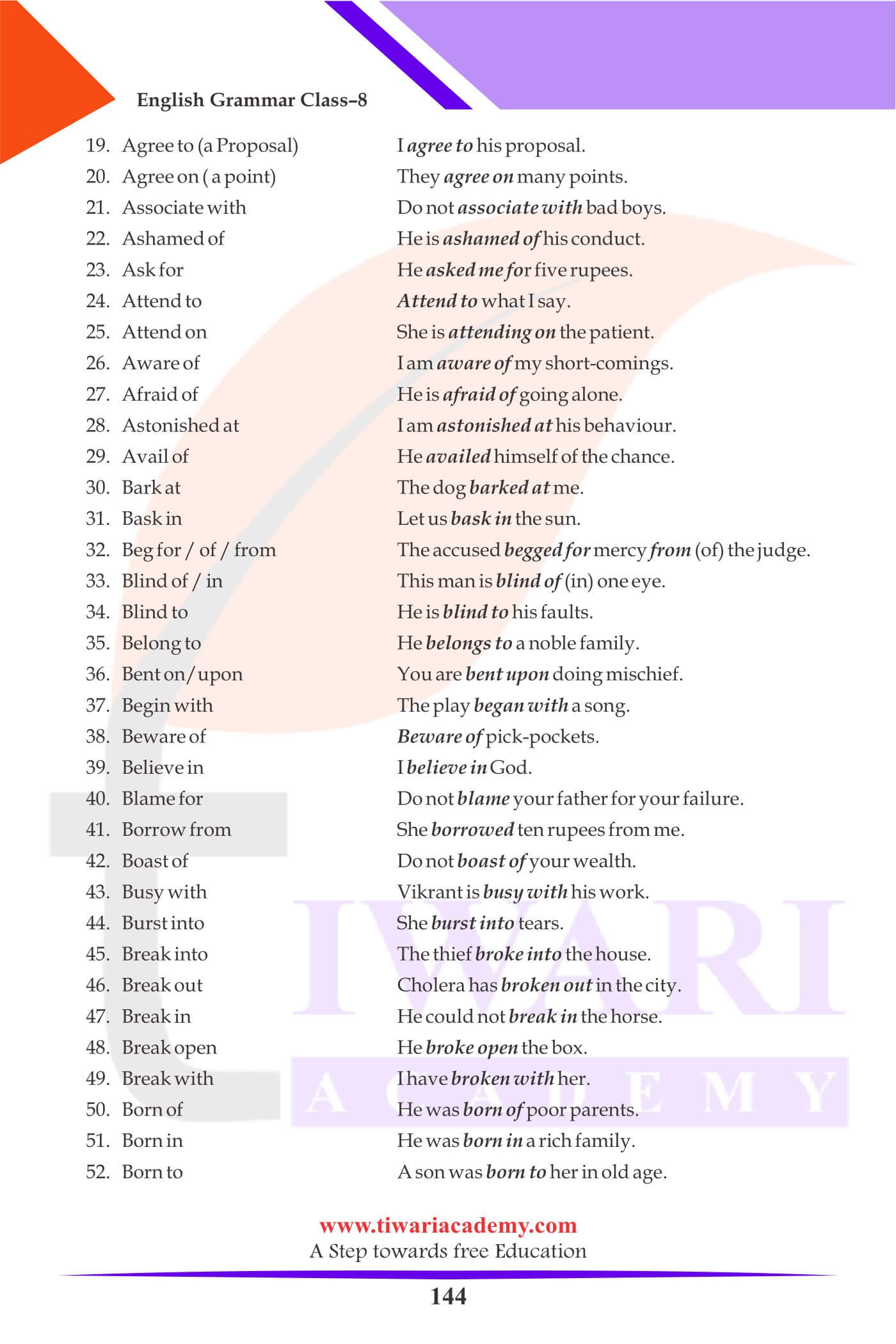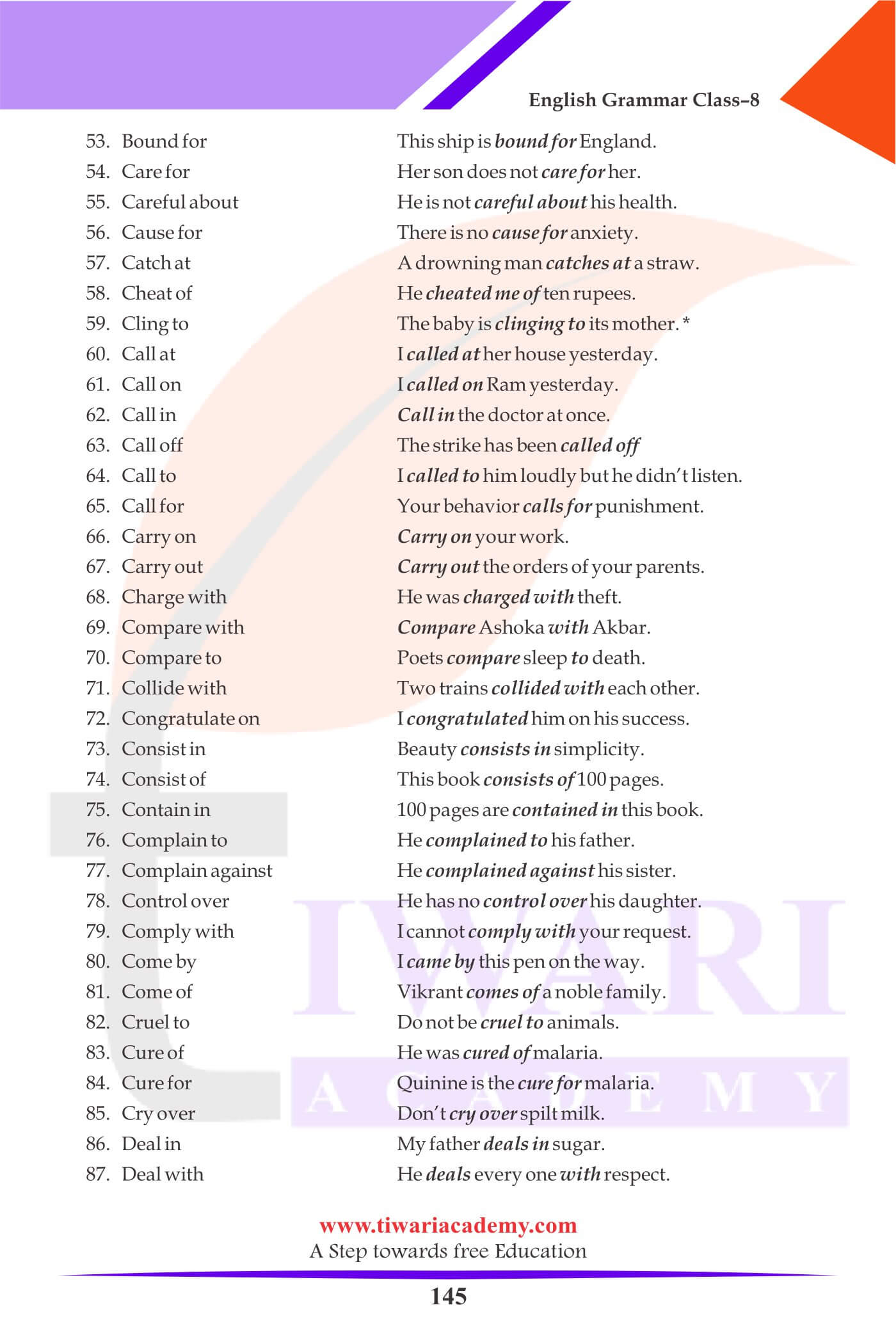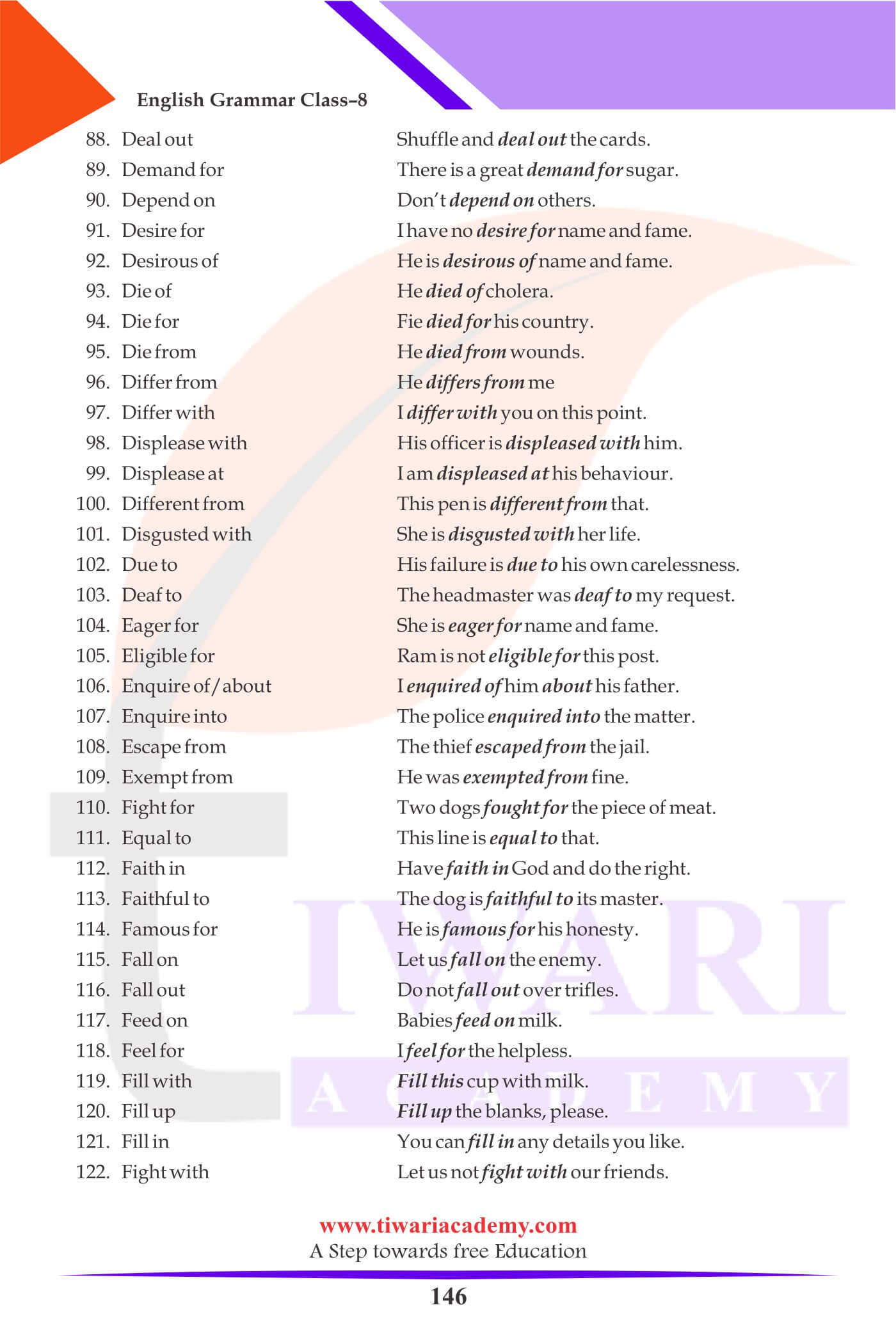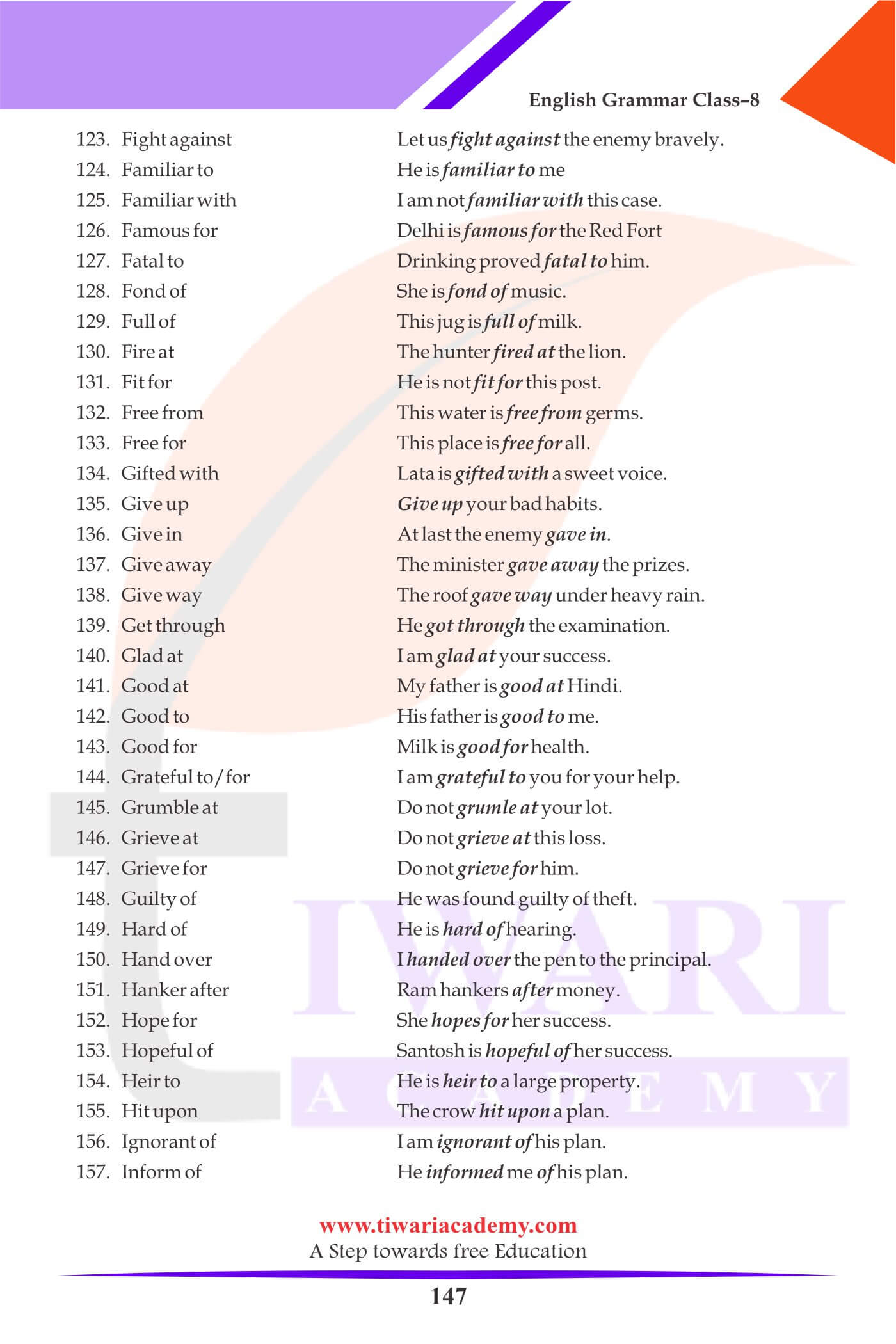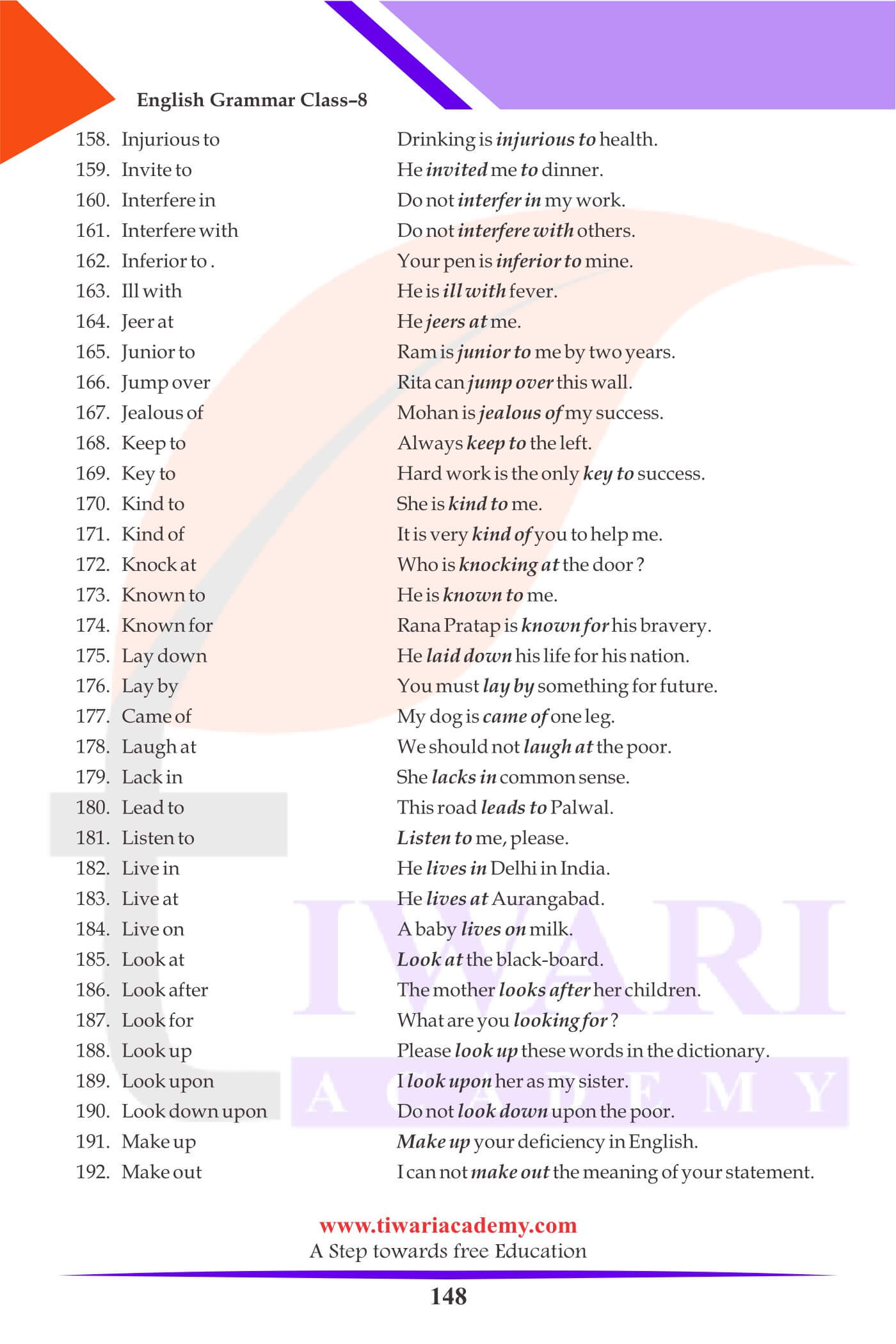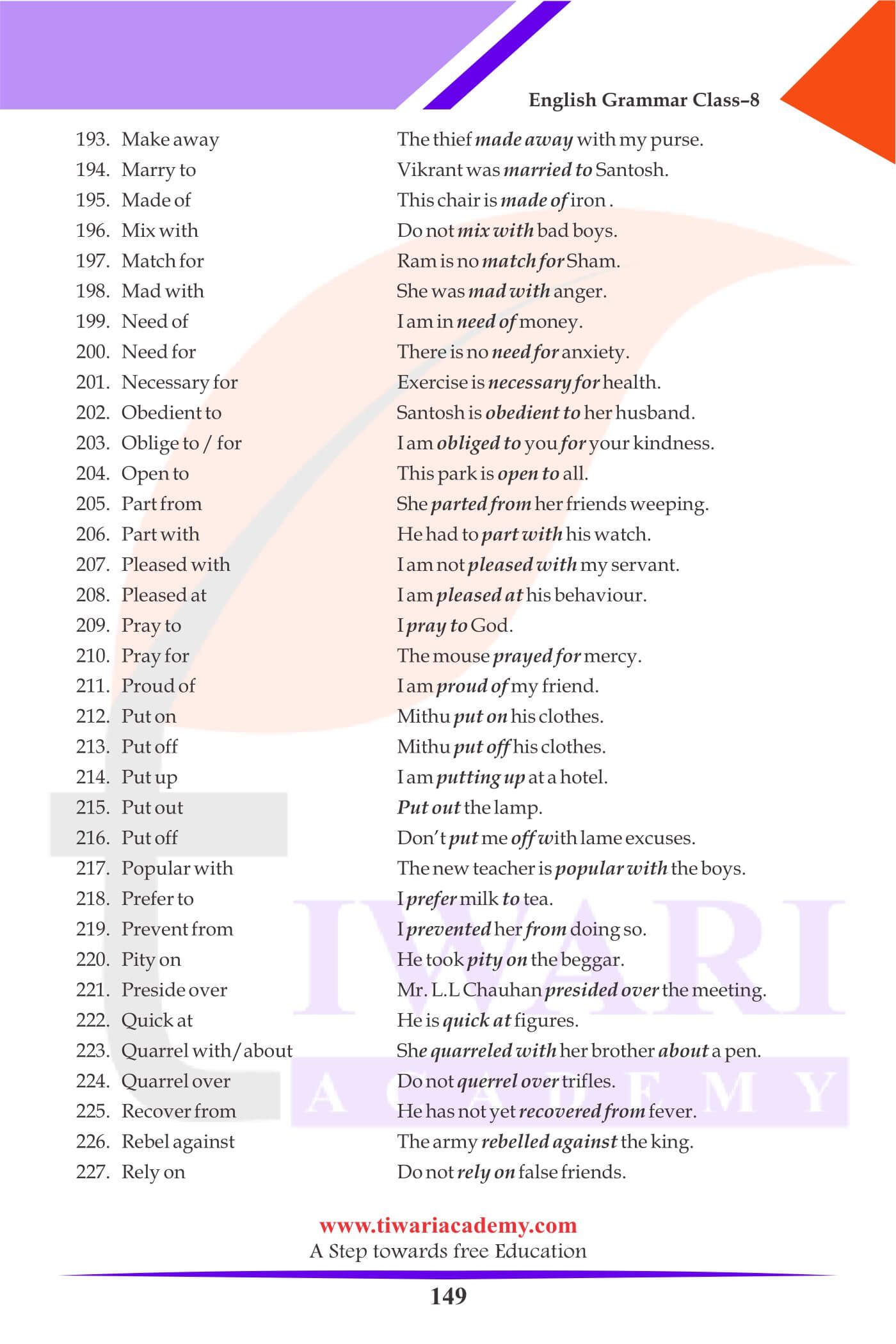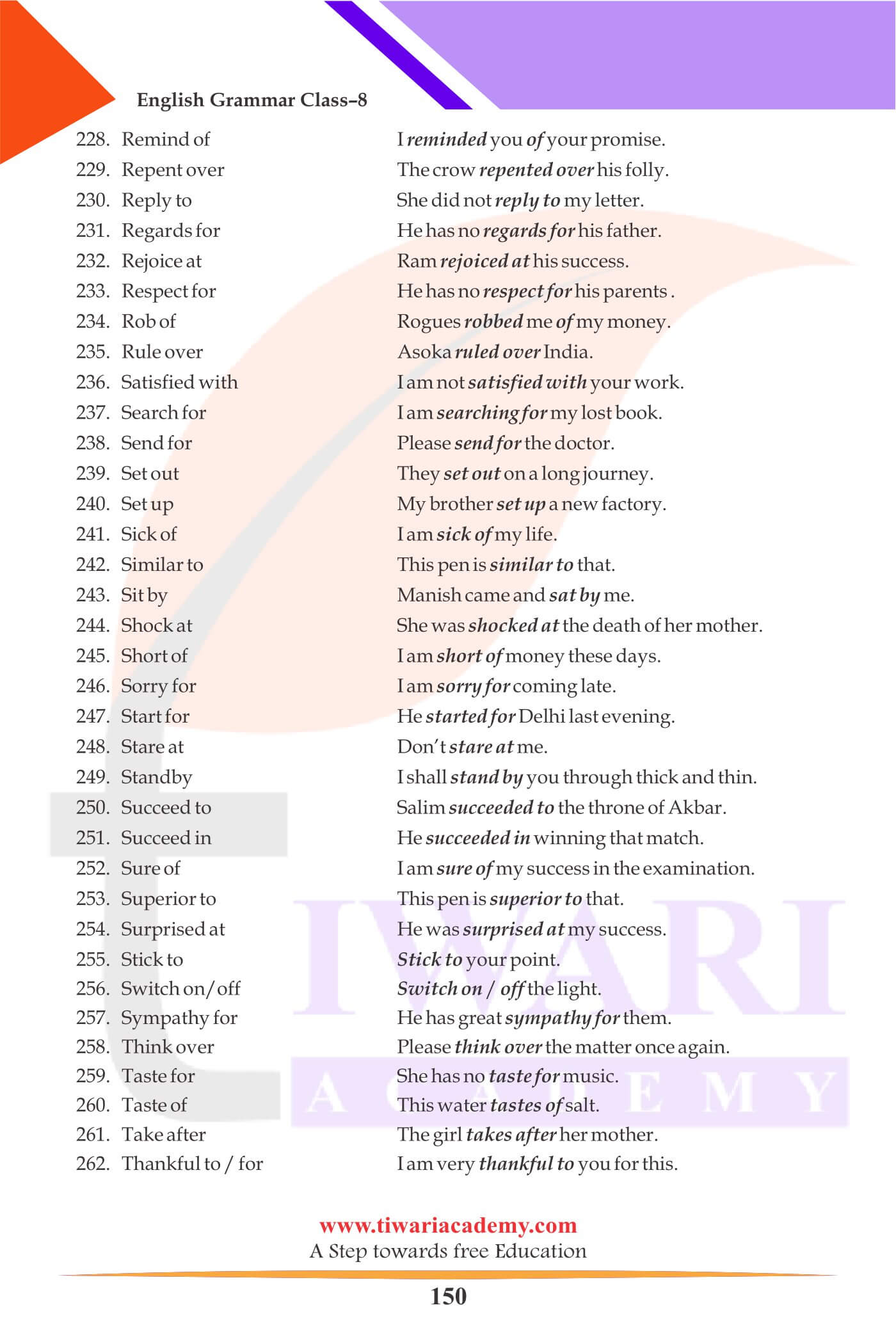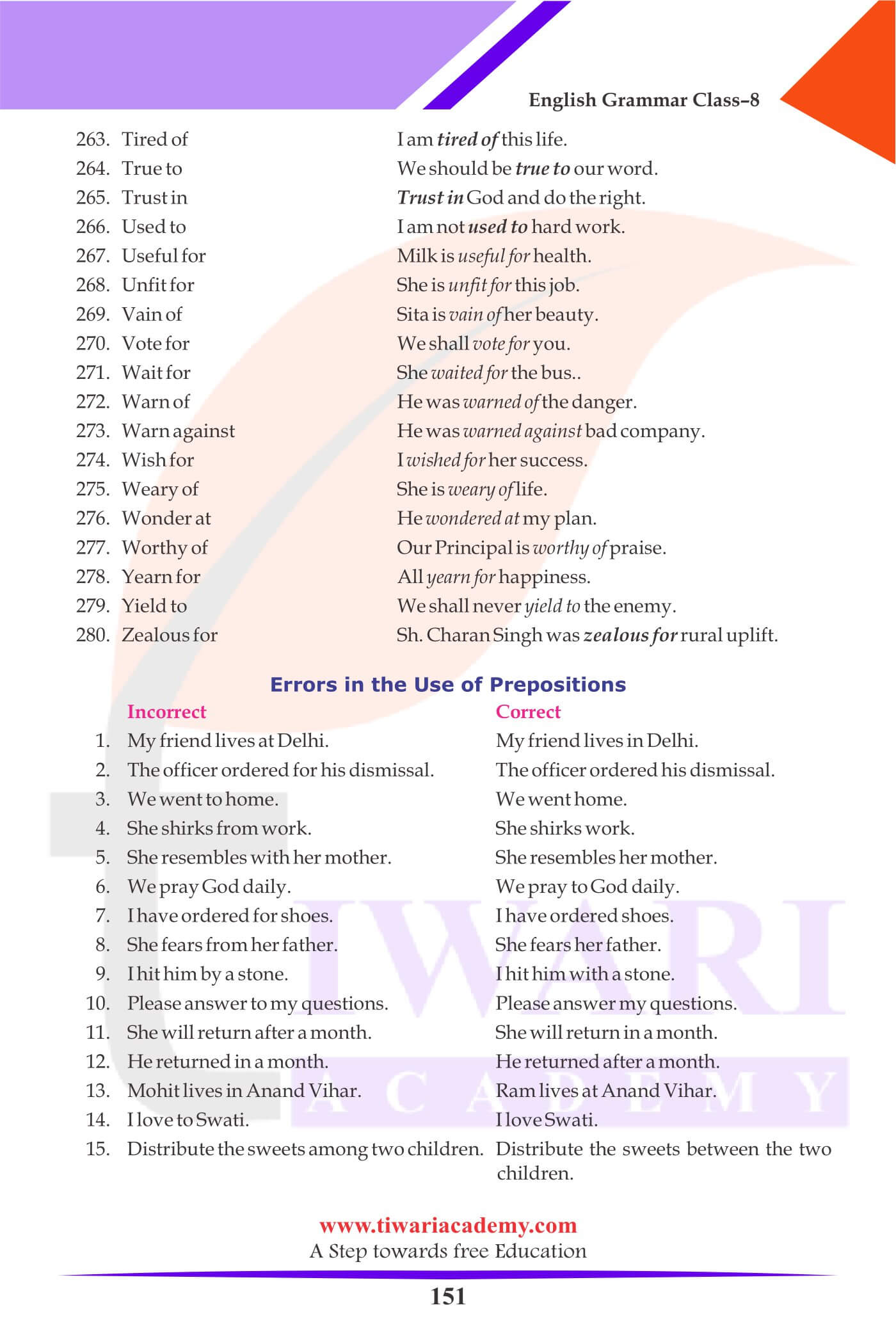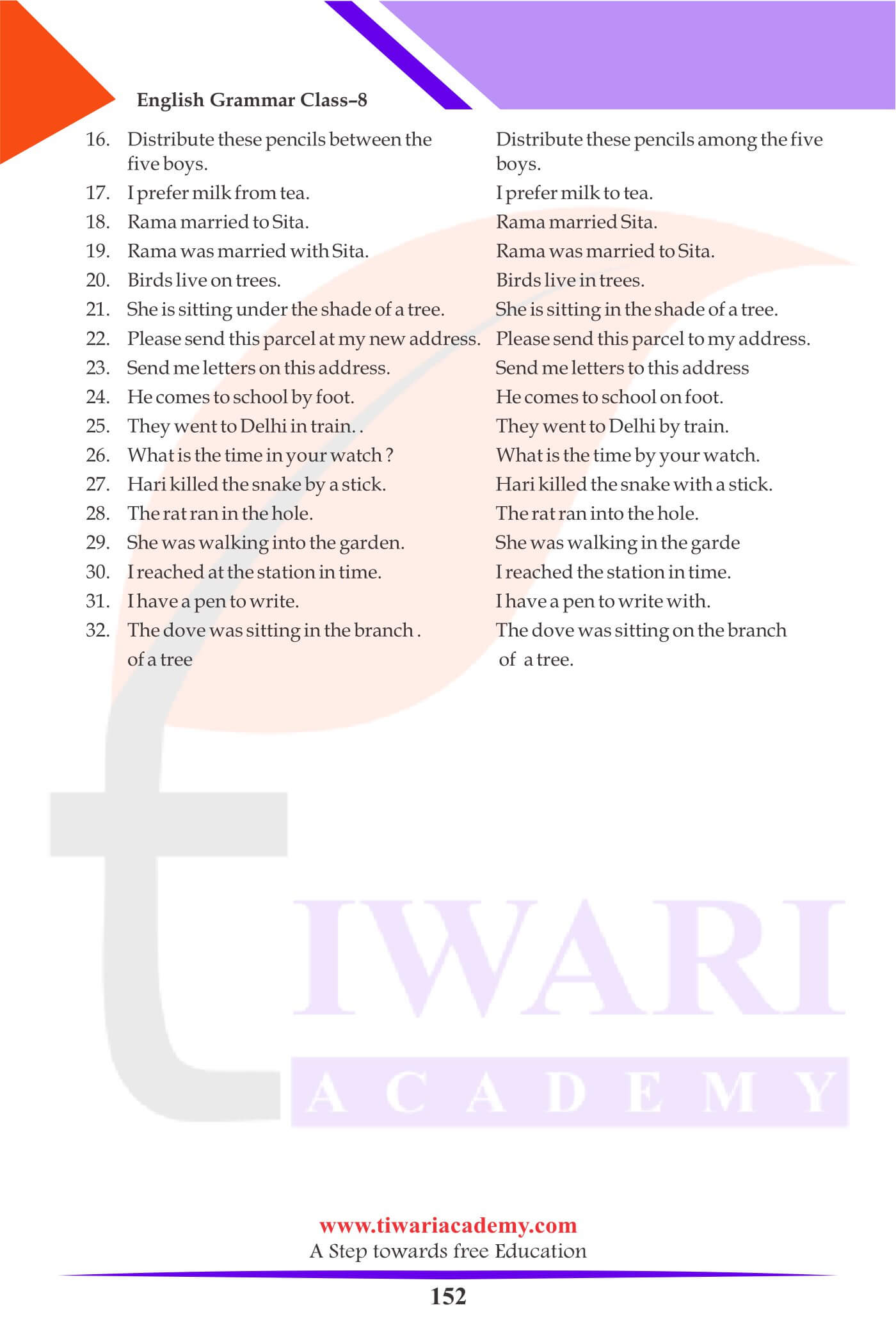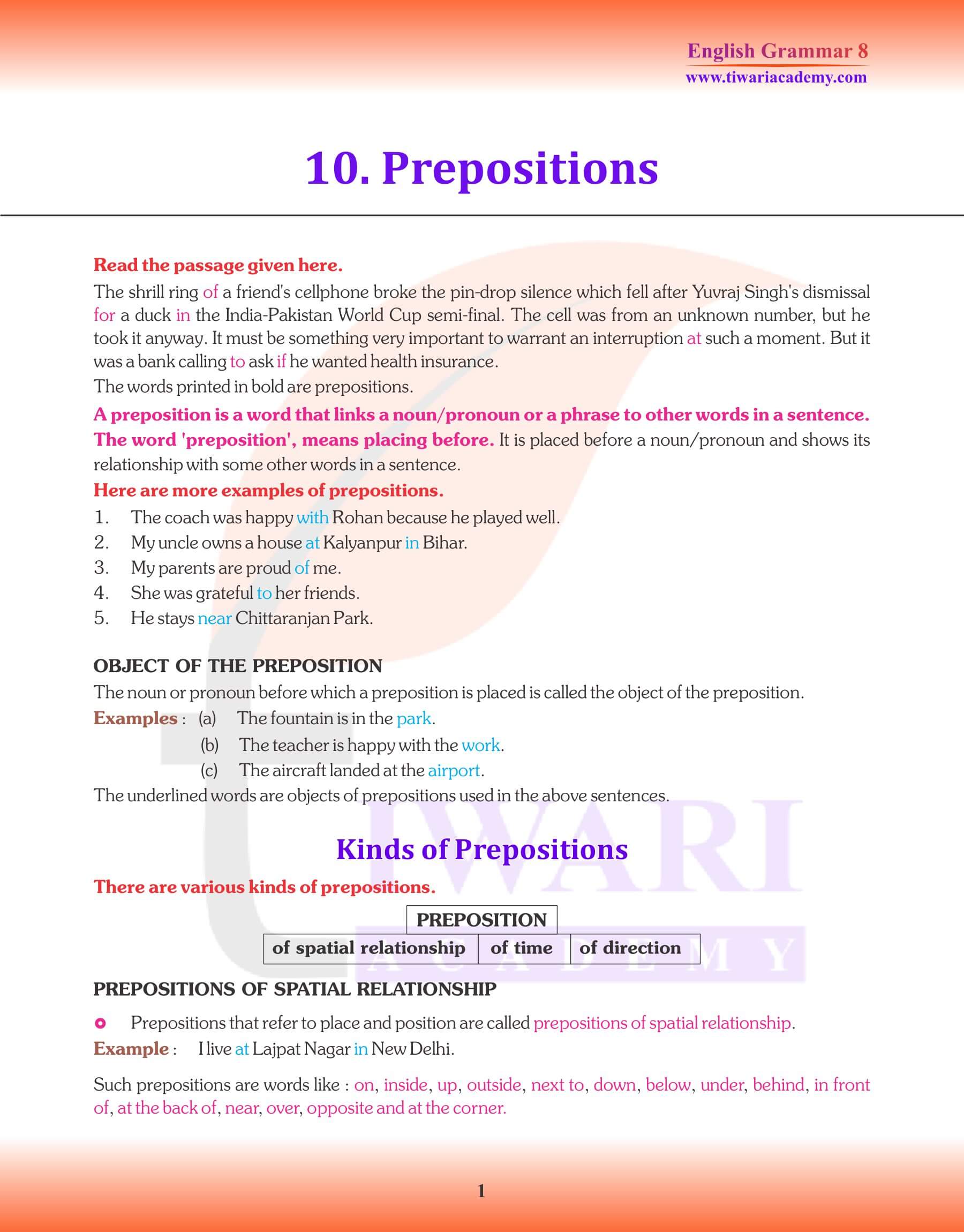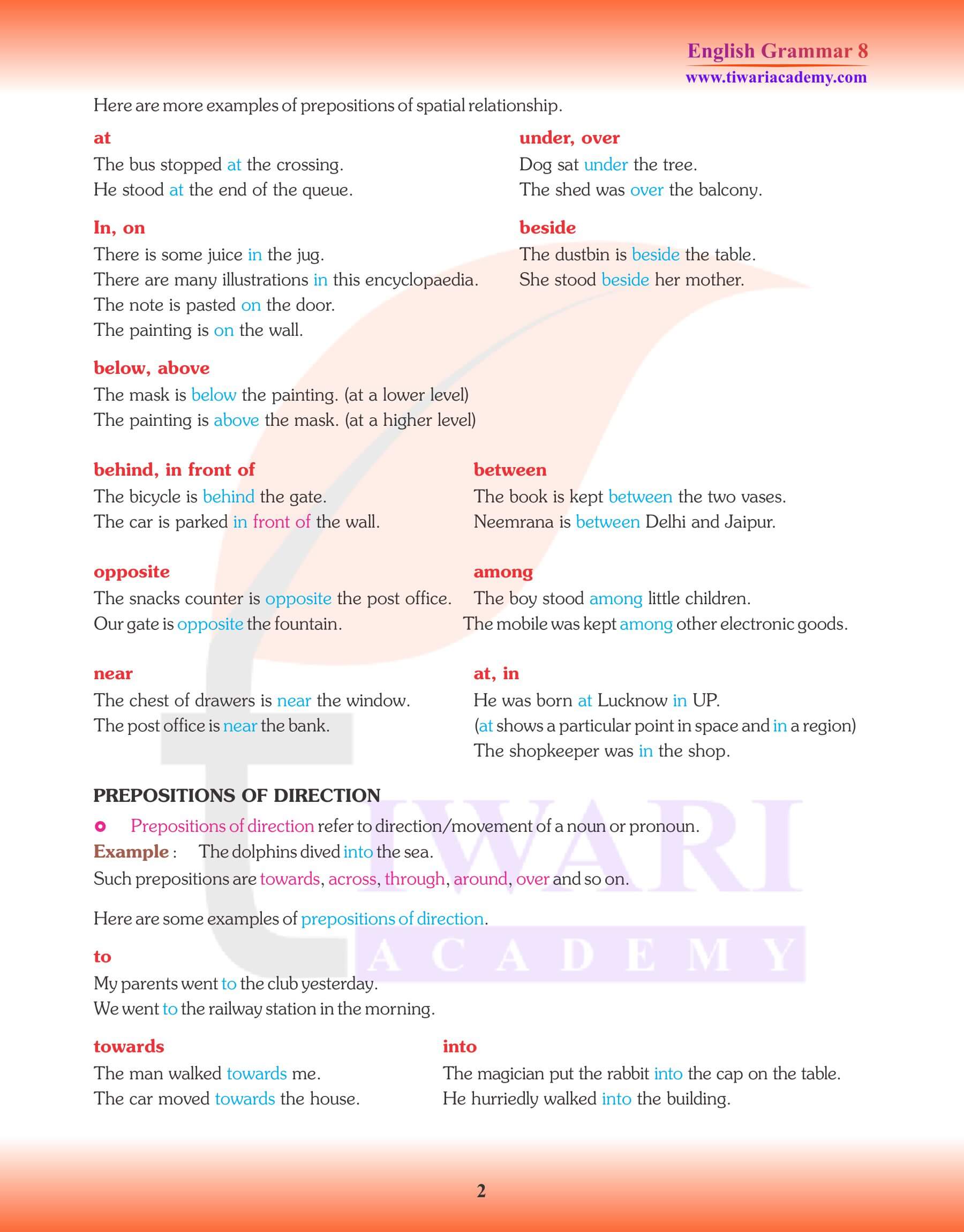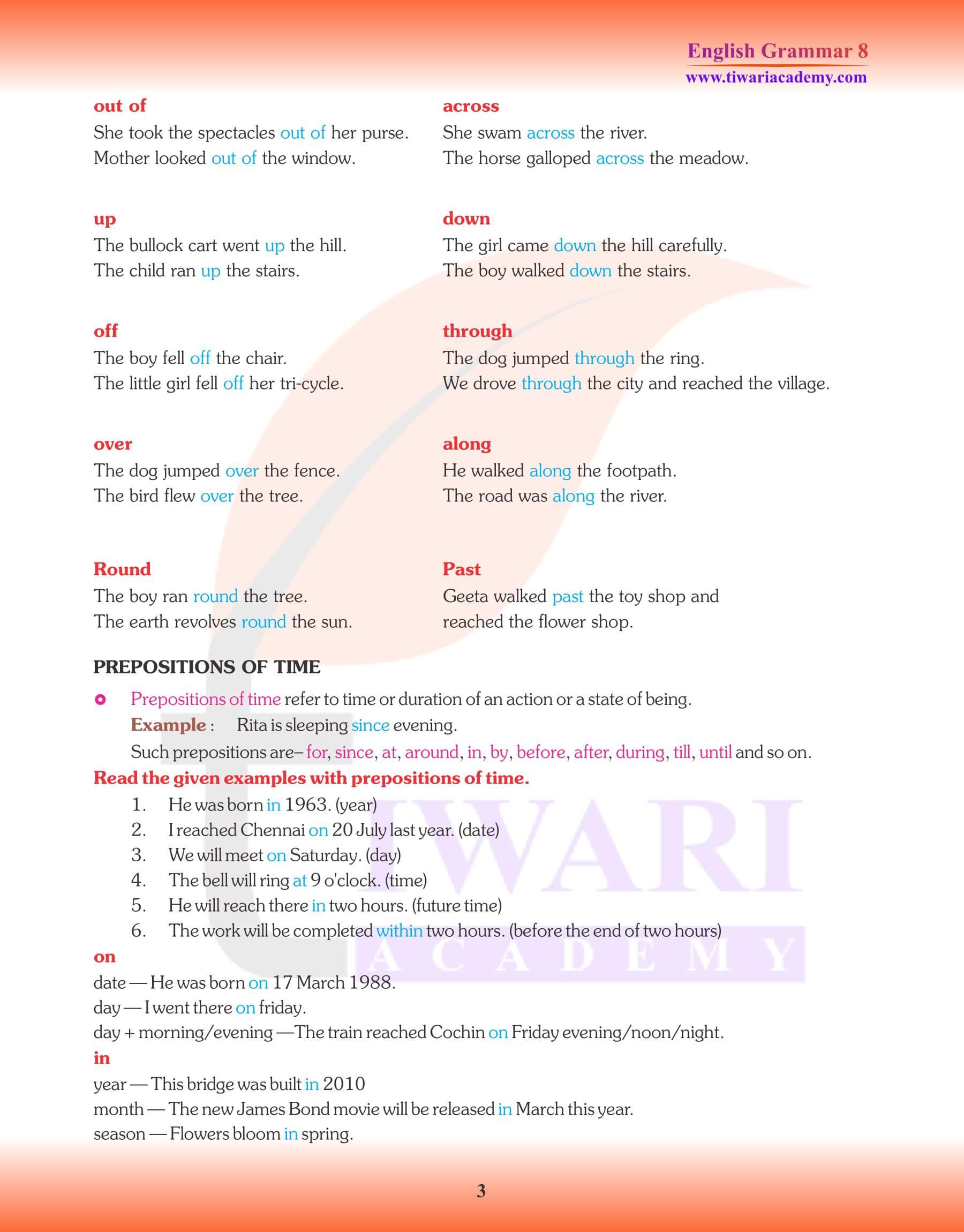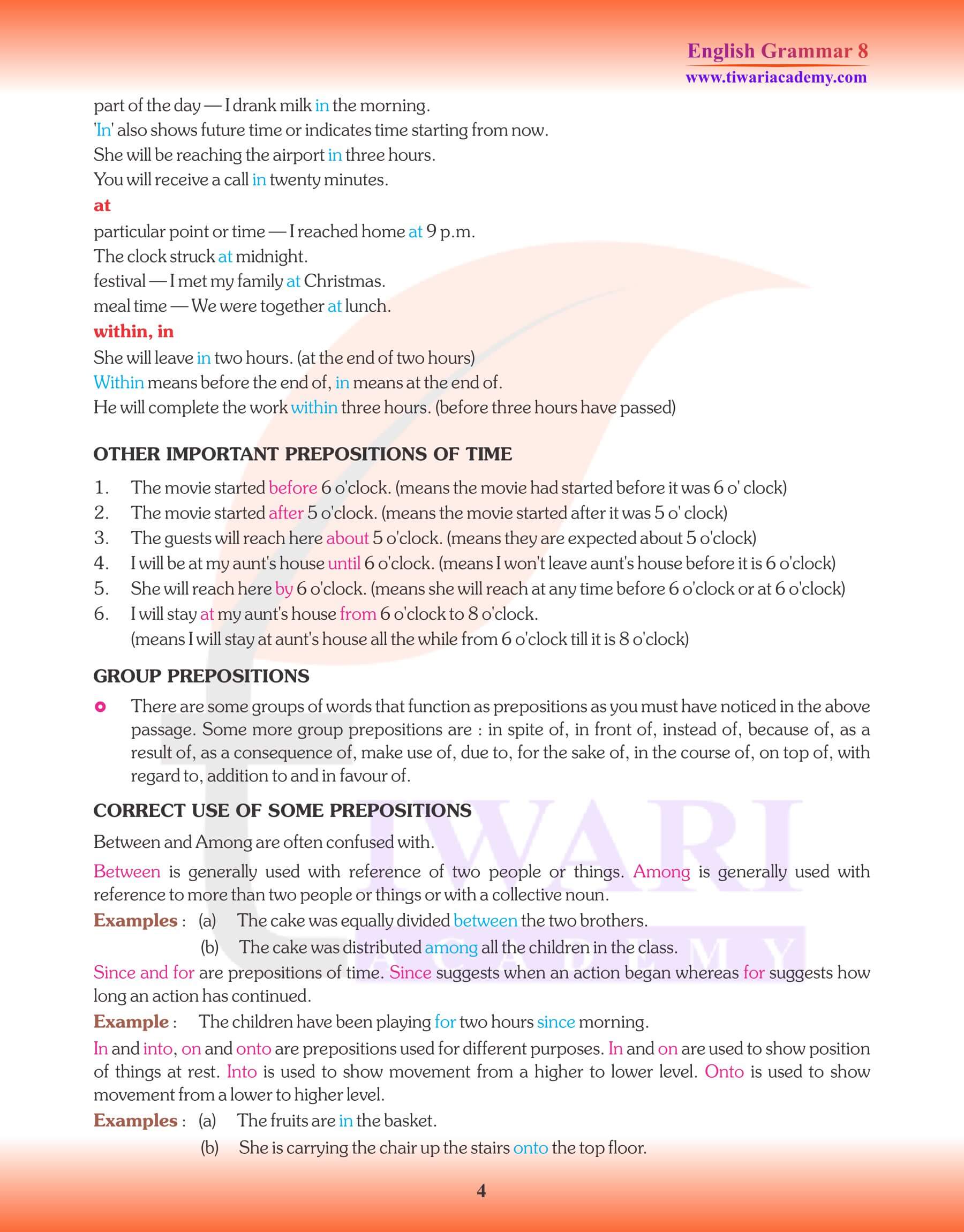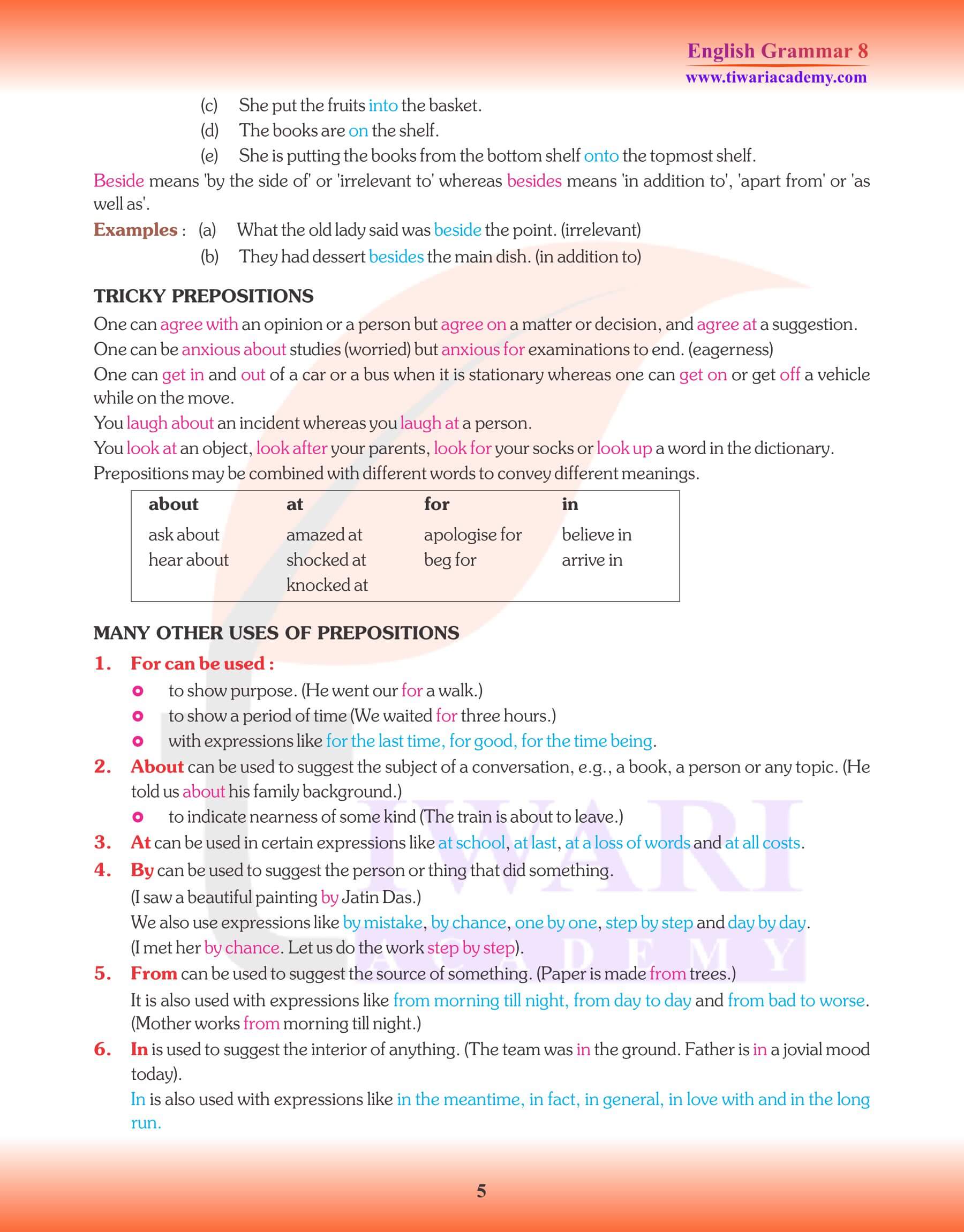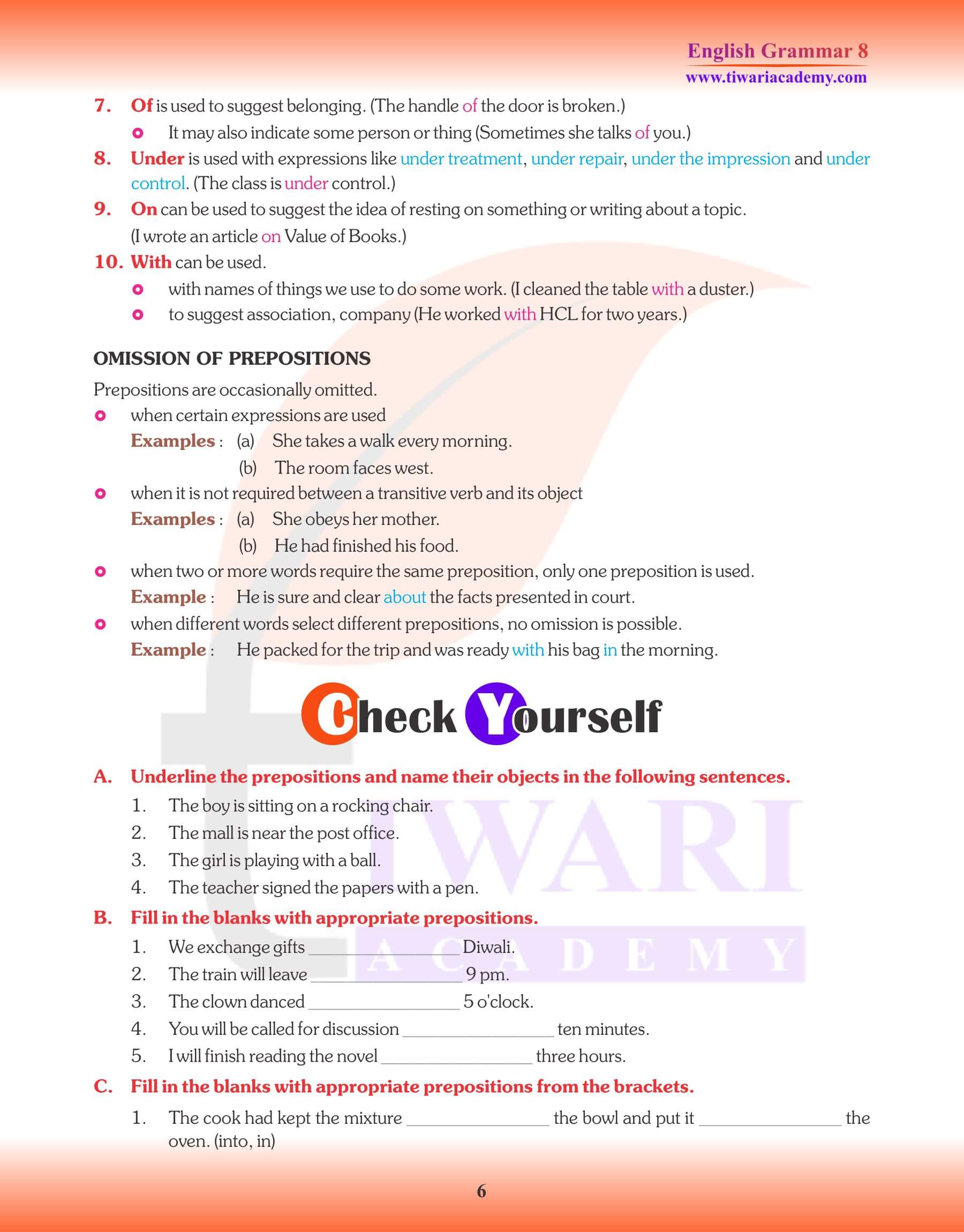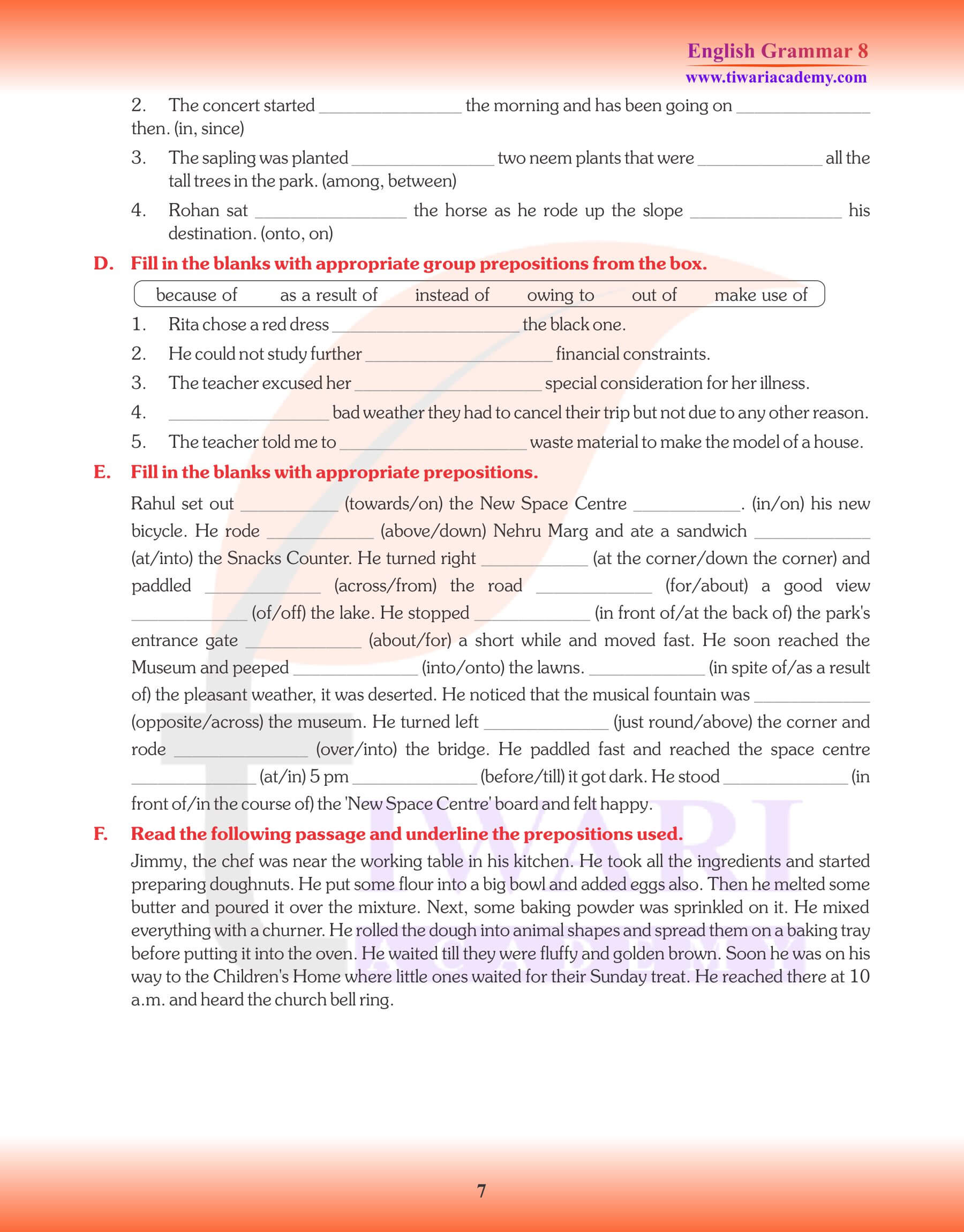 Last Edited: June 16, 2023