Class 8 English Grammar Chapter 20 Essay Writing. An essay is a detailed piece of writing on a specific subject expressed in the required number of paragraphs. An essay usually has three parts: Introduction – This part of the essay must be short, to the point, neat and informative. Body – The body of an essay gives its reader a detailed account regarding the main theme of the essay, through a few paragraphs. This part of the essay needs to be detailed as well as inclusive, logically organized and well developed. Conclusion – This portion sums up the argument built through the body of the essay. Therefore, this must be convincing reasonable and impressive at the same time.
The realm of essay writing, as explored in Chapter 20 of Class 8 English Grammar, offers an enriching avenue for students to present their thoughts, arguments, and ideas in an organized and articulate manner. Renowned educational platforms like Tiwari Academy underscore the importance of essays, not only as an academic tool but also as a life skill that hones one's ability to communicate effectively.
---
What exactly is an essay? It's more than just a collection of words or a random assortment of ideas. An essay is a meticulously structured piece of writing that dives deep into a specific topic, providing readers with insights, arguments, and perspectives.
| | |
| --- | --- |
| Class: 8 | English Grammar |
| Chapter: 20 | Essay Writing |
| Contents: | Textbook and Revision Notes |
| Academic Session: | 2023-24 |
Essay 1 – A Picnic
Introduction: Time, Place and Company: It was a fine day in March last. A cool breeze was blowing. Some of my friends and 1 decided to go on a picnic to a nearby lake. It was a pleasant morning. We were a party of ten friends. We collected 20 rupees each. We bought fruits, sweets and some other eatables. We took our bikes and started at 7 a.m. We reached there in half an hour. We selected a beautiful grassy spot. We spread the carpet and rested for some time. First of all we ate apples.
What did we do?: Then we took off our clothes and jumped into the water. We swam, dived and played in the water. We came out of the water and put on our clothes. We soon felt hungry. We ate some fruits and sweets. We took tea. After taking tea ,we sat in a circle. We played cards. Mohan sang a song. Sohan played upon the flute. Ajit recited a poem. Ram told us a story. Manoj amused us with tit – bits. We laughed heartily. We sang and danced..
Conclusion: We again bathed in the lake. We had a jolly good time there. It was evening by then. We left for our homes. It was a nice picnic. It was really a happy day of my life.
The anatomy of a compelling essay can be broken down into three core segments:
Introduction: As the opening salvo, the introduction sets the stage for what's to come. It's essential to capture the reader's attention right off the bat, making them eager to delve deeper. A well-crafted introduction is concise, intriguing, and provides a brief overview of the topic at hand.
Body: This is where the magic truly unfolds. The body of the essay, often spread across several paragraphs, delves deep into the topic, weaving together facts, arguments, and opinions. Every paragraph should be a structured entity in itself, presenting a particular point or idea and substantiating it with evidence or examples. Consistency in flow, logical sequencing, and coherent development of ideas are vital to keep the reader engaged.
Conclusion: As the curtain falls, the conclusion wraps up the discourse, encapsulating the essence of the essay. A compelling conclusion doesn't just reiterate the points made but offers a fresh perspective or a thought-provoking statement, leaving a lasting impression on the reader.
Essay 1 – A Morning Walk
Introduction: A morning walk is a light exercise. It is very useful for health. It keeps us fresh and active the whole day. It makes us healthy and cheerful. Morning time is the best time of the day. It is calm and quiet. A cool breeze blows. The atmosphere is free from dust and smoke. There is a famous saying: "He, who walks a mile, will surely smile."
Description: I am an early bird. Last Sunday, I got up at 4 O'clock. I called on my friend, Manish. Both of us left for the canal. The birds were chirping, We saw many people on the way. They were also going for a walk. Farmers were going to their fields. Women were going to fetch water. They were singing beautiful songs. A cool breeze was blowing. The sky was clear. Green field fields looked beautiful. Dew-drops on the grass looked like pearls.
What we saw and did: We reached the canal in half an hour. We sat on the bank and took rest. We saw some persons bathing in the canal. Some were praying to God. Some were walking along thè bank. Some were swimming. We took exercise. We had our bath. We felt fresh. We put on our clothes. We started for our homes. A morning walk costs nothing but gains are many. We should never miss it.
Essay 1 – A Scene at the Bus Stand
Introduction: A bus stand presents a very lively and busy scene. It is like a musceum of human faces and fashion. Last Monday, I went to see off my friend at the bus stand. There was a great rush. Buses were departing and arriving. The bus for Delhi had not yet arrived. So we had to wait.
Description: There was a great rush of passengers. They were waiting for their buses. The ladies were sitting in groups. The children were playing here and there.
Vendors and hawkers: Vendors and hawkers were selling news papers and eatables. They were shouting at the top of their voice. There was a rush at the water tap, the tea stalls and the book stalls. We went to a tea stall. We took tea. We bought two books to pass time.
Arrival and departure of the bus: There were long queues at the booking windows. Soon our bus arrived. I bought a ticket for my friend. He boarded the bus and got a seat near the window. The driver took his seat. The conductor gave a whistle and the bus started. I wished good-bye to my friend.
The journey of essay writing is both an art and a science, demanding creativity in expression and precision in structure. Chapter 20, as curated by leading educational institutions, empowers students with the techniques and nuances of essay writing, ensuring they are well-equipped to articulate their thoughts effectively for academic pursuits and beyond.
Essay 1 – My School
Name and Situation of the Building: I read in Tiwari Academy Sr. Sec. School, New Delhi. It is situated out side the town on the Bahadurgardh Highway. It has a very big building. It is in T shape. There are sixteen rooms and two big halls. All the rooms are airy, neat and clean. Each room has two fans. There is a library, two science rooms and a drawing – room. The staff room and the Principal's office are well furnished.
Garden and Play Grounds: In front of the school, there is a beautiful garden. It has flowerplants and fruit -trees. Sh. Ram Lai, the gardener of our school, looks after it. There are two big play grounds. We play games there daily. Our games teacher also plays with us.
Teachers and Students: There are 50 teachers in our school. They are hard working. The school has 2000 students. All work hard. Our school shows good result every year. Sh. T.S. Chauhan is our Principal. He is an ideal Principal. The school is progressing under him. Our school is an ideal one. I am proud of it.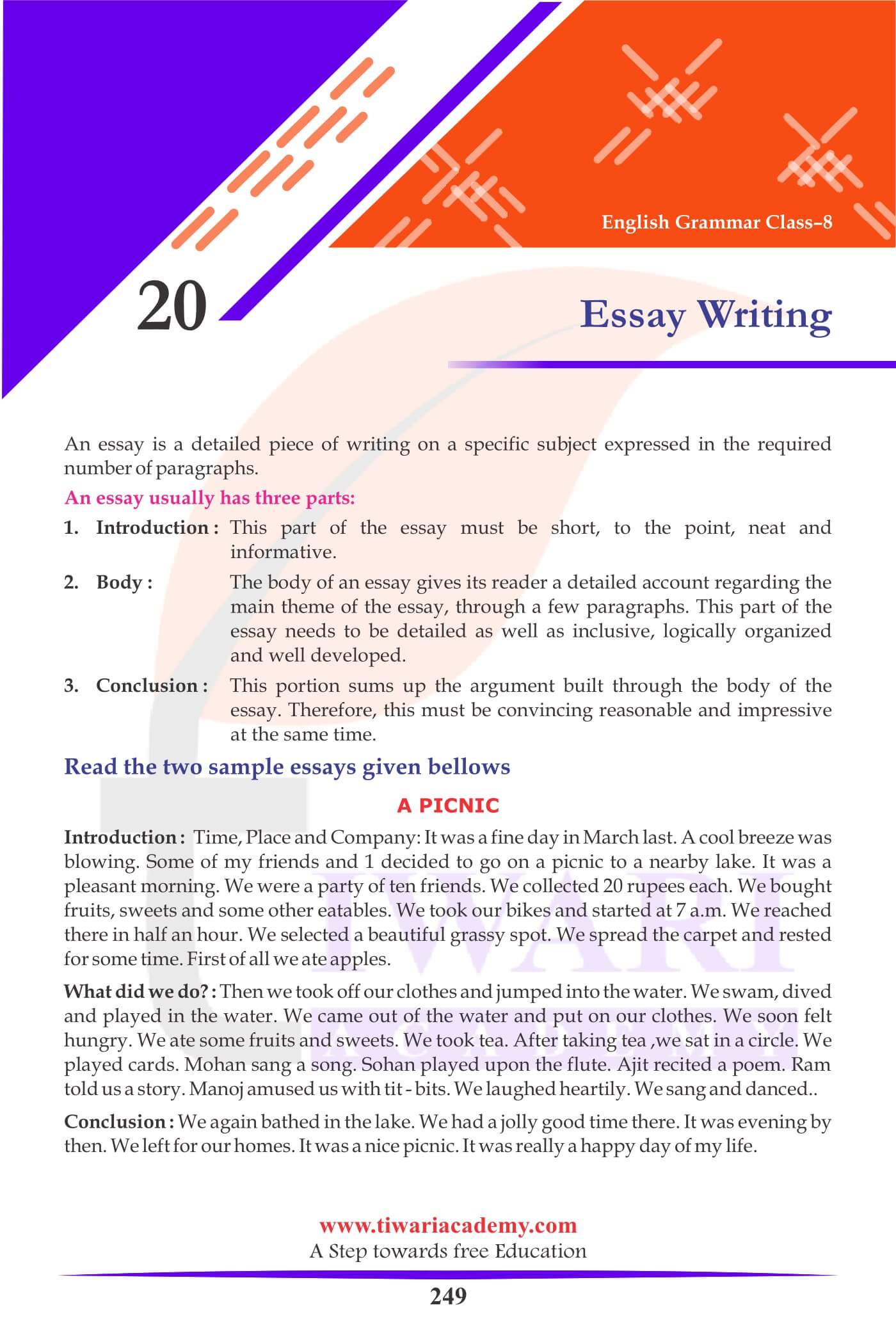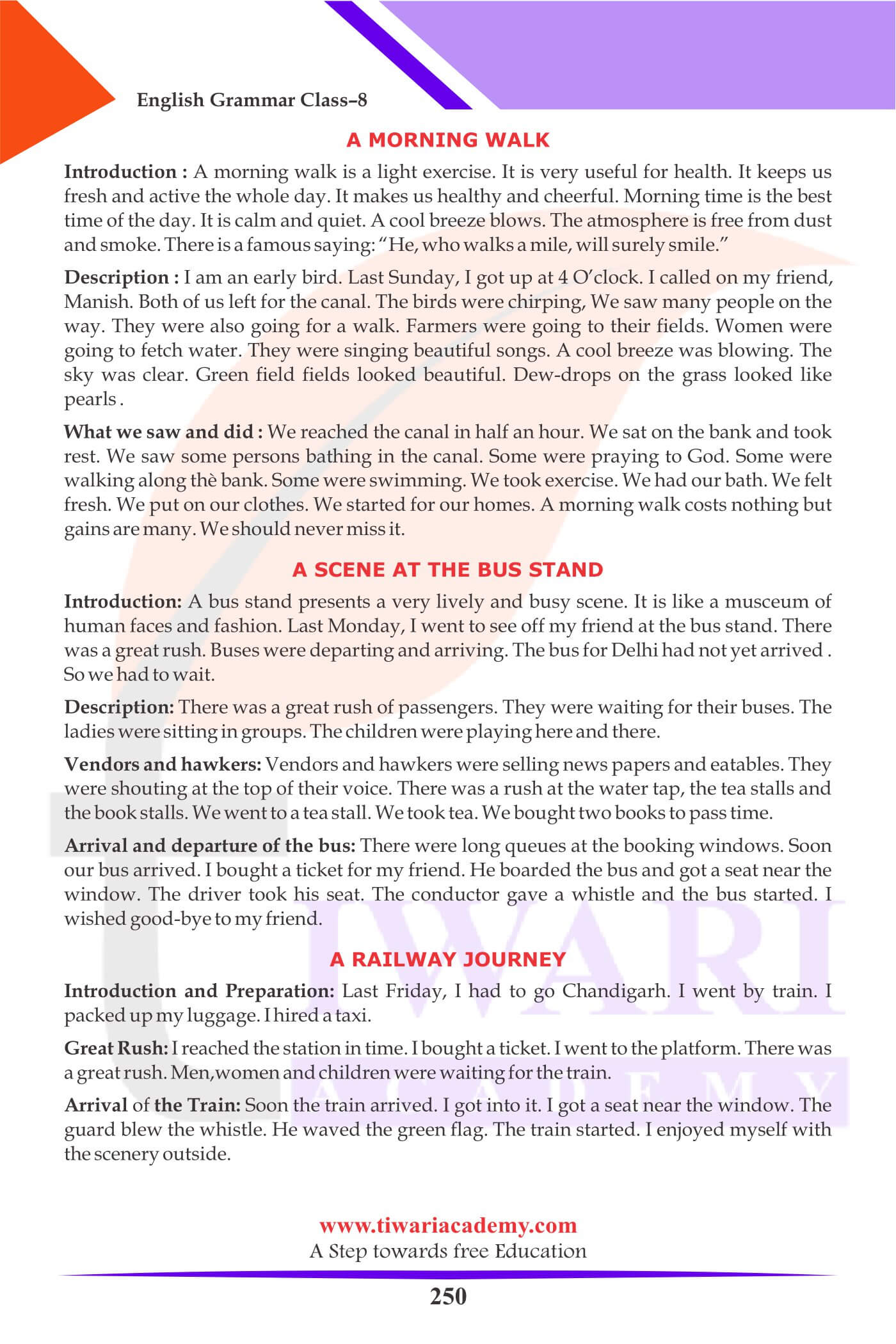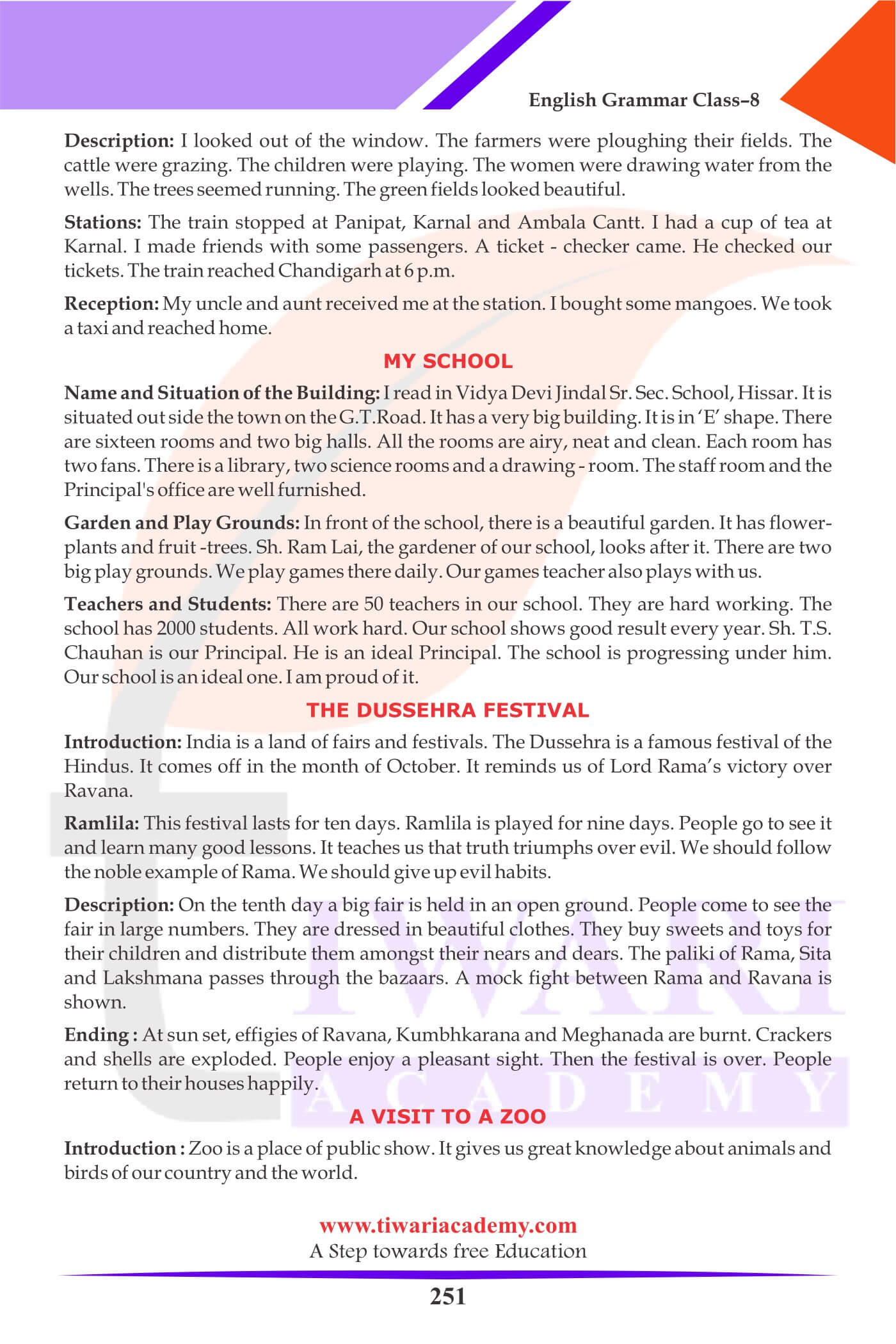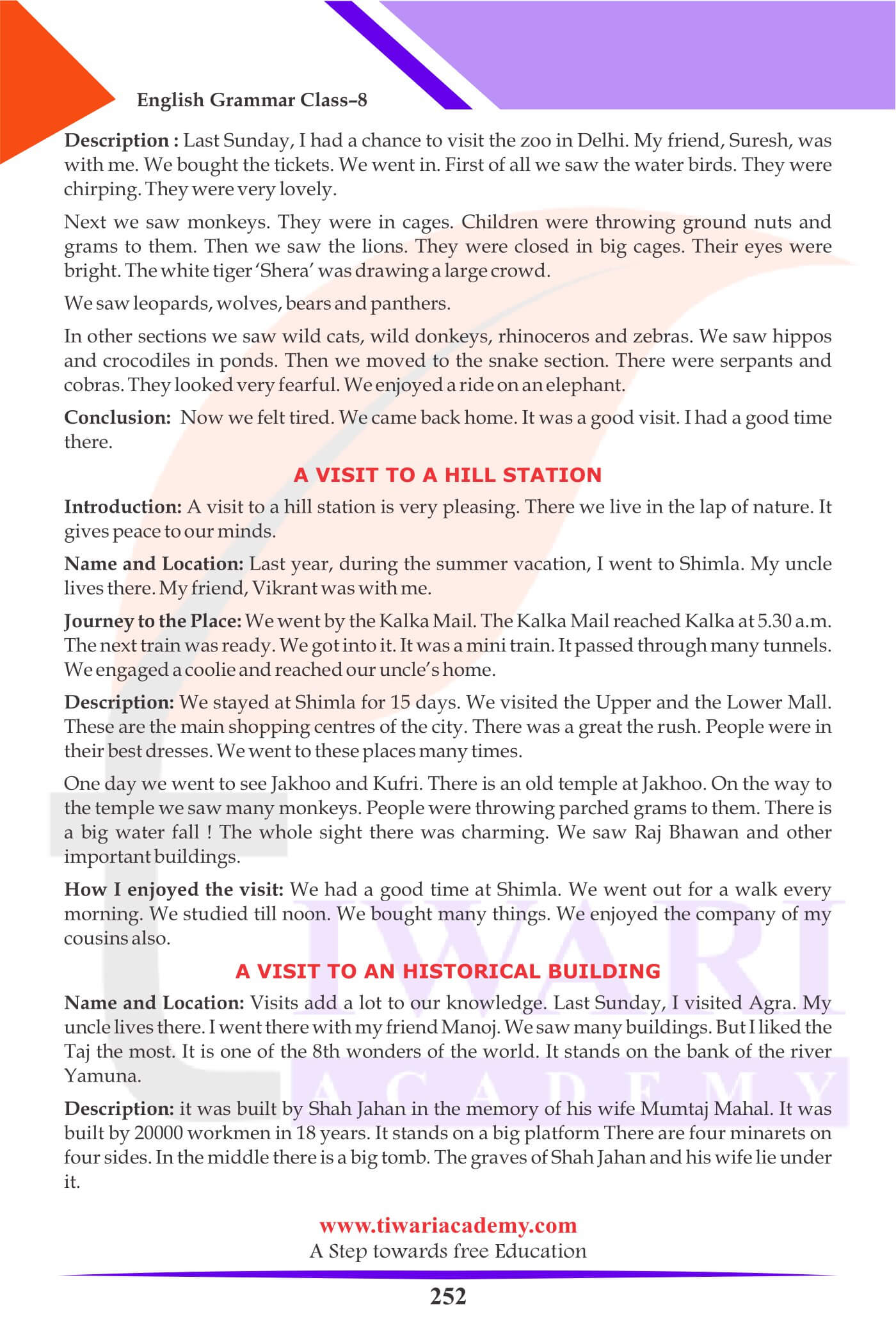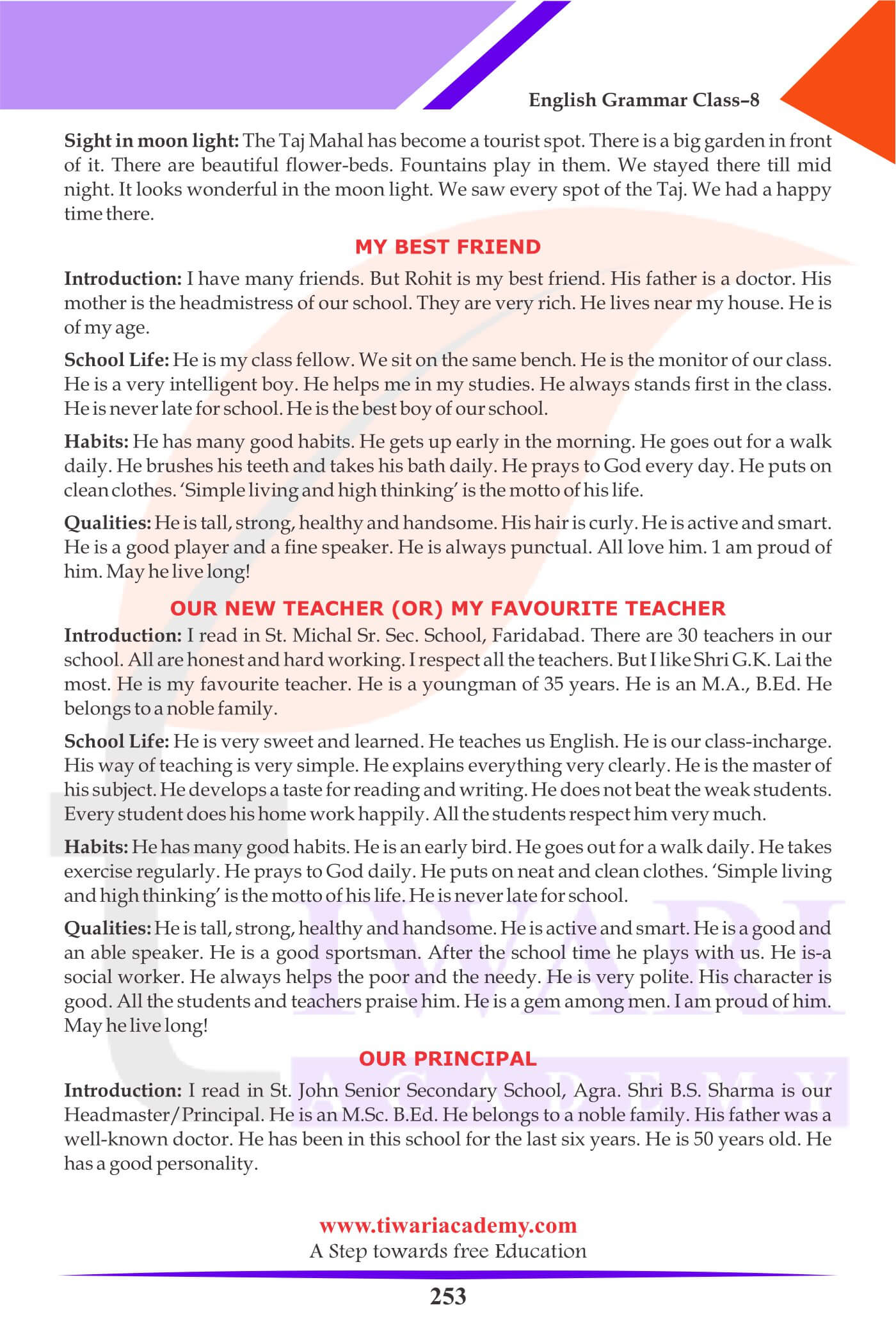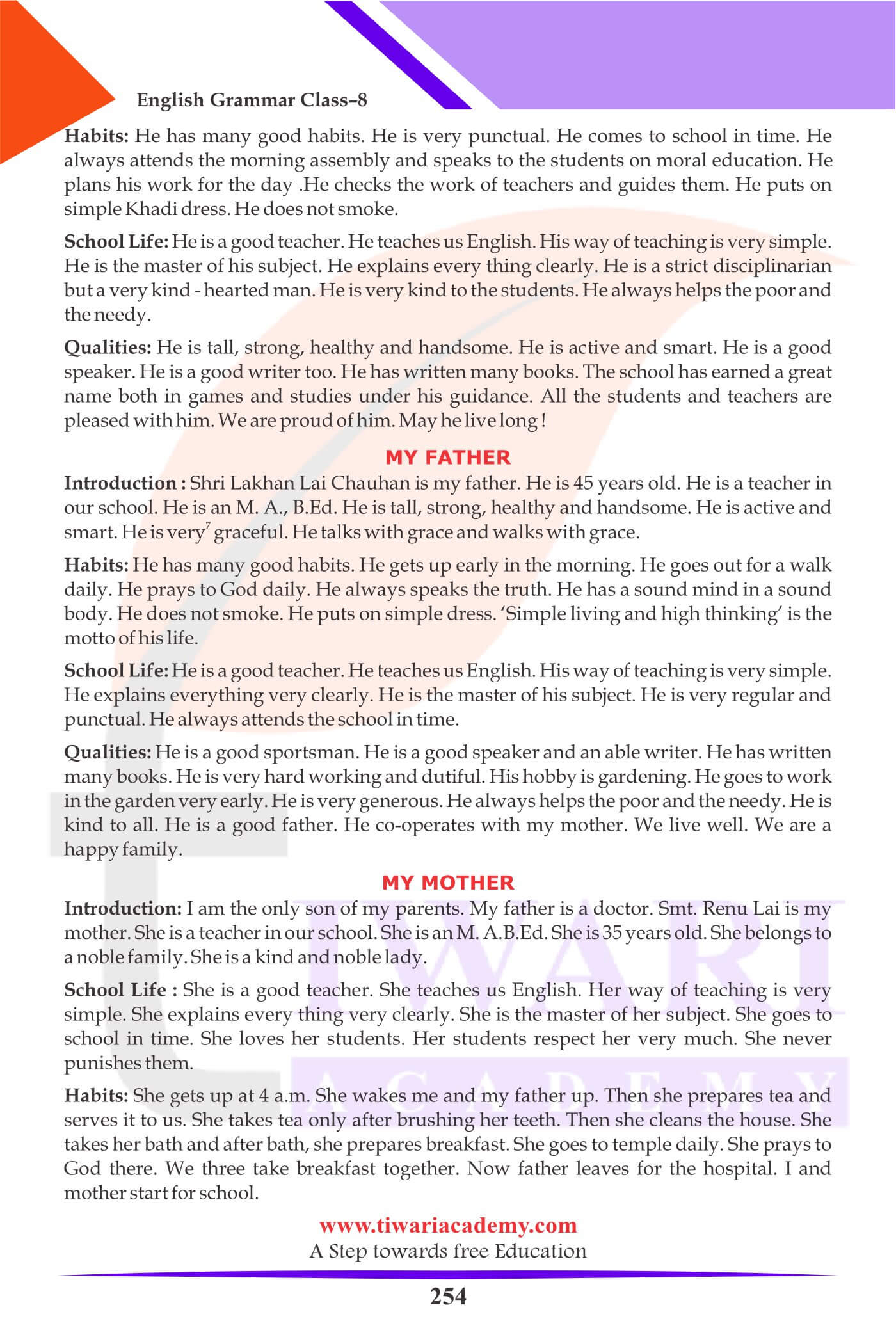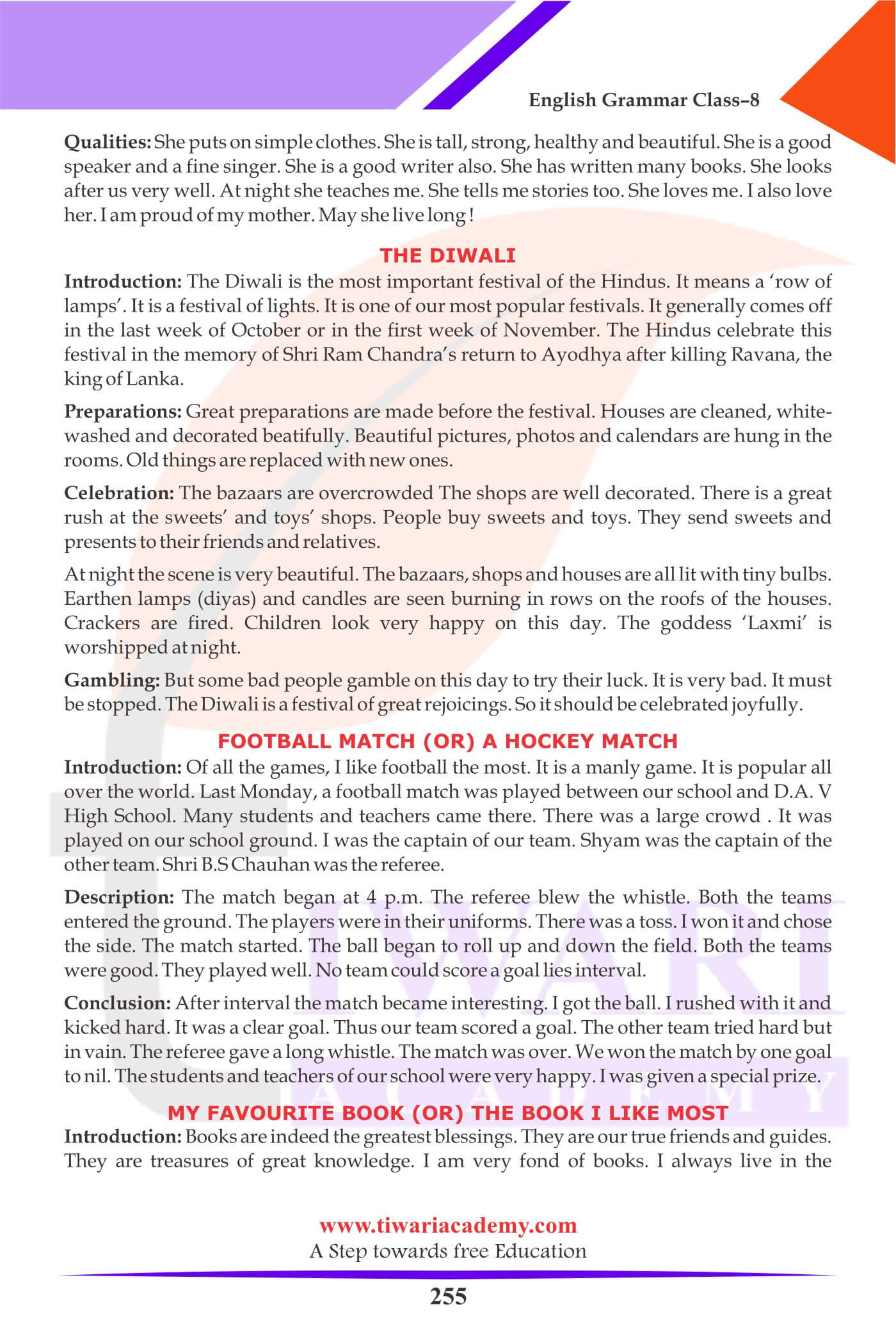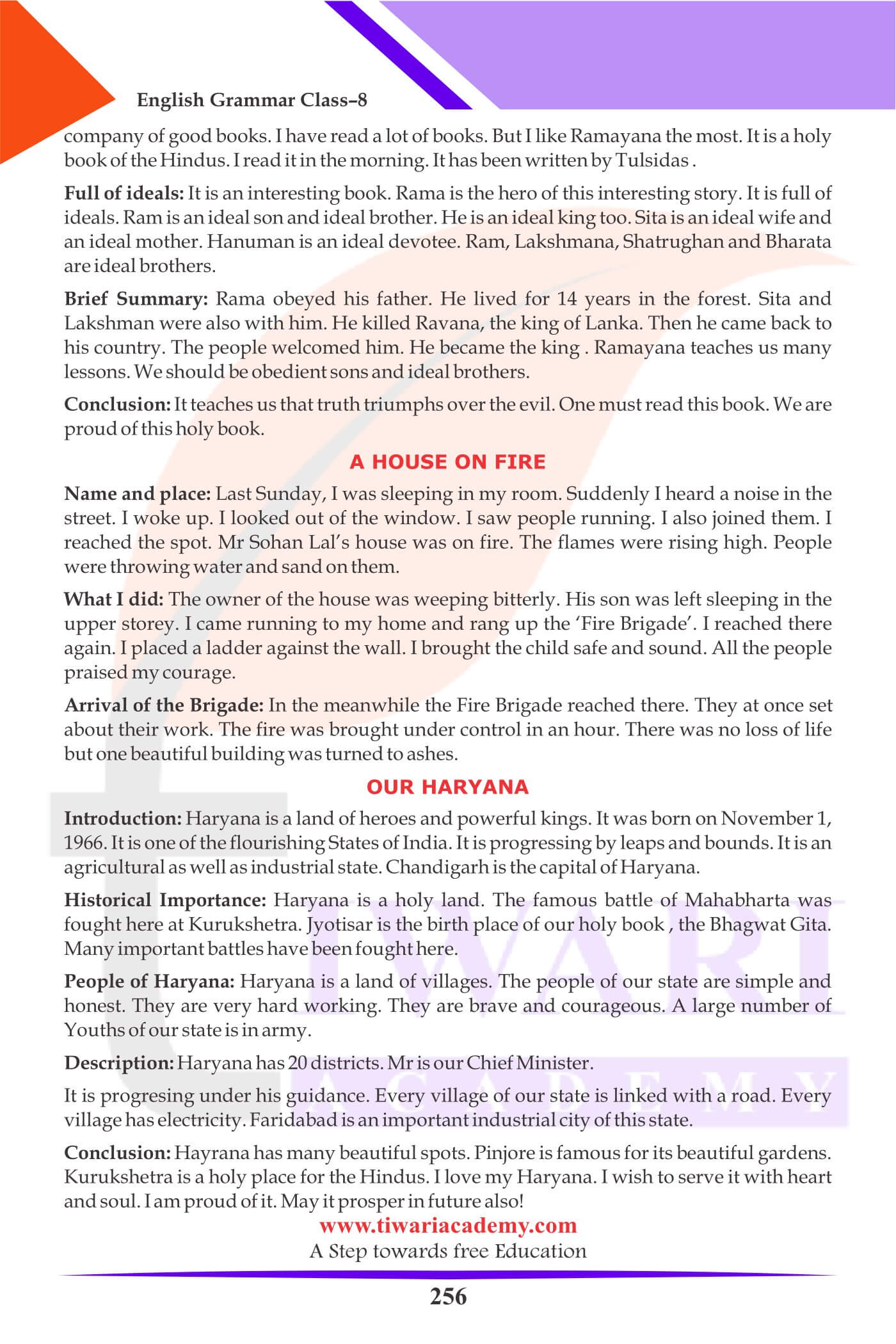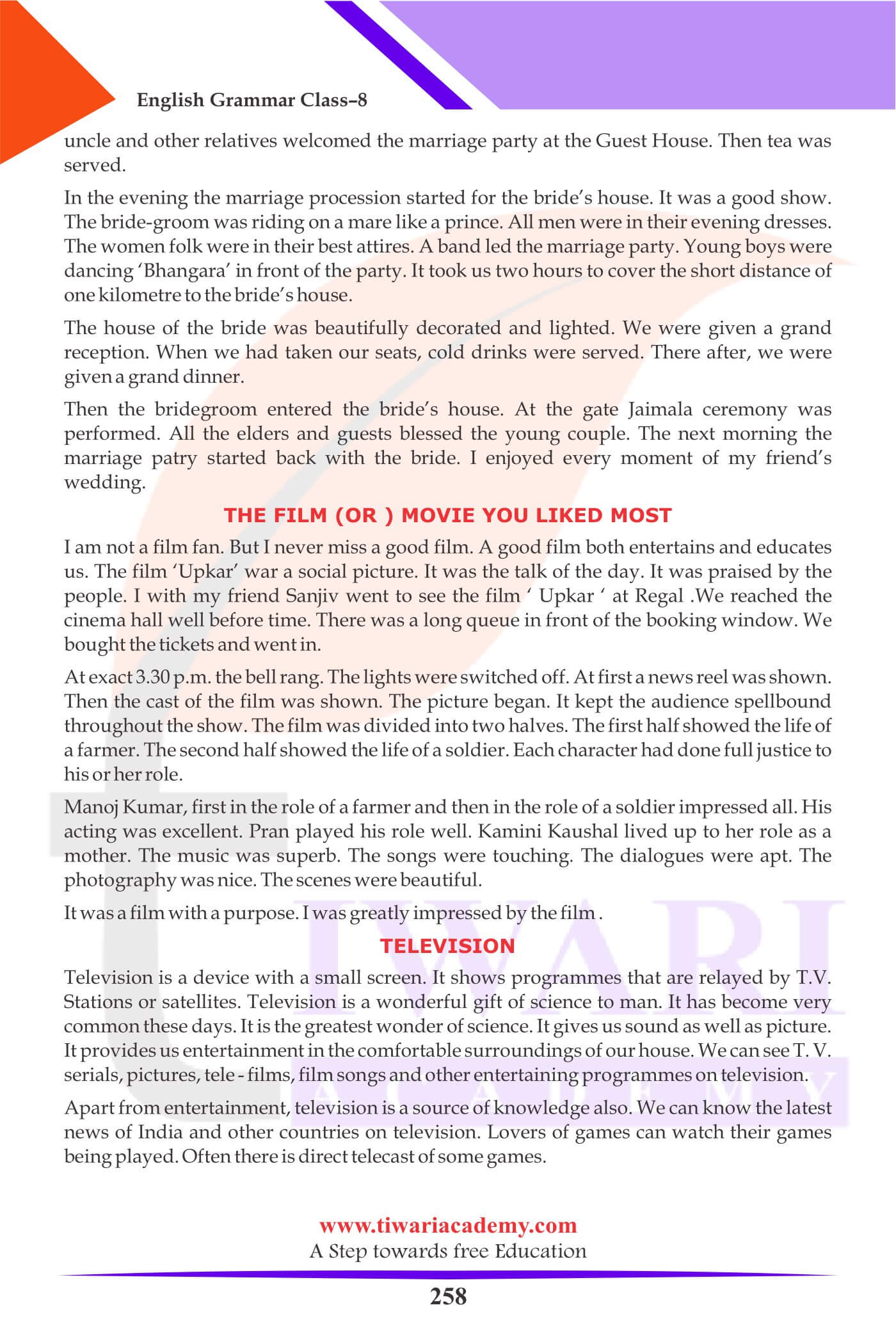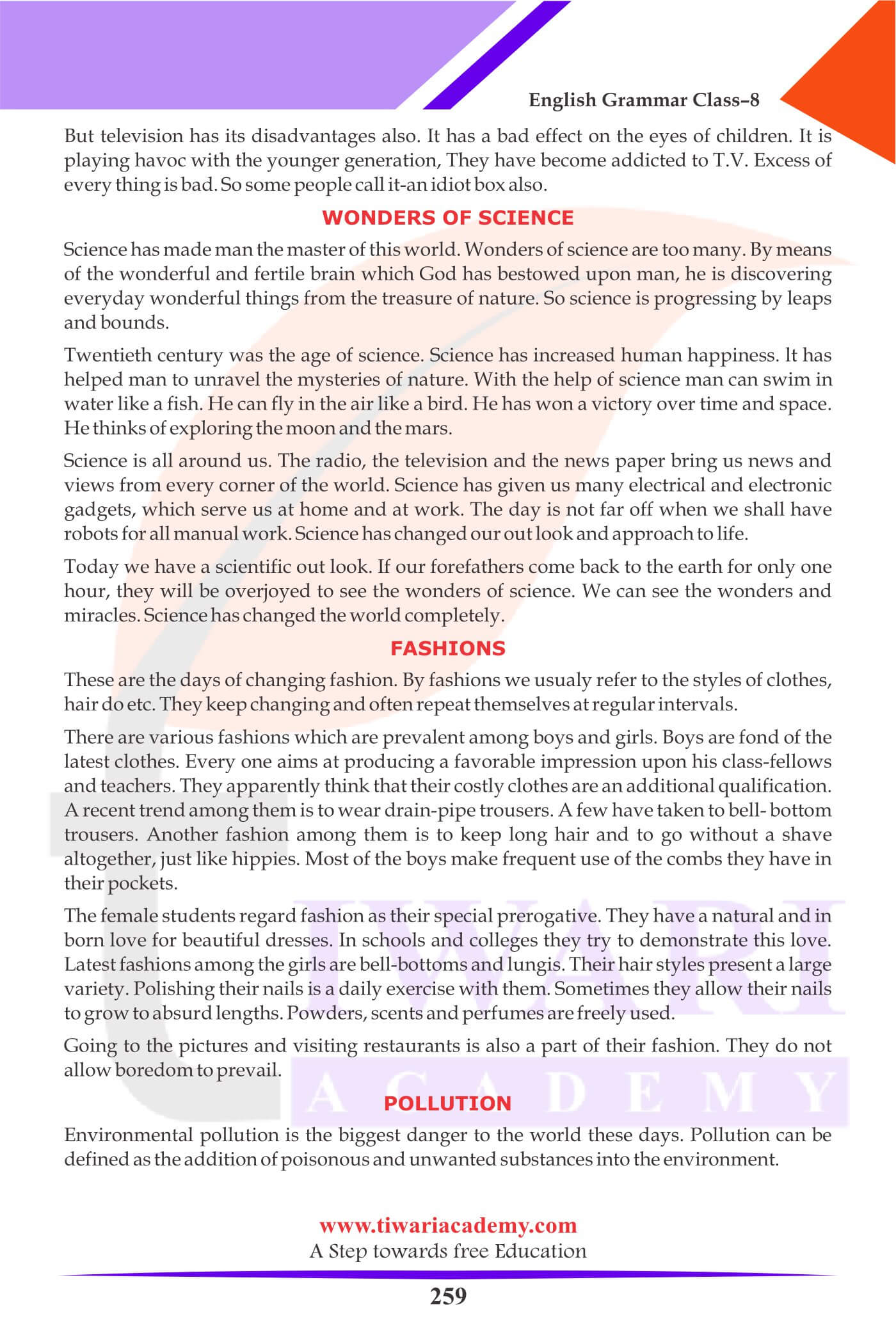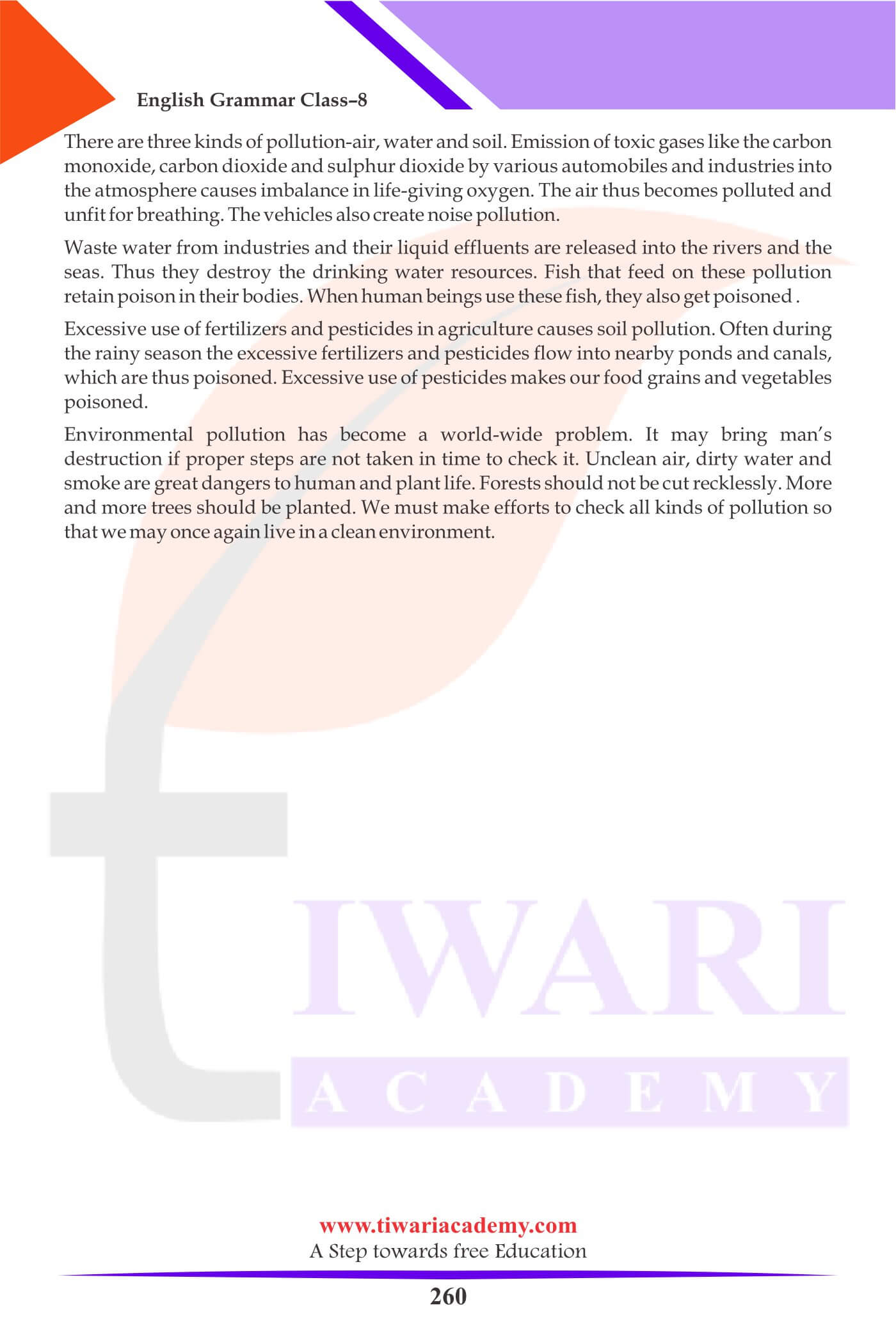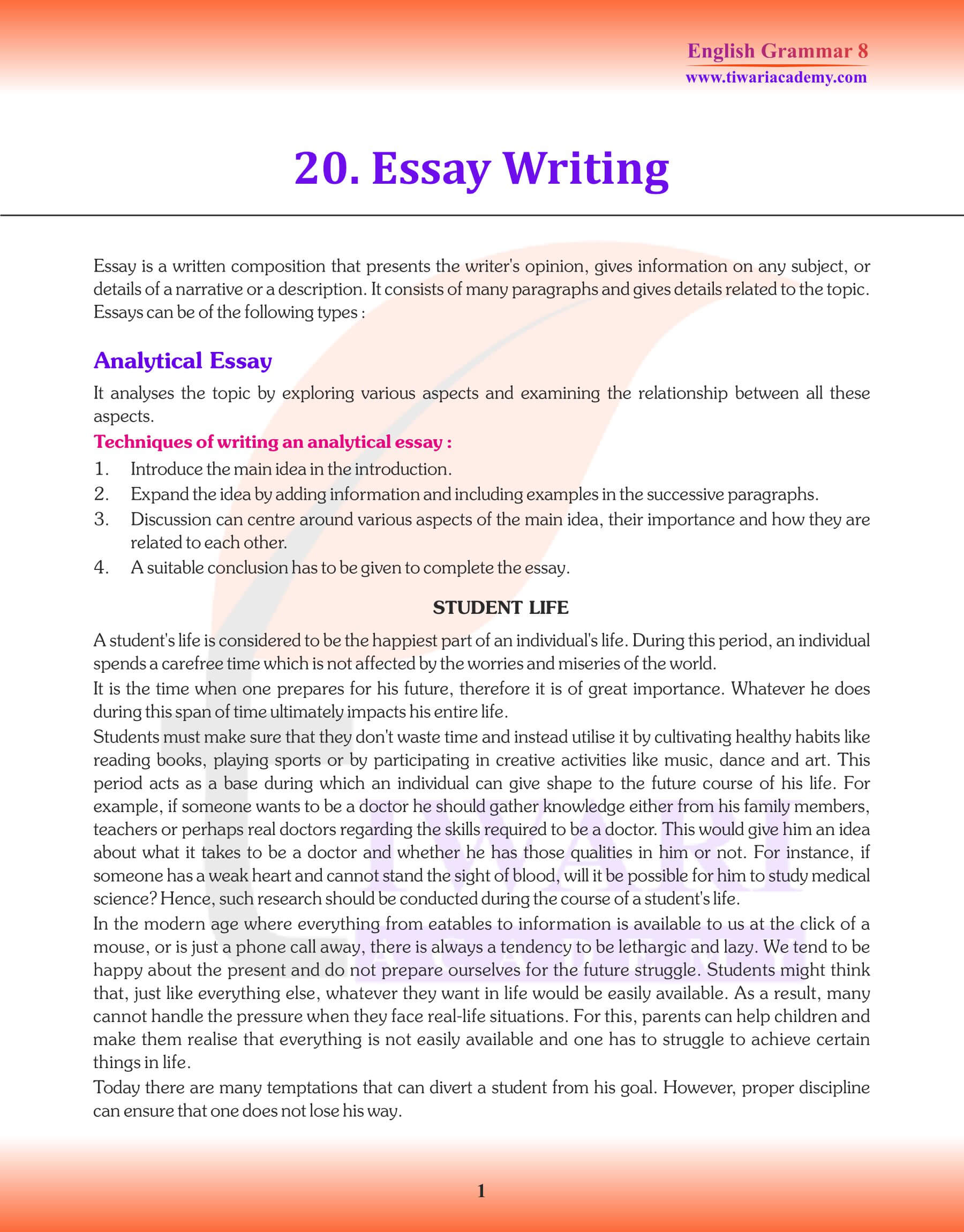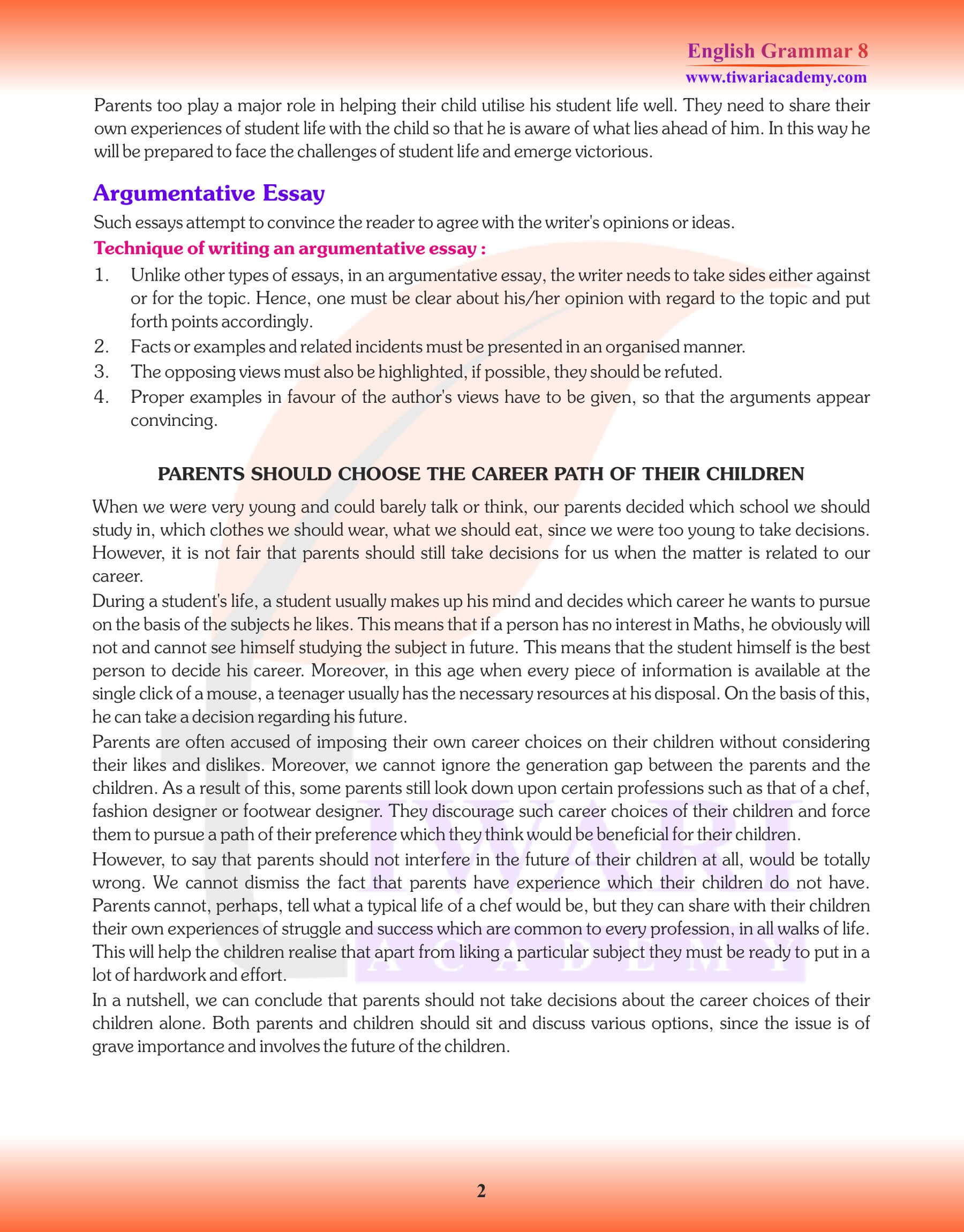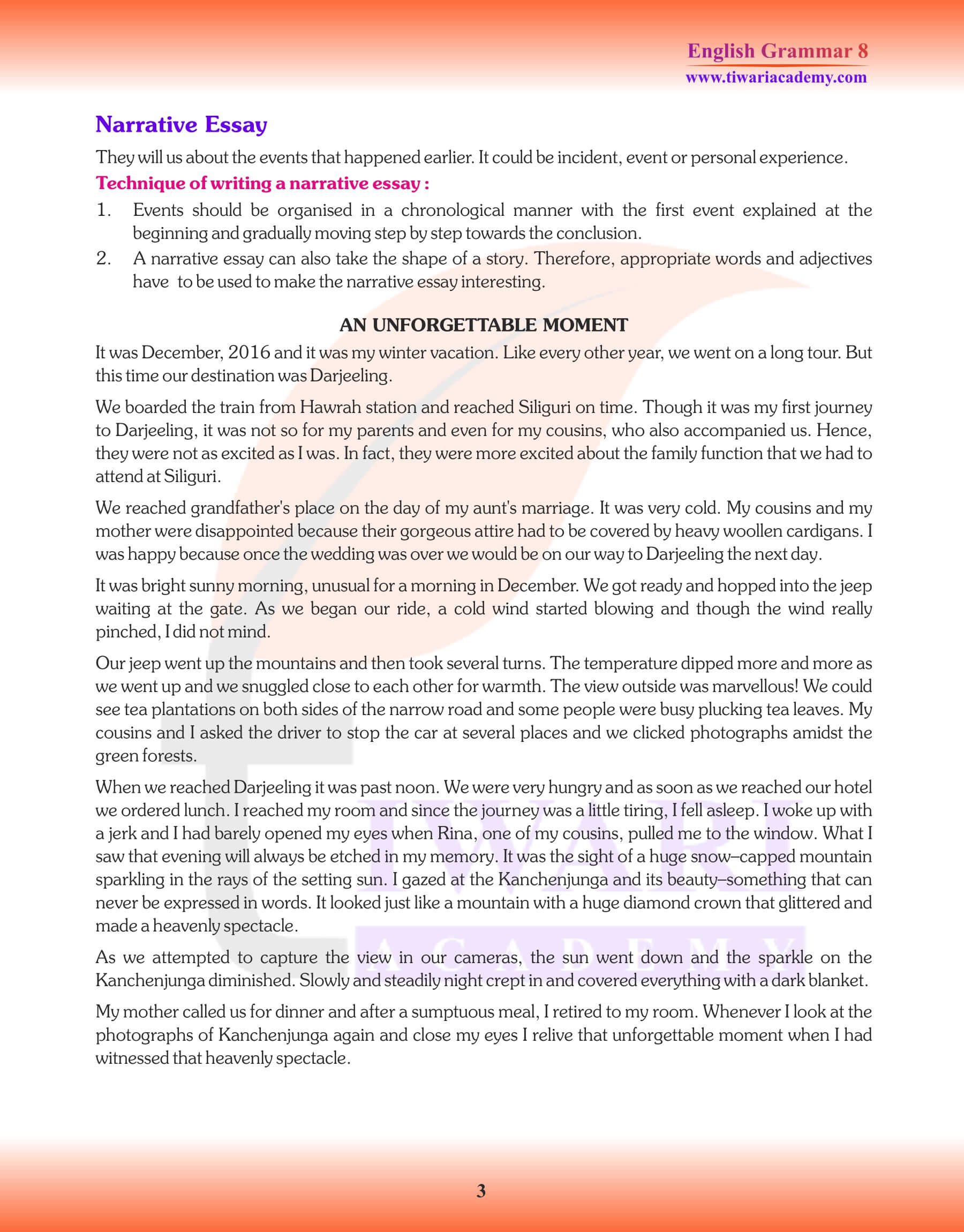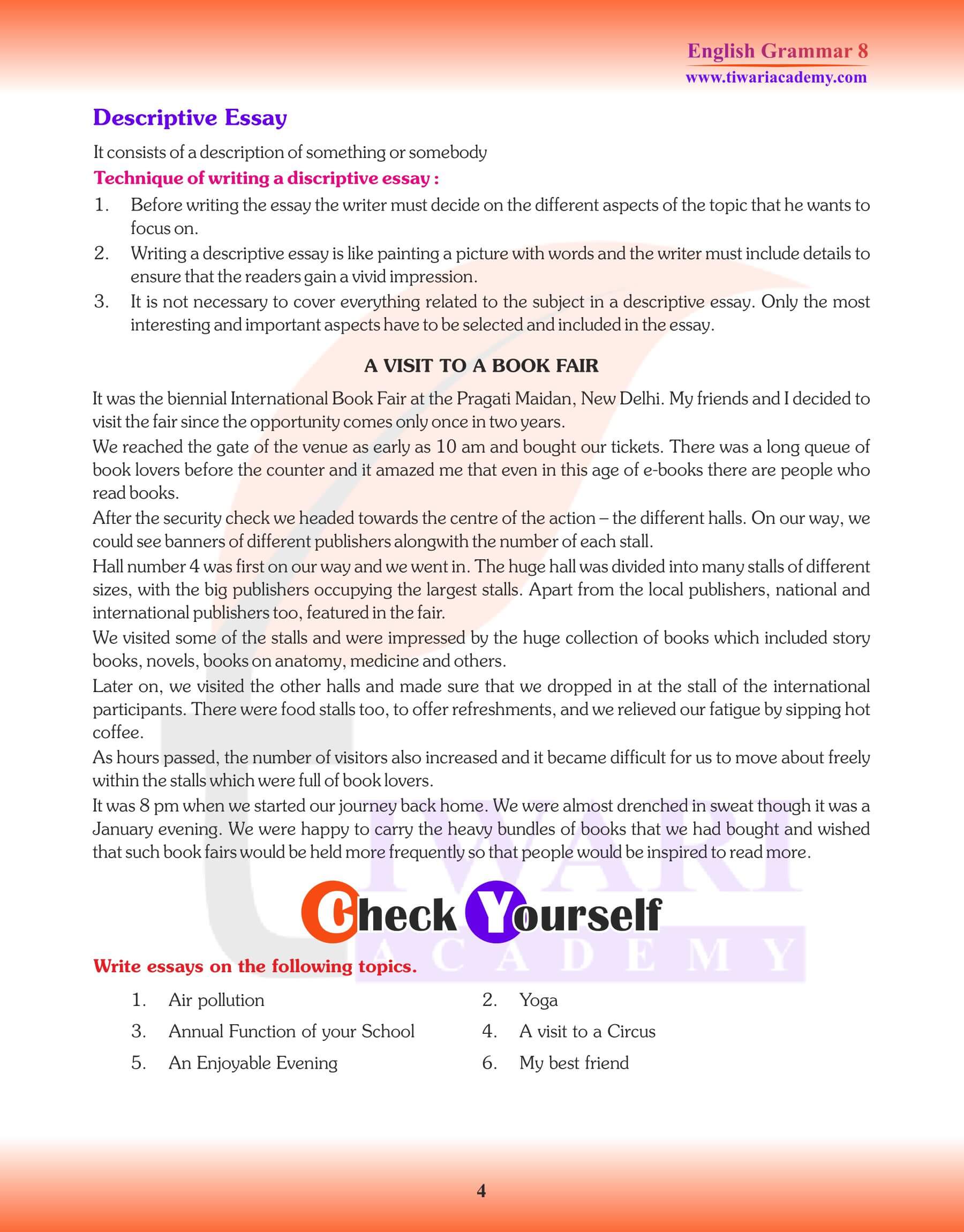 Last Edited: October 25, 2023