NCERT Solutions for Class 7 Social Science Civics Chapter 2 Role of Government in Health Unit 2 in English Medium or Hindi Medium free to download in PDF or View online updated for new academic session 2023-24. On the suggestions, whatever we have received, the NCERT Solutions have been updated for academic session 2023-24.
NCERT Solutions for Class 7 Social Science Civics Chapter 2
Class 7th Civics Chapter 2 Solution in Hindi and English Medium
| | |
| --- | --- |
| Class: 7 | Political Science |
| Subject: | Social Science |
| Chapter 2: | Role of Government in Health |
| Academic Year: | Session 2023-24 |
| Contents: | English and Hindi Medium Solutions |
Class 7 Civics Chapter 2 Question Answers
CBSE NCERT Solutions for Class 7 Social Science Political Science Chapter 2 Role of Government in Health in English and Hindi Medium Unit 2 is given in updated format for the new academic session 2023-24. Download NCERT solutions 2023-24 in PDF form for offline use or use as it is without downloading.
Important Notes on 7th Civics Chapter 2
In a democracy people expect the government to work for their welfare. This could be through the provision of education, health, employment, housing or the development of roads, electricity etc. In order to prevent and treat illnesses we need appropriate healthcare facilities such as health.
Centres, hospitals, laboratories for testing, ambulance services, blood banks, etc., that can provide the required care and services that patients need. In order to run such facilities we need health workers, nurses, qualified doctors and other health professionals who can advise, diagnose and treat illnesses. We also need the medicines and equipment that are necessary for treating patients.
Public Health Care
India has considerable experience and knowledge in running a public healthcare system. This is a system of hospitals and health centres run by the government. It has the ability to look after the health of a large section of its population scattered over hundreds of thousands of villages.
With all the above positive developments we are not able to provide proper healthcare facilities to people. This is the paradox – something that is contrary to what we would expect. Our country has the money, knowledge and people with experience but cannot make the necessary healthcare available to all.
The public health service is a chain of health centres and hospitals run by the government. They are linked together so that they cover both rural and urban areas and can also provide treatment to all kinds of problems – from common illnesses to special services. At the village level there are health centres where there is usually a nurse and a village health worker.
Class 7 Social Science – Civics Chapter 2 – Important Questions
In this chapter you have read that health is a wider concept than illness. Look at this quote from the Constitution and explain the terms 'living standard' and 'public health' in your own words.
Living standard: It means status of living. It defines the economic conditions of any country or any person. Living standard shows how much expense is being incurred towards our status of living. Public Health: Health means our ability to remain free from illness and injuries and when these services are arranged by the government then it is called Public Health Services. They are linked together so that they cover they cover rural and urban areas.
What are the different ways through which the government can take steps to provide healthcare for all? Discuss.
In India private healthcare services and hospitals are more in practice. But due to these private hospitals being highly expensive, poor people cannot afford to admit their patients to such hospitals. On the other hand government hospitals are much less in number and also not equipped properly and do not have good experienced doctors. Therefore to provide healthcare services for all, government should pass a regulation prohibiting private practice of doctors. Apart from this the different ways through which the government can take steps to provide healthcare for all are by following means – opening and maintenance of: a) Hospitals b) Healthcare center c) Primary health center d) Dispensaries e) Family welfare center Free camps of check-ups Free diagnosis centers Pulse polio and similar type special campaigns Health awareness programs Workshops and seminars Training camps.
Improvement in water and sanitation can control many diseases. Explain with the help of examples.
In our country most of the diseases are caused due to contaminated water and poor sanitation. In tribal areas, there are shortage of water supply and lack of awareness about proper sanitation till today. People depend on the water of polluted rivers or ponds and suffer from lack of sanitation. These cause highly infectious diseases such as – diarrhea, malaria, cholera, jaundice, plague etc. If we follow clean sanitation and use purified water then we can easily control and avoid many of the above diseases.
Registered Medical Practitioners
There is a wide range of private health facilities that exist in our country. A large number of doctors run their own private clinics. In the rural areas, one finds Registered Medical Practitioners (RMPs). Urban areas have a large number of doctors, many of them providing specialised services. There are hospitals and nursing homes that are privately owned. There are many laboratories that do tests and offer special facilities such as X-ray, ultrasound, etc. There are also shops from where we buy medicines.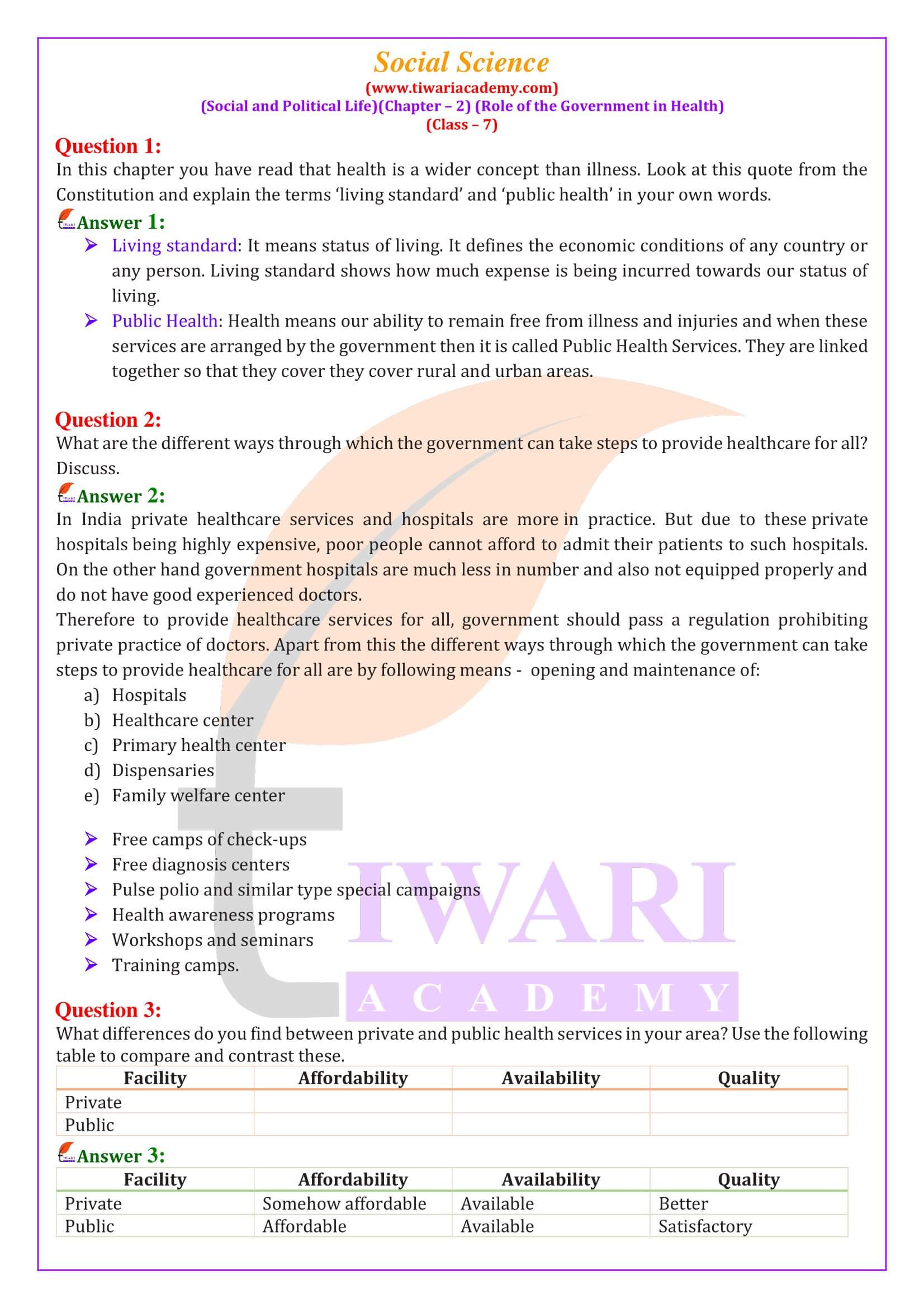 Last Edited: August 10, 2023