NCERT Solutions for Class 7 Social Science Civics Chapter 4 Growing up as Boys and Girls in English Medium and Hindi Medium free to download in PDF format or View online for session 2023-24. Class 7 all subjects NCERT Solutions 2023-24 are based on latest NCERT Books for the academic session 2020–2021. Share your views in the World of Knowledge thought Discussion Forum and reply to your friends and class mates.
NCERT Solutions for Class 7 Social Science Civics Chapter 4
7th Civics Chapter 4 Solution in Hindi and English Medium
| | |
| --- | --- |
| Class: 7 | Political Science (Civics) |
| Subject: | Social Science |
| Chapter 4: | Growing up as Boys and Girls |
| Academic Session: | 2023-24 |
| Medium: | English and Hindi Medium |
Class 7 Civics Chapter 4 Question Answers
CBSE NCERT Solutions for Class 7 Social Science Political Science Chapter 4 Growing up as Boys and Girls Unit 3 in Hindi and English Medium is given for the new academic session 2023-24. Download NCERT solutions 2023-24 in PDF form for offline use or use as it is without downloading online.
Frequently Asked Questions on 7th Civics Chapter 4
Class 7 Social Science Civics Chapter 4 Extra Questions
What type of work is done by rural areas women and girls?
In rural areas women and girls carry heavy headloads of firewood. Tasks like washing clothes, cleaning, sweeping and picking up loads require bending, lifting and carrying. Many chores, like cooking, involve standing for long hours in front of hot stoves. The work women do is strenuous and physically demanding.
What do you understand by Identity?
Identity is a sense of self-awareness of who one is. Typically, a person can have several identities. For example, a person can be a girl, a sister and a musician.
What is meant by Double-burden?
Literally means a double load. This term is commonly used to describe the women's work situation. It has emerged from a recognition that women typically labour both inside the home (housework) and outside.
When does a person feel De-valued?
When someone is not given due recognition for a task or job they have done, they can feel de-valued. For example, if a boy has put in a lot of effort into making a special birthday gift for his friend and this friend does not say anything about this, then the boy may feel de-valued.
What does Care-Giving refer?
Care-giving refers to a range of tasks related to looking after and nurturing. Besides physical tasks, they also involve a strong emotional aspect.
How does Government help the women?
The government has set up anganwadis or child-care centres in several villages in the country. The government has passed laws that make it mandatory for organisations that have more than 30 women employees to provide crèche facilities. The provision of crèches helps many women to take up employment outside the home. It also makes it possible for more girls to attend schools.
Class 7 Social Science – Civics Chapter 4 – Important Questions
All societies do not think similarly about the roles that boys and girls play. Is it true?
Yes, it is True. It is because the attitude of the societies are not the same. They differ sharply. In one society we find everything in traditional pattern. It does not allow its girls to get high education and do jobs in offices and factories. At the same time there is another society which believes in high ideas and modem ways of living. Such a society allows its girls to go said by side along with the boys. It believes that girls must be given all opportunities like boys so that they may achieve good name and fame. For example, Muslim society puts its girls behind wall; whereas we have the Christian community which paves ways for its girl to rise higher and higher.
Our society does not make distinctions between boys and girls when they are growing up. True or False, give reason?
It is False. It is a bitter truth that our society does not behave fairly with the girls. It makes many distinctions between boys and girls when they are growing up. Most of the parents prefer boys. They provide good food and good education to their son or sons but refuse to make available these facilities for their daughter or daughters.
Women who stay at home do not work. What do you think, whether true or false?
This statement is totally False. Women who stay at home do a lot of work. At times, they do more work than men. All the house-hold chores depend upon women for their disposal. Women look after the whole family by discharging their duties in the most perfect way. They cook food, wash clothes, clean the house, etc. They also help their children in doing homework, m not shell we can say that women who stay at home are always busy.
The work that women do is less valued than that of men. Are you agree?
No. The work that women do is equally values to that of men. Our society and our family depend not only on men but on women too. Both men and women are the two wheels on which the family runs smoothly. If one wheel gets damaged, it is very difficult to run the family. Both men and women are equally important in the development of our country
Write in your own words what is meant by the terms 'invisible', 'physically demanding', and 'time consuming'? Give one example of each based on the household tasks undertaken by women in your home.
The term 'invisible' means the work that women generally do inside the home is not given due recognition. Example – looking after the family members and cooking food for them. The term 'physically demanding' means the various works women do for their families require great physical labour. Example – cooking by standing in front of gas-stoves. The term 'time consuming' in housework means that women spend long hours in doing different household chores. Example – taking care of the children and the old are time consuming.
Make a list of toys and games that boys typically play and another for girls. If there is a difference between the two lists, can you think of some reasons why this is so? Does this have any relationship to the roles children have to play as adults?
Boys prefer hard or tough toys. They are very conscious of their manliness from the very beginning. Toys like helicopter, gun, aeroplane, etc. satisfy their instinct of being boys. On the other hand girls choose those toys which are soft and can be played indoors. Their feministic nature does not allow them to play with toys preferred by boys. Yes, the toys and games, the boys and girls play with have relationship to the roles they have to play as adults. Boys begin to give protection to the girls while girls take care of the boys.
If you have someone working as a domestic help in your house or locality talk to her and find out a little bit more about her life – Who are her family members? Where is her home? How many hours does she work? How much does she get paid? Write a small story based on these details.
There is a domestic helper in my locality. Her name is Geeta. There are six members in her family including herself. She has to look after his old parents, two brothers and a sister. Being the eldest among her siblings, the responsibility of the family falls on his shoulders. She is from a small village of Orissa. She works for fifteen to eighteen hours every day. She gets fifteen hundred per month along with feeding and lodging. Geeta is a domestic helper in the house of Mr. Sharma, She has been working there for five years. Mr. Sharma is an executive engineer. He has five members in his family Geeta wakes up at 5 o'clock every day without failure. After sweeping and dusting she prepares breakfast and tiffin. She washes clothes and iron them. She also goes to the bus-stop to pick up the children. At 2 o'clock she starts preparing midday meal. She cooks delicious dishes for the family.
In the evening she serves light meal like snacks, etc. along with tea to the family members. Sometimes Geeta doesn't want to get up so early. But she has to wake up because she is very much afraid of her Memsahib, who always shouts at her. Even children do not behave with her politely. Sometimes she feels hurt. But she keeps silence. She has to cam money at all cost to look after her family.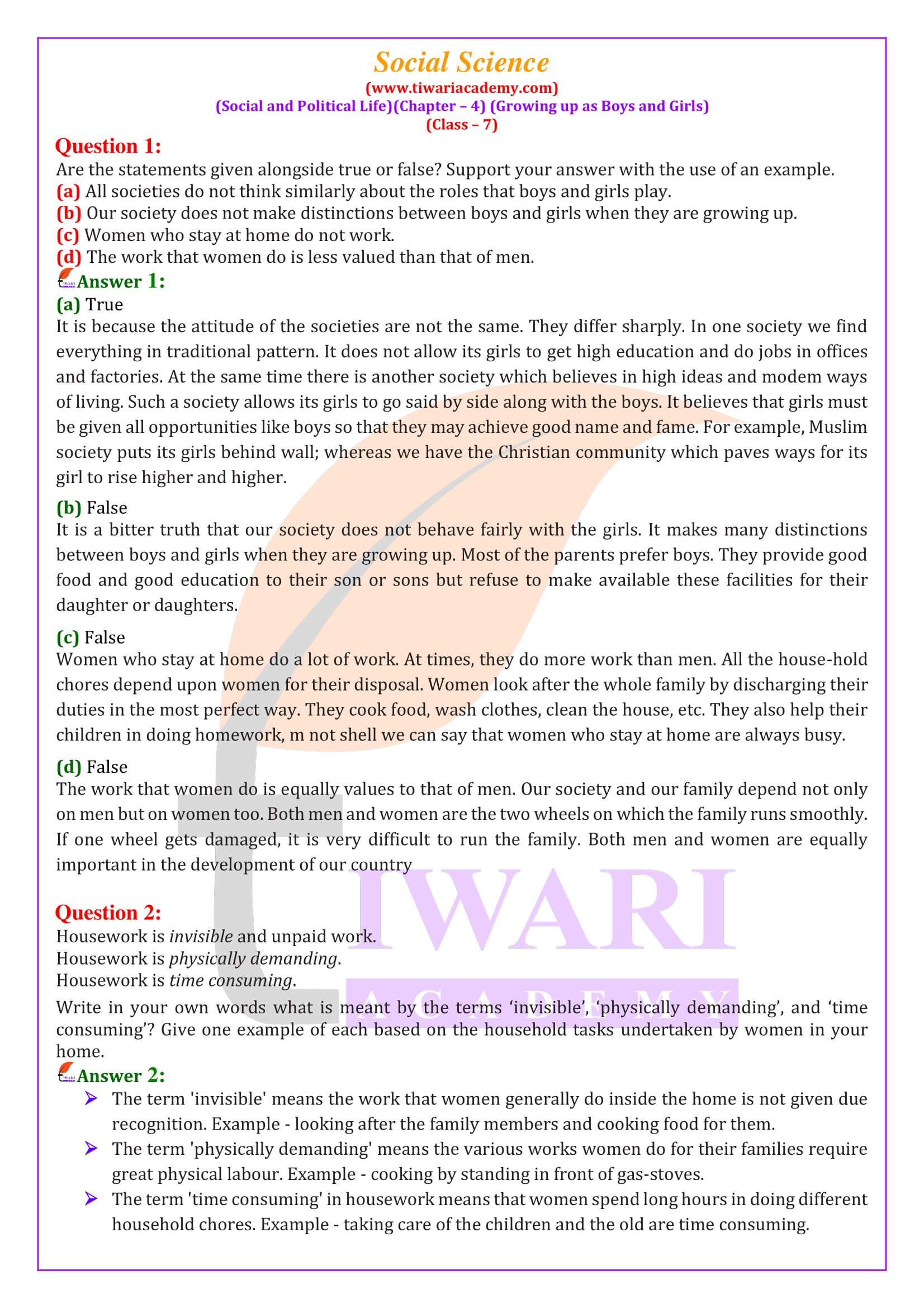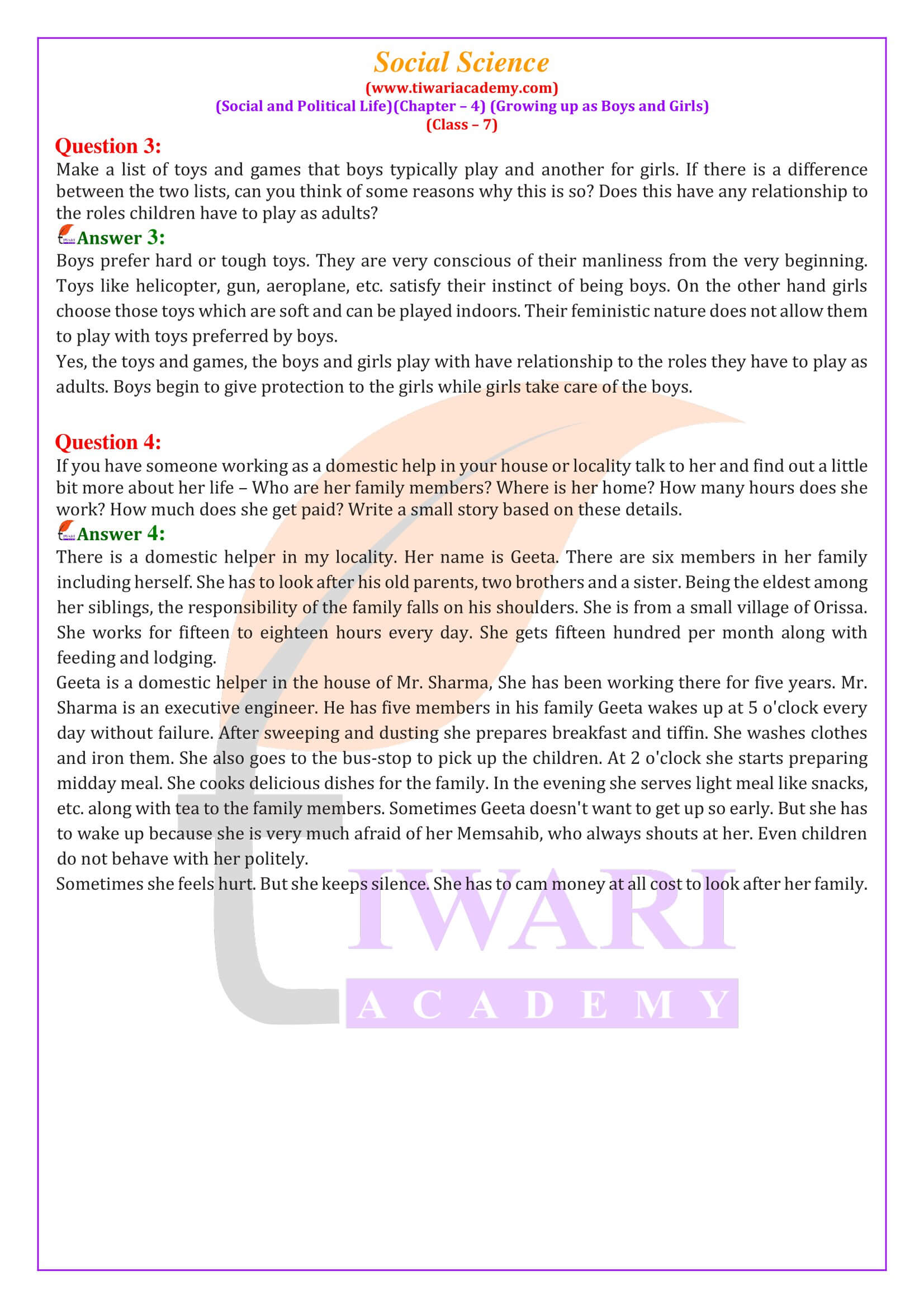 Last Edited: August 10, 2023