NCERT Solutions for Class 11 Chemistry Chapter 9 Hydrogen in English Medium updated for new academic session 2023-2024. Class 11 Chemistry Chapter 9 Exercise and Intext Question Answers, MCQ and Important Extra Question answers are helpful for the preparation of school exams.
Hydrogen
Hydrogen has the simplest atomic structure among all the elements around us in Nature. In atomic form it consists of only one proton and one electron. However, in elemental form it exists as a diatomic (H₂) molecule and is called dihydrogen.
Hydrogen, the most abundant element in the universe and the third most abundant on the surface of the globe, is being visualized as the major future source of energy.
Position of Hydrogen in The Periodic Table
Hydrogen is the first element in the periodic table. the elements in the periodic table are arranged according to their electronic configurations. Hydrogen has electronic configuration 1s1. On one hand, its electronic configuration is similar to the outer electronic configuration (ns¹) of alkali metals, which belong to the first group of the periodic table.
Class 11 Chemistry Chapter 9 MCQ
Dihydrogen, H₂
Dihydrogen is the most abundant element in the universe (70% of the total mass of the universe) and is the principal element in the solar atmosphere. The giant planets Jupiter and Saturn consist mostly of hydrogen.
Isotopes of Hydrogen
Hydrogen has three isotopes: protium, ¹H₁, deuterium, ²H₁ or D and tritium, ³H₁ or T. These isotopes differ from one another in respect of the presence of neutrons. Ordinary hydrogen, protium, has no neutrons, deuterium (also known as heavy hydrogen) has one and tritium has two neutrons in the nucleus.
Class 11 Chemistry Chapter 9 Multiple Choice Questions
Preparation of Dihydrogen, H₂
There are a number of methods for preparing dihydrogen from metals and metal hydrides.
Laboratory Preparation of Dihydrogen
(i) It is usually prepared by the reaction of granulated zinc with dilute hydrochloric acid.
Zn + 2H⁺ ⟶ Zn²⁺ + H₂
(ii) It can also be prepared by the reaction of zinc with aqueous alkali.
Zn + 2NaOH ⟶ Na₂ZnO₂ + H₂
Class 11 Chemistry Chapter 9 Important Extra Questions
What do you understand by the term auto protolysis of water? What is its significance?
In auto protolysis a proton is transferred between two identical molecules, one of which acts as a Bronsted acid, releasing a proton which is accepted by the other molecule acting as a Bronsted base. For example: water undergoes auto protolysis in the self-ionization of water reaction.
The significance of auto protolysis, water shows its amphoteric nature due to auto protolysis i.e. water reacts with both acids and bases.
How is heavy water prepared? Compare its physical properties with those of ordinary water.
Heavy water is prepared by the prolonged electrolysis of water containing alkali.
Electrolyte: Water containing NaOH.
Cathode: Steel vessel.
Heavy water has a slightly higher boiling point when compared to water. While the boiling point of water is 100 degrees, it is 101.4 degrees for heavy water. In density as well, heavy water has a higher density when compared to water. The PH value of heavy water is 7.41 when compared to water's PH value of 7.
Explain why HCl is a gas and HF is a liquid.
Strong Intermolecular hydrogen bonding is present in HF molecule than in other hydrogen halides. HCl does not have hydrogen bonding. Hence HF is a liquid at room temperature while HCl is a gas.
Commercial Production of Dihydrogen
(i) Electrolysis of acidified water using platinum electrodes gives hydrogen.
2H₂O (l) ⟶ 2H₂ (g) + O₂ (g)
(ii) High purity (>99.95%) dihydrogen is obtained by electrolysing warm aqueous barium hydroxide solution between nickel electrodes.
(iii) It is obtained as a byproduct in the manufacture of sodium hydroxide and chlorine by the electrolysis of brine solution. During electrolysis, the reactions that take place are:
at anode: 2Cl⁻ (aq) ⟶ Cl₂ (g) + 2e⁻
at cathode: 2H₂O (l) + 2e⁻ ⟶ H₂ (g) + 2OH⁻ (aq)
The overall reaction is
2Na⁺ (aq) + 2Cl⁻ (aq) + 2H₂O(l) ⟶ Cl₂ (g) + H₂ (g) + 2Na⁺ (aq) + 2OH⁻ (aq)
(iv) Reaction of steam on hydrocarbons or coke at high temperatures in the presence of catalyst yields hydrogen.
CH₄ (g) + H₂O (g) ⟶ CO (g) + 3H₂ (g)
The mixture of CO and H₂ is called water gas. As this mixture of CO and H₂ is used for the synthesis of methanol and a number of hydrocarbons, it is also called synthesis gas or SYNGAS.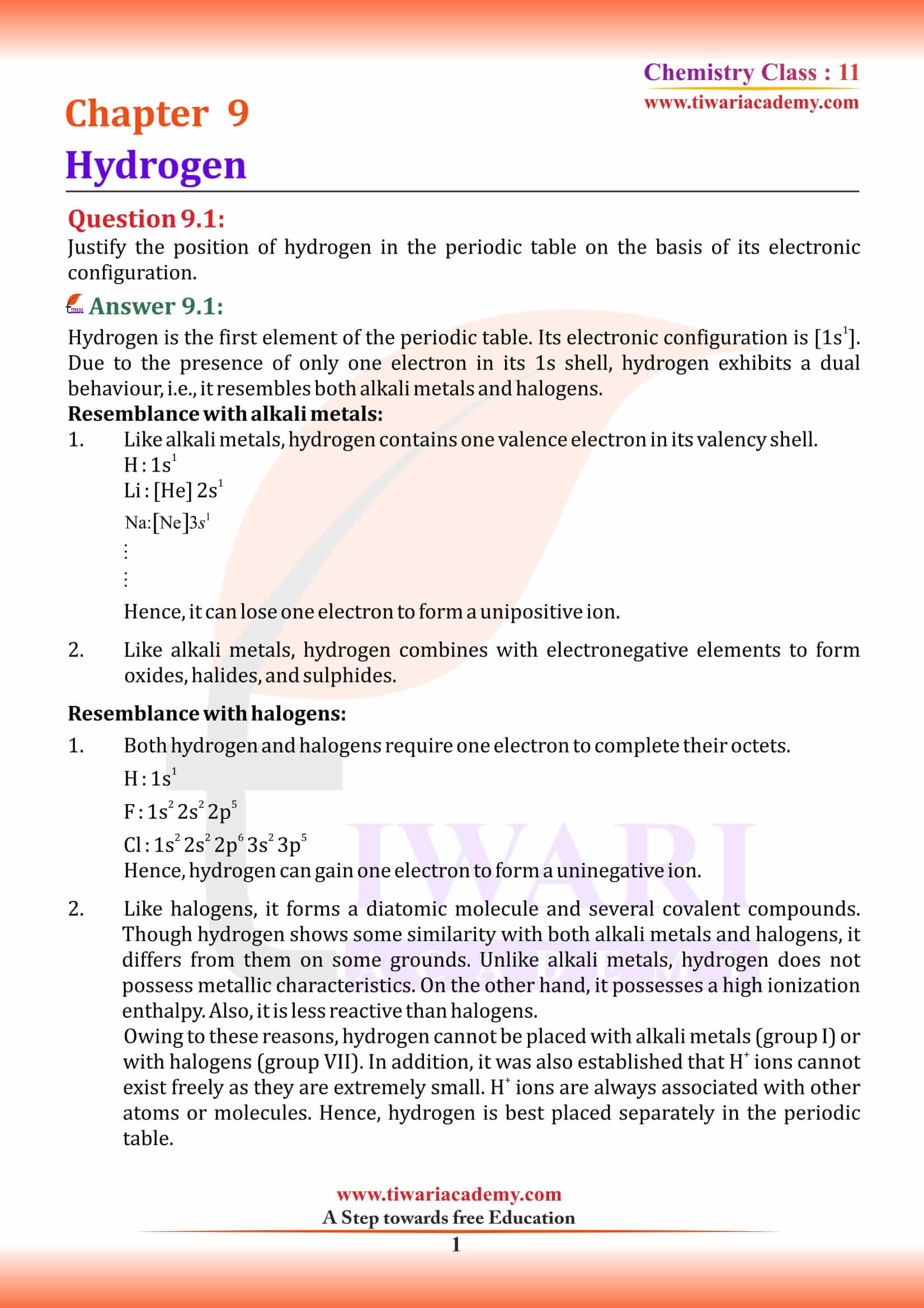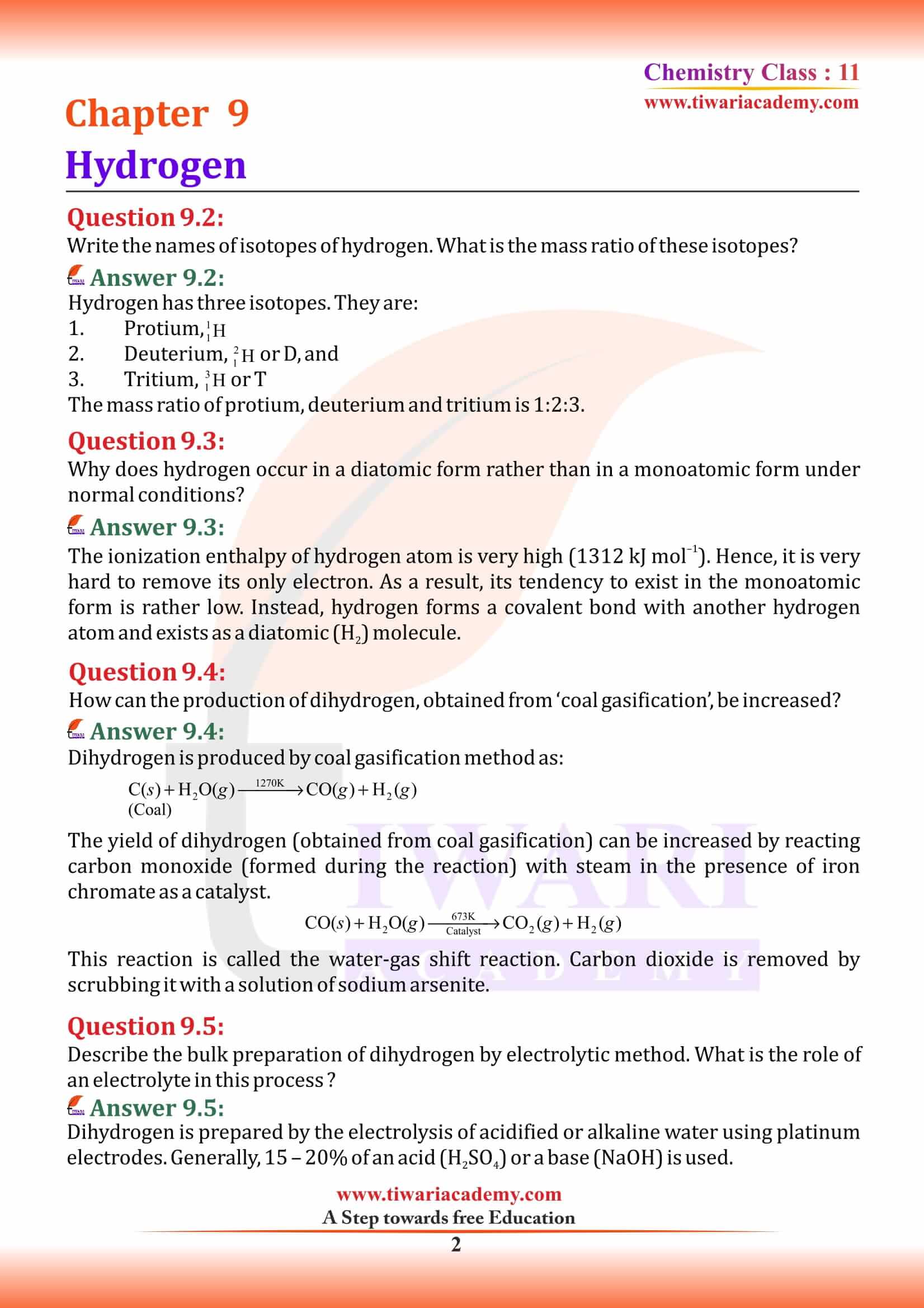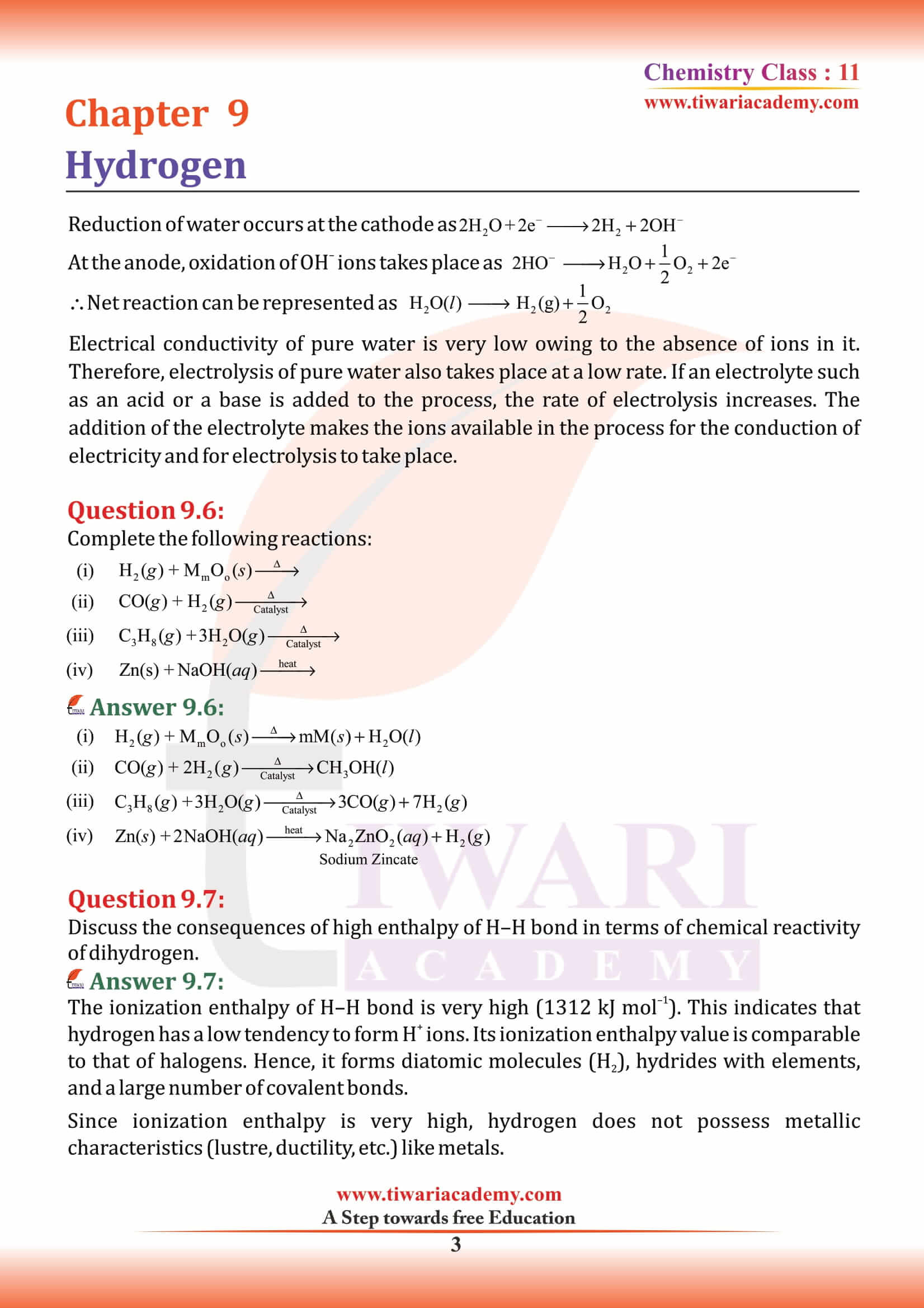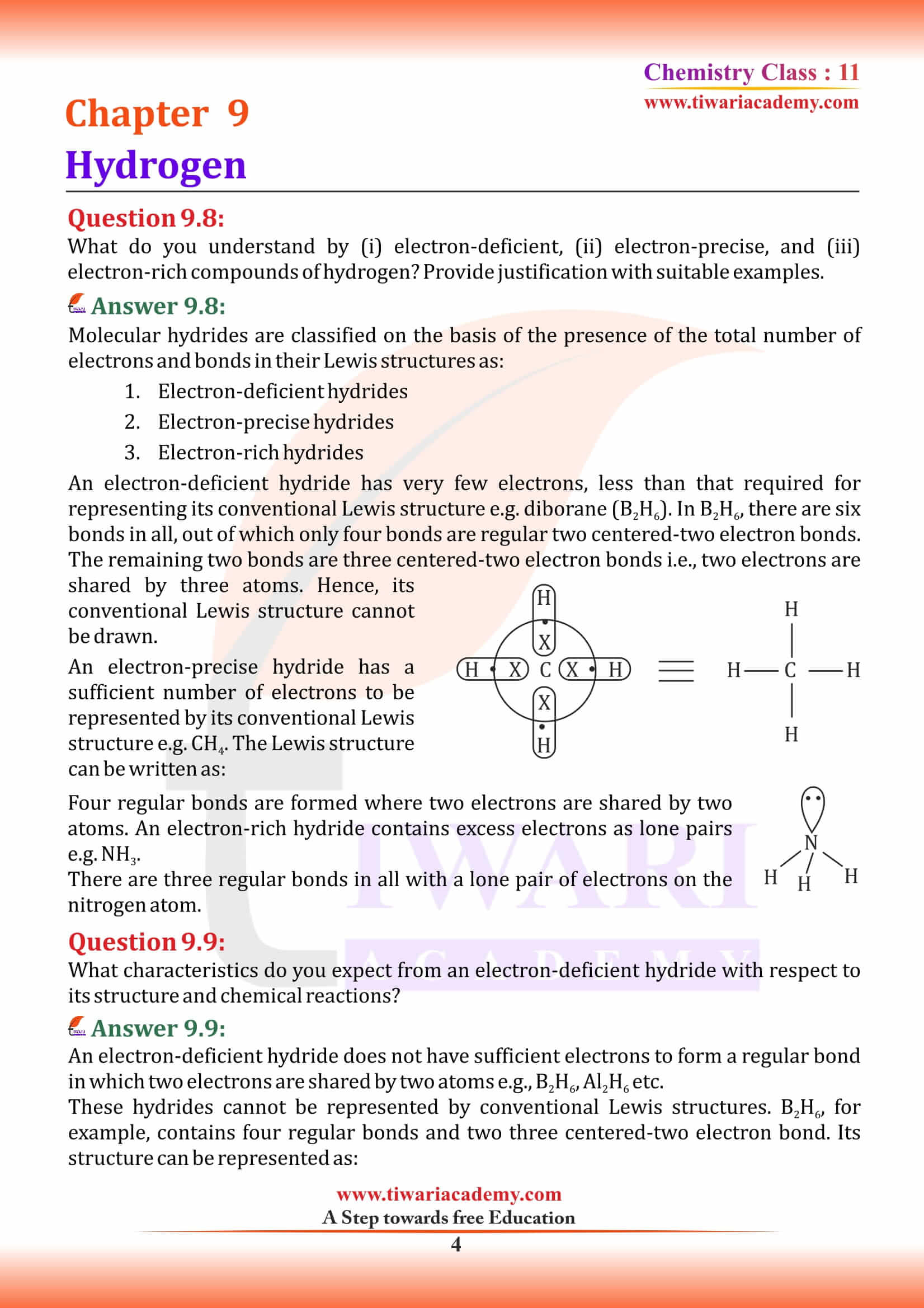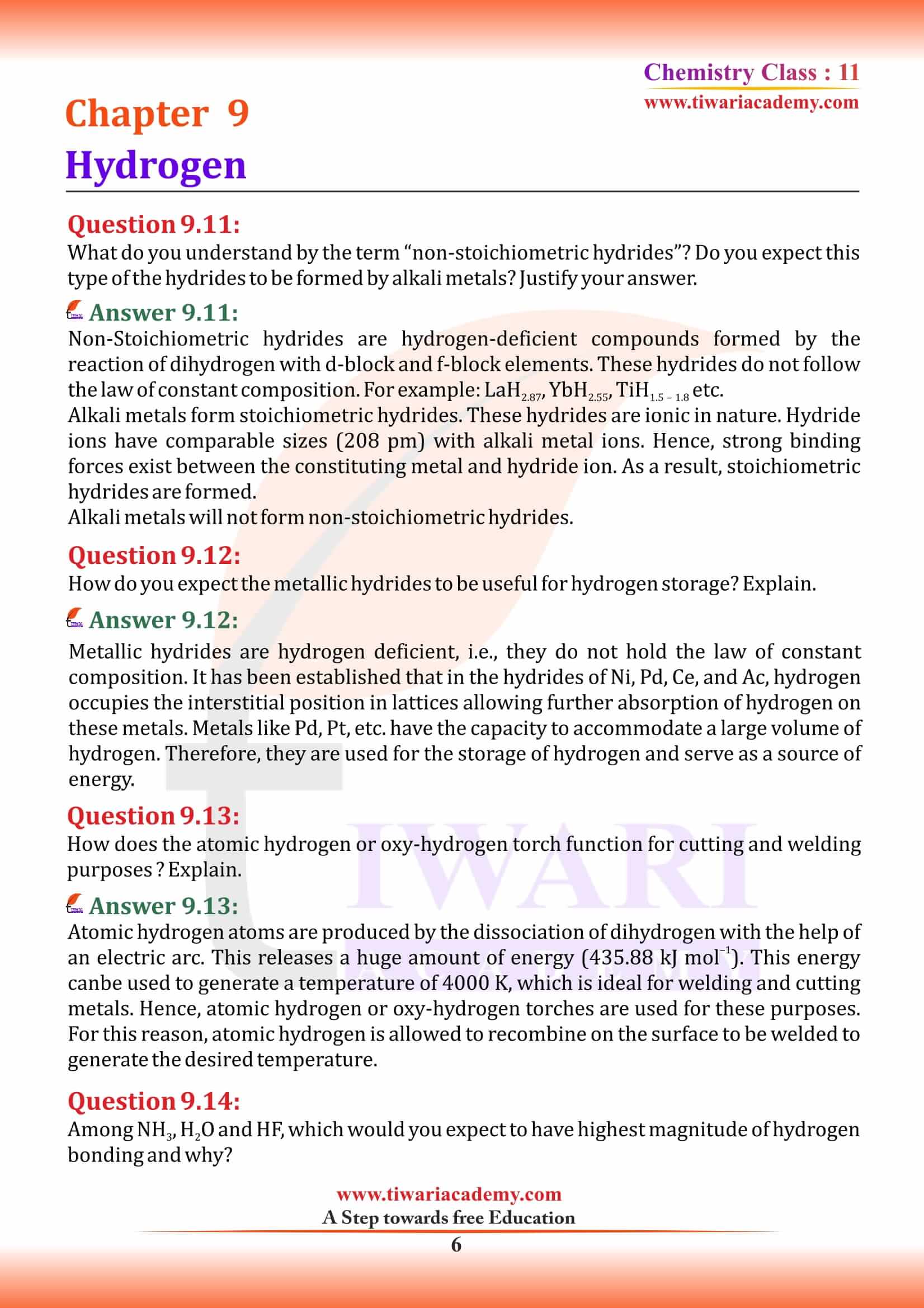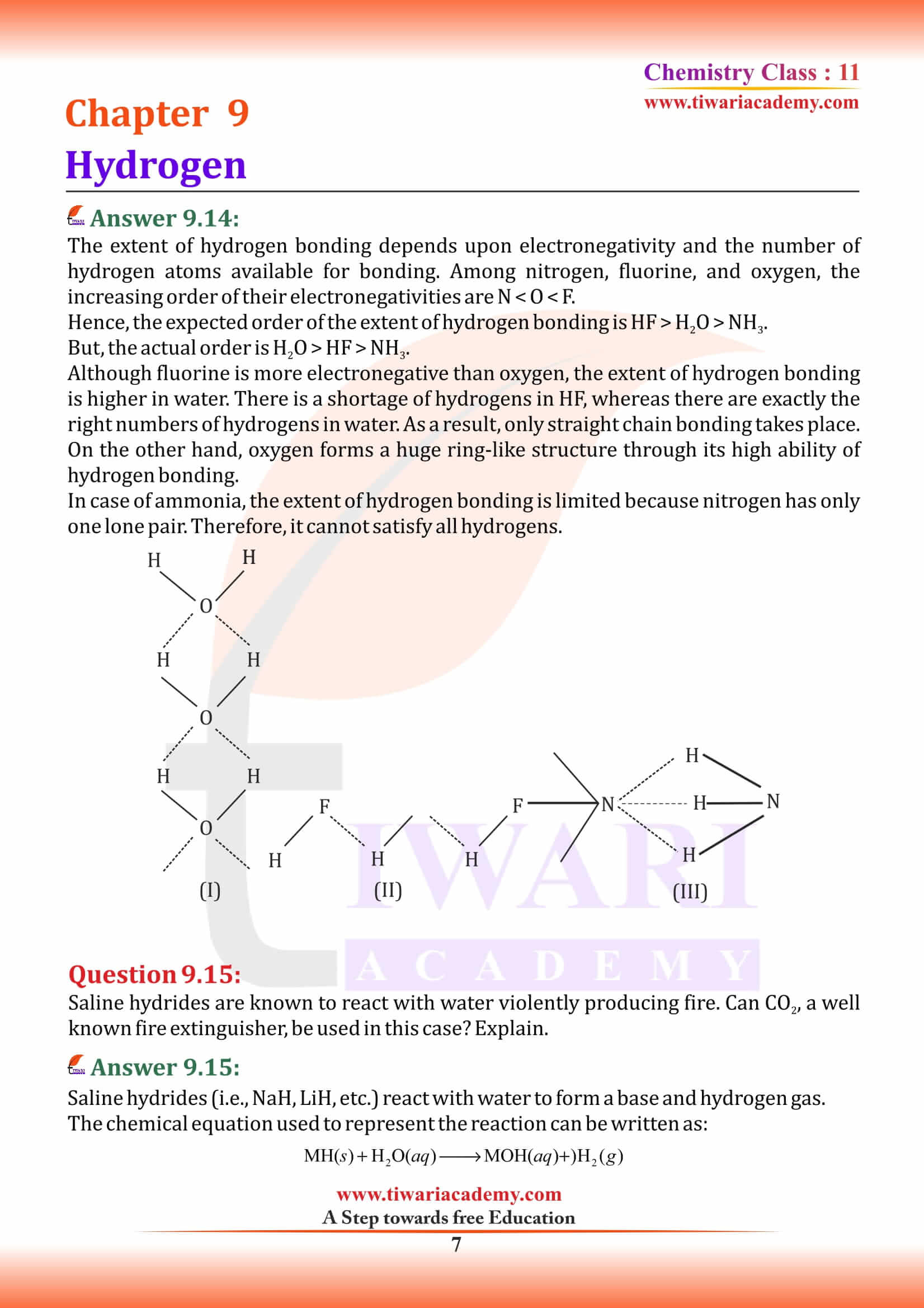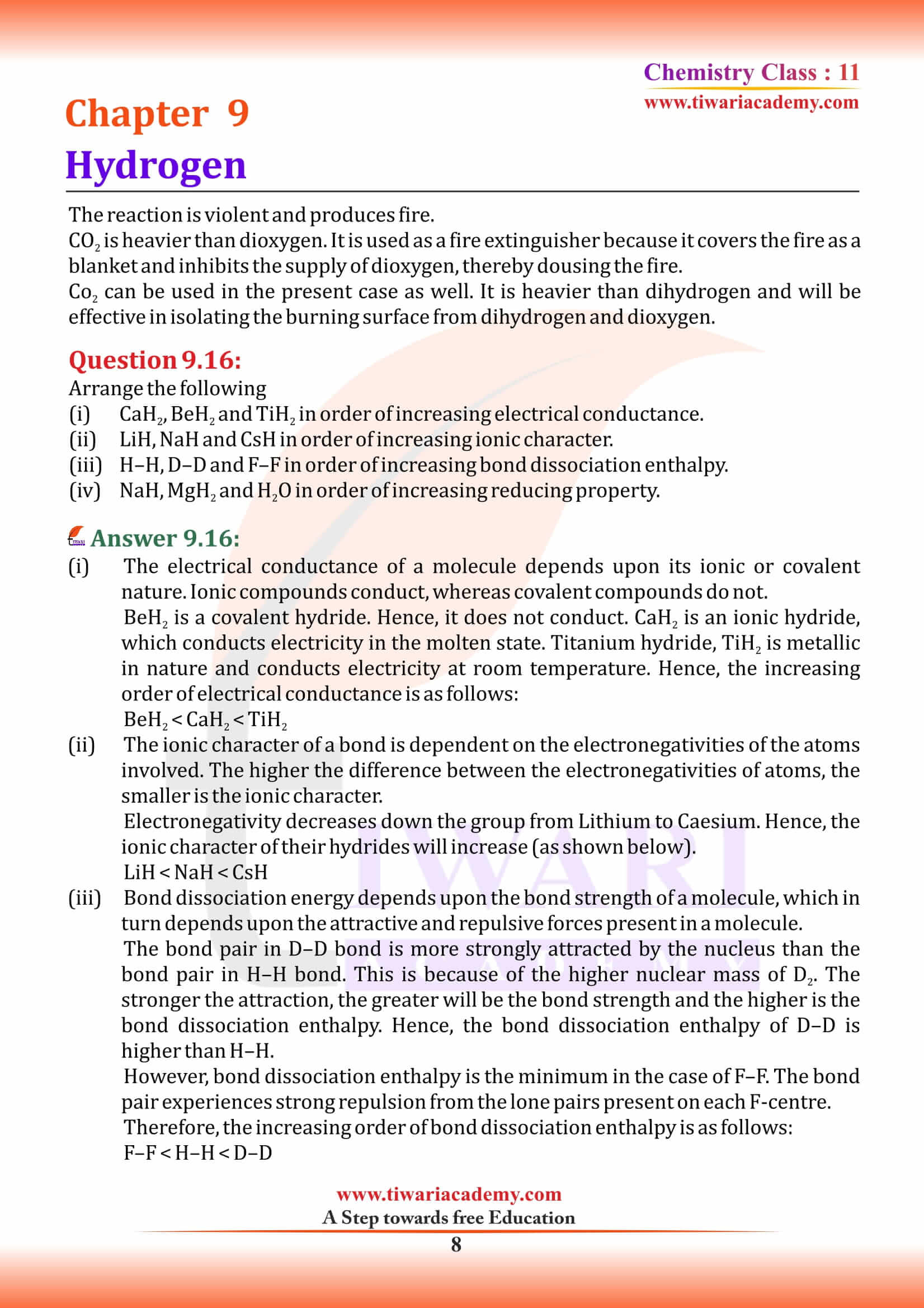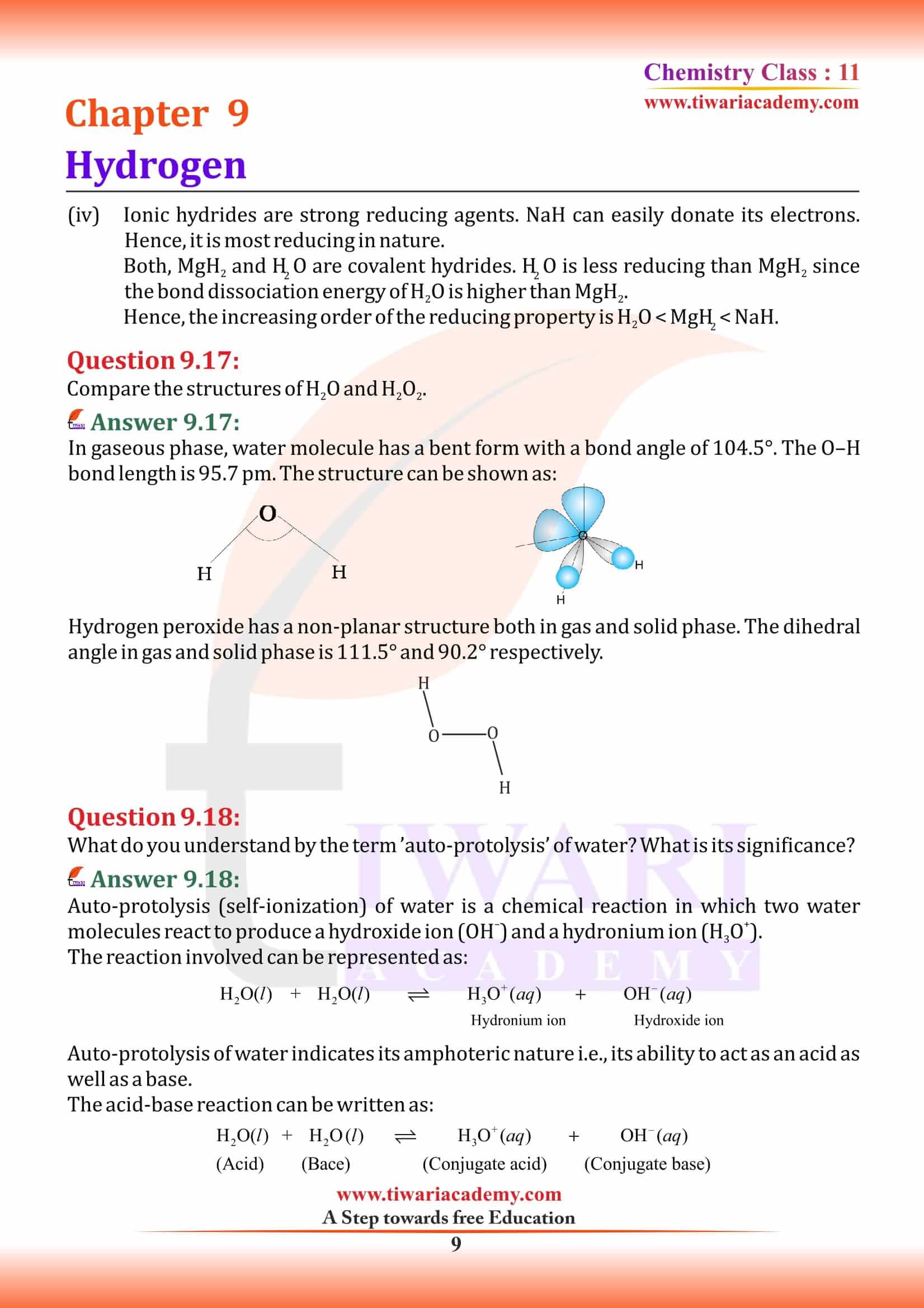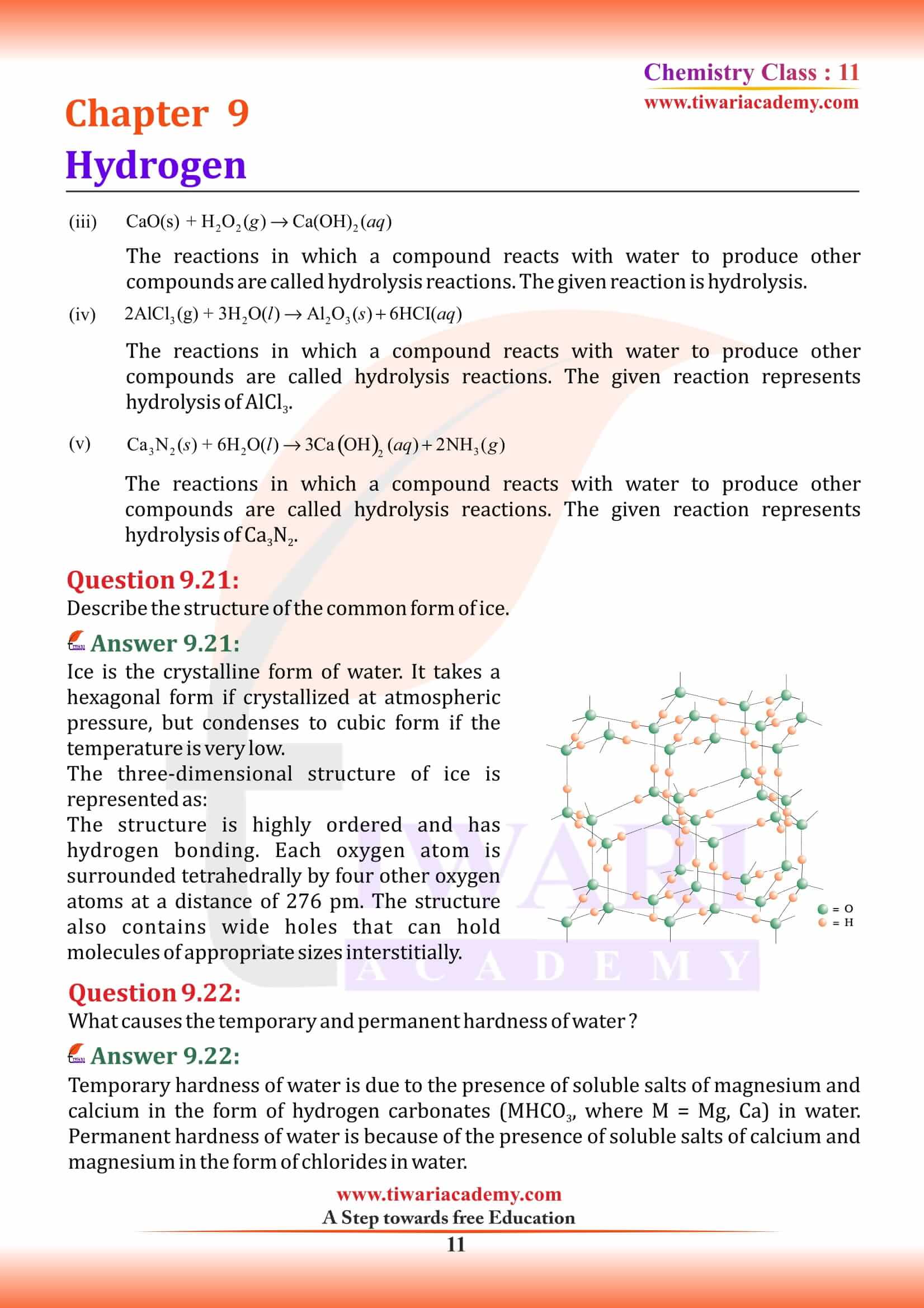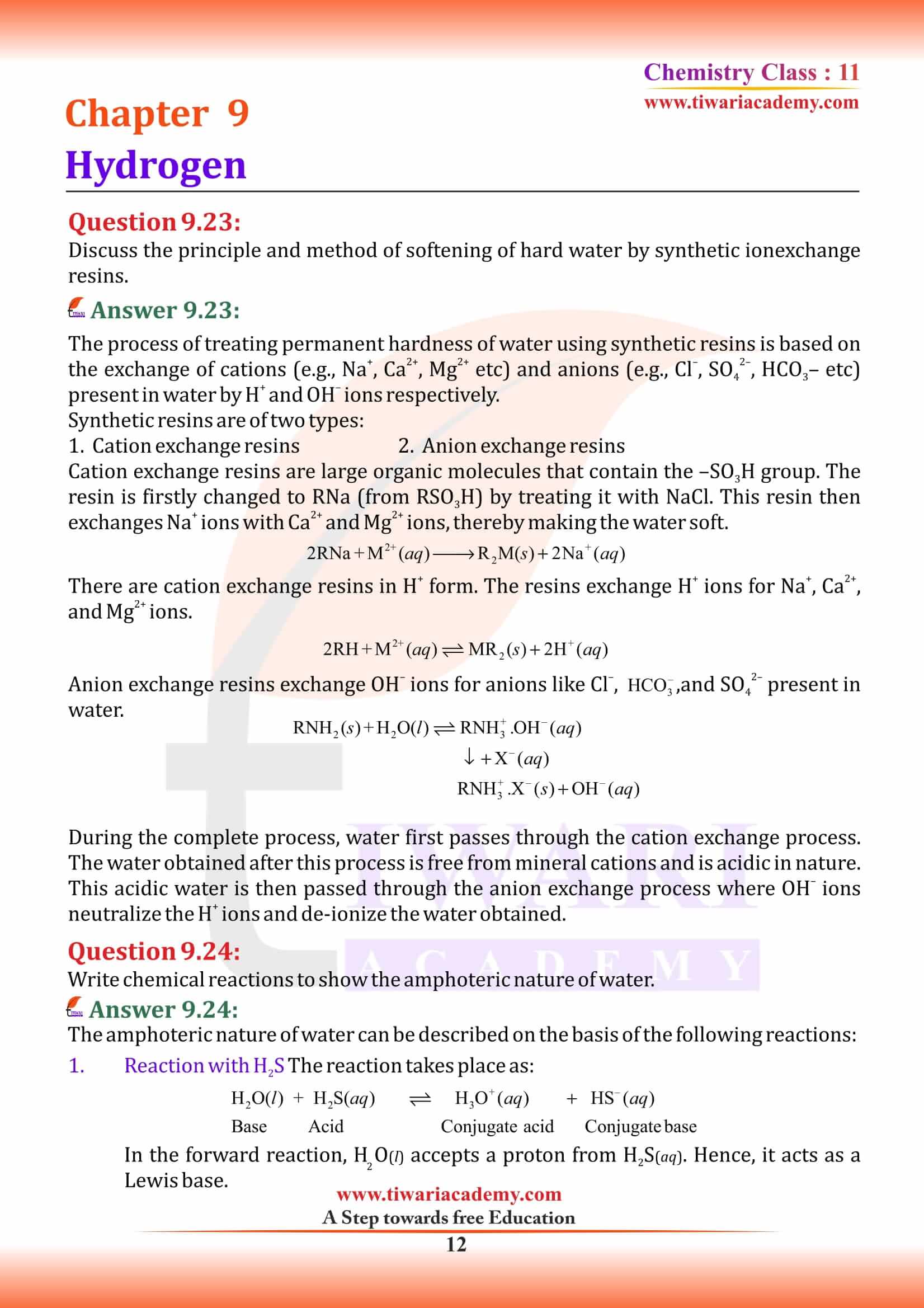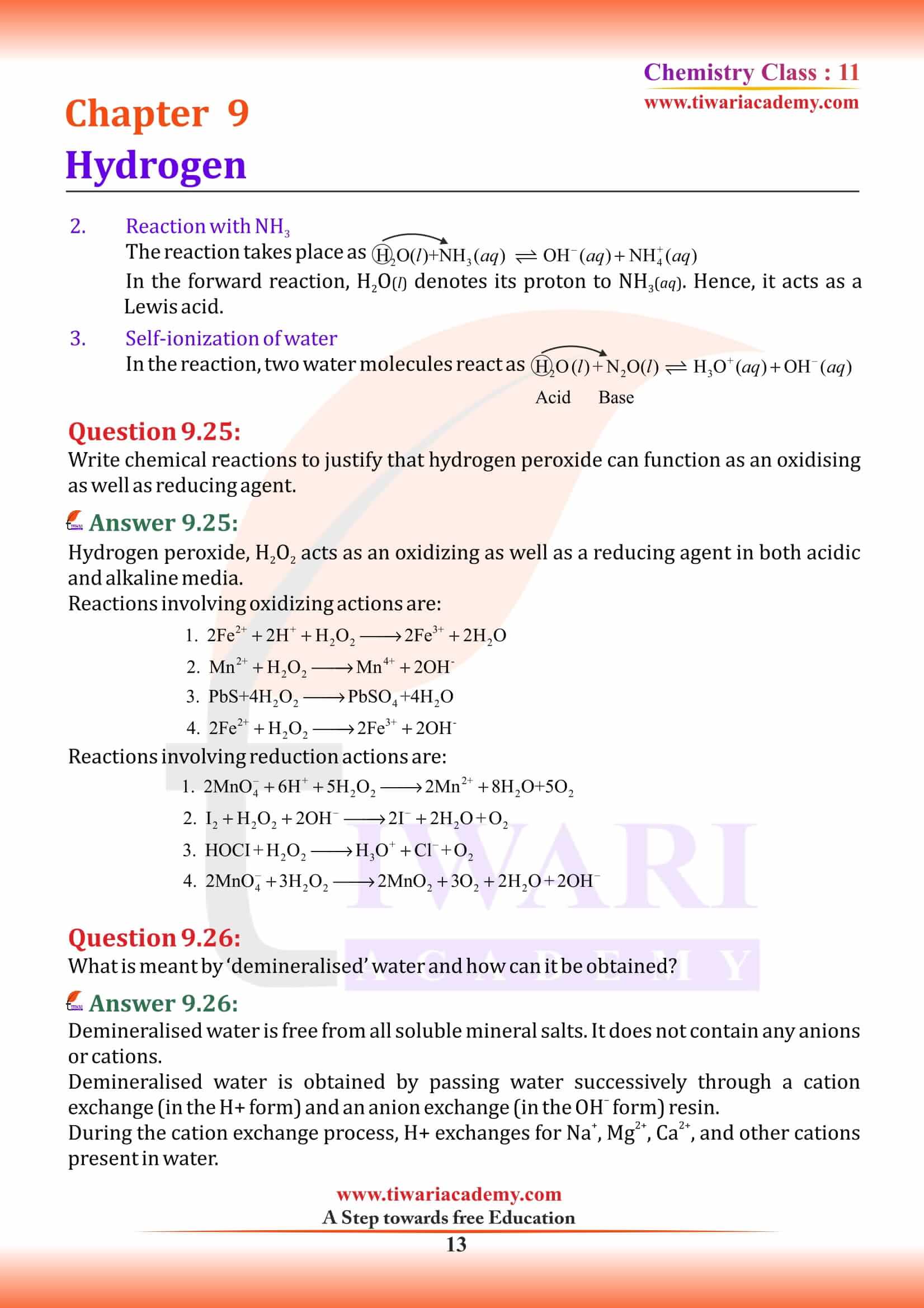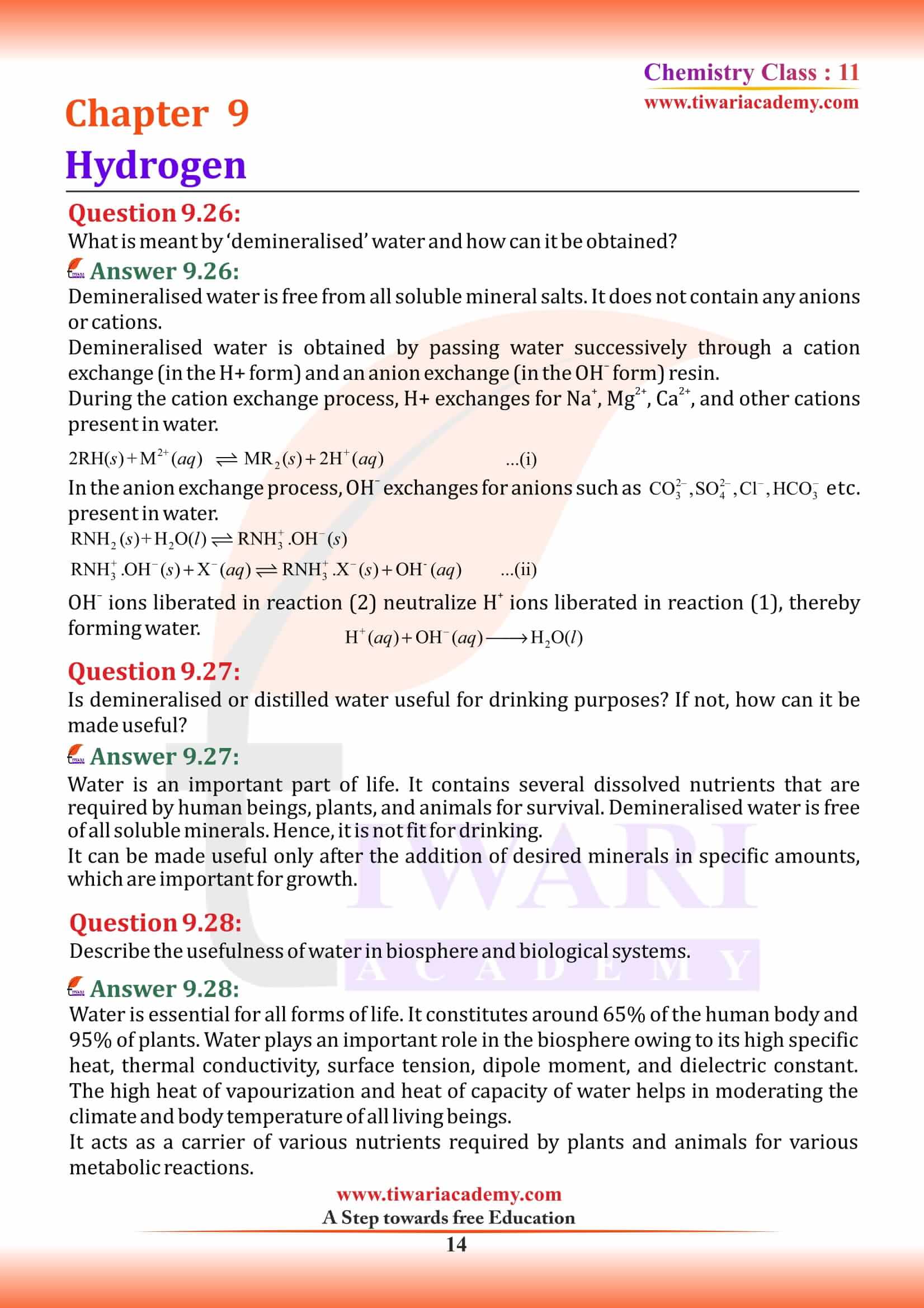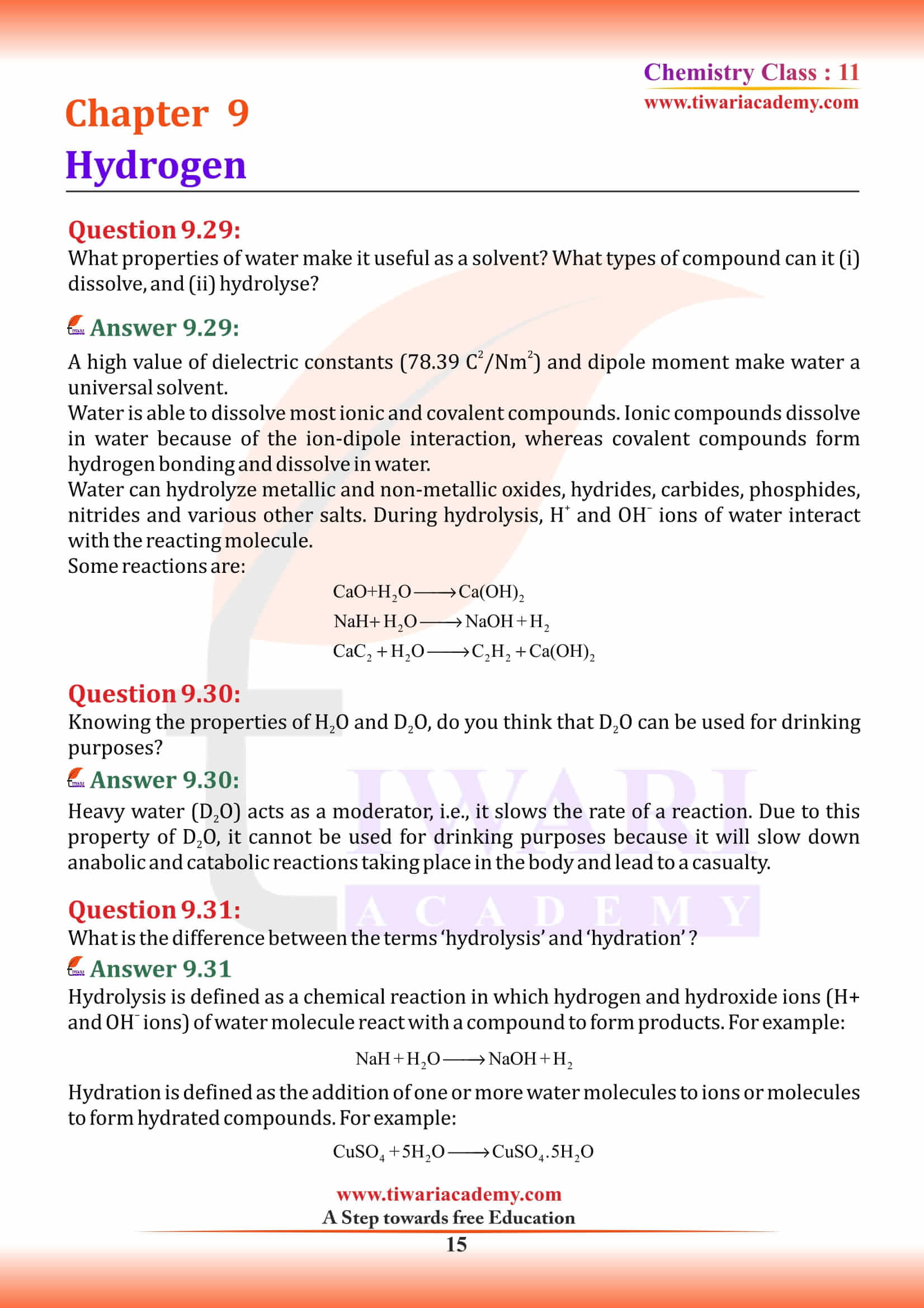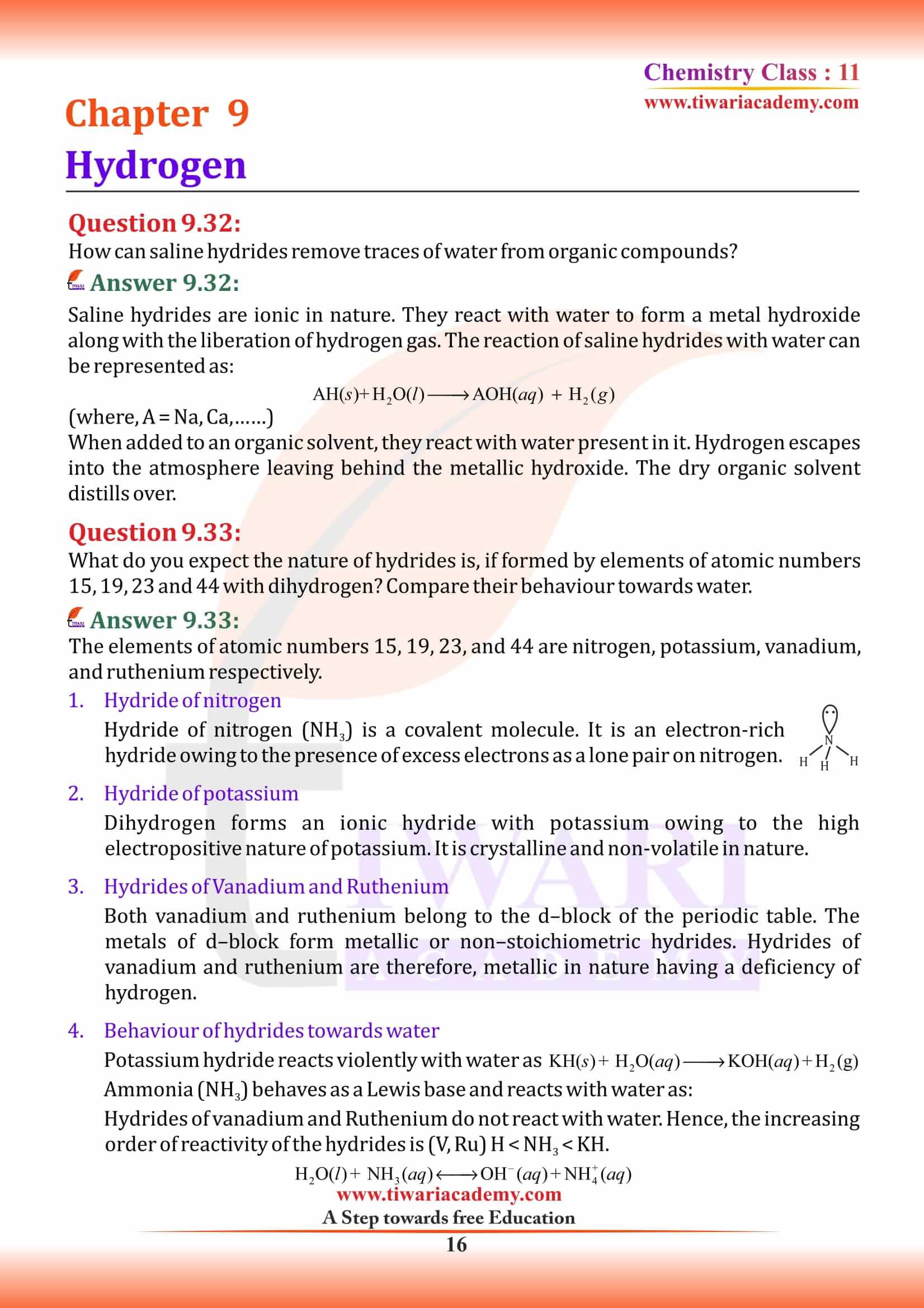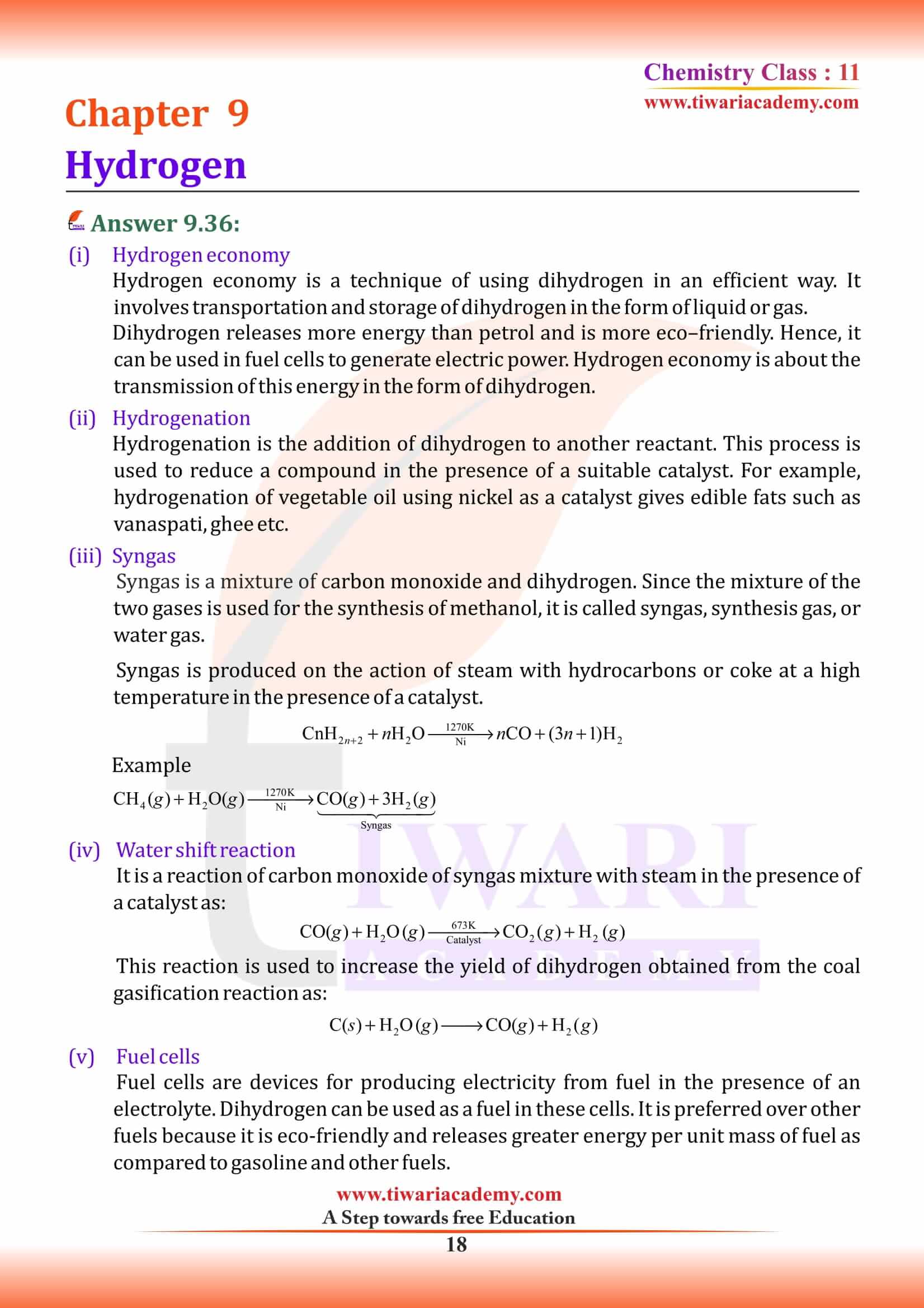 Last Edited: October 13, 2022