NCERT Solutions for Class 5 Maths Chapter 7 Can You See the Pattern? English and Hindi Medium updated for new academic session 2023-24. The Chapter 7 of Class 5 Maths will test the student's ability to see patterns and understand a variety of shapes and patterns. All the solutions provided in Tiwari Academy's NCERT Solutions for Class 5 Maths come with examples such as filling the square using numbers from 47 to 55, while ensuring that the total for each row does not exceed 120.
NCERT Solutions for Class 5 Maths Chapter 7
NCERT Solutions for Class 5 Maths Chapter 7 Can You See the Pattern
5th Standard NCERT Maths Aim of the Chapter 7
You have done much work with the patterns and made many patterns in the past with help of numbers and shapes. So this chapter is also same, but in this chapter for sure, you will learn something new. That you could have an expectation in your mind because math will never disappoint you in such a way because in every chapter you will learn something new and always going to use the logic that you have learned in the past.
At the starting of this chapter, you will see many of such patterns that you have done in previous chapters. At the beginning of the chapter, you will see how the patterns are being used in the fabrics and then you will be able to practice them in the practice time.
Class 5 NCERT Maths Chapter 7 Activity
In the practice time, you will be able to see many such patterns and such patterns can be used in the fabrics to design and many more fabrics and this is how you will be able to make your own pattern.
If you want to take it further try to cut that pattern and in that particular shape and then try to use that on plane cloth and feel it with colors and then you will see that you have printed your own design. you can make your own game jersey with the name and number on it. Sounds good, isn't it?
CBSE Class 5 NCERT Maths Book Chapter 7 Patterns and Numbers
Well, this chapter comes with such good questions in different pattern forms. Can you make some of the patterns with help of numbers like in the topic left to right same to same as given. Before you start doing it I suggest you read the chapter and try to understand how they are forming the patterns with numbers and try to run your imagination to make such patterns with your favorite numbers. Once complete try to show your friends what you have created with your imagination. When you have already covered the chapter and understand it before anyone else.
5th Maths Chapter 7 Uses of Patterns
If you do this way you won't feel that you are doing the calculation instead of that you will be ending up making the maths enjoyable because once you complete these topics there are other topics where it will help you how to do the calculation in a smart way and faster.
What is the core knowledge given in Chapter 7 for class 5th students?
The chapter deals with the problems of patterns and designs. This surely develops the understanding of learning patterns and understanding logics among children. This skill is also important to make and understand the strategies.
How do you think the students of class 5th get the questions based on chapter 7 of Maths NCERT?
In the exams, students of class 5th will get the pattern drawn in the question paper and from there they will be asked to continue the pattern or they will be asked to solve the question based on the pattern given there and these questions will be an easy way to obtain more marks.
What are the main formulas used in unit 7 of class 5th Maths book?
Students of class 5th mathematics will be able to learn multiplication and addition-subtraction besides the chapter is more about the patterns-designs to learn to develop logical reasoning skills. These skills might not be useful in this book. However, this will help students to develop the mindset to for finding answers easily.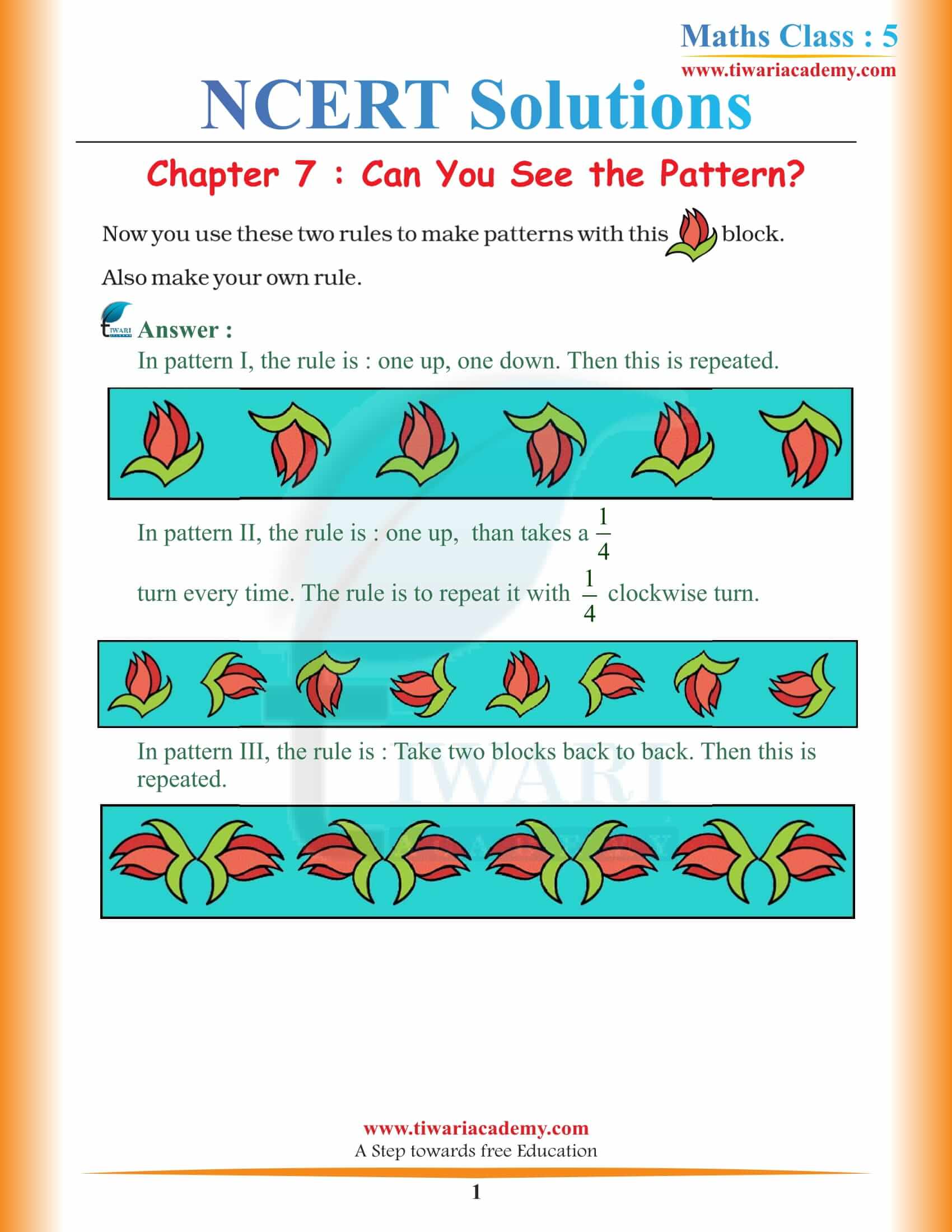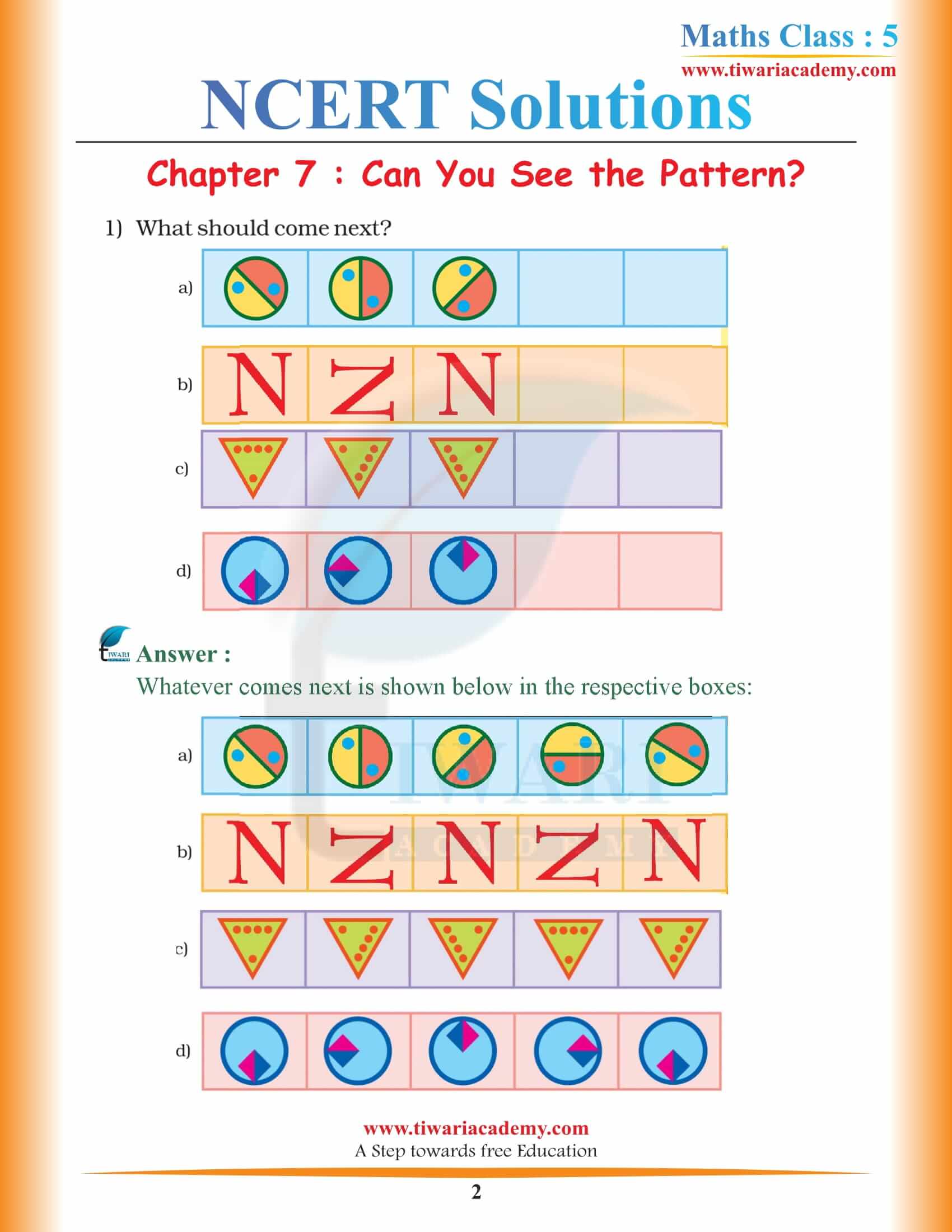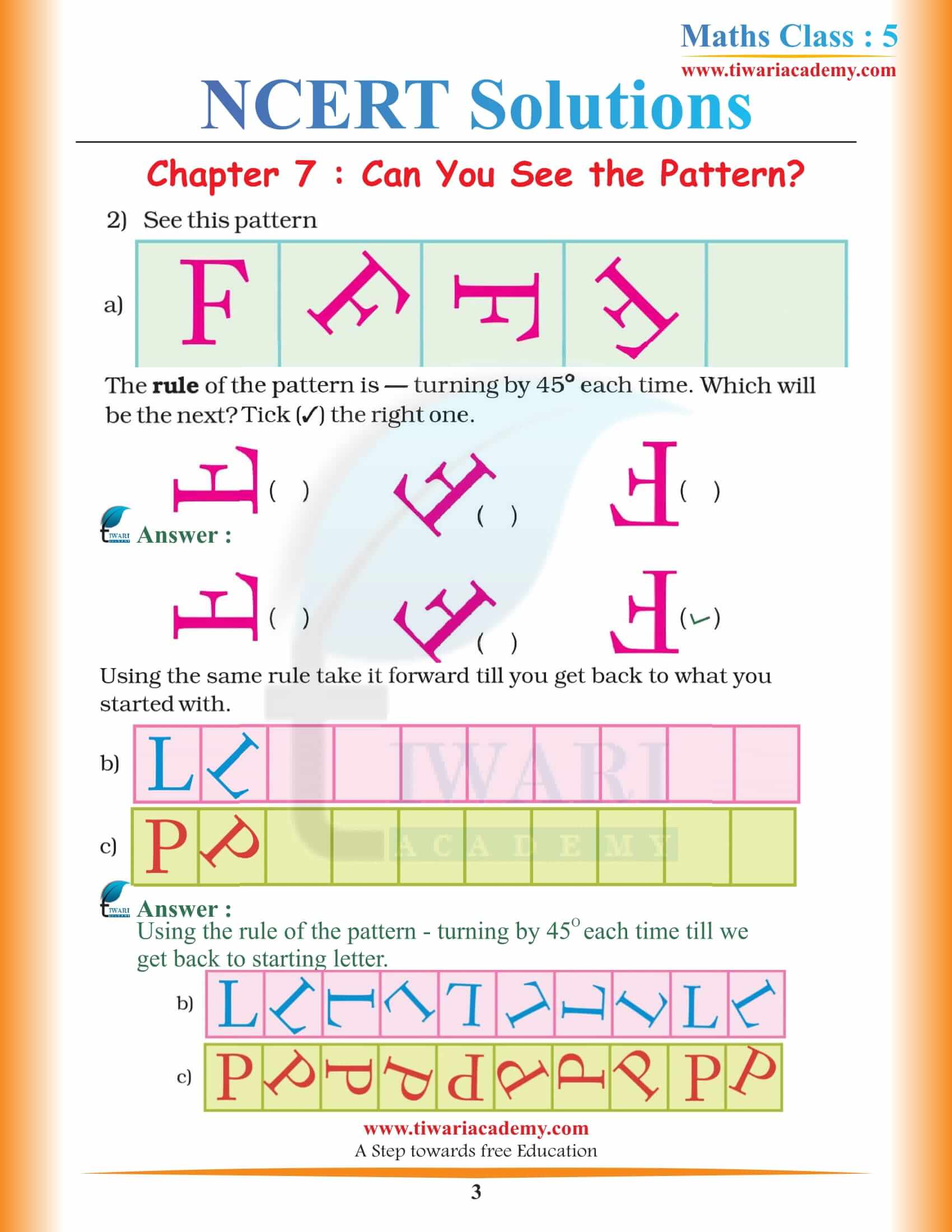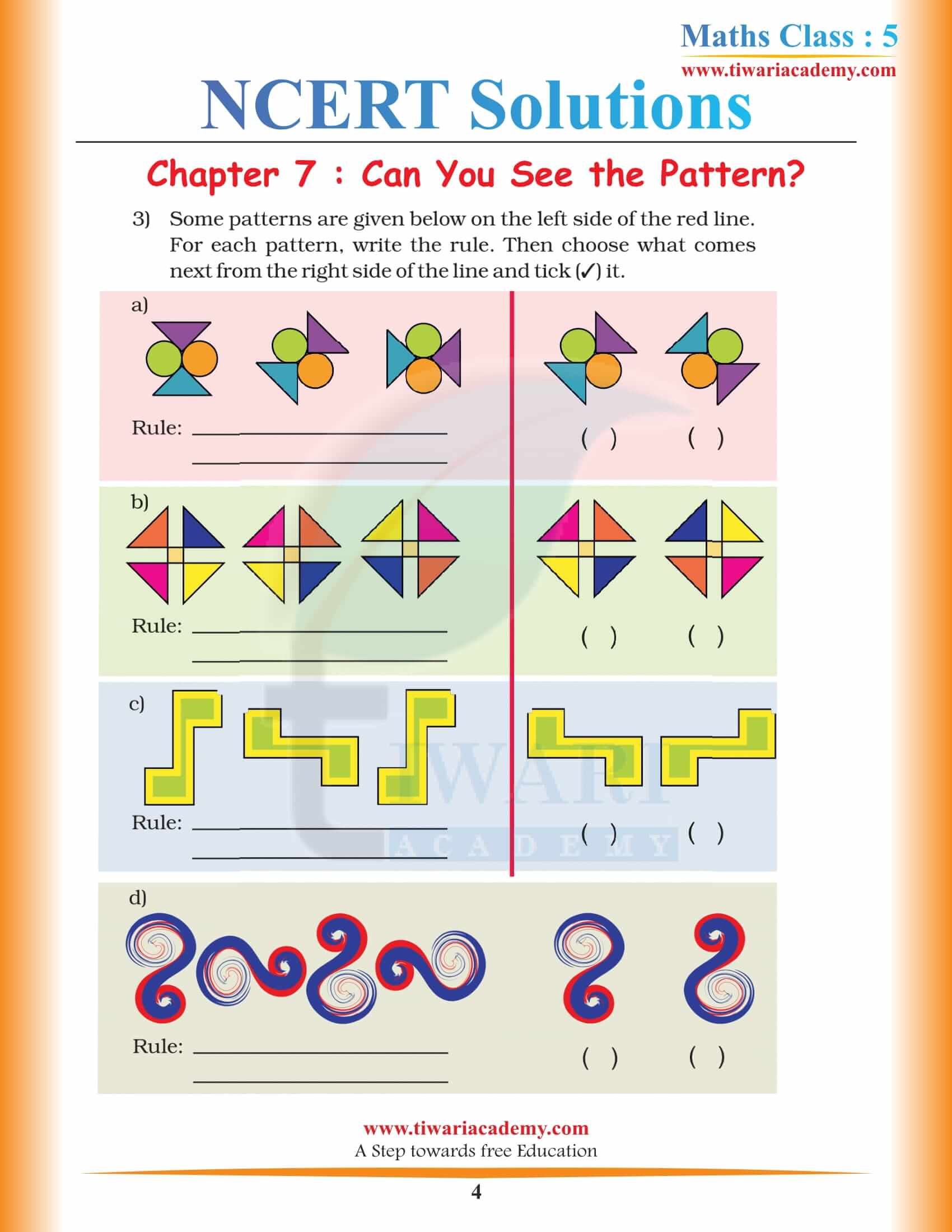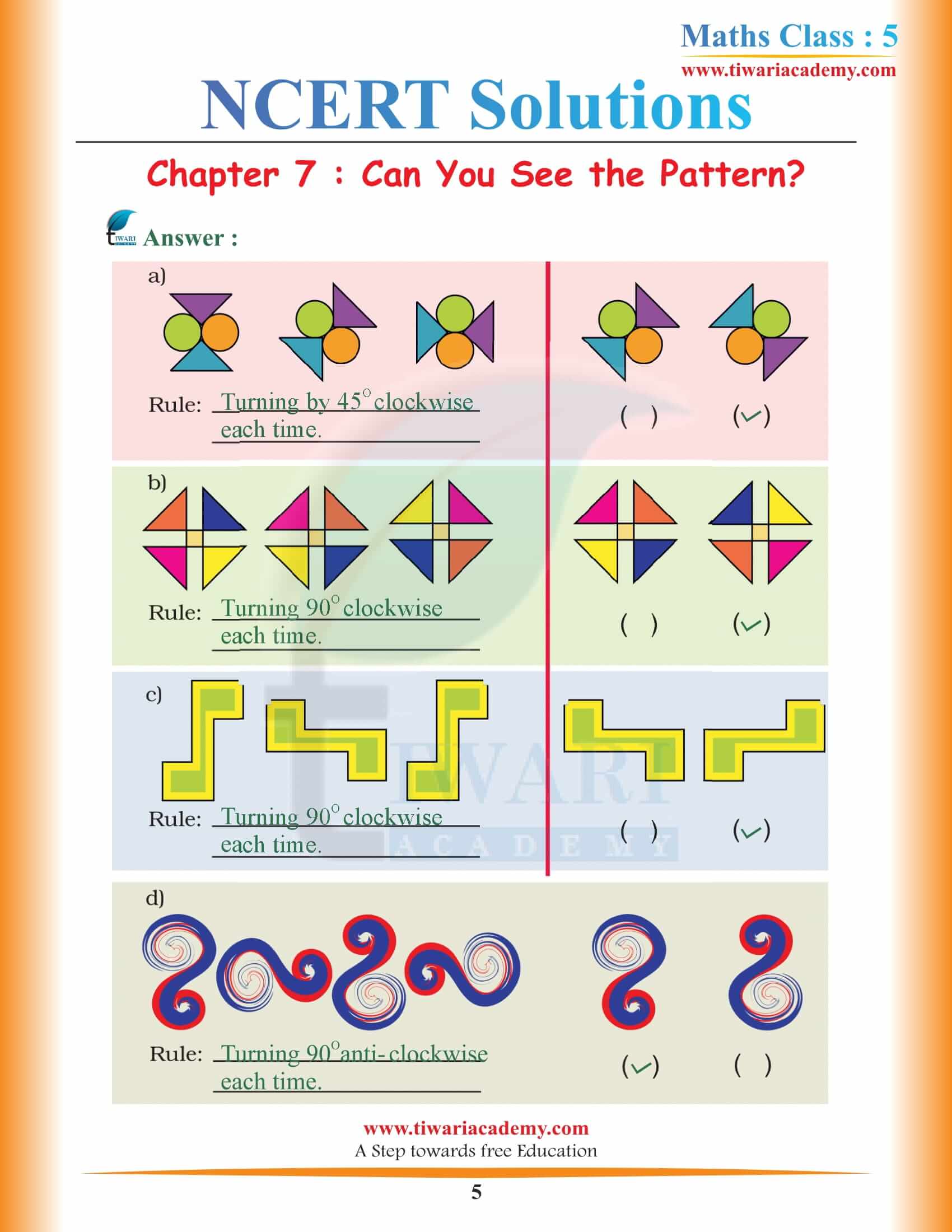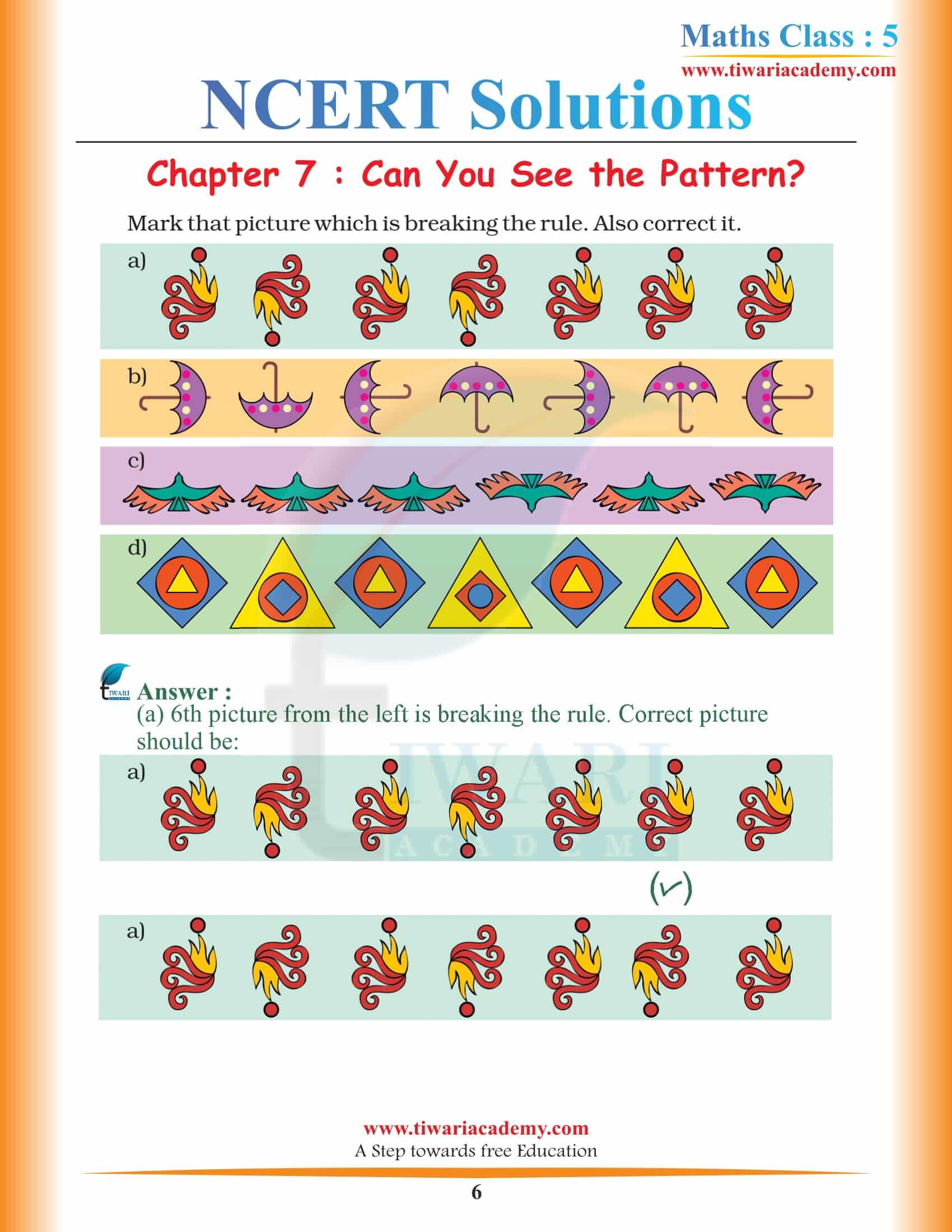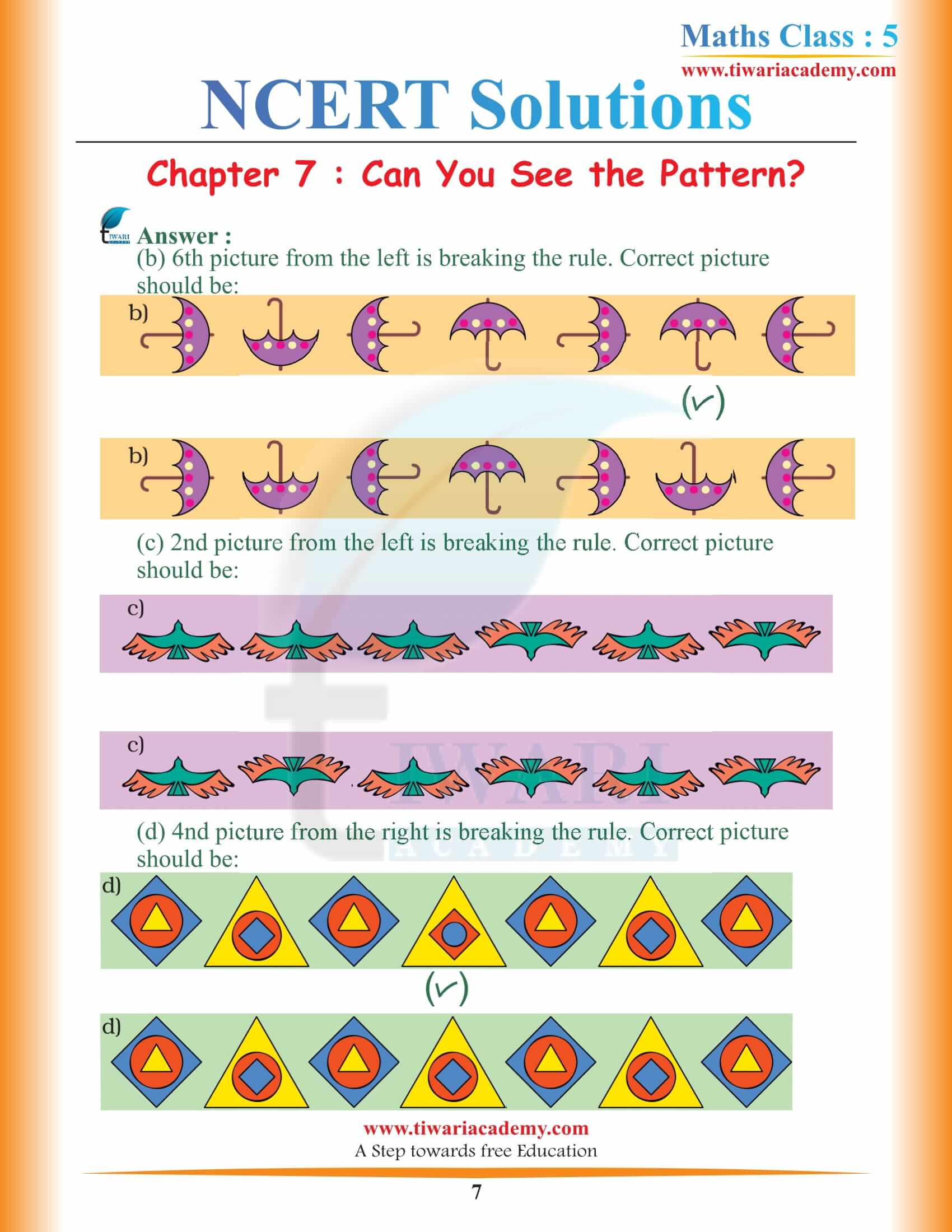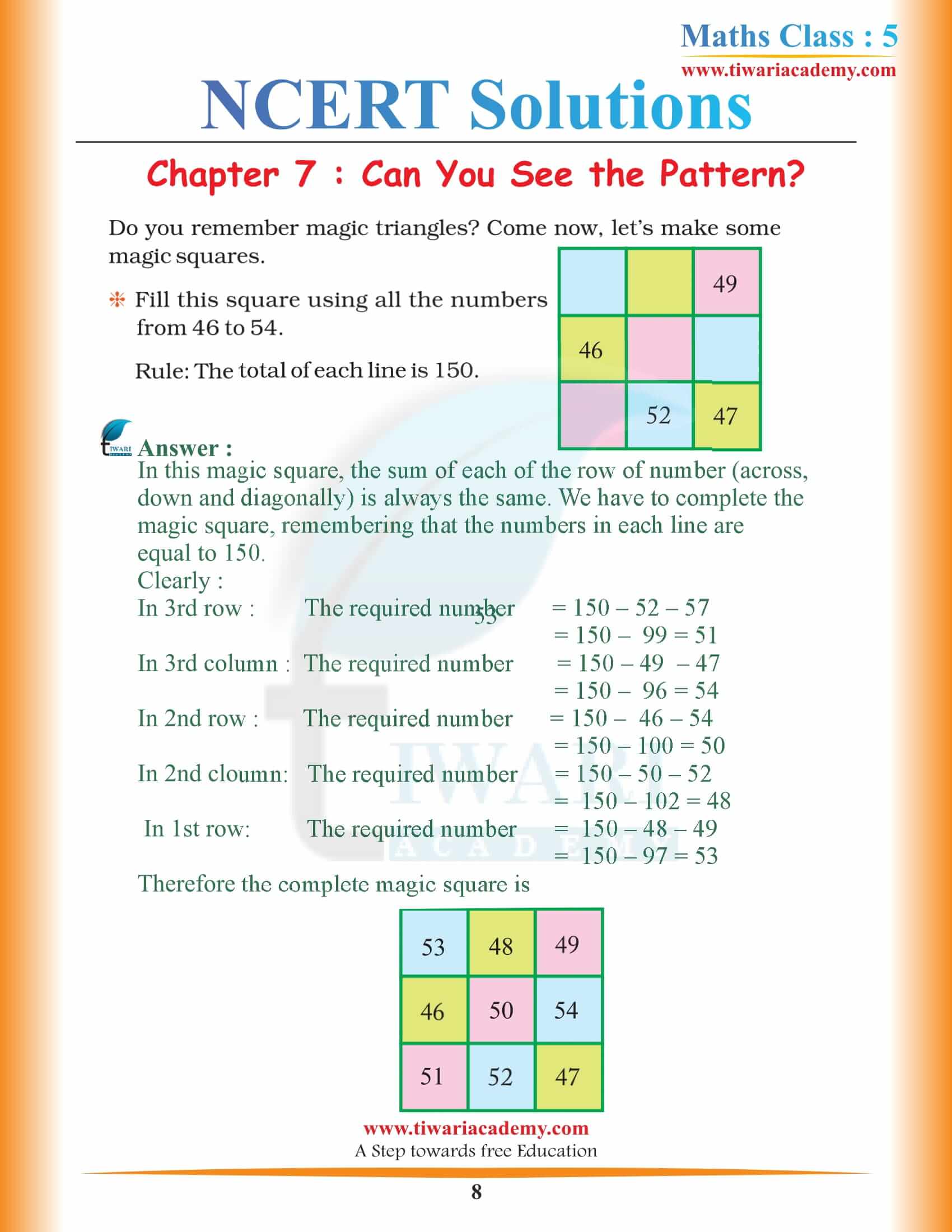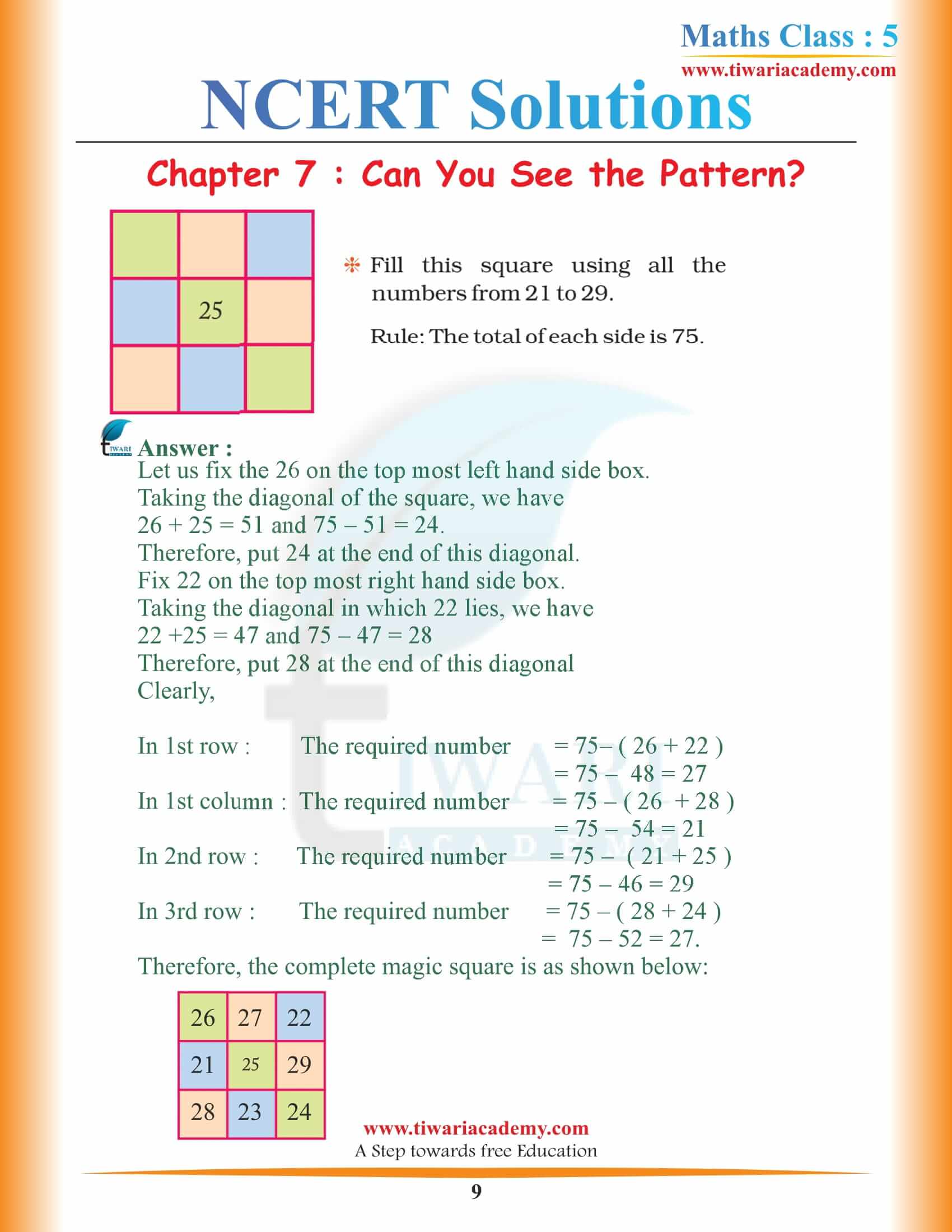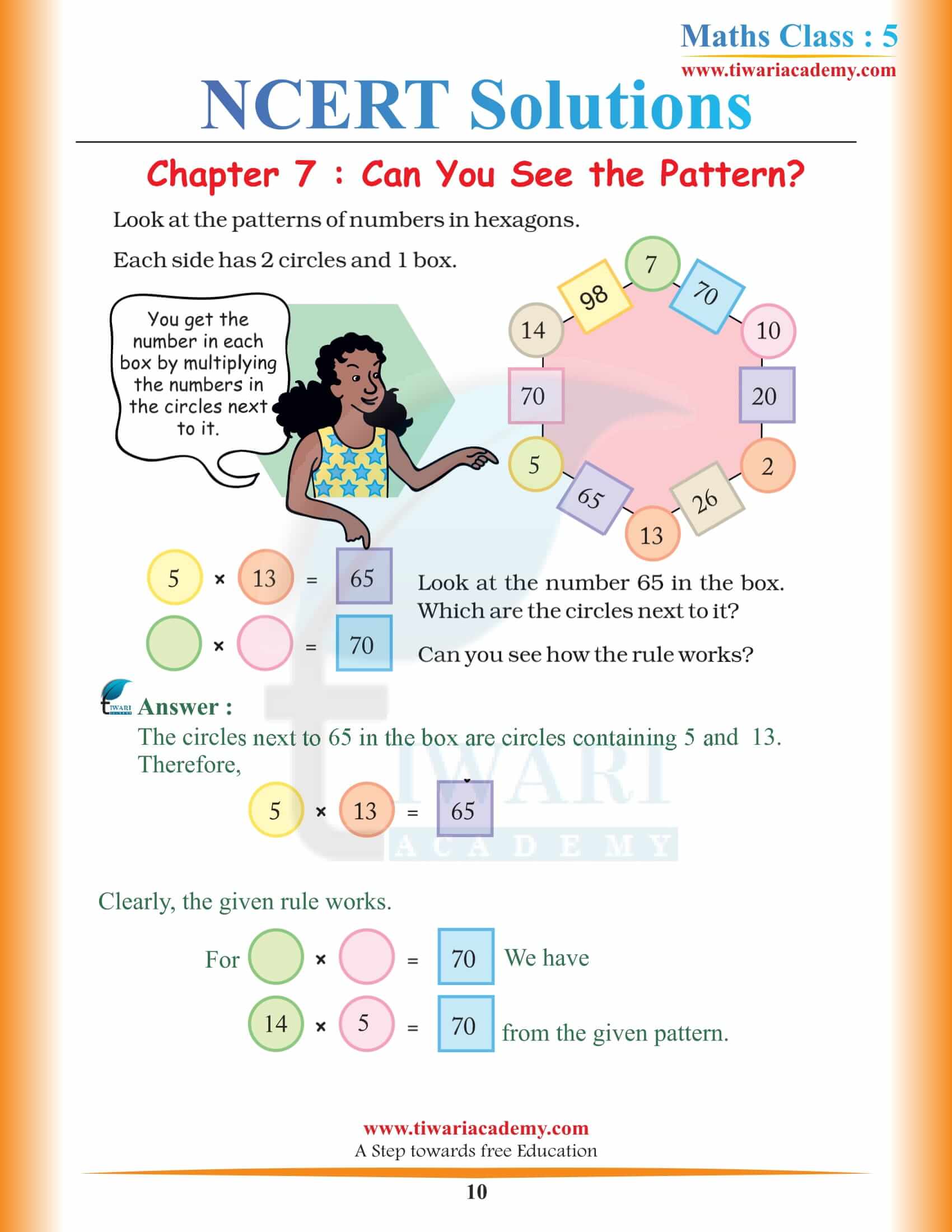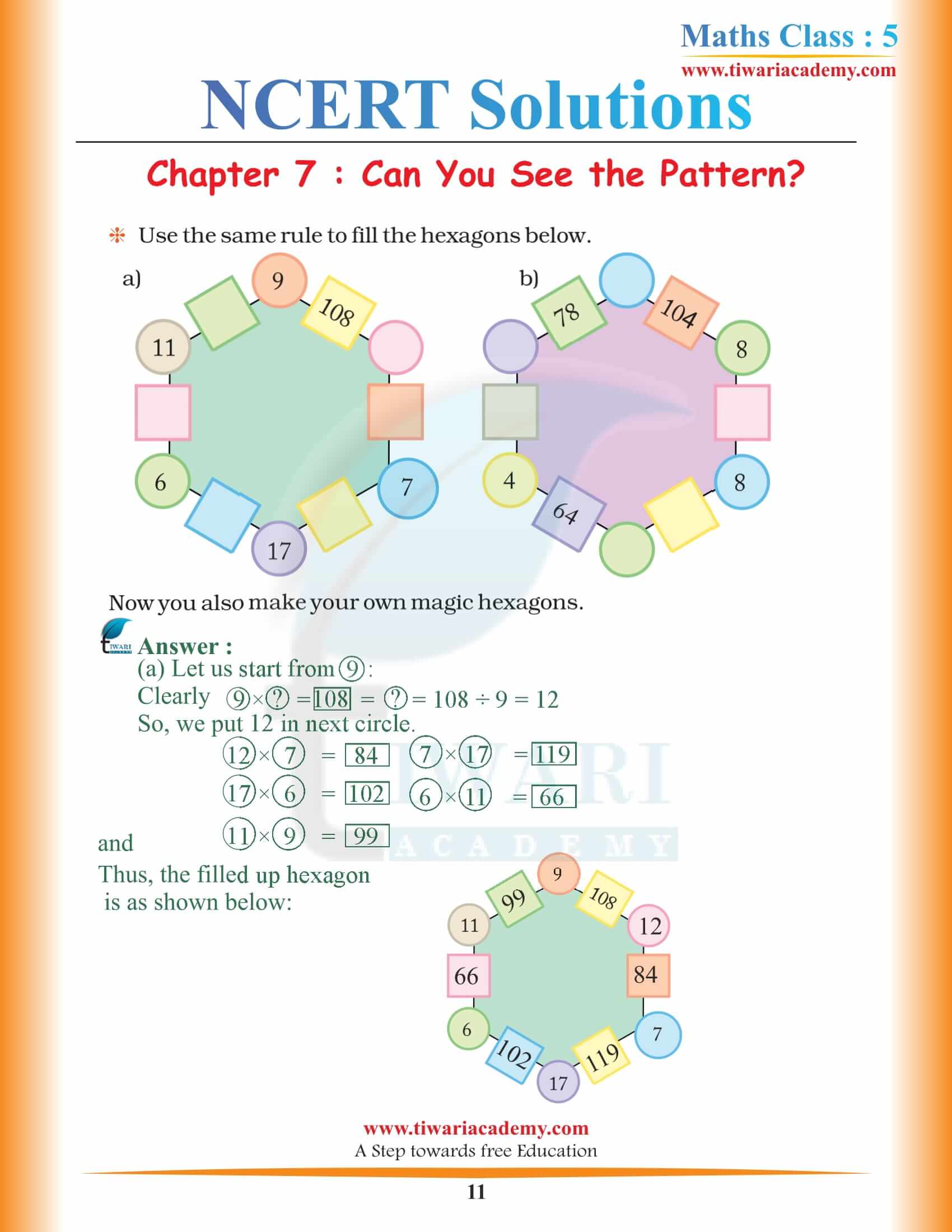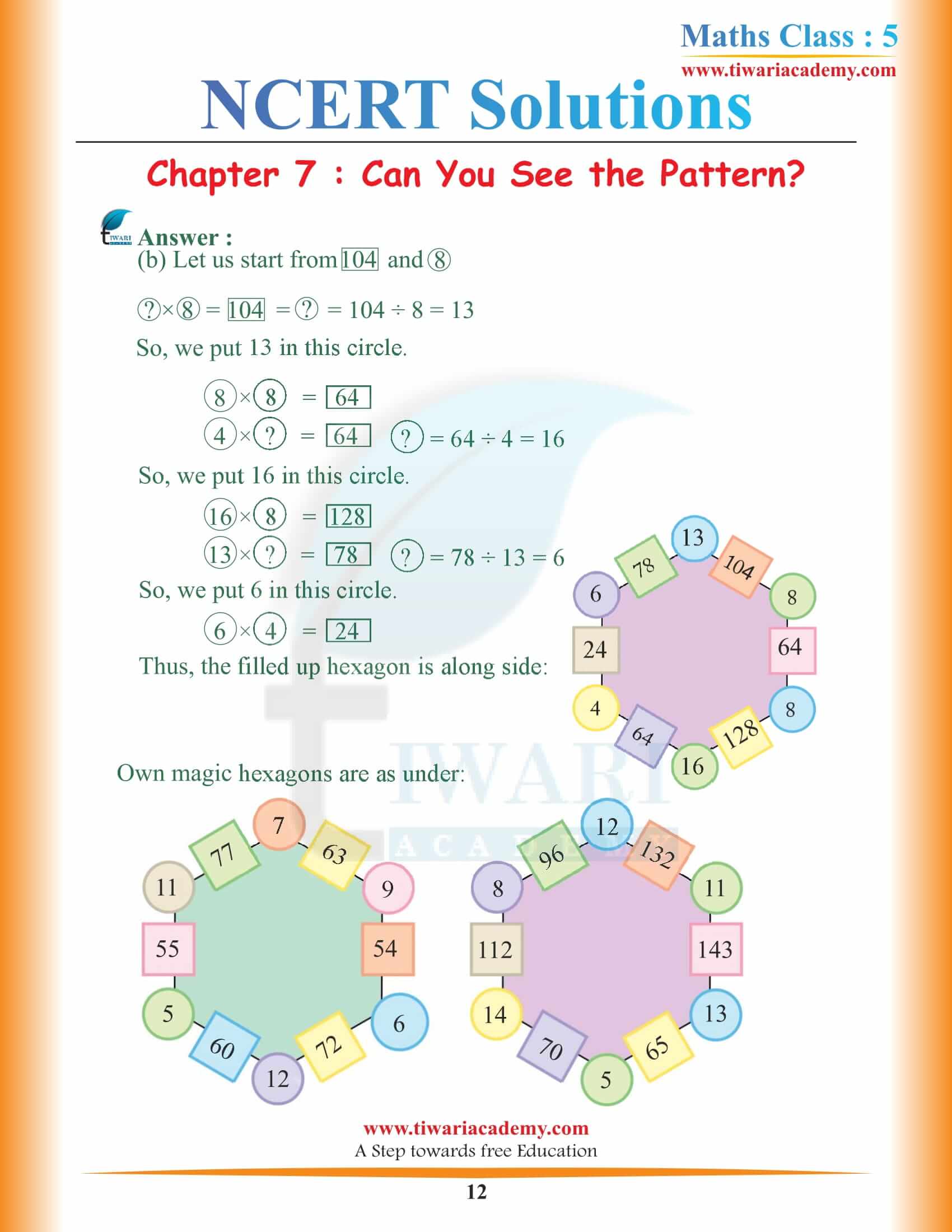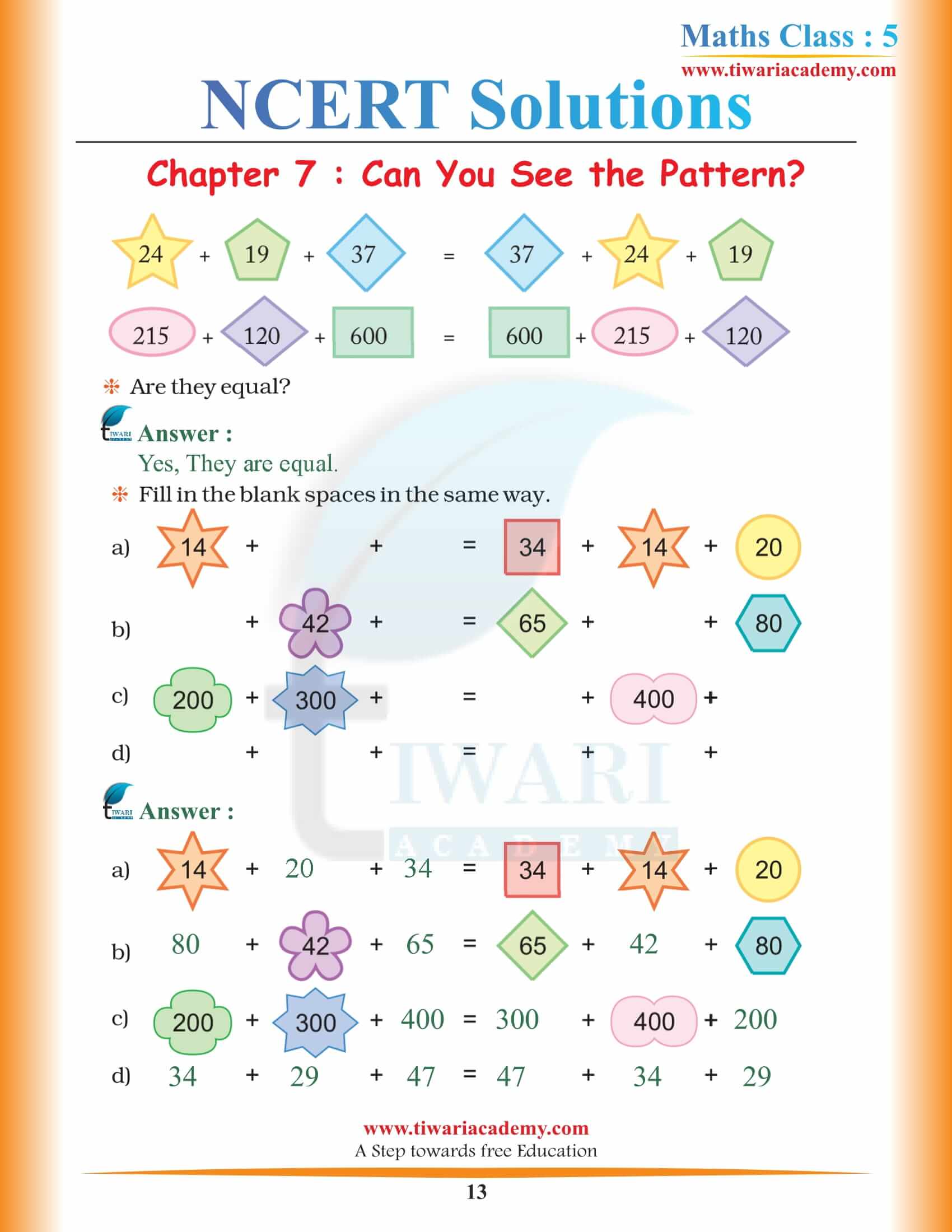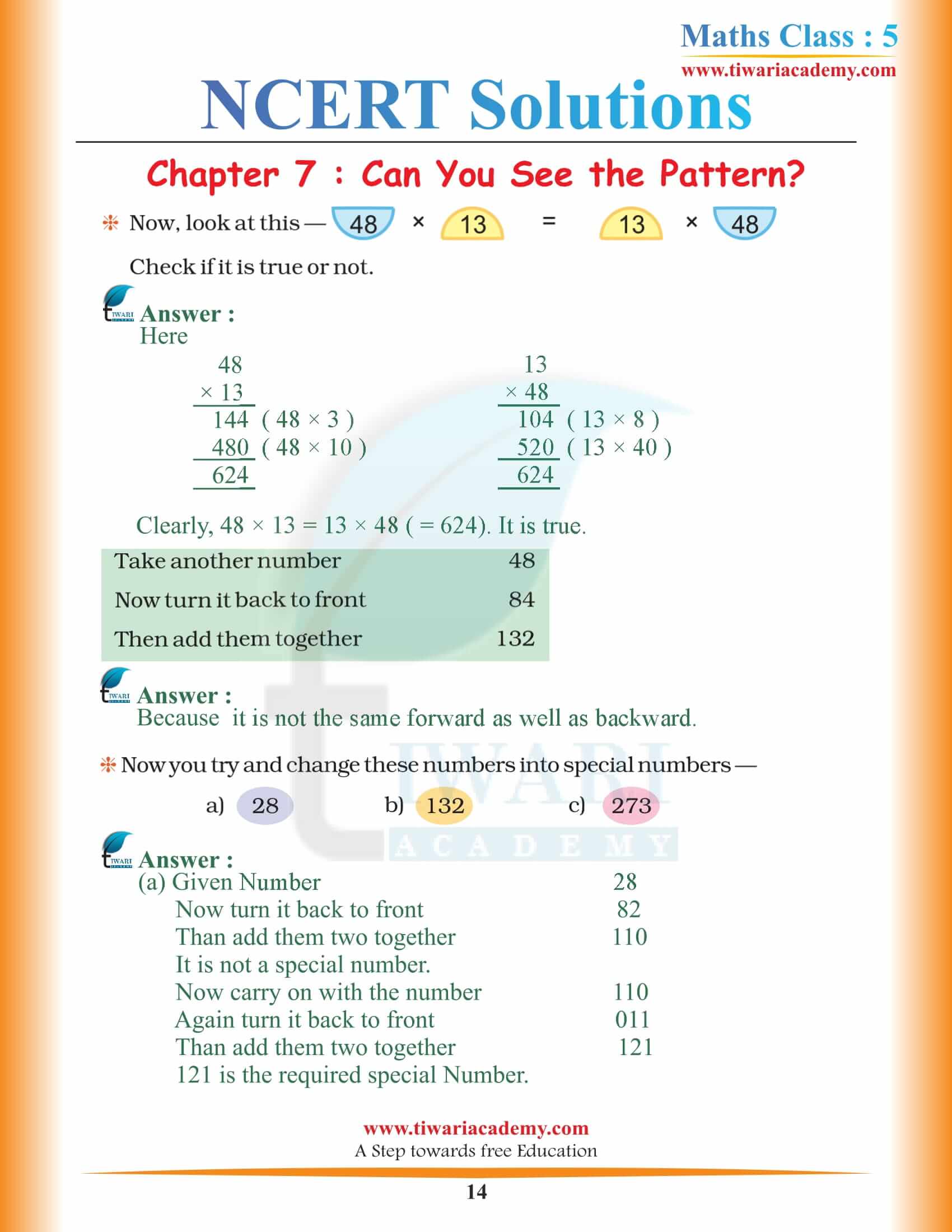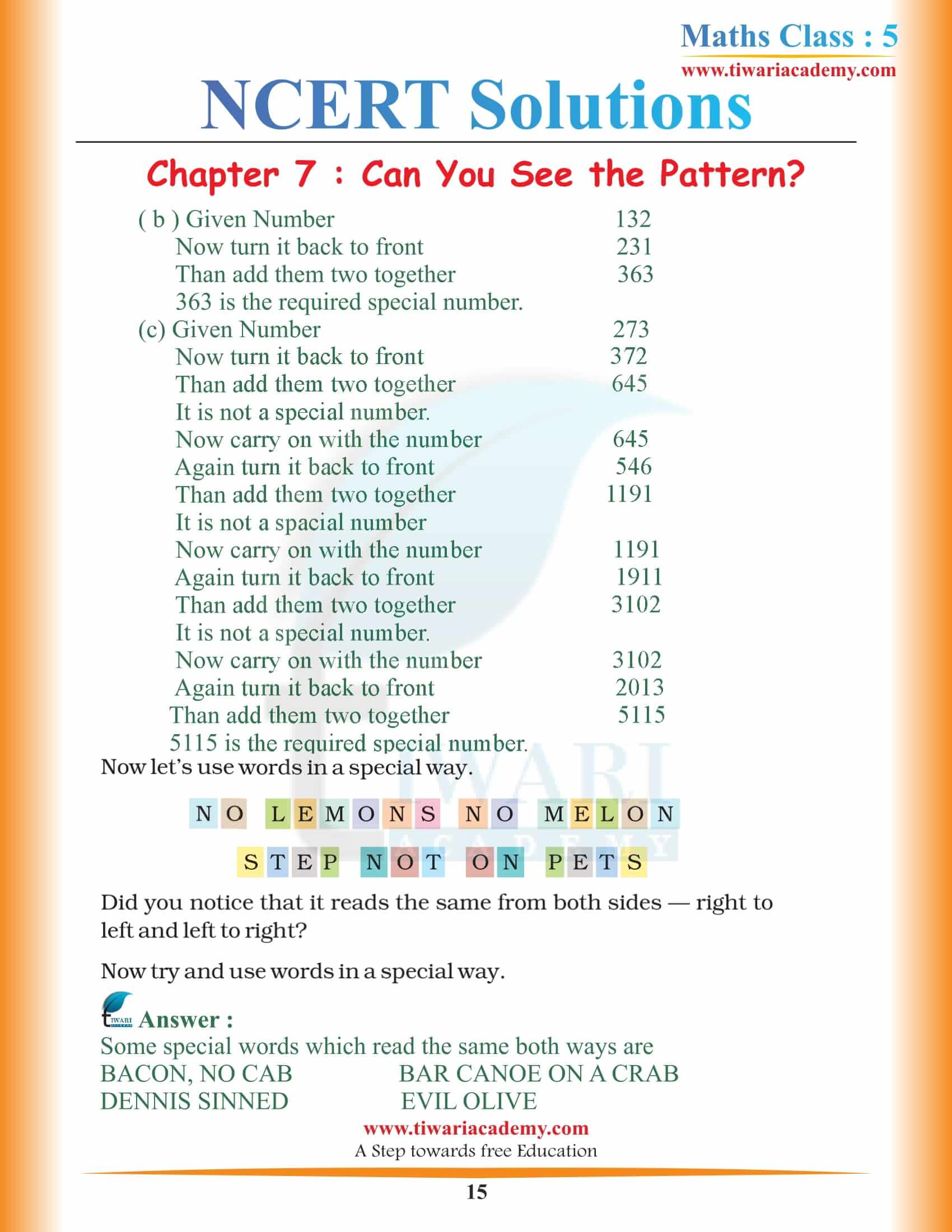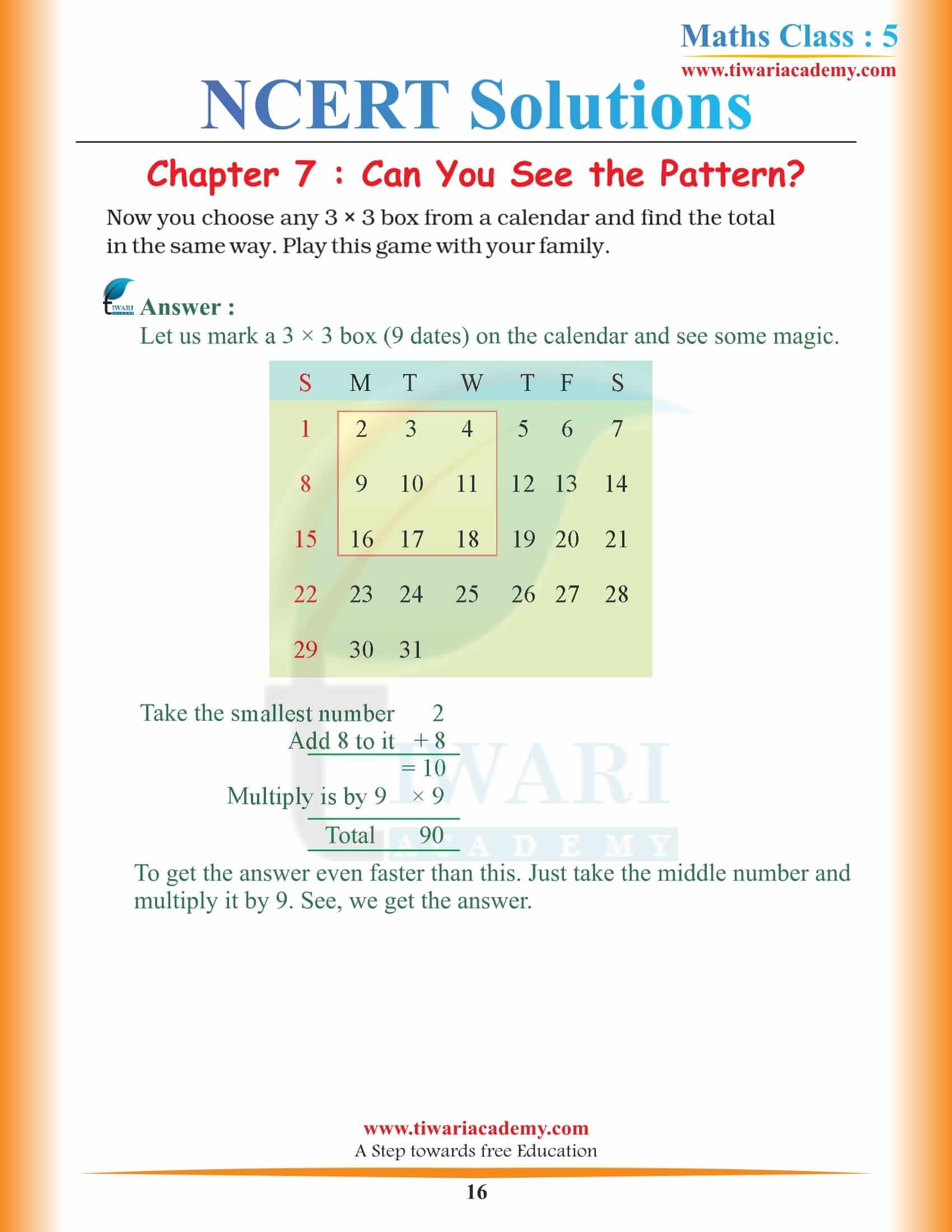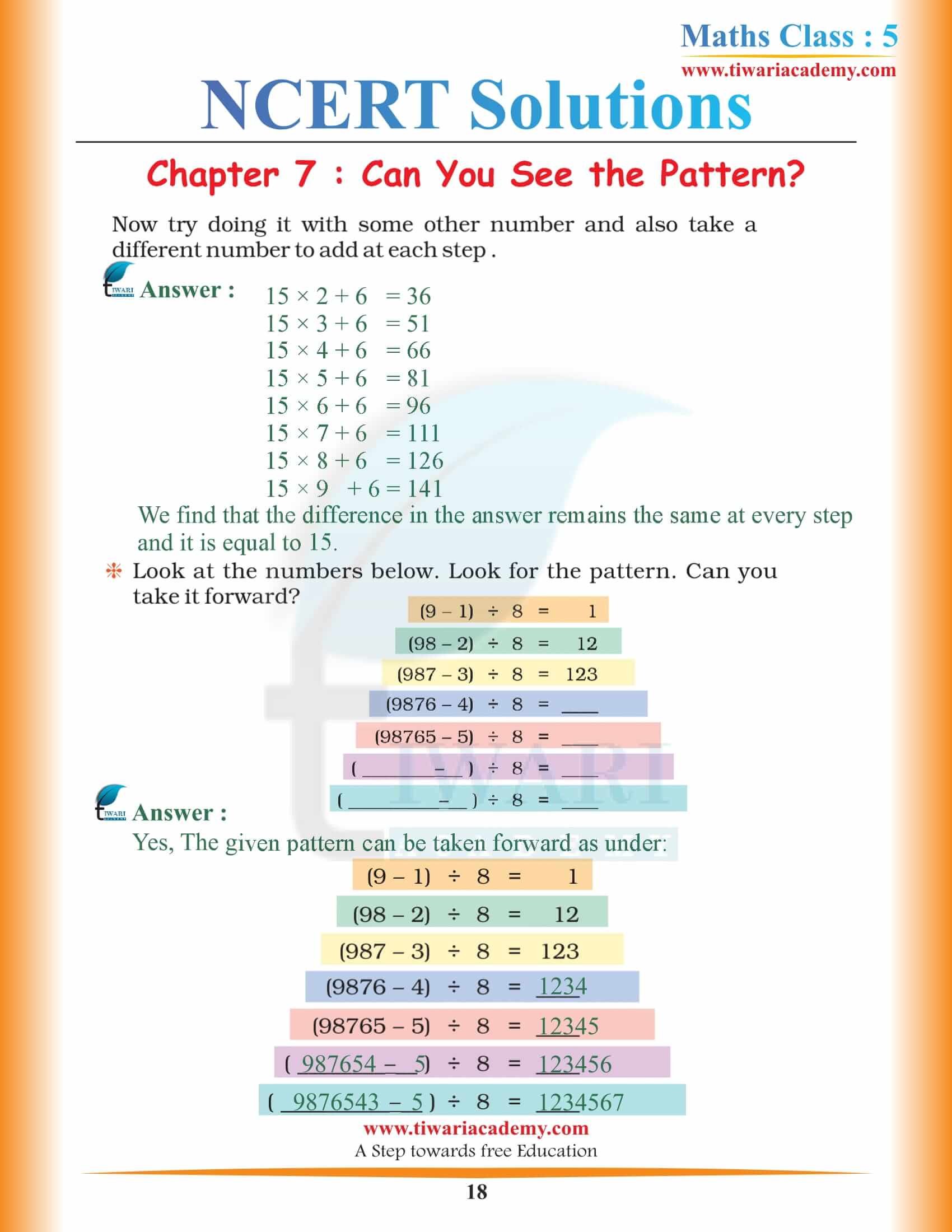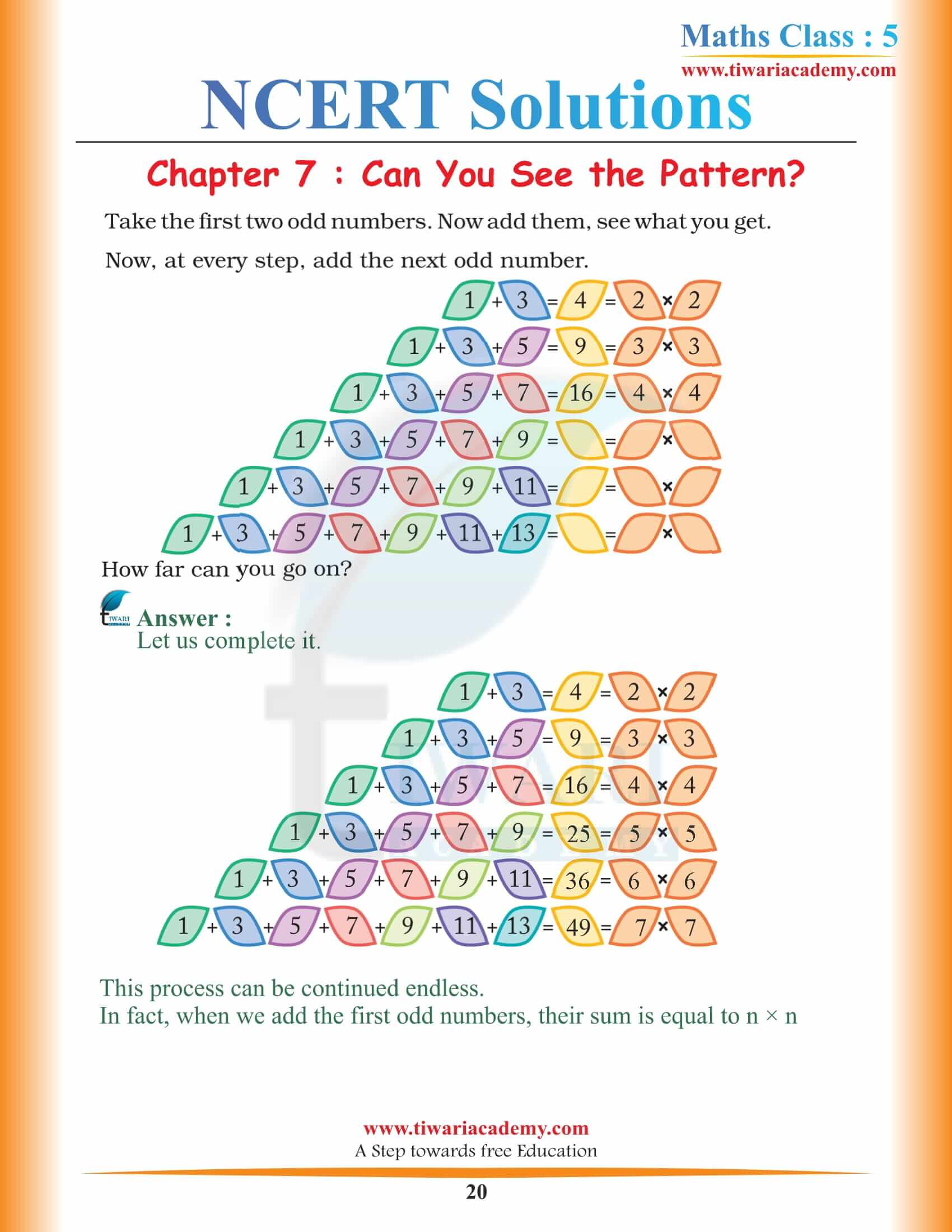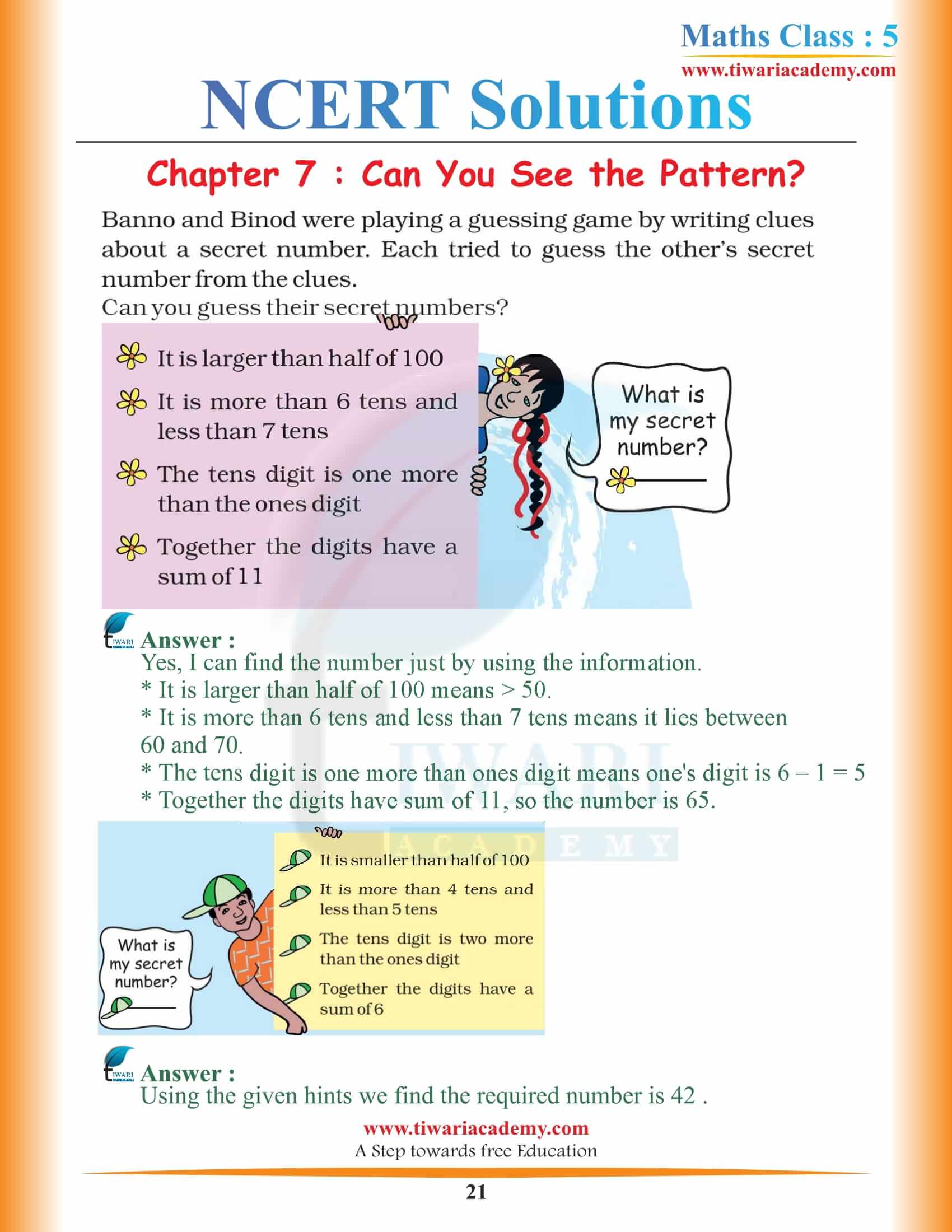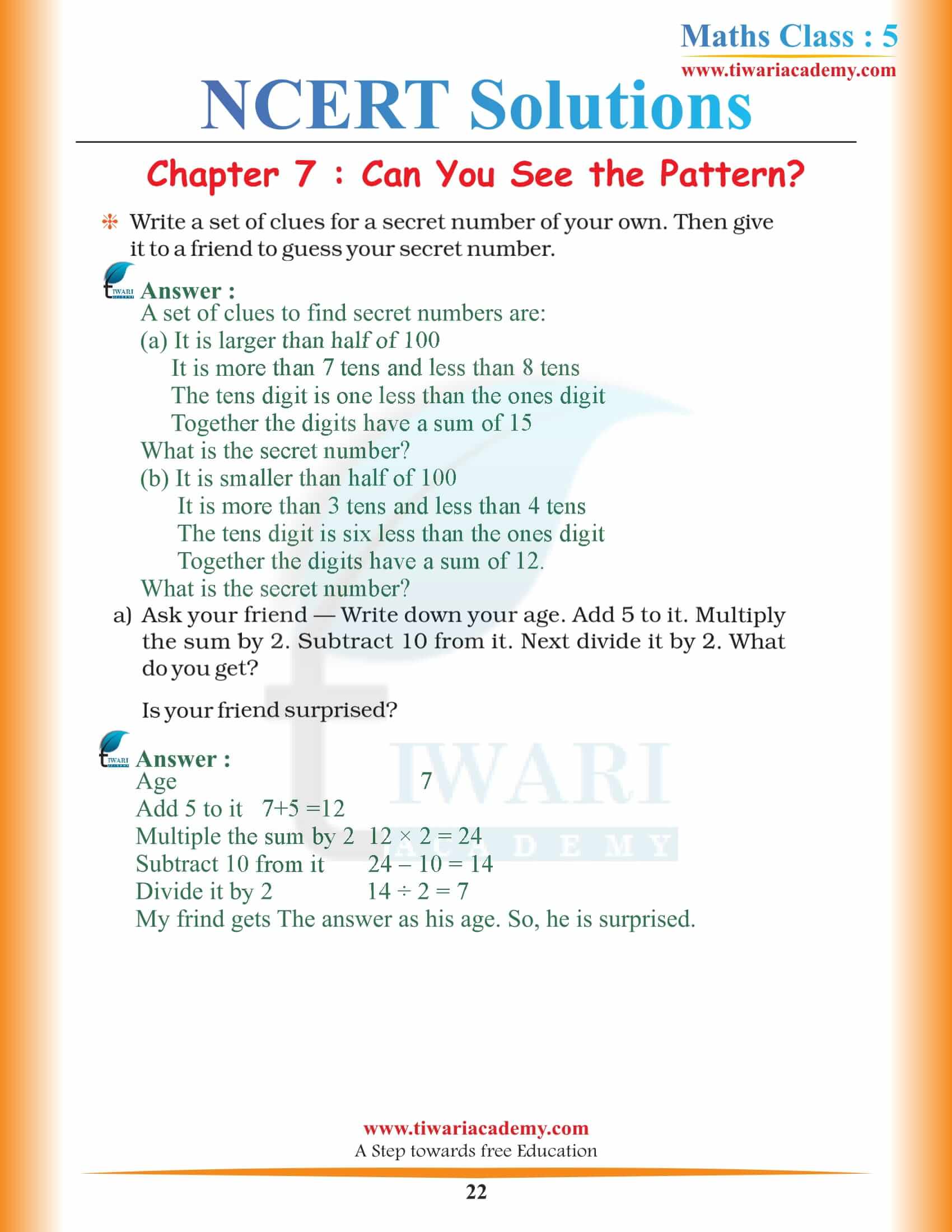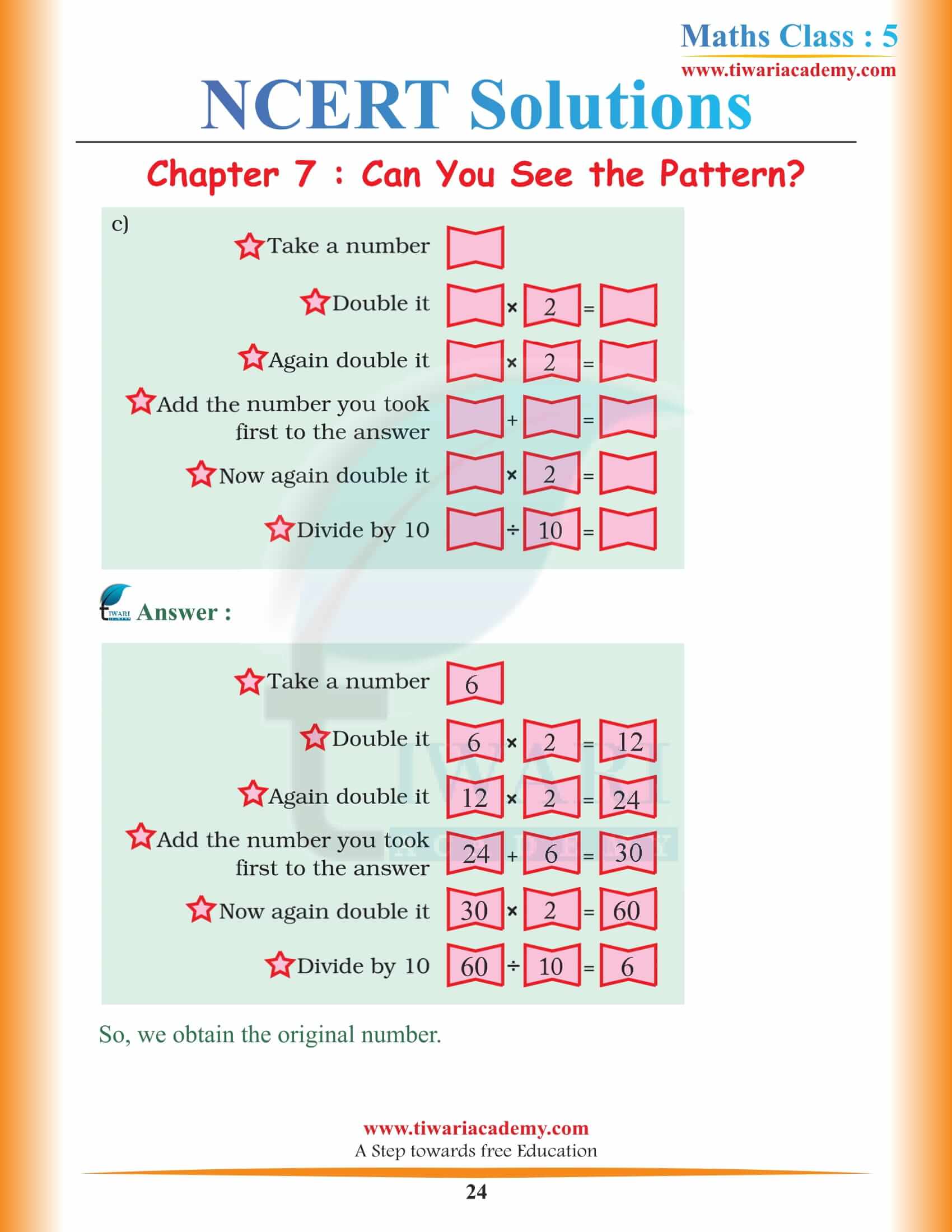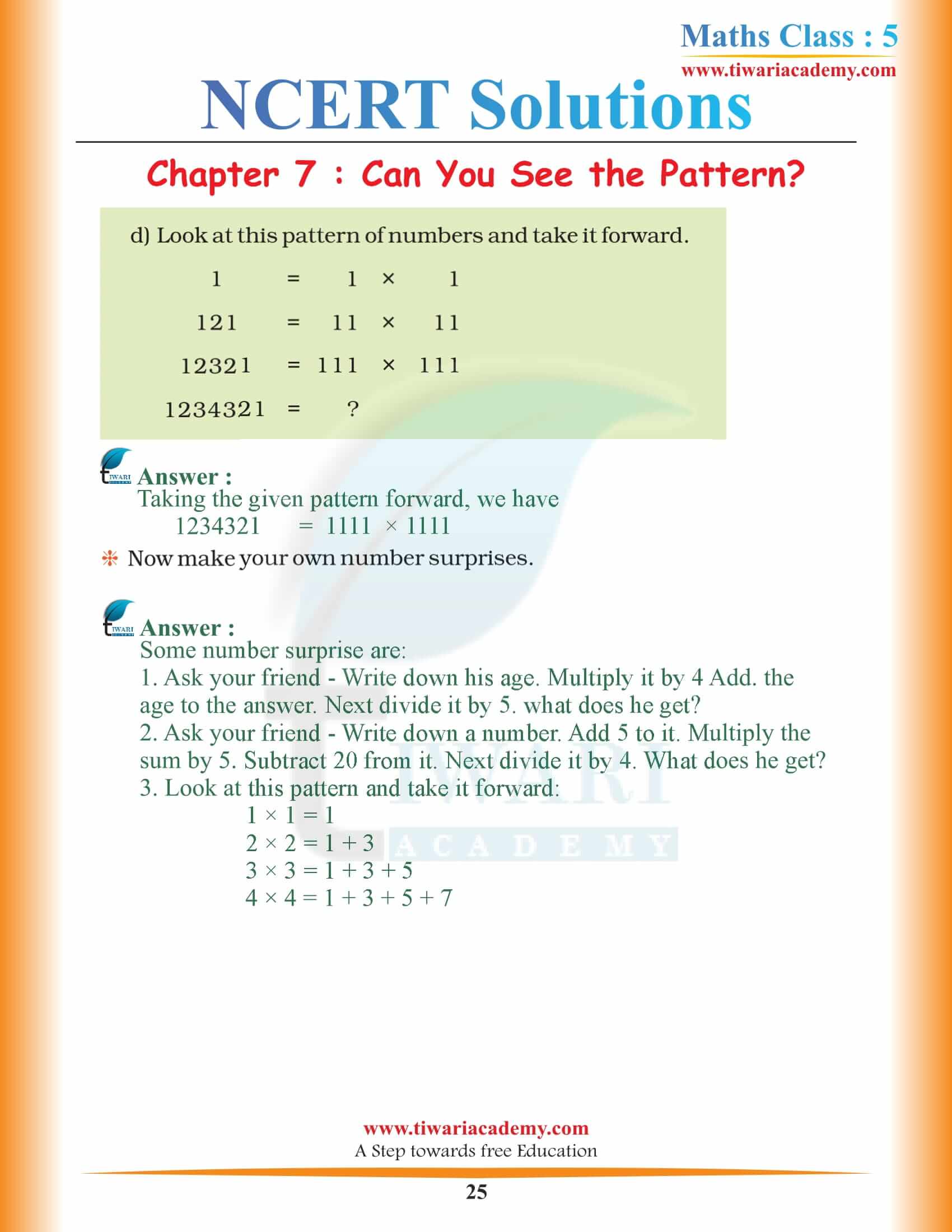 Last Edited: January 27, 2022