NCERT Solutions for Class 11 English Snapshots Chapter 4 the Ghat of the Only World written by Amitav Ghosh updated for new session 2023-24 CBSE and State board. Extra questions for revision of Class 11 English Supplementary Reader Chapter 4 are given here with answers.
Class 11 English Chapter 4 The Ghat of the Only World Question Answers
What impression of Shahid do you gather from the piece?
From the piece, we can conclude that Shahid was a kind hearted man who lived his life like a King. Even the biggest illness could not dampen his spirit and liveliness. Shahid was born in Delhi and later moved to Srinagar with his family. Some of his studies were done in Delhi while some in Kashmir. He was a very good poet and wrote poetry on Kashmir though he was not a political poet.
Shahid used to get upset to see what happened in Kashmir in the 90's but he never mixed politics and religion through his work. He was a very friendly person who liked to host parties, enjoy homemade food. He was deeply moved by the music of Begum Akhtar. The two had met through a friend of Akhtar's when Ali was a teenager and her music became a lasting presence in his life. Ali said goodbye to the world at a young age, but the impression of his generosity will remain in our hearts for centuries.
How do Shahid and the writer react to the knowledge that Shahid is going to die?
Cancer is such a disease whose treatment has not been written by any doctor or in science book till date. Unfortunately, Ali had the same disease and writer also knew the end of it very clearly. He was a lively person, but everyone is afraid of death. When one day he could not see anything he says to the Amitav out of fear that "hey Am I going to die soon…" He also asks his friend to write something after his death as he could see his end approaching.
When a medical scan report of Shahid showed no improvement and doctors decided to discontinue the treatment, it was clear for Shahid and writer that he is going to die. But before Ali left this world, Amitav had promised him that he would definitely write something for the readers on his life and their friendship.
Look up the dictionary for the meaning of the world 'diaspora'. What do you understand of the Indian diaspora from this piece?
The term 'diaspora' comes from an ancient Greek word meaning "to scatter about." And that's exactly what the people of a diaspora do — they scatter from their homeland to places across the globe, spreading their culture as they go. In present world there are many people who have settled in different countries of the world in search of work or career.
Shahid, his brothers and both sisters, Amitav, Akhtar, writer Suketu Mehta and some Indian students are few such who settled in United States. They however meet on festivals and occasionally enjoy parties. And whenever the opportunity arises, they come to their country and bow their heads to their motherland where they were born and where their ancestors have lived.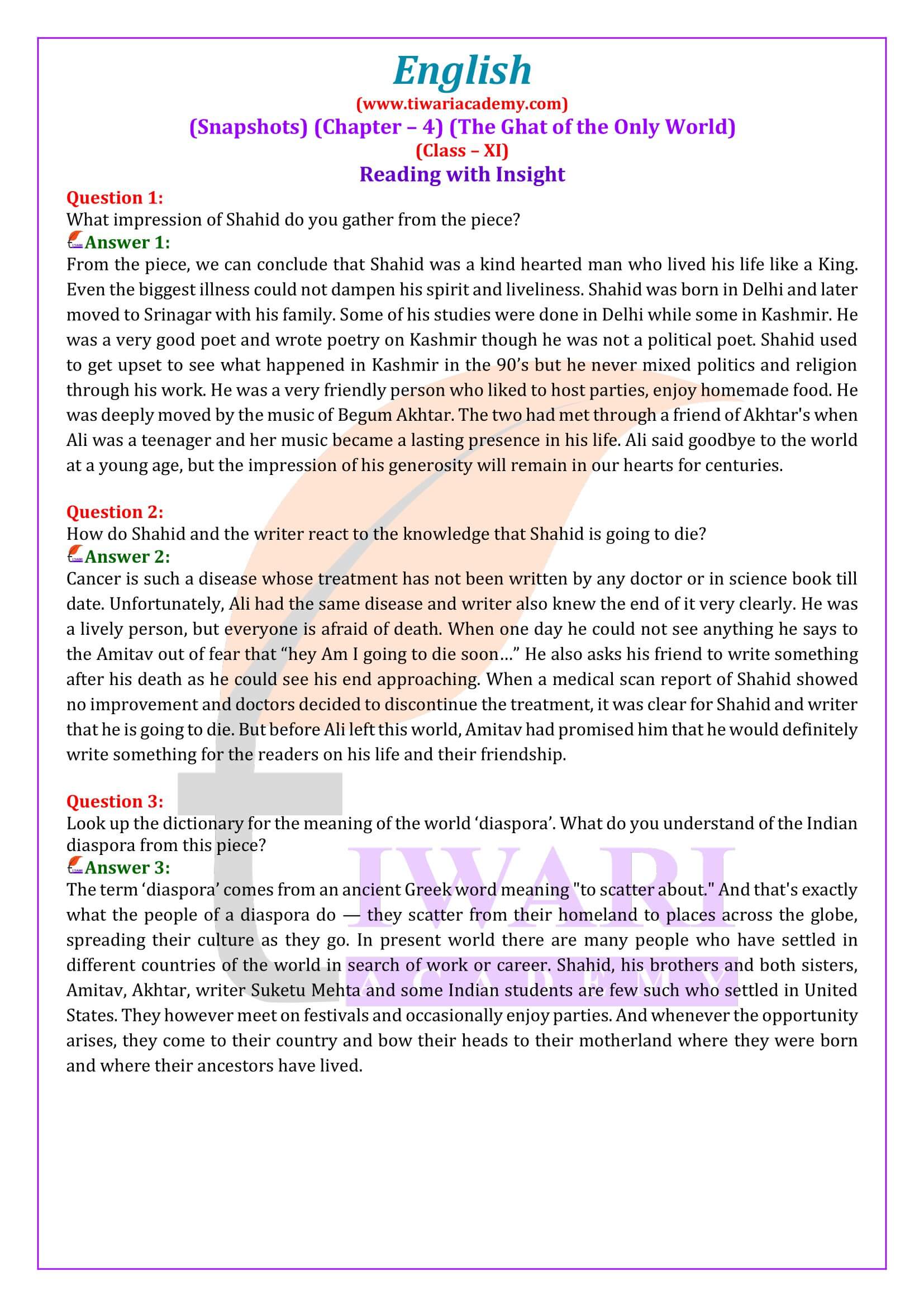 Last Edited: September 5, 2023