NCERT Solutions for Class 11 English Hornbill Chapter 6 Silk Road written by Nick Middleton and the poem Father to Son by Elizabeth Jennings are given here for CBSE 2023-24 session. Practice here with extra questions of class 11 English chapter 6 in the section of reading skills.
The article has been titled Silk Road. Why?
Merchants on the Silk Road transported goods and traded at bazaars or caravanserai along the way for approximately 1400 years. It played a central role in facilitating economic, cultural, political, and religious interactions between the East and West. The Silk Road derives its name from the highly lucrative trade of silk textiles that were produced almost exclusively in China. The author was exploring the Himalayan belt in Tibet and travelled to Mount Kailash. The chapter is names 'Silk Road' because the author explored this region.
Tibetan mastiffs were popular in China's imperial courts.
Tibetan mastiff is a dog breed found in Tibet. The name was given by Europeans as nearly all large dog breeds in the West had this name. It typically retains the hardiness which would be required for it to survive in Tibet, Ladakh and other high-altitude Himalayan regions. These dogs were very much popular in Imperial courts of China where the emperor used to perform political tasks and affairs.
The author's experience at Hor was in stark contrast to earlier accounts of the place.
Although Hor was situated on the shore of Lake Mansarowar, it still failed to please the author. People like Ekai Kawaguchi from Japan and Sven Hedin, a Swedish got mesmerized with the place that tears rolled into the eyes of both. Author found that place as gloomy and pathetic and full of dust and rocks. The reason for such thoughts were his back to back two punctures in car and the other reason was unavailability of good window seat in a café where he took the halt.
The author was disappointed with Darchen.
There are many reasons for author to get disappointed with Darchen. He faced difficulties like he is climbing the highest mountain peak of the world. There was no one to speak English with him when Tsetan left him. There was no pilgrim with him because he came in the wrong month. His condition worsening at high altitude and he could not sleep through the night was also one of his major disappointments.
The author thought that his positive thinking strategy worked well after all.
When the author was feeling lonely and in despair after the departure of Tsetan, he met Norbu, who was also the academician as the author. He knew English and both of them had one destination. Then author took sigh of relief and he thought his positive thinking worked for him.
The purpose of the author's journey to Mount Kailash. Comment.
The purpose of author's journey to Mount Kailash was to complete the Kora. Author Nick Middleton is a geographer, writer and presenter of television documentaries. He was born in London, England. As a geographer, author has travelled to more than 70 countries.
The author's physical condition in Darchen.
Darchen is situated right in front of the sacred mountain, Mount Kailash. Its altitude is 4,575 meters and is the starting point for pilgrimages in the region. The author did not feel when he reached at such height in Darchen. Due to very low temperature he got severe cold and sinuses also got blocked. His trouble got worse after lying on the bed. He was taken to Darchen Medical College by Tsetan when he could not get sleep the previous night. There, the doctor gave him medication which gave him significant relief.
The author's meeting with Norbu. Comment.
The meeting of the author with Norbu was like giving water to a thirsty person. Author was in desperate need of someone who knows English and can accompany him for the rest of the trip. Norbu was a little fatty and cheerful academician from Tibet. Norbu saw an English book on a table in café where author was having his herbal tea and asked if he can join him. Because both of them had the same destination, so from there they started their journey ahead to Mount Kailash.
Tsetan's support to the author during the journey.
Tsetan was driving a car for the author in this journey. He kept talking to the author and also kept giving information about the place, people and culture. He took good care of author when he came to know that he was unwell. He took him to medical college for medication as well.
"As a Buddhist, he told me, he knew that it didn't really matter if I passed away, but he thought it would be bad for business".
Tsetan was Buddhist and being a Buddhist he believes in life after death because the Buddha taught that human beings are each born an infinite number of times, unless they achieve Nirvana. Tsetan felt that if the author's health deteriorated due to low temperature and if he dies, then personally he had no loss but he was afraid of impact it may have on the goodwill of his business being a guide to Nick Middleton.
Talking about the text
Explain the use of adjectives in the following phrases.
(i) Shaggy monsters
(ii) Brackish lakes
(iii) Rickety table
(iv) Hairpin bend
(v) Rudimentary general stores
Answer:
(i) hairy mastiffs
(ii) Salt lakes
(iii) Unbalanced table
(iv) Sharp U-shaped bend
(v) Stores with essential items only
The narrative has many phrases to describe the scenic beauty of the mountainside like:
A flawless half-moon floated in a perfect blue sky.
Scan the text to locate other such picturesque phrases.
Extended banks of cloud like long French loaves glowed pink as the sun emerged to splash the distant mountain tops with a rose-tinted blush.
We could see snow-capped mountains gathering on the horizon.
The plateau is pockmarked with salt flats and brackish lakes, vestiges of the Tethys Ocean which bordered Tibet before the great continental collision that lifted it skyward.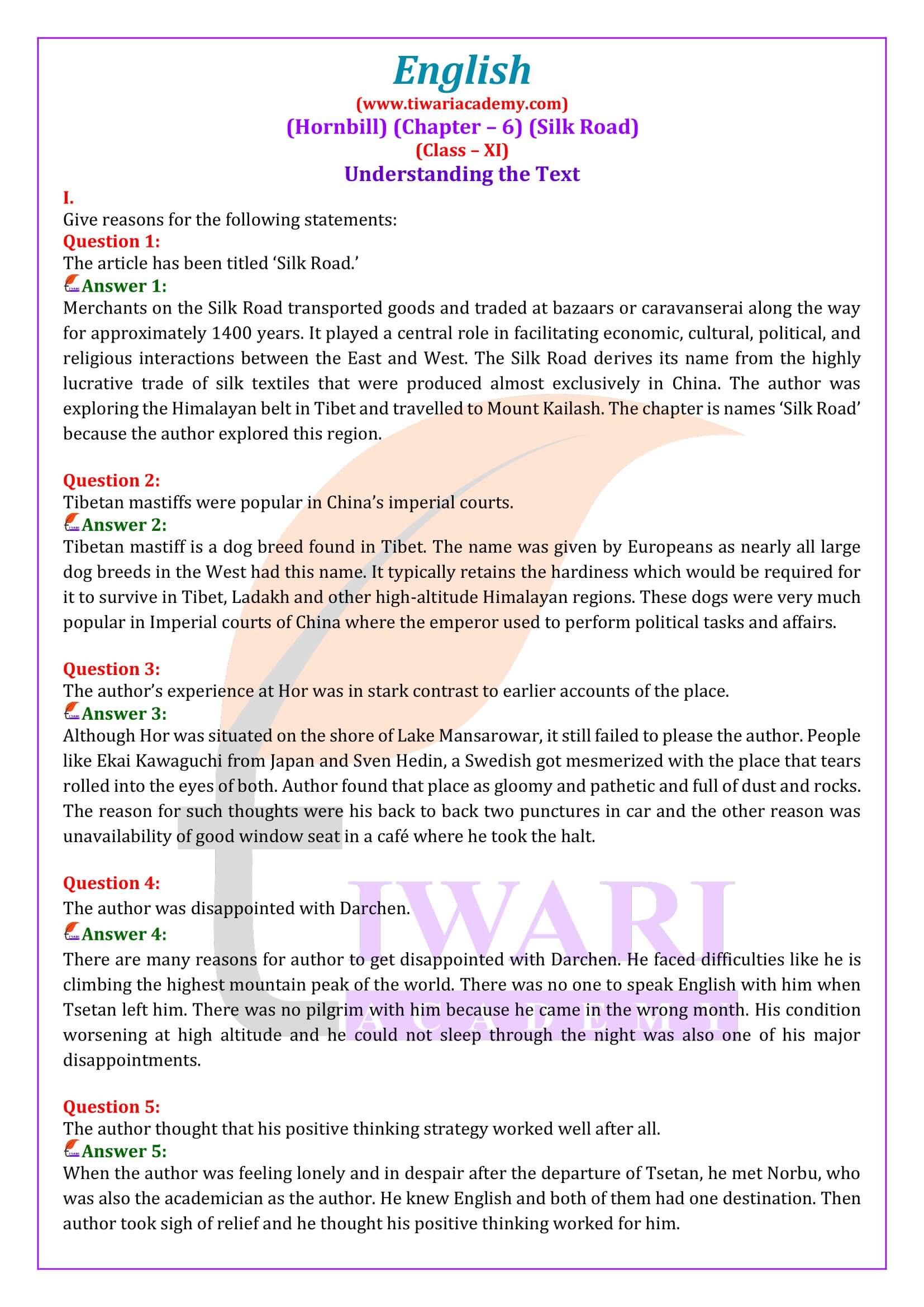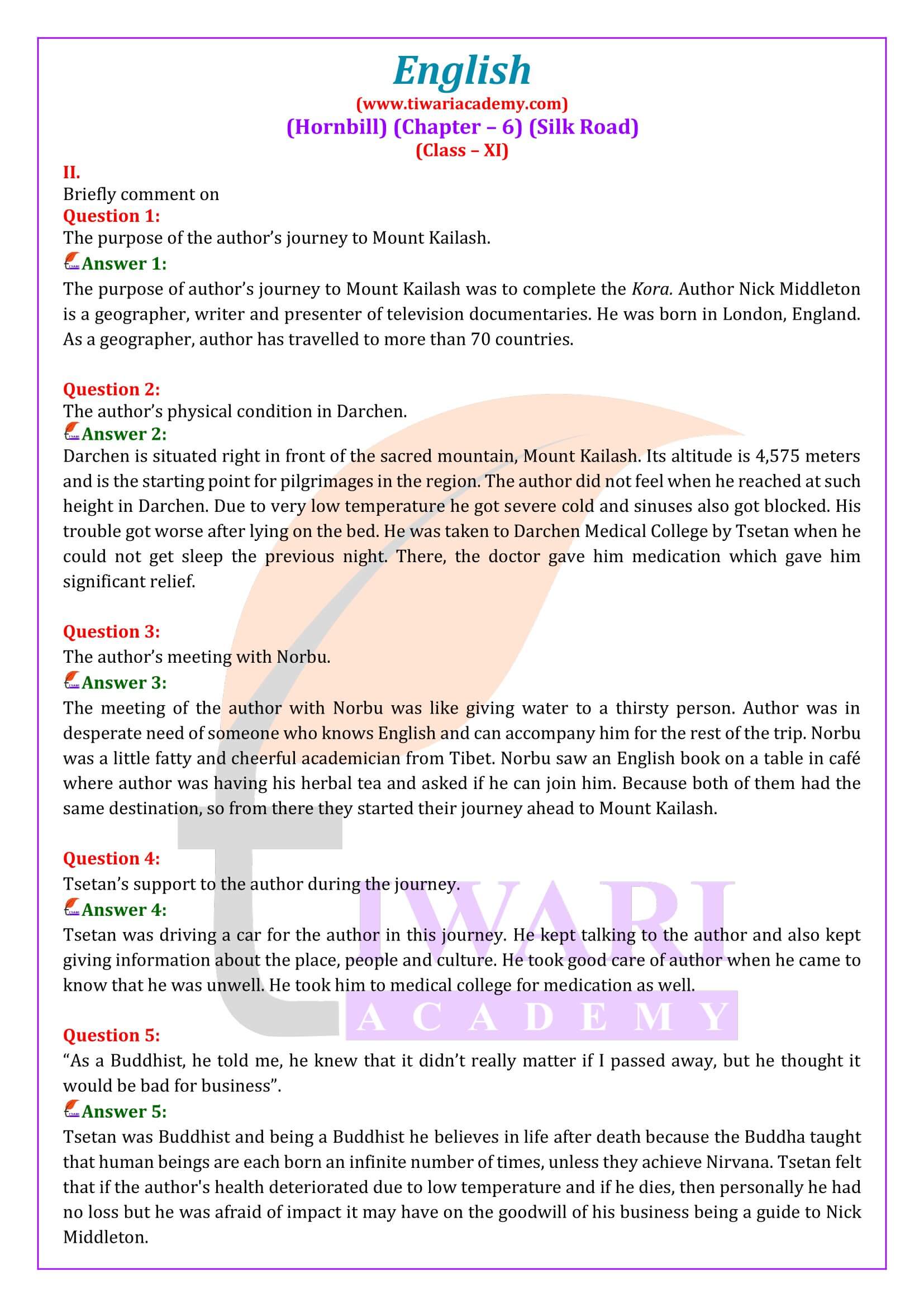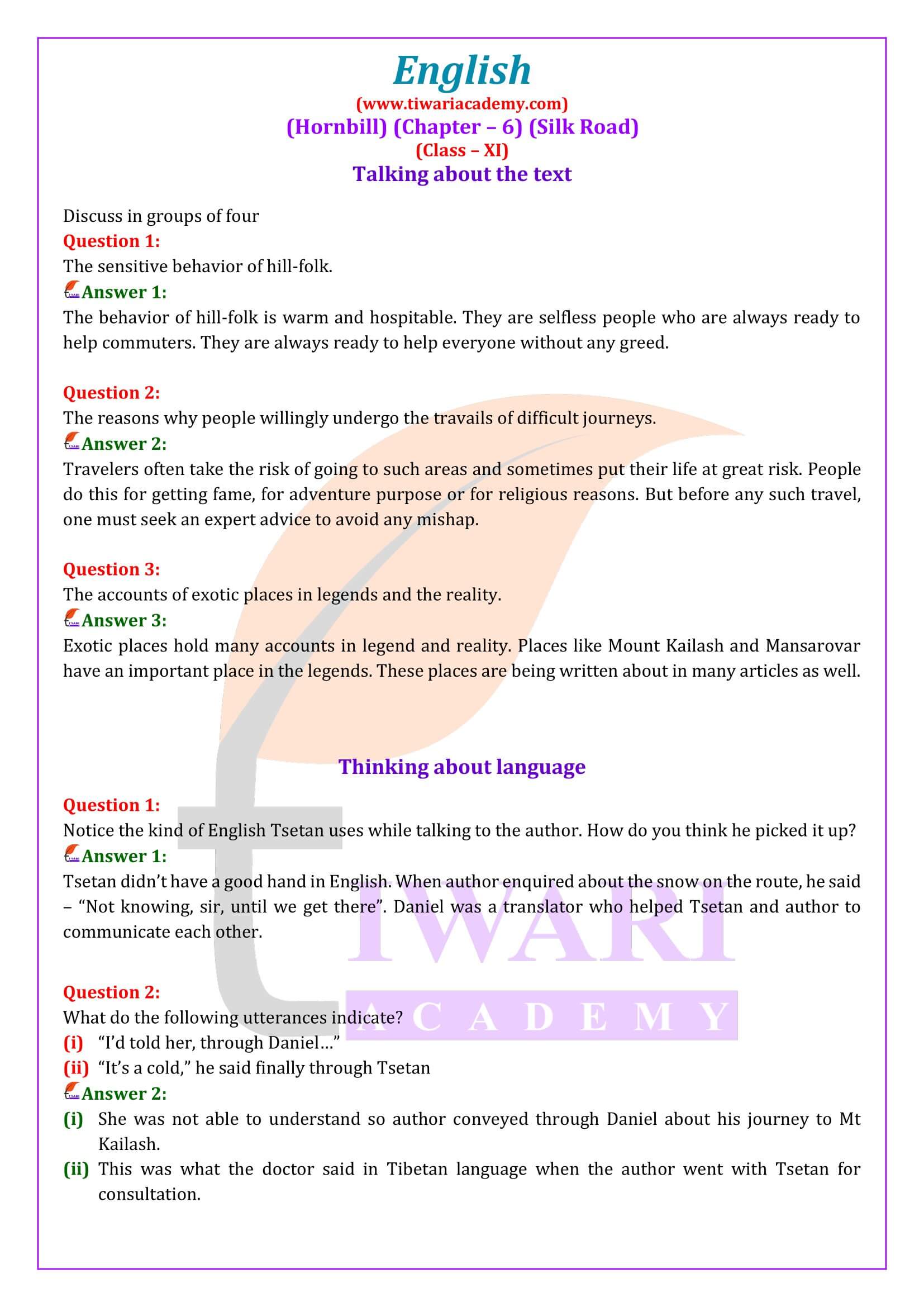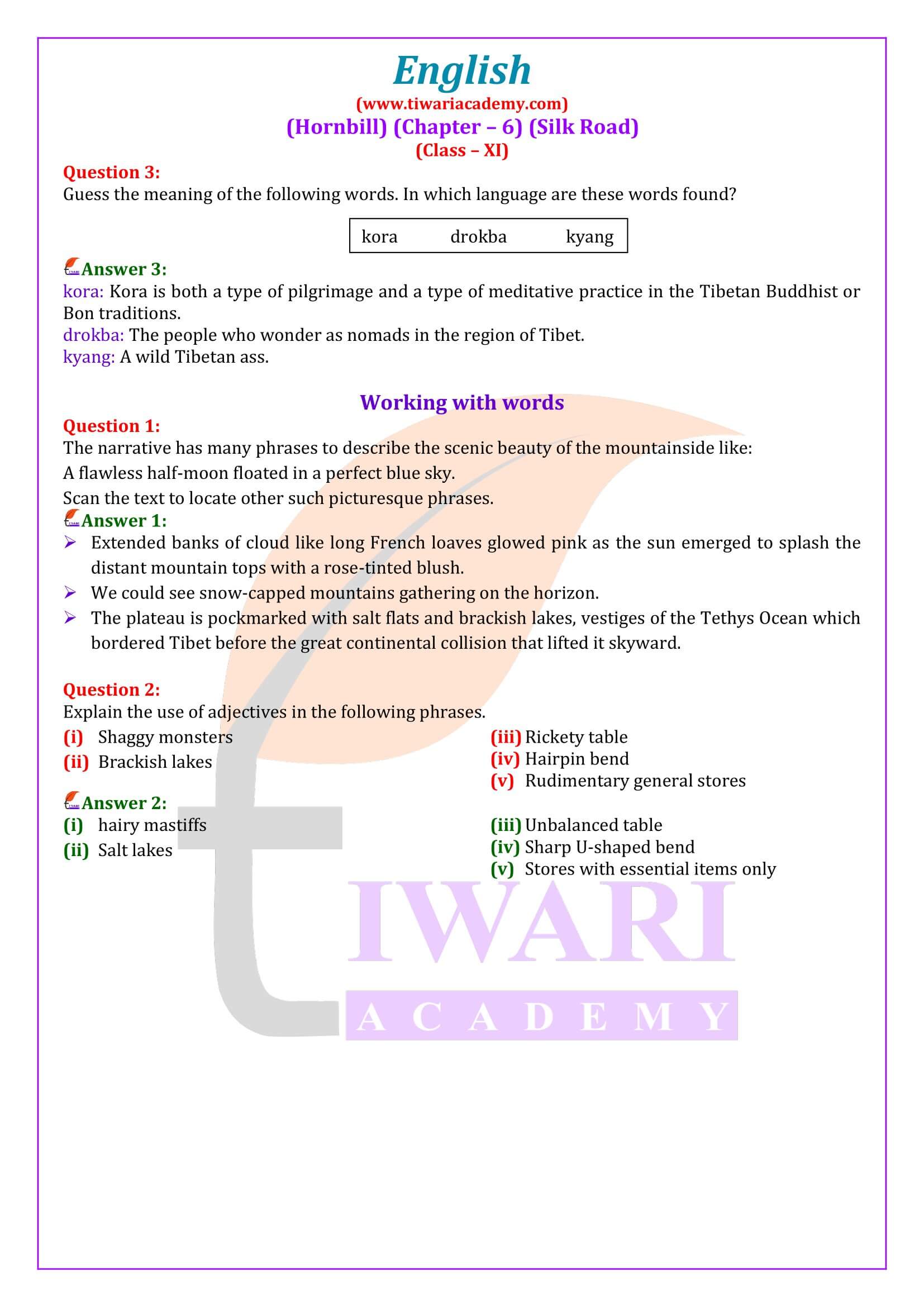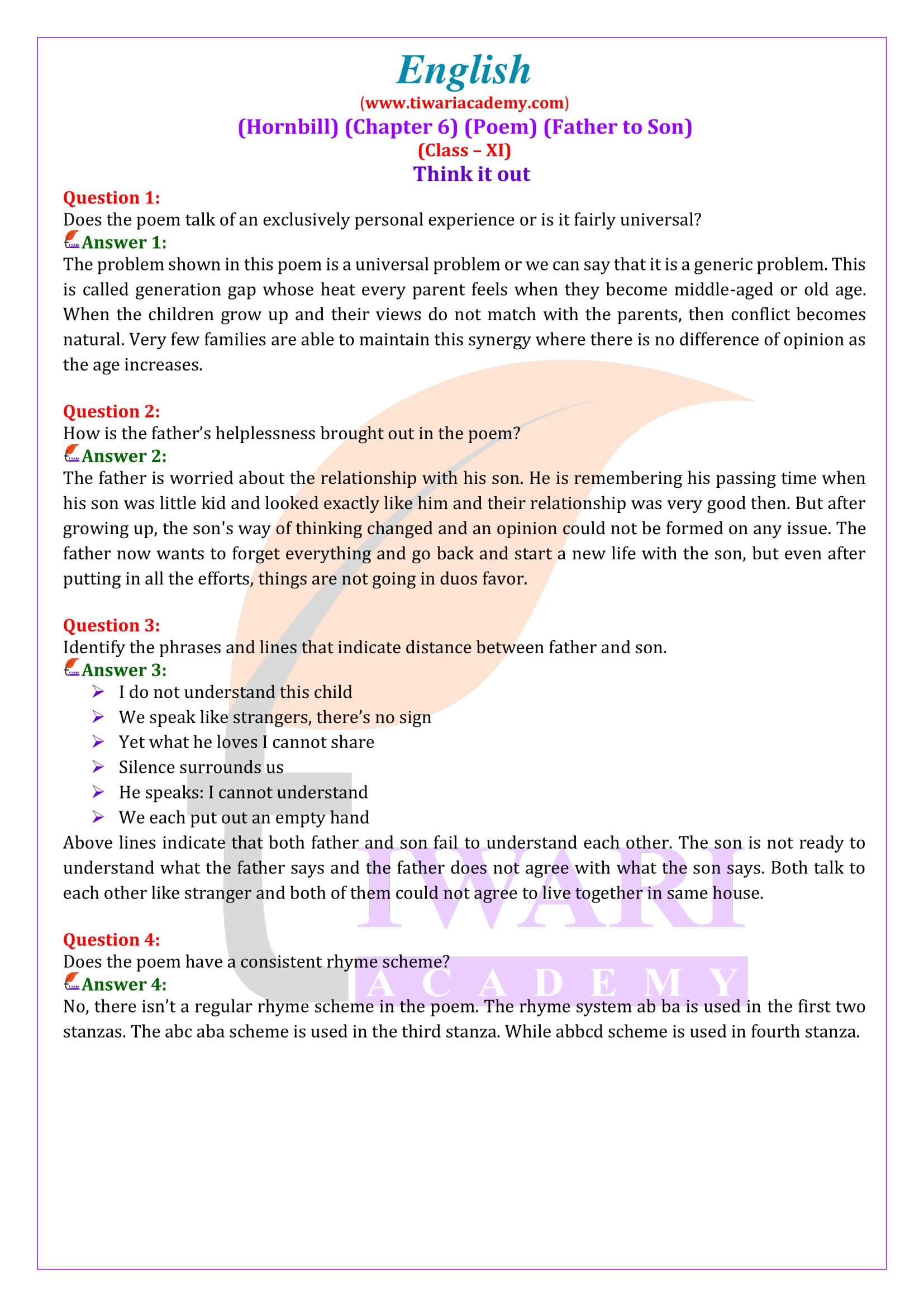 Last Edited: September 5, 2023