NCERT Solutions for Class 9 Science Chapter 2 Is Matter Around Us Pure in PDF file format English and Hindi Medium updated for new academic session 2023-24 based on latest NCERT Books and following the new CBSE Curriculum.
NCERT Solutions for Class 9 Science Chapter 2
UP Board students can download UP Board Solutions for class 9 Science chapter 2 in Hindi Medium. Class 9 Science Chapter 2 question-answers of Page 15, Page 18, Page 24 and Exercises in English Medium or Page 16 ke Uttar, Page 20 ke Uttar, Page 26 ke Uttar, Page 27 ke Uttar and Abhyaas ke Uttar in Hindi Medium. NCERT Solutions 2023-24 of other subjects are also available free to download in PDF file format. Download Class 9 Apps for offline use. Download NCERT Solutions Offline Apps based on latest NCERT Books 2023-2024, which works offline without internet.
| | |
| --- | --- |
| Class: 9 | Science (English and Hindi Medium) |
| Contents: | English and Hindi Medium Solutions |
| Chapter 2: | Is Matter Around Us Pure |
9th Science Chapter 2 Answers in English & Hindi Medium
NCERT Solutions for Class 9 Science Chapter 2 Is Matter Around Us Pure Intext Questions on different pages and Exercises question answers are given below in updated format. All the answers are checked by experts for academic session 2023-24. Download Class 9 all Subjects App for free use.
Class 9 Science Chapter 2 Solutions Related Pages
Extra Questions on 9th Science Chapter 2
Colloidal solution show Tyndall effect but true solution do not. Discuss.
In a colloidal solution, the particle size is such (1 nn to 100 nm), that these particles scatter the light rays as they fall on them. Because of scattering the path of the light as well as the particle become visible. But in a true solution, the particle size is so small (less than 1 nm) that these particles are not in a position to scatter the light. Therefore, true solution does not show any Tyndall effect.
Why do not the dispersed phase particles in a colloidal solution combine with one other?
They do not come closer because of the presence of either positive or negative charge on them. Due to mutual repulsion, these particles remain scattered in a colloidal solution.
What is the function of fractionating column in fractional distillation?
A fractionating column obstructs the upwards movement of the vapours of the liquids. As a result, the energy (latent heat of fusion) which is released by the high boiling liquid is taken by the low boiling liquid. It remains in the vapours state. The high boiling liquid by releasing energy condenses and falls back in the distillation flask. Thus, fractionating column helps in the separation of the components from a mixture.
Alloys are sometimes called substitutional solid solutions. Explain.
Alloys are the homogeneous mixtures of two or more metals. For example, brass is a mixture of copper and zinc. Actually, copper is a crystalline solid in which the atoms are closely packed to form a crystal lattice. Some of these atoms have been replaced or substituted by atoms of zinc. Therefore, brass is regarded as a substitutional solid solution.
All mixtures are homogeneous. Is this statement correct? Justify your answer.
No, this statement is wrong. Mixture because they have combined with each other to form ammonium chloride which is a new substance. A mixture is always formed by mixing non-reacting substances.
Ammonia (gas) + Hydrogen chloride (gas) → Ammonium chloride (solid).
Questions for Practice on 9th Science Chapter 2
Question 1:
A diamond knife is quite often used for cutting glass. Why?
Answer 1:
Diamond is probably the hardest substance known. Therefore, a knife made from a special type of diamond is used for cutting the glass.
Question 2:
Explain how does soap help in cleaning dirty clothes?
Answer 2:
In dirty clothes, the dust particles are present on oil are present on oil drops sticking to them. Simple water cannot remove these oil drops from the clothes because water and oil as such do not form a stable emulsion. Soap plays the role of emulsifier and helps in forming a stable emulsion between the two. This means that soap helps in removing these oil drops along with the dirt sticking to them. The dirty clothes get washed by soap solution.
Question 3:
How will you justify that rusting of iron is a chemical change?
Answer 3:
The rust is a brown chemical compound known as hydrated ferric oxide. It cannot be removed from the surface of the metal b any means. Formula of a rust shows that iron has undergone a chemical change.
Important Questions on 9th Science Chapter 2
Write the steps you would use for making tea. Use the words – solution, solvent, solute, dissolve, soluble, insoluble, filtrate and residue.
Take the solvent, water, in a kettle. Heat it. When the solvent boils, add the solute, milk. Milk and water forms a solution. Then pour some tea leaves over a sieve. Pour slowly hot solution of milk over tea leaves. Colour of tea leaves goes into solution as filtrate. The remaining tea leaves being insoluble remains as residue. Add requisite sugar which dissolves and the tea is ready.
What do you understand by a Saturated solution?
Saturated Solution: A solution in which no more of the solid (solute) can be dissolved at a given temperature is called a saturated solution. Suppose 50 gm of a solute is the maximum amount that can be dissolved in 100 gm water at 298 K. Then 150 gm of solution so obtained is the saturated solution at 298 K.
Describe Pure substance with example.
Pure Substance: A pure substance consists of a single of matter or particles and cannot be separated into other kind of matter by any physical process. Pure substances always have the same colour, taste and texture at a given temperature and pressure. For example, pure water is always colourless, odorless and tasteless and boils at 373 K at normal atmospheric pressure.
Classify each of the following as a homogeneous or heterogeneous mixture: soda water, wood, air, soil, vinegar, filtrated tea.
Homogeneous mixture – soda water, air, vinegar, filtered tea. Heterogeneous mixture – wood, soil.
How would you confirm that a colourless liquid given to you is pure water?
Every liquid has a characteristic boiling point at 1 atmospheric pressure. If the given colourless liquid boils exactly at 373 K at 1 atmospheric pressure, then it is pure water. If the boiling point is different, then the water is contaminated.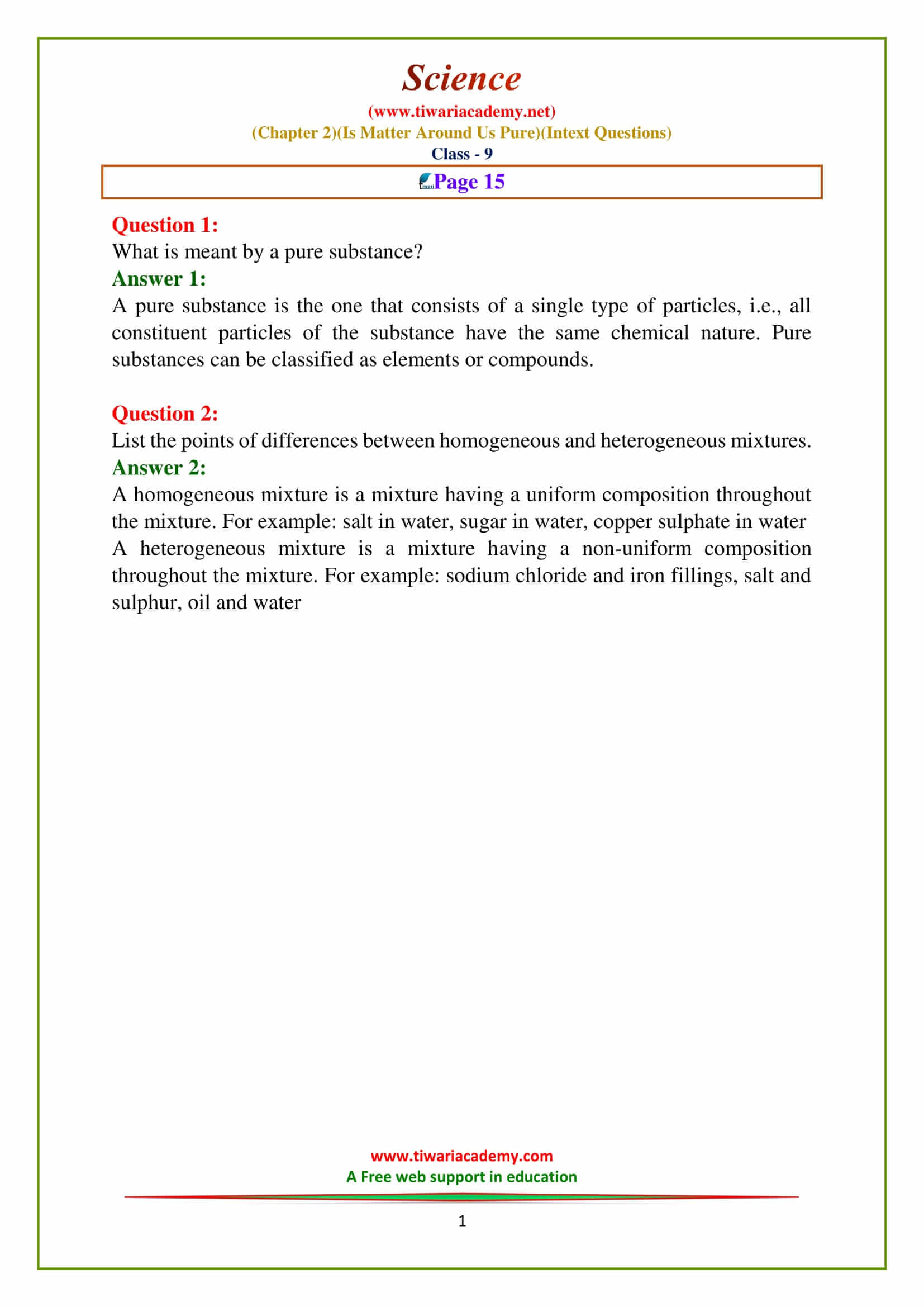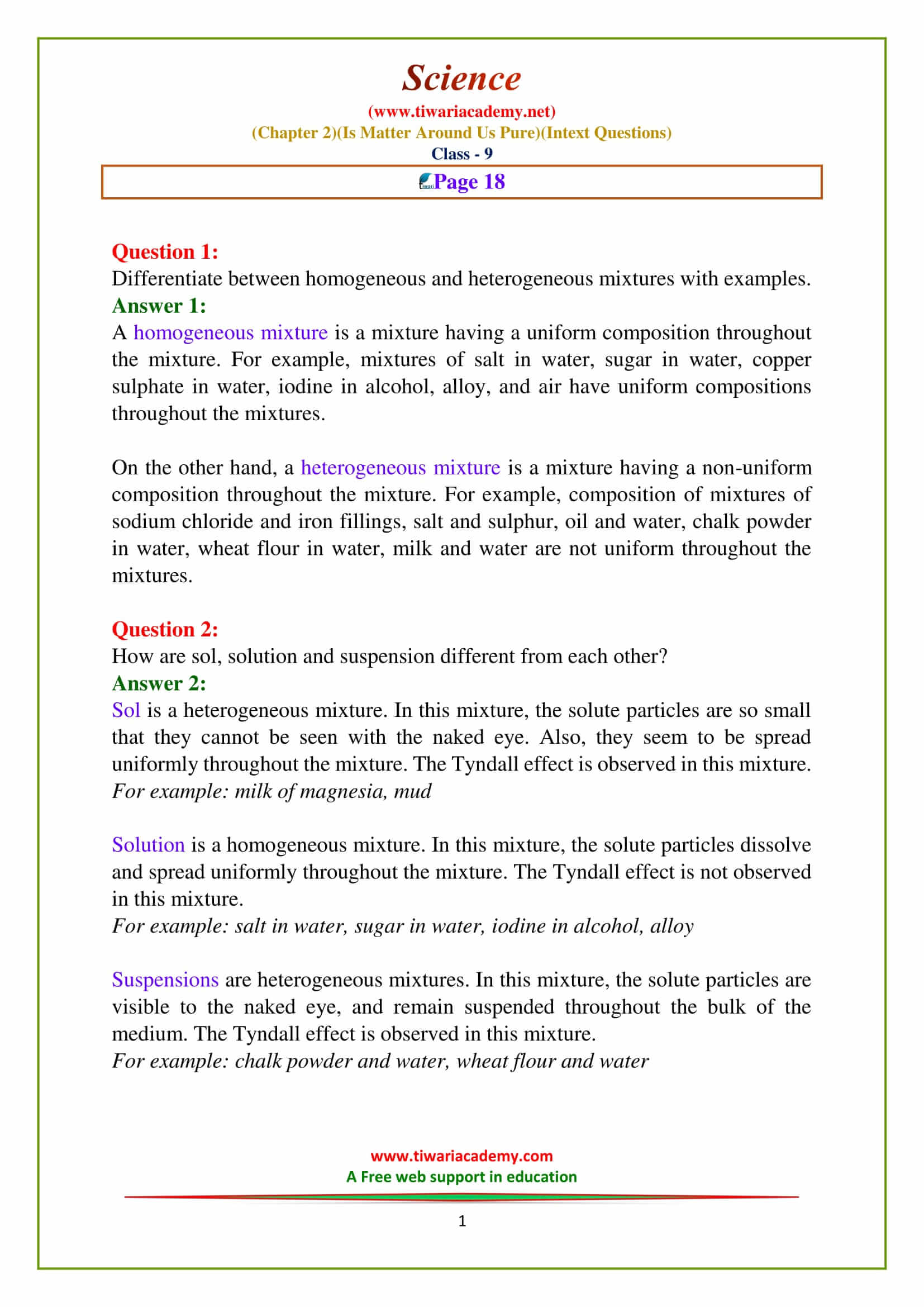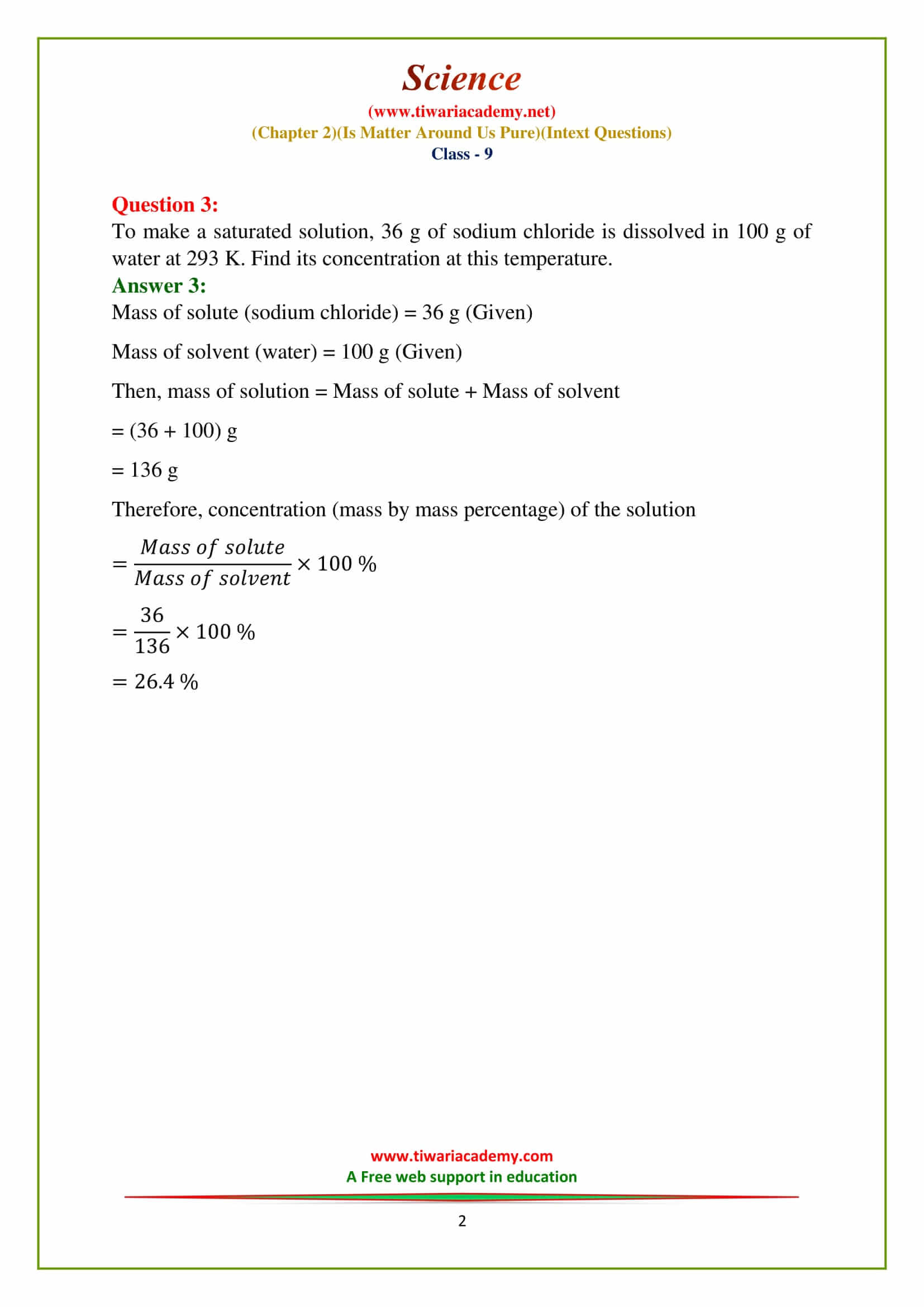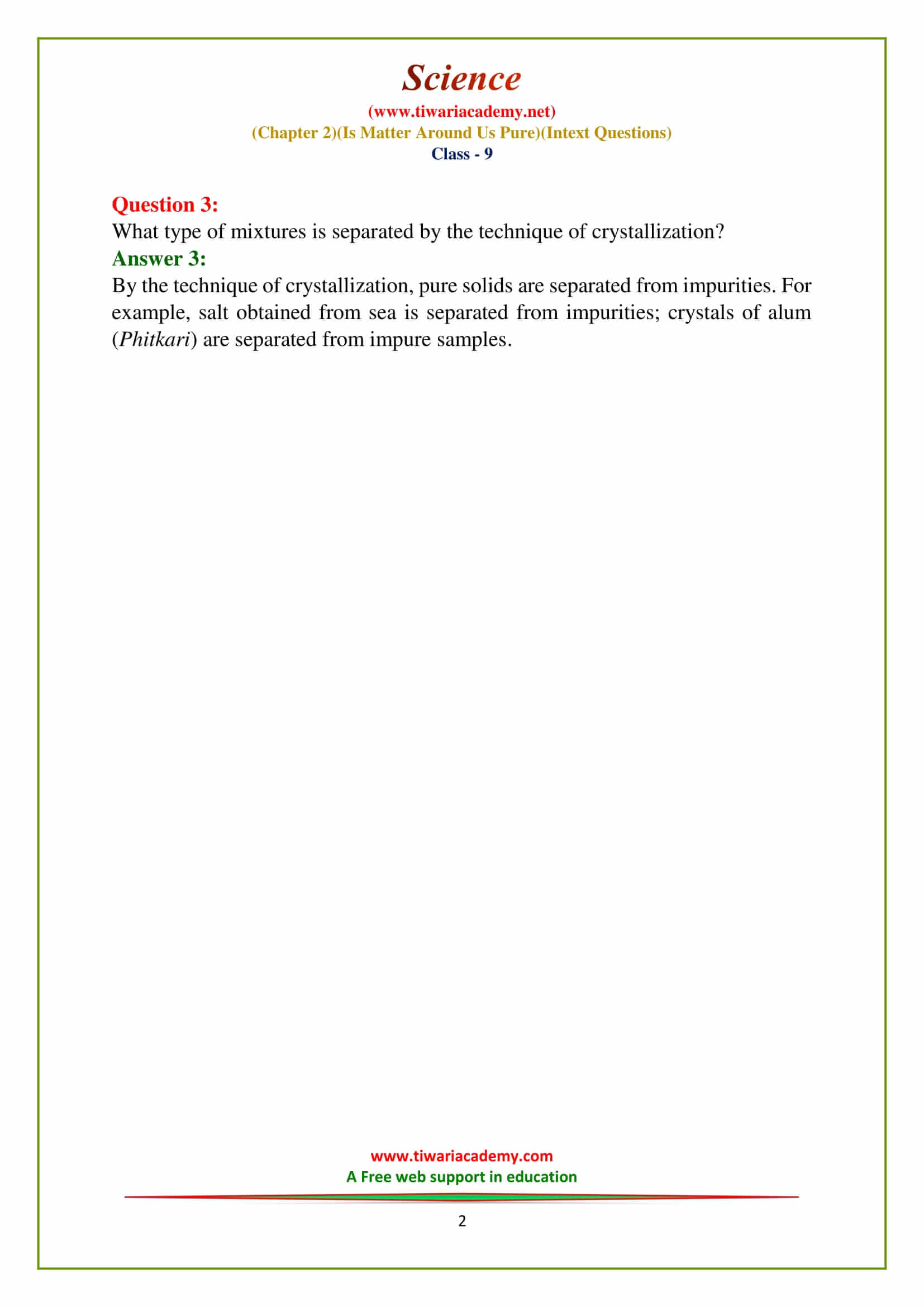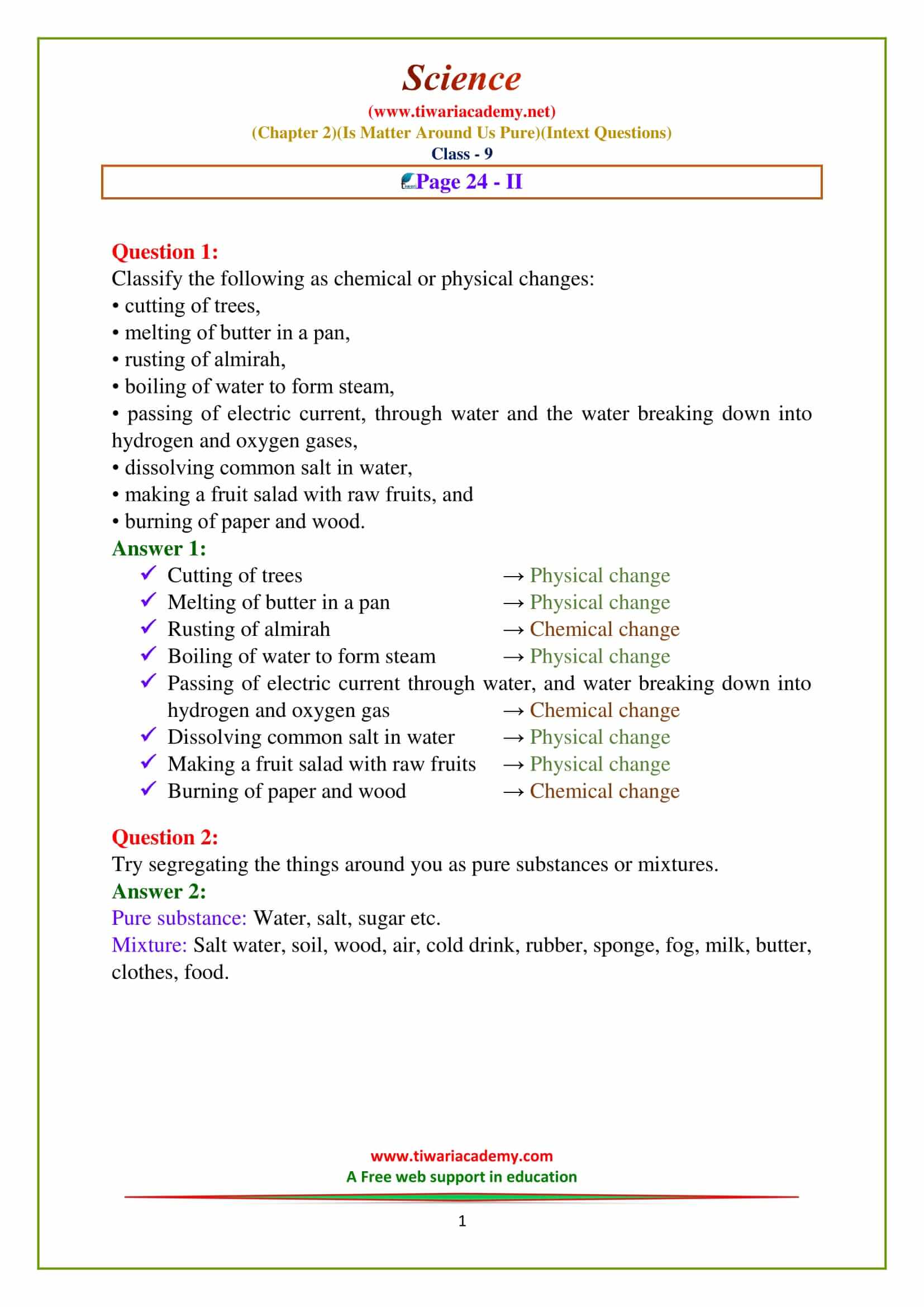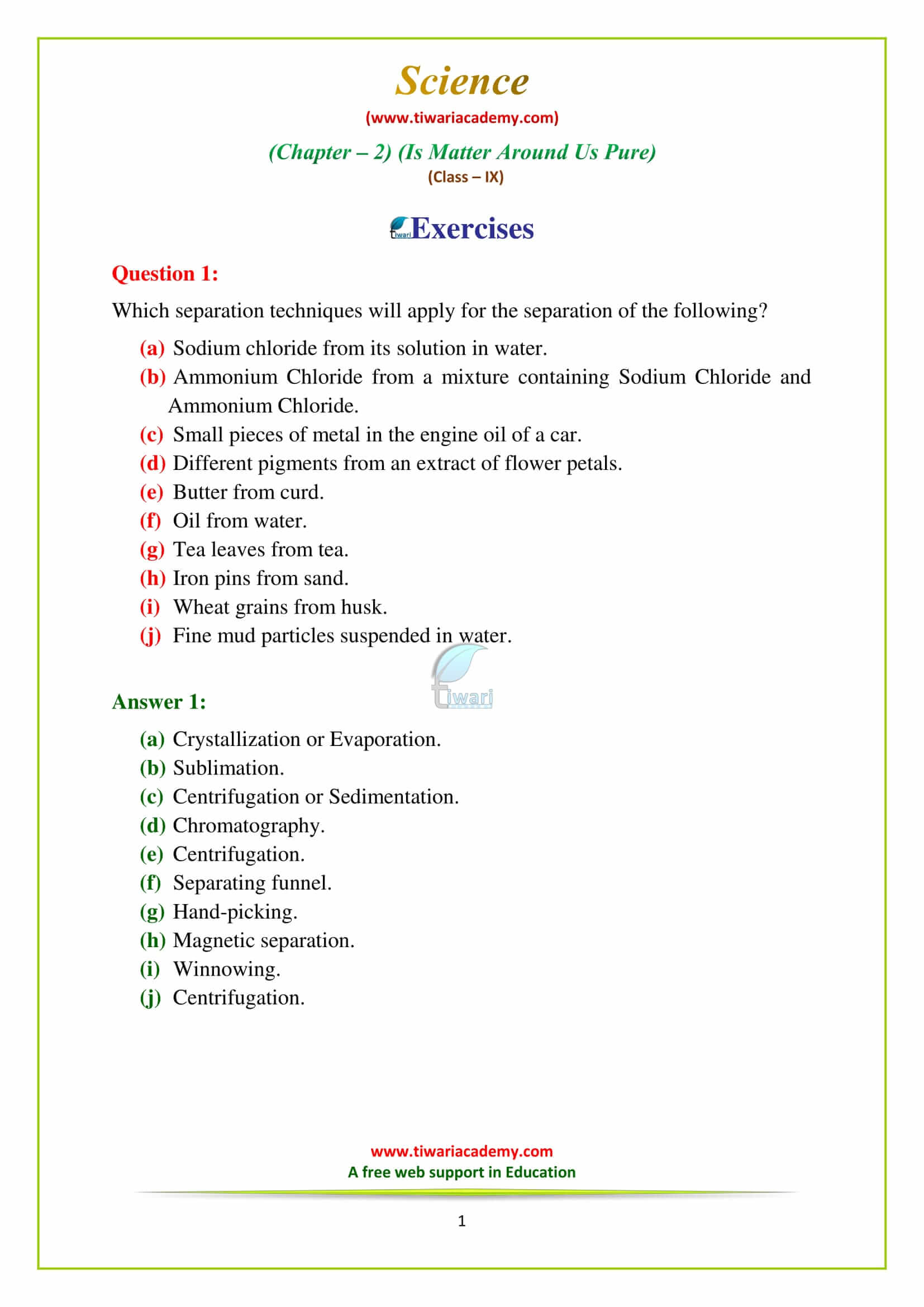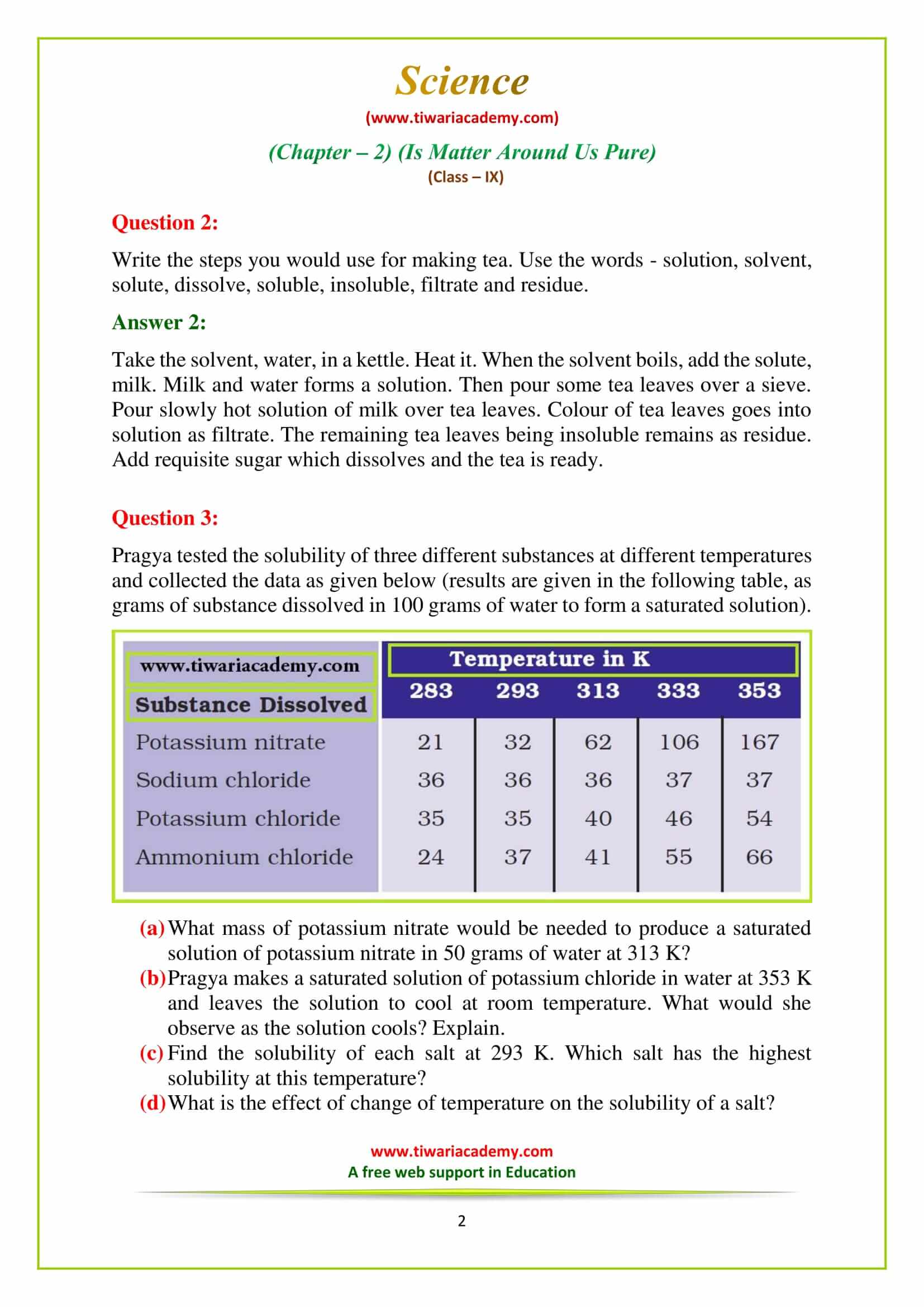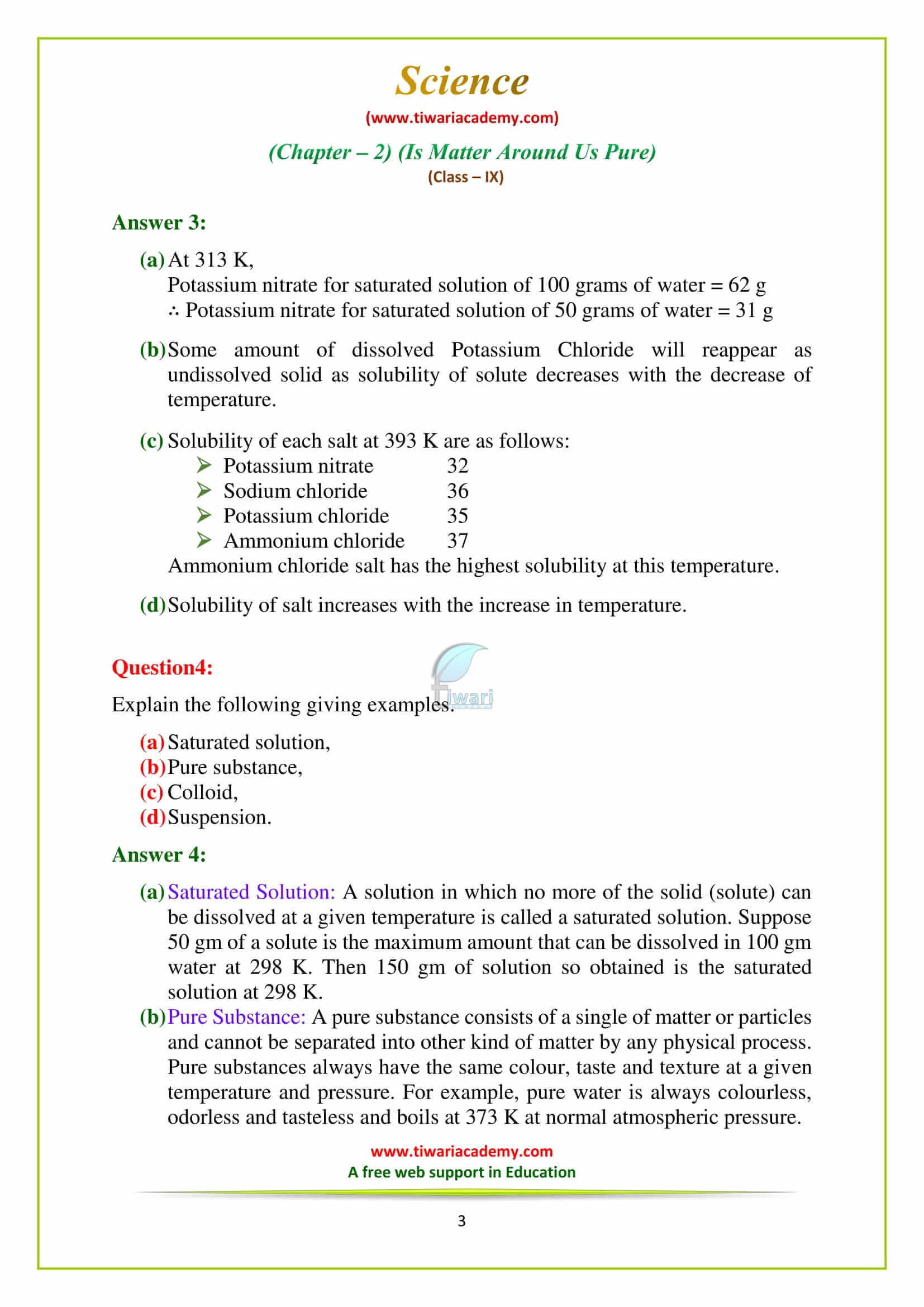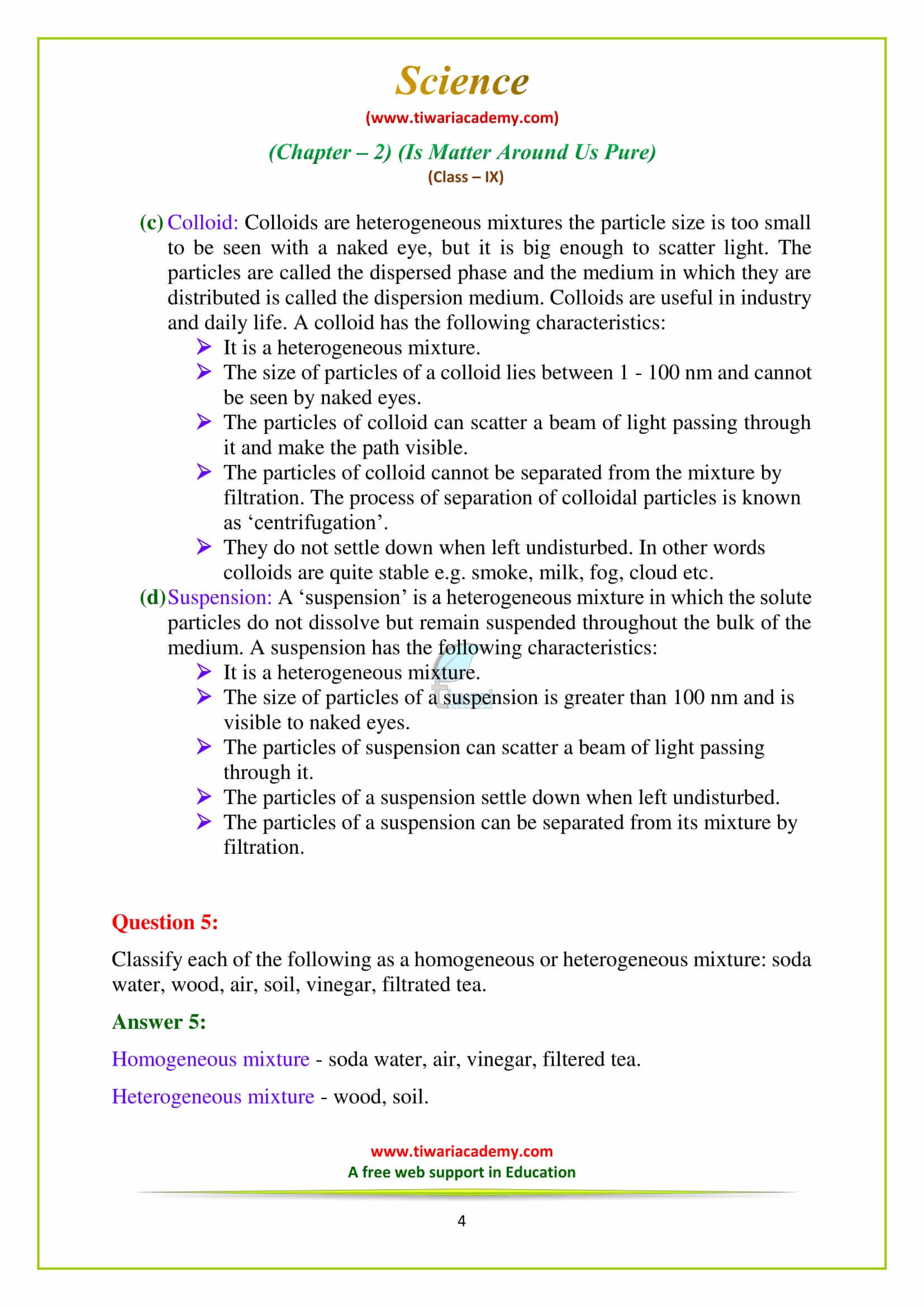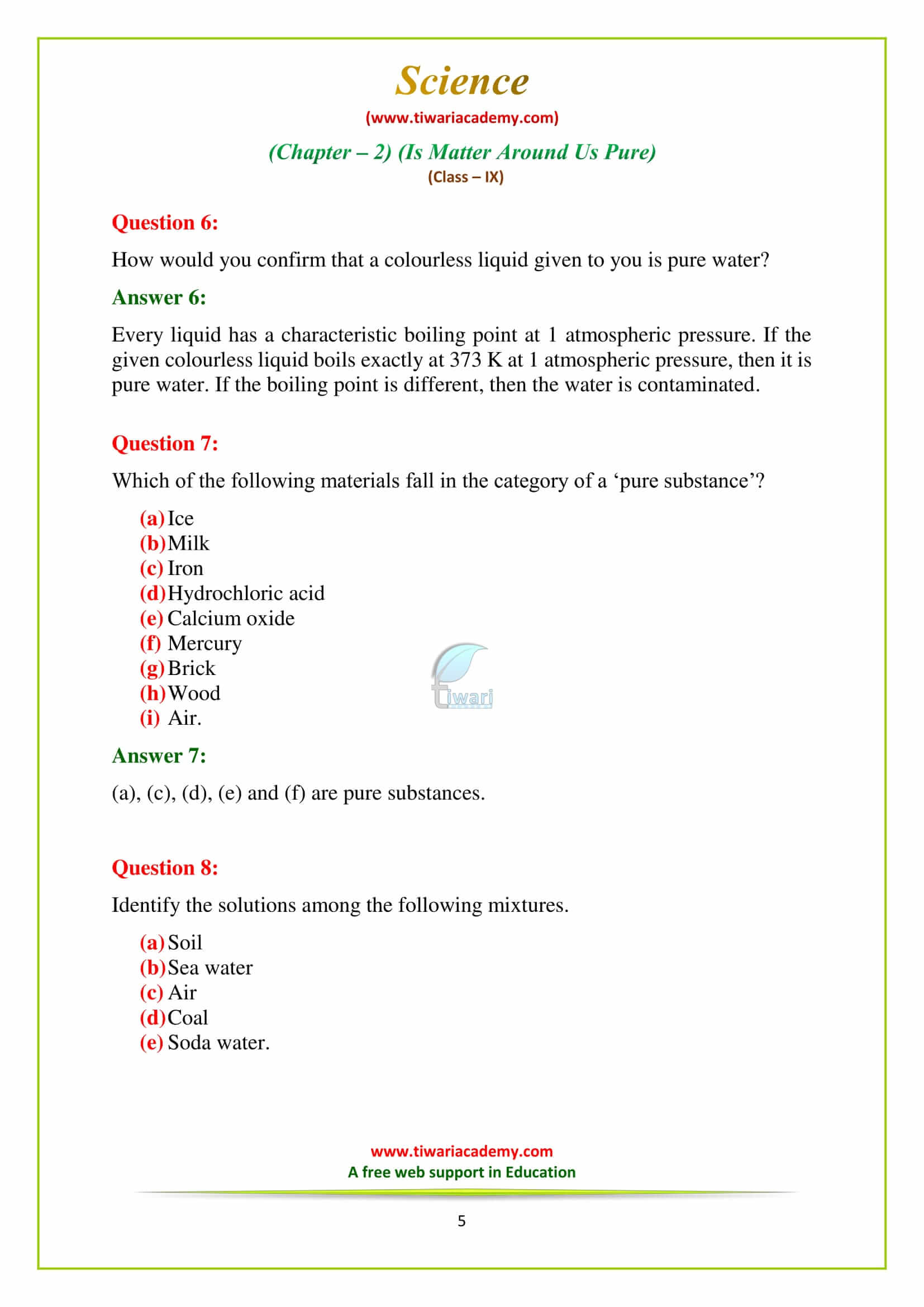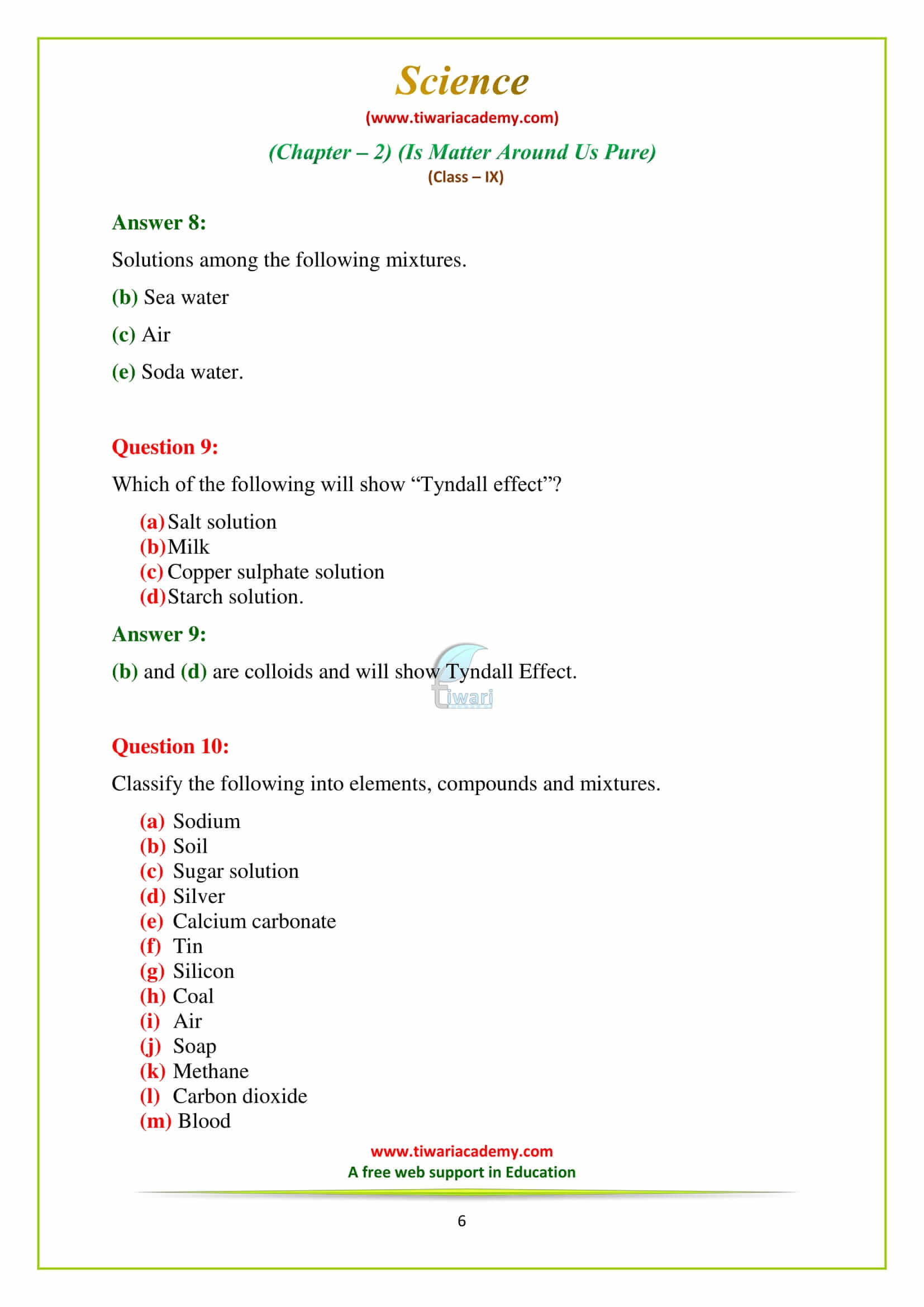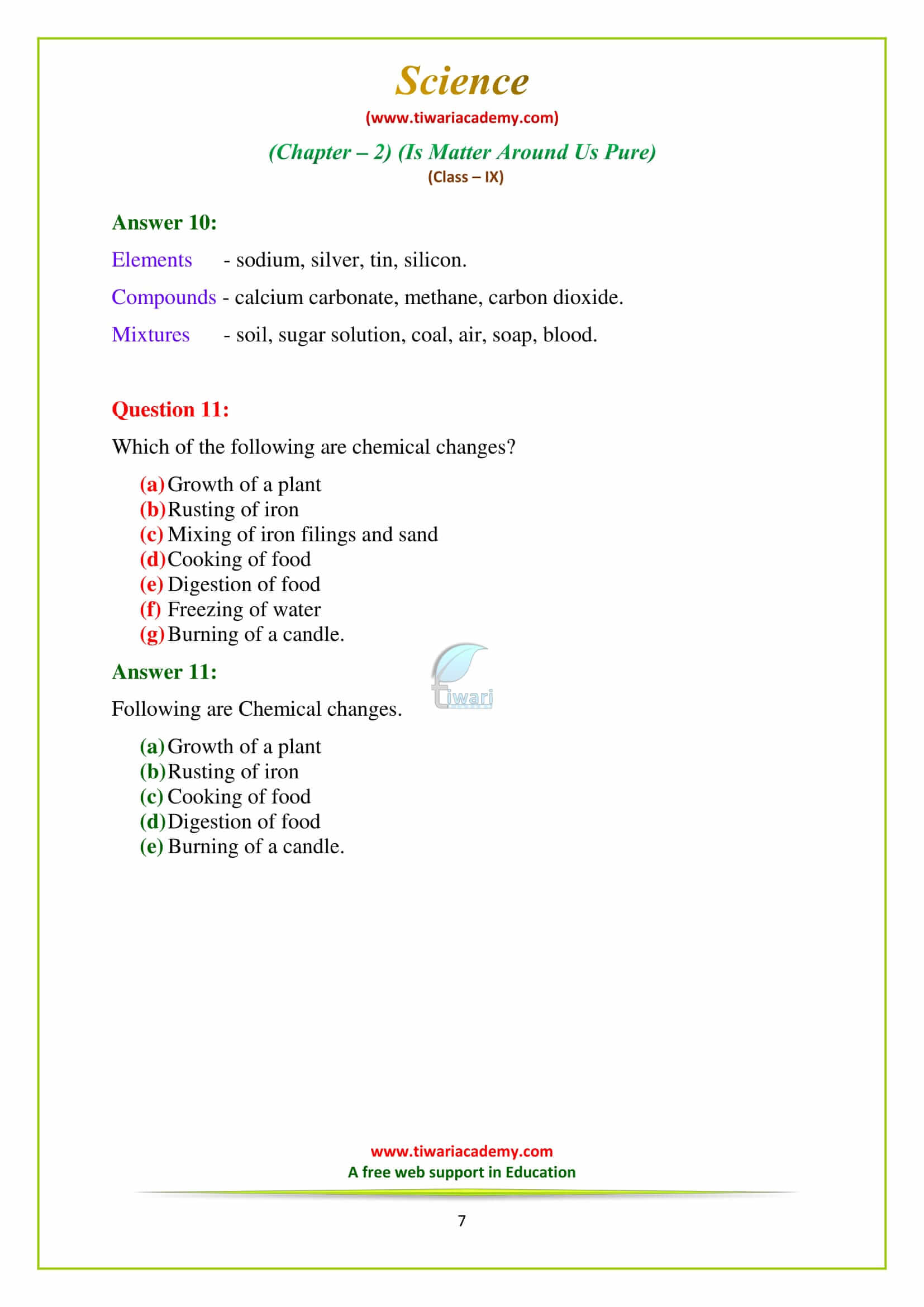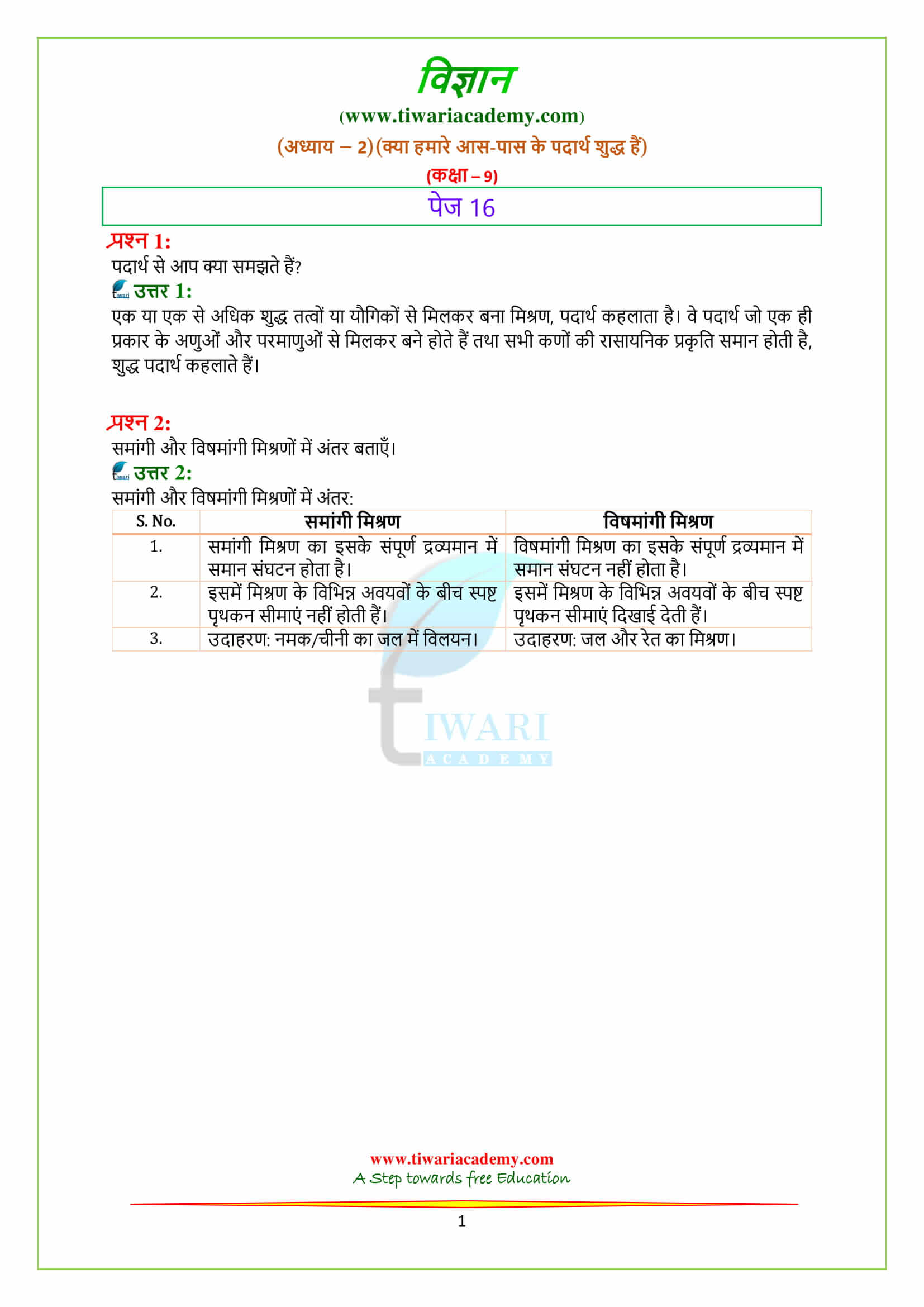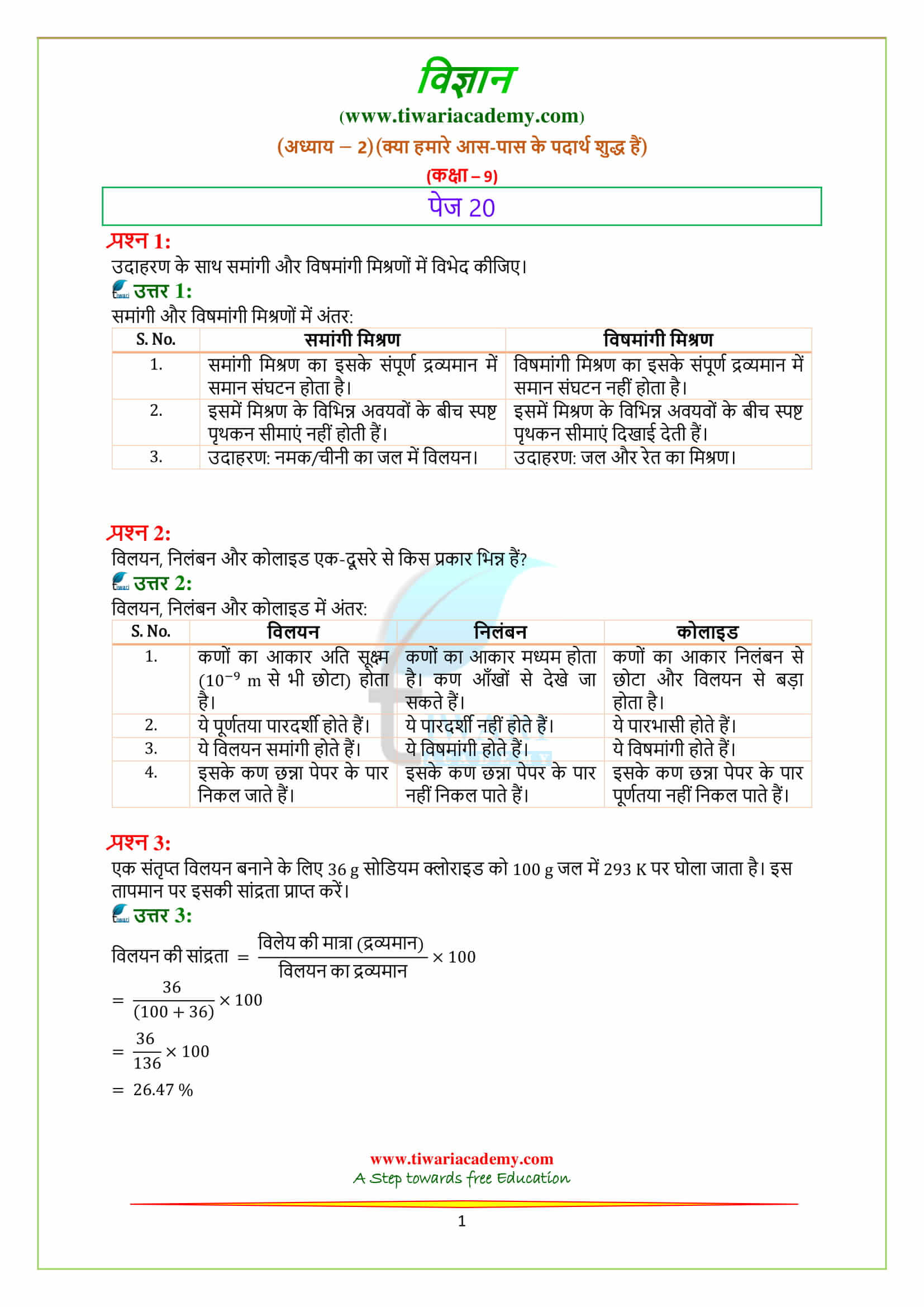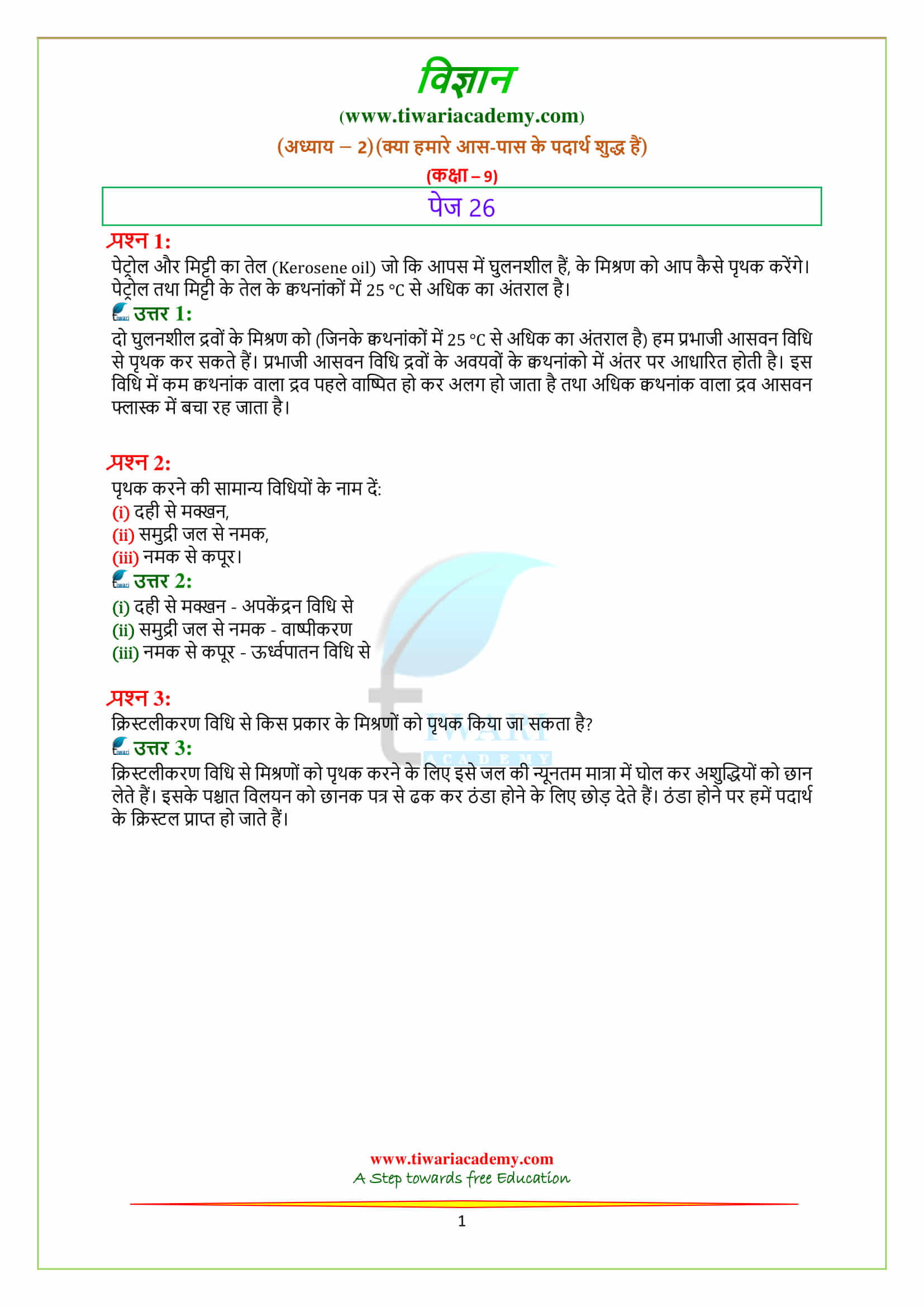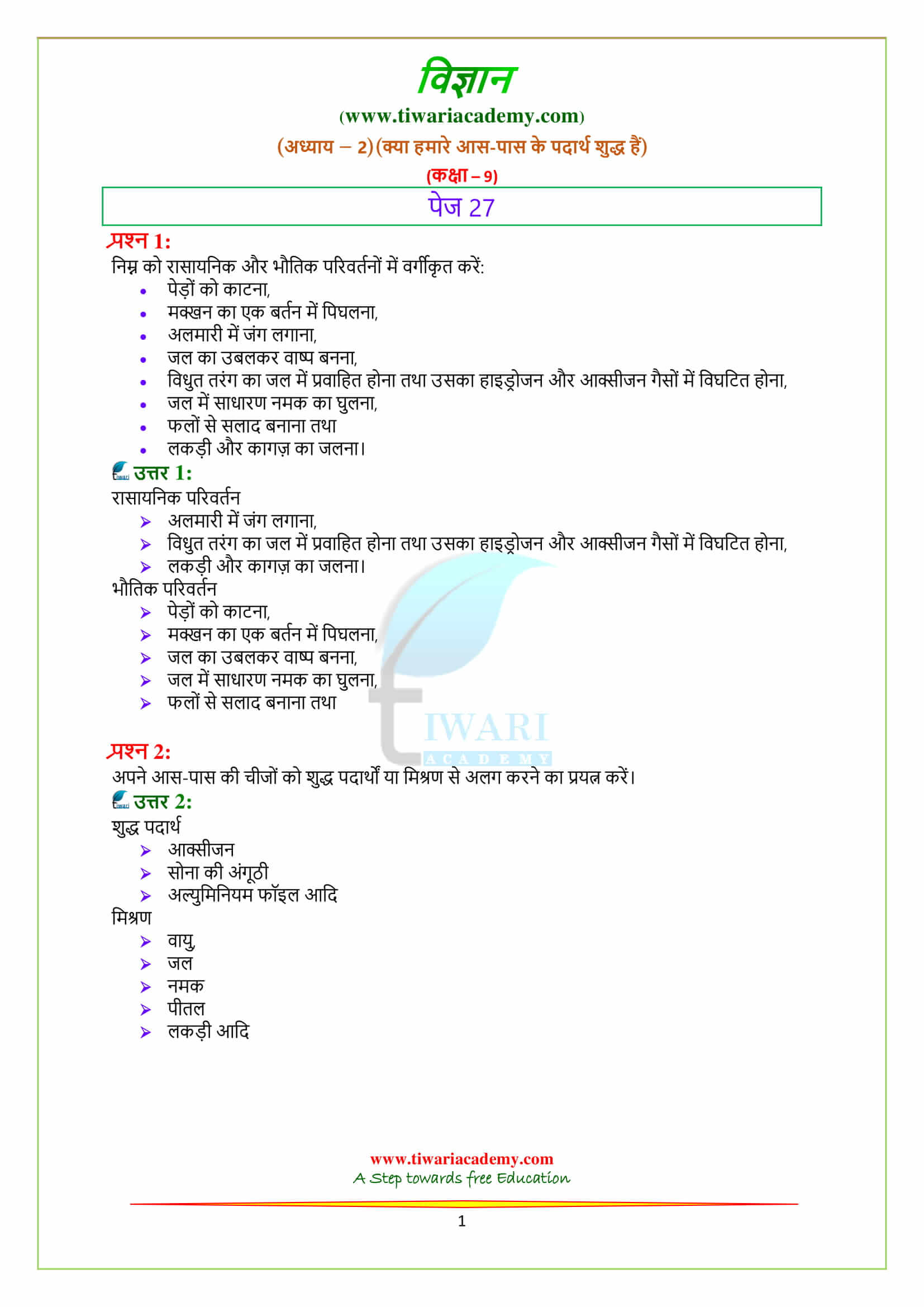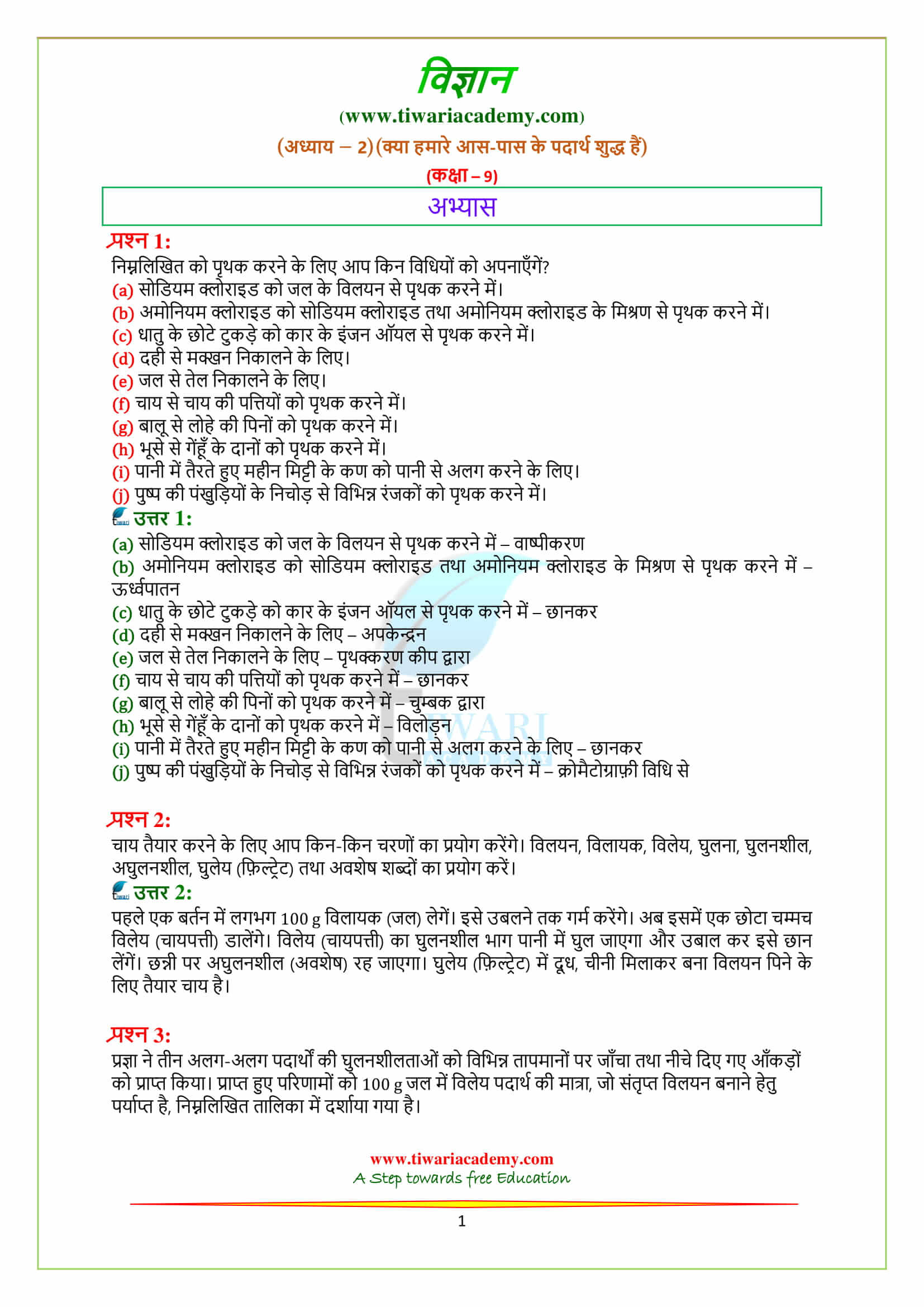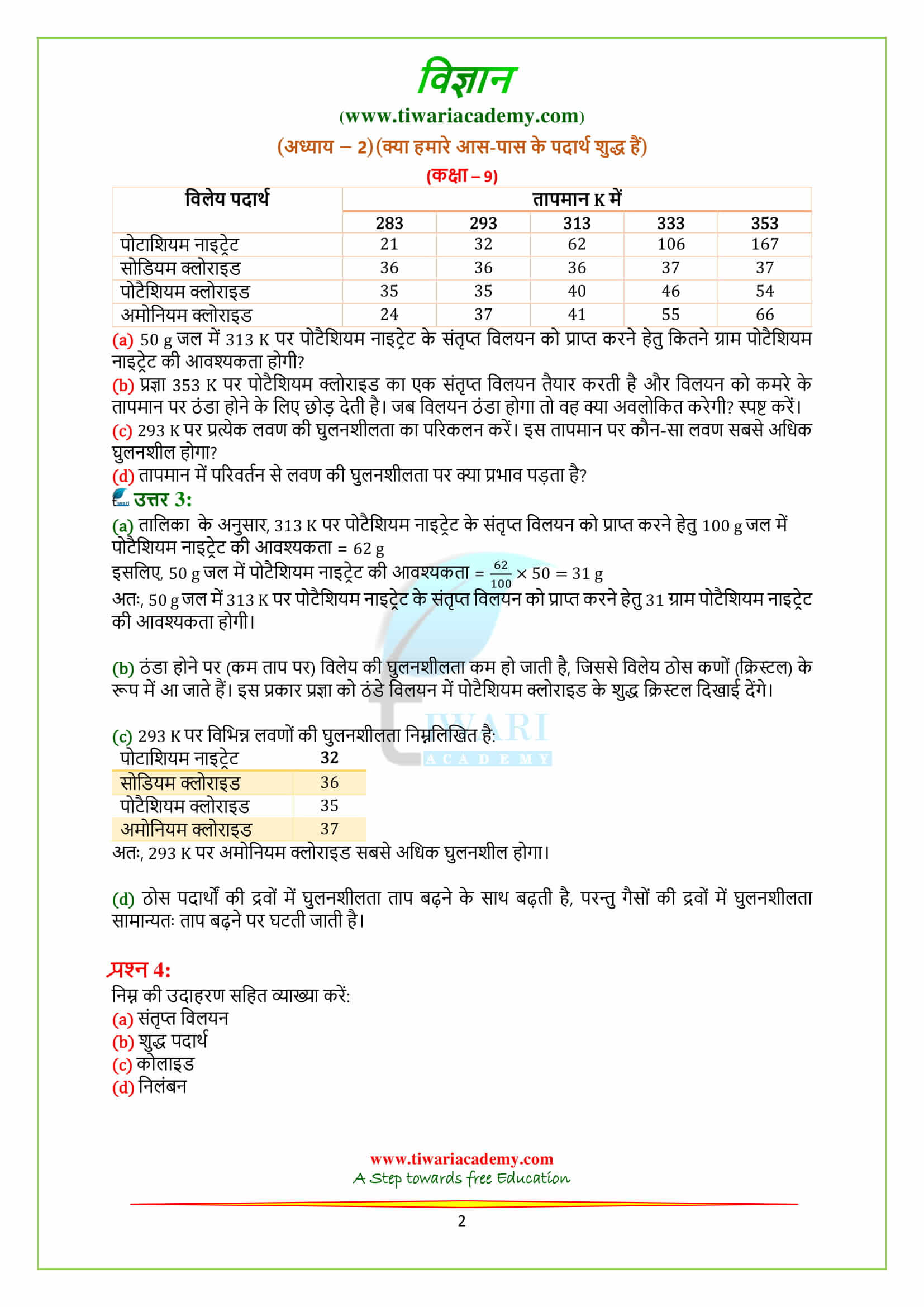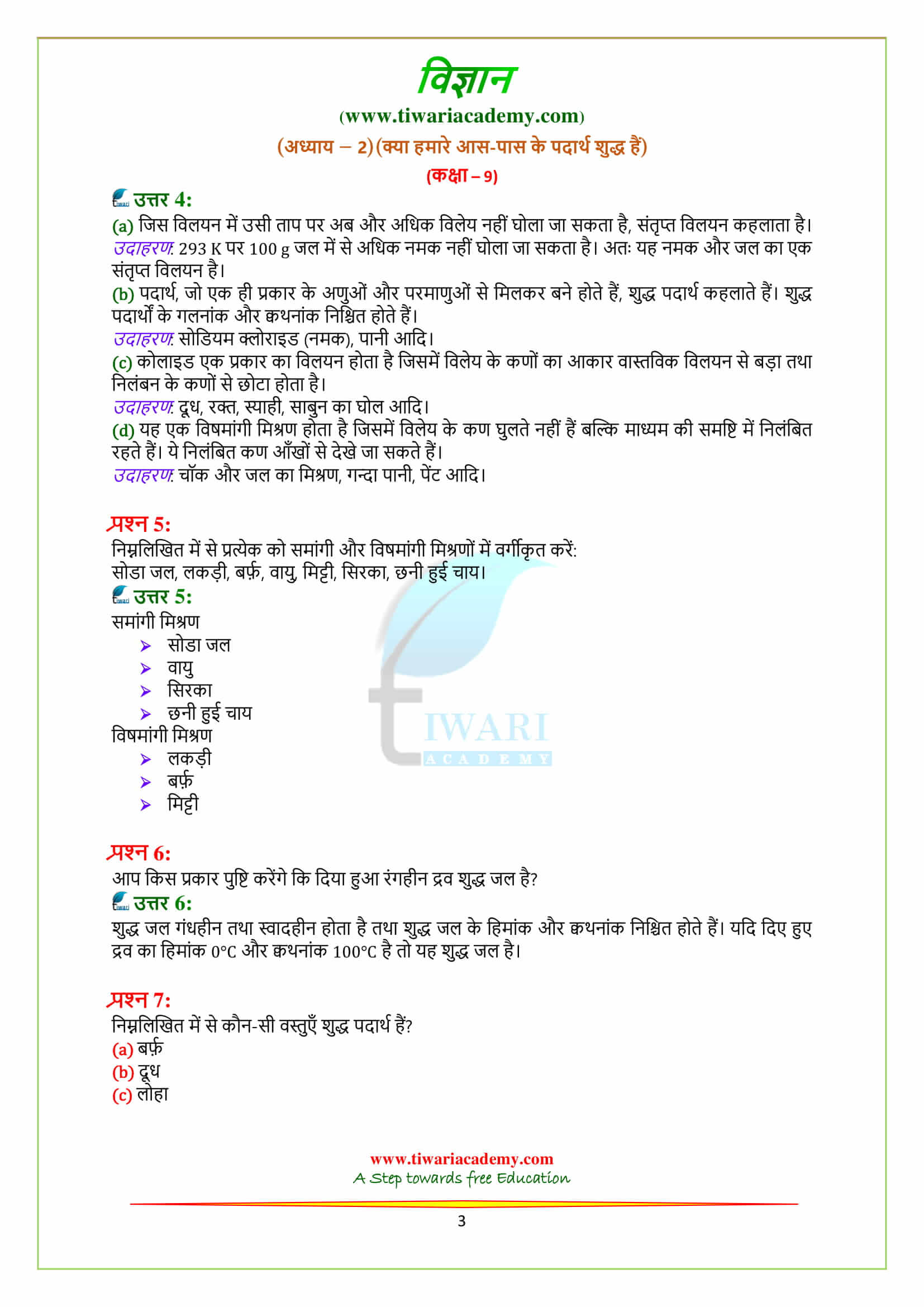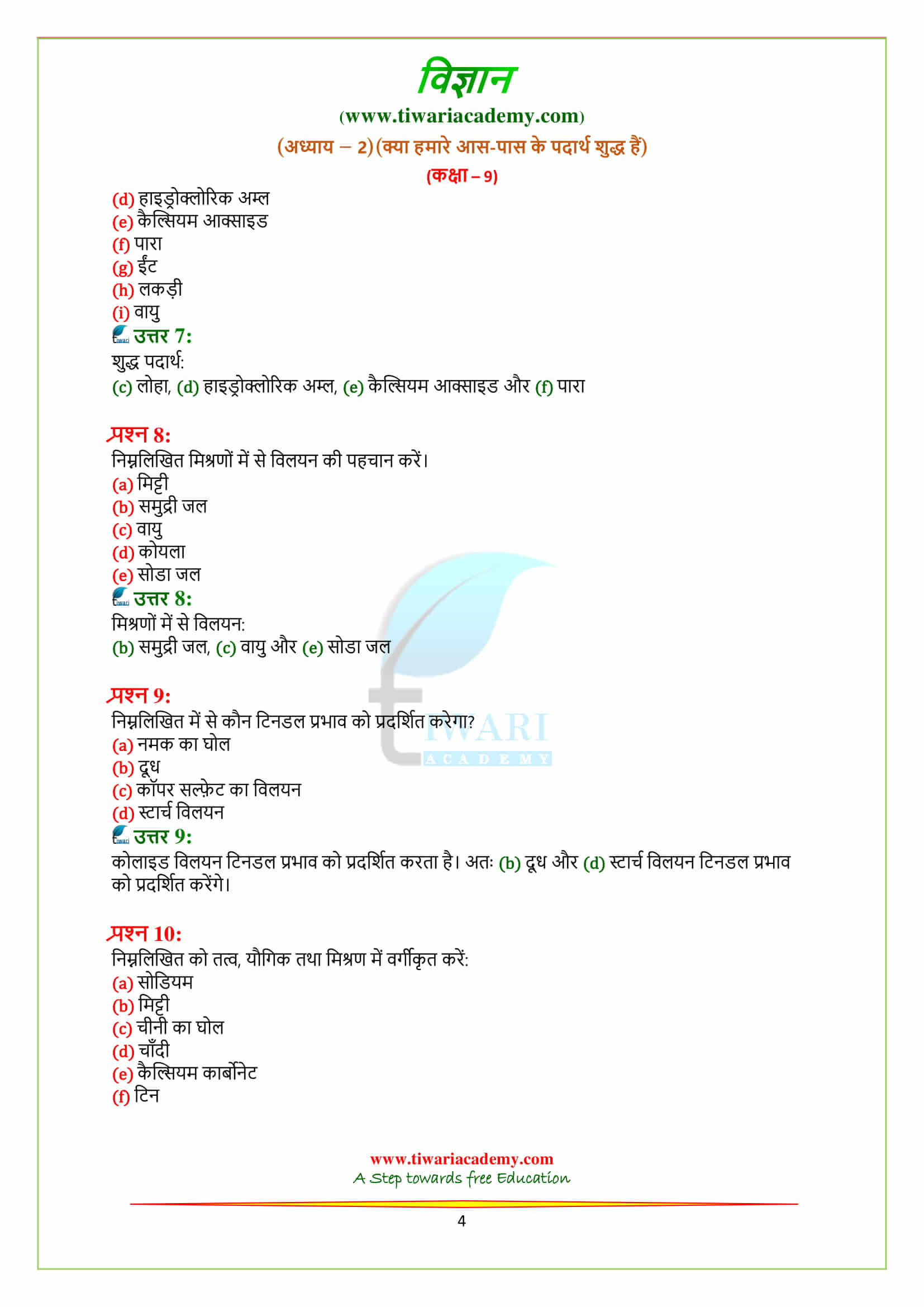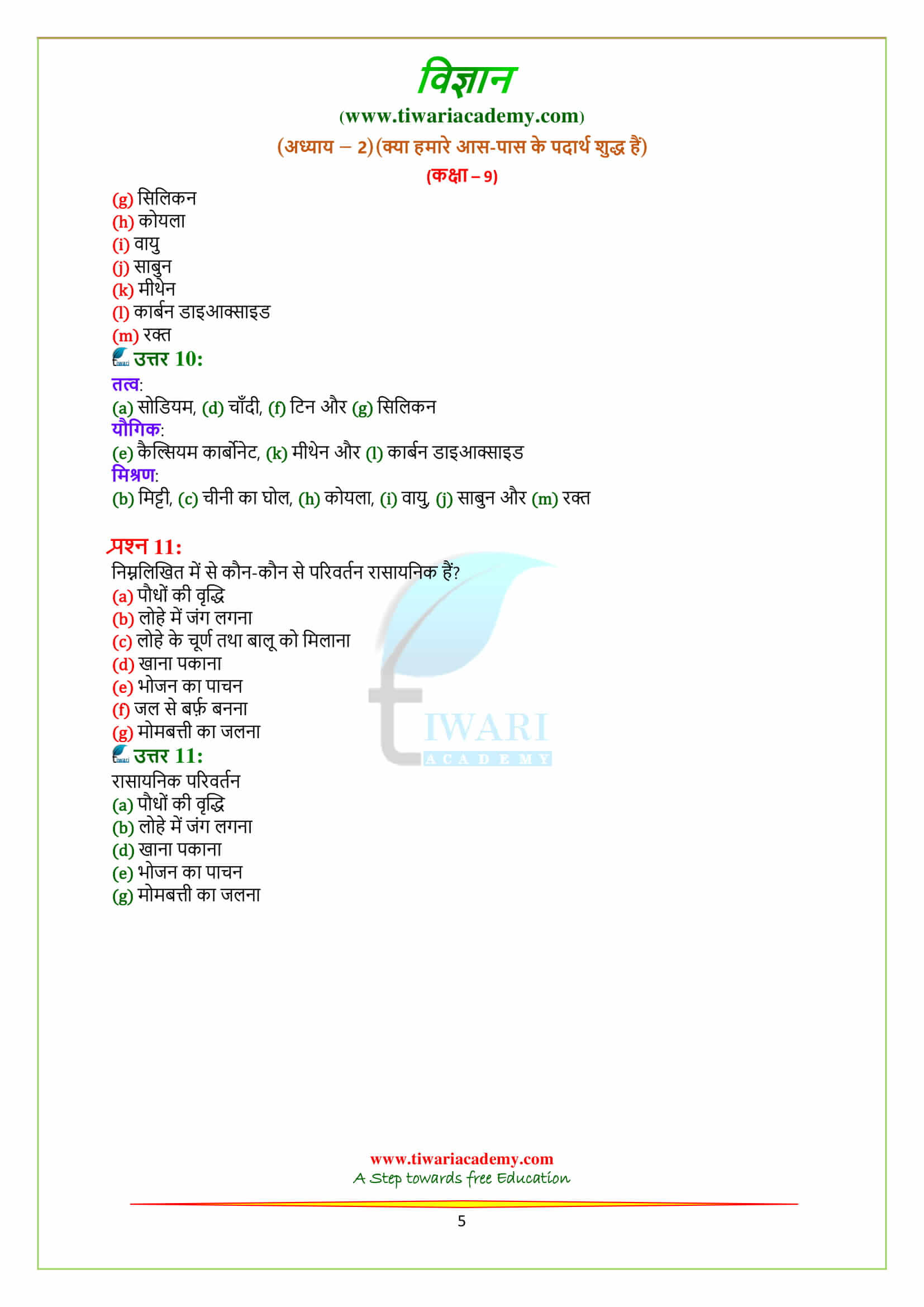 Last Edited: November 5, 2022