NCERT Solutions for Class 4 EVS Chapter 26 Defence Officer Wahida in Hindi and English Medium all question answers with Extra Important question answers free to use for new session. Question-answers are prepared from latest NCERT Textbook and updated for new academic session 2023-24. Answers of the questions are explained in easy to understand format so that every student can understand easily.
NCERT Solutions for Class 4 EVS Chapter 26
Class 4 EVS Chapter 26 Question Answers with Important Extra Questions
Class 4 EVS Chapter 26 Question Answers Set 1
What work do they do in the force?
They have duty to protect our nation from enemy.
Would you like to join the defence services?
Yes, I will like to join defence services.
I will like to join Air force as a fighter pilot.
In which other jobs do people wear uniforms as in defence services?
people wear uniforms in police services as well as paramilitary services.
Class 4 EVS Chapter 26 Question Answers Set 2
Talk to a doctor and find out about her/his work.
As a doctor this is a prominent position in the medical field. He takes care of our health and fitness. He provides medicine for different disease. He guides us how to remain healthy.
Do you know any woman who has done something unusual? Talk to her in the same way as we talked to Lt. Cdr. Wahida Prism. Think of the questions that you will ask. Find out why she has chosen that work. What were the difficulties she faced in her life?
Yes, I know many women who do something unusual in their life. for example, Arundhati roy, Mary kom, Kiran Bedi, Sushma Swaraj etc. today there are so many ladies joining defence forces and even some of them serving as fighter pilot.
Question:
Wahida works as a doctor in the Indian Navy. Can you name five other occupations in the Navy?
Answer:
In Indian navy there are sailors, cook, barber, teacher and captain, cleaner.
Question:
Have you ever seen a parade?
Answer:
Yes, I have seen 26th January pared at Rajpath.
Question:
Do you know anyone who is in defence services? Is the person in the Navy, Army or Air Force?
Answer:
Yes, one of my cousin is in defence services. He is major in army.
Do you think the chapter 26 about the defence from class 4 EVS book is encouraging?
The chapter is about the Lady Naval officer that is indeed the dream of many girl and boys to become one. The chapter is given in the book is indeed inspiration to many to come who want to join the military to serve the country and become the proud India military personnel.
What is the best part about the story given in the chapter 26 about the officer Wahida in class 4 EVS?
The best part like about the story how short conversation it is with the naval officer Wahida that described the journey of her life and how she worked hard mentally and physically to become something that is very hard to attain.
What is chapter 26 from 4 standard EVS is all about?
The chapter is an interview of Lieutenant Commander Wahida Prism who is a Doctor and how she become such an inspiration for the ladies in our country. Getting in to the military is itself an achievement after clearing the unmerciful training and hardship and on the top of that she studied to become a doctor that is one of the tough education that is being described in brief in this chapter.
Do you think the story of Lieutenant Commander Wahida Prism given in unit 26 of 4th class EVS NCERT is interesting?
I think the story of such a person is interesting and we can learn many things from the story. This is the small interview that tells us about the life and the beginning of her own dream she didn't dreamed big like other people but she wanted to made different aim and then she worked very hard to gain one and the she also received support from friends and family too. This made her dream about the many big things that she achieved in path to become great.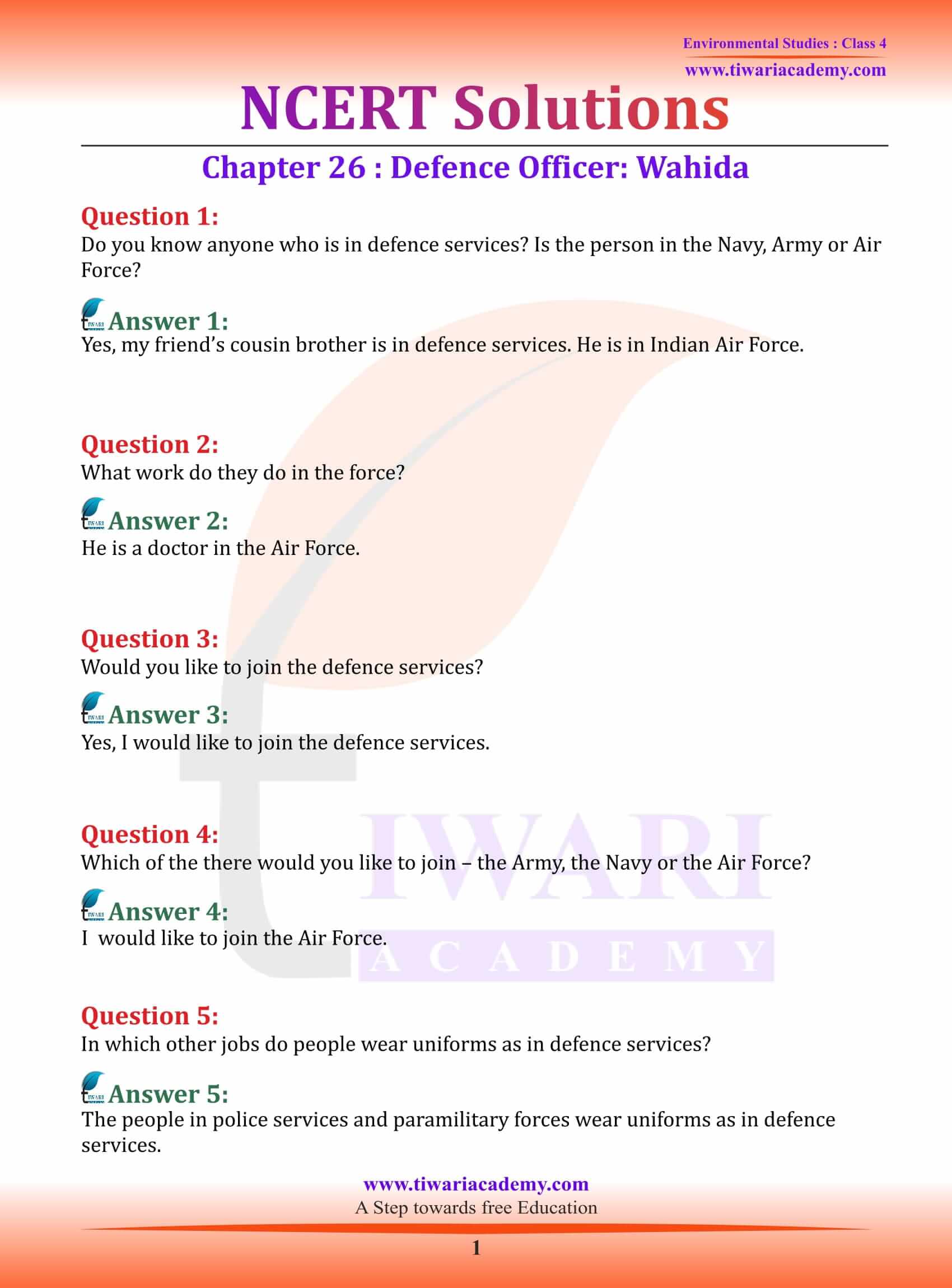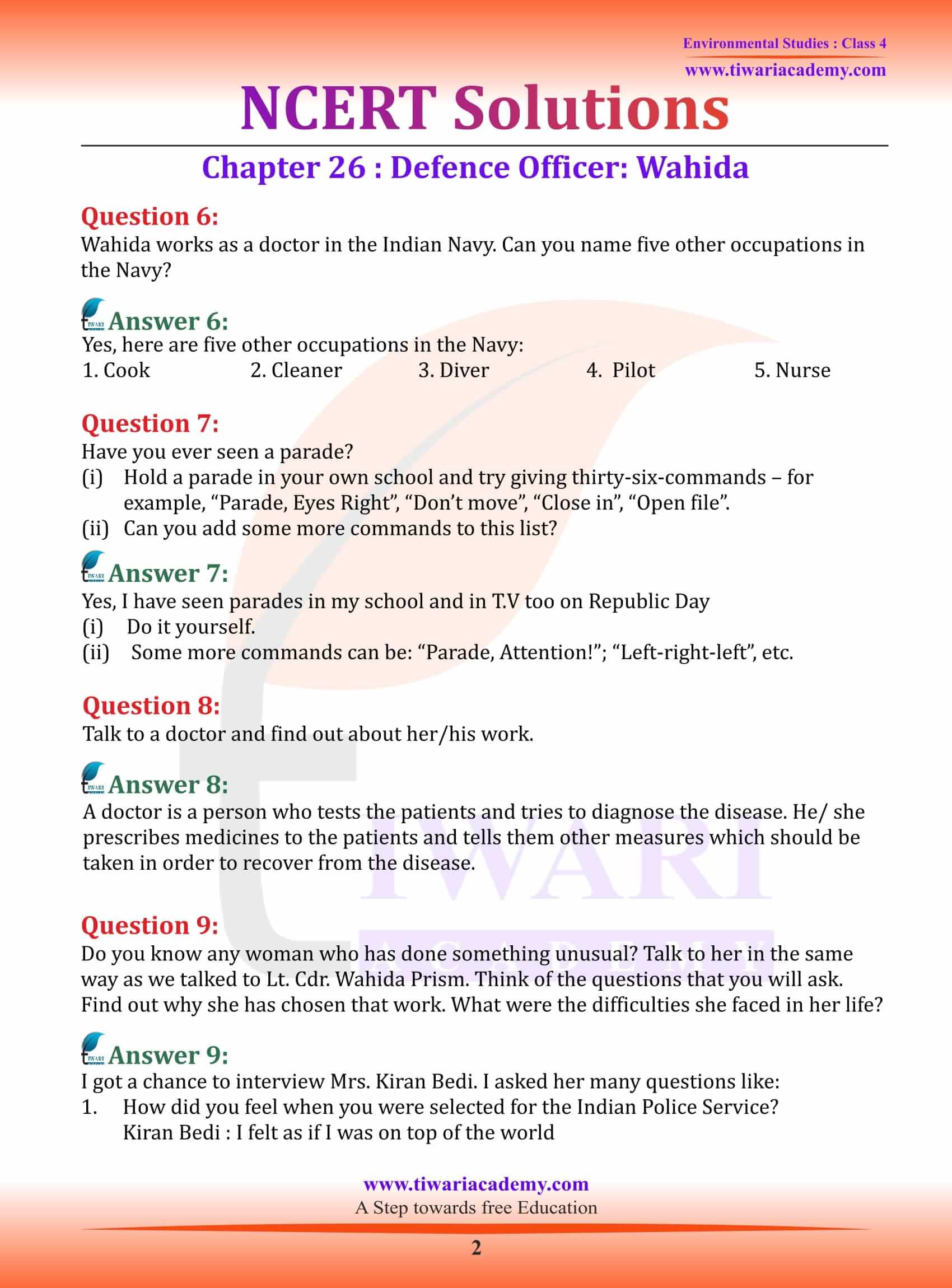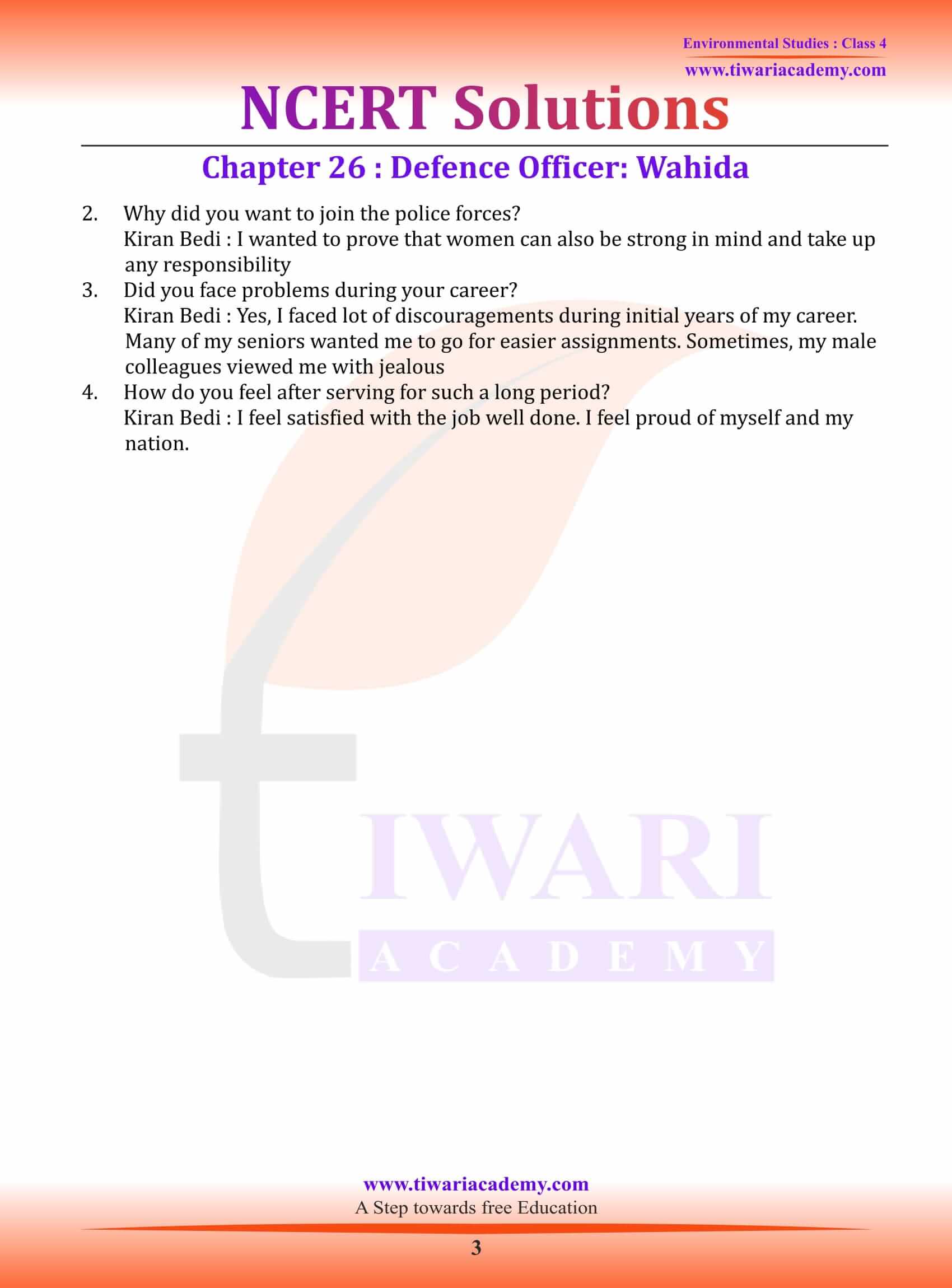 Last Edited: August 14, 2022