Class 2 English Grammar Chapter 18 Paragraph Writing for CBSE and State Board Students for academic session 2023-2024. For the practice some sample Paragraphs are given here which help the students to understand the way to write a proper paragraph. A regular practice of Paragraph Writing develop the skill to write a good Essay.
English Grammar for Grade 2 Chapter 18 Paragraph Writing
Class 2 English Grammar Chapter 18 Paragraph Writing
Practice here with given title or use any other title whatever you like. Paragraph writing is based on facts and imagination. It also improve the writing habits. Write a story or paragraph on the topic given. Do everything with your imagination or take the help of the clues. Here some paragraphs have been done for you.
My Mother
Clues: Name, age, profession/ housewife, loving and helpful in studies, caring, cook tasty food, I love her.
My mother's name is Mrs. Anita Sharma. She is thirty-six years old. She is a Science teacher in a school. She is most loving. She helps me in my studies. She is most caring. She cooks tasty food. I love my mother very much.
My School
Clues: Name of the school, where it is? best school, big school, grand building, fifty rooms, all classrooms big and airy, very good furniture, lawns and playgrounds, big library.
My school name is D. A. V. Public School, which is situated at Green Park New Delhi. This is one of the best school all over India. My school has a big building. There are total fifty rooms in my school. All the classrooms equipped with good furniture and smart blackboard. Due to which the teaching becomes interesting. All of our teachers are professional and very helpful in nature.
All the students of my school follow the discipline. There is big lawn in my school, where we play different games. There is big library in my school where we can read different books.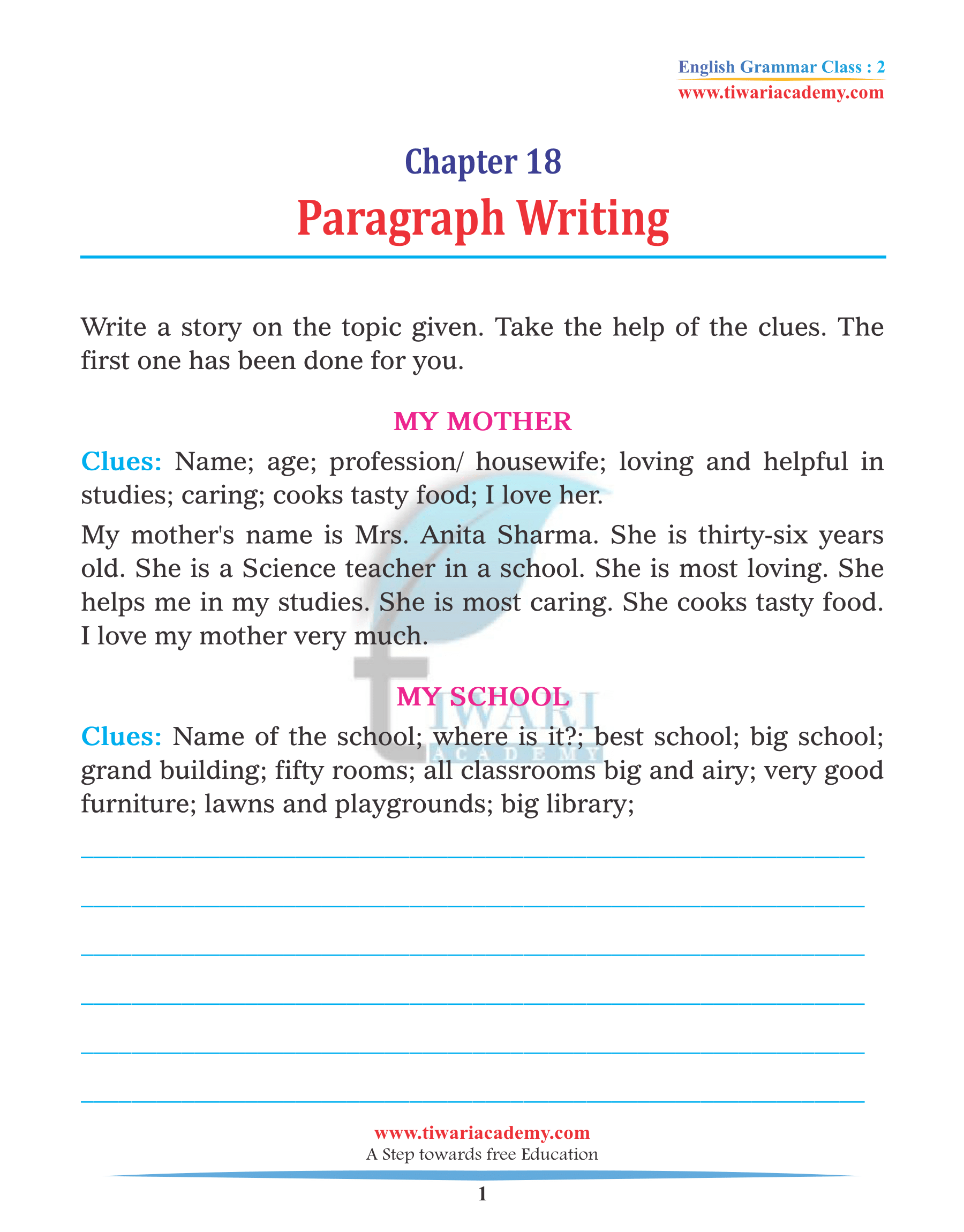 Last Edited: January 27, 2022