Swimming is one of the most popular sports events. It is not only a competitive sport but receptive sport also. Possibly, human beings learnt swimming by watching animals in the water. The ancient monument and records depict a man in the water. It is an act of propelling the body through the water with hands and legs' motion without artificial aid.
Know more about the art of Swimming
History of Swimming
Swimming was also a popular format of training in Greece and Rome. The warriors were taught swimming. In 1860 some swimming clubs were established in England. In 1869, the metropolitan swimming Association was formed. In 1875, Mathew Web of England became the first person to swim across the English Channel. Swimming for men was included in the 1896 Olympic Games which were held at Athens. Swimming for women was formed in the 1912 Olympic Games.
Measurements and specifications of equipment of Swimming
| Specifications | Measurements |
| --- | --- |
| Length of swimming pool | 50 m |
| Depth of swimming pool | More than 1.8 m |
| Width of swimming pool | 21 m |
| Number of lanes | 8 but at international level 10 lanes |
| Width of lane | 2.5 m |
| Height of platform from water surface | 0.5 m to 0.75 m |
| Area of platform | 0.50 m x 0.50 m |
| Maximum slope | 100 max |
| Water temperature of the pool | 240 C min |
General Rules
A swimmer is not allowed to change his lane during a competition. If he is found doing so, he is disqualified.
Swimmers are not allowed to take any support from the bottom of the pool.
Swimmer has to start and finish the race in same lane.
A competitor who swims over the entire course first, shall be declared the winner of that Event.
A swimmer who stands on the bottom during the race, shall not be disqualified but he shall not walk.
During the swimming competition no swimmer shall be allowed to wear any such thing that may help in her/his speed or endurance.
If a foul endangers the chance of success of a swimmer he/she can be allowed to compete in the next round. If a foul occurs in a final, the referee shall order him to re-swim.
Any swimmer, if entered in a race, who enters in the water in which an event is being conducted, before all swimmers therein have completed the race, shall be disqualified from next competition in the meet.
There shall be four swimmers in each relay team.
Any swimmer having finished his race, or his distance in a reply event, must leave the pool as soon as possible without obstructing any other competitor who has not yet finished his race otherwise the swimmer committing the fault or his relay team, shall be disqualified.
Fundamental Skills
1. Back Stroke
2. Free Style
3. Breast Stroke
4. Butterfly
5. Personal Medley
6. Free Style Relay
7. Medley Relay
8. Diving
Terminology
| Column- 1 | Column- 1 |
| --- | --- |
| Diver Relay | Backstroke |
| Starting Platform | Freestyle |
| False Start | Breast Stroke |
| Butterfly Stroke | Back dive |
| Dolphin | Kick |
| Leg | Movements |
| Medley | Crawling |
Important Tournaments and Venues
1. Olympic Swimming Championship
2. National Swimming Championship
3. World Cup Swimming Championship
4. All India Inter University Swimming Championship
5. Asian Games Swimming Championship
6. Commonwealth Games
7. National Swimming Championship (sub-junior)
Venues
1.Talkatora Stadium – New Delhi
2.Kurukshetra University, Swimming Pool – Kurukshetra
3. Panjab University, Chandigarh
4. H.V.P.M Swimming Pool – Amaravati
5. H.A.V. Swimming Pool – Hissar
6. Edmonton Swimming Pool
7. War Heroes Stadium – Ambala Cantt
8. Sports School – Rai (Haryana) 9.NIS – Patiala
Sports Awards
Arjuna Awardees
| Year | Awardee |
| --- | --- |
| 1998 | Bhanu Sachdeva |
| 1999 | Nisha Millet |
| 2000 | Sebastian Xavier,J.Abhijith |
| 2005 | Shikha Tandon |
| 2009 | Rehan Poncha |
| 2011 | Vikram Khade |
| 2012 | Sandeep Sejwal |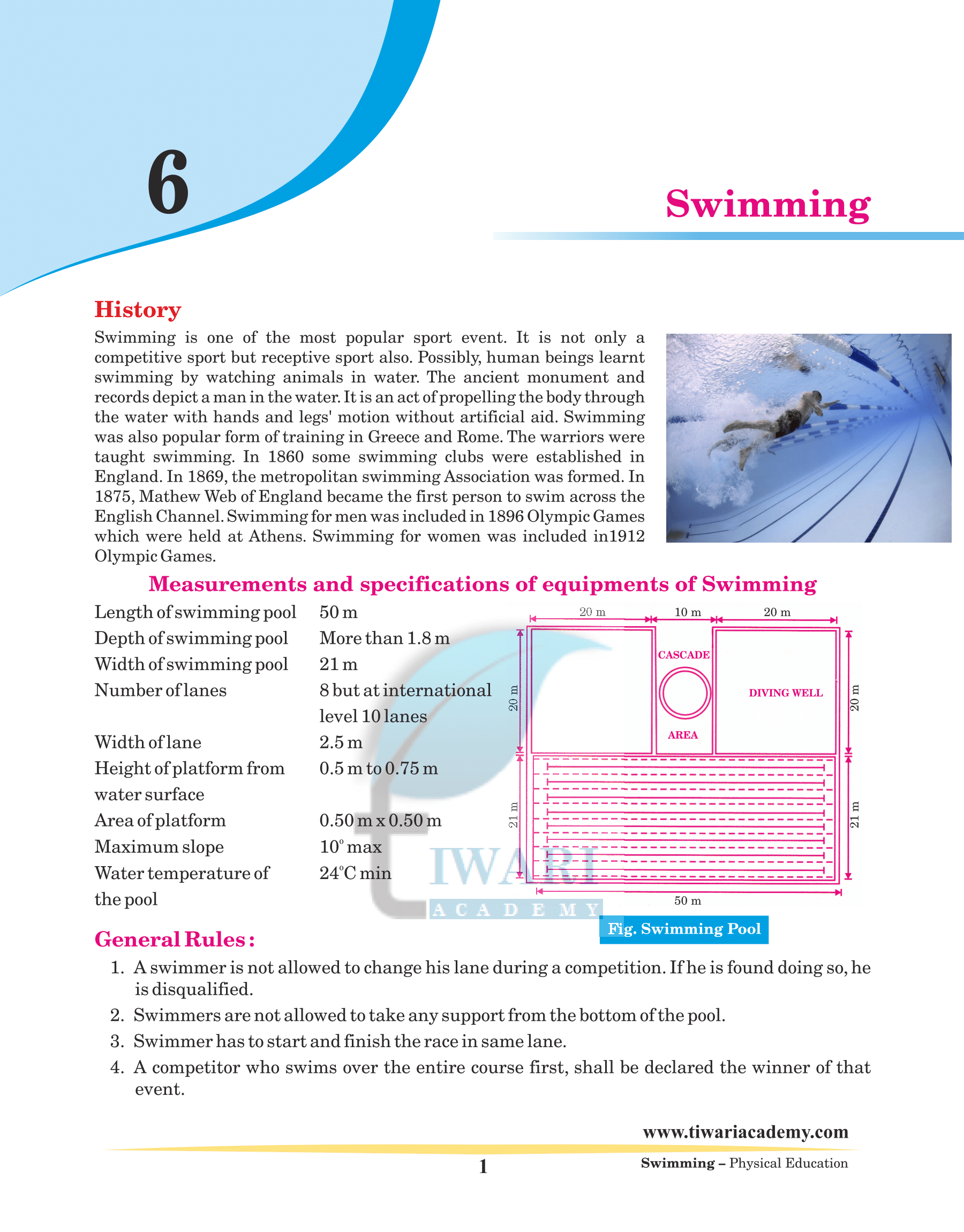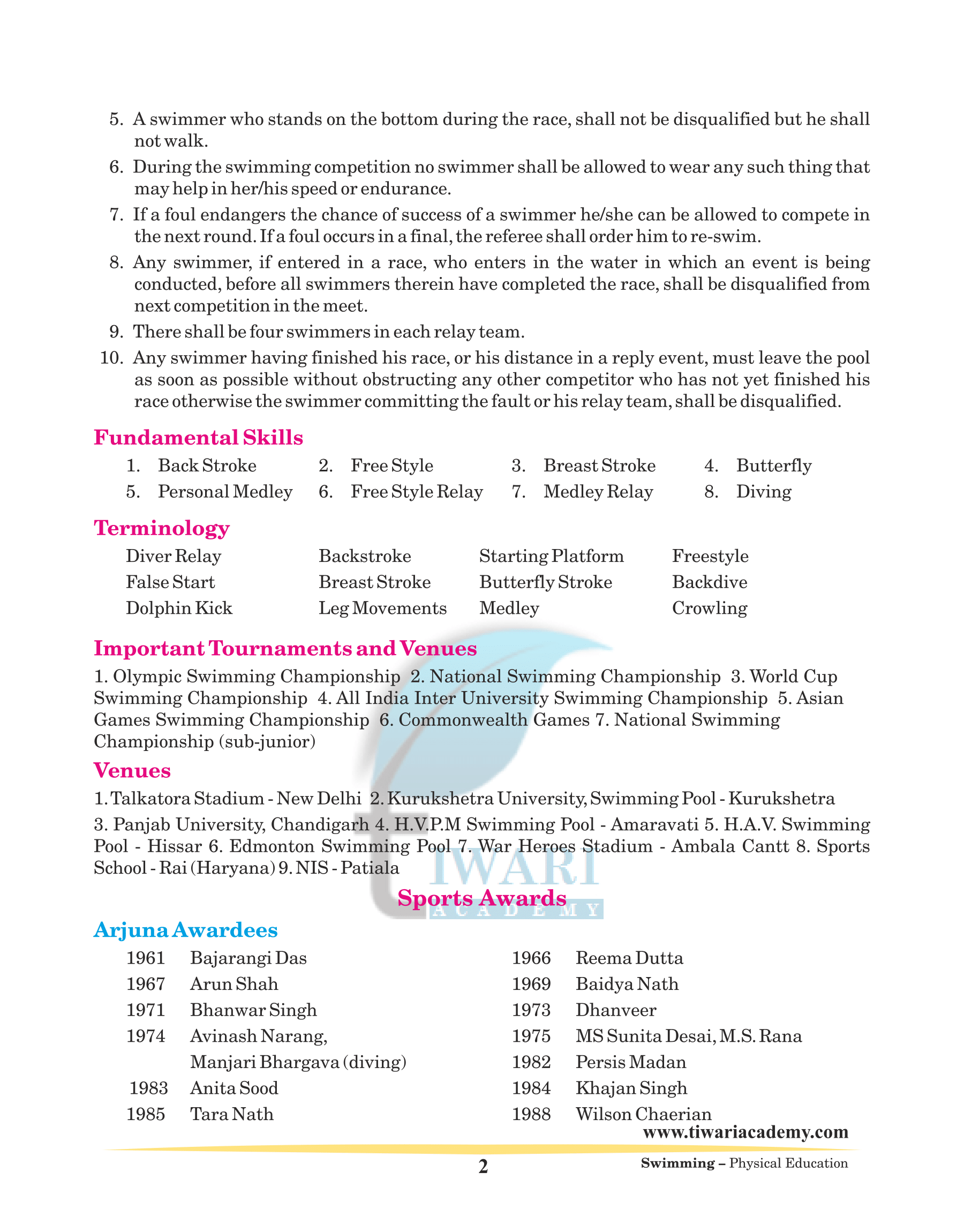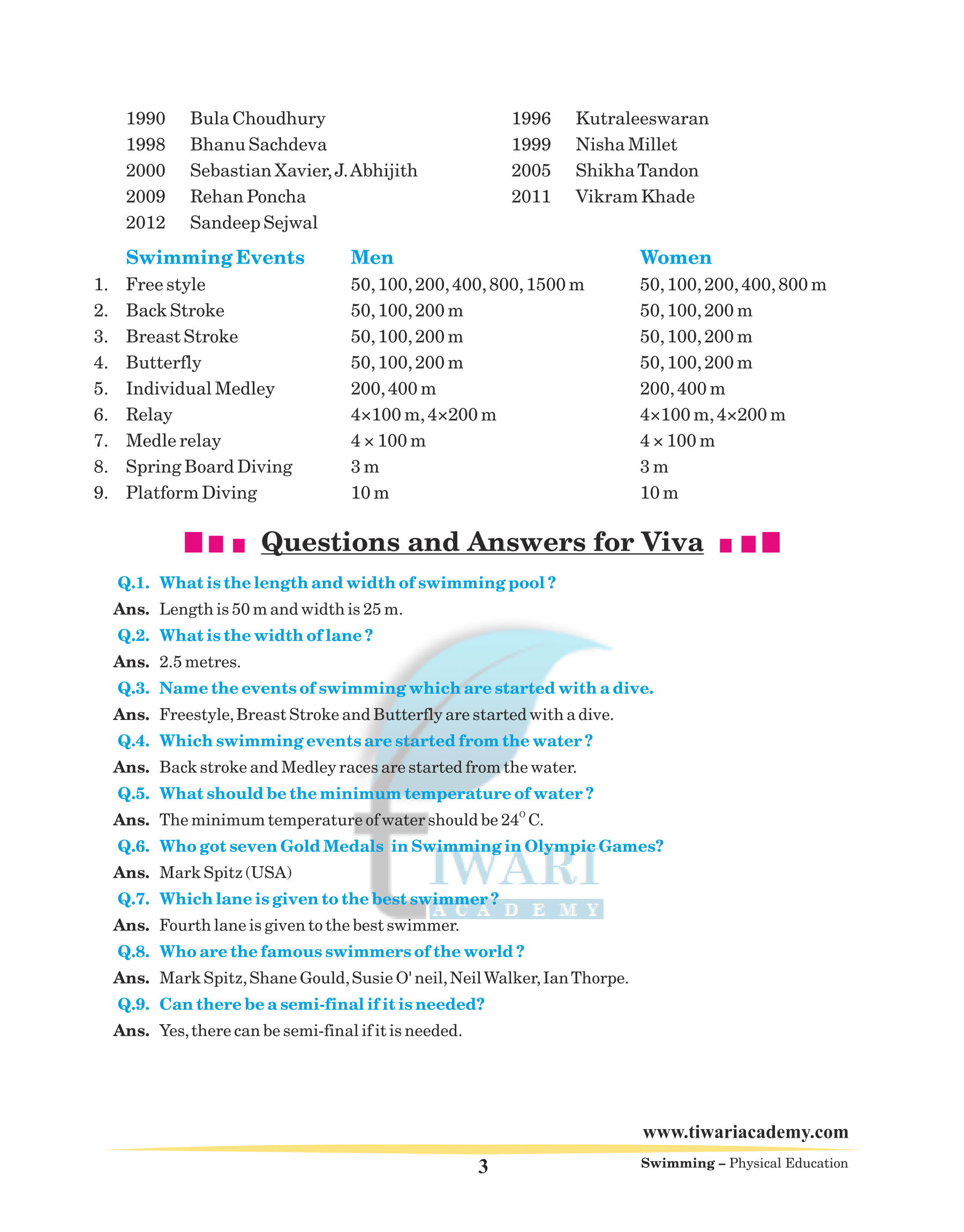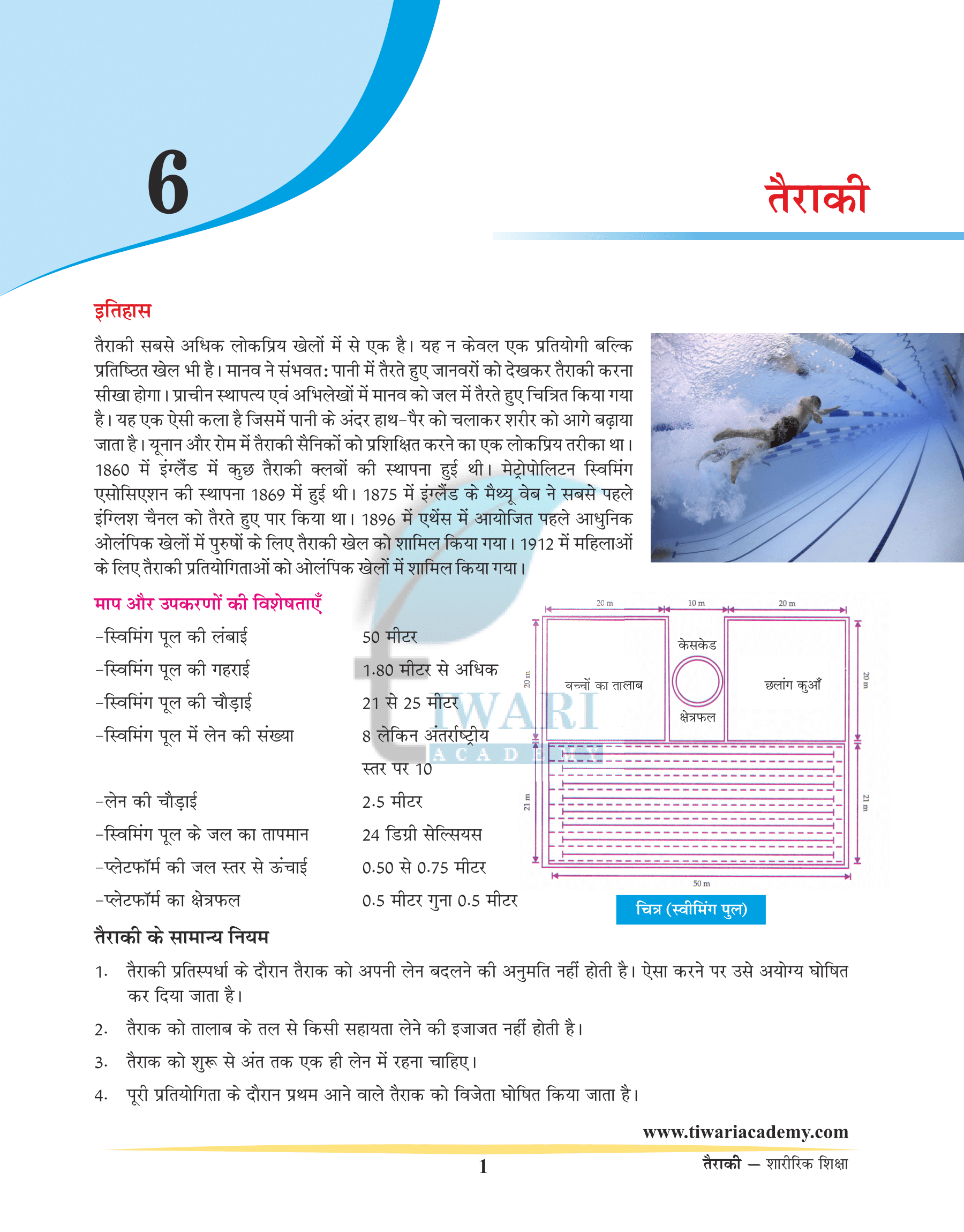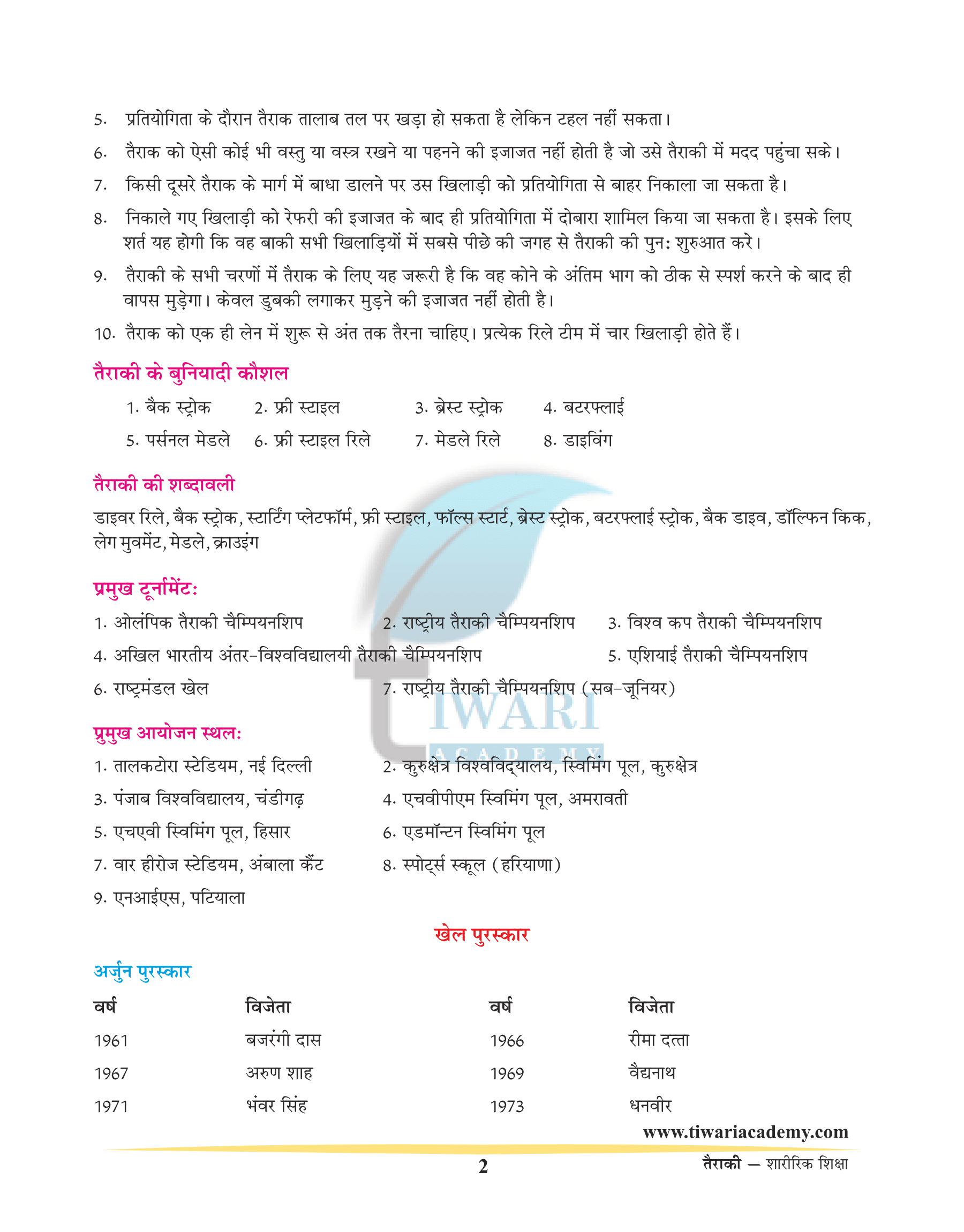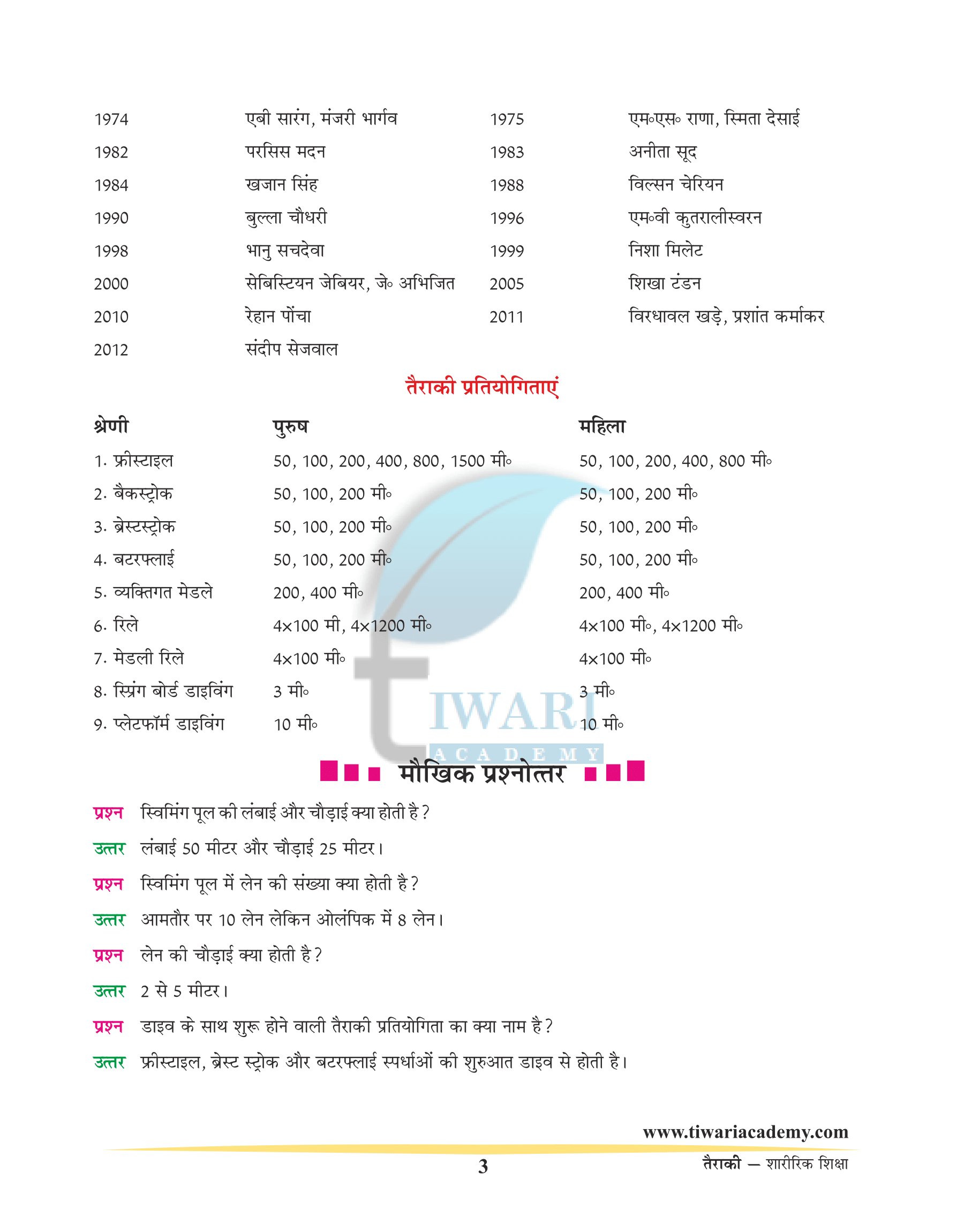 Last Edited: January 27, 2022