Taekwondo is an ancient historic sport. The necessity of self-defence played a vital role in the origin of Taekwondo. It was meant to save oneself basically from attackers. This sport resembles Kung fu, Judo and Karate etc. These sports were also related to self-defence. It was trendy in eastern countries such as Japan, China and Korea in ancient time. It was included in the 1988 Seoul Olympics for demonstration purpose only.
History of Taekwondo
Many kinds of martial arts originated in Independent Korea after the Second World War, and several koans arose. They changed Taek- Kyon to Taekwondo in 1957 after second world war Korean Taekwondo Union was founded in the year 1961. While Korean Armature Sports Union laid down the foundation of Korean Taekwondo Union in the year 1962, it was changed to the Korean Taekwondo Association in 1965. World Taekwondo Federation (WTF) was constituted in the year 1973. First World Taekwondo Championship for the woman was organized in the year 1987. Taekwondo became a demonstrative sport in the 1988 and 1992 Olympic Games. In the year 2000 Taekwondo made its debut as an official Olympic Sport.
Meaning of Taekwondo
TAE – Means kicking or Jumping feet
KWON – Means punching or hand strike
DO – Means method,path or art
So "Taekwondo" means an art of punching or striking hand while kicking or jumping on feet".
Measurements and Specifications of equipment
| Specifications | Measurements |
| --- | --- |
| Competition Area | 12 m × 12 m |
| Surface of the Area | Flat with elastic |
| Height of the platform | 50 cm |
| Contest Area | 8 m × 8 m |
| Width of line between competition area and alert area | 5 cm |
| Colour of the line | White |
| Distance of four judges from corners | 50 cm |
| Referee's mark from the centre | 1.50 m |
| 9. Duration of the contest | 3 rounds of 3 minutes with 1-minute rest after each round |
General Rules
Every competition must have at least four teams of different countries or states for each and every weight category otherwise the competition will be invalid.
Each competition shall have three rounds of 2 minutes each and 1-minute interval shall be given after each round.
Fourth round shall be played after 1-minute rest of third interval. If the score is equal after third round, on the basis of sudden death it will decide the result of competition.
Target area is trunk of the body from neck to naval, and only frontal area of body. Players are permitted to attack on the target area only by 'Foot Technique'.
Result of bout (winner) is decided by the points scored in three rounds.
When a player scores – 4 points the referee can declare him as a loser depending on the penalties.
Only the coach can present a protest to the chairman of umpire committee within 5 minutes from the end of the match.
When a competitor is injured, the centre referee must stop the match and call the doctor. Match referee will declare the result according to doctor's decision as:
(i) Injured player as the loser if his opponent is not responsible for the injury.
(ii) Injured player is the winner if his opponent is responsible for that injury.
Any player who commits 3 fouls, uses drugs or misbehaves with officials or ignores the instructions of officials,will be disqualified.
One point will be deducted if the player loses his temper,insults the opponent, attacks with knee elbow or forehead,and foul will be called by the referee.
A player is the winner of the match, if two or more than two corner referees give decision in favour of that player.
Terminology
| Column- 1 | Column- 2 |
| --- | --- |
| Chong (blue) | Joagi (punch) |
| Hong (red) | Diagi (kick) |
| Chariat (attention) | Kalio (interval) |
| Jumby (ready) | Kaiso (restart) |
| Saijack (start) | Bout (fighting) |
| Kumon (end of match) | Keyong-rye |
Tournaments
1. Fazer Tournaments
2. US.Open Championship
3. National Taekwondo Championship
4. World Cup Championship
5. All India Inter university Taekwondo
6. National School Games
Championship.
7. State Taekwondo Championship
8. SAF Games
9. Asian Games
Venues
Generally Taekwondo tournaments can be organized at any sports stadium. It does not require any costly infrastructure.Some important venues are stated below:
| Name of Stadium | City/ Country |
| --- | --- |
| Indraprastha Stadium | New Delhi |
| Kantikha Stadium | Bengaluru |
| Khammam Lambak Stadium | Imphal |
| Khammam Lambak Stadium | Imphal |
Famous Personalities and Awards
| Personalities | Award |
| --- | --- |
| Surender Bhandari (India) | Jang-Ji-Won (South Korea) |
| Hadi Saei Bonehkohol (Iran) | Shih Hrin Chen (Chinese Taipei) |
| Steven Lopez (U.S.A.) | Luo Wei (China) |
| Dae Sang Moon (South Korea) | Chin Zhong (China) |
Weight Categories of Taekwondo for Olympic Games
| Men | Women |
| --- | --- |
| 58 Kg (under 58kg) | 49 kg (under 49 kg) |
| 68 kg (under 68 kg) | 57 kg (under 57 kg) |
| 80 kg (under 80 kg) | 67 kg (under 67 kg) |
| 80kg (above 80 kg.) | 67 kg (above 67kg) |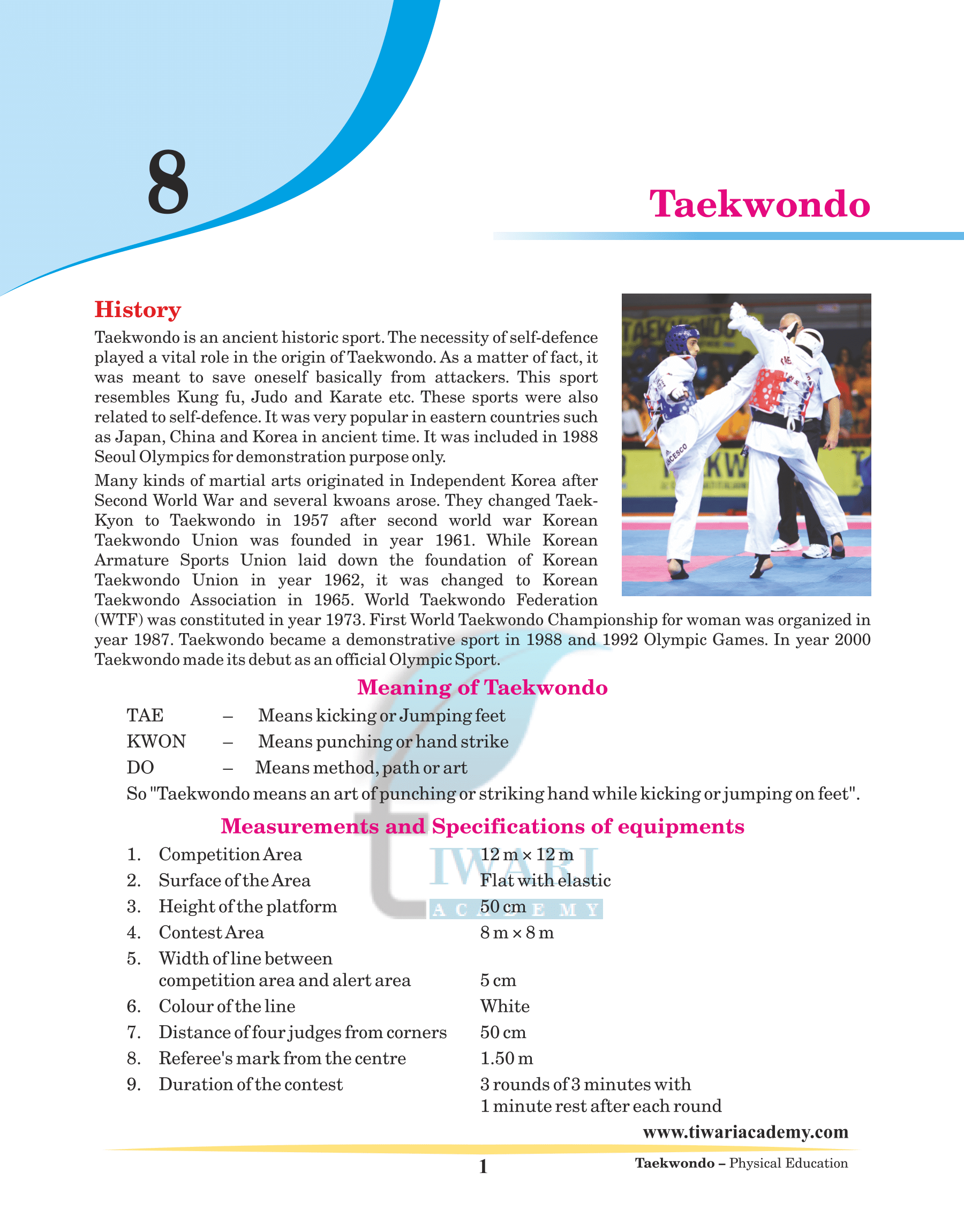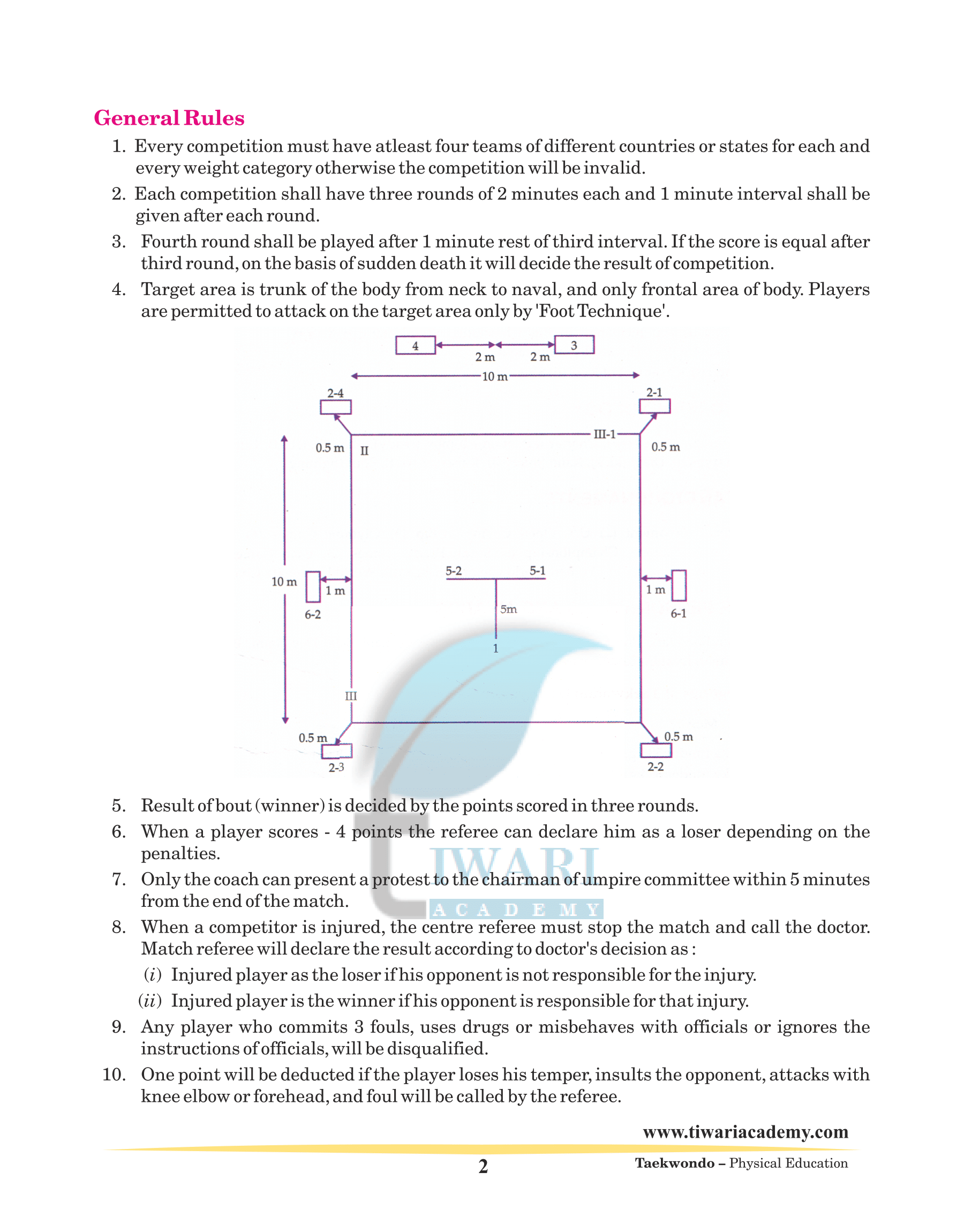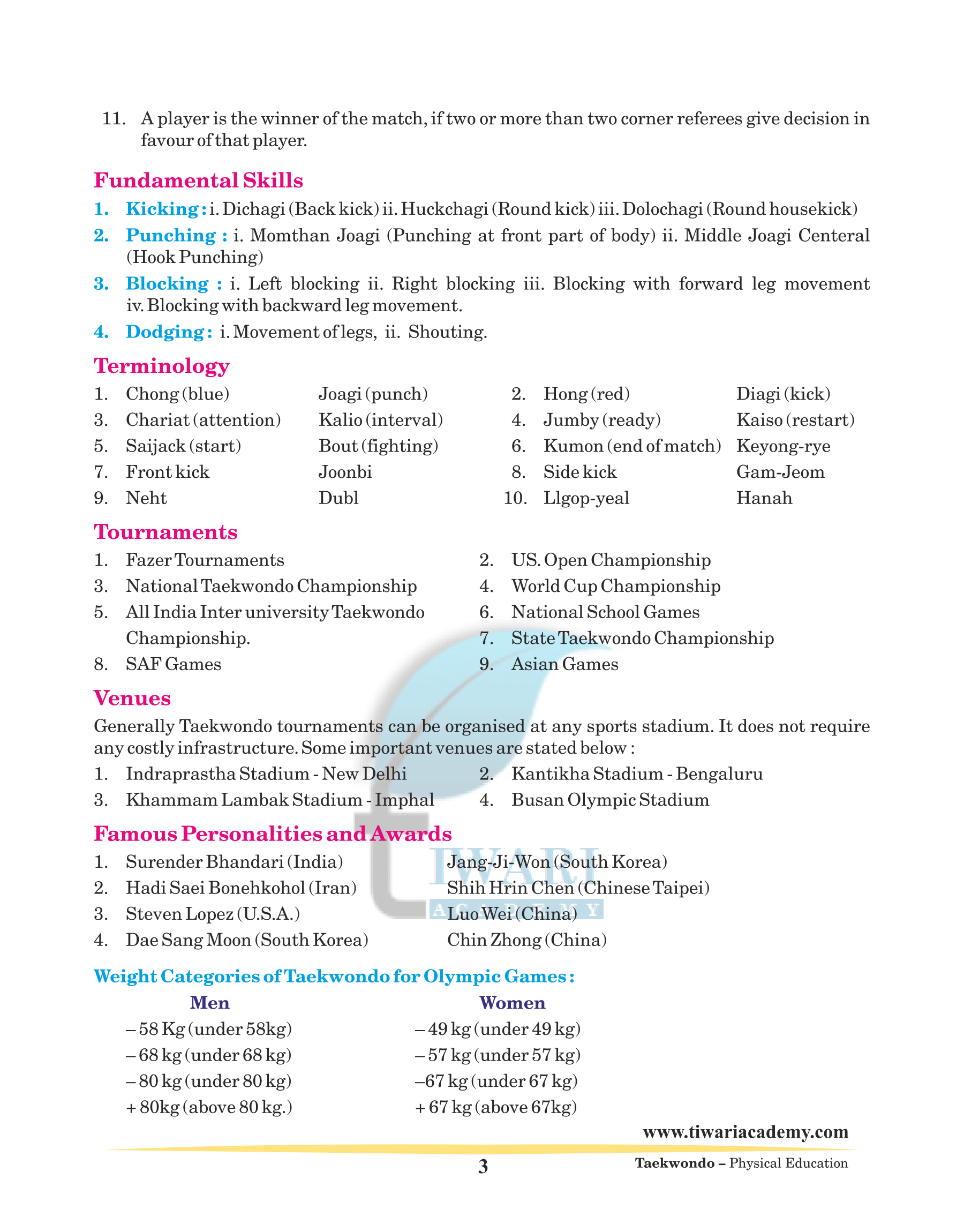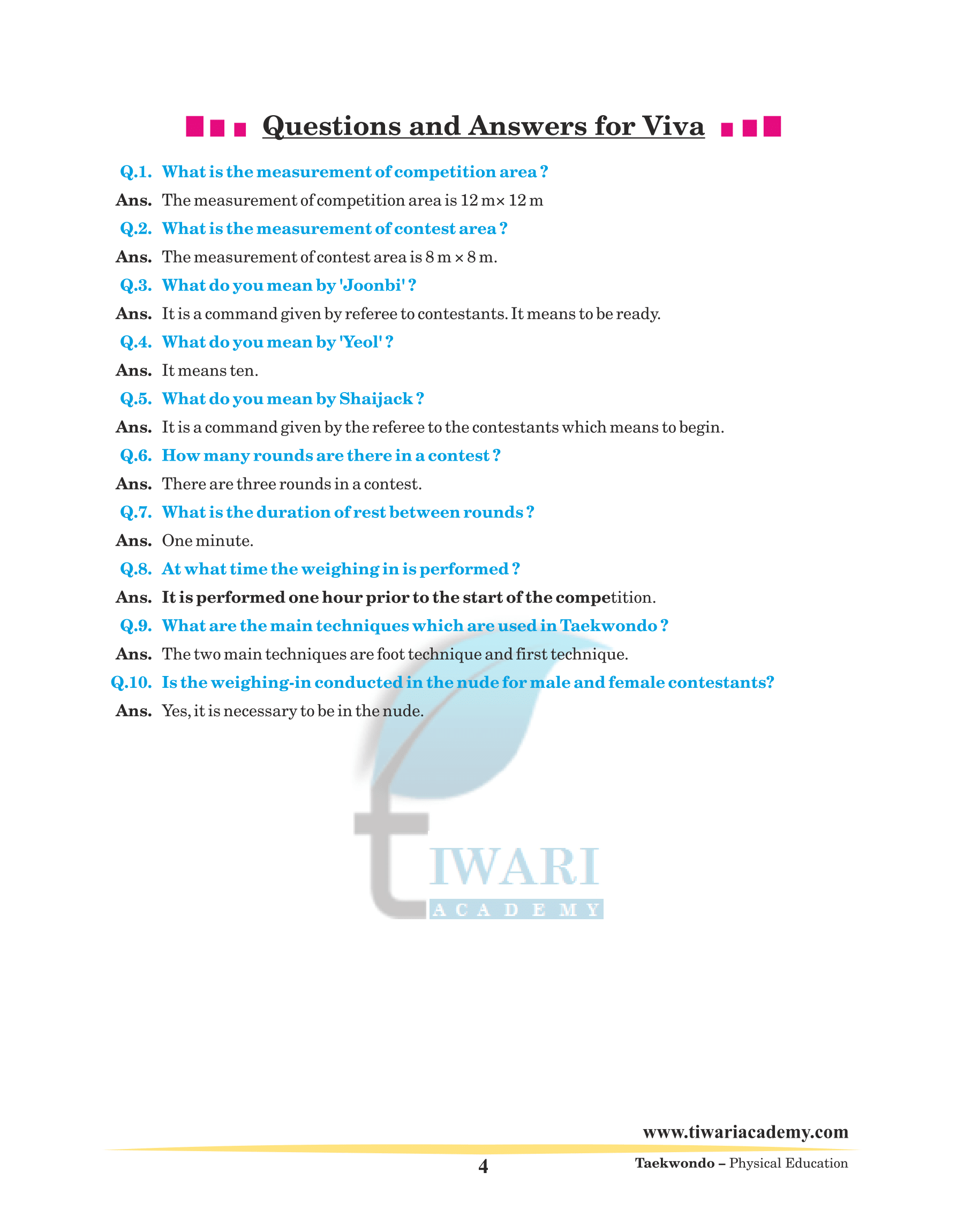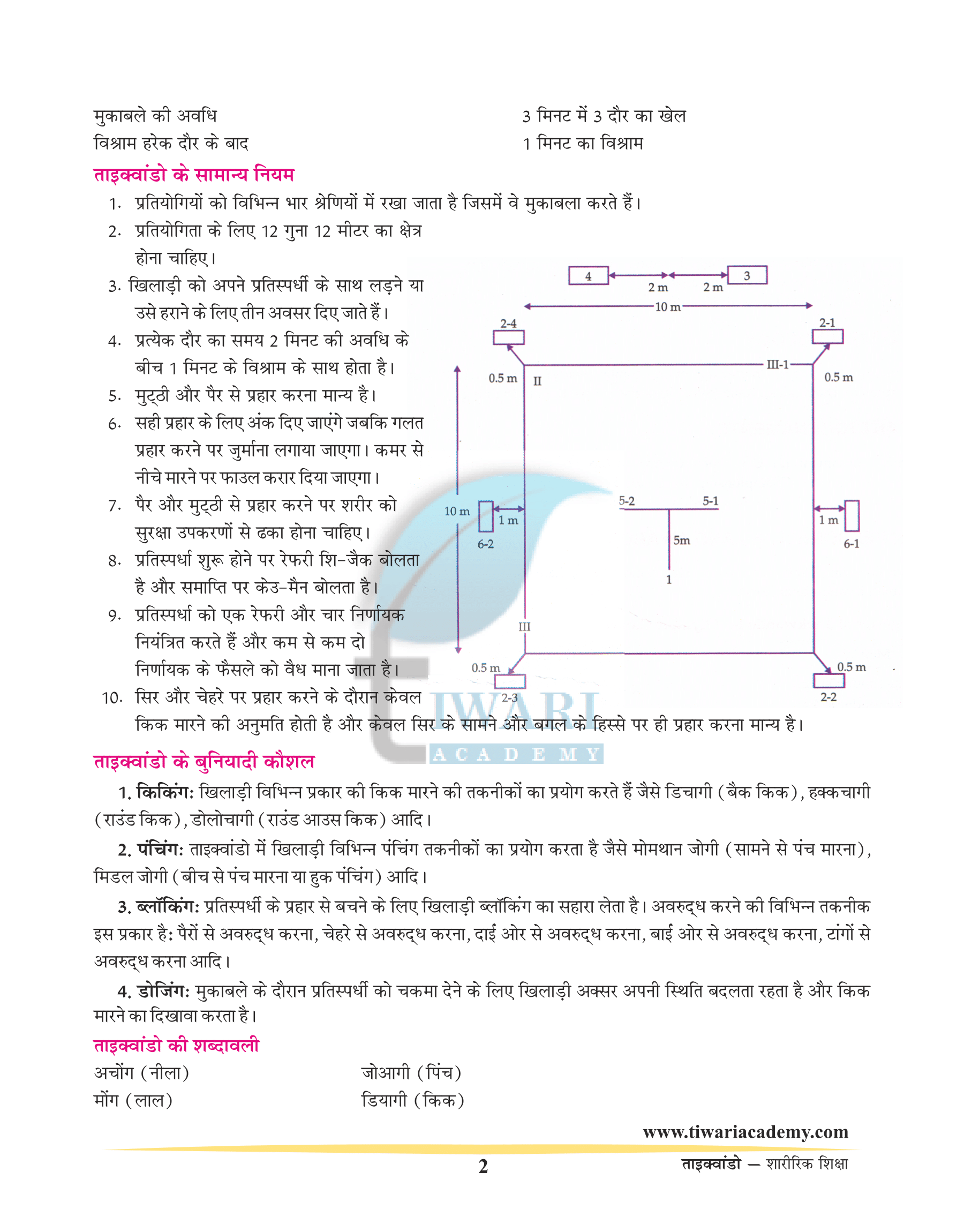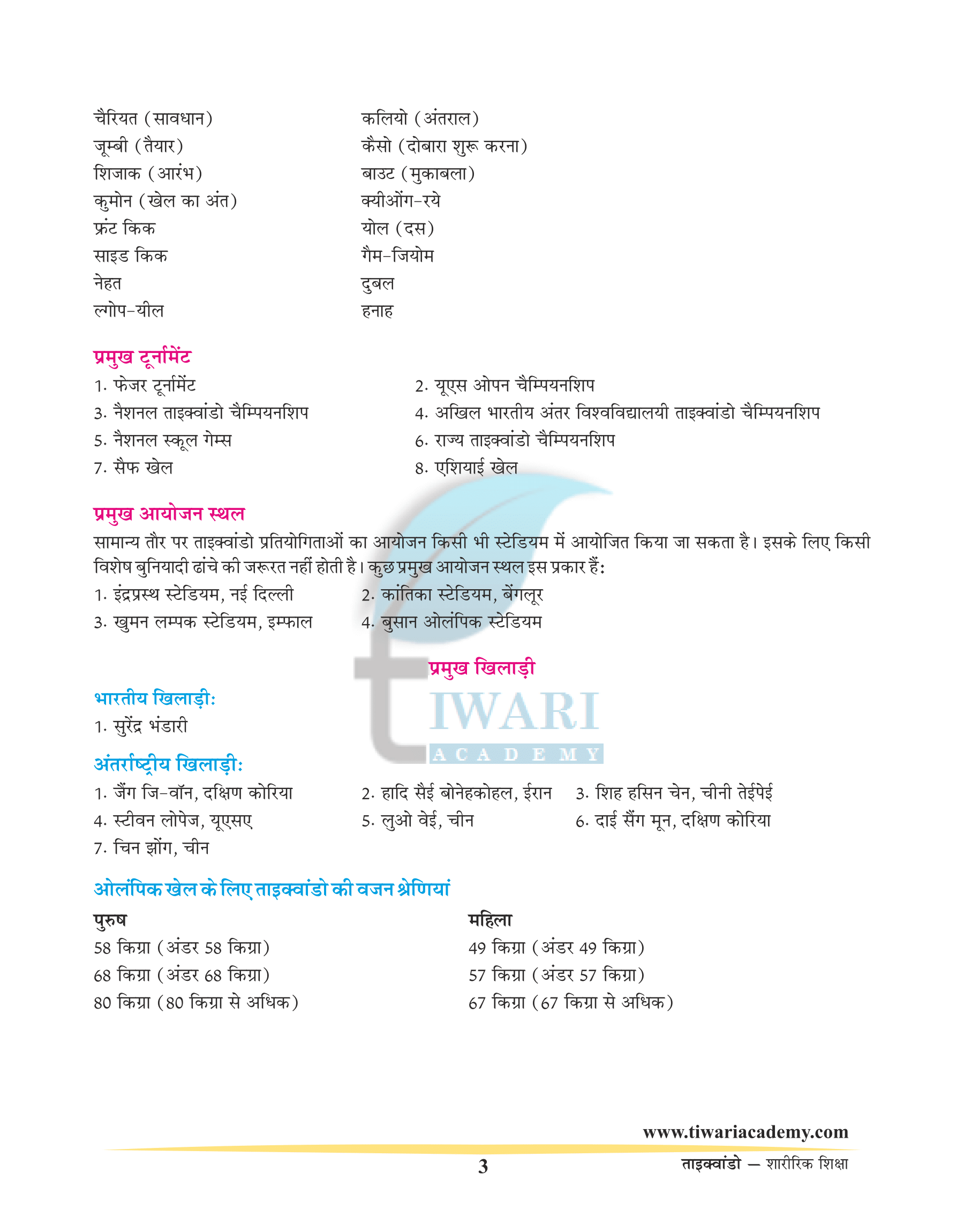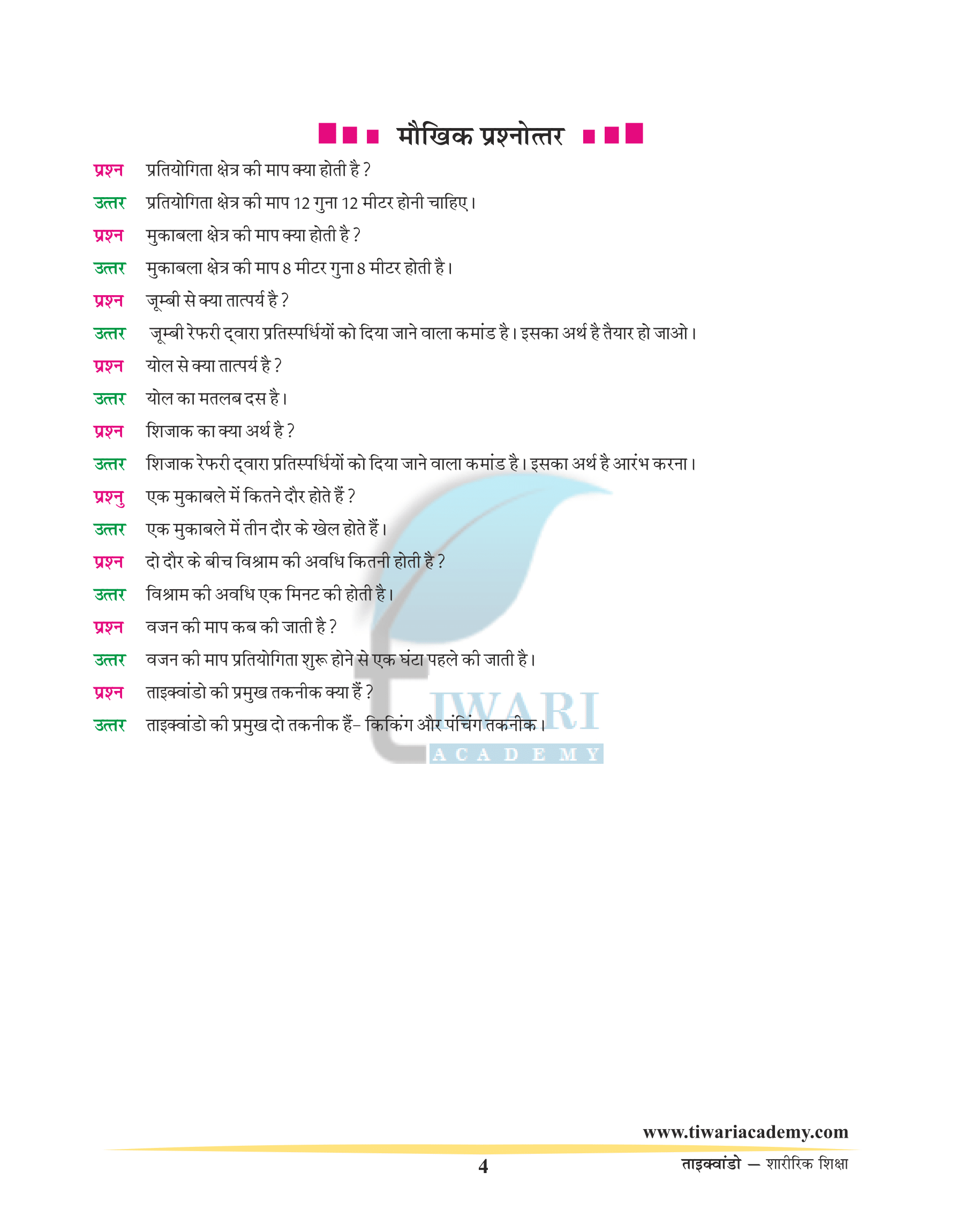 Last Edited: January 27, 2022