Table Tennis is a popular indoor game. Earlier, its name was Gossima and Whif-Wharf. It was played in England in the name of Ping-Pong at the end of the 19th century. Its name was Ping-Pong based on the sound of the ball crashing against the table. Who originated the modern table tennis, is not known exactly.
History of Table Tennis
Many people of various countries like USA, India, South Africa claim that Table Tennis originated in their country, but most of the people assume that it began in England. Ping-Pong Association was formed in 1902. National Table Tennis Association was formed in the year 1922. In 1933 'United States Table Tennis Association, was constituted. Indian Table Tennis Association was formed in 1938. Table tennis was included in the Olympic Games in 1988 at Seoul. Table tennis is being played in Asian Games from 1958.
Measurements and Specifications of Equipments
| Specifications | Measurements |
| --- | --- |
| Shape of the table of Table Tennis | Rectangular |
| Length of the table | 274 cm |
| Width of the table | 152.5 cm |
| Height of the table from the floor | 76 cm |
| Length of the net | 183 cm |
| Height of the net from surface of the table | 15.25 cm |
| Diameter of the ball | 40 mm |
| Weight of the ball | 2.53 gm |
| Colour of the ball | White or Orange |
| Material of the ball | Celluloid or plastic |
| Interval between successive games | 1 minute |
| Time out during match | 1 minute |
| Width of the line which divides the surface parallel to side lines | 3 mm |
General Rules
1. A player has the right to choose the service and side of court by means of toss.
2. The player who scores 11 points by difference of 2 points,will be the winner.
3. Each match consists of 7 sets.
4. The service made, while the receiver is not ready, is said to be a let service.
5. One-minute interval will be provided in between the game, provided that the player has scored 6 points.
6. The dress, used by the player should have collar, half sleeves and contrast colour compared to the colour of tennis ball.
7. If a player is found misbehaving with other player or official, he will be warned. For second warning 1 point and for third warning 2 points will be awarded to the opponent player and card will be shown to that player.
| Type of Basic strokes | Type of Attacking strokes |
| --- | --- |
| Push strokes | Topspin |
| Forehand push strokes | Drop shot |
| Backhand push strokes | Counter hitting |
Terminology
| Column- 1 | Column- 2 | Column- 3 |
| --- | --- | --- |
| Loop | Deuce | Pen hold grip |
| Volley | Rally | Let |
| Ace | Server | Chop |
| Flat | Service | Spin |
| Kill shot | Freehand | Racket |
| Loaded | Western Grip | Side spin |
| Forehand | Shake hand grip | Floating |
| Table | Pen hold grip | Bet |
Important Tournaments
National Table Tennis Championship
Olympic Table Tennis Championship
Asian Games Table Tennis Championship
World Table Tennis Championship
All India University Table Tennis Championship
Sports Awards
Arjuna Awardees
| Year | Awardee |
| --- | --- |
| 2002 | Montu Ghosh |
| 2004 | Achanta Sharath Kamal |
| 2005 | Soumyadeep Roy |
| 2006 | Subhajit Saha |
| 2008 | Poulomi Ghatak |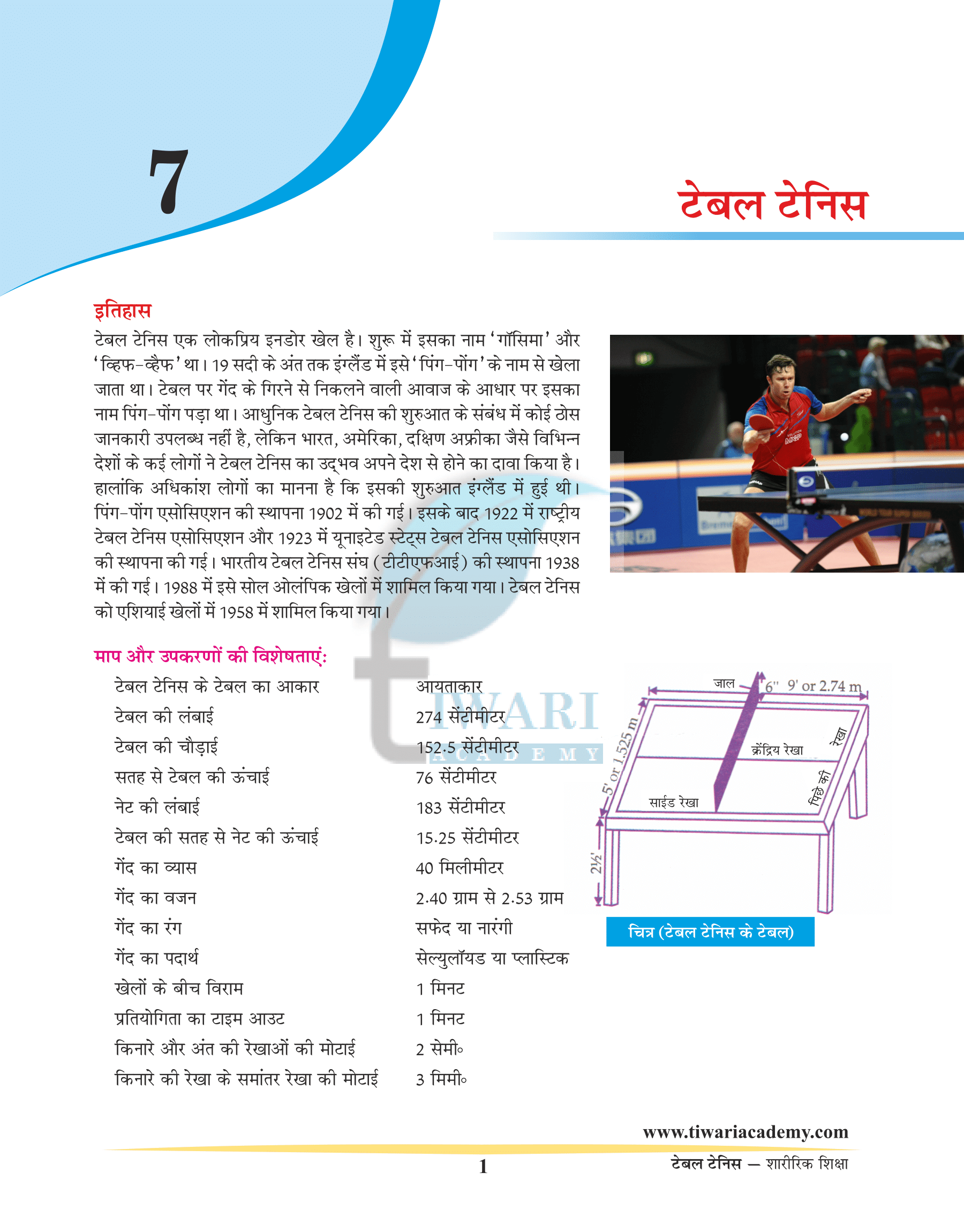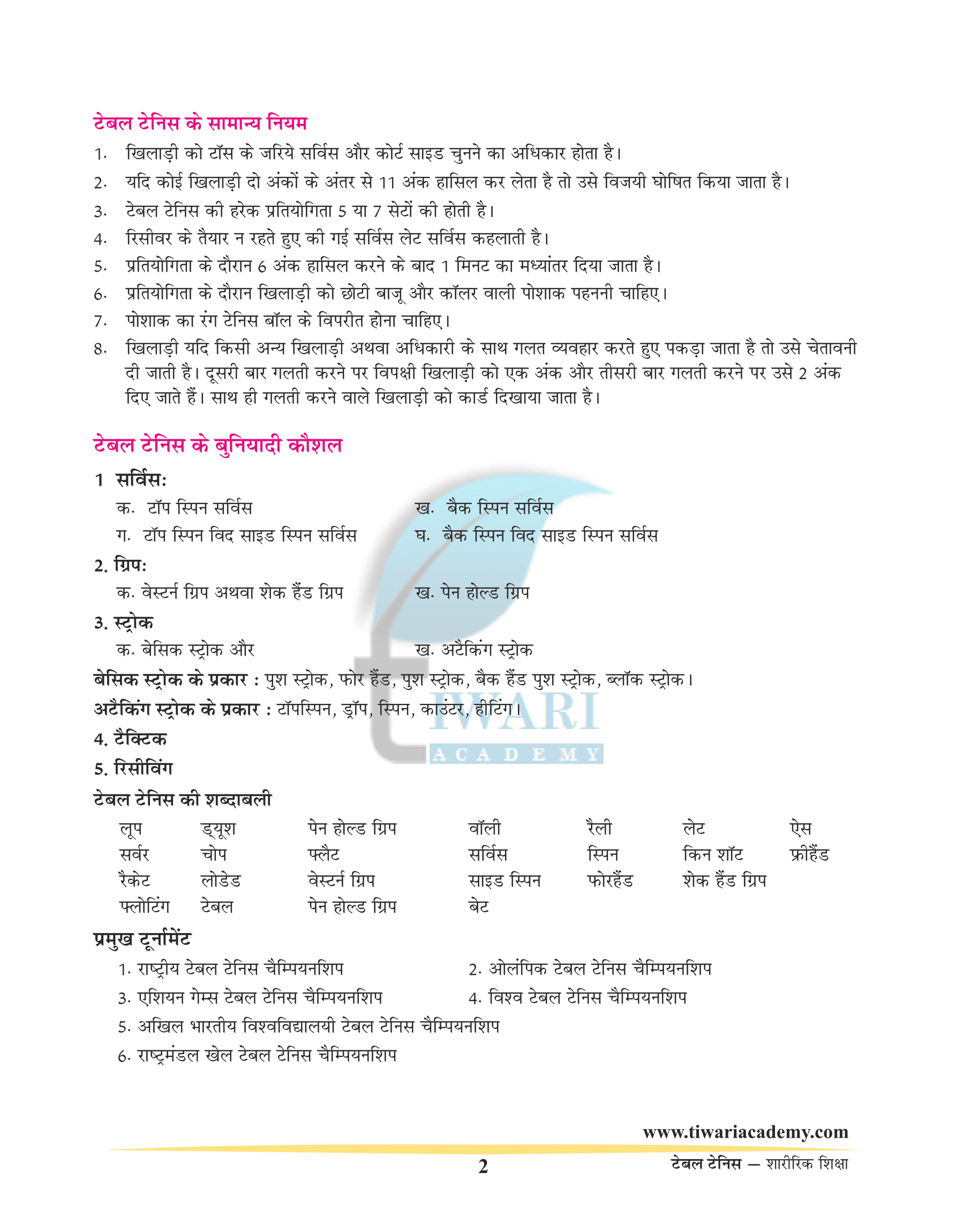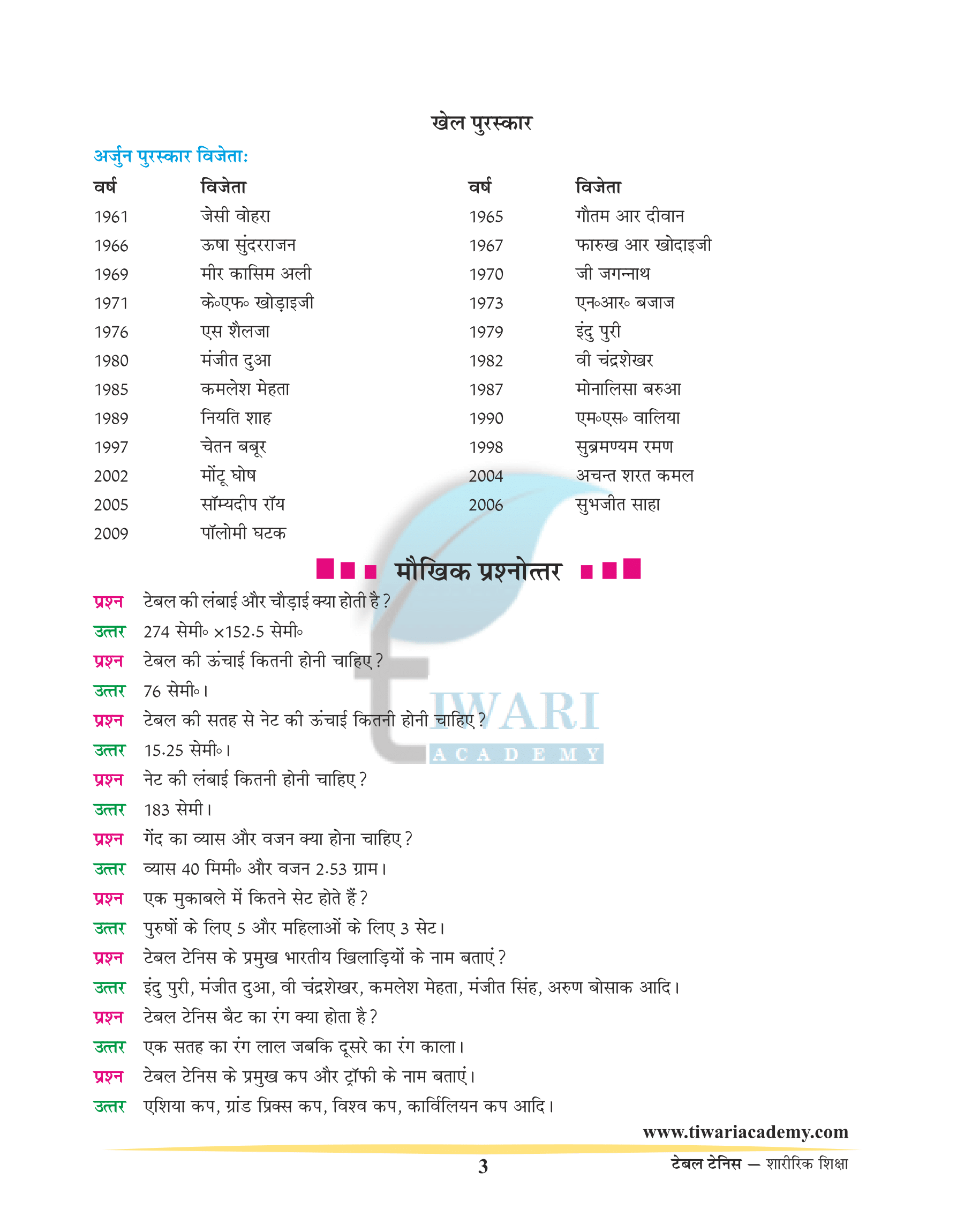 Last Edited: January 27, 2022