NCERT Solutions for Class 3 Maths Chapter 8 Who is Heavier? Updated for new session 2023-24 in English and Hindi Medium free to download in PDF. Grade 3 Maths chapter 7 Who is Heavier? Deals with weights and balance. Extra practice book for revision during the exams and tests is also given to free download. There are solved examples, stories, puzzles, and Maths additions for class 3 that you can use to practice.
NCERT Solutions for Class 3 Maths Chapter 8
Class 3 Maths NCERT Chapter 8: Choose Heavier
Since childhood, I have faced such problems That made me choose with such difficulty and trouble. I don't know if you have faced the same difficulty. The difficulty is to choose. When I used to go to buy a Chocolate That I can buy but that cost less and when I buy a Burger that cost me a prize that could buy me 4 chocolates with ease.
Now, my problem is to choose one burger or 4 chocolates? That is the main problem and chocolate taste more good, isn't it?
This is the same problem Shabnam also facing in this chapter and how she found the solution can you check and how to resolve this problem and please share the answers with someone who is facing such difficulties.
3rd Mathematics NCERT Book Chapter 8: See Saw
Sometimes you have played in the park on a see-saw with your parents or maybe elder sibling. Who can easily take you up it is too difficult to put him up.
Now you must find the solution for this problem so that you can play with them easily. If you want to look for the solution then read this chapter and find out what the tomatoes have done while playing with the pumpkin.
So by now, you must have the answer to the problem we discussed and you must be happy if you have used the trick to play on a see-saw.
I suggest you since you have already studied the this far we have an amazing short story of a little baby and what happened to this baby is you will find out after the story and question you solve.
This happens often to your nearest temples too and maybe your grandparents, parents might know about such practices. Ask them if they knew such stories.
CBSE Class 3 Maths NCERT Chapter 8: Summary of Chapter
This chapter is all about weighing and balancing and you might be looking at the various chapters' problems which shows the same problem that you have solved earlier in the chapter. Using the same logic would you be able to solve other questions?
To make the logic more clear and understanding you have to check the explanation and how they made it work out.
Class 3 Maths NCERT Textbook Chapter 8: Look for Weights and Balances
Make a trip to your nearest junk dealer, vegetable shop and grocery shop. Have a look at the weights they use. Find out:
i) Who uses the biggest weight?
Junk dealer used biggest weight.
ii) Who uses the smallest weight?
Vegetable shopkeeper used smallest weight.
How do you see the difference in weight like given in unit 8 of 3rd standard Maths?
Every object has its different mass and it covers different space and that is what is shown in the activity where Shabnam is weighing the Jaggery and groundnuts. Apart from these Sand and iron weights, one can check that it weighs the same but covers different spaces.
What are the activities that you suggest for class 3 students to learn the knowledge from unit 8?
There are several activities shown in the picture one can learn through them. One of them my favorite is playing See-Saw in the park and then seeing every student weighs some different. Then there are pictures of buying vegetables. You can see sellers try to balance the weights of vegetables and iron weights are one of the activities students can learn from.
What part of unit 8 of class 3 Maths do you find interesting?
The activity is given in the chapter where Shugoto tried to make something and then ended up mixing everything wrong I found that part is entertaining. Students don't have any clue how the cooking works so they will question either their mother or teacher. However, they can learn through a lot of different things.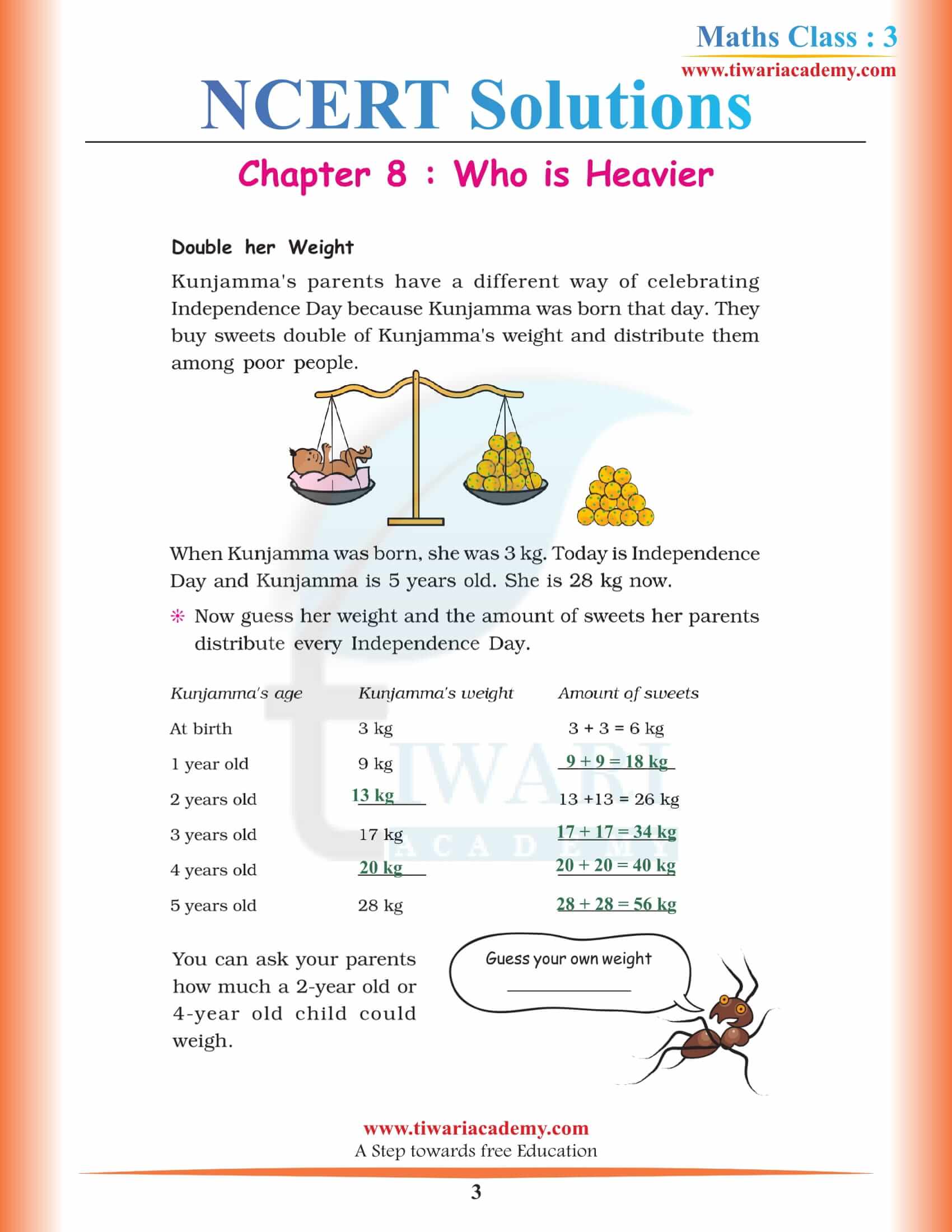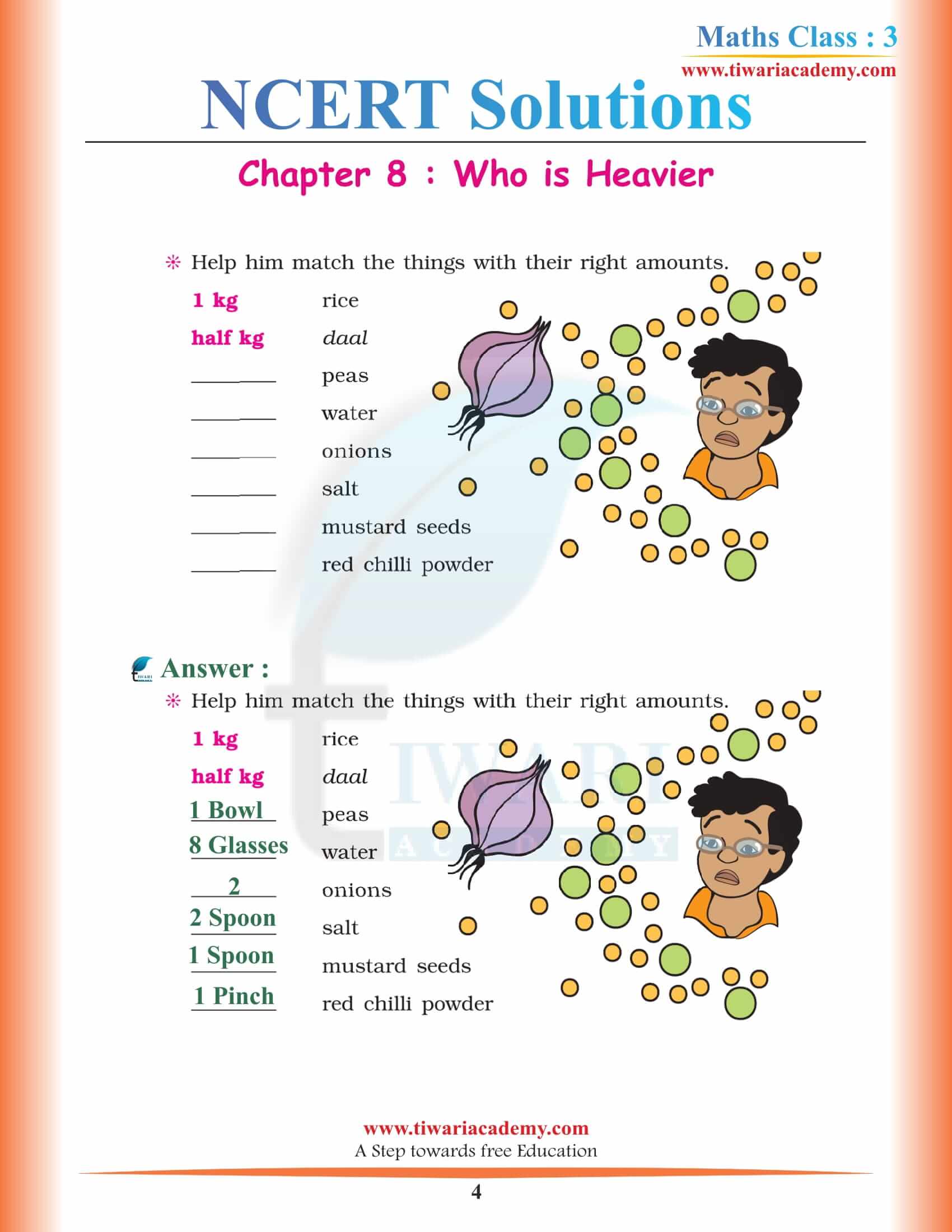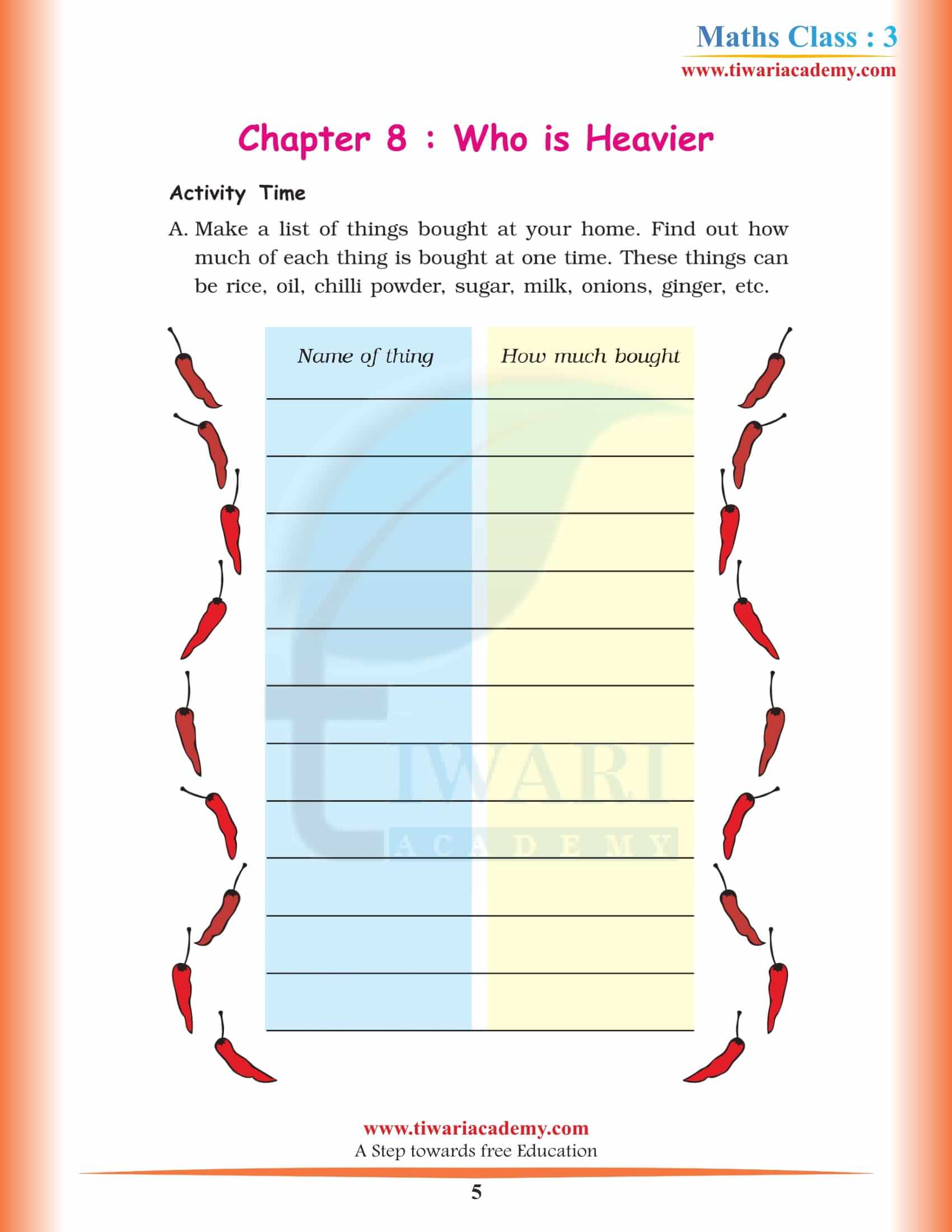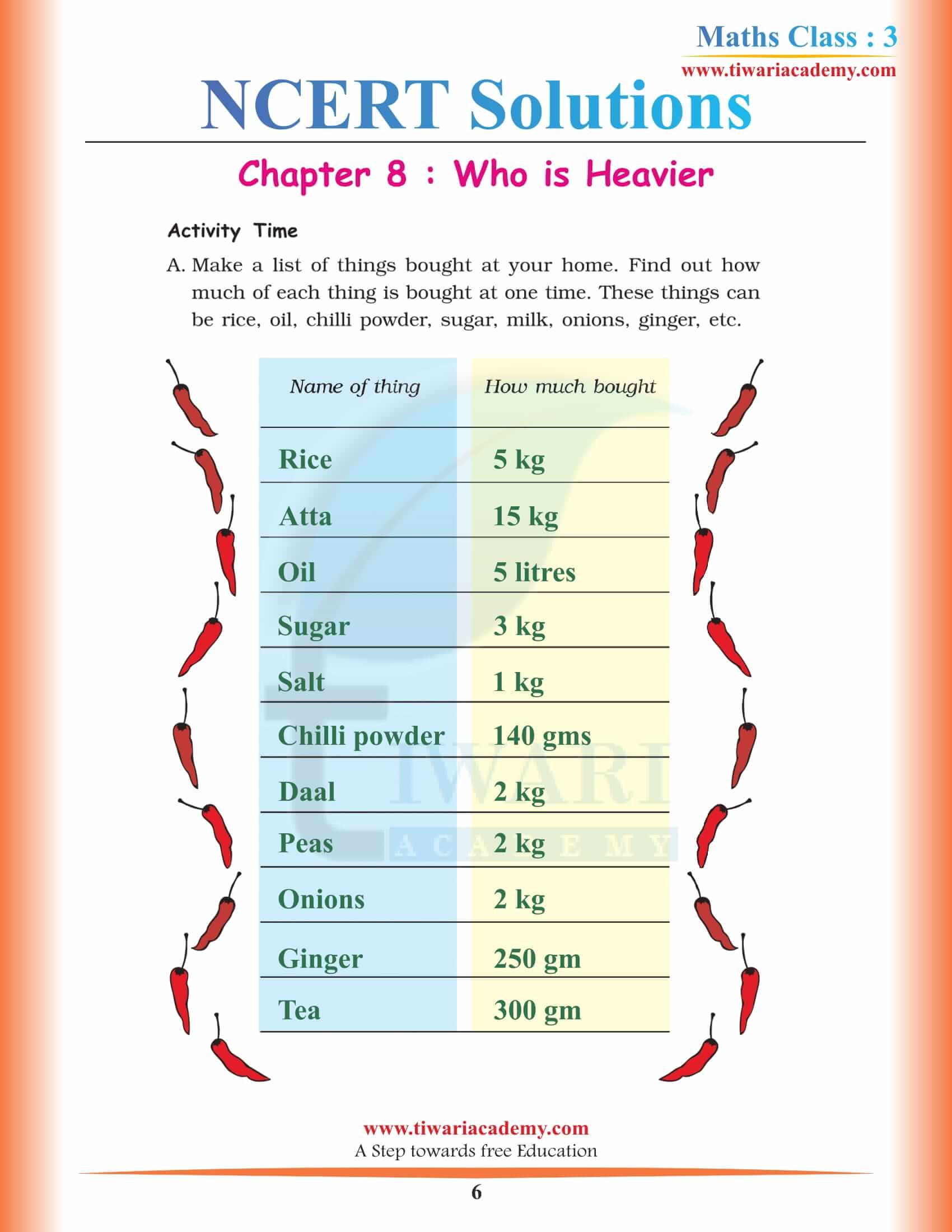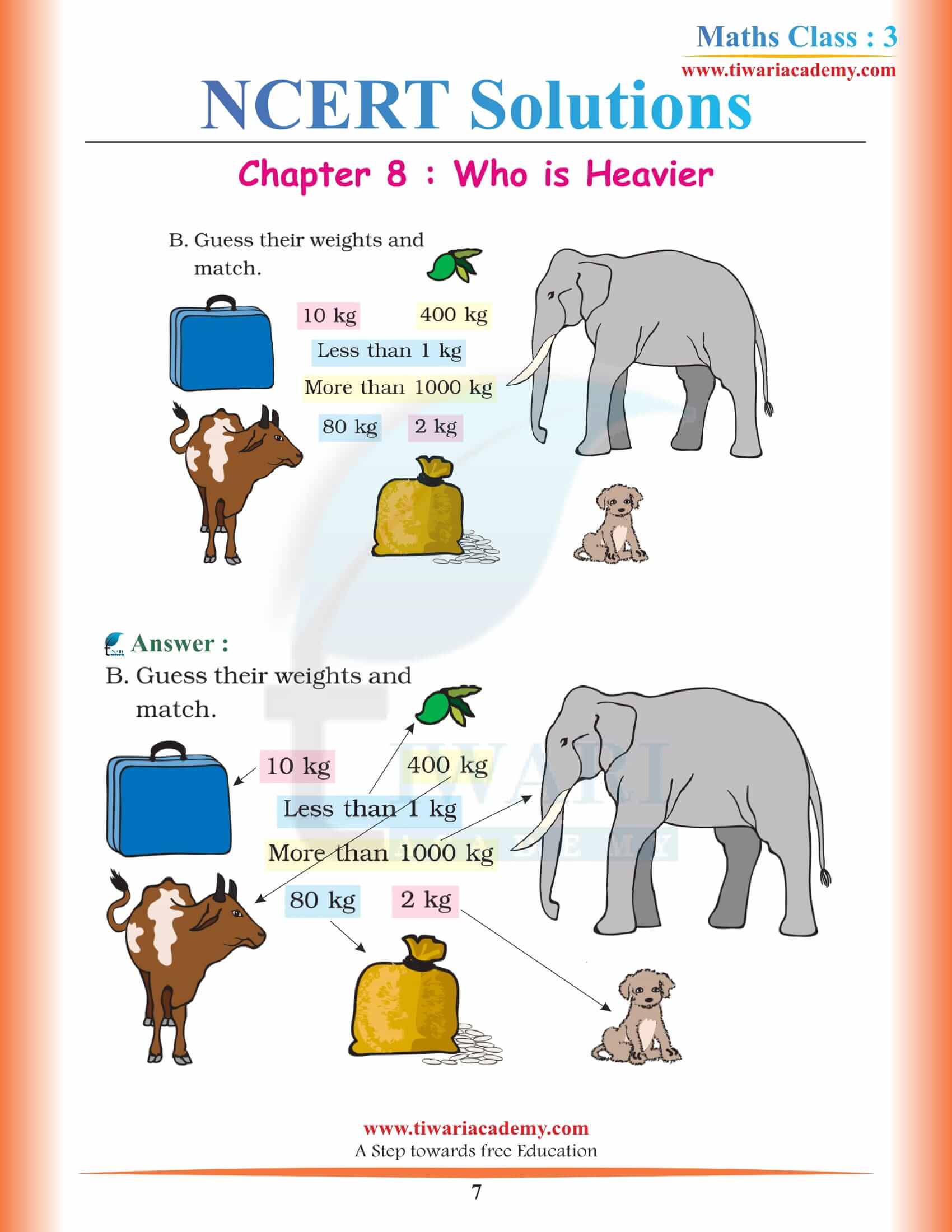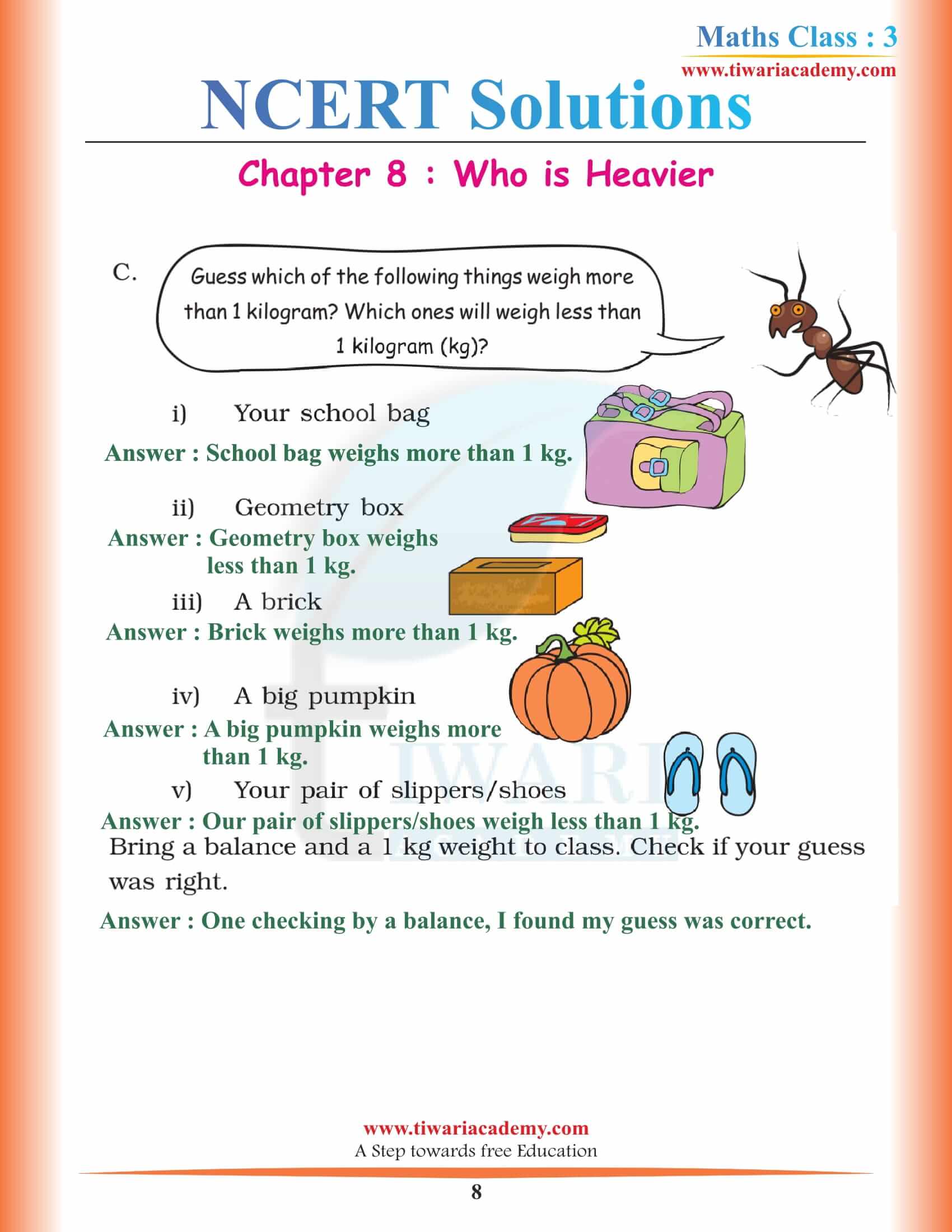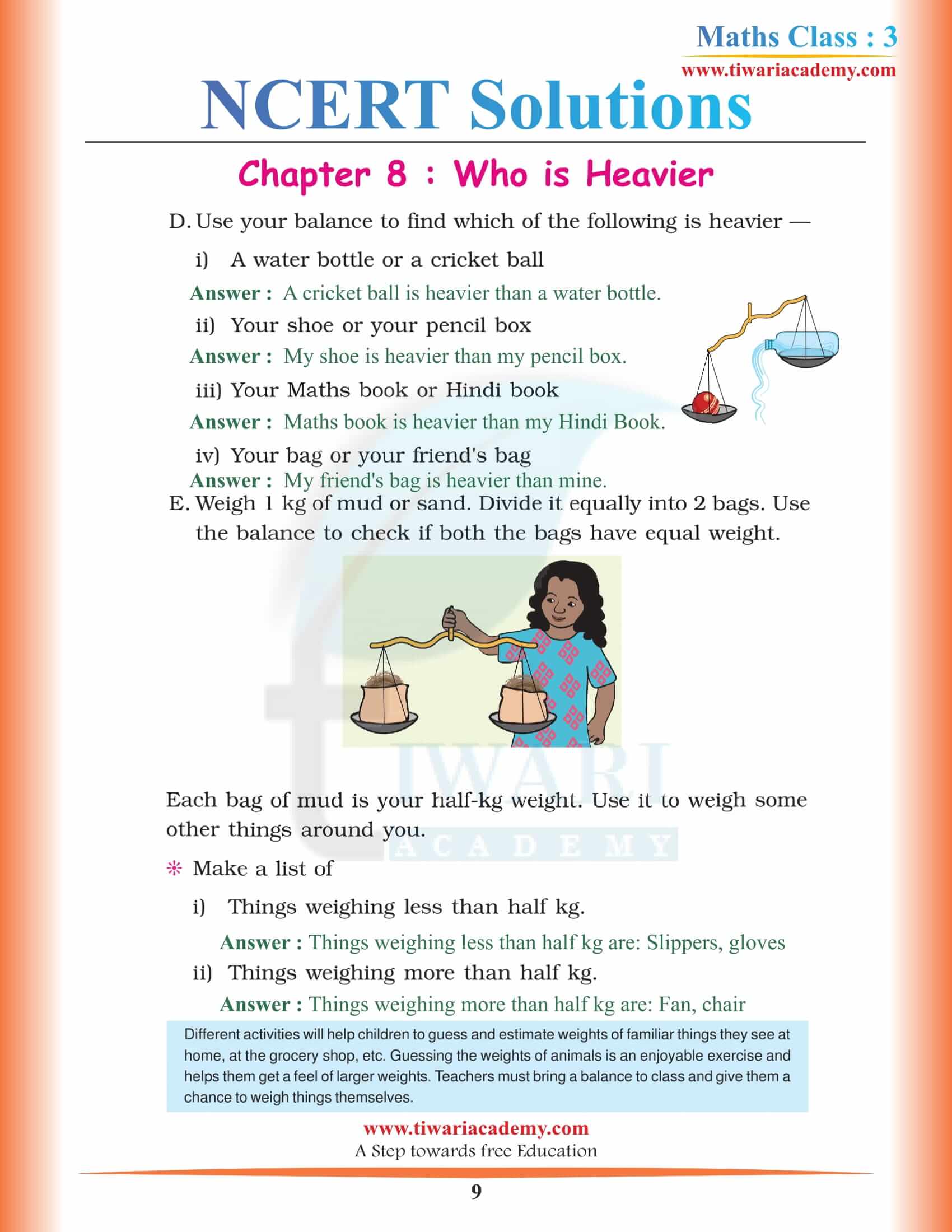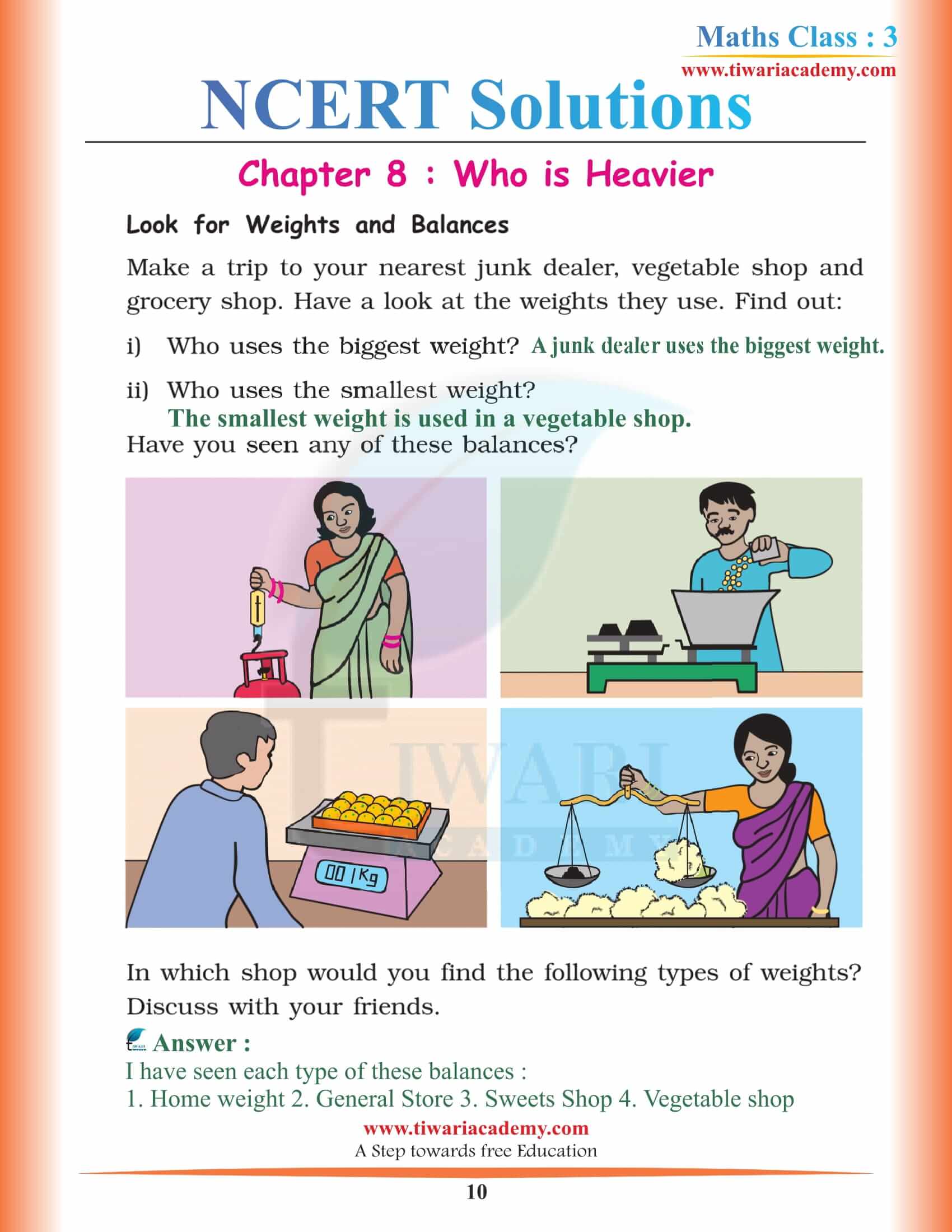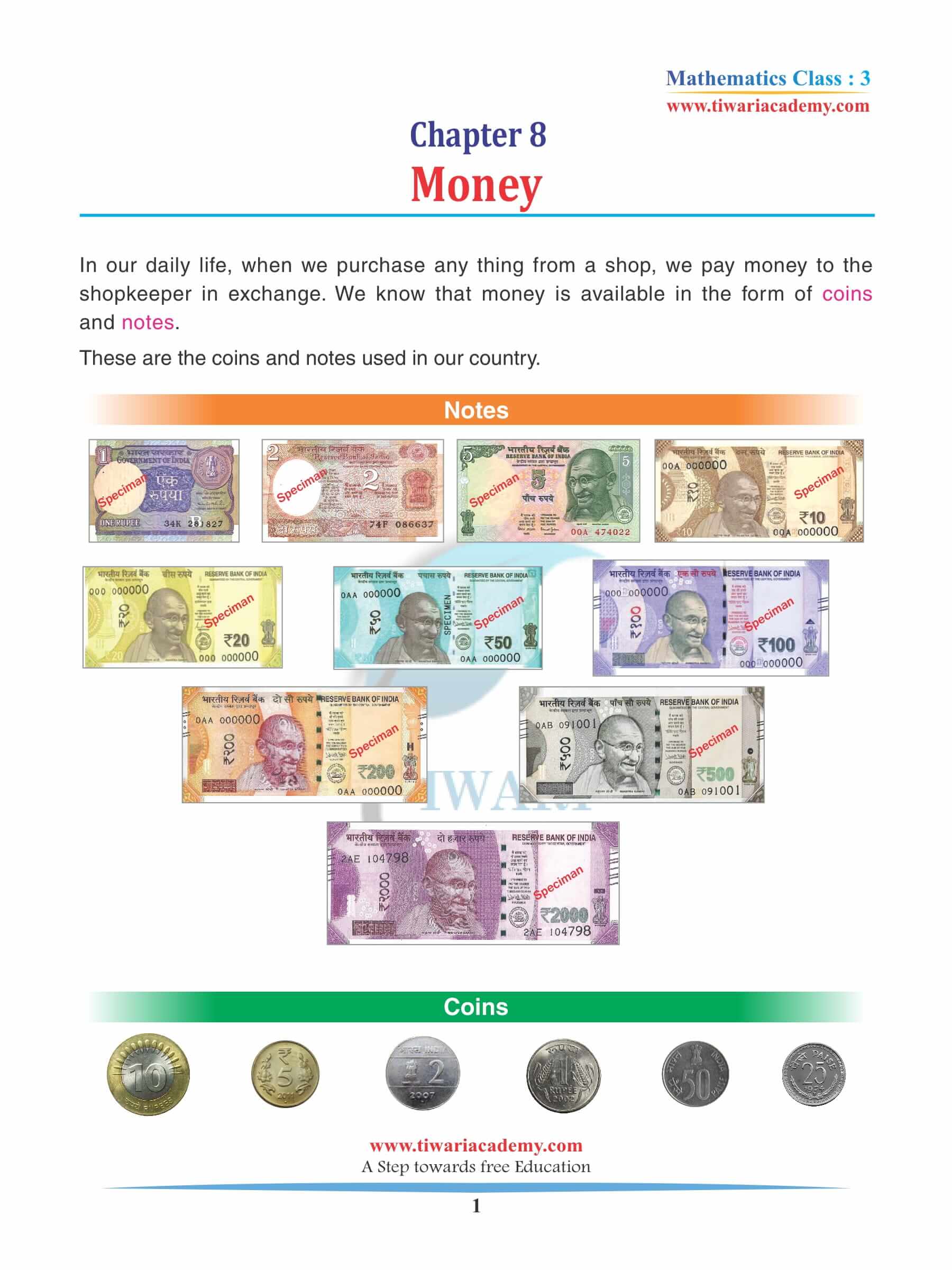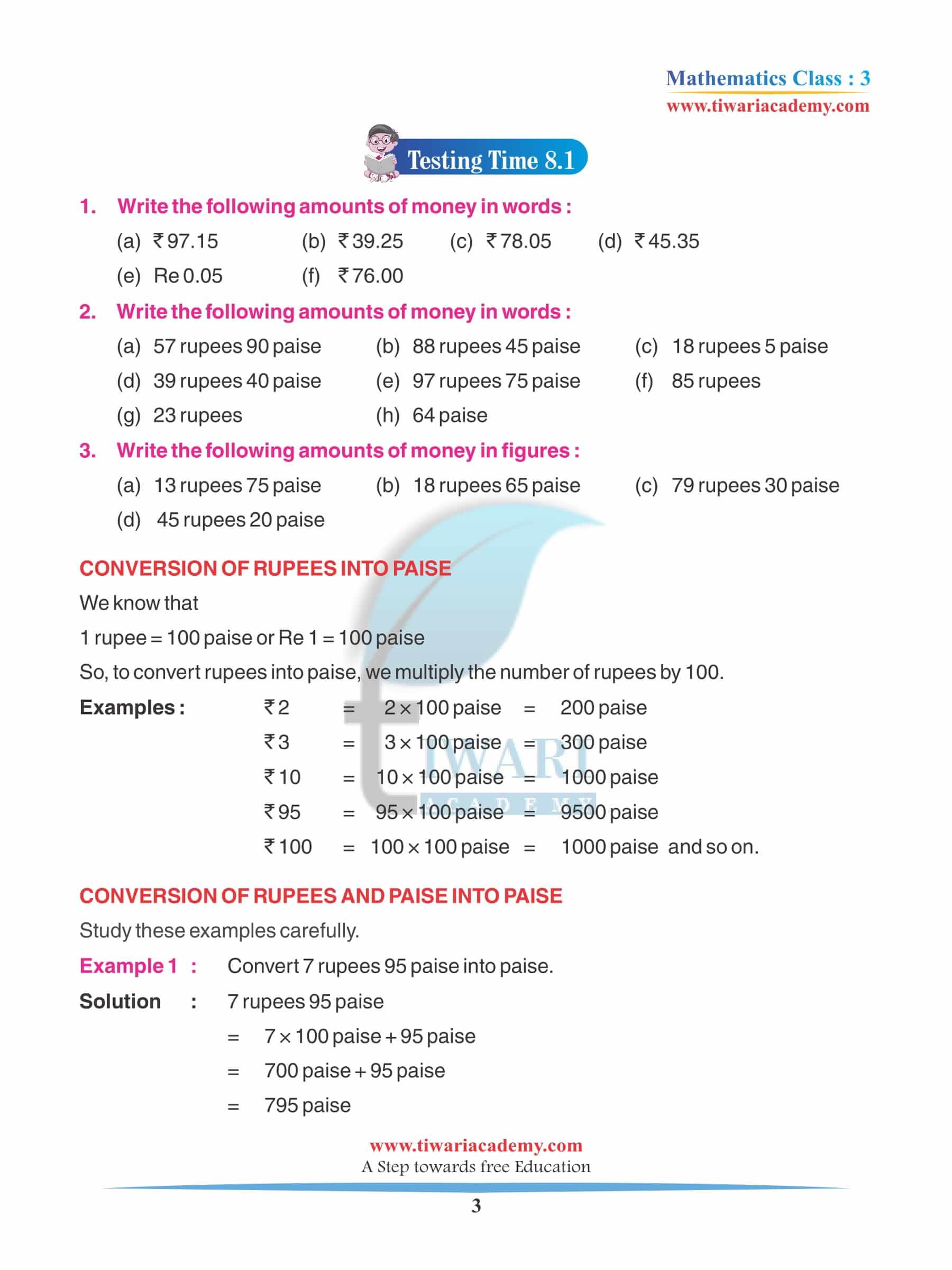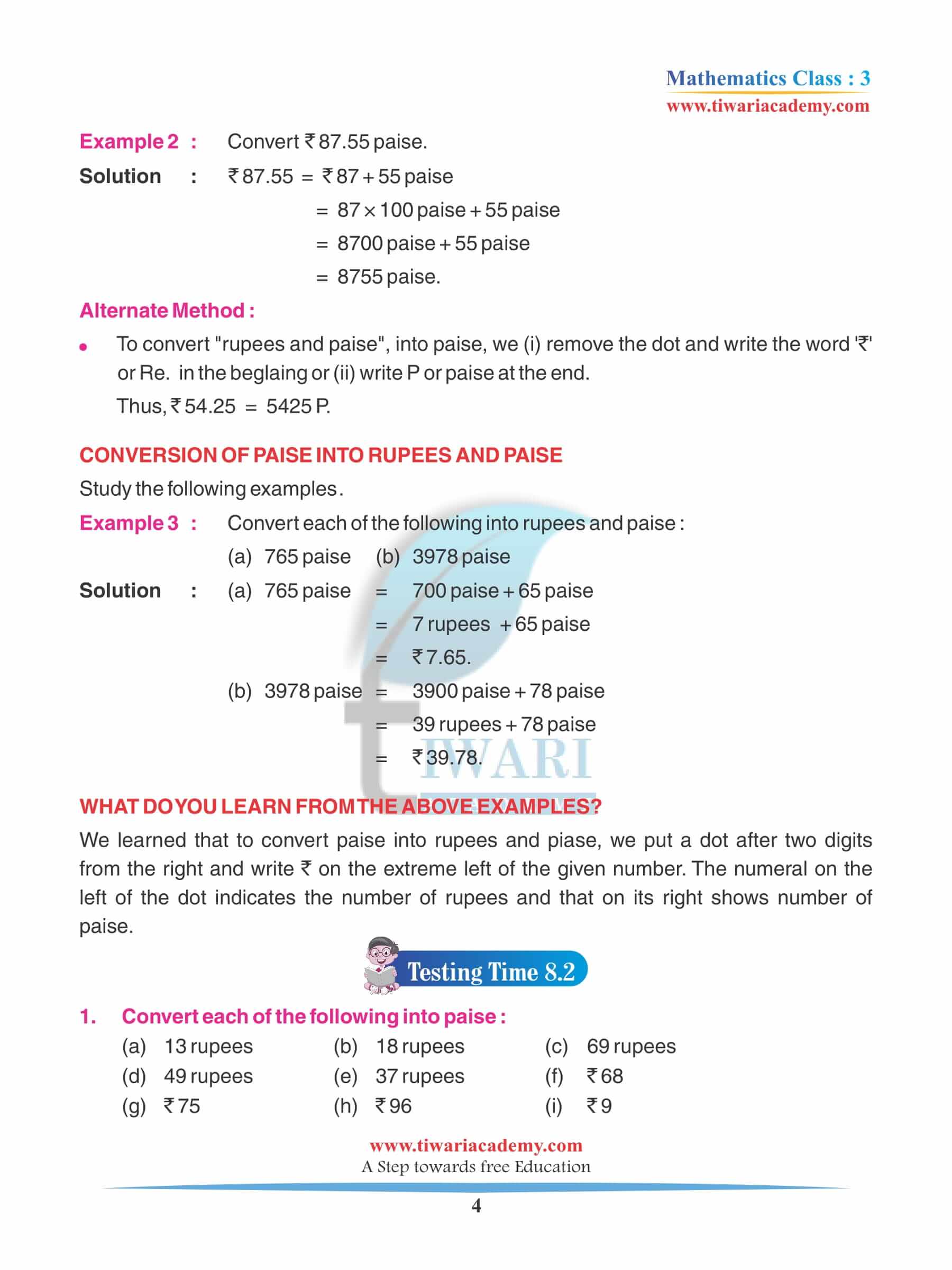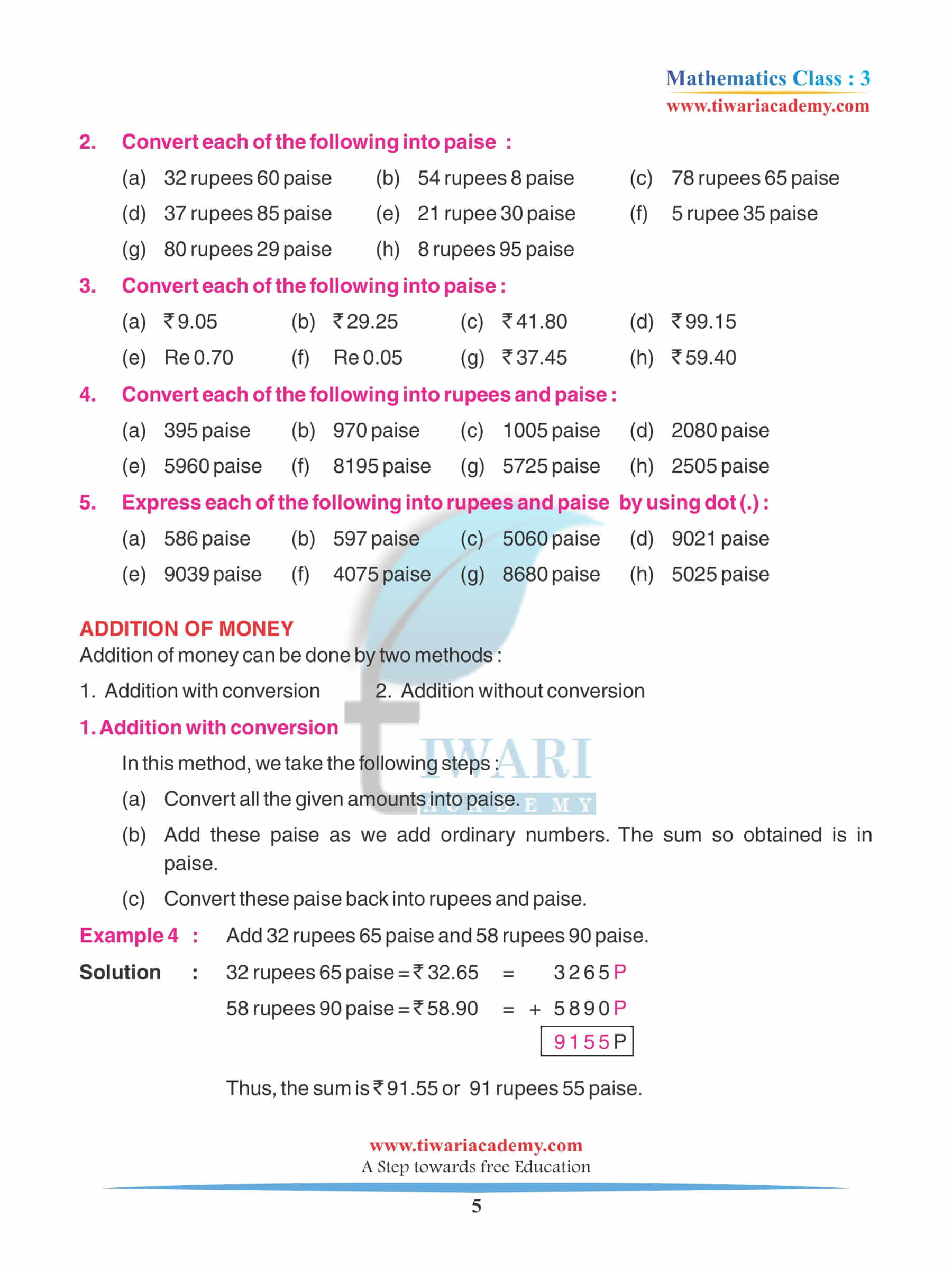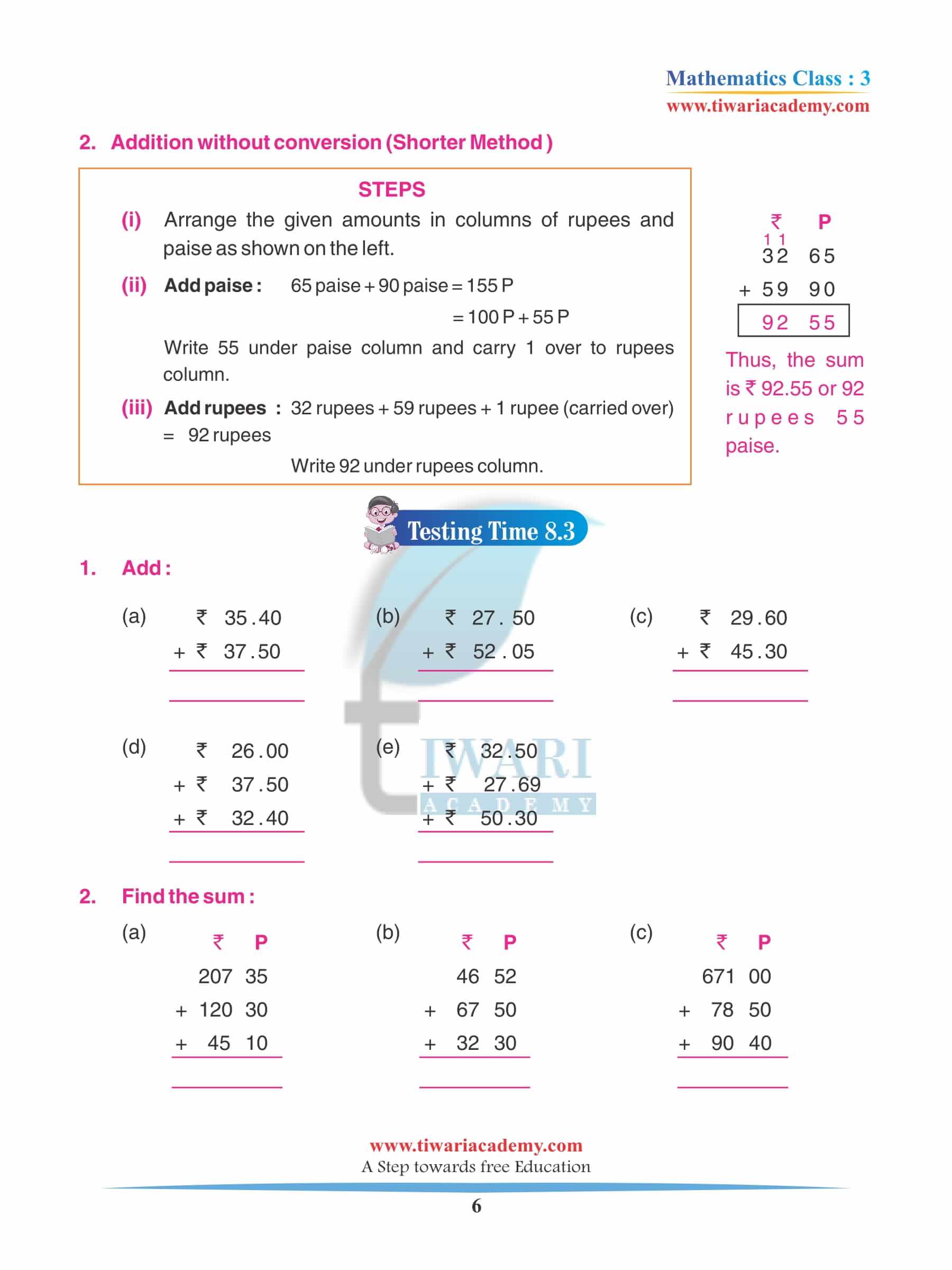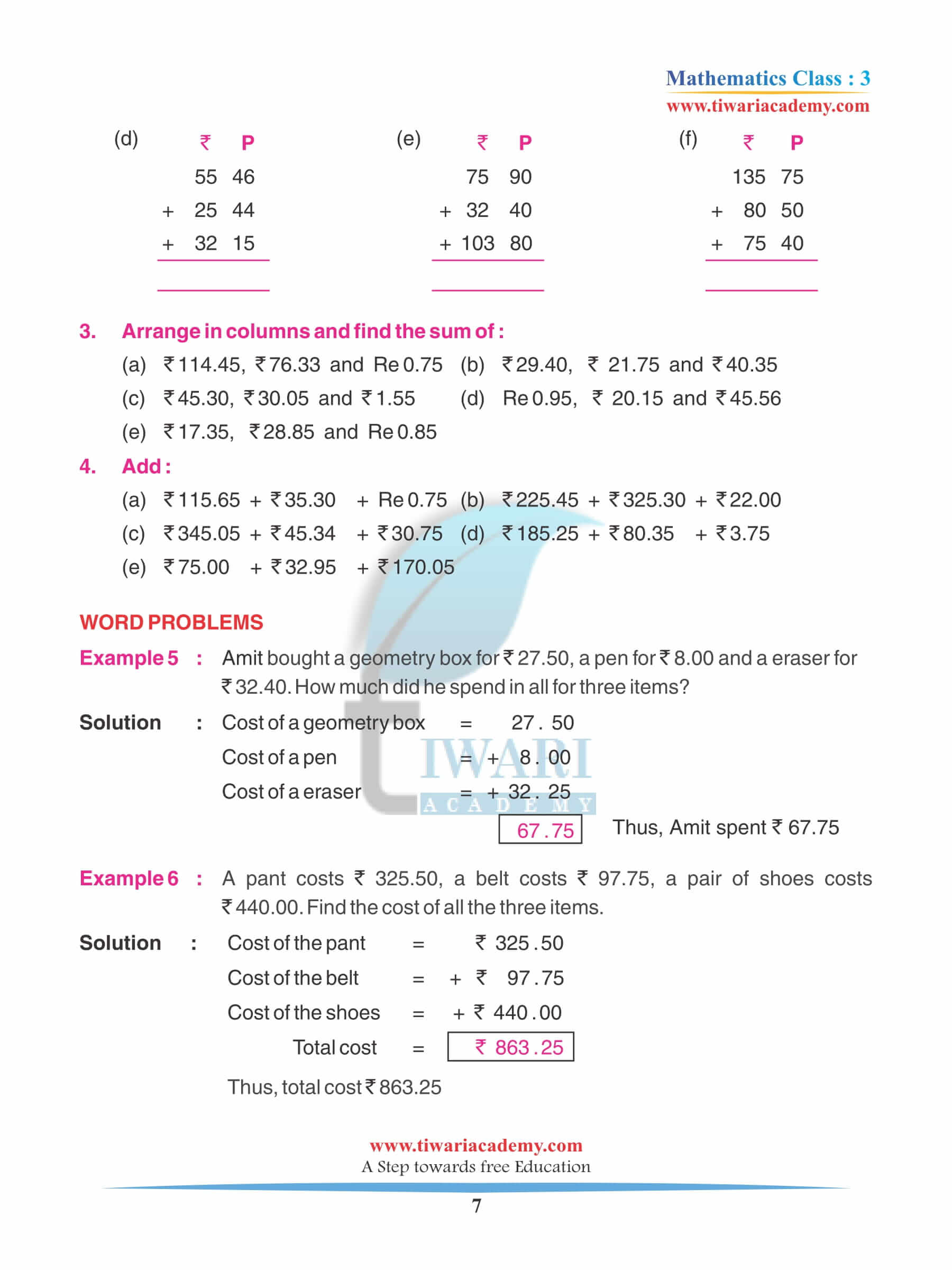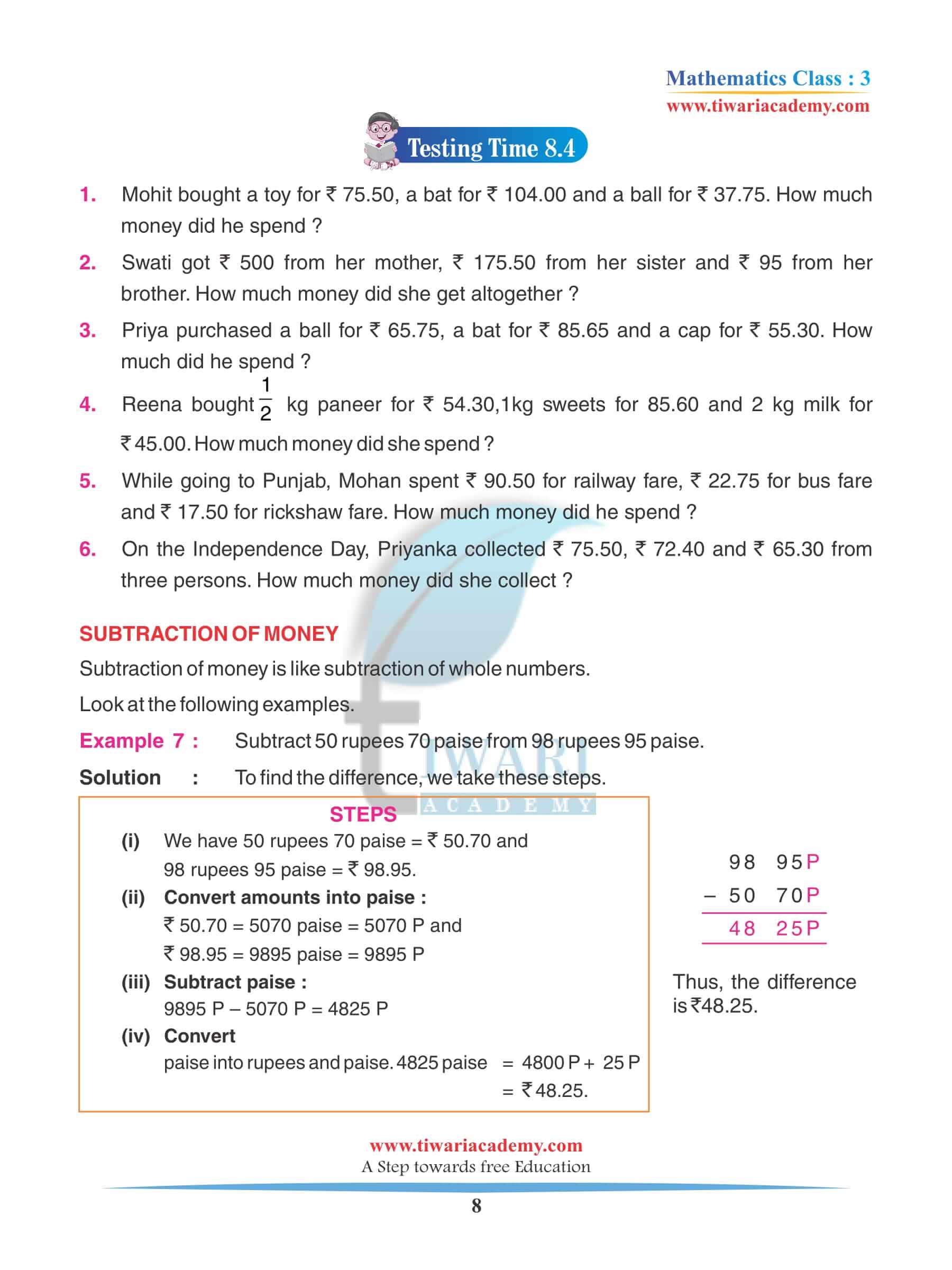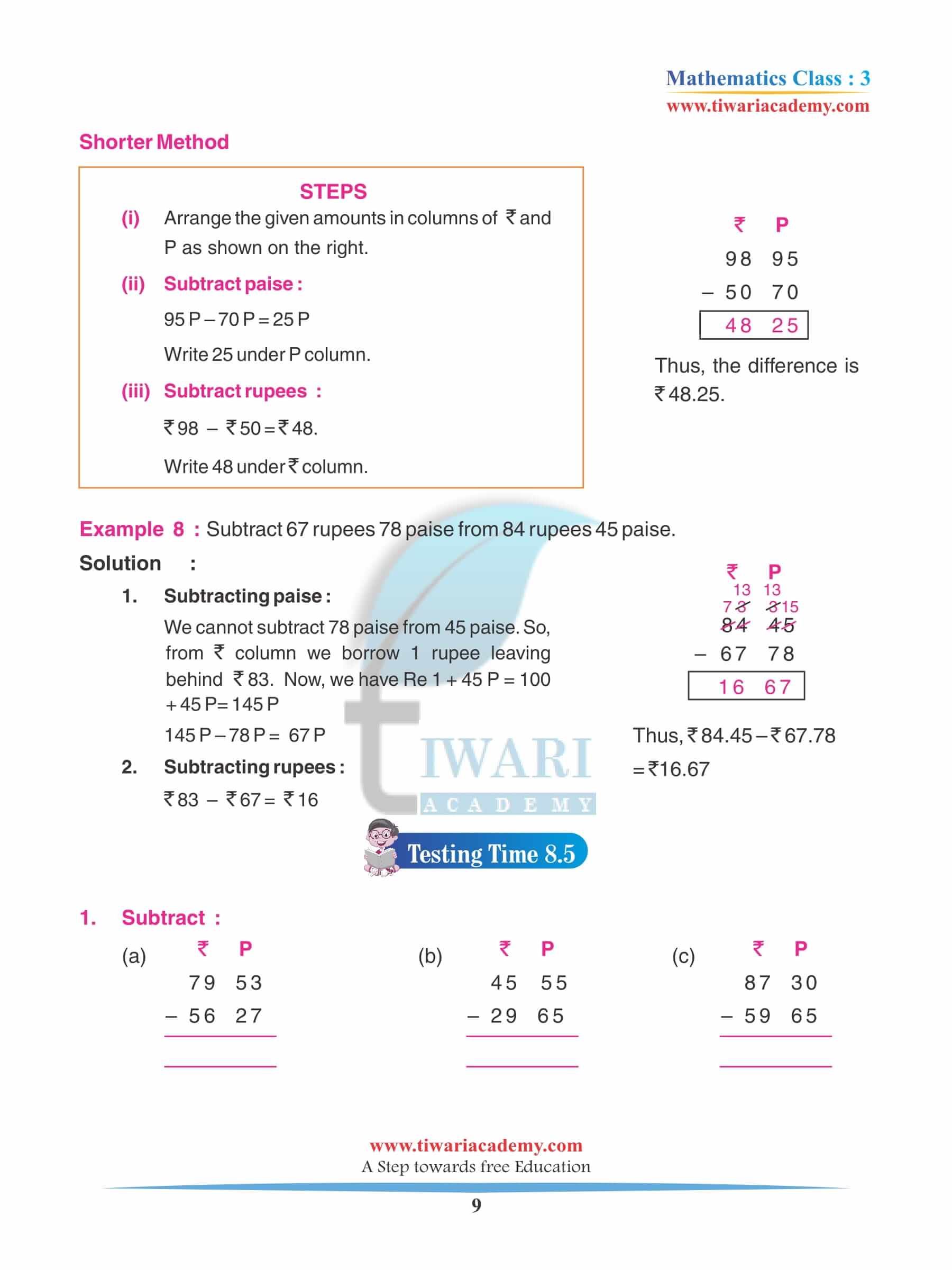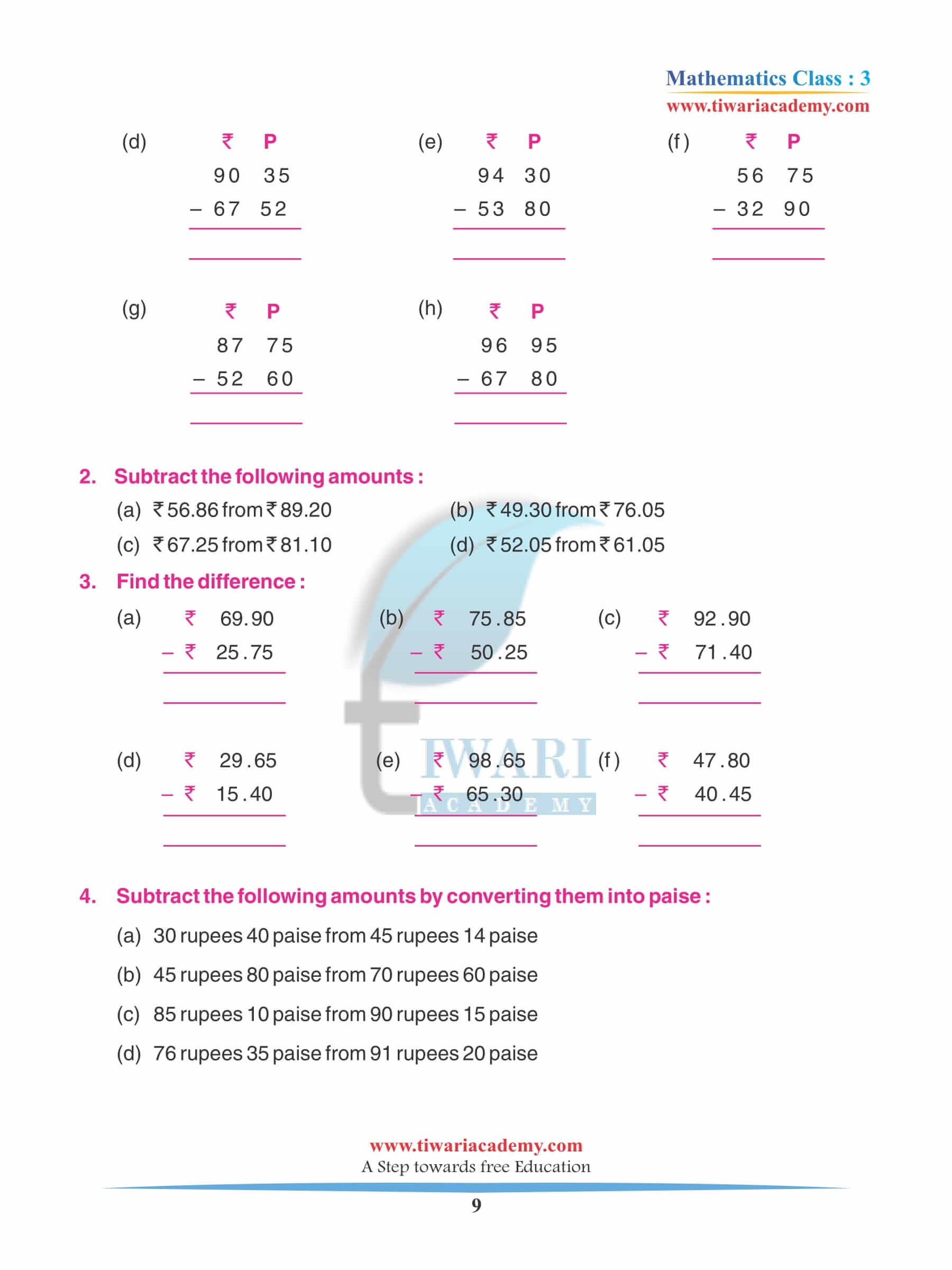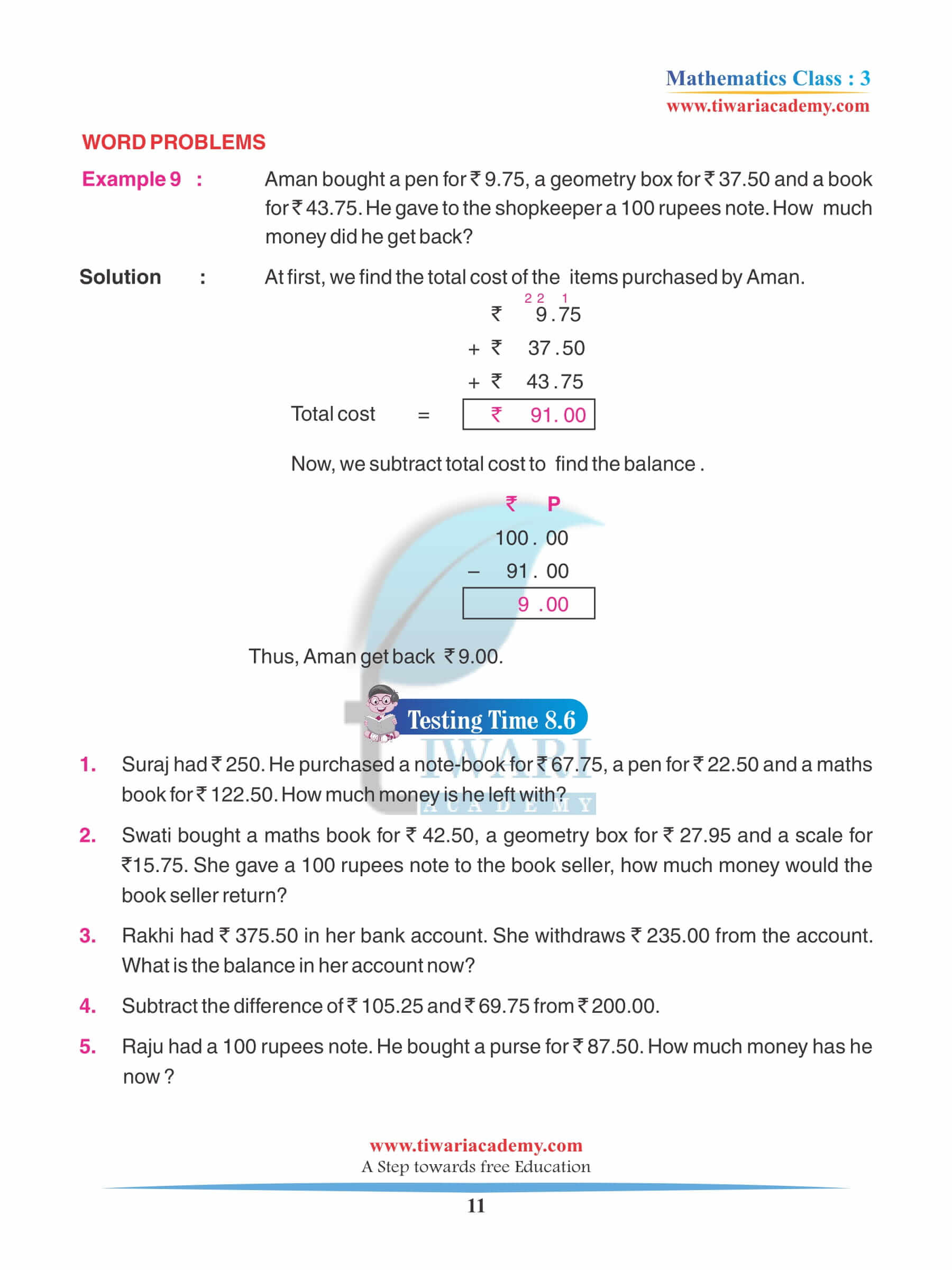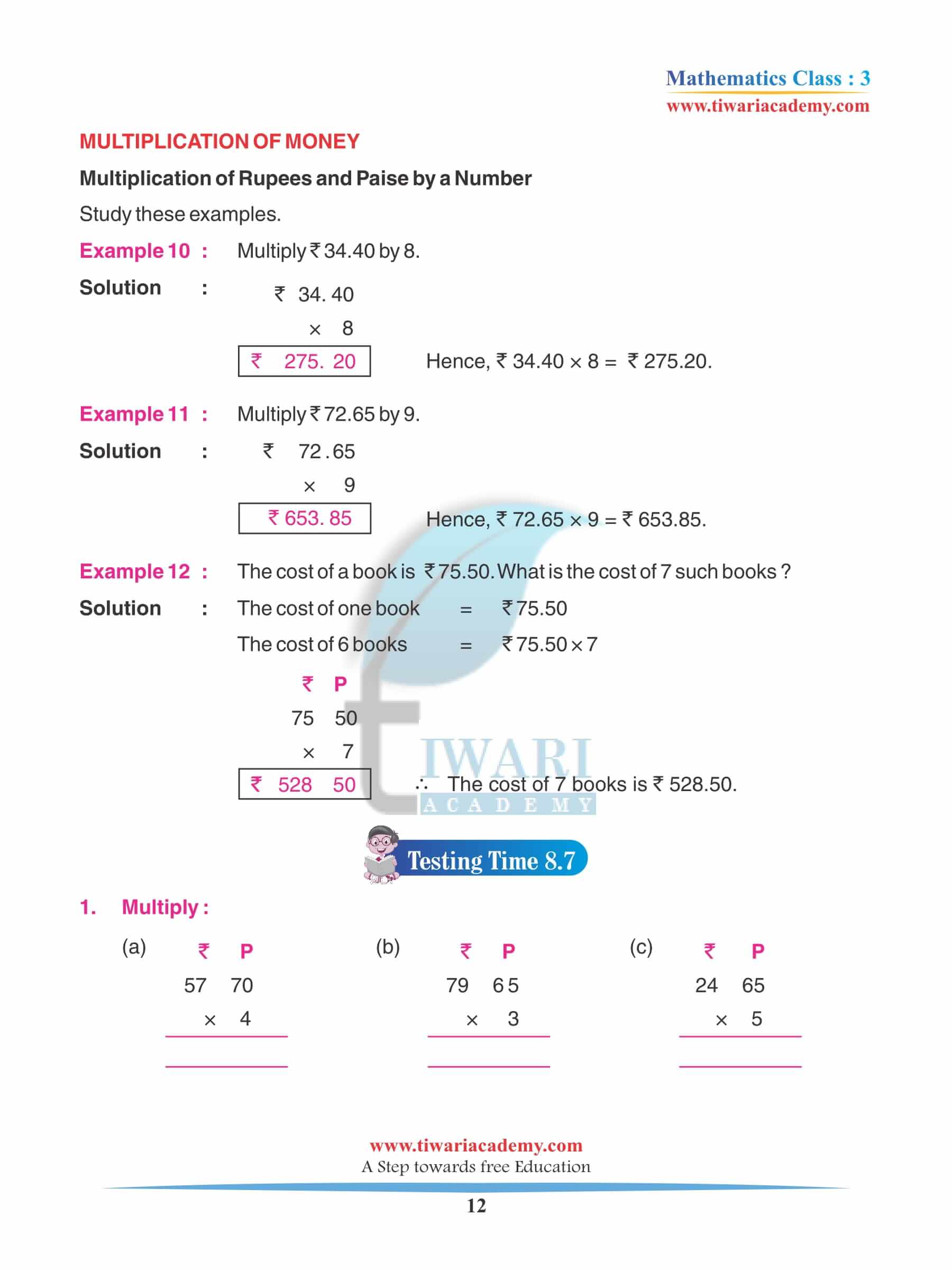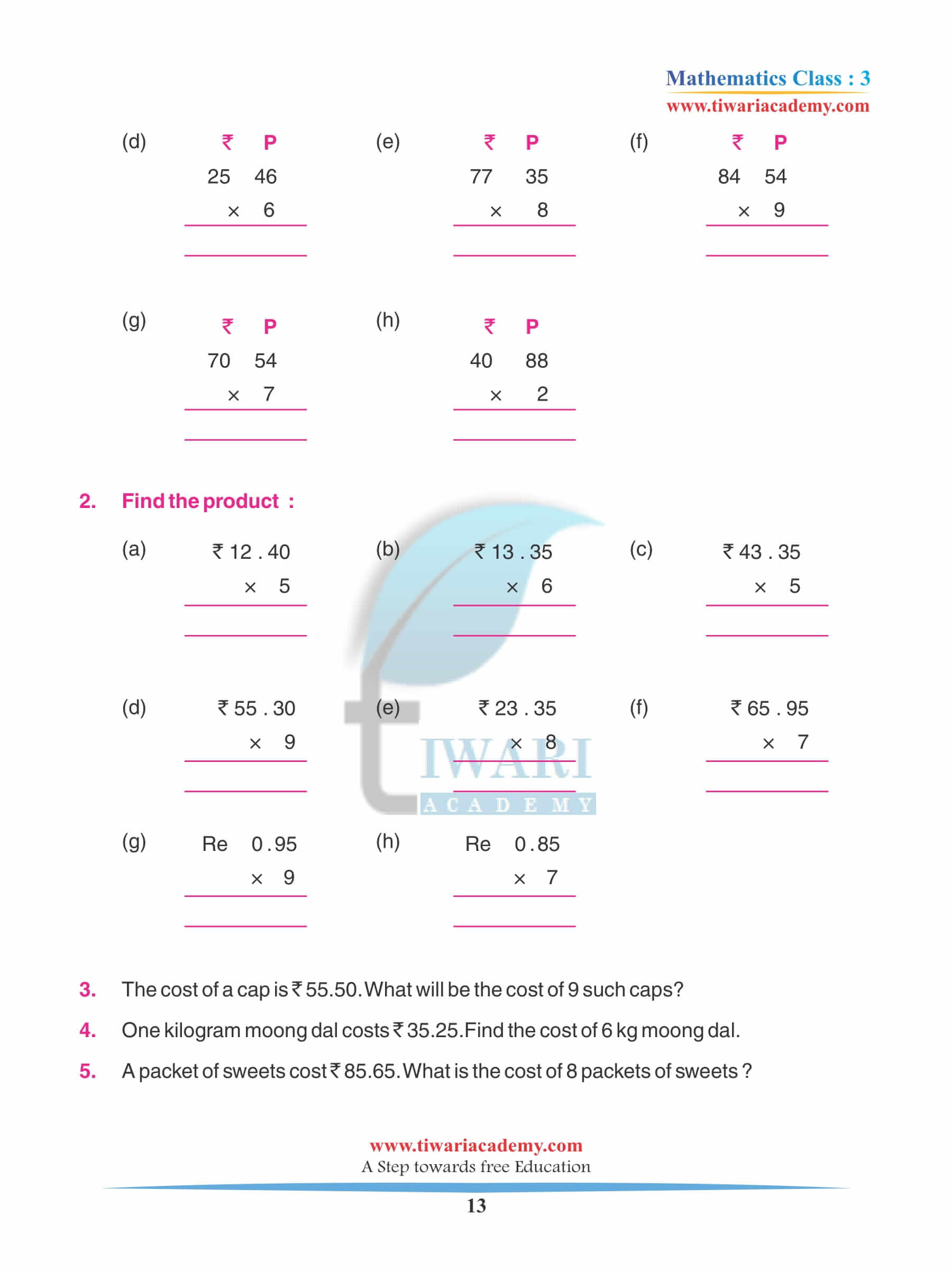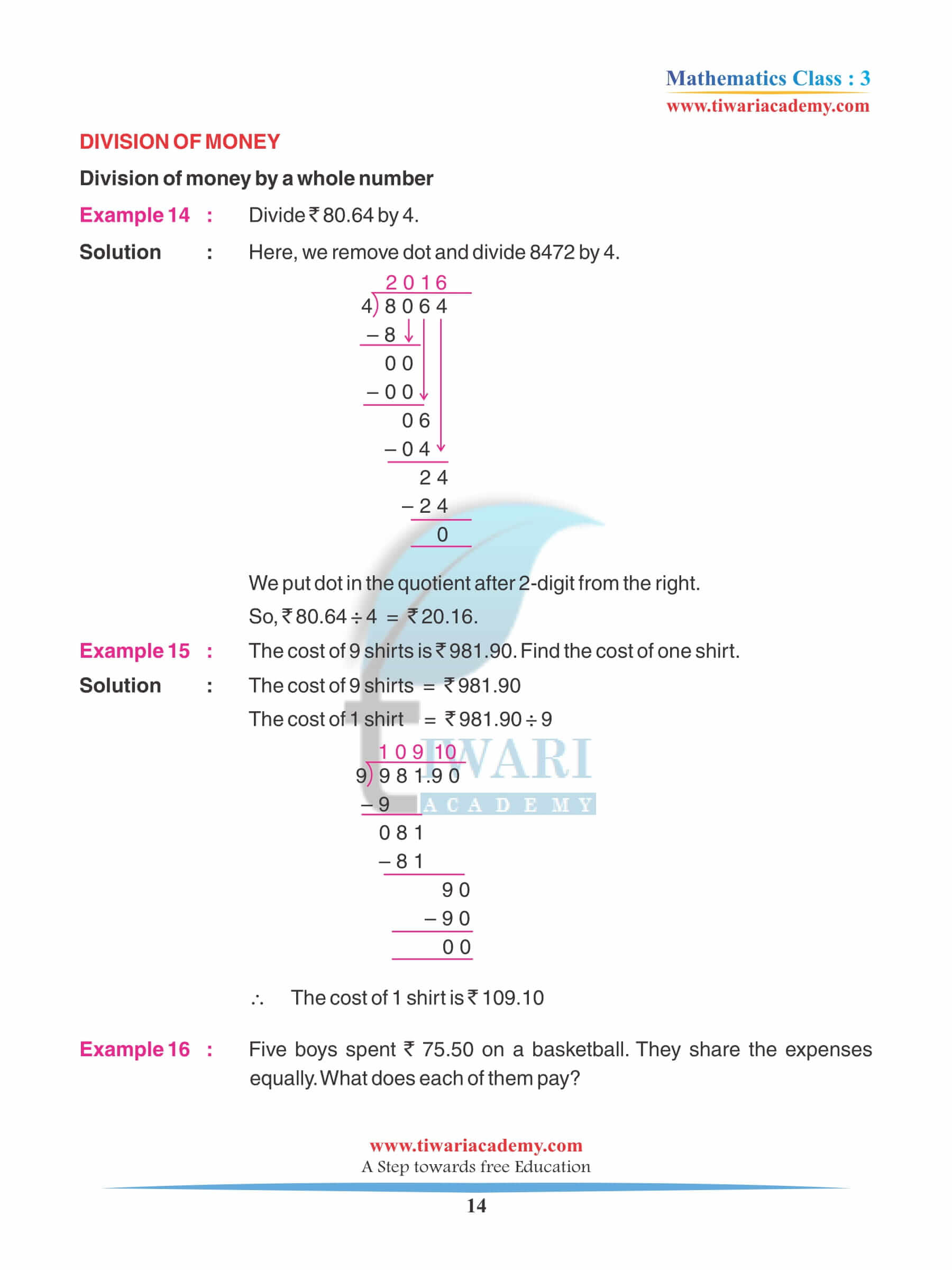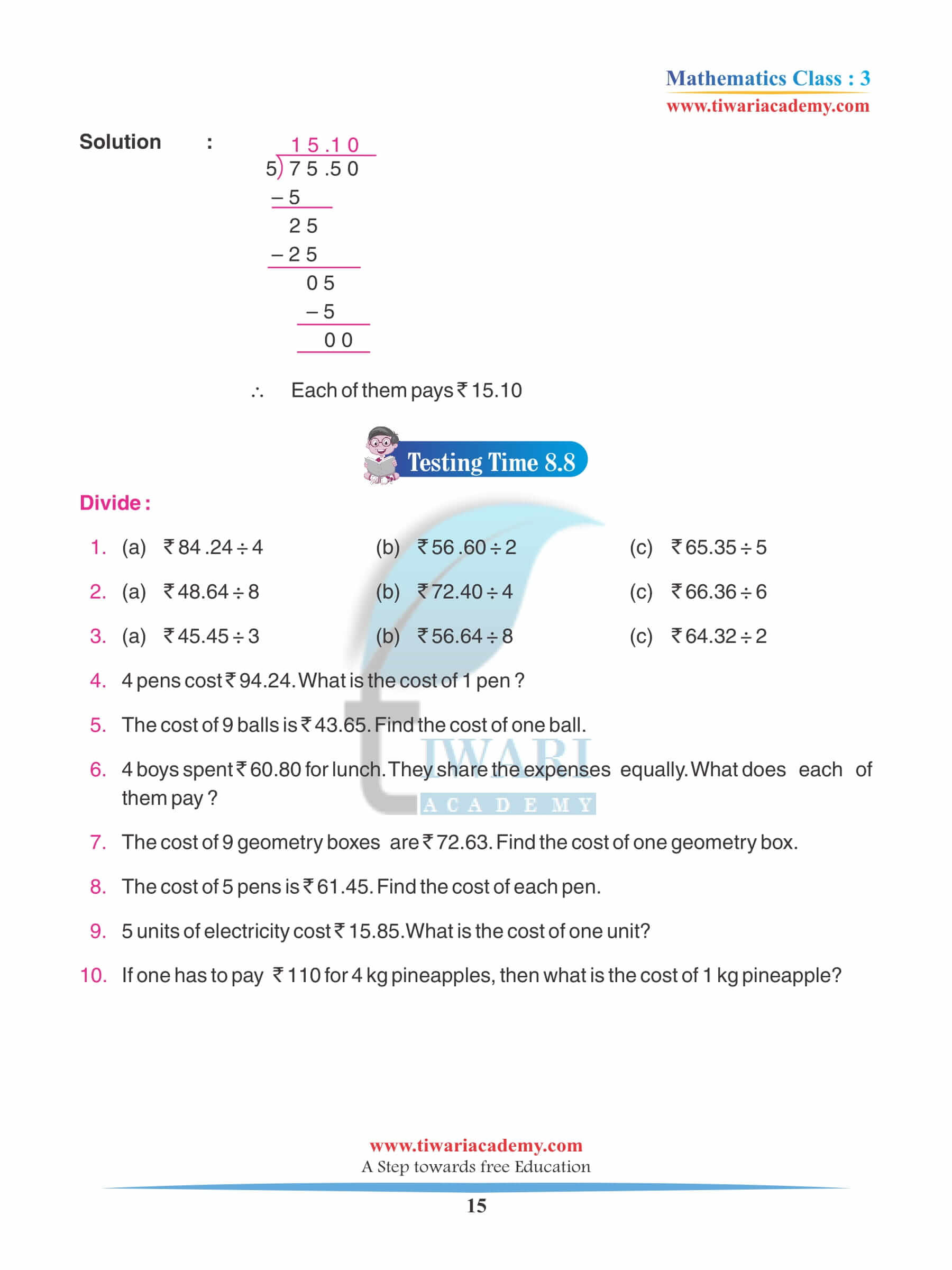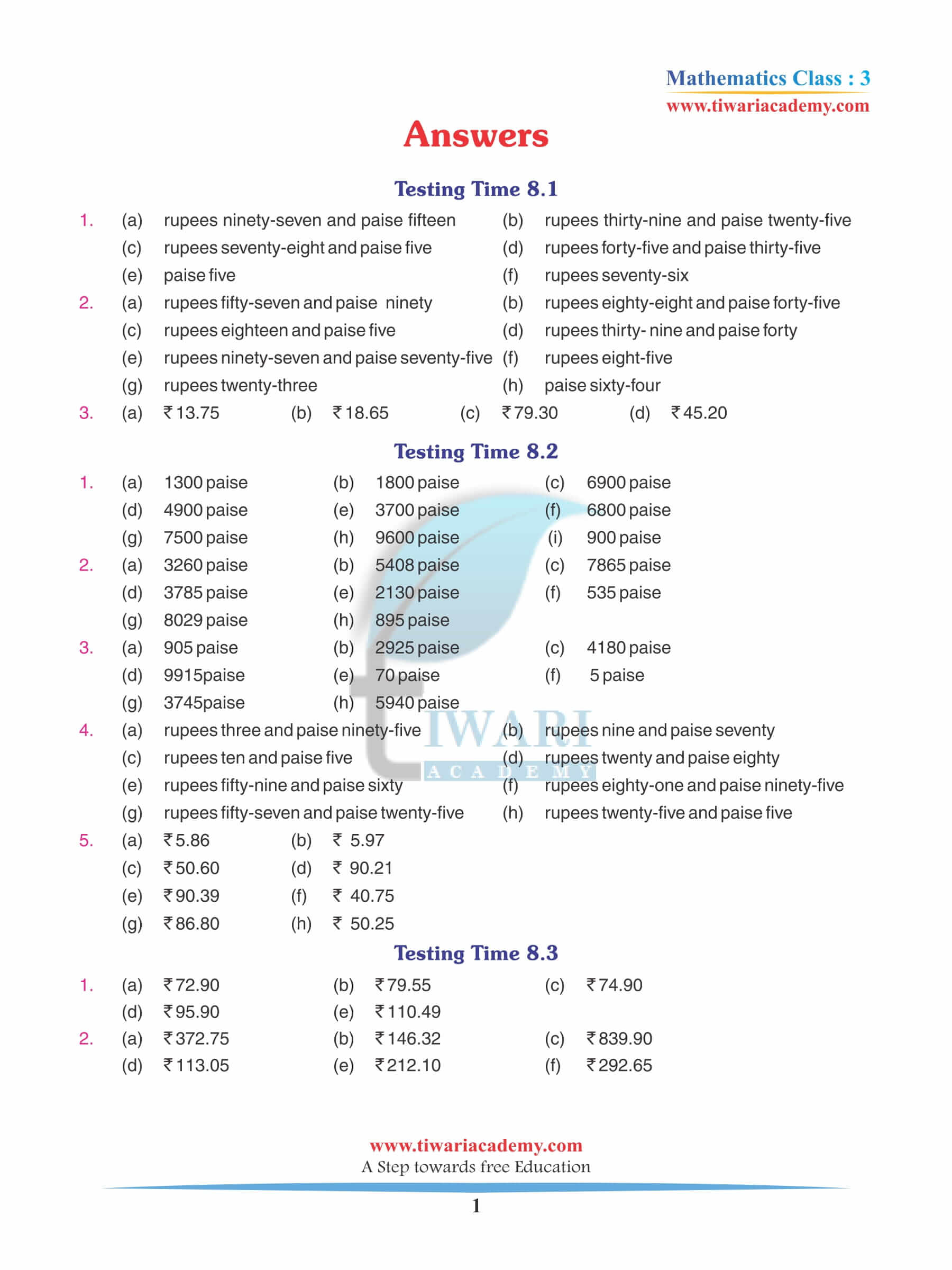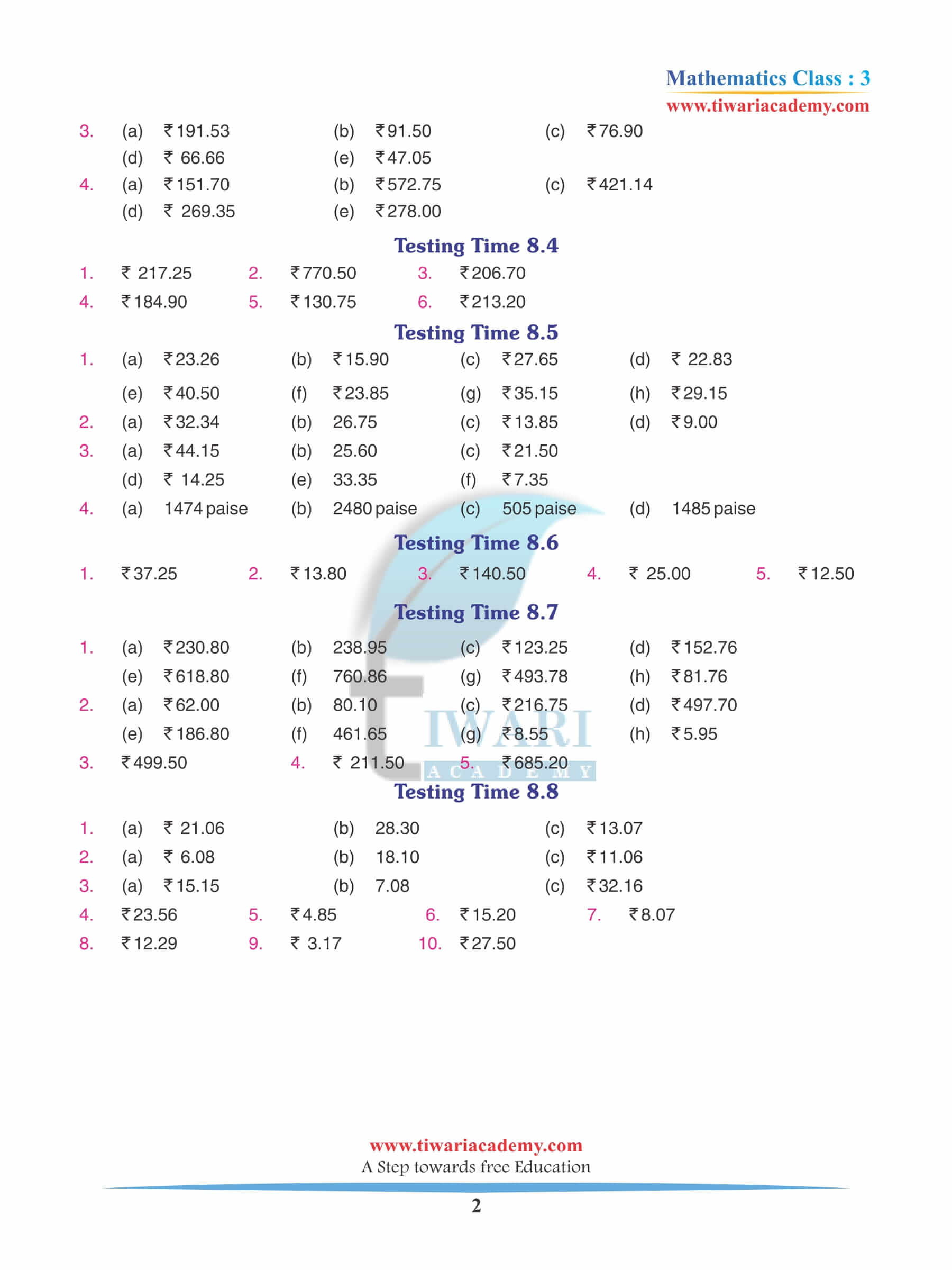 Last Edited: August 14, 2022