Akhil Maharashtra Sharirik Shikshan Mandal was formed in 1928. This organization provided a lot of help in the development and popularization of this game. The Deccan Gymkhana arranged a conference in Pune, in which rules of this game were framed.
Kho – Kho in Physical Education
History of Kho Kho
Kho-kho is an Indian game. This game originated in Pune (Maharashtra). The popularity and development of this game have been associated with Akharas and Vyayamshalas in Maharashtra. 'Hanuman Vyayam Pracharak Mandal Baroda provided this game its modern format. The first National Championship (men) was organised in 1960. Kho-kho championship for women was started in 1961. A demonstration of the Kho-Kho match was presented in 1982, Asian Games, which were held in Delhi, but it has not been included in Asian Games so far.
Measurement and Specifications of equipment
| Specifications | Measurement |
| --- | --- |
| Lengthof Kho-Kho field | 29 m (M, W & Jr.) |
| Width of Kho-Kho field | 16 m (M.W. and Jr. |
| Length of Kho-Kho field | 25 m (Sub Jr.) |
| Width of Kho-Kho field | 14 m (Sub Jr.) |
| Height of post from ground | 1.2 – 1.25 m |
| Diameter of post | 10-11 cm |
| Number of squares in each line | 8 |
| Size of square | 30 cm × 30 cm |
| Free zone area (i) Men Sr. & Women | 27.5 m × 16 m |
| II Sub Jr. | 25.5 m × 14 m |
| Lobby | 1.5 m (surrounding the field) |
| Distance (A) of post to first square (I) (M, W & Jr.) | 2.50 m |
| II (Sub Jr.) | 2.10 m |
| (B) between two squares (I) (M, W & Jr.) | 2.30 m |
| II Sub Jr. | 1.90 m |
| Width of centre line | 30 cm |
General Rules
A runner would not touch any chaser. If he is doing so, he will be given a warning.
Sitting chaser is not allowed to obstruct the runner. If he is doing so, runner will be not out if touched by the active chaser.
Chaser team will get 1 point for every out of runner. It will be a 'lona' if all the runners are out followed by running of runner in the recorded sequence. Runner's sequence cannot be changed during an inning.
Active chaser will neither touch nor cross the central line.
If a runner crosses the boundaries completely, the runner is given out.
Active chaser will have to run in the same direction. He cannot change the direction. If he goes in opposite direction he will be given foul.
The sitting chaser is not allowed to stand up without getting kho. To give kho, active chaser will touch the back side of sitting chaser and speak kho loud and clear.
SPORTS AWARDS
Arjuna Awardees
| Year | Awardee |
| --- | --- |
| 1976 | D.S.Ramchandra |
| 1980-81 | Shanta Ram Jadhav |
| 1981 | Sushma Sarolkar,Hemant Kalalkar |
| 1983-84 | S. Prakash,Veena Parab |
| 1985-86 | Surekha Kulkarni |
| 1998 | Shobha Narayan |
Questions and Answers for Viva
The players sitting in the squares are called chasers.
What is the length and width of the ground?
What is the height of the posts?
What is the dimension of squares?
How many points are awarded if a runner is out?
What is the circumference of the poles?
How many officials are required in a kho-kho match?
Six, one referee, two umpires, one time keeper and two scorers.
How many innings are there in a kho-kho match?
There are two innings in a kho-kho match.
What is the duration of a kho-kho match?
Duration of a kho-kho match is 9-5-9,9-5-9 minutes.
Can the chasers finish their turn before the allotted time?
Yes,they can do so,but the captain of the team will have to tell the referee.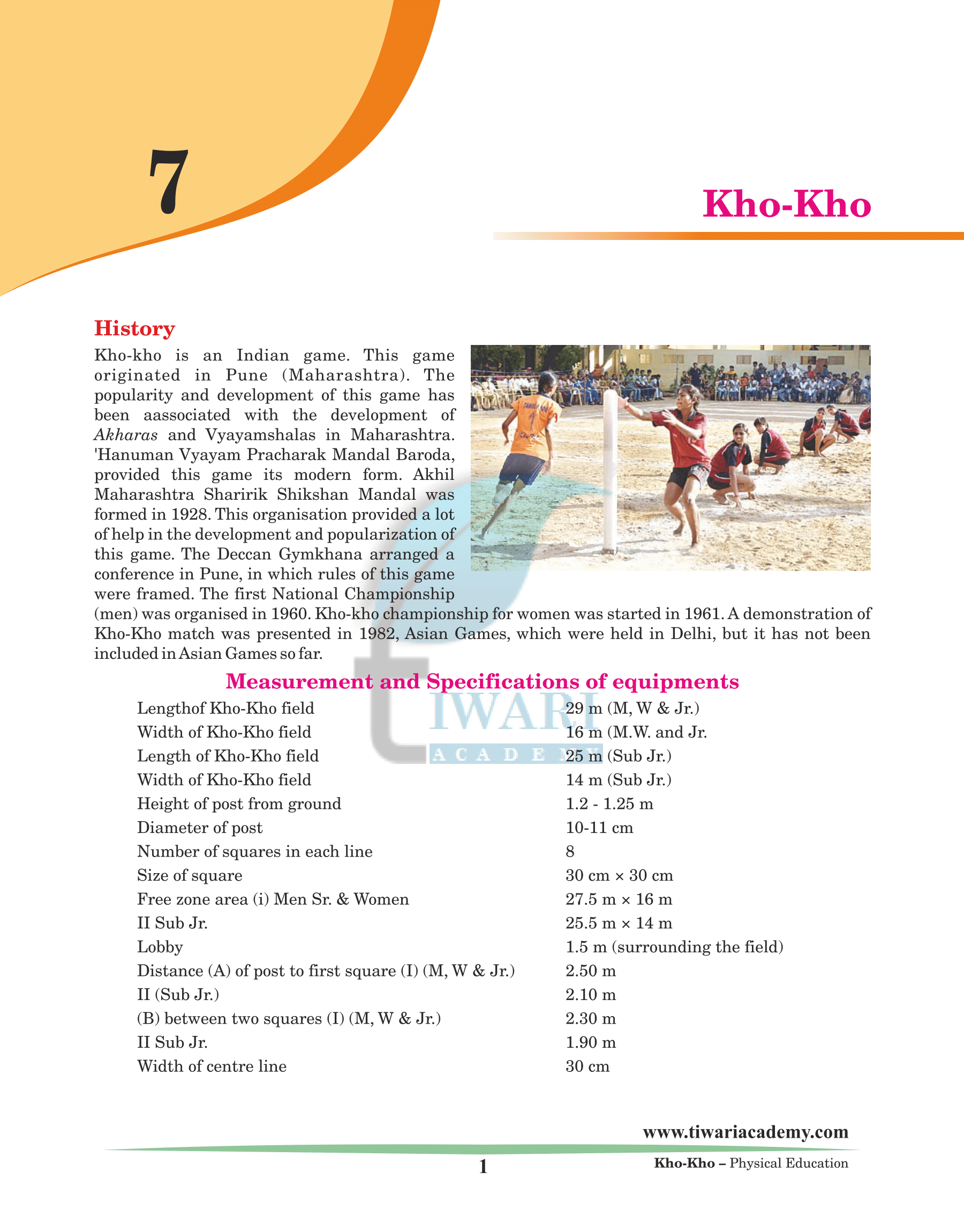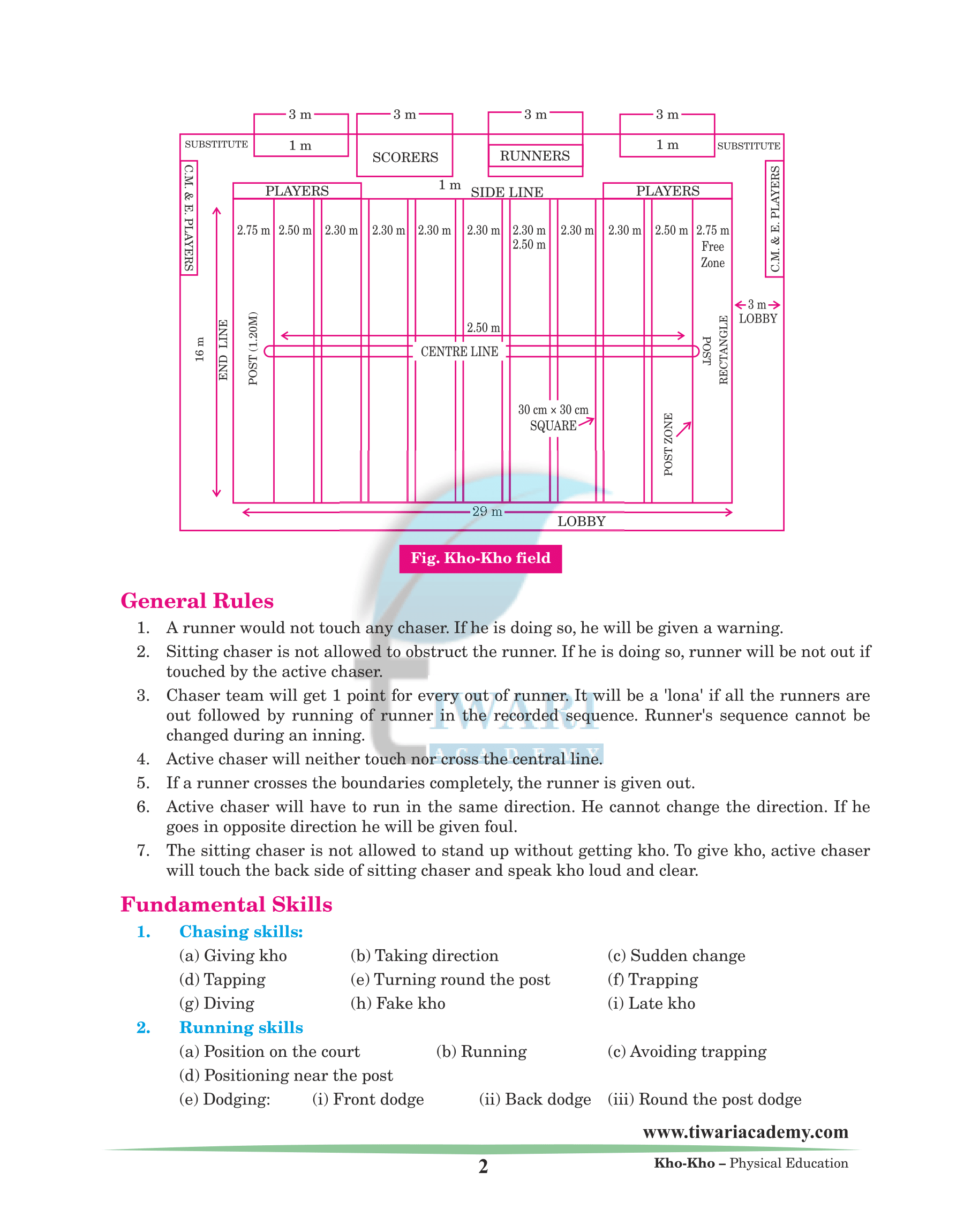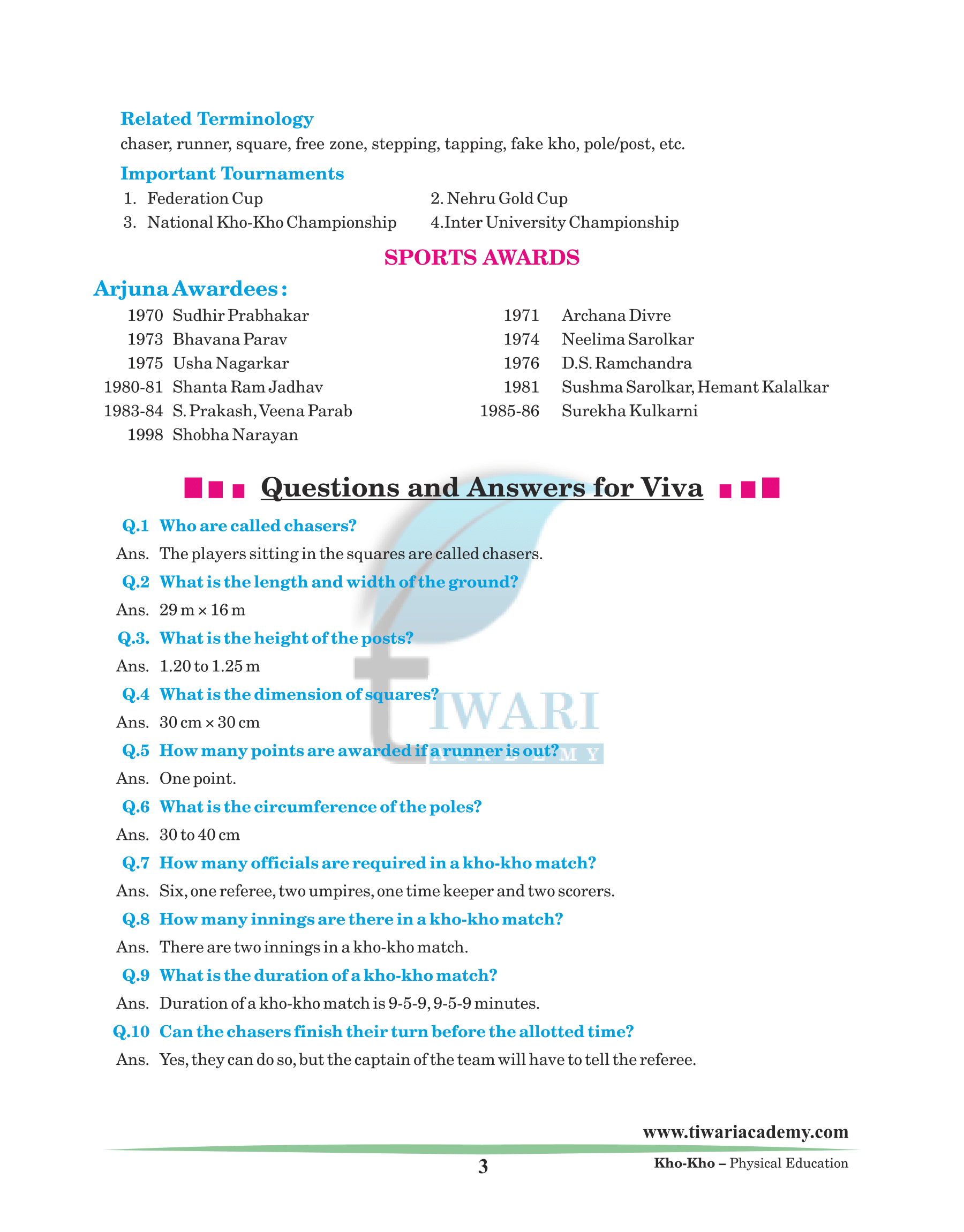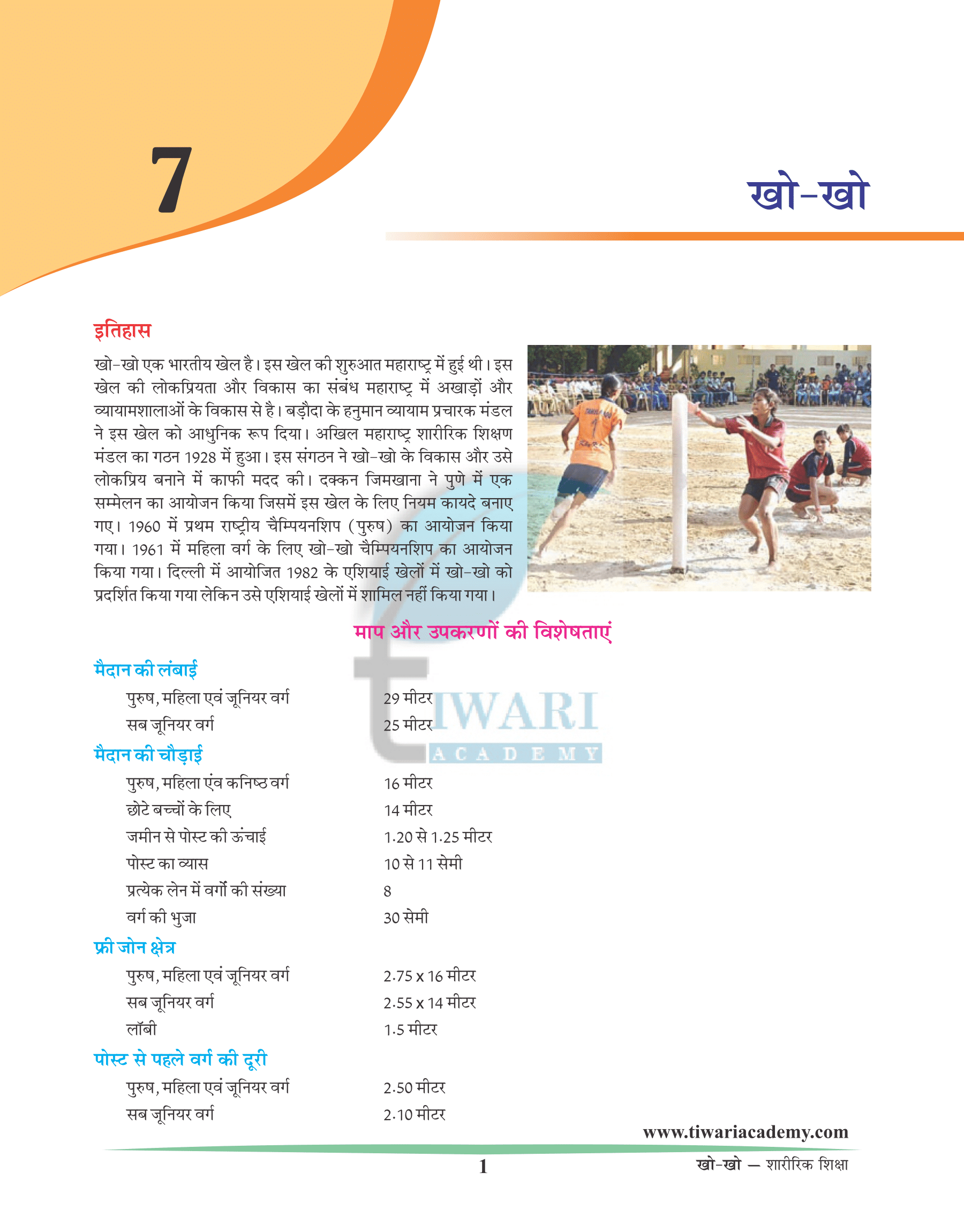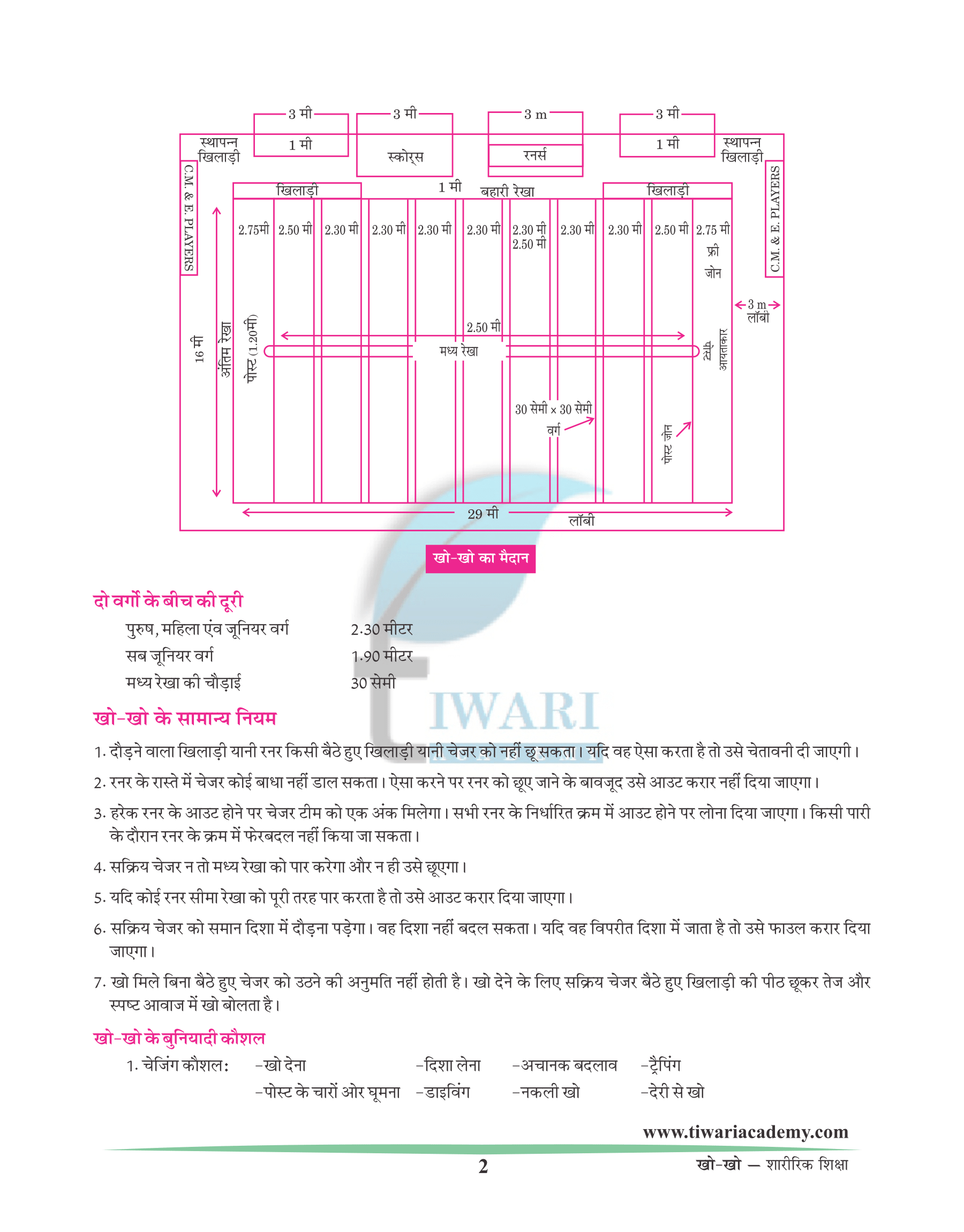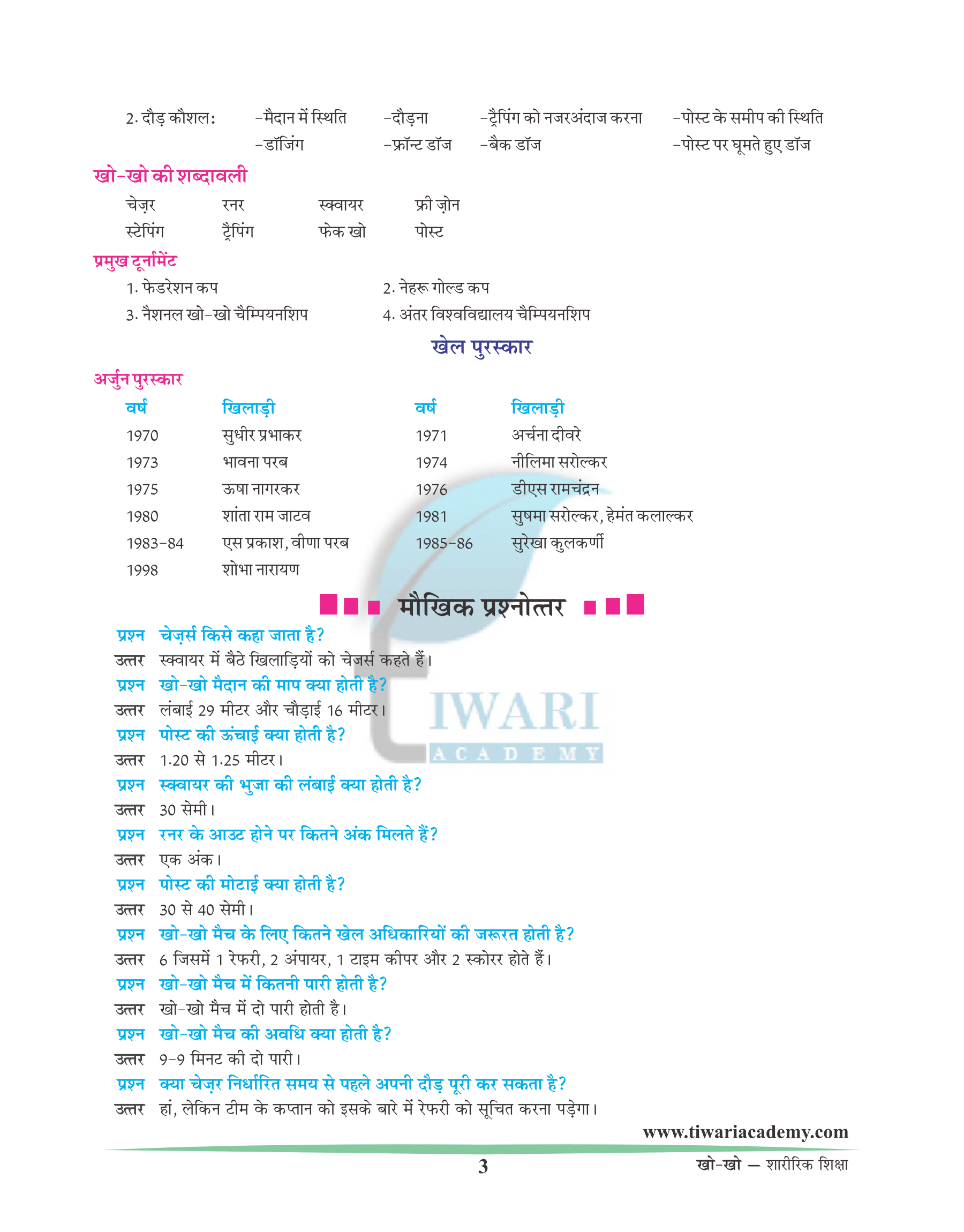 Last Edited: January 27, 2022