NCERT Solutions for Class 9 Science Chapter 13 Why do we fall ill in Hindi and English Medium for CBSE session 2023-2024.
Class 9 Science Chapter 13 Answers in English Medium
Class 9 Science Chapter 13 Answers in Hindi Medium
Class 9 Science Chapter 13 Study Material
NCERT Solutions for Class 9 Science Chapter 13
Class IX Science chapter 13 intext questions given on Page 178 or Page 180 or Page 187 or Exercises solutions. Hindi Medium solutions of class 9 science chapter 13 of Page 200 ke Uttar or Page 203 ke Uttar or Page 210 ke Uttar or Abhyaas ke Uttar in PDF format as well as to study online are given. Download UP Board Solutions and NCERT Solutions for 2023-24 and Offline Apps for all subjects and all classes updated for new academic session.
| | |
| --- | --- |
| Class: 9 | Science |
| Chapter 13: | Why do we fall ill |
| Study Material: | Exercise, Intext and Extra Questions |
| Content Mode: | PDF and Online Videos |
| Medium: | English and Hindi Medium |
CBSE NCERT Solutions for Class 9 Science Chapter 13 Why do we fall ill Intext questions and exercises question answers are given below to study online or download in PDF. The download options are given after the online solutions option. All the solutions are updated for new academic session based on latest NCERT Books.
9th Science Chapter 13 Answers in English & Hindi Medium
Class 9 Science Chapter 13 Solutions Related Pages
Extra Questions on 9th Science Chapter 13
What is an antibiotic? Give one an example.
The drugs which are obtained from micro-organism and used to kill or suppress the multiplication of micro-organism are called antibiotics, e.g. tetracycline, penicillin, chloramphenicol, streptomycin, etc.
Balanced diet is necessary for maintaining healthy body. Why?
It will provides nutrition to all parts of the body which is essential for their proper functioning, e.g. lack of vitamin A leads to night blindness, vitamin C deficiency leads to scurvy, vitamin D deficiency leads to rickets.
Health of an organism depends upon the surrounding environment conditions. Why?
If surrounding are not clean chances of infections are high, House fly spreads many diseases.
Why should our surrounding area be free of stagnant water? Explain giving reasons.
On stagnant water mosquito breads which spreads malaria.
Social harmony and good economic conditions are necessary for good health. Why?
Good economic condition help to get proper and regular meal. Social harmony leads to peace and happiness. Social disharmony leads to stress, hypertension and depression.
Why are overcrowded and poorly ventilated areas are a major factor in spread of air borne diseases?
When an infected person sneeze or cough, little droplets are thrown in air which enter body of a healthy person who gets infection. Poorly ventilated areas do not get fresh air and lack of oxygen may cause breathing problems.
It is because virus use host machinery and do not have their biological processes.
Why is AIDS consider to be a Syndrome and not a disease?
Syndrome is a group of symptoms, or signs, physical and biological which have common causes. It reduces immunity of the body to fight against infections. HIV that causes AIDS damages T4 helper cells. As a result, small cold leads to pneumonia.
Questions for Practice on 9th Science Chapter 13
Question 1:
(a) State any two conditions essential for good health.
(b) State any two conditions essential for disease free.
(c) Are the answers to the above question necessarily the same or different? Why?
Answer 1:
(a) For Good Health:
(i) All organs should function properly.
(ii) The person should have proper physical and social environment.
(b) For Disease free:
(i) Proper nutrition or balanced diet is essential.
(ii) Proper habits of keeping body and environment clean.
(c)The answers to both the questions are same because we can remain healthy only when we are disease free, our physical and social environment is healthy. Our all body organs function properly.
Question 2:
A baby is not able to tell her/his caretaker that she/he is sick. What would help us to find out
(a) that the baby is sick? (b) what is the sickness?
Answer 2:
(a) The baby keeps on crying even if he is fed. His body temperature rises up, eyes start watering, vomits, has loose motions.
(b) He should be taken to a child specialist. He will conduct some tests and for symptoms he would find the cause and treatment of the sickness.
Important Questions on 9th Science Chapter 13
State any two conditions essential for being free of disease.
(i) Remain away from specific and particular cause for discomfort or disease. For which personal and public cleanliness and good physical environment are necessary. (ii) Proper and sufficient food necessary for functioning of cells and tissues of the body.
Why are we normally advised to tale bland and nourishing food when we are sick?
Infectious disease show a lack of success of the immune system of the body. For the functioning of immune system properly, sufficient nourishment and easily digestible food is necessary for a sick person.
What are the different means by which infectious diseases are spread?
Infection causing microbes travel from patient to person through: (i) Air: Sneezing or coughing since little droplets are thrown which they reach another person through air. Example, common Cole, pneumonia etc. (ii) Water: contaminated water carries disease causing microbes which cause infection on its usage. Example, diseases such as cholera. (iii) Sexual contact: Diseases such as syphilis or AIDS are transmitted by sexual contact from one person to the other. (iv) Animals: These are intermediaries, called vectors, transmitting diseases from a patient to the host. Example, mosquitoes (Female Anopheles mosquito) cause spread of malaria.
Question 3:
Write the symptoms when the following organs are targeted by microbes:
(a) Lungs (b) Liver (c) Brain
Answer 3:
(a) It leads to cough and breathing.
(b) Fever, vomiting, loss of appetite, yellow urine, yellow skin.
(c) Headache, vomiting and unconsciousness.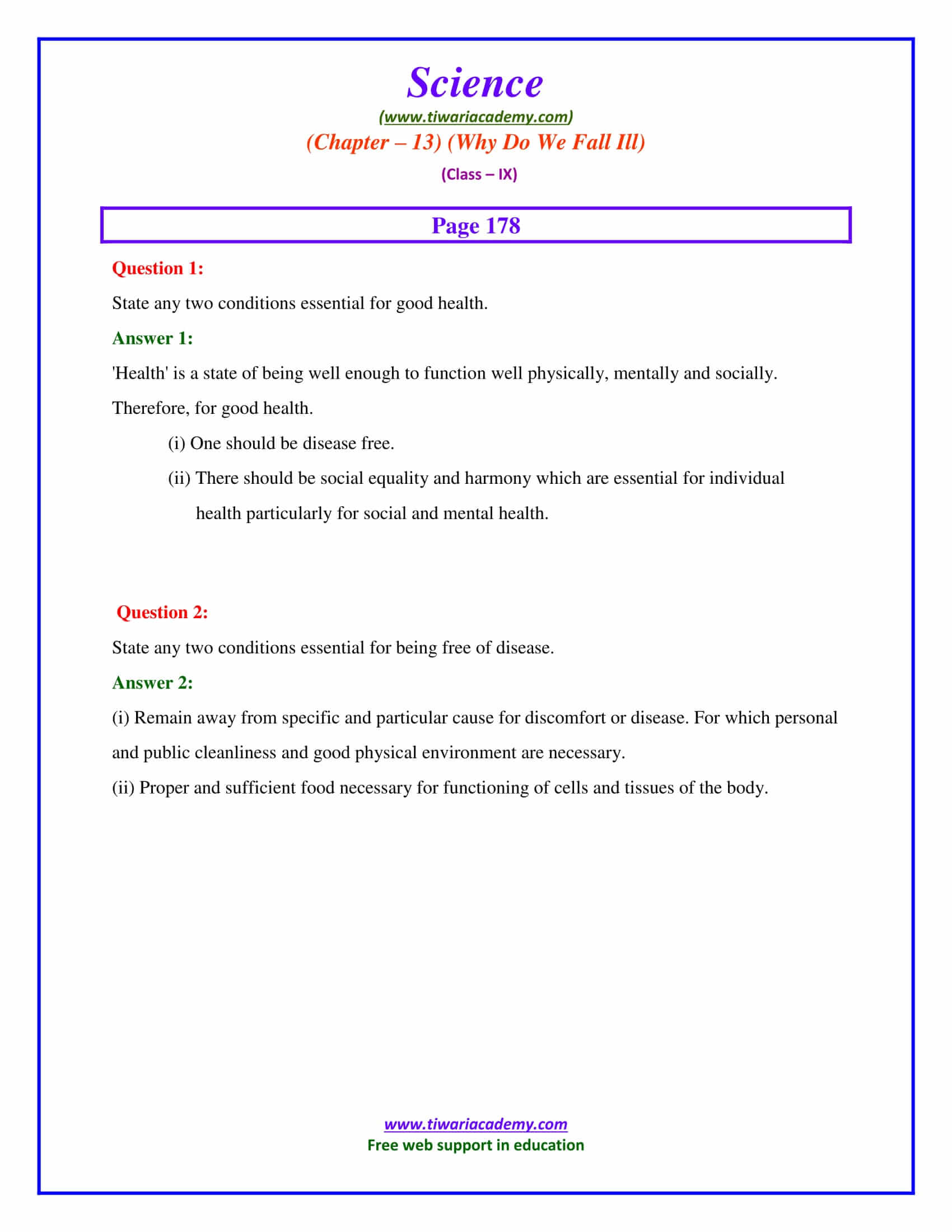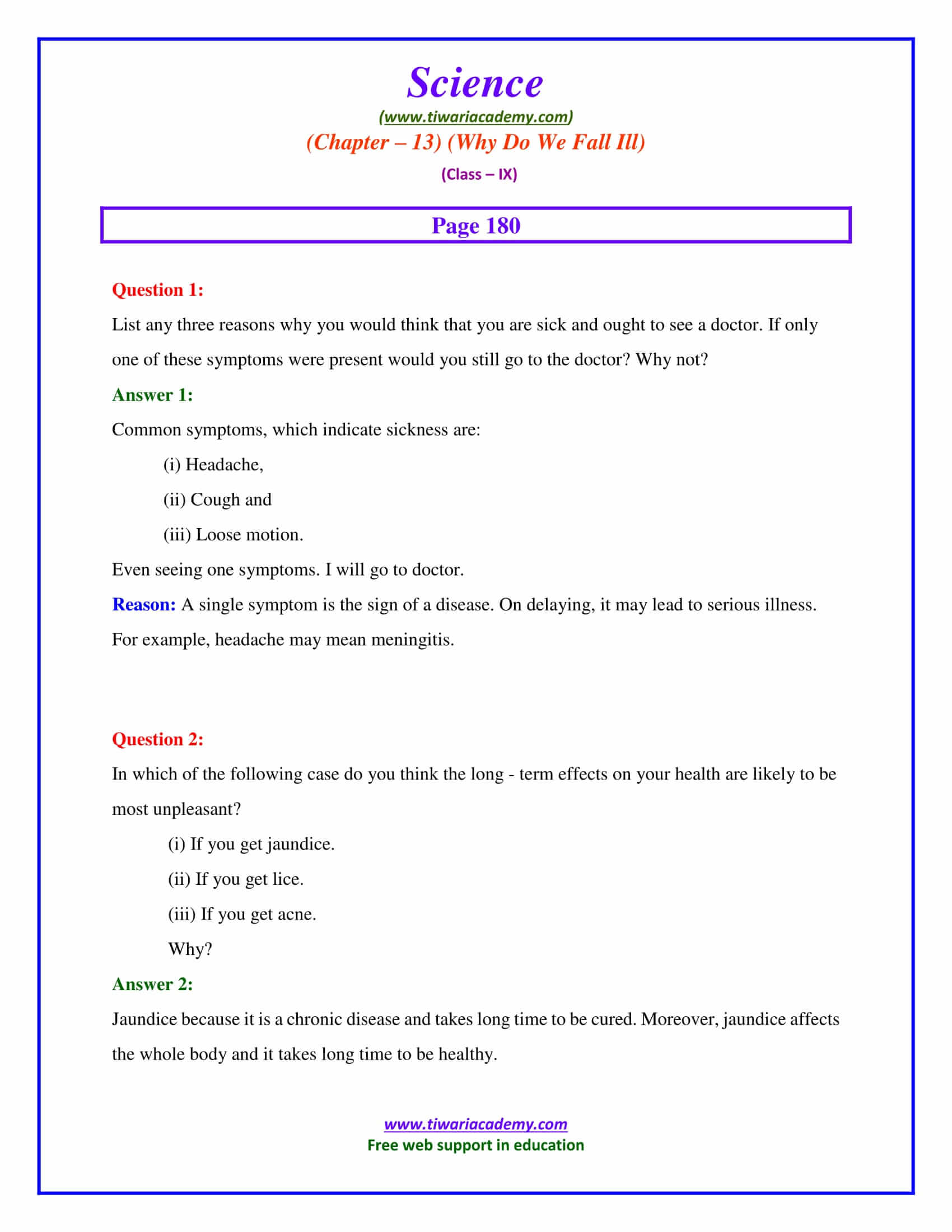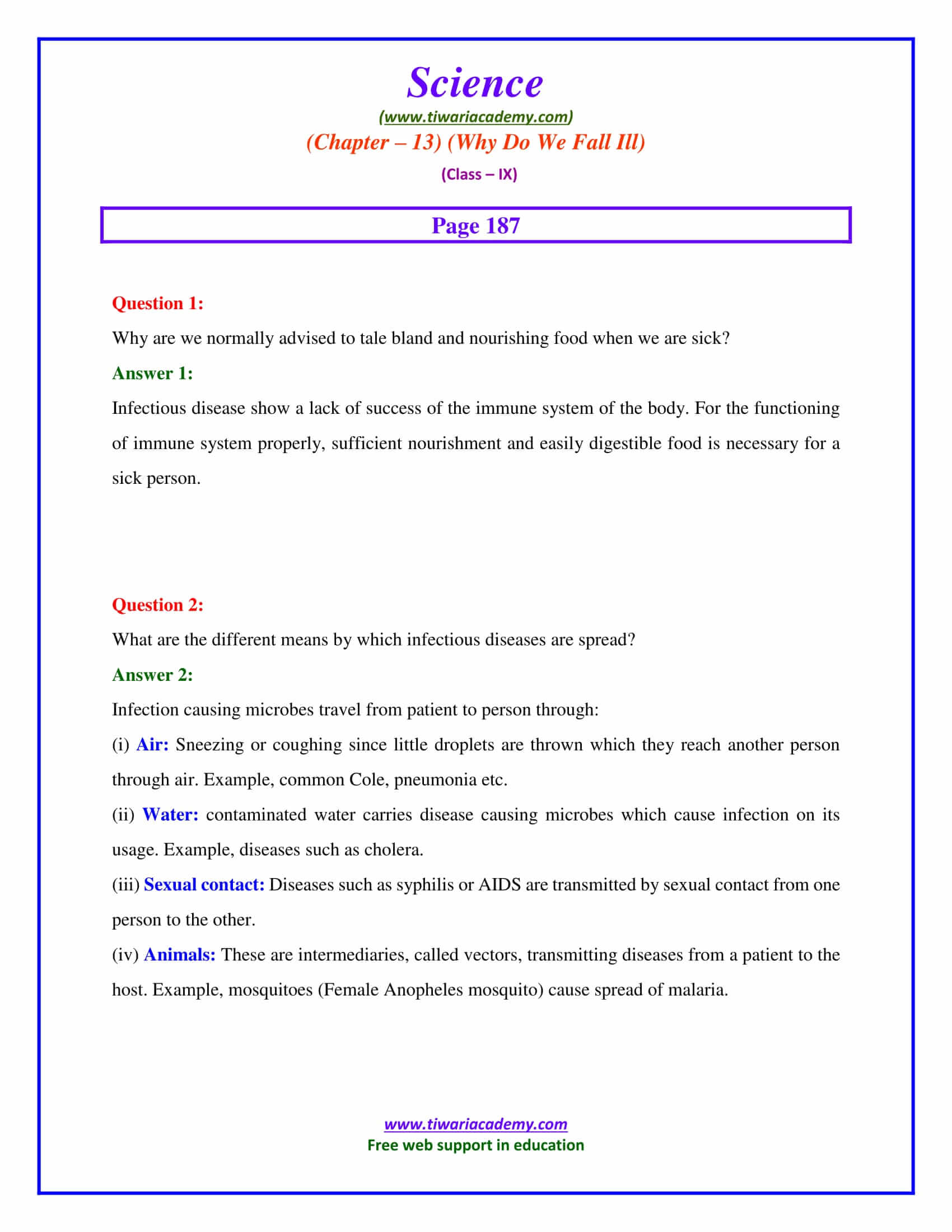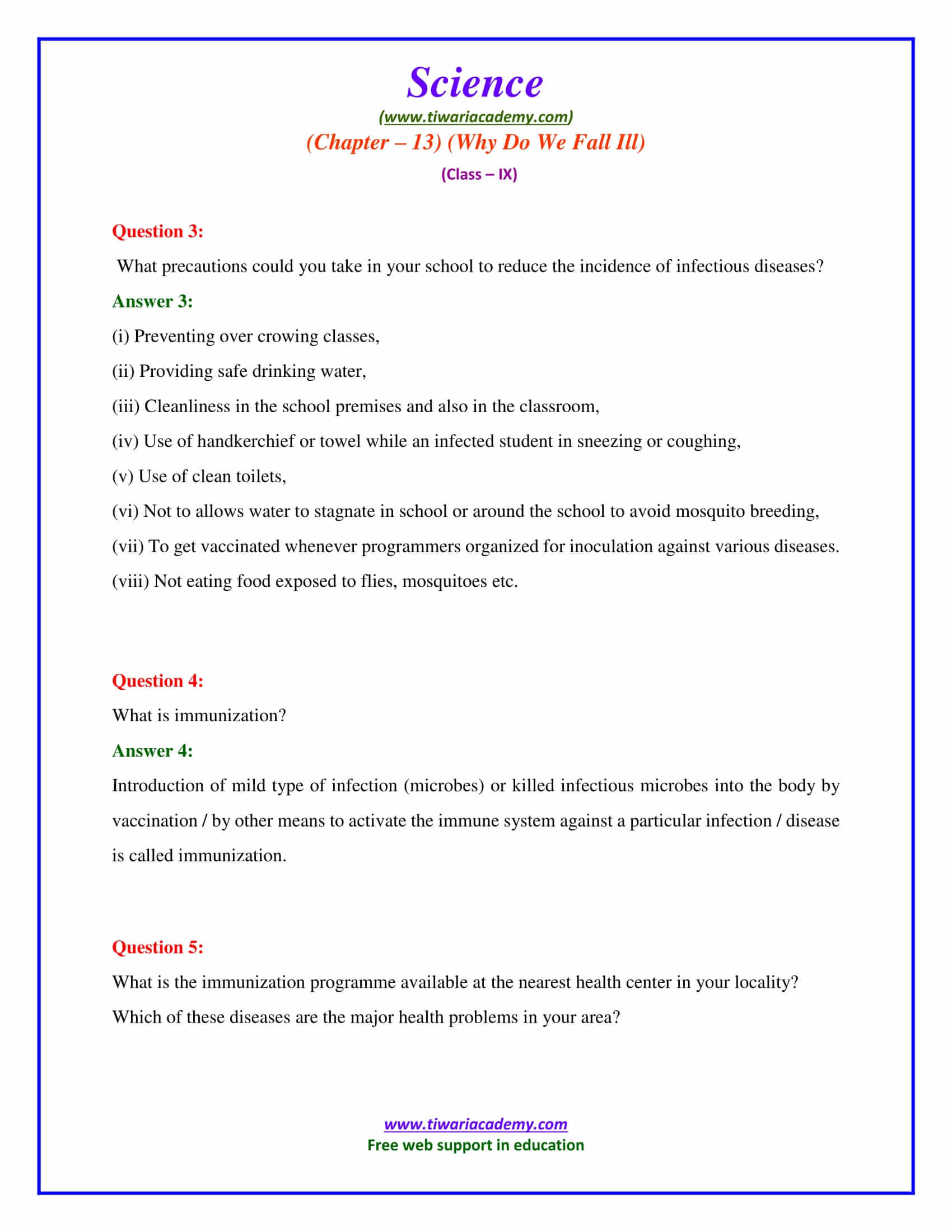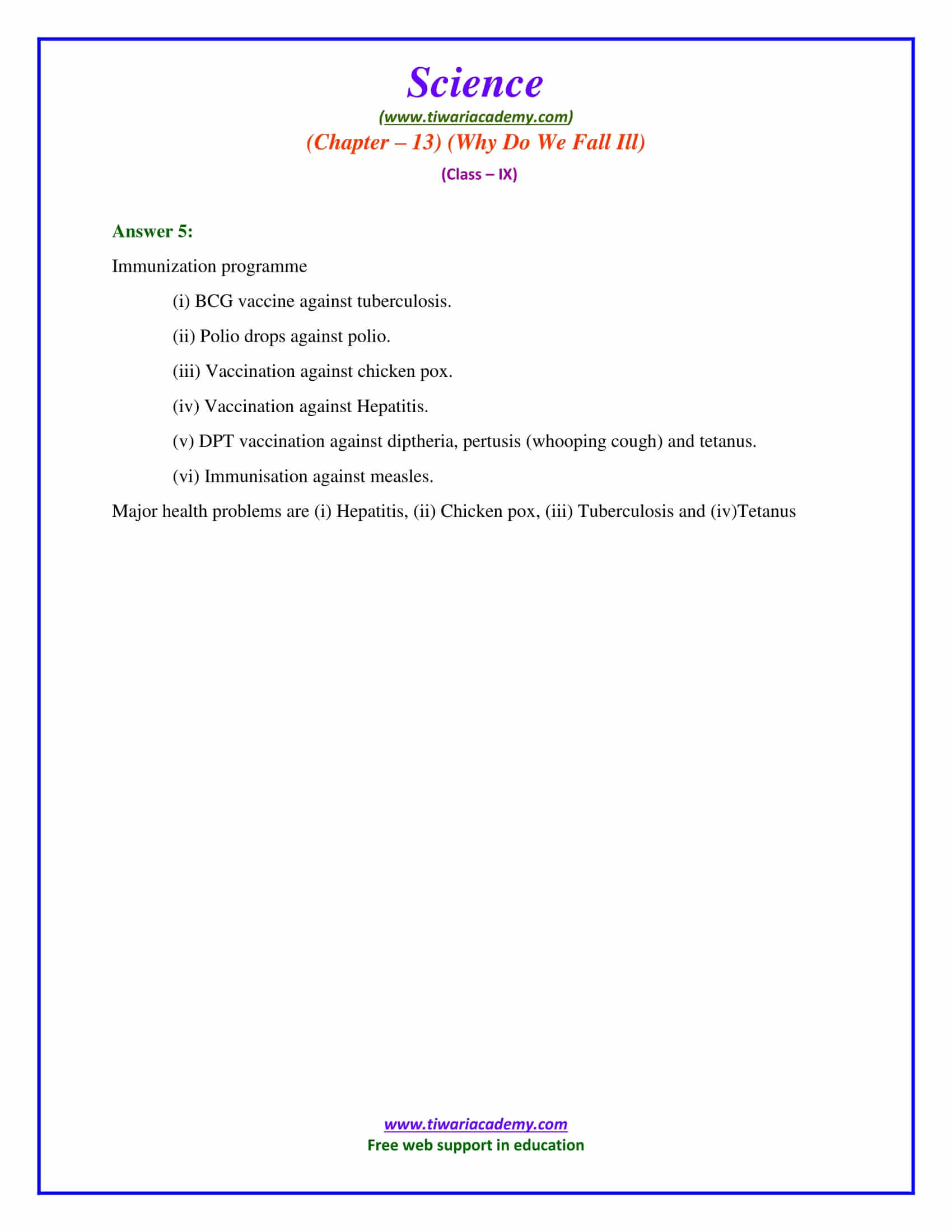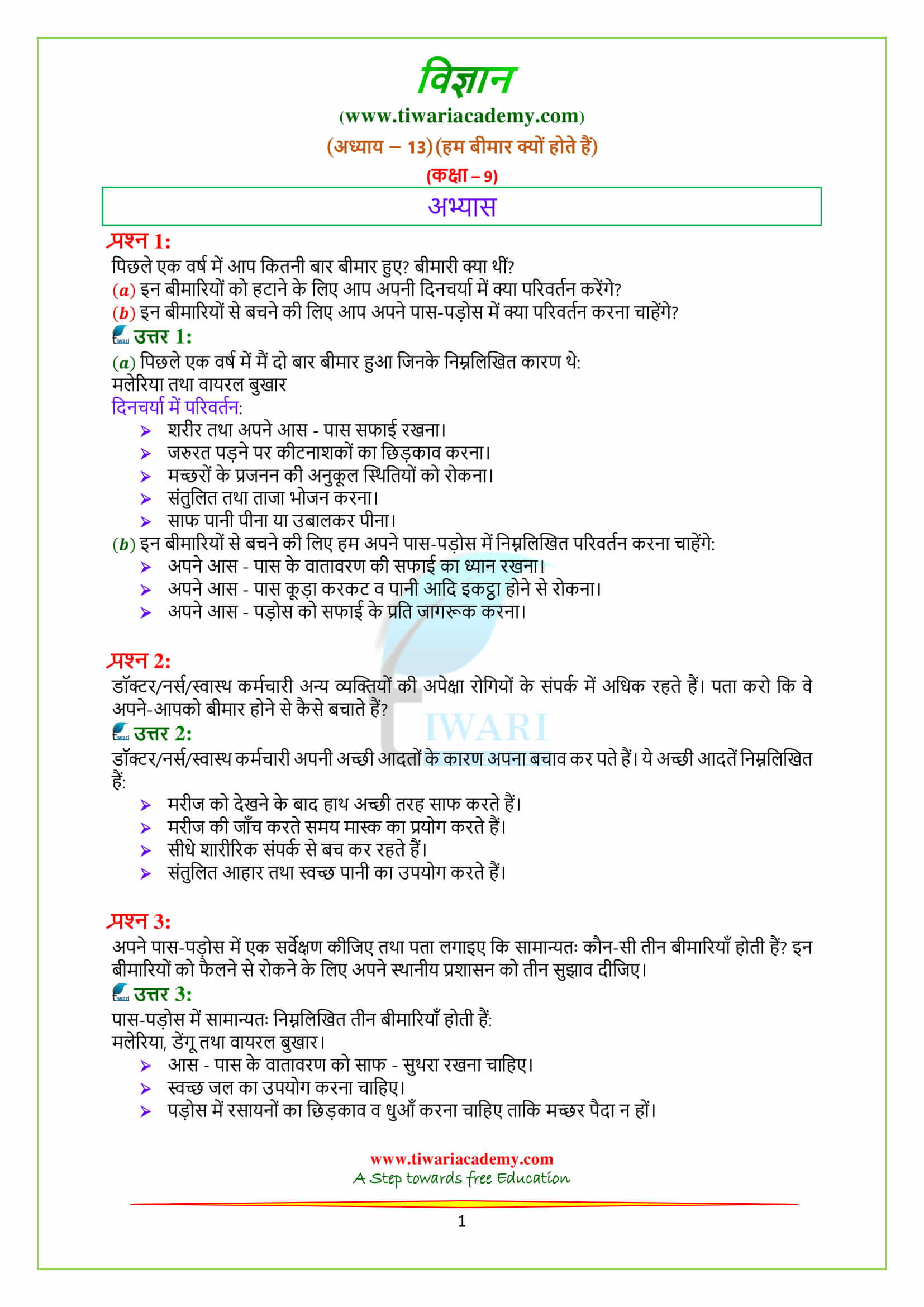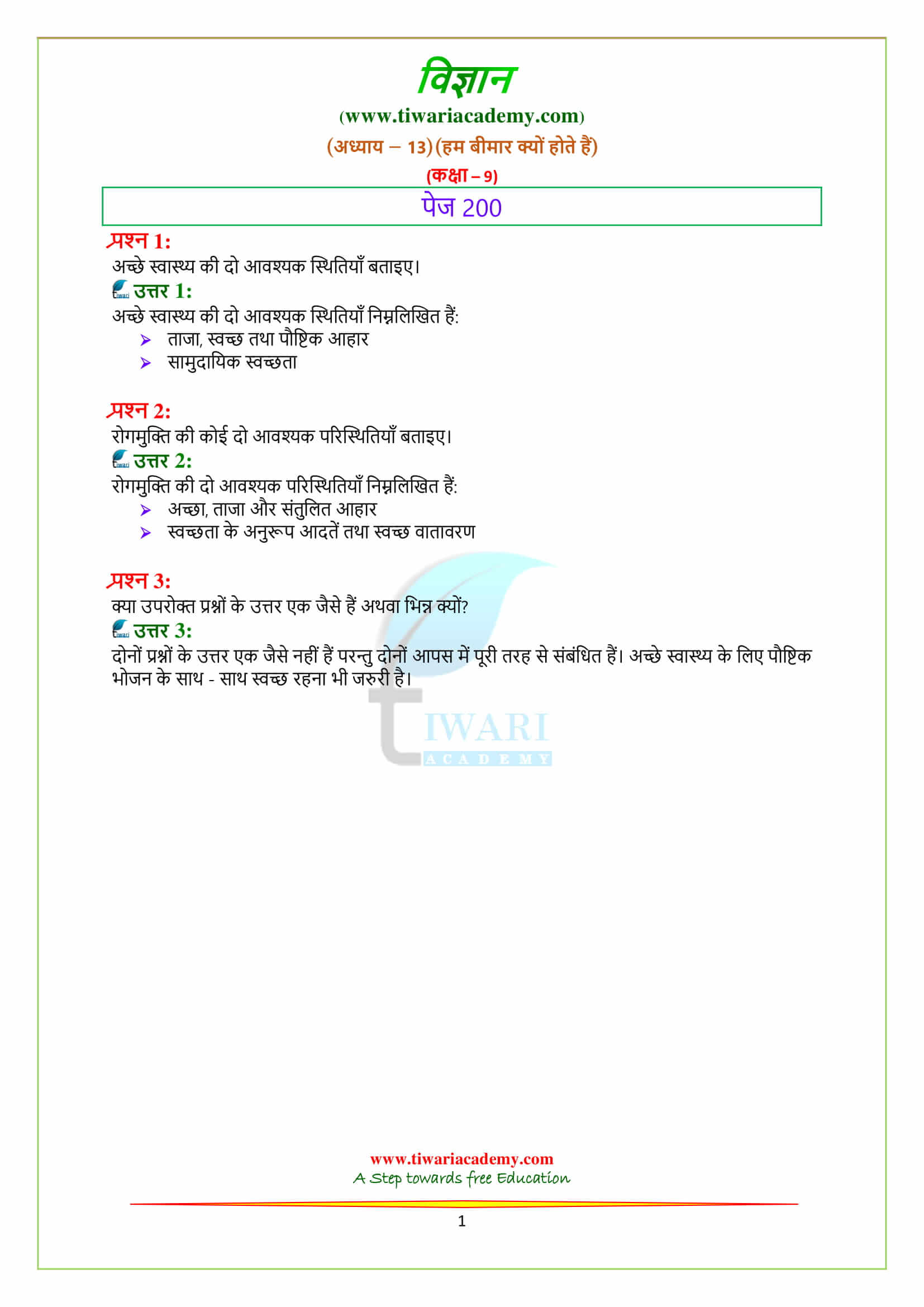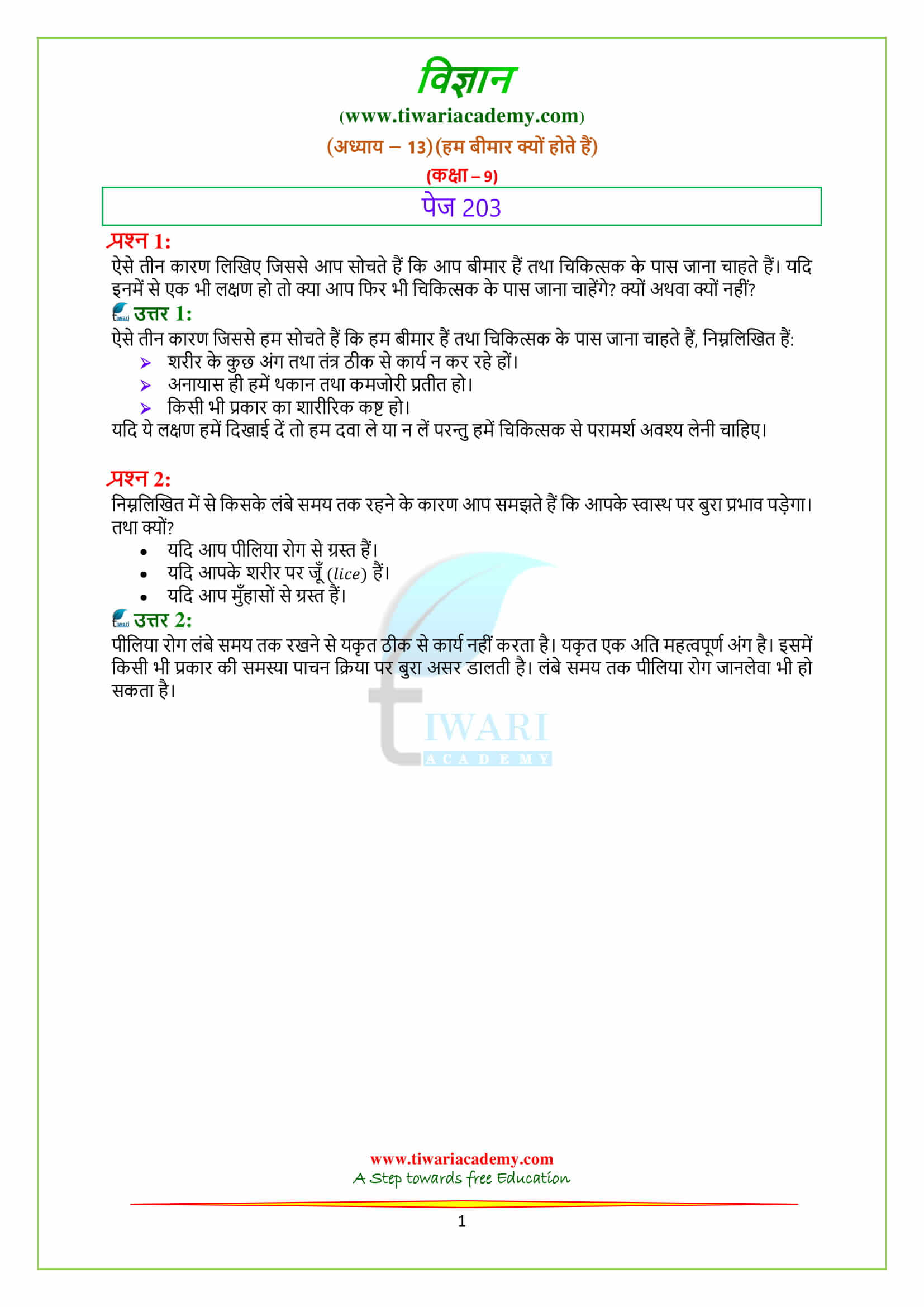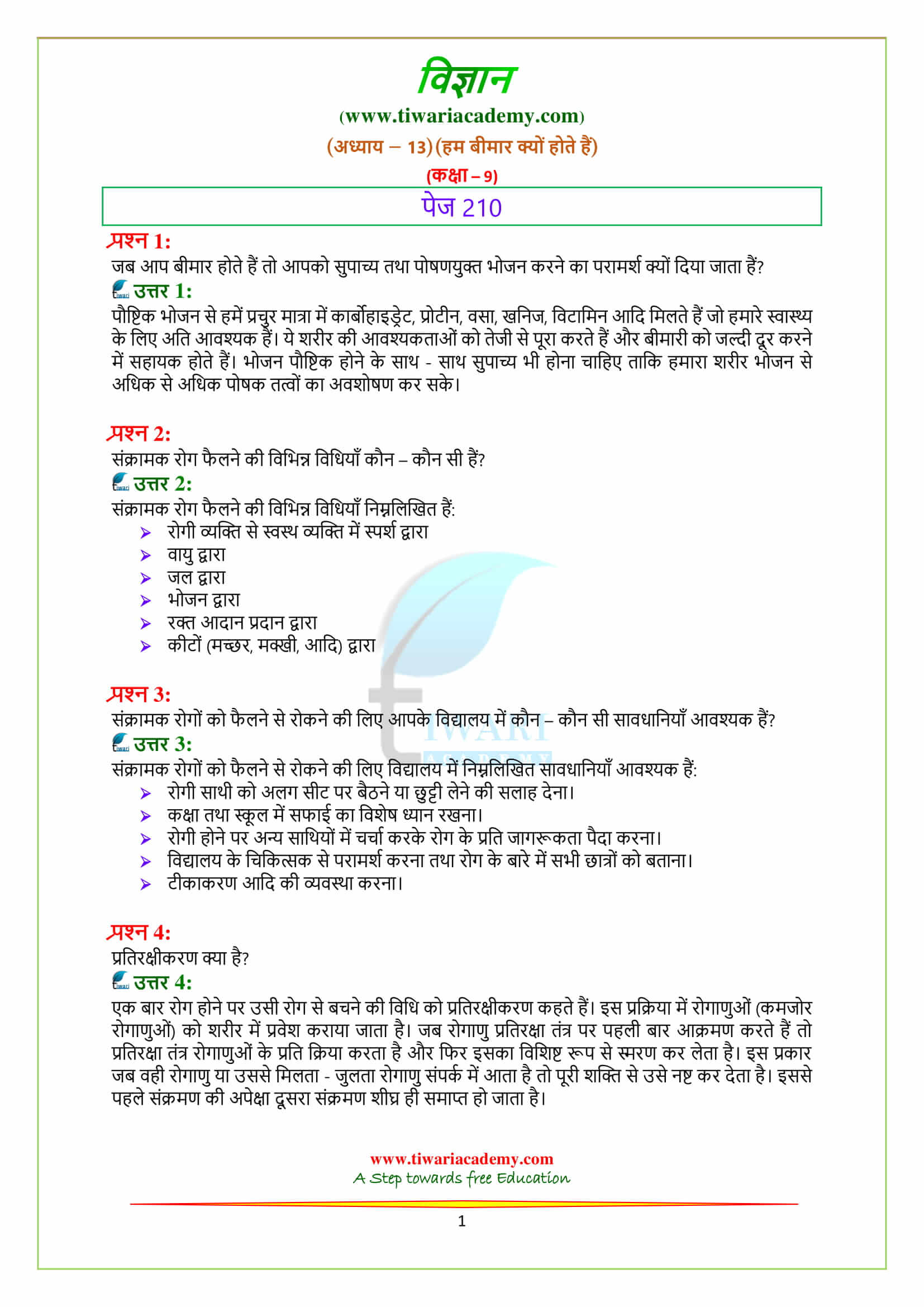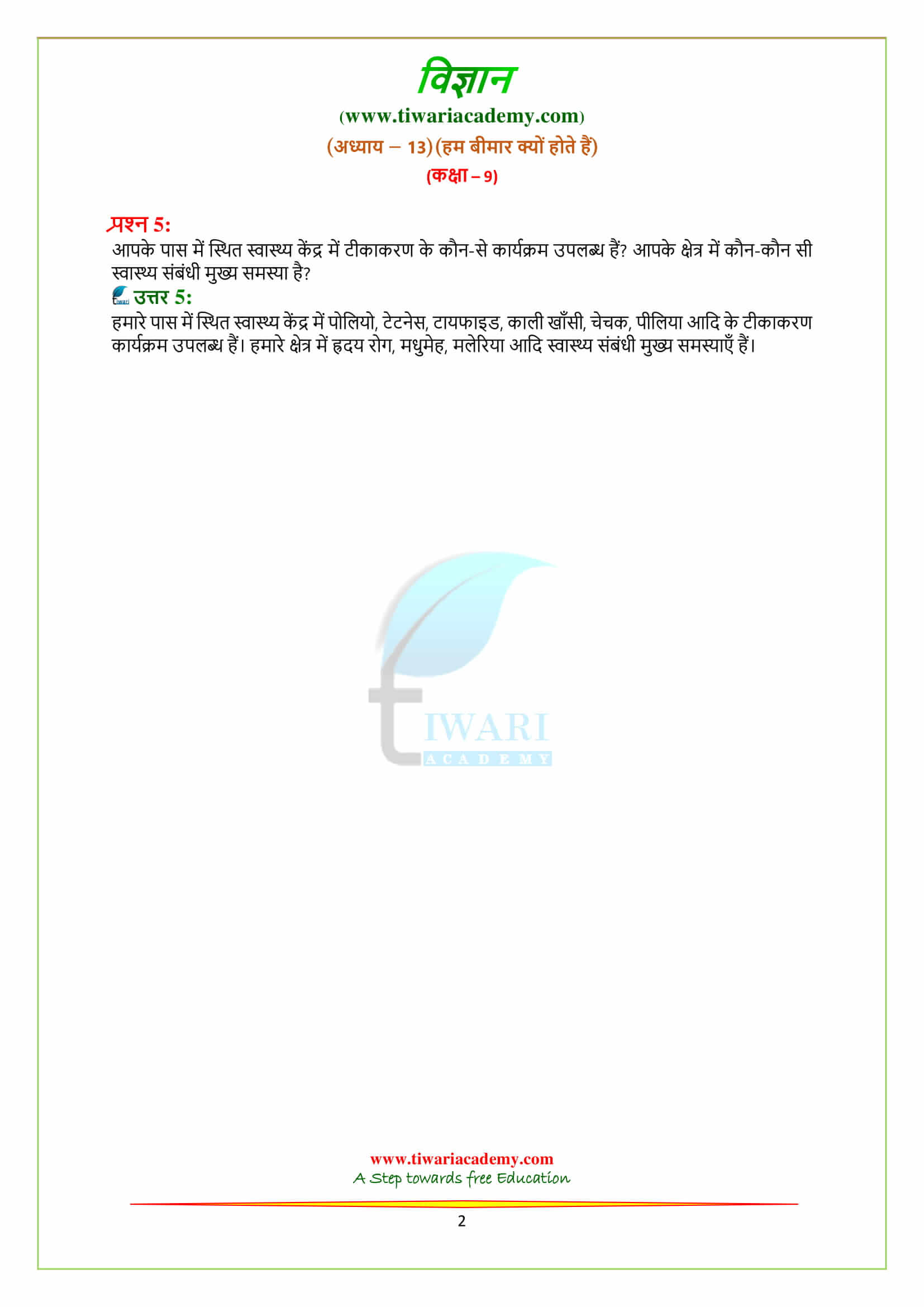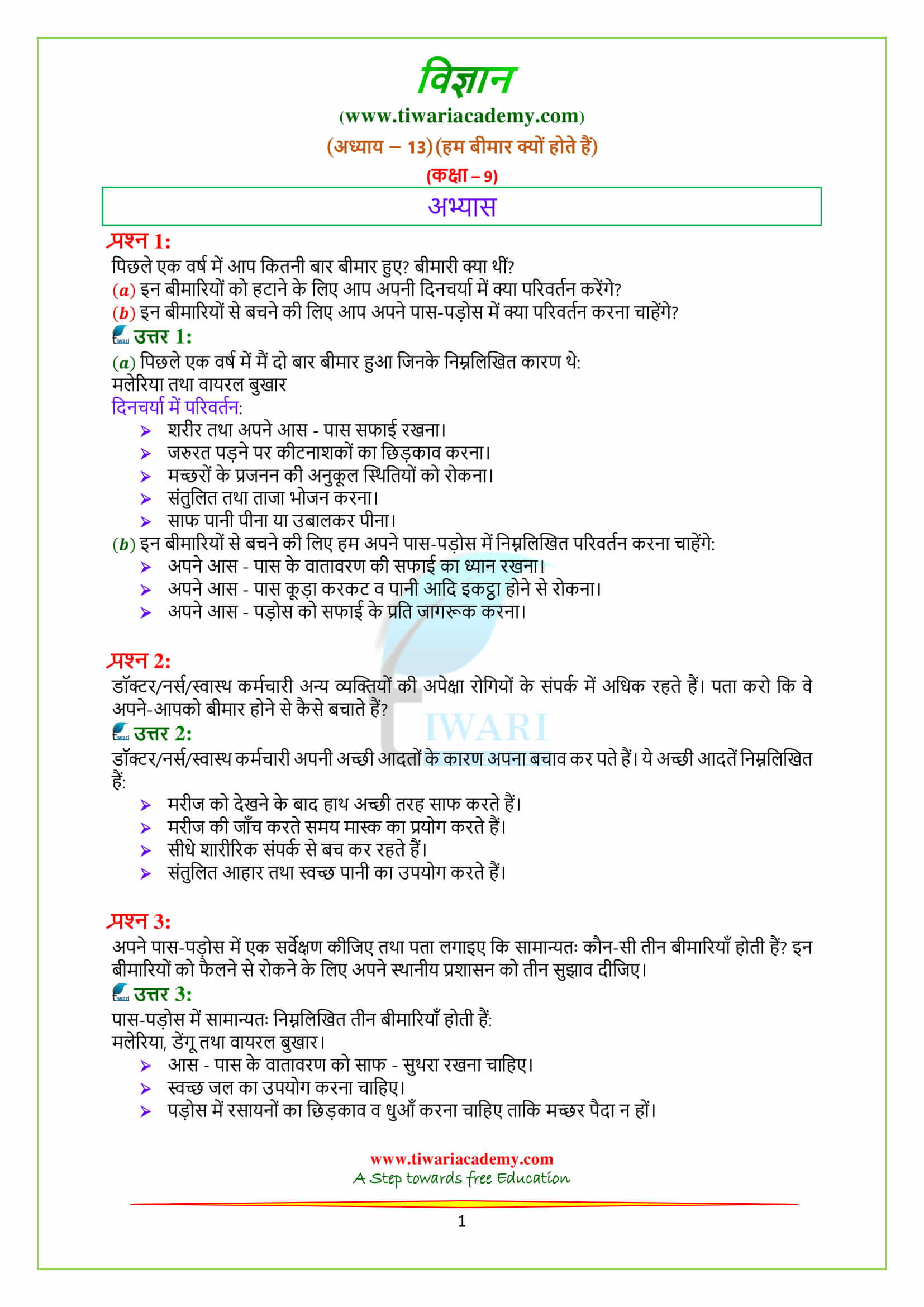 Last Edited: January 21, 2023